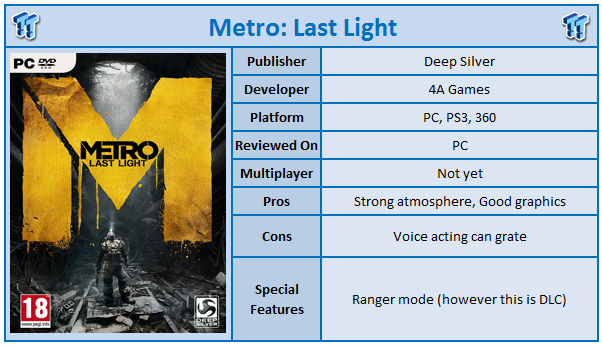 There was a light going against Metro 2033 when it was released. Little known developed paired with a publisher that was unaware within a few years it would no longer exist, and a game based on a book only released in non-English languages. A cult classic sure, but not something expected to set the charts on fire. However, against all odds, Metro 2033 came to be one of the most popular PC games of 2010, and so when Last Light was announced, there was understandably some level of hype associated with it.
Fast forward three years and we have a new Metro, a game also troubled in development, but for different reasons; a broke publisher out of business, a changing industry and a new publisher are all things that 4A Games had to deal with. However, amazingly, Metro: Last Light has turned out to be an absolutely amazing experience that can easily be recommended.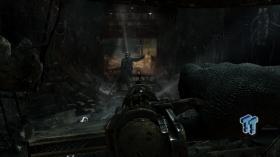 Metro: Last Light picks up after Metro 2033 (as a book it will be known as Metro 2035). It picks up in the midst of a civil war between all the stations. Each of the stations on the metro has a leading force (for example, the rangers whom you play part of) trying to get hold of a device that could end humanity forever. Throughout its winding campaign, you will learn the truth about the stations and those who inhabit them, as well as try to save the Metro from destroying itself.
However, to only mention the story within one paragraph, is to completely undersell just how well 4A Games have done in this respect. Metro: Last Light is certainly the best first person shooter we have played in the last few years from a narrative perspective. The entire story plays out in engine and from the first person perspective. Instead of being thrown into a cut scene, the moment plays right out in front of you, and often you have some level of control. Some of the narrative based areas can drag on, but it's a credit to 4A Games that they have put in such good storytelling in a genre that traditionally does not have it.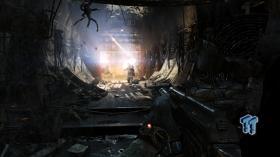 Metro: Last Light is different to Metro 2033 in that is a bit more action packed. Whilst in Metro 2033, bullets were somewhat hard to come by, Last Light rewards exploration. If you stick to the main linear pathways, you may struggle to have enough weaponry to get through the game, whilst if you explore the various nooks and crannies, you should be fine. One of the areas where this could not be more apparent is the gas mask. Each gas mask requires a filter to be transferred every so often, so finding more of them is key to your survival. It's an interesting part of the game that really brings home the fear of asphyxiation.
The game is generally played out in two main areas - either underground in the Metro or on the surface where highly powered, mutated enemies reside. And the two styles of gameplay could not be more different. On the surface it's a bit more run and gun and rushed as you have to deal with the toxicity of the air, whilst in the Metro underground its more dark and unlit, allowing you to hide in the shadows and take enemies out from afar.
It is also underground where the main horror of the game begins to present itself. There is one particular area in the game where literal shivers ran down my spine. Crawling through a dark room full of enemies, you can't see and are surrounded by cob webs, and paired with the orchestral soundtrack, it is some of the most amazing atmosphere we have felt in a game for a while. Literally scared to the edge of our seat. There are sections of the game which open up and feel closer to a Call of Duty more than Metro 2033, but then it every so often reminds you that it is a horror based series.
There is one key problem with Metro: Last Light that cannot be ignored. First of all it takes a while to get going. This is not necessarily a problem, but you have to push through that first few hours to get the most out of it with a lot of handholding occurring early on. This will be particularly annoying for veterans of the Metro series. It's not necessarily tutorials either, just the game handholding and taking over control way too often in the early stages. Another problem is that there are clear roadblocks in the game.
By roadblocks I mean areas where the developers wanted you to face significant challenge. These roadblocks become incredibly frustrating as the difficulty level spikes significantly and they can take quite a bit of time and strategy to complete. Once done though, there is a level of satisfaction that almost makes it worth it, almost. And the final quirky decision? The game is not shipping with multiplayer despite having it planned. It is due in around 12 months' time.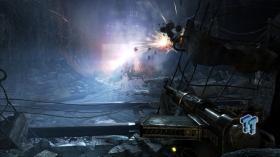 However, when it comes to the overall environments and atmosphere of the game, there is honestly not many better out there. The whole game screams of eeriness and you have reminders that this is a post-apocalyptic world, where people are just barely surviving. The Metro stations themselves are well laid out and offer a lot of distractions to get involved in. The level of detail put into these areas is stunning and you can spend up to an hour perusing through the areas figuring out all the side options.
It is also in these stations where you can customise your weaponry. The weaponry can be customised to a significant degree, taking a generally useless weapon and turning it into a powerhouse of a gun. These customizations form a key point in coming up with enough weaponry to take down the hordes of enemies.
If the rest of the review hasn't made it obvious, the environments are stunning to say the least. Highly detailed underground Metro stations, converted into suburbs and towns along with dark, dank surface areas with crumbled buildings and destruction everywhere. There is a huge level of detail to this game and the environments really bring this home. As mentioned before, it also leads to somewhat different gameplay with the Metro areas being corridors and tight, and the surface allowing more open style gameplay.
Along with the environments, the graphics on the PC are stunning. This game will push your video card to the absolute max with stunning visuals and incredible animations. However, with that in mind, 4A Games have done a fantastic job with scaling this game and it's somewhat playable on older computers and video cards as well. There is some truly stunning effects present and there is no real pop in to speak of on the PC build. Voice acting at times can be grating. There is an authentic Russian style to the dialogue, but there are times where it seems over the top - for example, a character that isn't Russian, having a Russian accent for the sake of it.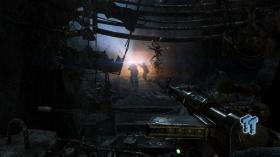 Metro: Last Light is a game that had so much going against it outside of the developer's control that makes it seem ridiculous that this game has turned out so well. It's a credit to 4A Games credibility and dedication that despite the financial woes of THQ and the complete lack of confidence of THQ being able to ship their game that they have performed as well as they have. Metro: Last Light elevates the Metro series into a game franchise we very much want to see more of and one that PC gamers should be happy to welcome to their collection.