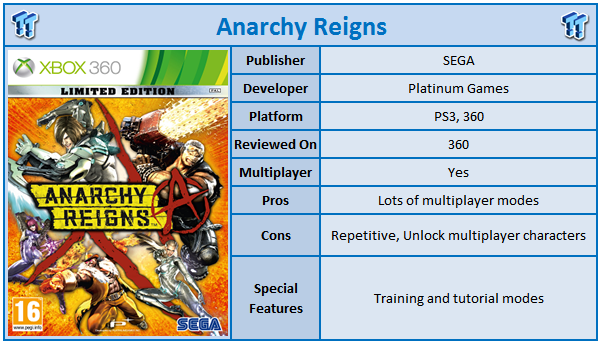 Platinum Games is a studio that over the past few years has managed to establish itself as one of the more well-known Japanese studios around. In quick time they have pumped out numerous quality games that focus on action and brutality and Anarchy Reigns is no exception. MadWorld was one of the most controversial and surprising games released on the Wii a few years ago and in many ways it's interesting that we've heard not a peep about a sequel until now.
Whilst Anarchy Reigns may not be a direct sequel, there is enough reference back to that title. With this in mind, perhaps Platinum Games would have been better off porting MadWorld instead because this game sometimes leaves a lot to be desired.
Anarchy Reigns is a third person action brawler game. If you took a game like Final Fight from back in the 2D only days and turned it into a 3D fighter with a splash of Platinum Games craziness, you would get this game. And in many ways the fact that it reminds us of a 1990's title is not only because of the gameplay. There are many elements you see in this game that really could have been directly ripped out of that era, and whether you are happy to put up with that or not, is a personal preference.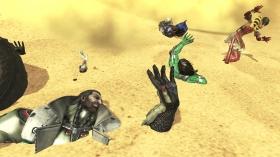 The gameplay and mission structure is split in to two main campaigns with a third campaign present as the end game. You can choose to play either campaign first, but cannot start the other campaign until the first one is finished. This in our eyes is a bit of a misstep with the game design. One of the biggest problems with the game is the repetitive nature and being able to jump between the campaigns would have been a nice way to refresh the gameplay.
The missions themselves are split into two types; a free mission and a main mission. Free missions can be replayed over and over again and are generally used to boost scores very quickly, whilst the main missions progress the campaign. As you might have expected to unlock the next main mission, you have to hit a particular overall score, and you do that by completing free missions.
The main missions themselves are where the variety comes to the fore with large boss characters and stronger characters trying to take you down. Generally the missions revolve around beating the pulp out of characters, but there are a few things to break up the monotony, such as an escort mission - which isn't as bad as it sounds.
Between missions you are thrown into a larger mission area, sometimes to find the missions scattered about the place is difficult and so a GPS style indicator has been included. There is no real point to exploring this area which is again a missed opportunity, and it just serves to send endless enemies your way, as you build up the points required to get to the next mission.
One thing that is clear is that Platinum's penchant for over the top gameplay is here in spades. Every so often an event will occur in the missions such as an out of control truck bundling through and taking you out or a plane crash landing. Basically the game warns you of the impending crash and you have a few minutes to get to a safe place. And that's about it really, you can obtain weapons as the battles rage, and you can pick up objects in the wall to hurl or smash enemies with, but there is a clear indication that Platinum felt this game would be best played in multiplayer.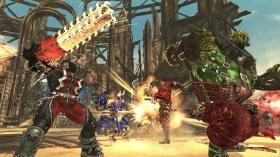 Multiplayer is where you will probably spend most of this time, but a few decisions again left us puzzled. First of all you have to unlock multiplayer characters in the single player mode before you can play with them. There is also a mountain of game modes. This would normally sound fine, but we are already struggling to consistently find an online game quickly to play and the game hasn't been out too long.
It does not look good for this game to have a long online life and with the title relying on it so heavily, that's a shame. When you do get into a game the action is thick and fast especially in the arenas which are generally smaller than the single player areas allowing you to find enemies quickly.
Visually the game is disappointing. If you compare this game to a first generation Xbox 360 game, it is entirely possible the older game would look better. Character design and animations are fine, but really being this late in the generation, you expect more. One positive out of this however is that the game in general is butter smooth when its running even with a lot of enemies and action on the screen. Voice acting is serviceable and the soundtrack feels very much like you have seen before from the team at Platinum Games.
Given Platinum Games recent history with games such as Vanquish which offer quite a bit of variety despite the main system mechanic being at its core repetitive, it's a real shame to see Anarchy Reigns turn out to be such a repetitive game with hardly any variety. There are some parts of the game which come together well, but it's not the kind of game you can play hours on end due to its repetitive nature, unless you really get into the multiplayer. A big shame really.