New Super Mario Brothers 2 Nintendo 3DS Review
For a game with "New" in the title, there isn't much new about it!
Published
4 minute read time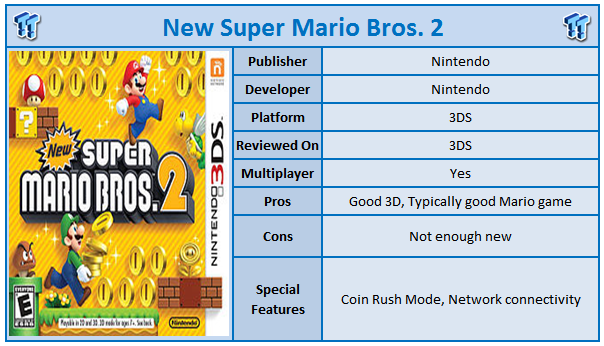 There is no doubt Super Mario brothers as a 2D platform is generally always a triumph as a video game. However, until recently, you either had to pull out the SNES or NES system to get your fix. Nintendo in its wisdom decided it was time to return to the 2D world with Mario and released New Super Mario Brothers on DS. The game turned out to be a smash hit both critically and sales wise with the title still commanding a near full price new even now with the successor machine out. So, it was a no brainer they would go back to the well again. However, this time around, 3D is available to the developers. So what have they done with this extra power? Well not much, but that may not necessarily be a bad thing.
Although it is a sequel, New Super Mario Brothers 2 really tells a story of its own. However, it should come as no surprise that the story very much mimics that of the titles before it. Bowser steals the princess from under Mario's nose, sends his kids to take out Mario and Mario tries to find and save the princess once again. In many ways this cliche storyline represents our misgivings with this game. It seems like Nintendo is afraid to mix up the tried and tested gameplay. It just seems that with every Mario game repeating the same formula, that one day it is going to get stale and mixing up the storyline probably wouldn't take that much away from the Mario experience.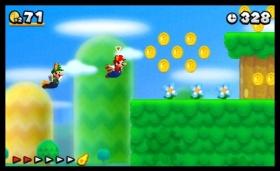 In terms of the gameplay itself again nothing much has changed, but that was to be expected. Mario jumps, hops and runs just as well as ever and the controls feel smooth as butter. Where the game starts to differ from its predecessors is its focus on coins. In Mario games past you have been able to collect coins and once you reached 100, Mario obtained another life. In New Super Mario Brothers 2, the coins are more important and whilst 100 of them still gets another life, it is the competitive nature of the game that is changed by this.
The game keeps a running tally of all the coins you have collected in the entire time you have played it. Through this you can compare coin collection to other gamers via the street pass system however unfortunately there are no online leader boards which considering the system is online, is a missed opportunity. Also it should come as no surprise that the focus on coins impacts other areas of the game. The new powerups are very coin focused.
Those new powerups include the ability to collect a gold flower and coin block head. With the gold flower, instead of shooting regular fireballs, you shoot ones that turn enemies into gold coins. It makes you more likely to seek enemies out rather than avoid them and does offer a nice change of pace. The other new powerup is a coin block head. If you bash a block with coins too long, the block becomes stuck to Mario's head and until you hit an enemy, it stays there. As Mario jumps around, coins fall out of the block for you to collect. This is one of our most loved additions to the series from this game, as the first time you see it, you will want to burst out laughing.
After you complete the game, a coin rush mode is unlocked where you play through levels that are packed to the brim with coins. Instead of having the regular 400 seconds to complete a Mario level, you instead have 100 seconds, so you have to balance the time left versus collecting the bonanza of coins, which are on offer to Mario or Luigi.
With the positives out of the way we have to look at the negatives. First of all whilst the game is a perfect portable title, its length does leave a lot to be desired. It can be finished in one sitting easily, and does not offer a high degree of difficulty. It seems the developers have tried to focus on replay value with the coin rush mode rather the elongate the game. However, there are a number of secrets to find and to get them all does take significantly longer than blasting through the main game.
The biggest problem we find with the game is that it just doesn't feel new enough. It feels like a perfectly competent Mario game, but for a title which is somewhat a lead title for the 3DS XL system launch, we would have liked to see a bit more variety. Whether that is a problem to you is dependent on how much you are bored with the current Mario formula. Chances are you are not and this will not be an issue, but it's a big reason why Mario is not scoring 90% from us this time around.
[img]2[/img]
Visually the game is somewhat impressive, but again we could have expected a bit more for a 3DS system. There is no doubt that the color palette is more in-depth than its DS counterpart, but it would have been nice to see even more fidelity and improvements. One area where they have significantly shined is the 3D. For the first time a Nintendo game is available that doesn't hurt my eyes in full 3D mode and so it is clear that the developers are starting to figure out the best way to use the 3D functions. Sound effects and music are very typical and have all been seen before which falls back to the not much is new pile with this game.
New Super Mario Brothers 2 does a lot right, but a lot of that we have seen before. With a Mario game that has come to be expected, but it's also not entirely unfair to want to see something new or some variety. The additions to the game are interesting, but really, unless you feel you need to play another Mario game, it is not a must play game.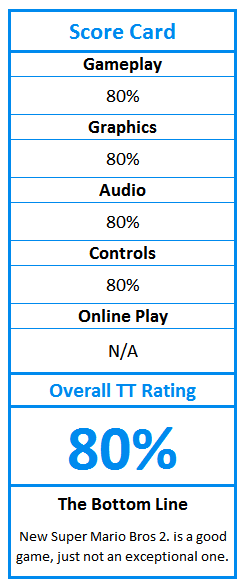 PRICING: You can find products similar to this one for sale below.

United States: Find other tech and computer products like this over at Amazon.com

United Kingdom: Find other tech and computer products like this over at Amazon.co.uk

Australia: Find other tech and computer products like this over at Amazon.com.au

Canada: Find other tech and computer products like this over at Amazon.ca

Deutschland: Finde andere Technik- und Computerprodukte wie dieses auf Amazon.de
We openly invite the companies who provide us with review samples / who are mentioned or discussed to express their opinion. If any company representative wishes to respond, we will publish the response here. Please contact us if you wish to respond.