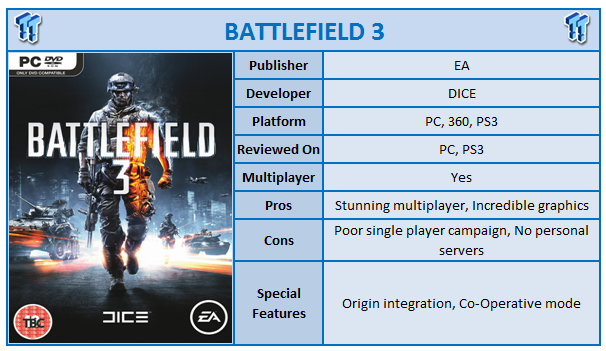 Some people may not be aware of this, but Battlefields roots began well before the 1942 iteration of the series hit the PC platform with such an impact in 2002. DICE, the developer behind the series, had already played around with large maps and vehicular warfare with their often forgotten Codename Eagle. Codename Eagle shares many traits with Battlefield - a huge multiplayer map with many players able to take on each either via land or air vehicles, or on foot.
Battlefield 3 is no doubt one of the most anticipated games of 2011 and comes up against what will no doubt be one of the biggest releases of the year; Modern Warfare 3. Can DICE take the challenge up to Modern Warfare? There is no doubt that if there is one game that was going to do it, it would be Battlefield and EA has promoted this fact for many months during the release cycle. However, after playing the campaign and many hours of the multiplayer, our opinion is that the game is good, but it isn't perfect.
One of the more interesting parts of Battlefield 3 is the campaign and we have to say that aside from about two missions, it doesn't impress. Battlefield 3's storyline is one of those where you see the end of the game at the start before being rewound a few days to see the events leading up to that event. There is nothing inherently wrong with this, but the storyline is a jumbled mess that does not impress and most of the missions are generally not fun to play. They revolve around moving from point A to point B shooting things and completing objectives.
There are a few exceptions to this and there is one very standout mission in the game which changes things up, but overall we were left wanting more. The only reason we powered through the campaign is because we wanted to see the end to review this side of the game properly. Had we not had to finish the game, we are not sure we would have.
Most of the missions are set in a modern day middle east during a fictitious war. The main character has done something terrible which is not revealed until towards the end of the game and for which he is being grilled by Homeland Security. Sound familiar? I kept thinking that the security guys were going to start screaming "TELL ME WHAT THE NUMBERS MEAN". It really does sometimes feel that close. And that leads us to the major problem with the campaign. DICE is so in love with the way Call of Duty does its single player campaign that it does not use the strengths it has in the franchise at all.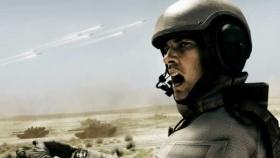 We went in expecting vehicular combat at some points and whilst the game has it, it is no where near enough to be considered a Battlefield experience. You could slap a different name on the single player campaign and you wouldn't sit there thinking "this sure feels like a Battlefield game". Many of the set pieces are clearly inspired by Activisions formidable franchise. This is not necessarily a bad thing and some of the best campaign moments come from those missions which have those elements within them. Should this really surprise us when Bad Company 1 and 2 had disappointing campaigns? It's as if DICE were scared to let you control vehicles in single player. One mission you are in a jet, but you don't control it.
Moving on to where Battlefield clearly shines is the multiplayer side of the game, as you would expect. The game feels completely different on the multiplayer side of the fence which is of no surprise and it's primarily because vehicles play a significantly more impactful role. Most maps have vehicles for players to control and thus the Battlefield feeling of being in one big multiplayer game is retained. And it is here that you realise just how much the single player campaign misses the mark, especially when you begin to play the Co-Operative missions.
The Co-Operative missions can only be played online and some of them require unlocking to play. As you play through the missions you will unlock further ones to play which is an interesting decision considering you must be online to play them. The missions range from horde style defending a base through to vehicular based missions where you and a team mate must work together to complete the mission. The Co-Operative missions are significantly better than the single player component of the game.
On the actual multiplayer side the game, it offers four modes; conquest, rush, team deathmatch and usual deathmatch. The main modes you will experience are Conquest (which is a carryover from previous Battlefield games) and Rush (which is a bit more like CounterStrike). The conquest mode has not changed in the many years Battlefield has been around and is one of the series' most liked game modes. Each side is allocated a set number of tickets which allows players to rejoin the game after incurring a death. Once the tickets run out, the match is over and you reduce your ticket depletion rate by holding more of the map. Nothing has really changed for Battlefield 3 and this is a good thing.
The second primary mode is Rush which as mentioned before is a bit more like CounterStrike with one team defending a target and the others trying to take it out. One puzzling element of the Rush game mode is that once the round ends it just moves onto the next map, rather than flipping the sides over and having the defenders now attack and vice versa. Rush is an interesting addition to the Battlefield series and in some cases we preferred to play that mode over the Conquest mode.
[img]2[/img]
Aside from the positives with the multiplayer, there are also a few negatives. During our first few days with the game, the experience was frustrating to say the least. Regular crashes and dropouts from servers were the norm, although we have noticed towards the end of our review cycle this has improved. Considering you gain points in matches which accumulate to your persistent character at the end of matches, to drop halfway through almost made us want to put fists through walls and it was almost pointless to try and play when that happened.
The unlocks sometimes leave a lot to be desired as well. When you first start, you have zero points on the vehicles and therefore don't have access to some options some players would think are requirements to even using the vehicles. For example, when you first get in a jet you do not have access to the flares to take out heat seeking missiles making it an incredibly frustrating experience. This has led to people setting up servers specifically for people to gain the necessary points to get the flares. The levelling system also means that those who play more can dominate those who cannot. We've never liked systems which punish people for only playing once a day, and guess what? Battlefield 3 has not changed this.
[img]3[/img]
Another puzzling aspect is that even on the console you cannot setup your own server. EA has restricted the rollout of servers to approved server managers and on the console, running it themselves. This worries us for a few reasons. When EA starts to turn off servers sometime in the future (probably years down the track) there is no way for people to continue to play. Given that today you can still play BF1942, if you really wanted to, this is a concern. And not being able to setup your own servers removes the ability for you to setup a server yourself to practice flying the aircraft or learning the maps. It doesn't make sense from a gamers perspective and is another notch against what is otherwise a brilliant multiplayer experience.
Visually Battlefield 3 is a stunning experience. One particular mission where you are in a jet is jaw droppingly gorgeous on the ultra settings and shows just how far ahead PC technology is of the consoles. The console versions look good, but nothing like the PC version. Battlefield 3 has some of the best graphics around with huge explosions, zero pop in and life-like facials the norm in the campaign and multiplayer sides. On the voice acting side of things, the script can seem very wooden, but despite this, generally well presented by the voice actors.
Battlefield 3 is a game of two halves. If it was a campaign only game the score would be significantly lower than it is, but yet again multiplayer has come along to save Battlefields bacon. DICE should focus on the multiplayer which they are so good at, but if they want to invest in and care about a single player campaign in the future, outsource it. It's a shame that Battlefield 3 has a poor single player campaign, because the rest of the game is an amazing package. A flawed gem!