Resident Evil: The Mercenaries 3DS Review
Resident Evil goes portable on the 3DS. Let's see if this third person action shooter can impress.
Published Jul 10, 2011 3:00 AM CDT
|
Updated Tue, Nov 3 2020 7:01 PM CST
4 minute read time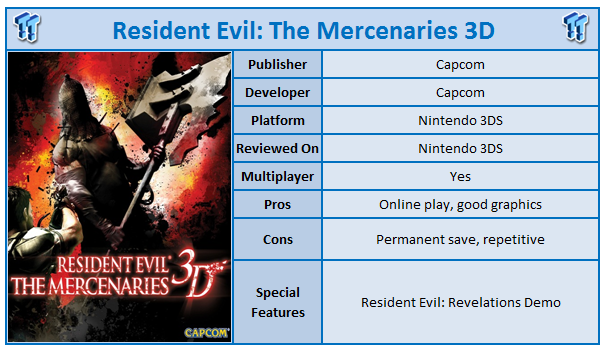 Until Resident Evil 4, the series maintained its single player status. However, it also maintained its status as one of the most popular video game franchises on numerous systems including the Nintendo 64, Playstation 2 and the original Playstation. With Resident Evil 4, Capcom changed the game (excuse the pun) and introduced multiplayer in what turned out to be a completely new and refreshing take for the series. This mode was present in the fifth iteration of the game and many believe it to be the better aspect of that game. When the 3DS was announced Capcom jumped on board almost right away announcing two Resident Evil games.
The first of those games, The Mercenaries 3D, takes the multiplayer aspect from Resident Evil 4 and 5 and turns it into a full priced game. What Capcom has proven with this game is taking a multiplayer mode and turning it into a full game is not enough to make the game not only compelling enough, but good value for the gamer. The fact is, Resident Evil: The Mercenaries 3D is a big disappointment, and not even the inclusion of a demo from the upcoming 'real' Resident Evil game is not enough to save it from bargain bin status.
There is no real premise behind the game other than survival. No overarching storyline, no real storyline behind the characters; you just get into a mission and shoot. On the multiplayer side of things this is fine, but in the single player it does become boring fast, which is a real shame. So basically you turn the game on, choose the mission you want to play, enter the mission and try to survive the wave of enemies or boss character that challenges you.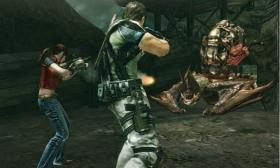 The main challenge of the game comes from the time limit. Each mission has a time limit that can be extended by either killing enemies in an impressive manner such as jumping on them or shattering a statue which gives more time. The time limit does actually improve the game. You always feel pressured to take the enemies out and complete the missions quickly. However, on a few of the missions the time limit really does seem to be incredibly low. In fact, some of the missions seem down right impossible and when you progress past them it feels like a fluke.
Chapters are divided into a sequence of missions, escalating in difficulty until a final 'test'. All the missions in a chapter are available right away which does allow you to play some different missions if you do get stuck, but one interesting feature of the game becomes apparent here as well. If you pass the 'test' mission right away, it will unlock the next chapter. It is things like this which definitely show that the intention was to make this a multiplayer focused game and single player was not really on the radar for improvement whatsoever.
The gameplay itself is adequate and at times fun to play. There is a major change to the Resident Evil universe in this game and that is you can now strafe when your weapon is drawn. In previous RE games you could not do this and this gives the game more of an action feel than survival horror. Many RE fans will not be happy with this change, but there is no doubt that this is an improvement to the series when it comes to the Mercenaries mode. The action is fast paced and each mission will last a maximum of about five minutes making it perfect for portable play. It's just such a shame it is so repetitive.
Other improvements have been made to the game via the 3DS console. In comparison to the console games, you no longer have to bring up a full UI to change weapons; instead you just tap on them. Again, this reinforces the action style of the game. There are also numerous characters to play as, with more being unlocked as you progress in the game. Each character is very much representative of how they were in the game they featured in. Characters include Chris and Claire Redfield and Jill Valentine just to name some of the more well known characters featured.
Before we discuss the multiplayer side of the game which is admittedly quite good, there is another aspect where this game is ground breaking, but in no way is this a good thing. You cannot delete your save game ever, via any means. Once you have unlocked something such as a new character or mission it is unlocked forever. There is no reset, there is no delete, there is nothing. We found it incredibly puzzling as to why this has been done. Once you have unlocked everything in the game (which admittedly would take quite some time) there is no real reason to go back to it, and you can't even set the challenge of doing it all again. We hope this is the first and last time we see this in a Nintendo 3DS game. It is possible to turn off autosave and control the save points, but there is no way of deleting or resetting a save, period.
[img]2[/img]
On a more positive note, the multiplayer side, especially over the internet is impressive. The latency does not affect the game that much and it is entirely possible to play online quite well. It is games like this that make it disappointing the 3DS unit does not have a 3G connection as this is a perfect game for it. Multiplayer is also offered locally via system to system play. Multiplayer is only against AI, there are no modes where players can take each other. This simple addition could have given the game more replay value than it has now, which is unfortunately almost zero.
[img]3[/img]
Visually the game on the 3DS is quite impressive in some aspects, but disappointing in others. In full 3D we have to admit we did expect more, but given the frantic nature of the game, the fact the framerate does not drop is a plus. The animations seem a bit stilted on the enemy characters, but the environments and main characters do look good. The game also does not drop graphical fidelity when online. The sound effects whilst adequate, are not impressive at all and overall the voice acting and music is disappointing, just adding to a long line of disappointments with this game.
Resident Evil: The Mercenaries 3D is a big disappointment for a number of reasons. The best aspect of the game in many ways is the demo of Revelations that comes with the game, thus proving Capcom can still make a good portable Resident Evil game. If you love the Mercenaries game mode and don't mind not being able to reset progress and play online a lot, then Mercenaries may be worth a look, but for everyone else, wait for the real portable RE game, coming next year.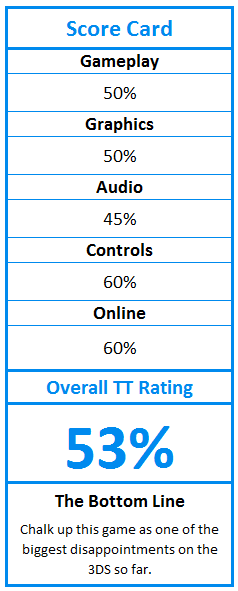 PRICING: You can find products similar to this one for sale below.

United States: Find other tech and computer products like this over at Amazon.com

United Kingdom: Find other tech and computer products like this over at Amazon.co.uk

Australia: Find other tech and computer products like this over at Amazon.com.au

Canada: Find other tech and computer products like this over at Amazon.ca

Deutschland: Finde andere Technik- und Computerprodukte wie dieses auf Amazon.de