nVidia High-End Graphics Cards for Second Hand Buyers
GeForce G80 is out soon but what if you don't have the big bucks? We look at all current high-end cards from nVidia.
Published Tue, Oct 31 2006 11:00 PM CST
|
Updated Tue, Nov 3 2020 7:04 PM CST
Introduction
So you loaded up the article and thought what the heck is TweakTown doing?
You're probably wondering why a high-end nVidia graphics card roundup is being published just one week away from the launch of the brand new G80 - GeForce 8800GTX and 8800GTS.
Well with the release of the new nVidia G80 cards, we are going to see an absolute flurry of previous (current) generation high-end cards hit the second hand market as all those people who want the best sell off their current top end cards.
We're going to be having a look at the current cream of the crop nVidia cards to see what you want to buy with those hard earned dollars of yours. We will have a brief look at the cards but our main intention will be to see how they fair in a straight out comparison in our normal array of benchmarks.
We will be looking at five cards today - the 7900GS Extreme from XFX starts the roundup off. From there we will be looking at the highly popular 7900GT. The newly released 7950GT is next on the list with the original bad boy of high-end, the 7900GTX and finally we will be throwing in the 7950GX2 which no doubt will be hitting the second hand market hard and fast.
There is no doubt you're going to pick up some good deals in the following weeks, so let's have a quick look at what is in the line up and see what performance looks like across the board.
The Cards
XFX 7900GS Extreme
The GeForce 7900GS is one of the best bang for buck cards you can buy at the moment as far as we are concerned. It's safe to assume this card will pop up a fair bit since a lot of people purchased it as something to do them over till the new 8800 series arrives.
Majority cards offer a huge overclock which gives a massive performance. If you're on the prowl for a 7900GS we would recommend that you find out what kind of overclock they had so you don't get yourself a dud.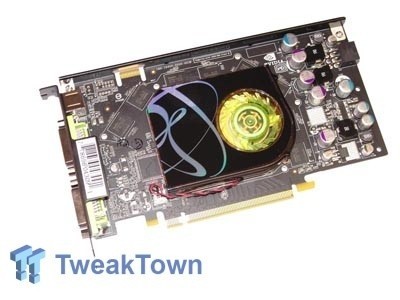 The XFX model we have with us is the "Extreme" variant which has a bump in the core and memory. It's not a huge deal with what these cards can generally offer when it comes to overclocking but if you can pick something up pre-overclocked, you may as well.
The default spec on the 7900GS is 450MHz core and 1320MHz DDR memory. 256MB DDR3 is the most common variant with 512MB DDR3 models just beginning to pop up. The particular model from XFX comes clocked at 480MHz on the core and 1400MHz DDR on the memory.
MSI 7900GT
The 7900GT was clearly one of the best cards around for a long time. Unfortunately certain companies just tried to overclock them too much that they ended up copping quite a bad rep due to the high failure rate that followed.
Your best bet for the 7900GT is to try and pick up something that hasn't really been overclocked too much. The main target for this market is going to be people with SLI motherboards and already have a 7900GT. You're going to be able to go SLI get an excellent performance boost and not break the bank massively.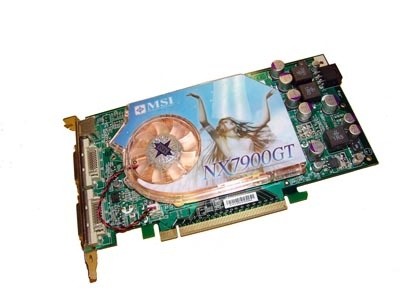 Like the 7900GS, the 7900GT also offers a 450MHz core and 1320MHz DDR memory. DDR3 is used like all the nVidia cards we have here. There are also a number of different variations of the 7900GT which was to be expected with it being as popular as it was. We have the standards clocked 256MB DDR3 model, overclocked 256MB DDR3 models, overclocked 512MB DDR3 models and stock and overclocked 256MB DDR3 VIVO models. These cards will be one of the most common to be found but we would highly recommend that you check out the warranty with the card, is there still one? Is it transferable?
The MSI card we have here today is stock clocked and offers 256MB of DDR3 memory.
The Cards Continued
XFX 7950GT Extreme
I made my thoughts quite clear at a few places about the 7950GT. The thing is it's not a bad card; it really is just a remake of the 512MB variant of the 7900GT though. Chances are this is the one card that we will see very little. It wasn't too popular due to the fact it was only slightly faster then the 7900GT but slower then the 7900GTX. It offers quite a poor overclock in general and the price wasn't all that good.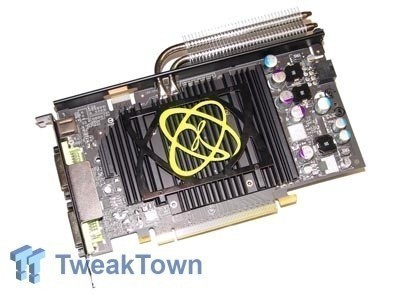 Again the XFX card we are looking is the "Extreme" model which has the increased core and memory speed. The standard speeds on the 7950GT come in at 550MHz on the core and 1400MHz DDR on the memory. XFX have increased this to 570MHz on the core and 1460MHz DDR on the memory.
nVidia GeForce 7900GTX
Clearly what was the king of the hill for a very long time, the GeForce 7900GTX, will be another card that will pop up a lot mainly due to the fact that it has been around for so long. Performance from the 7900GTX has always been excellent and there is going to be a fantastic chance for people to get high performance SLI on the cheap.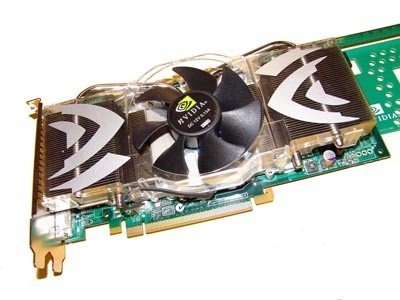 The 7900GTX we have with us today is pretty much about as reference as they come. Considering it came in a brown box it feels like the original samples we received many moons ago. Using the standard core and memory speed of 650MHz and 1600MHz DDR, it is going to be one of the more common cards you're going to see on the market. The 7900GTX came simply in a 512MB DDR3 version only. The only difference between them on the market is the stock overclock.
The other thing about the 7900GTX is that it wasn't plagued with the horribly warranty issue that the 7900GT had, so it is quite a safe buy.
BFG Tech 7950GX2
As far as I am concerned this card was only ever made to a) annoy ATI and b) dump as many G71 cores as possible so when G80 finally did hit nVidia and its partners weren't going to get stuck with a large inventory of what would become worthless chips to companies like ASUS, XFX, BFG Tech and more.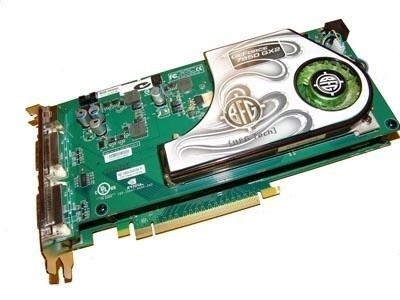 What will be interesting is how many of these eventually pop up for sale. 7900GTX users didn't really update to them because the performance boost offered when compared to what they currently had wasn't mind blowing and second with such a huge price tag and the card not being far from the release of G80 people who did buy them had intentions of skipping first generation DX10 cards.
Due to the issue that was had with the 7900GT, nVidia actually made it quite clear that they didn't want these cards overclocked by their partners. BFG Tech a company who is usually known for there overclock followed the rules so in turn we have the stock clocks of 500MHz core and 1200MHz DDR memory. Not to say that you can't bump it up yourself.
The only company that offered any stock overclocking on the 7950GX2 was XFX who had a few variants. Apart from the single brand all other cards where stock clocked so if you did want to venture to Quad SLI you could mix and match almost any two brands as they will have the same clocks.
Benchmarks - Test System Setup and 3DMark05
Test System SetupProcessor(s):
Intel Core 2 Duo E6600 @ 3430MHz (381MHz FSB with 4:5 memory)
Motherboard(s):
DFI Infinity 975X (Supplied by
Bronet
)
Memory:
2 X 1GB G.Skill HZ PC8000 @ 476MHz 4-4-4-12 (Supplied by
Bronet
)
Hard Disk(s):
Hitachi 80Gig 7200RPM SATA 2
Operating System:
Windows XP Professional SP2
Drivers:
nVidia ForceWare 91.47 and DX9c
Running through our normal benchmark line up we will be looking at where each card sits.
We have looked at all the cards before but never all together. What we mainly want to look at is what card is going to be best for you. It's not worth spending more money if you don't need too.
3DMark05Version and / or Patch Used:
Build 120
Developer Homepage:
http://www.futuremark.com
Product Homepage:
http://www.futuremark.com/products/3dmark05/
Buy It Here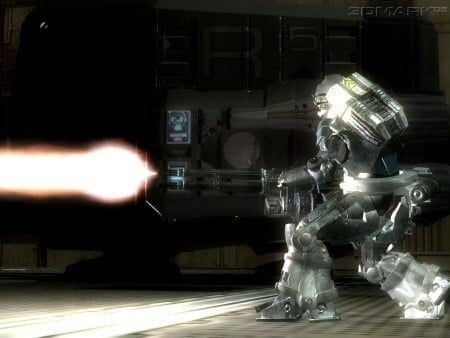 3DMark05 is now the second latest version in the popular 3DMark "Gamers Benchmark" series. It includes a complete set of DX9 benchmarks which tests Shader Model 2.0 and above.
For more information on the 3DMark05 benchmark, we recommend you read our preview
here
.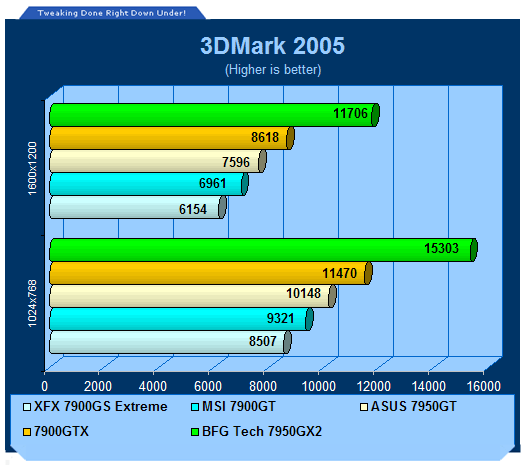 The synthetic 3DMark05 shows us pretty much what we already knew as far as fastest to slowest goes.
Benchmarks - 3DMark06
3DMark06Version and / or Patch Used:
Build 102
Developer Homepage:
http://www.futuremark.com
Product Homepage:
http://www.futuremark.com/products/3dmark06/
Buy It Here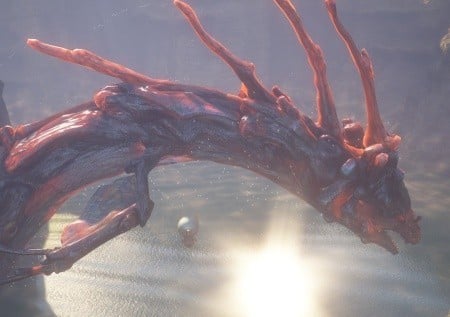 3DMark06 is the very latest version of the "Gamers Benchmark" from FutureMark. The newest version of 3DMark expands on the tests in 3DMark05 by adding graphical effects using Shader Model 3.0 and HDR (High Dynamic Range lighting) which will push even the best DX9 graphics cards to the extremes.
3DMark06 also focuses on not just the GPU but the CPU using the AGEIA PhysX software physics library to effectively test single and Dual Core processors.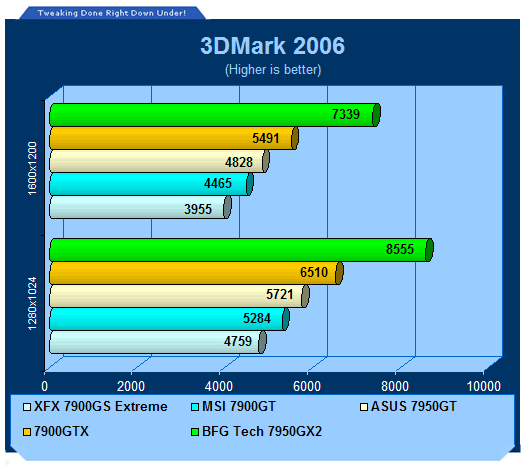 Like 3DMark05 the test doesn't give us a direct FPS as opposed to a score. It let's us all know where each product sits though and what kind of % difference in a synthetic benchmark.
Benchmarks - Half Life 2 (Lost Coast)
Half Life 2 (Lost Coast)Version and / or Patch Used:
Unpatched
Timedemo or Level Used:
Custom Timedemo
Developer Homepage:
http://www.valvesoftware.com
Product Homepage:
http://www.half-life2.com
Buy It Here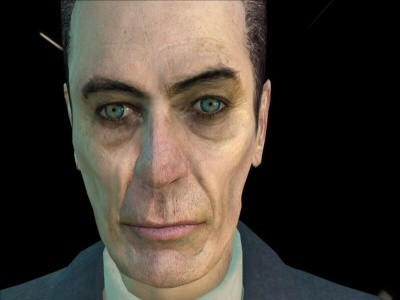 By taking the suspense, challenge and visceral charge of the original, and adding startling new realism, responsiveness and new HDR technology, Half-Life 2 Lost Coast opens the door to a world where the player's presence affects everything around him, from the physical environment to the behaviors even the emotions of both friends and enemies.
We benchmark Half Life 2 Lost Coast with our own custom timedemos as to avoid possible driver optimizations using the "record demo_name" command and loading the timedemo with the "timedemo demo_name" command - For a full list of the commands,
click here
.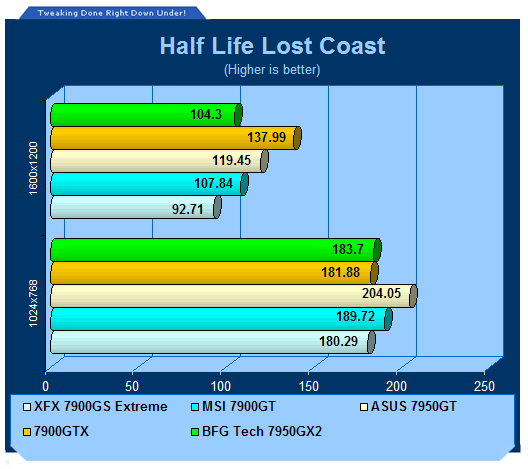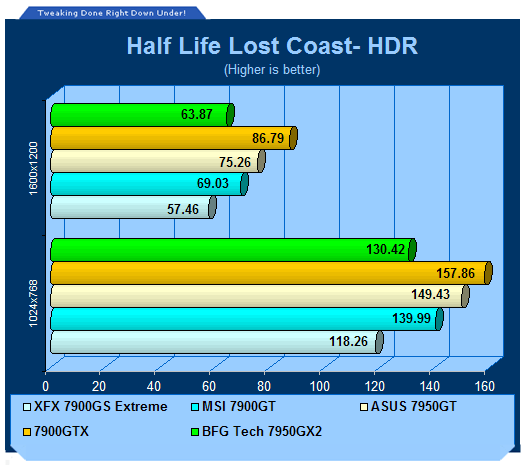 In the first of our real world tests we can see that all models are going to give you a nice playable line up at 1600 x 1200 and below. When we move to our HDR tests if you're going to be gaming with it enabled at a higher resolution, you're going to want to be looking more to the GeForce 7900GT and above.
Benchmarks - PREY
PREYVersion and / or Patch Used:
Unpatched
Timedemo or Level Used:
HardwareOC Custom Benchmark
Developer Homepage:
http://www.humanhead.com
Product Homepage:
http://www.prey.com
Buy It Here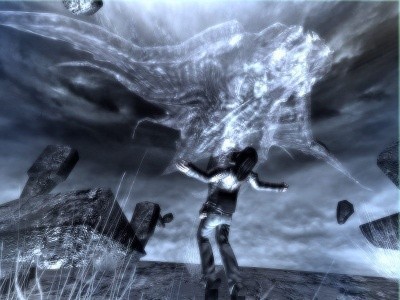 PREY is one of the newest games to be added to our benchmark line-up. It is based off the Doom 3 engine and offers stunning graphics passing what we've seen in Quake 4 and does put quite a lot of strain on our test systems.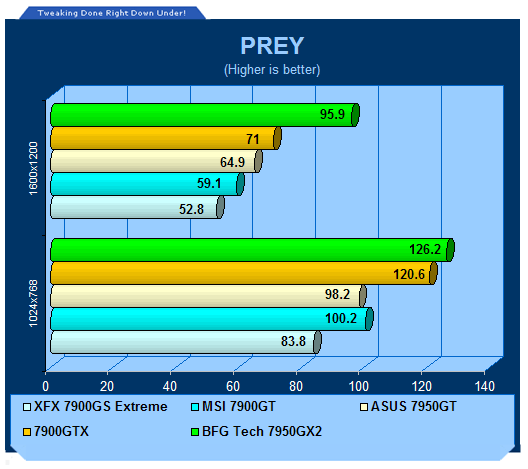 PREY sees that if you want to be playing in high detail and the higher 1600 x 1200 resolution, you're going to want to be around the 7950GT mark and above. Unlike Half Life 2, we can see that PREY is able to make use of the SLI capabilities offered from the 7950GX2.
Benchmarks - F.E.A.R.
F.E.A.R.Version and / or Patch Used:
Unpatched
Timedemo or Level Used:
Built-in Test
Developer Homepage:
http://www.vugames.com
Product Homepage:
http://www.whatisfear.com/us/
Buy It Here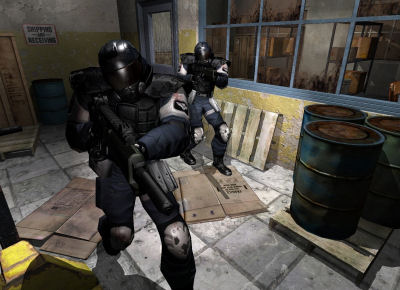 F.E.A.R. (First Encounter Assault Recon) is an intense combat experience with rich atmosphere and a deeply intense paranormal storyline presented entirely in first person. Be the hero in your own spine-tingling epic of action, tension, and terror...and discover the true meaning of F.E.A.R.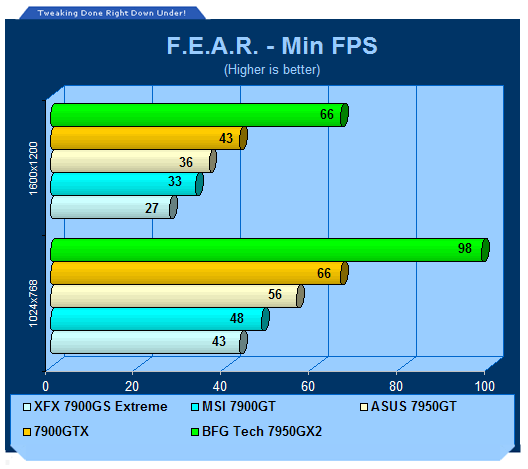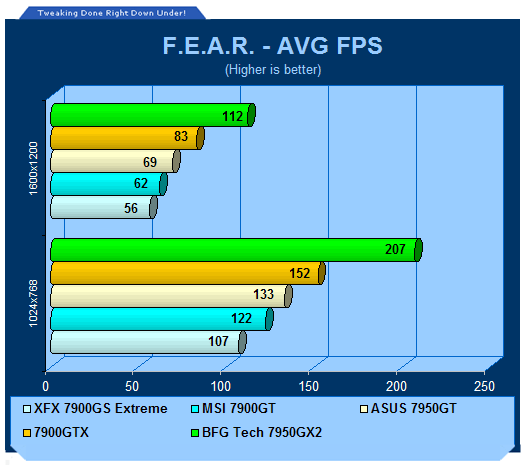 F.E.A.R. is just naturally a very intensive game, the minimum you want to be playing at with everything maxed and 1600 x 1200 is the 7950GT and above. You might be able to squeeze in with the 7900GT with the minimum being just above 30 FPS.
Benchmarks - High Quality AA and AF
High Quality AA and AF
Our high quality tests let us separate the men from the boys and the ladies from the girls. If the cards weren't struggling before they will start to now.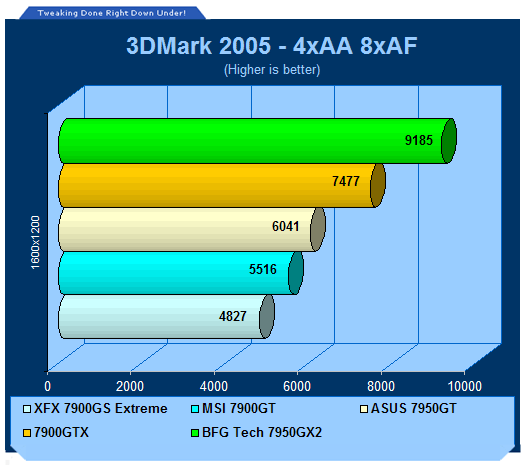 We can see quite a consistency when it comes to our benchmarks with only the Half Life 2 engine not being able to make use of the SLI capabilities. Everything pretty much follows a similar pattern to what we see above.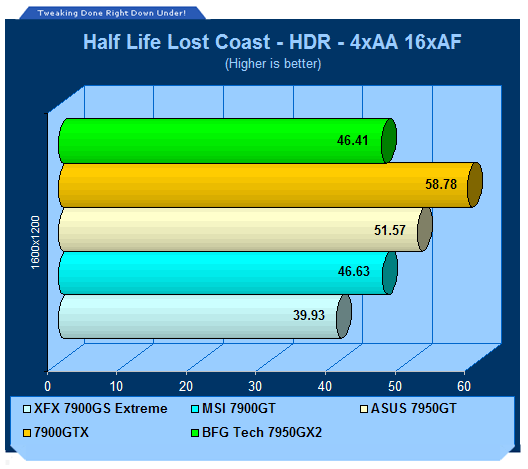 If you want to be playing your Source based game with HDR and AA and AF on your really want to be looking at the 7900GTX to see maximum detail.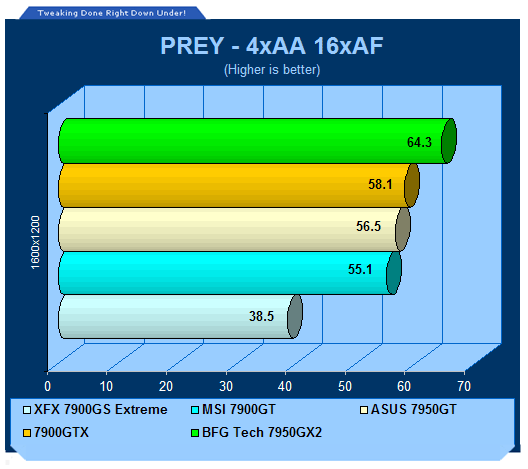 PREY really wants to see the higher end 7950GX2 thanks to the average being roughly 10% higher and overall giving us what will be a better minimum FPS, which is just as important.
Final Thoughts
Looking at what you're going to run on we will give you an idea of where you want to be.
1024 x 768
- At 1024 x 768 your really have got the pick of the litter. Everything is going to do what you want but the bottom line is anything really above the 7900GS is just going to be throwing money down the drain. With the OC potential available from the 7900GS, it clearly is going to give you excellent performance and give you a good run for your money until we begin to see not only mainstream DX10 cards but DX10 games.
1280 x 1024
- The most common resolution amongst most gamers thanks to it being seen on pretty much any 17" and 19" LCD. Depending on what sort of graphics level you want, you're going to be looking A O K with the 7900GS again when overclocked. You want to start mixing it up with some AA and AF we would probably recommend that you venture across to the 7900GT or even the 7950GT if you can pick one up cheap.
1600 x 1200
- That resolution for all those stubborn gamers that have their heart set that LCDs are the work of people who never game. If you're running a 19" CRT and above the chances are this is what you game at. This is quite a jump in the resolution from 1280 x 1024 and you want to start looking at the 7950GT and 7900GTX of which both offer 512MB of DDR3. You're going to be able to game at the higher resolution and some slight degrees of AA are possible. If you want to get serious and really turn up the image quality, you want to venture into 7950GX2 land.
1680 x 1050
- From a pure pixel push out rate your looking at something that is pretty similar to 1600 x 1200. You're going to again be looking at the 7950GT and 7900GTX for some higher end detail gaming.
1920 x 1200 and above
Here is where the big boys come out to play, for top single card performance you're not going to want to look past the 7950GX2. If you already own one or a 7900GTX it's time to start shopping for that second one so you can start bumping up that AA and AF image quality. Either that or go buy an 8800GTX launch day.
There's a bit of everything for every kind of resolution. The thing is though - you go to forums all around the world and pick up on what people are saying and owners of 24" LCD monitors pumping out 1920 x 1200 are saying how fantastic every game runs at max with their cheap GeForce 7600GT. Well it's clear that they haven't used something as nice as the 7900GTX or 7950GX2.
Your wallet is really going to do all the talking but if you're looking at having something for a while now is the time to try and pick up something second hand as chances are, you're going to get a good deal and some pleasant gaming experience for quite a while.
PRICING: You can find products similar to this one for sale below.

United States: Find other tech and computer products like this over at Amazon.com

United Kingdom: Find other tech and computer products like this over at Amazon.co.uk

Australia: Find other tech and computer products like this over at Amazon.com.au

Canada: Find other tech and computer products like this over at Amazon.ca

Deutschland: Finde andere Technik- und Computerprodukte wie dieses auf Amazon.de