Borderlands 3 Benchmarked at 8K: also eats up $2499 NVIDIA TITAN RTX
Borderlands 3 benchmarked at 8K... what could go wrong? Single-digit FPS, that's what.

Published
5 minute read time
Introduction & Graphics Settings
I first started benchmarking Borderlands 3 at the traditional resolutions of 1920 x 1080, 2560 x 1440, and 3840 x 2160 -- but now it is time to really stretch the resolutions legs with 8K at a huge 7680 x 4320.
It was only last week that I published a benchmark piece looking at the newly-released Gears 5 at 8K, which really took our graphics cards to our knees. This included the $2499 beast in the NVIDIA TITAN RTX with 24GB of GDDR6, and AMD's flagship card from 6 months ago in the Radeon VII and its 16GB of HBM2.
Well, Borderlands 3 kicks our graphics cards' asses as well -- hell, even more so than Gears 5. We're looking at single-digit performance at Bad Ass level graphics, where Medium graphics settings return to normalcy and see (close to) 30FPS or so on at least one of our graphics cards.
Borderlands 3 is built on the foundations of Unreal Engine 4, and while there is DX12 support built into the game, there's too many issues with it right now so I've stuck to DX11. I did the same routine with the normal 1080p/1440p/4K benchmark article, too.
You need some serious GPU horsepower, and for games with higher-end 4K textures up at 8K -- if you throw AA (anti-aliasing) into the mix then needing over 12GB of framebuffer (VRAM on your graphics card) is needed. There are instances in testing (like Remedy's latest game Control) where the NVIDIA TITAN RTX has all of its ridiculously-large 24GB of GDDR6 used.
Gears 5 running at 8K is seriously hard... and it reduces our graphics cards to nothing really, unplayable. I re-ran the tests on Medium so we can get some idea of how Gears 5 would run at 8K... nothing that exists can run it, it's that hard.
8K gaming is crazy and with that said... let's get right into it.
Before you jump into the game, you'll want to get the Borderlands 3-optimized drivers for your GeForce or Radeon graphics card. Both companies have drivers available -- with links to them below.
GeForce Game Ready 436.30 driver
Radeon Adrenalin 2019 Edition 19.9.2
Graphics Cards Used
Gears 5 required a graphics card with over 8GB of VRAM to even run the game at 8K, but Borderlands 3 isn't so harsh. Well, I digress -- it is, it'll run on a card with 8GB of VRAM (which is why I've included the RX 5700 XT in the run, and if you guys want I can re-run it with the RTX SUPER range of cards in a follow-up piece).
NVIDIA has a couple of options with the GeForce GTX 1080 Ti, TITAN Xp, GeForce RTX 2080 Ti, and TITAN RTX. I've tested all of these graphics cards at 8K for a total of 5 cards, with even harsher frame rates than Gears 5 at 8K.
The best thing about the TITAN RTX is that it can be used in any VRAM starved situation, with it quickly becoming my go-to graphics card when I'm testing games at 8K. Seeing the VRAM clock over 16GB in some instances is pretty insane, but 8K isn't doing that here in Borderlands 3 -- and it didn't do it in Gears 5, either.
NVIDIA TITAN RTX - 24GB GDDR6

AMD Radeon VII - 16GB HBM2

NVIDIA TITAN Xp - 12GB GDDR5X

NVIDIA GeForce RTX 2080 Ti - 11GB GDDR6

NVIDIA GeForce GTX 1080 Ti - 11GB GDDR5X

AMD Radeon RX 5700 XT - 8GB GDDR6
Test System Specs
Our New GPU Test Rig
Welcome to the latest revision of our GPU test bed, with our system being upgraded from the Intel Core i7-7700K to the Core i7-8700K. The CPU is cooled by the Corsair H115i PRO cooler, with the 8700K overclocked to 5GHz. We've stayed with GIGABYTE for our motherboard with their awesome Z370 AORUS Gaming 7.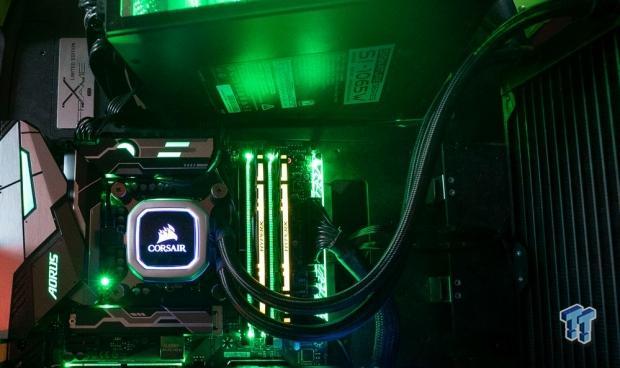 We approached our friends at HyperX for a kit of their kick ass HyperX Predator DDR4-2933MHz RAM (HX429C15PB3AK4/32), with 2 x 8GB sticks for a total of 16GB DDR4-2933. The RAM stands out through every minute of our testing as it has beautiful RGB lights giving the system a slick look while benchmarking our lives away, while the Z370 AORUS Gaming 7 motherboard joins in with its own array of RGB lighting.

Detailed Tech Specs
CPU: Intel Core i7-8700K @ 5GHz
Cooler: Corsair Hydro Series H115i PRO
MB: Z370 AORUS Gaming 7
RAM: 16GB (2x8GB) HyperX Predator DDR4-2933
SSD: 1TB OCZ RD400 NVMe M.2
SSD: 512GB OCZ RD400 NVMe M.2
PSU: InWin 1065W PSU
Chassis: In Win X-Frame
OS: Windows 10 Pro x64
Additional Images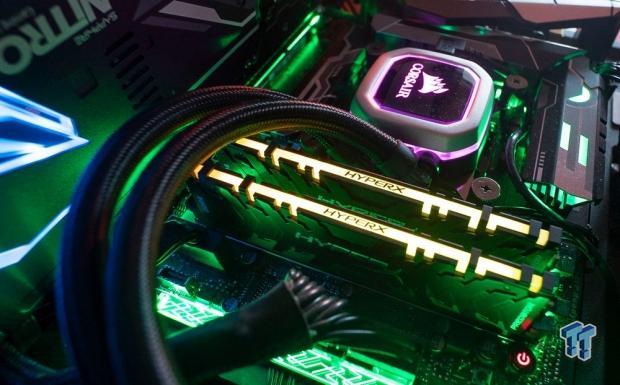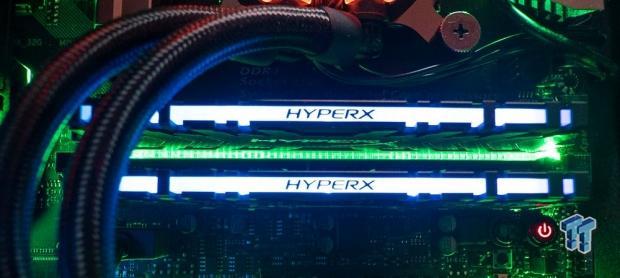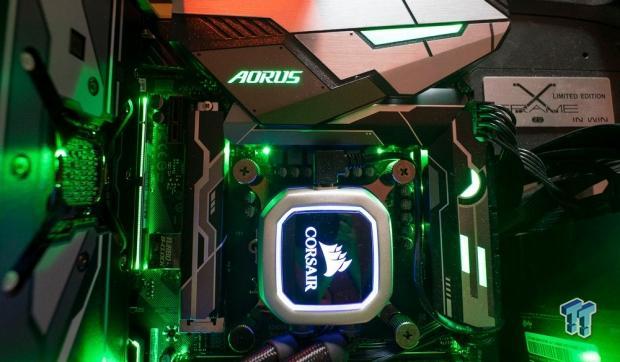 8K - Medium
Graphics Settings
I'm using the built-in benchmark for Borderlands 3, on DX11 mode -- with the following tweaks to the graphics settings. I've done this for both the Medium and Bad Ass runs of the game.
Overall Quality - Medium
Anti-Aliasing - OFF
FidelityFX Sharpening - OFF
Camera Motion Blur - OFF
Object Motion Blur - OFF
Borderlands 3 - 8K - Medium Settings
8K - Bad Ass
Graphics Settings
I'm using the built-in benchmark for Borderlands 3, on DX11 mode -- with the following tweaks to the graphics settings. I've done this for both the Medium and Bad Ass runs of the game.
Overall Quality - Bad Ass
Anti-Aliasing - OFF
FidelityFX Sharpening - OFF
Camera Motion Blur - OFF
Object Motion Blur - OFF
Borderlands 3 - 8K - Bad Ass Settings
Final Thoughts
Even the most Bad Ass graphics card on the planet can't run Borderlands 3 at 7680 x 4320 on its Bad Ass graphics settings, with NVIDIA's TITAN RTX that sells for $2499 being reduced to even finer dust than Gears 5 did at 8K.
Borderlands 3 can't even muster 10FPS on the TITAN RTX at 8K on the Bad Ass preset, strangely enough both of the Pascal-based cards from NVIDIA in the GeForce GTX 1080 Ti and TITAN Xp are 1FPS ahead of the TITAN RTX and 2FPS ahead of the other Turing-based card in the RTX 2080 Ti.
This was a strange anomoly, so I re-benched all of the NVIDIA graphics cards again and had the exact same results in the end. Turing cards are a 1-2 FPS slower at 8K with the Bad Ass preset, but things change in favor of Turing on the Medium preset.
AMD's previous flagship Radeon VII graphics card and its 16GB of HBM2 come into play here, with 9FPS average -- beating out the RTX 2080 Ti and its 8FPS average, and equaling the TITAN RTX that costs 3x more. The new Navi-based Radeon RX 5700 XT at 8K? Don't even talk about it -- 1.7FPS is just... bad.
But, 8GB of framebuffer is never going to be enough for true 8K gaming and I only ran that card as a quick test. If you guys want more 8GB cards tested, like Vega 56/64 and the RTX SUPER range, let me know in the comments and I'll do a follow-up article to see what performance is like... even though it'll fall into to sub-5FPS range.
$2499 will give you 25.6FPS average in Borderlands 3 on the Medium preset, while the RTX 2080 Ti isn't far behind with 24.4FPS. Things drop under 20FPS on everything else, with the TITAN Xp pushing 19.7FPS while the GTX 1080 Ti scales back a bit with 17.FPS.
AMD doesn't do too badly with the Radeon VII and its 17FPS average but the 8GB of GDDR6 inside of the Radeon RX 5700 XT just isn't enough for Borderlands 3 at 8K with only 5.7FPS average.
As I said in my Gears 5 benchmarked at 8K article: 8K gaming is nowhere close to mainstream. I'm simply doing these tests because I'm an enthusiast, who writes for a tech media outlet, who has an actual 8K monitor here and access to the latest and greatest graphics cards and toys to play with.
I don't game at 8K and I won't until we're getting at least 60FPS... and that seems like many years away at this point.
We openly invite the companies who provide us with review samples / who are mentioned or discussed to express their opinion. If any company representative wishes to respond, we will publish the response here. Please contact us if you wish to respond.