Introduction
Borderlands 3 is finally here and with it are questions on what graphics card you'll need to run it at, so we've thrown through a bunch of graphics cards through three resolutions: 1080p, 1440p and of course, 4K.
Gearbox Software upgraded to Unreal Engine 4 with Borderlands 3, and while there is DX12 support for the game -- it has issues so our benchmarks are exclusively using DX11. The game has some great graphics for what it is, and looks pretty good if you've got everything cranked up to maximum.
There's a built-in benchmark which makes things much easier on us benchmarkers, so all results we've captured have been taken from the Borderlands 3 built-in benchmark.
AMD has its own special sauce inside of Borderlands 3 with optimizations for Radeon graphics cards, but that's more on the DX12 side of things so there is no special performance here on either side.
Before you jump into the game, you'll want to get the Borderlands 3-optimized drivers for your GeForce or Radeon graphics card. Both companies have drivers available -- with links to them below.
GeForce Game Ready 436.30 driver
Radeon Adrenalin 2019 Edition 19.9.2
Test System Setup
Our New GPU Test Rig
Welcome to the latest revision of our GPU test bed, with our system being upgraded from the Intel Core i7-7700K to the Core i7-8700K. The CPU is cooled by the Corsair H115i PRO cooler, with the 8700K overclocked to 5GHz. We've stayed with GIGABYTE for our motherboard with their awesome Z370 AORUS Gaming 7.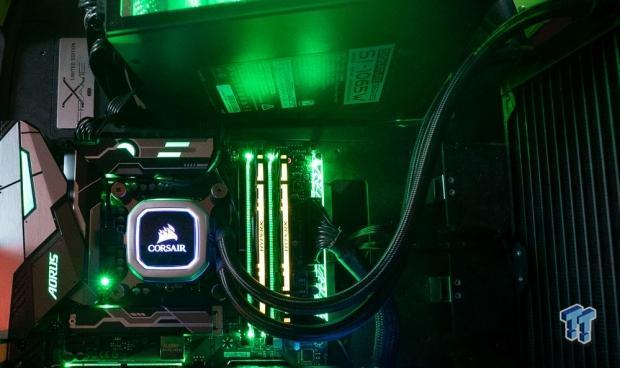 We approached our friends at HyperX for a kit of their kick ass HyperX Predator DDR4-2933MHz RAM (HX429C15PB3AK4/32), with 2 x 8GB sticks for a total of 16GB DDR4-2933. The RAM stands out through every minute of our testing as it has beautiful RGB lights giving the system a slick look while benchmarking our lives away, while the Z370 AORUS Gaming 7 motherboard joins in with its own array of RGB lighting.

Detailed Tech Specs
CPU: Intel Core i7-8700K @ 5GHz
Cooler: Corsair Hydro Series H115i PRO
MB: Z370 AORUS Gaming 7
RAM: 16GB (2x8GB) HyperX Predator DDR4-2933
SSD: 1TB OCZ RD400 NVMe M.2
SSD: 512GB OCZ RD400 NVMe M.2
PSU: InWin 1065W PSU
Chassis: In Win X-Frame
OS: Windows 10 Pro x64
Additional Images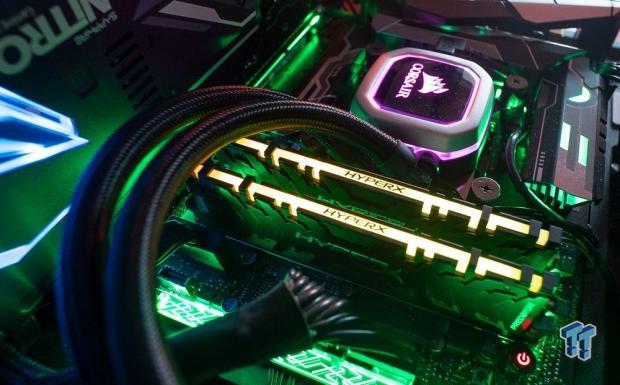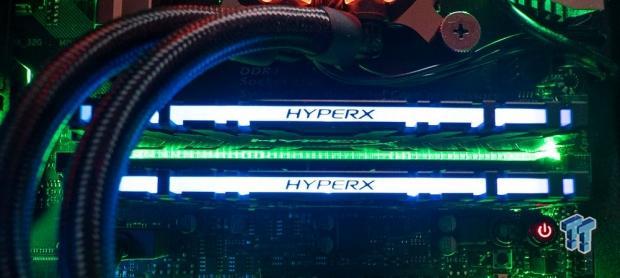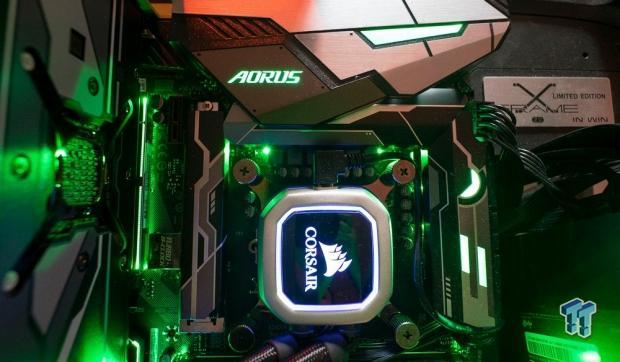 Benchmarks - 1080p
Borderlands 3 - DX11 - 1080p
No card can even reach 120FPS average at 1080p -- not even NVIDIA's TITAN RTX which costs $2499. However, if you're looking at maxing out the details in Borderlands 3 and wanting to hit 60FPS then you'll find a home with AMD's new Radeon RX 5700 series graphics cards.
On the NVIDIA side of the fence, you'll be OK with the standard GeForce RTX 2060 with 65FPS average, but the new RTX 2060 SUPER and its faster GDDR6 offers up 73FPS average. Comparing this to the Radeon RX 570u0 with 65FPS average, and the faster RX 5700 XT with 80FPS average.
AMD even beats the GeForce RTX 2070 here at 1080p with 80FPS over 77FPS, but loses to the RTX 2070 SUPER with 85FPS average.
Benchmarks - 1440p
Borderlands 3 - DX11 - 1440p
I couldn't get over 100FPS average in Borderlands 3 at 1440p with everything cranked up, with the TITAN RTX maxing out at 89FPS and the RTX 2080 Ti with 84FPS. But once again if you want around 60FPS average you'll be OK with the RTX 2060 and RX 5700 series cards.
AMD's new Radeon RX 5700 XT hits 54FPS average at 1440p in Borderlands 3 while the stock RX 5700 only hits 47FPS -- comparing this to the RTX 2060 with 45FPS and RTX 2060 SUPER at 52FPS average. The older GeForce GTX 1080 Ti stands out here as well with 63FPS average, beating out the new RTX 2070 SUPER and RX 5700 XT.
If you want over 60FPS you're looking at the RTX 2070 SUPER and up, with the RTX 2080 SUPER hitting 69FPS and the brute speed of the RTX 2080 Ti on show here with 84FPS average.
Benchmarks - 4K
Borderlands 3 - DX11 - 4K
If you thought 1080p and 1440p was hard on graphics cards in Borderlands 3 -- 4K is the real MVP. $2499 won't even be enough to give you 60FPS average, with NVIDIA's flagship TITAN RTX and its 24GB of GDDR6 and full Turing GPU only offering up 50FPS average.
NVIDIA's GeForce RTX 2080 Ti isn't far behind with 47FPS average, and then it drops right off - the closest to the RTX 2080 TI is the RTX 2080 SUPER with 38FPS average. AMD's best -- the Radeon VII only hits 32FPS with its 16GB of HBM2, while the new Navi-based RX 5700 XT is 1FPS better at 33FPS average.
NVIDIA's previous-gen GTX 1080 Ti isn't bad here with 35FPS average, beating out everything AMD has on offer -- while the RTX 2070 is required to hit just 30FPS at 4K on Borderlands 3
Final Thoughts
DX12 being broken at launch just leaves a bad taste in my mouth to be honest, and while the game looks good -- you need some serious GPU horsepower to drive Borderlands 3 at 4K which seems kind of ridiculous. It's no Control, or Crysis. Gearbox does state that DX12 is in "beta" for Borderlands 3, so there's that.
Borderlands 3 runs pretty nicely on the popular GeForce RTX 2060 SUPER and Radeon RX 5700/XT graphics cards, offering up over 60FPS average at 1080p. If you want closer to 100FPS then you're going to have to jump up to the RTX 2080 SUPER, and over 100FPS is going to require the RTX 2080 Ti.
Getting over 60FPS at 1440p is a little harder, and leave the older-gen GTX 1080 Ti, and the RTX 2070 SUPER and up hitting it. Nothing AMD has on the market can do 60FPS at all, with the RX 5700 XT only reaching 54FPS -- so too does the 16GB of HBM2-powered Radeon VII graphics card.
All-in-all, we have some results of Borderlands 3 that don't really inspire confidence that we'll see much more performance squeezed out of it from here. We might see some optimizations in game code from developer Gearbox and graphics cards makers in both AMD and NVIDIA -- but I wouldn't go expecting 30% gains overnight or anything.
DX12 mode working would be nice, to do some proper comparisons between DX11 and DX12, too.
Until then, happy looting!