ASRock Becomes The Latest Radeon AIB Partner
We Knew It Was Coming
It was teased only back in March now and while it feels like it has been months, it has been just over a month since the first whispers of ASRock entering the graphics card market first started.
Fast forward to today, and we have the world's first Phantom Gaming X graphics card in the Radeon RX 580 8G OC model from ASRock. There are a bunch of firsts with ASRock's baby steps into the graphics card market, with this being first and foremost the very first time ASRock has stepped onto the graphics card market.
Second, this is the first 'custom' Radeon RX 580 this year and the only 'new' Radeon graphics card released in 2018. TweakTown has the very first model, and while this is a new brand for ASRock, the company isn't bringing anything truly new to the table with their Phantom Gaming X line.
That doesn't mean it's bad though, as this is early days for ASRock as they are venturing out of where they've been kicking a fair amount of ass in certain markets: motherboards. Instead of a mining-focused card, we have a gaming release which is nice to see. A single 8-pin PCIe power connector is another nice touch, and a not-so-out-of-control visual aesthetic that is pleasing to see.
Detailed Specs
AMD has reference specifications for the Radeon RX 580 as follows:
Base GPU: up to 1257MHz
Boost GPU: up to 1340MHz
ASRock offers increased GPU and VRAM clocks on their Phantom Gaming X release:
Silent Mode: up to 1324MHz
Default Mode: up to 1380MHz
OC Mode: up to 1435MHz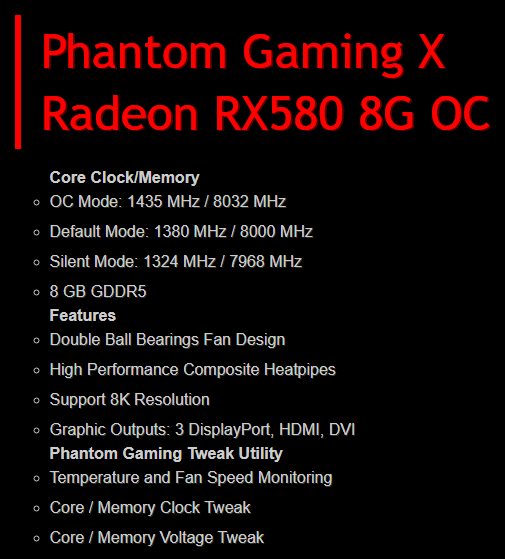 ASRock has also boosted the 8GB of GDDR5 on the Phantom Gaming X card:
Silent Mode: 7968MHz
Default Mode: 8000MHz
OC Mode: 8032MHz
World Exclusive First Look
I didn't think there'd be much to the box art on the Phantom Gaming X graphics card, but it isn't bad for what it is. Lots of Radeon branding all over the place, as there are lots of technologies and features in these cards as time progresses.
Now we get to the money shot: the ASRock Radeon RX 580 8G Phantom Gaming X graphics card itself. We have a dual-fan design that should keep the card cool throughout those massive Fortnite, PUBG, or Overwatch sessions.
There's no backplate as ASRock will be wanting to keep the costs down on the card.
ASRock requires just a single 8-pin PCIe power connector on their RX 580 Phantom Gaming X graphics card.
The usual 3 x DP1.4 connectors, HDMI 2.0 and dual-link DVI. The DP1.4 connectors can drive up to 8K (7680 x 4320).
Testing & Full Review Soon
We will be testing the ASRock Radeon RX 580 Phantom Gaming X graphics card over the next few days where we'll review it against AMD's own Radeon RX 480, RX 570 and RX 580 from SAPPHIRE, NVIDIA's mid-range GeForce GTX 1060 as well as the GTX 1070, GTX 1070 Ti, GTX 1080, and even the GTX 1080 Ti. I'll also be including AMD's flagship Radeon RX Vega 56 and RX Vega 64 in the testing so we have a great look at all the cards on offer right now.
We shouldn't expect better-than-usual gaming performance versus other Radeon RX 580 graphics cards, but ASRock is now in the graphics card market and I'm excited to see where they take us. They've done a great job on providing a different route when it comes to motherboards, so I'd like to see some cooling technology experimentations or even dual-GPU releases from ASRock.
The full review of the ASRock Radeon RX 580 Phantom Gaming X graphics card will be up over the weekend or early next week.