HBM2 Graphics RAM Isn't the Hero We Deserve... Yet
We chat about High Bandwidth Memory and how NVIDIA has shown that we don't need HBM2 graphics card RAM technology in the near future.

Published Aug 10, 2016 12:39 PM CDT
|
Updated Tue, Nov 3 2020 6:58 PM CST
6 minute read time
Talking about HBM & It's Not Just About Speed
Let's talk about HBM
I remember being so beyond pumped about the possibilities of the exciting new, at the time, HBM1 technology. Offering up to 512GB/sec of memory bandwidth over the mid-300GB/sec that we were used to from the likes of NVIDIA and AMD's graphics cards at the time just felt like it was this next big leap that we needed - especially after being stuck on the 28nm process node for so long.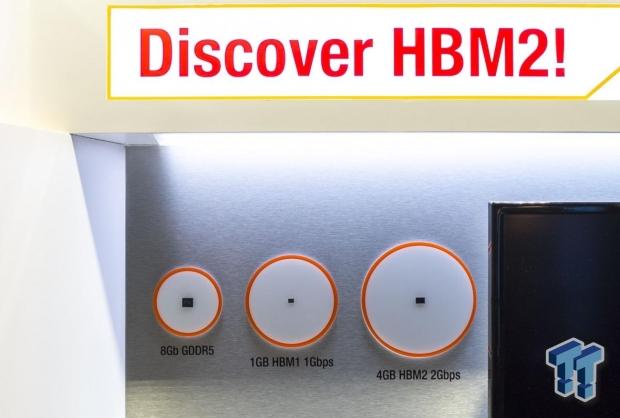 AMD was the first to have HBM1 technology on a consumer graphics card, with the release of the Radeon R9 Fury X reaching new levels of excitement - but, really - it fell on its face. Compared to NVIDIA's GeForce GTX 980 Ti which was released weeks earlier than the Fury X, AMD's graphics card lost against NVIDIA's best consumer graphics card at the time, even with the next-gen HBM1 technology.
HBM1 had some serious limitations with AMD only being able to equip their flagship HBM1-based graphics card with 4GB of HBM1. For a graphics card aimed at enthusiasts and 4K gamers, 4GB of framebuffer was simply not enough. There were tactics used that HBM1 and the 4096-bit memory bus (compared to 512-bit on the Radeon R9 390X) were able to fetch what it needed faster and that there was delta color compression, it would beat everything else on the market - at least, that's what the world expected.
Now remember, this isn't AMD's fault - HBM1 is the problem here. AMD experimented with the use of HBM1 on their Fiji-based graphics cards, so once the release of the Radeon R9 Fury X was out of the way, all eyes were on NVIDIA and their adoption of HBM technology.
It's Not All About Speed
Out of most people I know (inside and outside of the industry), I hold these companies up to nearly impossible standards. This is because I want the absolute bleeding edge technology I can, and now that I'm deep in the industry, I have a better understanding of how things work. My perspective hasn't changed, but I'm able to see it from different angles, which is also courtesy of my ten years working in a retail store building, customizing, and selling PC parts and gaming PCs.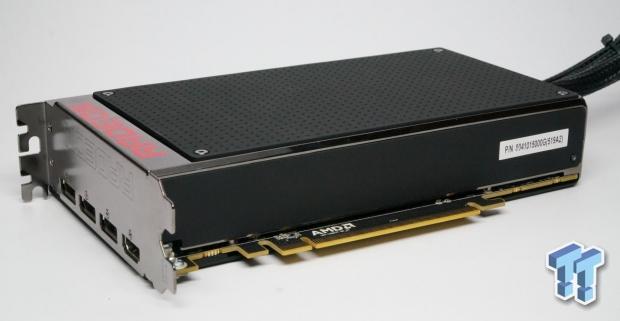 I want the absolute best. Late last year, I was talking with some NVIDIA employees when they flew me out to LA for the release of the GeForce GTX 980 for notebooks, and they asked what I thought the future would bring - for both sides, AMD and NVIDIA. This was in September 2015, and I expected at that point that NVIDIA would unveil an HBM2-based Titan X successor at NVIDIA's GPU Technology Conference in late-March 2016.
I also added that AMD needed to shift their focus completely, and move away from trying to compete against NVIDIA in the high-end market because they don't have the budget, the money for constant R&D (which adds up, so quickly), and that they lost their focus. Months later, AMD announced it had pushed its graphics division into Radeon Technologies Group.
AMD announced its next-gen Polaris architecture, aiming at the lower- and mid-range markets - meaning that I was right about the future of both companies. I expected NVIDIA not to use HBM2 on their consumer GeForce graphics cards for more than one reason:
Cost - It's incredibly expensive - I don't have pricing on the difference between 8GB of GDDR5/X and HBM2, but it would have to be hundreds of dollars per graphics card. If you thought the $1200 pricing on the new Pascal-based Titan X was expensive, imagine it with 12GB of HBM2... we'd be looking at $3000 or something crazy.
Yields - HBM2 is an incredibly difficult thing to make, especially compared to GDDR5 which has been around for years now, and both sides are very efficient with it. If NVIDIA released a new monster and it was powered by HBM2, and truly did deliver a totally new level of performance, the price would be out of this world.
Performance - We saw that HBM1 didn't offer any performance benefits, and while you can argue with me on that all day, it's the simple truth. GDDR5-powered graphics cards are just as fast, and in some cases, like the GTX 980 Ti, are faster. HBM2 can offer 1024GB/sec of memory bandwidth, which is over double the 480GB/sec on the new Titan X, and exactly double the memory bandwidth of the Fury X with its 512GB/sec courtesy of HBM1.
GDDR5X Kicks Ass & HBM2 Isn't Our Hero
GDDR5X is here, and it's more than enough for now
With each new GPU unveiling, we're getting closer to running 4K 60FPS from a single graphics card for a reasonable price. Sure, the new Titan X might cost $1200, but it's more than capable of pumping out 60FPS at 4K without a problem. In the next two to three years, we're going to see $200-$300 graphics cards that will handle that, and then we're opening up Pandora's Box and asking totally new questions about where the market will be by 2020.
GDDR5X was first used on NVIDIA's new GeForce GTX 1080 graphics card, which offers 8GB of GDDR5X at 10GHz. This is a huge upgrade from the maxed out 7GHz we've had for a while now on GDDR5-based graphics cards like the GeForce GTX 980 Ti, Titan X, and Radeon R9 390X just to name a few.
If we compare apples to apples (well, as close as we can) and compare the 8GB of GDDR5X on the GTX 1080 with the the 12GB of GDDR5X on the Titan X, and throw in the older Maxwell-based GeForce GTX Titan X with 12GB of GDDR5 (no X), we have some big changes between just these three graphics cards. Let's throw in AMD's Radeon R9 Fury X into the mix, as it has the most advanced memory of them all.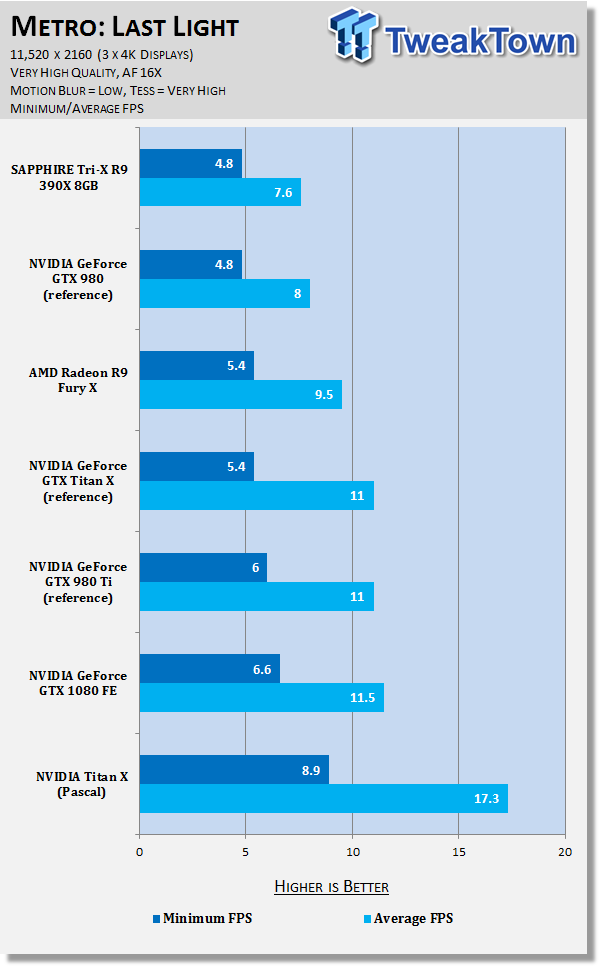 I recently did some benchmarking with triple 4K monitors running a native resolution of 11,520 x 2160, and I didn't expect the results that I did with the new Titan X. The new GDDR5X-based Titan X is around 50% faster than the GTX 1080, and faster again when we look at the last-gen Titan X. AMD's HBM1-powered Fury X is left in the new Titan X's dust, in a big way, mostly because it's limited by its 4GB framebuffer.
In nearly all of the reviews that I read, and my discussions with various friends in the industry and tech YouTubers, the new Titan X is on average of 20% faster than the GTX 1080, which was the fastest graphics card in the world, for a few months at least.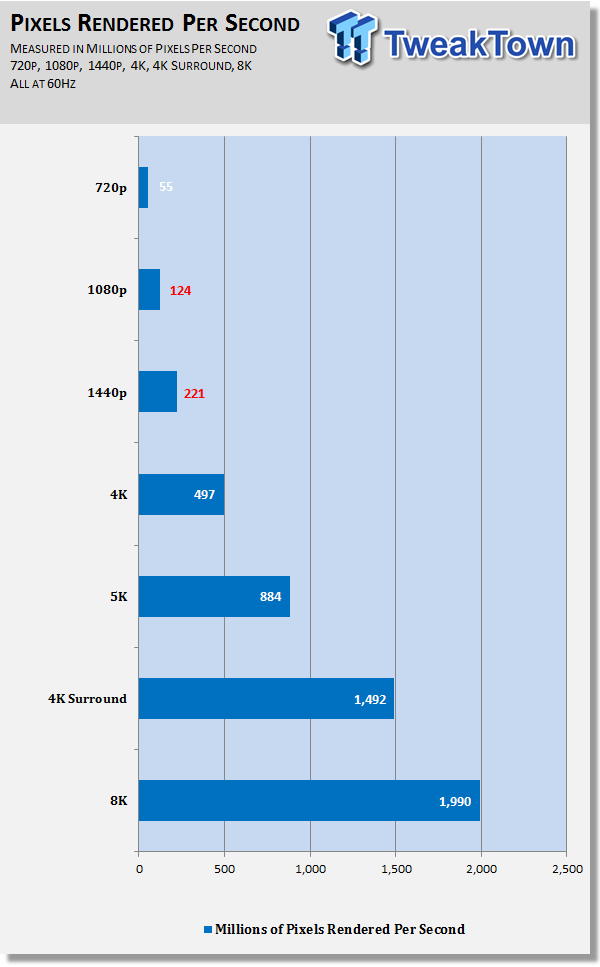 But when I tested NVIDIA's new Titan X at 11,520 x 2160, the results had me blown away. I've never tested a graphics card before where I've yelled out "what the f***," or "how is it this fast?!", but I did with the new Titan X. NVIDIA did some magical things with GDDR5X on the GTX 1080, with architectural improvements to the memory compression which have gone a long way in helping NVIDIA not need to bother with HBM2... for now.
12GB of GDDR5X with a data rate of 10Gbps on a 384-bit memory bus and we have 480GB/sec memory bandwidth, and with 50% more performance over the already fast GTX 1080 at 11,520 x 2160, is there a need for HBM2? This is the reason I run triple 4K benchmarks, not just because, but in the not too distant future, 4K 120Hz and 8K 60Hz will be the norm.
Not only that, but VR is making a big impression on the graphics card market, and there'll soon be VR HMDs with 4K per eye. This is going to need some serious bandwidth to hit 90FPS average, but do we need HBM2? Probably not.
Think Smaller Graphics Cards, New Form Factors
The benefits of HBM2 come into play by ushering in new form factors. AMD did it with the Radeon R9 Nano, which was powered by the same 4GB of HBM1 that the higher-end Fury X had, but did it in a slightly smaller card that is still today one of my favorite graphics cards, ever.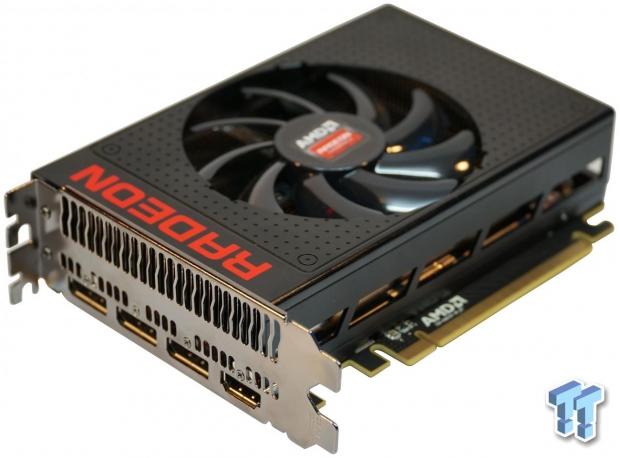 Once HBM2 is cheap enough to throw on consumer graphics cards (for under $700), then we'll see some exciting things come from it. Cards that are the size of the PCIe x16 port, but with performance exceeding the current Titan X which costs $1200.
After the release of NVIDIA's new Titan X, I'm no longer pumped for HBM2 to hit consumer graphics cards in regards to the performance side of things. GDDR5X at 10GHz has shown us that the future is here and that HBM2 is going to be awesome - sure, but it's not needed.
I'm paraphrasing Jim Gordon here, but [HBM2 is] the hero we deserve, but not the one we need right now.
PRICING: You can find products similar to this one for sale below.

United States: Find other tech and computer products like this over at Amazon.com

United Kingdom: Find other tech and computer products like this over at Amazon.co.uk

Australia: Find other tech and computer products like this over at Amazon.com.au

Canada: Find other tech and computer products like this over at Amazon.ca

Deutschland: Finde andere Technik- und Computerprodukte wie dieses auf Amazon.de
We openly invite the companies who provide us with review samples / who are mentioned or discussed to express their opinion. If any company representative wishes to respond, we will publish the response here. Please contact us if you wish to respond.