NVIDIA's GeForce GTX 1080 GPU benchmarked at Triple 4K (11,520 x 2160)
We test out NVIDIA's next-gen GeForce GTX 1080 on our triple 4K setup at 11,520 x 2160. How does it hold up? Come and take a look.

Published Tue, Jun 7 2016 11:06 AM CDT
|
Updated Tue, Nov 3 2020 6:58 PM CST
Introduction & Test Setup Configuration
NVIDIA released the GeForce GTX 1080 last month and while our initial review covered the basics, as well as benchmarks at 1080p/1440p/4K, we wanted to do more. I was going to do some OC testing, but I really wanted to spend some time playing games at the OC levels and then burn it in so I could push onto some benchmarks. So for now, we're going to be doing some triple 4K benchmarks at the video card busting resolution of 11,520 x 2160.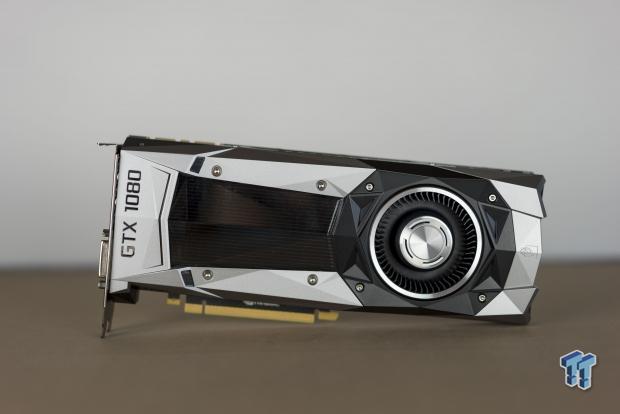 If you thought 2560x1440 or even 3840x2160 was hard on a video card or two, then you'll want to see how the GeForce GTX 1080 handles 11,520 x 2160. Running 3 x 4K monitors isn't an easy task, but with the right amount of desk space and the right hardware, man is it a blast to play on. We don't have the hardware to comfortably play games at 60FPS+ at 11,520 x 2160 - so that's what we're to see - how far away are we from ~8K @ 60FPS average on 1-2 video cards?
We've been doing 11,520 x 2160 testing for a while now, with one of the last ones being the 4-way AMD Radeon R9 Fury X cards in Crossfire, which didn't turn out so well. We thought we'd re run our testing with some new games, fresh drivers, and the new GeForce GTX 1080.
How Many Pixels Are We Rendering?
11,520 x 2160 consists of 3 x 4K monitors, with each monitor running 3840 x 2160, combining all of the resolutions together for the massive 11,520 x 2160 resolution. But just how many pixels are we rendering here, versus 1080p, 1440p, 4K and even consoles?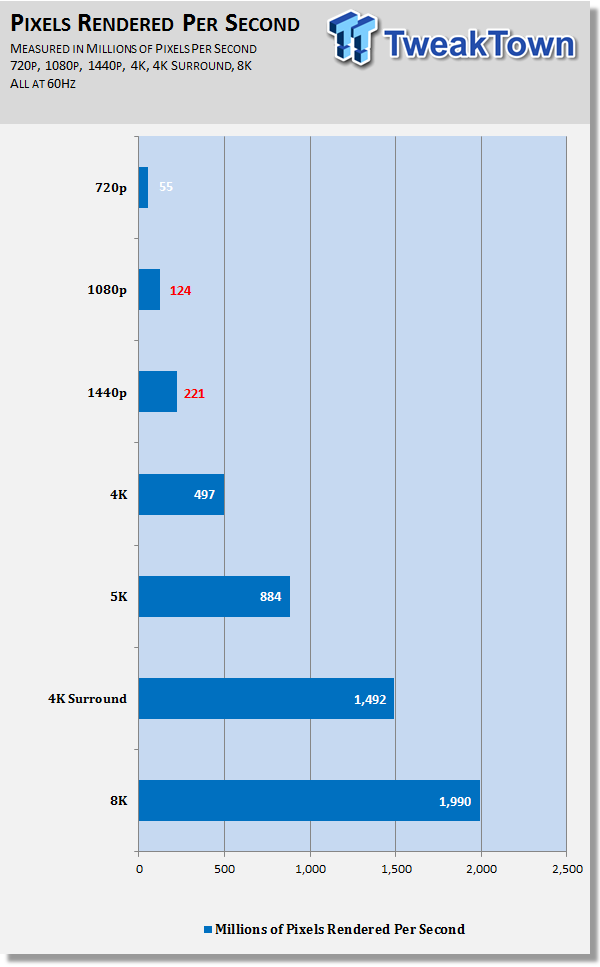 Test Setup Configuration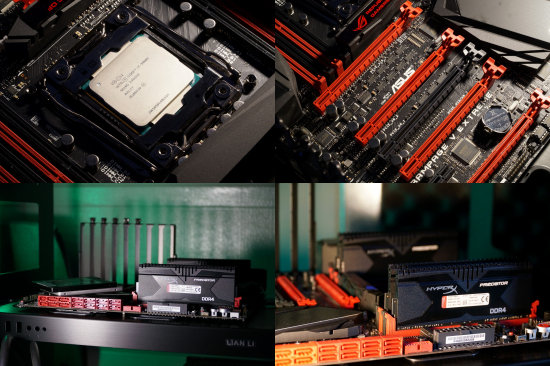 Anthony's Video Card Test System Specifications
Benchmarks - Synthetic
Heaven - Triple 4K (11,520 x 2160)
Heaven is an intensive GPU benchmark that really pushes your silicon to its limits. It's another favorite of ours as it has some great scaling for multi-GPU testing, and it's great for getting your GPU to 100% for power and noise testing.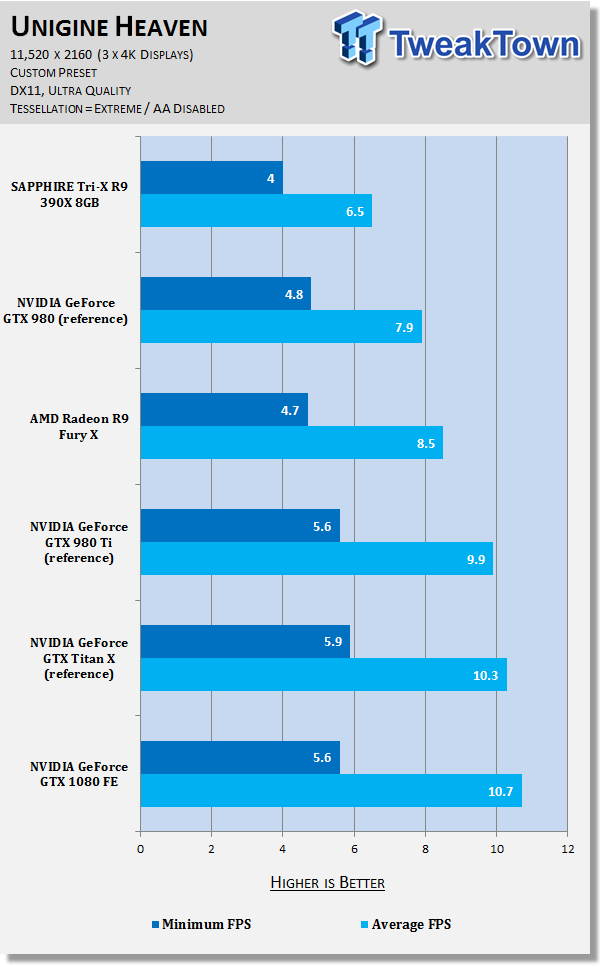 In our only synthetic benchmark, it should come as no surprise that the GeForce GTX 1080 takes it out. It's not by much, but it beats the Titan X by 0.4FPS at 11,520 x 2160 - with the GTX 1080 hitting 10.7FPS average, and the Titan X with 10.4FPS. The Fury X trailed considerably, with 8.5FPS - 25.8% slower than the GTX 1080.
Benchmarks - 11,520 x 2160
Coming Soon: 8K Testing
I seriously love pushing technology to its limits, with my new obsession moving away from overclocking the video card itself, and into higher and higher resolutions like 11,520 x 2160. Triple 4K displays are totally not common, but it gives us a great look into the future of GPUs and the huge resolutions on their way.
With 4K 120Hz displays being a reality thanks to the DP1.4 connector on the GeForce GTX 1080, we're needing more and more power than ever before to drive these new displays and high refresh rates. Moving past 4K, the new Pascal-based GeForce GTX 1080 also supports 8K 60Hz displays - which are going to push the cards, and games to their limits.
Benchmarks @ 11,520 x 2160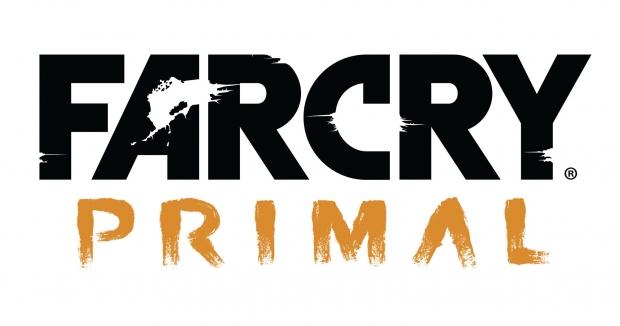 Far Cry Primal is a game built on the impressive Dunia Engine 2 with wide open, beautiful environments. It might look stunning, but the performance is actually quite good - but most cards will be stressed at 1440p, and especially so at 4K and beyond.
You can buy Far Cry Primal at Amazon.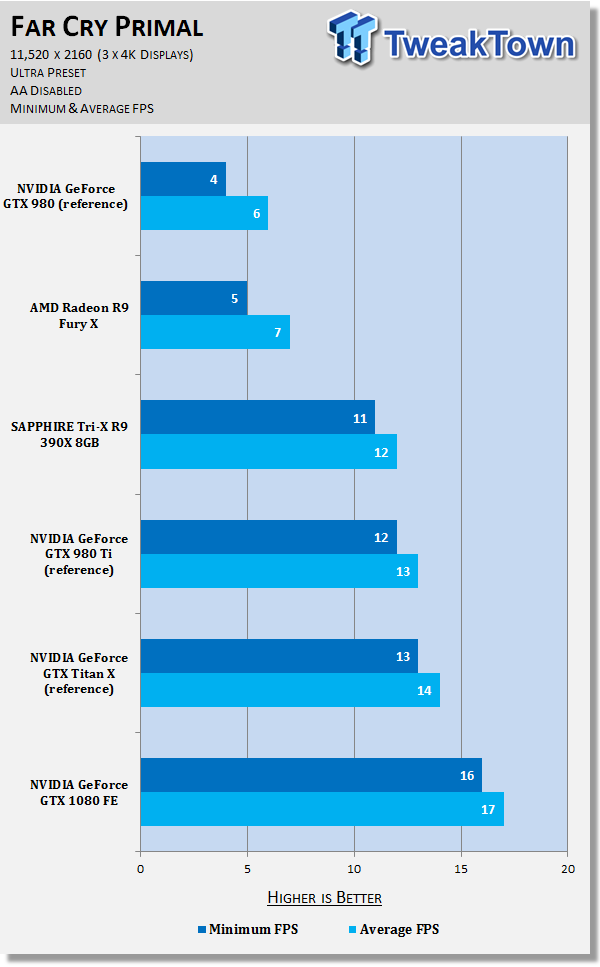 We recently changed over to Metro: Last Light Redux, with developer 4A Games making the Redux version of Metro: Last Light the 'definitive' version of the game. Redux had a fresh coat of paint on the already impressive 4A Engine, and it really pushes our GPUs to their limits.
You can buy Metro: Last Light Redux at Amazon.

Middle-earth: Shadow of Mordor is one of the most graphically intensive games we test, with Monolith using their own Lithtech engine to power the game. When cranked up to maximum detail, it will chew through your GPU and its VRAM like it's nothing.
You can buy Middle-earth: Shadow of Mordor at Amazon.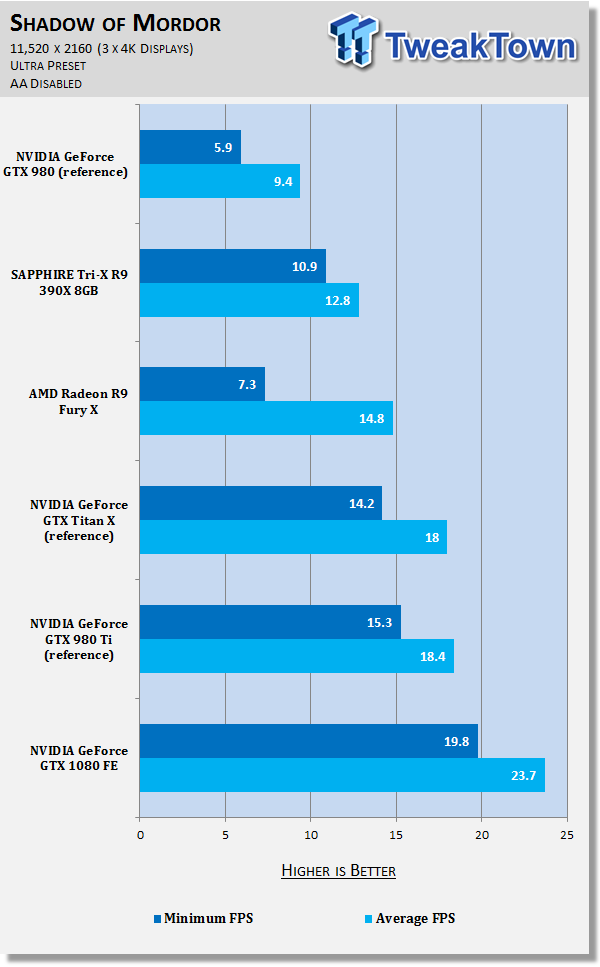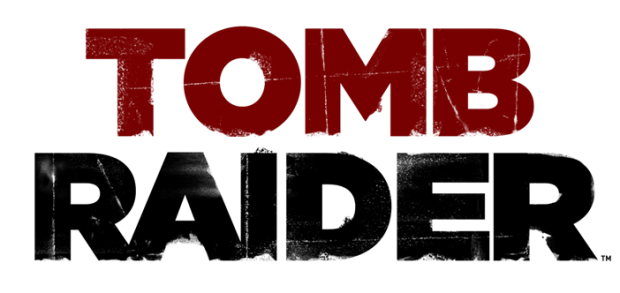 Tomb Raider is still such a gorgeous game, with developer Crystal Dynamics using their own 'Foundation' engine to build Lara Croft into the new world. One of the best parts about Tomb Raider is the absolutely stellar multi-GPU scaling, so this is an important test to see how well our NVIDIA GeForce SLI and AMD Radeon Crossfire setups scale.
You can buy Tomb Raider at Amazon.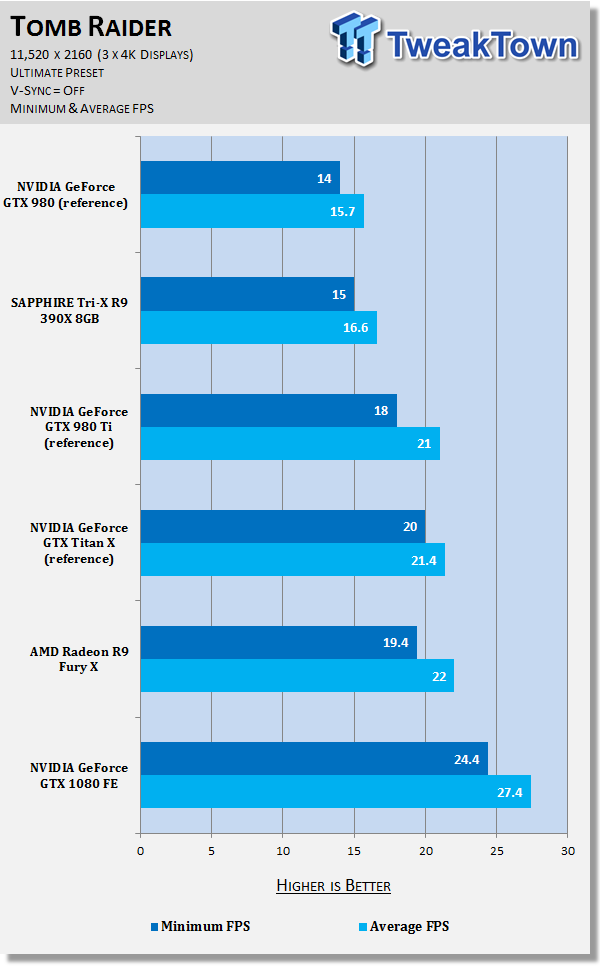 Performance Analysis & Final Thoughts
Does the GeForce GTX 1080 Handle 11,520 x 2160?
I've been counting the days away until we have a single-GPU solution capable of playing games on 3 x 4K displays, and thought that might have come early with the GeForce GTX Titan X, but it's the GTX 1080 that impresses me the most. The reason? We have all of this power in a video card that requires just 1 x 8-pin PCIe power connector, compared to the rest of the cards we tested that require two PCIe power connectors.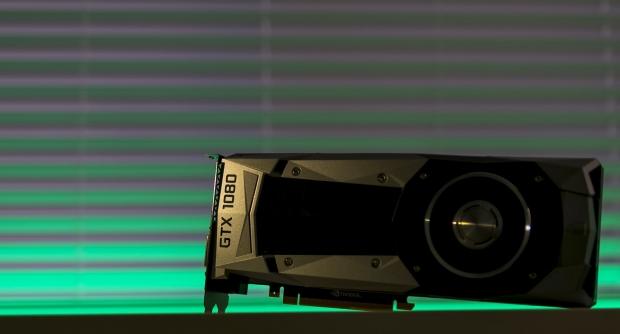 Does the performance live up to what we expected? Yes, it does. The GTX 1080 beats every other card we tested in every single test, which is a huge win for NVIDIA. We have a card that handles 11,520 x 2160 better than the $999 Titan X, and the HBM1-powered Radeon R9 Fury X. It goes to show the world that you don't need HBM for the high resolutions like 11,520 x 2160, unless the games are specifically coded to take advantage of the higher-speed HBM1/2 technology.
In games like Far Cry Primal, the GeForce GTX 1080 was pumping away at 17FPS average, and while that's far from playable, it beat the Titan X by 3FPS (or 21%). It smashes the Radeon R9 Fury X, as AMD's best could only manage 7FPS - hitting its framebuffer and tripping over itself, losing out to the GTX 1080 by... 142.8%. The GTX 1080 provides over twice the performance in Far Cry Primal compared to the Fury X at 11,520 x 2160, that's something worth writing home about when it comes to the next-gen cards needing 6GB of VRAM or more.
Final Thoughts
Right now there's only a very small handful of people who would be gaming on a monstrous 11,520 x 2160 resolution as cost is a big roadblock there. We're looking at around $500 each for some decent G-Sync or FreeSync 4K monitors, and then the GPU power required is going to cost another $1500 or so on top to begin to get close to 60FPS.
It's something for the ultra enthusiasts and super hardcore gamers with a little more money than most, but another interesting angle to look at these 11,520 x 2160 results is to think where resolutions will be a few years from now. We're getting close to 8K becoming a reality, with a native resolution of 7680 x 3840, this triple 4K monitor setup is actually rendering less pixels, meaning 8K is going to require even more grunt required than 11,520 x 2160.
This is a big reason I do these benchmarks, is a big of 'this is what we're able to achieve now on today's video cards' and 'this is also a resolution we'll be surpassing with the next step in displays, to 8K'. Right now, we're going to need 2 x GeForce GTX 1080 cards in SLI to even get close to 60FPS, with not much hardware on the market capable of driving 60FPS, no matter how many cards you throw into a multi-GPU setup.
8K is going to require at least 200-300% more GPU horsepower than we have now if we want to begin thinking of rendering 8K at 30FPS... let alone 60FPS. Don't even get me started on 120Hz or higher 8K displays, because we simply don't have the tech right now capable of that.
This is where NVIDIA's next-gen Volta architecture and AMD's newer-than-Polaris architecture, Vega, will come into play. HBM2 is going to be a big push behind that, as I think the displays by then will really require truly next-gen GPUs, capable of driving in today's terms; 1080p x 24 screens @ 60FPS... that's not easy, at all.
But, you know what? It drives me. It drives the passion behind me, and I can't wait to see what graphics hardware can be released in the next year or two with the 14/16nm node, HBM2 technology, and the new Polaris and Volta architectures from NVIDIA and the Polaris and Vega architectures from AMD. Bring on 8K and even 16K at 240FPS, okay?
PRICING: You can find products similar to this one for sale below.

United States: Find other tech and computer products like this over at Amazon.com

United Kingdom: Find other tech and computer products like this over at Amazon.co.uk

Australia: Find other tech and computer products like this over at Amazon.com.au

Canada: Find other tech and computer products like this over at Amazon.ca

Deutschland: Finde andere Technik- und Computerprodukte wie dieses auf Amazon.de
We openly invite the companies who provide us with review samples / who are mentioned or discussed to express their opinion. If any company representative wishes to respond, we will publish the response here. Please contact us if you wish to respond.