AMD Talks About its RTG Visual Technologies Roadmap for 2016
AMD talks DisplayPort 1.3, HDMI 2.0a, HDR and so much more during its RTG Technology Summit 2015 in Sonoma, California.

Published
5 minute read time
Introduction - Welcome to Sonoma, California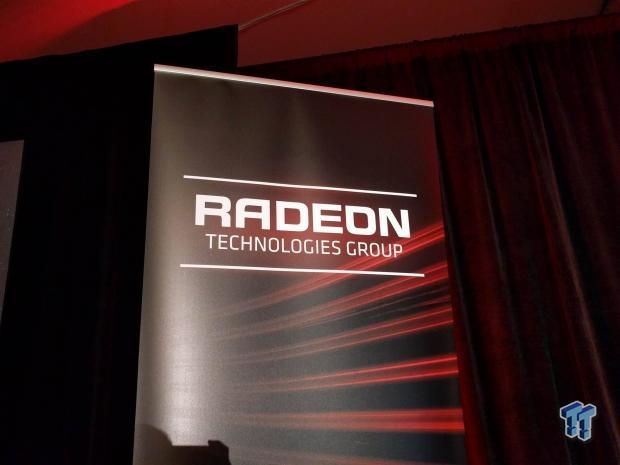 Last week, AMD flew out select press to Sonoma, California for its RTG Technology Summit. It was an exciting trip, as it was the first press event for its GPU business now that it sits on its own as Radeon Technologies Group.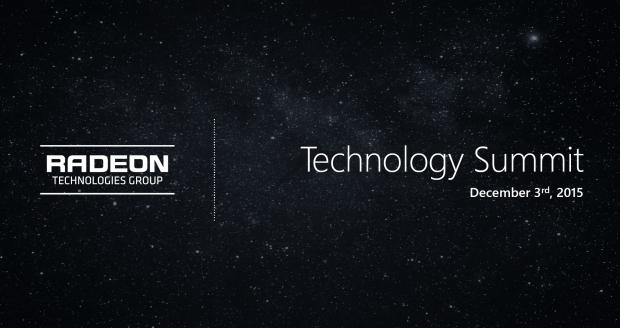 The vibe around the place felt very 'ATI 2.0' to me, with RTG referencing that it feels like they've got the band back together. After troubled times throughout the last couple of years, AMD seems to be better positioning itself to not only compete with NVIDIA on a better level but to start ramping things up considerably going into 2016.
RTG had a number of things to talk about, a few of which we can't reveal for a few more weeks yet, but some of the exciting stuff we're allowed to talk about now. This includes DisplayPort 1.3, something that will allow for massive resolutions and refresh rates, HDMI 2.0a, and HDR.
The setting was beautiful, as RTG flew us out to Sonoma, California, which is wine country. It was great, as instead of AMD sitting us down with marketing staff, we had real engineers and incredibly smart people walking us through every part of RTG's grand plans for the future. Where should we begin? Let's kick off with DisplayPort 1.3 and HDMI 2.0a.
DisplayPort 1.3 Allows For 4K @ 120Hz + 1440p @ 240Hz
DisplayPort goes on Steroids
One of the first things that had my jaw on the ground was the tease of DisplayPort 1.3, which has support for some truly insane refresh rates and resolutions. Right now, 4K is capped at 60Hz on DP1.2, and we're finally seeing 2560x1440 hit 165Hz on certain displays, like the ASUS ROG Swift PG279Q.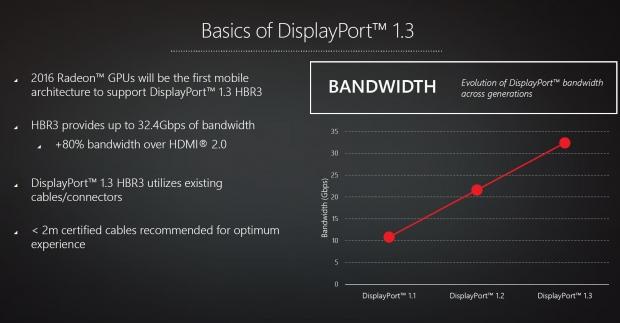 DisplayPort 1.3 has incredible bandwidth, hitting 32.4Gbps of bandwidth - a huge 80% increase over HDMI 2.0, and up from the 21.6Gbps of bandwidth available through DP1.2. Additionally, DP1.3 uses the same cables and connectors, which is absolutely awesome. You won't need to buy new cables, and there won't be new annoying connectors, either.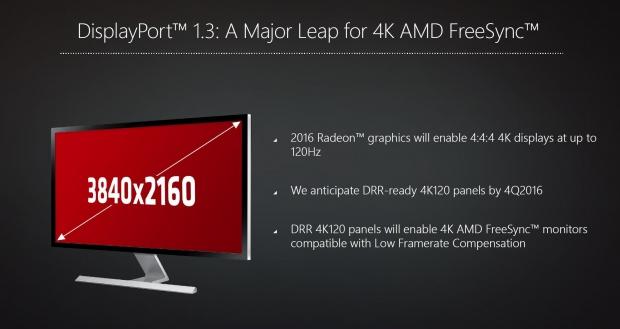 4K displays with 120Hz refresh rate and FreeSync? Sign. Me. Up.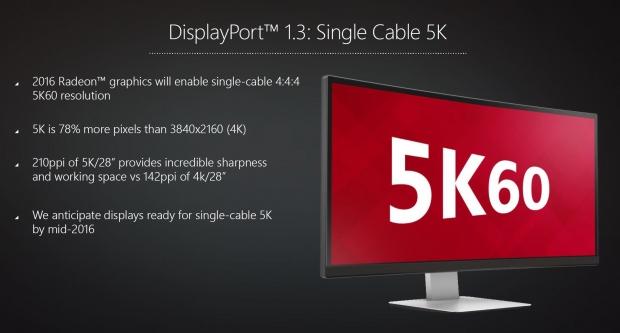 DisplayPort 1.3 will usher in single-cable 5K display support, something AMD expects to see in mid-2016.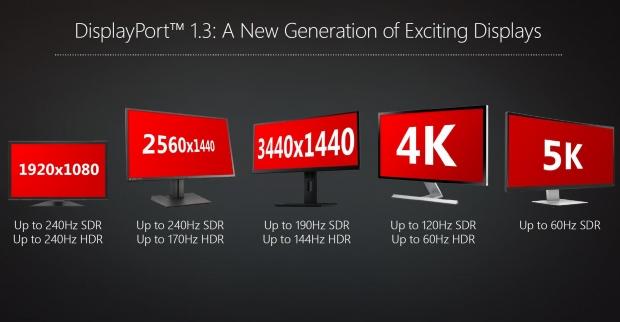 AMD said that its future GPUs arriving in 2016 will include support for DisplayPort 1.3, which is capable of driving 1080p and 1440p resolutions at up to 240Hz. UltraWide fans, like myself, can get excited about 3440x1440 displays arriving with up to 190Hz in the near future, with 4K displays hitting the magical 120Hz mark. 5K gets some love, with 60Hz support on a single cable, versus the 2 x DP1.2 connectors required to make 5K work right now.
Better yet, AMD talked about HDR (something we'll cover later on in the article), and this is included in the new refresh rate support with DisplayPort 1.3. DP1.3 will drive 1080p at up to 240Hz with HDR enabled while 1440p can hit 170Hz on HDR (240Hz on SDR).
At 3440x1440, the SDR support hits 190Hz but HDR drops this to a still respectable 144Hz. At 4K, we'll be seeing 60Hz support with HDR enabled while SDR will drive up to that magical 120Hz refresh rate. Expect HDR to shake things up in 2016, and into the future.
HDR - RTG says 'We Need More Than Pixels'
Don't Worry, There's No Adam Sandler Here, Folks
Displays are exciting as they are, with gaming displays reaching 144/165Hz with AMD FreeSync and NVIDIA G-Sync technology inside, and then we have the huge push for UltraWide displays ushering in up to 3440x1440 of pure gaming bliss. But where to from here? It's not just gaming, as professional monitors are a very important part of the market, and so is the cinema/HT market.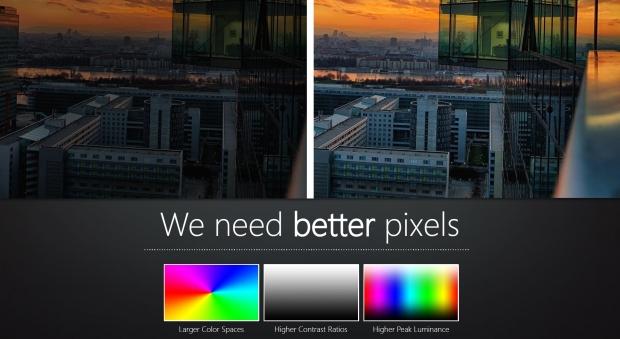 This is where HDR or High Dynamic Range comes into play with the Radeon Technologies Group saying that "we need more than pixels", and it's true. We can't just continue driving into 5K, and then 6K, 8K, 12K and so on. We need other technologies that improve the color reproduction and detail, and this is something HDR will deliver.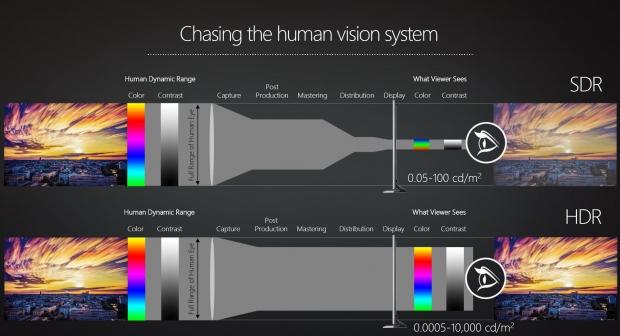 RTG is 'chasing the human vision system', where with the current SDR technology we're not seeing all of the human dynamic range. The human eye of capable of seeing the full spectrum of colors and contrast, but displays bake this down into what you see - and HDR is capable of far more than that.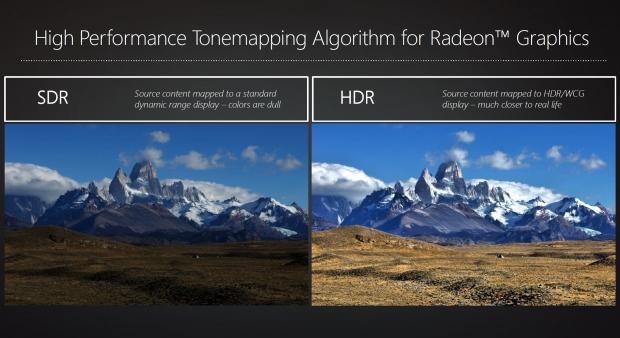 How will RTG achieve this with Radeon graphics? High-Performance Tonemapping Algorithm is one part of it, which you can see above.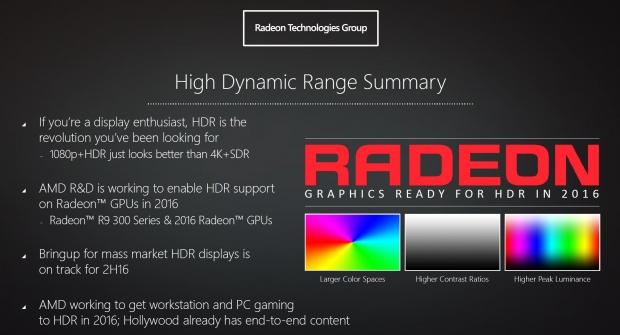 AMD's internal R&D is working on enabling HDR support for Radeon GPUs in 2016, something that will include the Radeon R9 300 series and the new 2016 Radeon GPUs. RTG is hoping to see mass market displays sporting HDR technology in the second half of 2016.
AMD also noted that they are working to get workstation and PC gaming into HDR in 2016, adding that Hollywood already has "end-to-end content" with HDR.
FreeSync Enabled on HDMI
FreeSync Will Hit HDMI Starting Early 2016
Right now, FreeSync is locked to DisplayPort, and this cuts off a significant chunk of the market, a market where HDMI is still thriving. RTG talked about FreeSync technology over HDMI, saying that "HDMI is everywhere" - and it's true.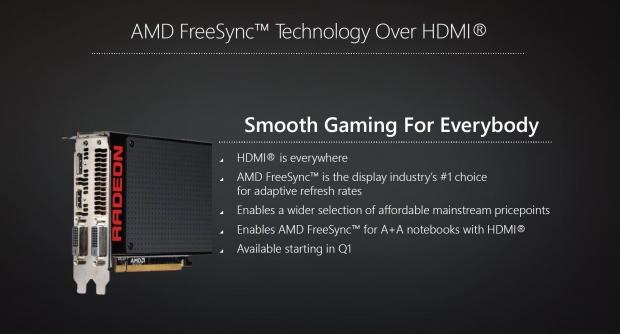 Pushing FreeSync technology onto HDMI will see the company enabling a much wider selection of affordable mainstream price points, with AMD FreeSync for "A+A notebooks with HDMI." All of this will kick into high gear in Q1 2016, so we're not far away from FreeSync-capable HDMI displays.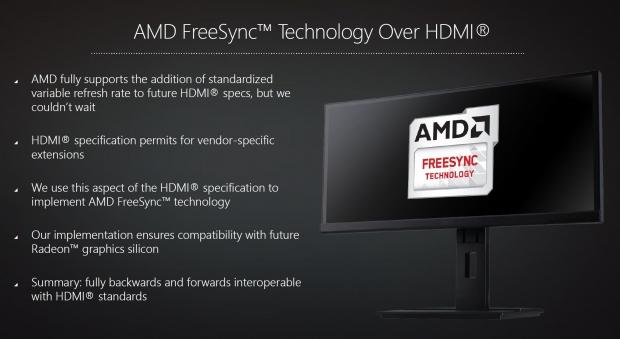 I did ask a specific question to one of the engineers behind FreeSync, where I asked "if we would see FreeSync on TVs in the future, now that AMD is putting FreeSync technology into HDMI, it seems logical." The engineer wouldn't directly answer my question, but the look on his face said it all. So, I expect to see a rather large announcement from AMD soon regarding FreeSync-powered TVs.
It only makes sense, right? AMD has hardware in the current-gen consoles, and rumor has it that they are powering the next-gen consoles, too. The next-gen consoles will be much faster than the current generation, have more support for new technologies, and hopefully we'll see FreeSync being a big push for this on TVs. That on its own has me excited for the future consoles.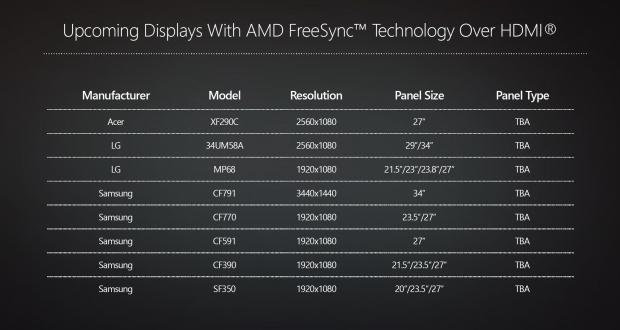 Here we have a list of some of the upcoming displays that will feature FreeSync technology over HDMI.
Final Thoughts
I said it earlier in this article, but the RTG Technology Summit 2015 felt so much like ATI 2.0, which has me incredibly excited. The early days of ATI are fond memories for me, with the ATI Radeon 9700 PRO being one of the most incredible pieces of technology at the time.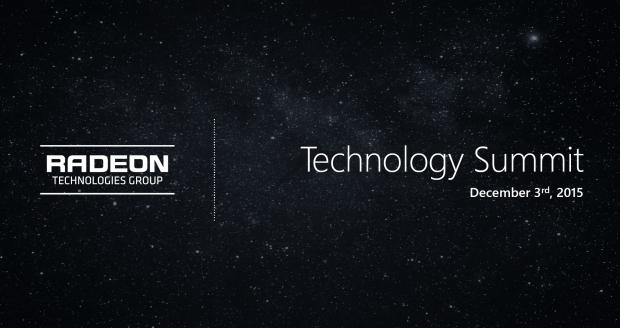 We heard a little tease of next-gen GPUs that has me incredibly excited, and I can't wait to share this with you soon. What we saw at the RTG Technology Summit was something new for AMD - a fresh direction for their GPU division, now led by the incredibly humble Raja Koduri.
Personally, I think one of the most exciting things from the RTG Technology Summit was DisplayPort 1.3, which will drive the next generation of displays. When I'm running a 3440x1440 display at 190Hz, I'm going to be out of my mind excited. It'll be incredible, and I simply can't wait.
FreeSync hitting HDMI is also exciting, as it'll allow users to enjoy AMD's FreeSync technology without needing to buy a DP-capable display.
Then we have HDR support, which is great to see AMD diving head first into. HDR will allow a totally new array of displays to be unveiled in the future, and with RTG sitting right behind it throwing support into HDR, we should see it grow very quickly. Sure, it'll be expensive at first - but all new technologies are.
AMD has positioned itself quite uniquely heading into 2016, with the Radeon Technologies Group ready to take the world on. We should see some big changes kicking off at CES 2016 in January, with it being a non-stop ride throughout the year with things like 14/16nm nodes, HBM2, and new GPU architectures.
It's a great start for RTG, and I think the momentum won't stop from what I've just seen in California.
PRICING: You can find products similar to this one for sale below.

United States: Find other tech and computer products like this over at Amazon.com

United Kingdom: Find other tech and computer products like this over at Amazon.co.uk

Australia: Find other tech and computer products like this over at Amazon.com.au

Canada: Find other tech and computer products like this over at Amazon.ca

Deutschland: Finde andere Technik- und Computerprodukte wie dieses auf Amazon.de
We openly invite the companies who provide us with review samples / who are mentioned or discussed to express their opinion. If any company representative wishes to respond, we will publish the response here. Please contact us if you wish to respond.