Introduction + Big Changes For AMD
AMD has been missing a video card in its lineup against NVIDIA, but the company has just filled that with the new Radeon R9 380X. Until now, we've had the Radeon R9 380 and R9 390, but there's a big gap that needed to be filled - and now, it is.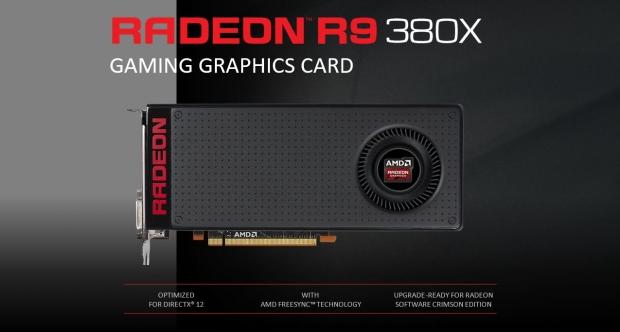 The Radeon R9 380X is an interesting move for AMD, as the company is nailing the 1080p/1440p gaming segment with its new offering based on the 'Antigua XT' GPU. AMD has worked with its usual AIB partners to have a slew of offerings based on the R9 380X, and we can't wait to see what it can do against the likes of NVIDIA's GTX 960, GTX 970, and GTX 980 cards.
AMD is teasing its new Radeon R9 380X with three slogans: 'The DNA for beyond 1080p gaming', 'The smooth gameplay you deserve' and 'visually immersive'. There are plenty of technologies and features inside of the R9 380X that will have gamers happy, with the new Radeon Software set of drivers. The first of which will be the new Crimson release.
Radeon Technologies Group - AMD's Big Change
One of the biggest stories for AMD this year was that it spun off its GPU division into Radeon Technologies Group. This move to create RTG is an interesting one, as it keeps the GPU division from clashing with the CPU division, and vice versa. It should see AMD taking a more clear direction with its Radeon brand, especially as we head into 2016 with the likes of DirectX 12, the new Radeon Software, and VR.
AMD's shift with RTG has seen company CEO Lisa Su state "With the creation of the Radeon Technologies Group we are putting in place a more agile, vertically integrated graphics organization focused on solidifying our position as the graphics industry leader, recapturing profitable share across traditional graphics markets, and staking leadership positions in new markets such as virtual and augmented reality".
Personally, I'm excited to see what AMD can do with RTG, but I think the effects of this won't be apparent until next year. Right now, we're being teased of what's coming - and at this stage, with the release of the R9 380X, things are becoming clearer.
Next year, we're going to see a big push by both AMD and NVIDIA with DirectX 12 and VR hopefully, so AMD will make the PC its 100% priority when it comes to RTG.
Detailed Specifications on the Radeon R9 380X
The R9 380X is Positioned Perfectly for 1080p/1440p Gaming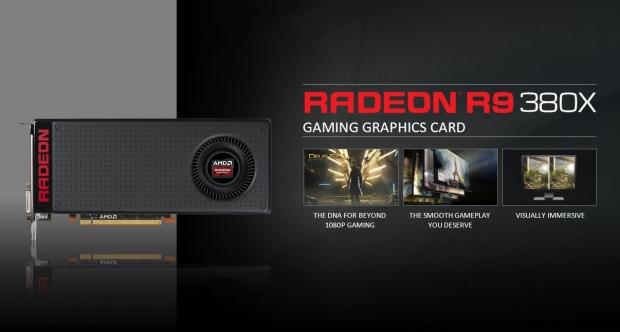 With the new Radeon R9 380X, AMD says that 'it's time to upgrade your video card' and 'replace your GTX 660 or GTX 760' with the new Antigua XT-powered Radeon R9 380X. If you own a GTX 660 or GTX 760 and haven't yet upgraded to a mid-range card from NVIDIA in the form of the GTX 950 or GTX 960, the R9 380X might be an option for you.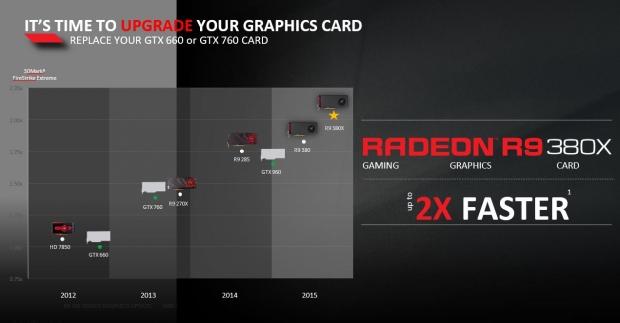 AMD is positioning the new Radeon R9 380X above the R9 285 and R9 380, and well above the Maxwell-based GeForce GTX 960 from NVIDIA.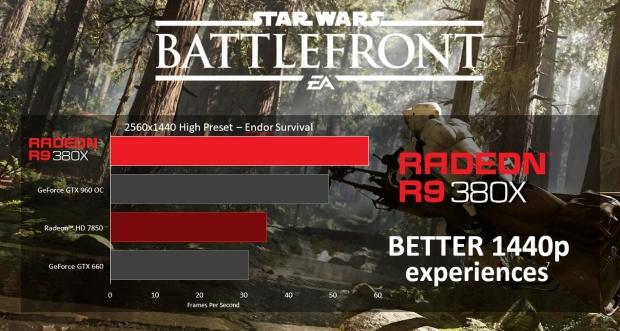 The big push for the Radeon R9 380X seems to be Star Wars: Battlefront, which AMD says the R9 380X can play at 2560x1440 at just under 60FPS. Comparing this to the 50FPS or so of the GTX 960 and the 35FPS or so on the Radeon HD 7850, this isn't too bad at all.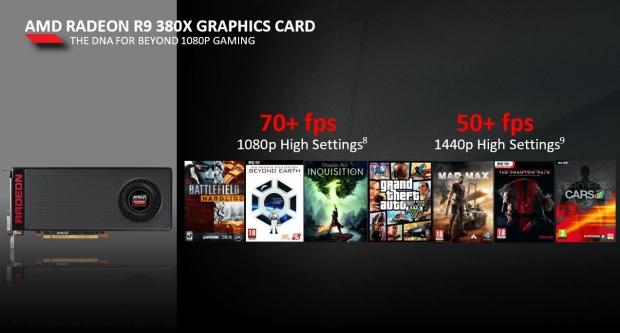 In the press desk provided to us by AMD, the company says that the Radeon R9 380X is capable of 70FPS+ at 1080p on High settings in games like Battlefield Hardline, Grand Theft Auto V, Metal Gear Solid V: The Phantom Pain and Project CARS. Kicking things up to 2560x1440, the Radeon R9 380X is capable of 50FPS+ on High settings in the same games.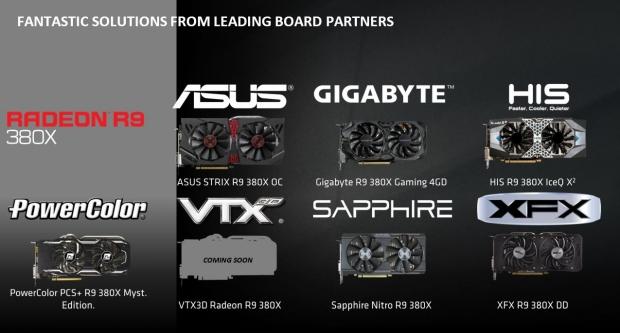 The usual AIB partners are all making cards, with ASUS, GIGABYTE, HIS, PowerColor, VTX3D, SAPPHIRE and XFX ready with cards. We have ASUS and HIS samples, so expect reviews of these two brands very quickly.
Detailed Specifications
AMD has crammed 32 compute units into the R9 380X, with 128 TMUs and 32 ROPs join in on the fun. We have a minimum of 970MHz on the GPU, with board partners ramping that up depending on the cooling and power consumption.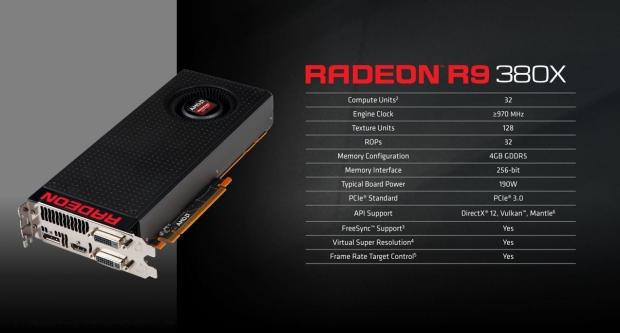 We have 4GB of GDDR5 spread out on a 256-bit memory bus, with a 190W TDP rounding out the specs. The new Radeon R9 380X is capable of DirectX 12, and it makes great use of AMD's FreeSync technology, as well as their Virtual Super Resolution (VSR) and Frame Rate Target Control (FRTC) technologies.
AMD's New Product Stack & Final Thoughts
The Radeon R9 380X is AMD's Card for 1440p Gaming
AMD has revised its product stack now, with their HBM-based cards recommended for 4K and VR gaming. This includes the flagship Radeon R9 Fury X, the air-cooled R9 Fury and the super-small R9 Nano. All of these cards will have no issues with 4K or VR gaming.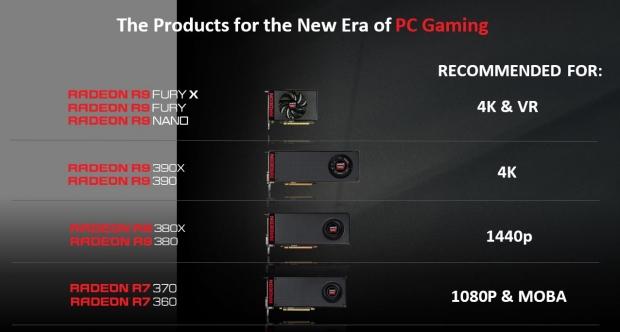 Below that, we have 4K-ready cards in the Radeon R9 390X and R9 380, thanks to their use of 8GB of GDDR5. At 2560x1440, AMD is now pushing the new Radeon R9 380X as well as the older R9 380. And for 1080p and MOBA gaming, we have the R7 370 and R7 360.
Final Thoughts
AMD is in an exciting race right now, because there's no better time to be a PC gamer than now. The golden era of PC gaming may be over, but the technological side is ready hitting its stride, and starting next year things are going to explode.
We're on the verge of DX12 games (which I hope aren't just splashy DX12 stuff on console-made DX11-class games). I want to see full-fledged DX12-enabled games that require you to have Windows 10 and a DX12-capable GPU.
VR gaming is right around the corner, literally - with Oculus and HTC ready to launch the Rift and Vive, respectively. This is going to require much more GPU horsepower, and hopefully developers wake up to this and realize that there's some big, big money in PC gaming - thanks to VR.
Then we have the huge technological leaps for 2016; HBM2, the die shrink down to 14/16nm, and new GPU architectures from both AMD and NVIDIA. We are in truly exciting times, with AMD launching its new Radeon R9 380X at the perfect time as budget-minded gamers who don't want to spend $500+ on a new GPU will have the R9 380X ready for 1080p and 1440p gaming.