Introduction, Availability and Pricing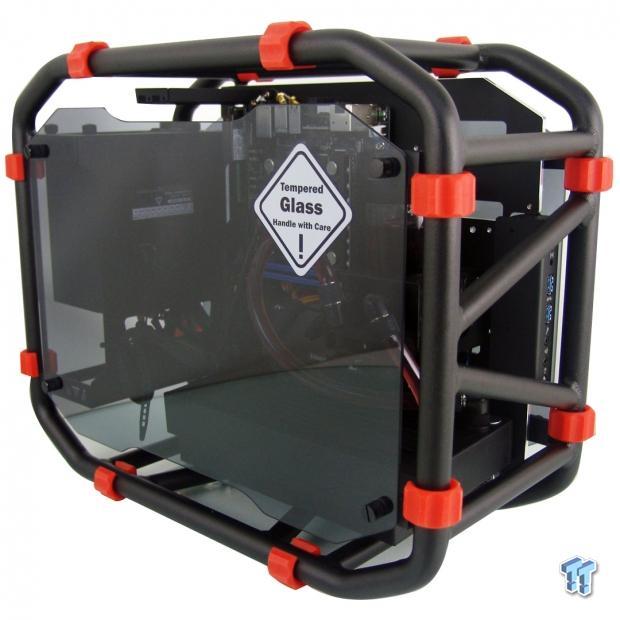 For those that follow us on a regular basis, you may recall that we in fact took a look at the INWIN D-Frame Mini, and even while very specific in what can be housed inside of it as far as form factor is concerned, INWIN wanted us to have yet another look at what this chassis is capable of. This is not to say that we did not cover most if not all aspects of the chassis when we had our first look at it, but rather this time around it is more to show off the potential and capabilities when it comes to accommodating a serious system, and not just the plain Jane system we used to test with it previously.
This also has a lot to do with a joint venture that INWIN has put together with EKWB. In this sense, you will also find a review of a very similar system we previously tested in our CPU cooling reviews, but the major difference this time around is that the kit is slightly revised to be a "drop-in" setup that allows anyone with the D-Frame Mini a simple solution for custom water cooling. Not only do you get all of the goodies and top tier components that we have seen from EK in the past, but to make this kit work with this chassis, there is a special HDD plate that comes in the kit to allow the pump/reservoir combo unit to be installed like an HDD, again making things as simple as possible for anyone looking to make this happen.
Since we already have a really good idea of what the EKWB kit is capable of, and with previous build experience inside of the D-Frame Mini, we are very interested to get our hands on this near complete system that INWIN has sent for us to have a look at today. While keeping with the mainstream gamer feel to the build, we are indeed impressed with what they are able to get into this chassis, and even though we had to fit our own GPU in the chassis and refill the loop, INWIN and EKWB have made beautiful music together when it comes to this pairing of minds. Time now to dive in and show all of you just what sort of possibilities can be had, even when dealing with a smaller form factor chassis such as this.
Typically at this point we would be discussing all of the particulars of either the INWIN D-Frame Mini, or even the EK-Kit D240 that is offered for us in this build, but you can get everything you need about the chassis here in our review, and as to the kit from EKWB, you will find all of the information of that here in our review also, minus the special bracket and it offering a 360mm radiator versus the 240mm one offered here.
So, rather than to rehash all of the obviousness that we already grasp about both manufacturers contribution to this idea, we need to talk pricing and availability. The chassis still comes with an MSRP of $350.00, that has not changed since we first looked at it. As for the EK-Kit D240 that you will need to grab as an additional purchase at this time, we find that listed at EKWB.com for another $339.99. Right off the bat it is easy to see that this is not a wallet friendly endeavor if we already have near $700 into the chassis and cooling and have yet to even think about the parts that do most of the work in a PC. We are also told that there are plans with Newegg.com to offer a combo kit if you will, where you will be able to buy the chassis and custom water cooling in one purchase, and hopefully they may even discount it a bit as a packaged deal, but as of now, that is still in the works and we can assume as soon as INWIN knows more, we will see something from them in the news when and if it does happen.
- You can buy the EK EK-KIT D240 (In Win D-Frame Mini drop-in) Water Cooling Kit and In Win D-Frame mini in black, orange or red at Scorptec Computers.
INWIN D-Frame Mini and EK-Kit D240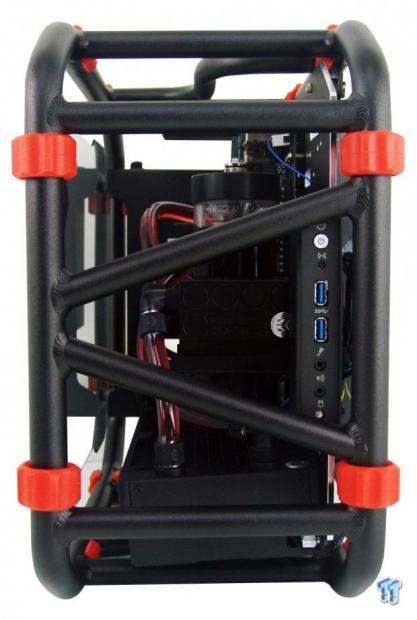 Looking through the front of the very open design of the INWIN D-Frame Mini, we can easily see the pump and reservoir combination unit with the brushed metal EK logo shining through next to the front I/O, and we can easily see some of the tubing that we decided to fill with distilled water and Mayhems "dark red" additive.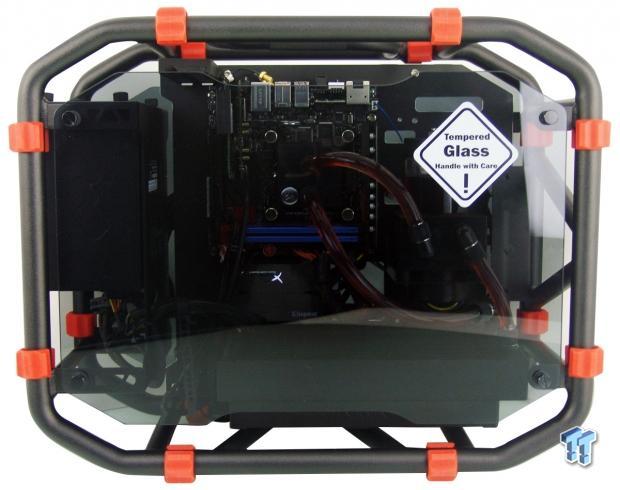 As we look through the dark tinted side panel of this chassis, we can see the CPU block and its EK logo staring back at us along with seeing the PSU at the left, and a radiator screwed on the bottom fan bracket.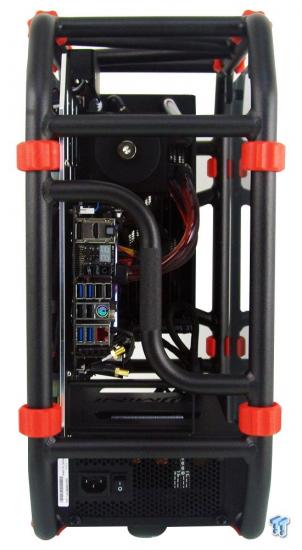 At the top of the chassis, you can see the rear I/O of this tiny ASUS motherboard, and for those who want a quick look inside without removing the side panel, this is the place to do so.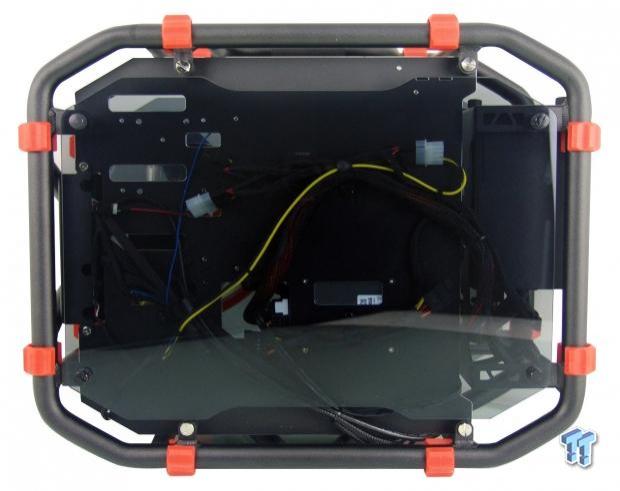 Of course the brighter the wiring is, the easier it is to see through the tinted glass panel on the back of the chassis. Try as you will, without some form of a cover made to hide it, there isn't an easy way to actually hide the wiring.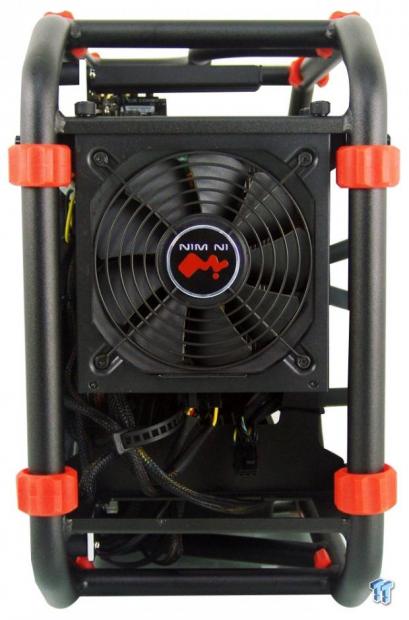 Looking in at the back of the chassis, we have the fan grill and an upside down INWIN logo staring back at us off of their 800W Desert Fox unit that is more than capable of pushing anything you can fit inside.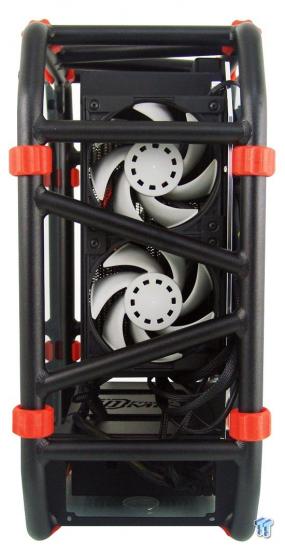 Taking a look through the floor of the chassis, we see that the fan bracket has been filled with a pair of EK Vadar F3-120 fans. Of course the radiator has been added here as well, but more on that when we look inside.
- You can buy the EK EK-KIT D240 (In Win D-Frame Mini drop-in) Water Cooling Kit and In Win D-Frame mini in black, orange or red at Scorptec Computers.
A Tour Inside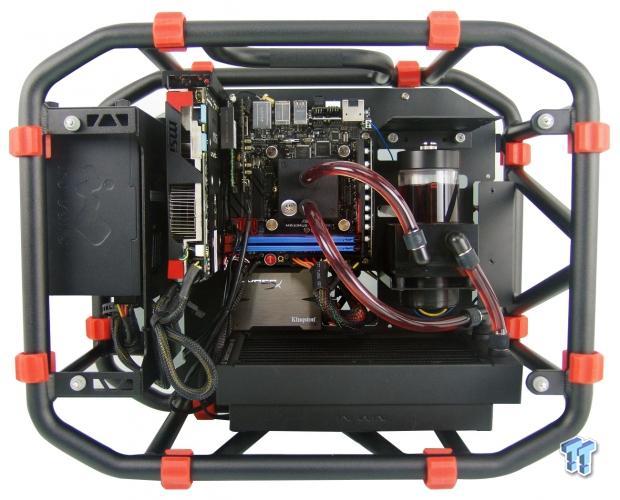 What you are looking at there is the chassis and the EK kit we covered pretty well already, so before we get up close with that, let's cover what we have here. The motherboard is the ASUS Maximus VII Impact sporting an Intel i7 4790K. There is 1600MHz Kingston memory and they also used them for the SSD, and they even filled the MPCIE Combo with a seriously fast drive as well.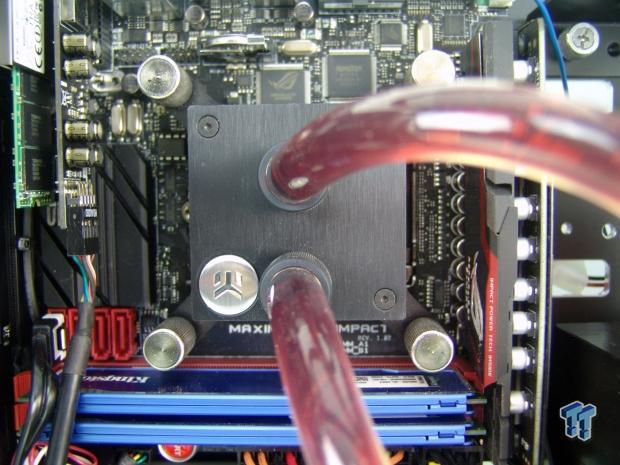 To cool the 4790K, the EK-Kit D240 offers up the EK-Supremacy MX UNI CPU water block. For those wondering about other sockets, the kit comes with all of the standard mounting hardware for Intel and AMD sockets as well. We also see the kit offers compression fittings which we really like, and of course clear tubing so that you can match the coolant color to the build as we did.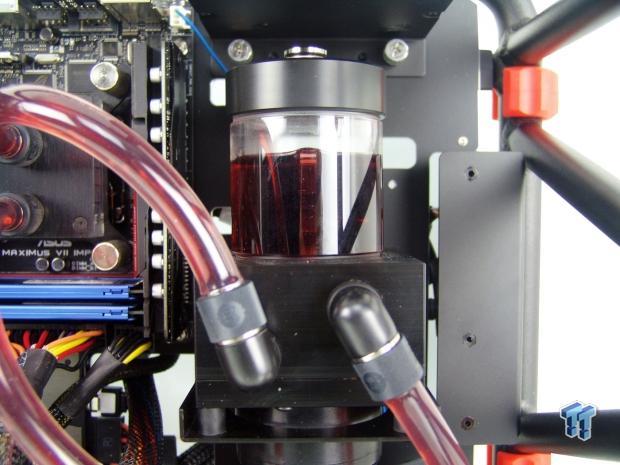 To the right of the motherboard, and negating much of the storage area, we have the special plate used and installed to hold both the pump as it passes through the plate, and also offers a secure and easy way to mount the reservoir. Again we see compressions used, and even the pair of ninety degree fittings are included as well.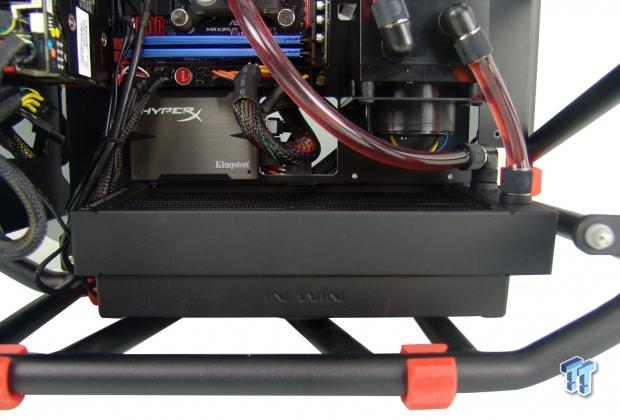 The Vadar fans are still there, they are just hidden by the INWIN fan bracket, but above that we can definitely make out the EK CoolStream PE 240 radiator. INWIN chose to add the third 90 degree fitting we see at the back of the radiator, but again the compression fittings are included. To simplify the layout of the tubing, we strongly recommend that you buy this $10 add-on, and considering the money spent thus far, what is an extra $10 to the project.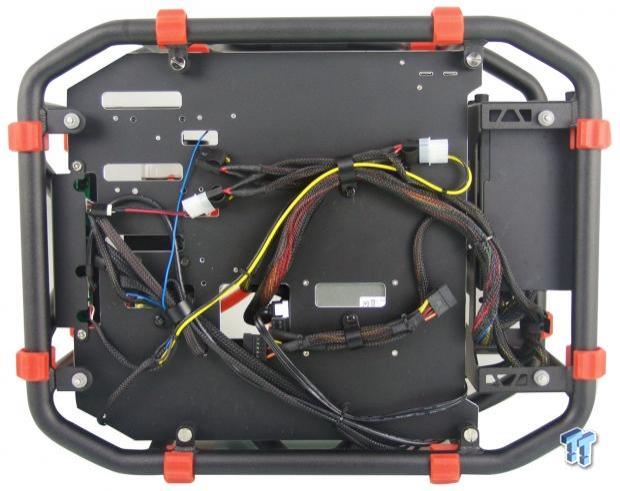 While we really did not have to show the wiring, we wanted to prove the point that no matter if you are the average Joe, or someone building a show piece like this to be displayed, there isn't really a polite way to get things done back here. Of course they used the wire loops much more than we did, but the wiring is still sort of a rat's nest no matter what you do with it; so don't feel bad if yours is a bit messy as well.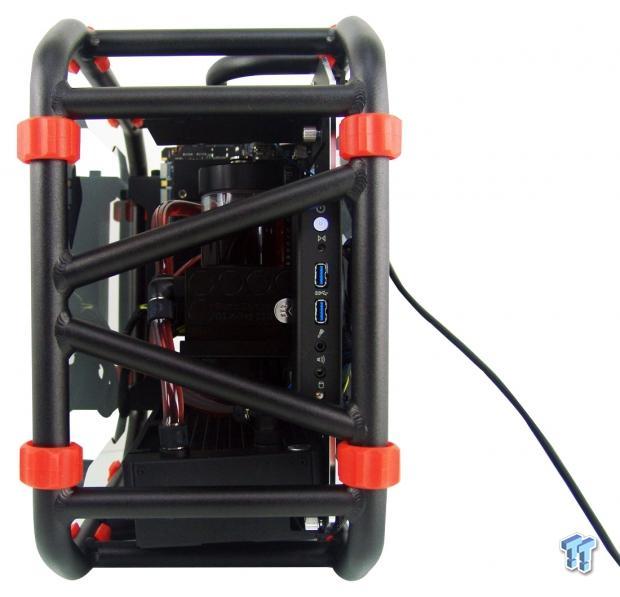 After bleeding the loop a while and verifying it was leak free, we wanted to get a look at the front with the power light active as we usually do, but this lead us to something we had overlooked all they way up until we took this image...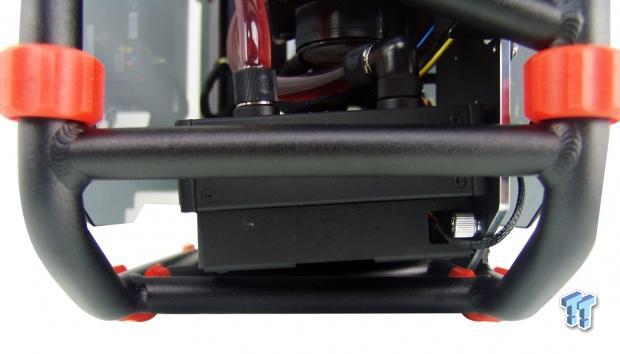 Looking much closer at the bottom of the chassis shows us that even while they mention that this is supposed to be a drop in designed kit, getting the radiator in means that the fan bracket cannot be screwed all the way in due to the width of the radiator, leaving it to hang like we see it here.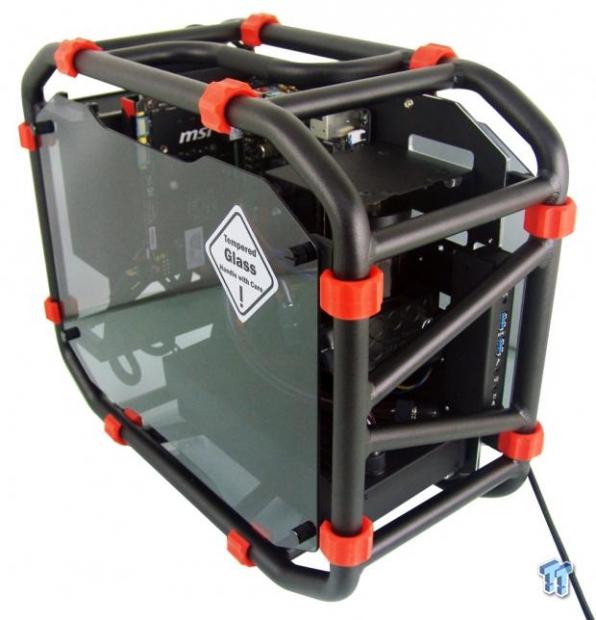 Stepping back a bit to take in the silence of what we just accomplished sitting here running. Since they used PWM to control the fans, we hear more of the pump humming along at 4800 RPM that we do anything else. Now we just need to put it through its paces and see what sort of results we can get with this system as a whole.
- You can buy the EK EK-KIT D240 (In Win D-Frame Mini drop-in) Water Cooling Kit and In Win D-Frame mini in black, orange or red at Scorptec Computers.
Testing the System and Noise Results
Thermal Results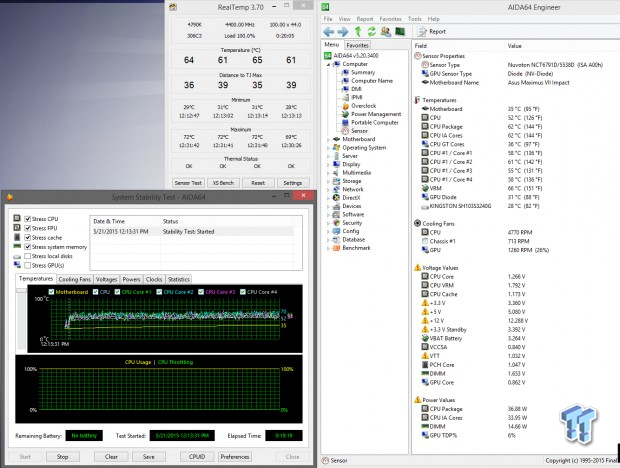 We did not want to mess around with clocking the system and take the chance of destroying goods that are not ours to be a bit careless with, but we feel the 4.4GHz speed of the 4790K when the turbo is applied to be sufficient. Testing with AIDA64 and their system stability test software, you can see we ran things long enough to allow the temperatures to level out with a maximum of 72 degrees with a 23.5 degree ambient. The CPU VCORE is a bit high at 1.266V and explains some of the extra heat. We do however like that we are able to get real cooling inside of this chassis rather than that tiny Zalman cooler we got stuck using in our original testing.
Without any other testing of the 4790K, we would hate to see what this chip does to an air cooler, but for the amount of noise and little effort that goes into assembling a kit such as this, we feel the ends definitely justify the work needed to get to this point in cooling inside of the D-Frame Mini.
Noise Level Results
The pump was allowed to spin at 4770 RPM as the screenshot above plainly displays, and after a lot of the air gurgling has stopped from the bleeding process, we still found the pump to deliver 35 dB of noise to the environment. As for the pair of Vadar fans under it, they were only running at 713 RPM and helps to explain a bit of that extra heat, and why the fans are not able to be heard over the rest of the system.
- You can buy the EK EK-KIT D240 (In Win D-Frame Mini drop-in) Water Cooling Kit and In Win D-Frame mini in black, orange or red at Scorptec Computers.
Final Thoughts
Something we need to address right out of the gate, and that is that this combination of parts is not for the faint of heart, or those who tend to wander through life with extremely thin wallets. In fact, to build what we have seen here will easily take you into the $1500 to 2000 range in cost all said and done. On the flip side of that though, man were they able to pack in the power and in collaboration with EKWB, offer the cooling needed to handle such a powerhouse in this small of a space, and leave you as the envy of all who know you.
There is a lot to like about what INWIN and EK have put together with this culmination of brain power between them, and let's be honest, outside of adding the HDD style mounting plate, this is a standard EK offering, so there are no surprises to expect there, but that does not mean concessions do not need to be made, even if slight.
Of course this kit was already installed and the system was ready to go for the most part, we just added in a GPU that color matched the theme, and did the same with the coolant we put inside of the empty loop. That being said, the radiator and the way it has to hang on an angle to be mounted to the motherboard tray, we feel for a "drop-in" kit, and considering the investment, this is hard to overlook, and would drive someone with mild OCD completely crazy.
The other thing that can get complicated is the bleeding process, but having the pump and block removable with just a pair of screws does allow you to rotate the chassis, and since there are some 90 degree swivel fittings supplied, it made it fairly easy to turn the reservoir as we got all of the air out of the block and radiator, but it is still sort of a pain to do with just two hands. Outside of those two smaller issues, we really don't have anything else to mention worthy of a "complaint". Oh and don't forget to opt for an extra 90 degree fitting, maybe even two or three to help clean up the tubing as it is routed.
For those of you that fell in love with the D-Frame Mini and everything it had to offer, but just weren't sure of what to do as far as cooling was concerned, it seems everyone has put their heads together for you. INWIN could have chosen another manufacturer easily enough, but we feel they went in the right direction to slightly modify a pre-existing kit. If the loop manufacturer had to put this all together on-the-fly, the cost would likely be even more. For those that can afford to take this jump, go at it with both feet, as the cooperative endeavor between EKWB and INWIN has left us wishing we had more money and the need for another system, as we would love to go at our own attempt of something very similar, just to see how much power we could pack inside of the D-Frame Mini. And with cooling options like this, you would be hard pressed to take this setup beyond its capabilities of cooling just about any processor you could throw on a Mini-ITX motherboard.
Good going to INWIN and EKWB. Despite the sticker shock associated here, they do offer something that anyone with thoughts of this chassis would love to opt for in this level of cooling, and the ease associated with an EKWB custom kit installation.
- You can buy the EK EK-KIT D240 (In Win D-Frame Mini drop-in) Water Cooling Kit and In Win D-Frame mini in black, orange or red at Scorptec Computers.