TweakTown's Rating: 96%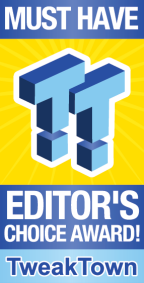 The Bottom Line
Thermaltake proves that lightning can strike twice with the Core P5 TG V2 Black Edition. A simple blank slate that does everything by doing very little.
Introduction, Specifications, and Pricing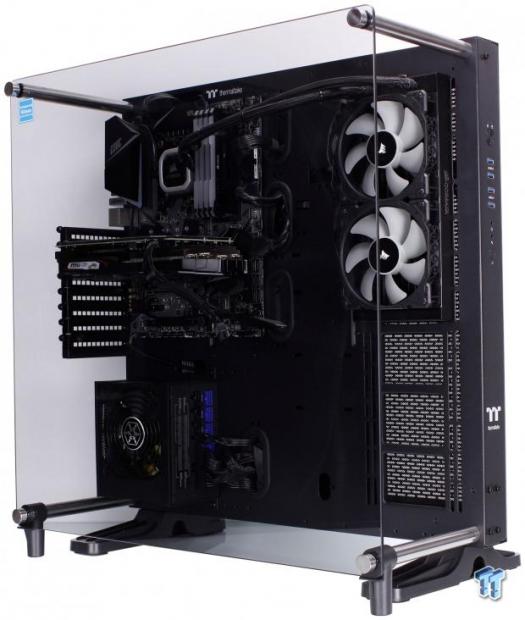 Thermaltake is a brand that has been in the PC scene for 20 years; since the early days when beige boxes were all you could get. Thermaltake started with a cooler, the Golden Orb, and from there they moved into several other avenues of the PC realm. Thermaltake made some excellent cases in its early years, but as the 2010 era came around, they had been relegated to cheaper cases made for budget customers. With the introduction of the 'core series,' Thermaltake took a huge step up into the world of open-loop cooling support and fitment for larger radiators and modularity. This was just the starting steps into what has now pushed Thermaltake in new directions in the industry with the past seven years or so showing a marked improvement in chassis quality and enthusiasts adoption
While the core series started with the Core V Series, the Core series set itself apart with the first Core P5 chassis. The Core P5 was initially conceptualized as a flat blank slate where users can make the trending (at the time) wall mount PC that many famous modders were pulling off but on a canvas that can free stand and does not require a bunch of custom work to create. This is what we have today, the Core P5 TG V2 Black Edition. The Core P5 model we have today is an improvement in many ways over the initial Core P5 we looked at almost four years ago to the day on October 1st, 2015.
Some key improvements to the original Core P5 design include several things which we will list below.
5mm tempered glass panel

Motherboard tray offering alternate build orientation

High speed I/O on the front panel
The 5mm Tempered glass is no joke, this panel is not only thick, but it is heavy. The motherboard tray I would say is one of the most significant changes as it allows the motherboard to rotate 90 degrees to mount in a chimney style orientation. The Core P5 over the years have offered several design options, including larger and smaller models to accommodate different build needs for users. The Core P5 we have today even has another model alongside it which encases all of the components with panels on all sides surrounding it, but that's a unit we may check out at a later date.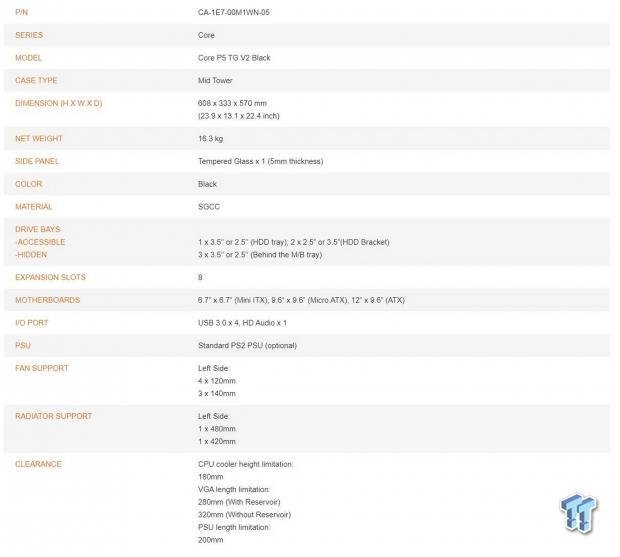 The name of the chassis we noted earlier and it is quite the mouthful. The full title is Core P5 TG V2 Black Edition. The Core P5 we have today is stated to be a 'mid-tower' which I can only assume is a mistake as this thing stands over 600mm tall or 60cm which is far above what is commonly seen as a mid-tower. The common understanding has full-tower chassis standing at 56cm (560mm) or 22" and up. While there is no standard for this in the industry, this is tantamount to calling a Zenith Extreme Alpha a mATX motherboard. Not only is it larger than ATX at EATX, but it is a far cry from a smaller model. The model number for this version of the Core P5 is CA-1E7-00M1WN-05, and this is important to note as the Core P5 showing has gotten pretty crowded with new releases showing up regularly. All Core P5 models listed below.
Core P5 (original) - Color: Black - CA-1E7-00M1WN-00

Core P5 (original) - Color: Green - CA-1E7-00M8WN-00

Core P5 Tempered Glass (surround glass) - Color: White - CA-1E7-00M6WN-01

Core P5 Tempered Glass (surround glass) - Color: Black - CA-1E7-00M1WN-03

Core P5 TG Ti - Color: Black - CA-1E7-00M9WN-00

Core P5 TG V2 Black Edition - Color: Black - CA-1E7-00M1WN-05 (What we have today)
As you can see, there are several just in the Core P5 range, and this is not including the Core P3, Core P90, Core P1 and Core P7 which are all different size and style/configuration elements of the same core design.
The motherboard fitment for the Core P5 is from ITX up to ATX. Being this is a pretty open frame setup, you can realistically fit consumer EATX (enthusiasts ATX) motherboards without much issue. HDD/SSD fitment is impressive as this modular chassis uses a variation of plastic drive trays mounted in the back and optional upfront to individual trays included in the chassis which allow you to install HDD and SSD on the radiator mounting upfront. Total stated fitment is up to 1x 3.5" or 2.5" in the HDD tray while the two previously mentioned brackets can also be mounted up front for dual 3.5" or 2.5" drives or any combination of those two. Lastly, in the cable management rear chamber, there are triple drive trays mounted which can support a 2.5" or 3.5" drive per tray. PSU's there is stated support up to 200mm which will fit most any consumer PSU.
Cooling fitment is only limited by the space on the flat panel. The radiator main bracket can fit up to 480mm or 420mm so quad 120mm or triple 140mm. CPU air cooler should you opt for this would be 180mm, so basically any air cooler should fit here. There are no fans included with the Core P5 which being an open-air or open frame chassis, makes sense. There should be little to no component fitment issues as unlike most chassis the Core P5 is a unique design where all devices, cooling and other are installed on a flat plane and therefore no radiators in the roof of the chassis that may hit board components or memory here.
The Price on the Core P5 TG V2 Black Edition is $189.99 at the time of writing from Amazon. This is not a horrible price point for a unique chassis... and to be fair there are not many options out there to compete in this exact style of form factor, there are some that are similar, and we will also lump in a few standard chassis I feel are worthy competitors at the price point. First of all, for similar or similar-ish chassis we have the semi-open-air nature of the Raidmax X08 or the Lian Li PC011 series which still hover in this price range. The issue with comparing chassis like the Core P5 or even the mATX Paean is that it is hard to find chassis to compare, so we have to include some less open-air chassis to consider naturally.
Shannon's Chassis Test System Specifications
Packaging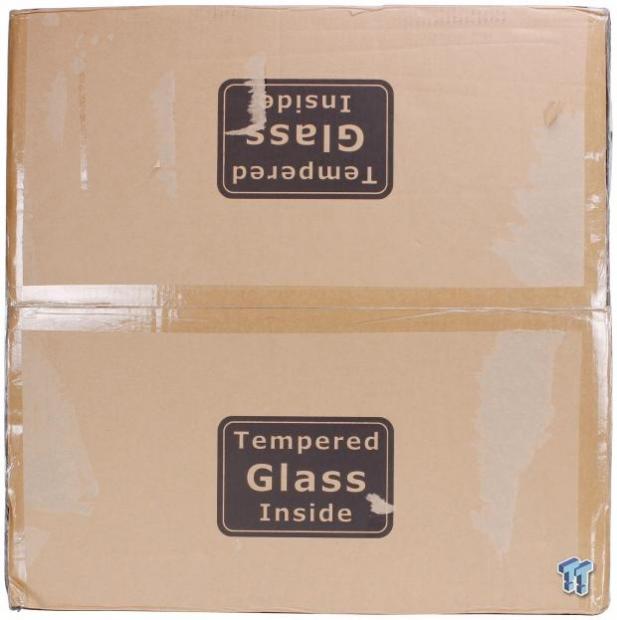 The packaging for the Core P5 TG V2 is flat pack like we have seen on all previous Core P5 variations. The box flaps state there is tempered glass inside. This does not seem like any sort of breakage warning and more of an informational mark.

Here we have the box form the side and you can see what I mean by it is flat packed. This side is very thin with a few specs listed in several languages on the side.

The next of the thinner sides of the box shoes the name along with a V2 decal to show it's a V2. Here is the first sign we get that this could be fragile as its listed as handle with care. There is no note of what part is fragile but I assume this has to do with being careful with tempered glass.

The next of the thinner sides of the box covers the spec table as we listed on the opening page of this review. There are also some UPC and other certification and safety marks here which unfortunately we cannot see very well due to the way the shipping labels were placed.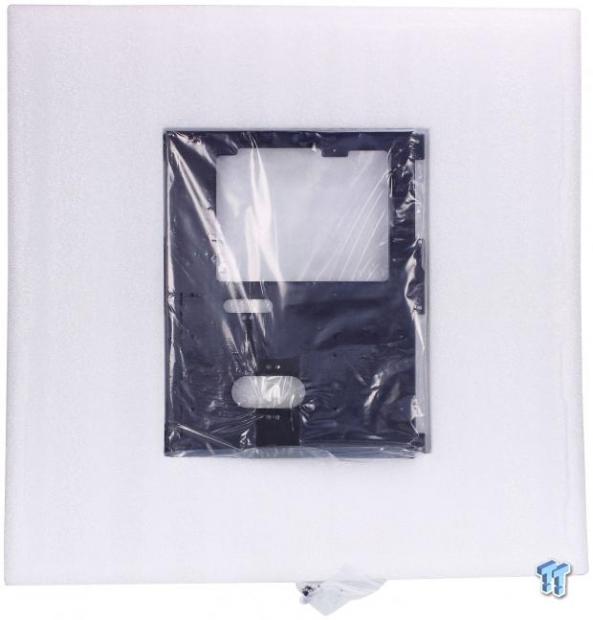 Here we have our standard shot of the chassis still in its wrapping removed from the box. As you can see the optional motherboard tray sits in the soft polystyrene shell. It is plastic bagged and has its mounting screws within this as well to ensure no mix up of screws.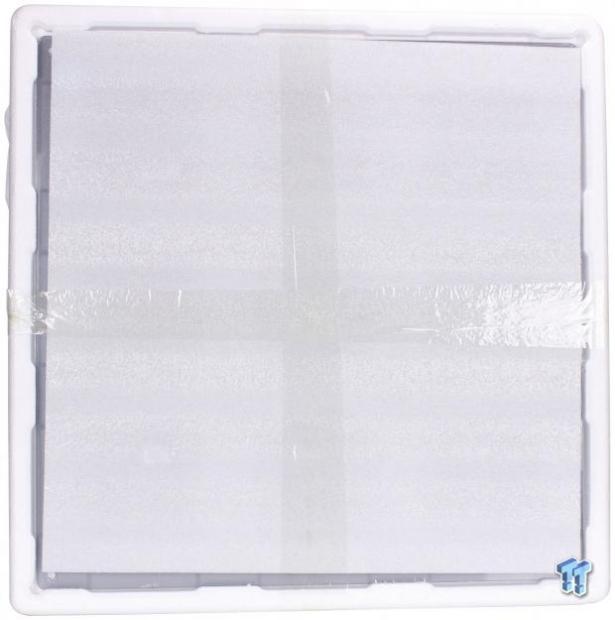 The opposite side of the wrapped chassis and parts shows the foam cover over the tinted tempered glass panel.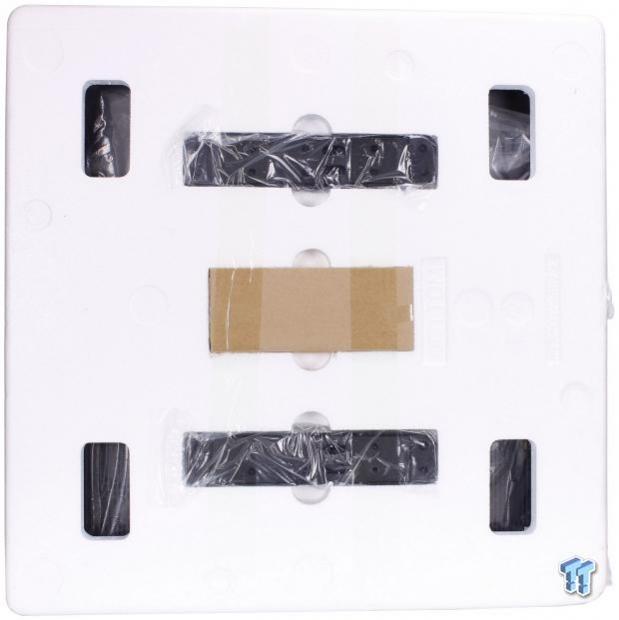 Removing the layer of soft polystyrene foam we now find the main chassis components held in place in harder Styrofoam shells which encapsulate the Core P5 main chassis and ancillary components.
Core P5 TG V2 Black Edition Open-Frame Chassis

Here we have the front of the Core P5 TG V2 and it looks like a flat slate. For those of you who are not in the know or have never seen a Core P series chassis from Thermaltake, well here is what the base chassis looks like. Thermaltake has finally adopted the new Logo which debut almost four to five years ago and I think it creates a breath of fresh air for the brand with a modern feel. This base chassis is where all of your components will mount so here you can also see the I/O.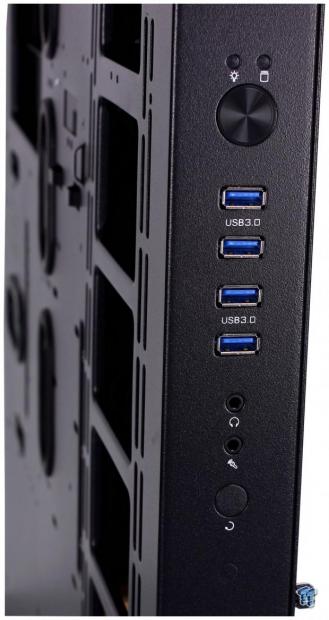 Now we zoom in a bit on the front I/O to check out what Thermaltake is offering upfront. The front I/O listed from top to bottom:
Power and HDD LED

Power button

4x USB 3.2 Gen 1 Type-A (included adapter can feed USB 3.2 Gen 2 to the Type-A port)

Headphone and microphone 3.5mm jacks

Reset button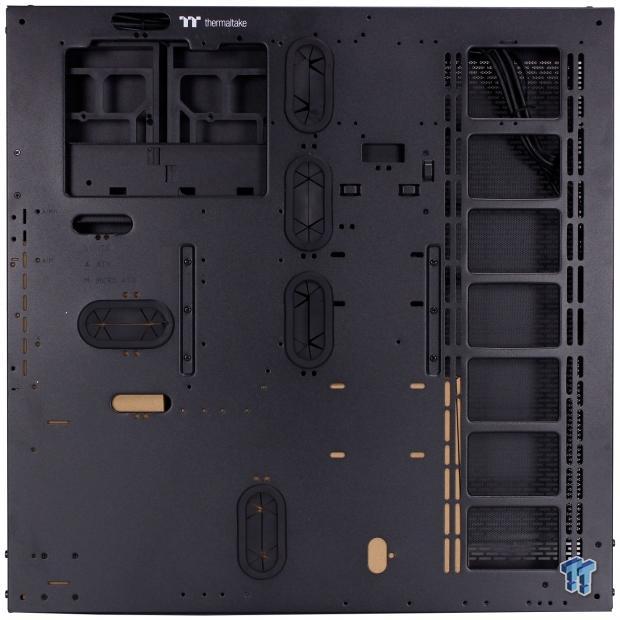 Here we get the primary chassis front side. This is the area where all hardware will mount except for the back chamber which can install 3.5" and 2.5" drives and cable management. This view is absent of the add on motherboard tray which offers a 90-degree rotation of the motherboard for a chimney style orientation. Below the motherboard area is the PSU mounting. The space to the right is devoted to radiator and fan fitment along with other goodies such as reservoir and different mountings. The pockets around the motherboard area are plentiful and offer convenient pass-through regions for cable management and mitigation of mess.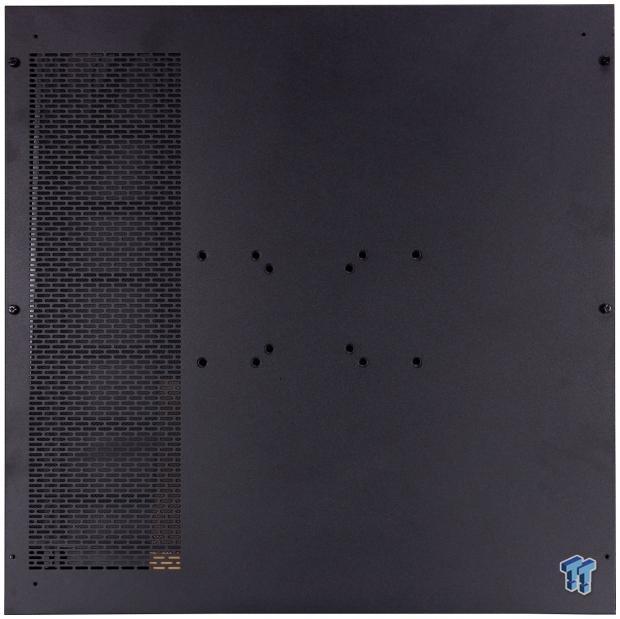 Here is the rear of the chassis panel and you can see that the standard large TV-style wall mounting hardware is all still here to support wall mounting of the Core P5 should you feel so compelled to display your PC on the wall vs. on the floor or desk. This is, of course, beyond the standard layout which is standing with feet, or even small rubber feet where the Core P5 can be laid down on its back like a test bench. To the left you can see the filtered pass through mesh opening which allows airflow from installed radiators to pass through or even ingest air depending on your fan airflow orientation. The outer edges are each showing three thumb screws which retain the panel to the main chassis and ensure it cannot slide off.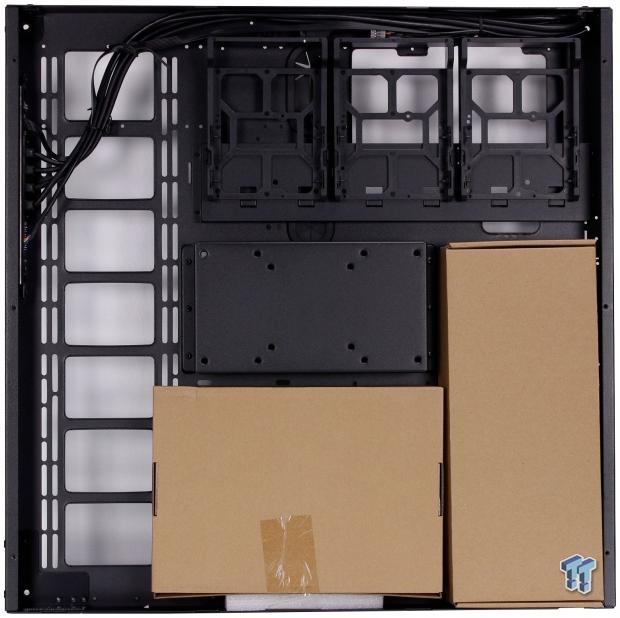 Here we have removed the panel and now you get a view inside the chamber for drive mounting and cable management. You will see that two accessory boxes are found here along with the thick frame area in the center which is threaded to support the weight of a built system if you use a TV wall mount to mount your chassis.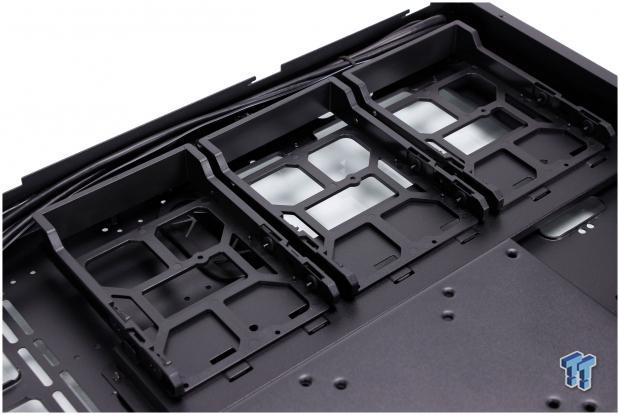 Looking up top at the drive trays, you can see there are three spots in the rear section capable of fitting 3.5" or 2.5" storage options. Each tray has tabs which are inserted into the bracket you see flanking the bottom edge of the trays while each tray has a single thumbscrew securing it to the chassis body up to where the cables are tucked.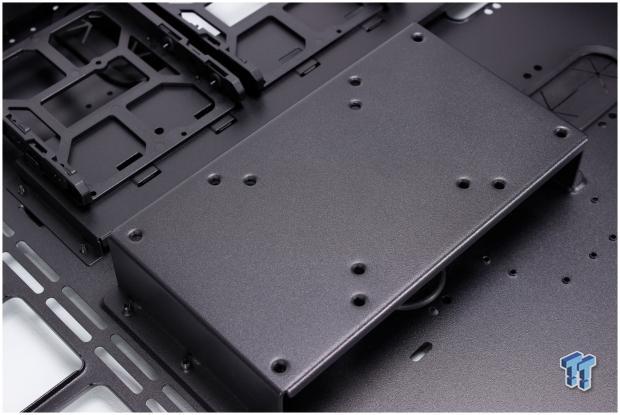 Here we take a closer look at the wall mounting plate. This piece is some seriously heavy gauge steel which I'm sure was put in place to ensure that no matter how crazy you go, the wall mount you use will let go before this bracket will.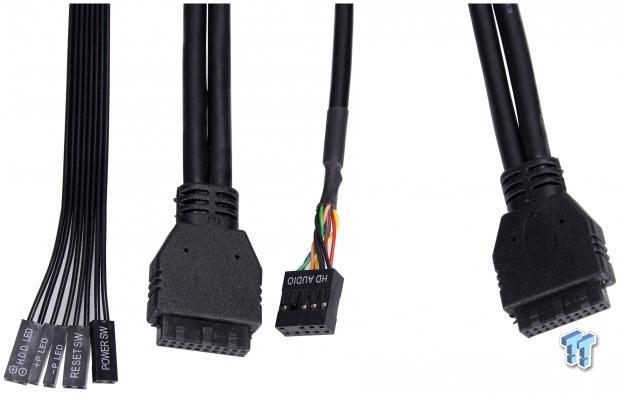 The front panel I/O cabling are as follows (left to right):
Power/Reset/Power LED & HDD LED connectors

Dual USB 3.1 Gen 1 20-pin connector

HD Audio connector
As you can see both sets of Type-A ports are fed by 20-pin headers which are traditionally USB 3.2 Gen 1. However, Thermaltake includes an adapter which we sill show in the coming pages that allows connection to a USB 3.2 Gen 2 header making one of the ports capable of up to USB 3.2 Gen 2 10GBps speeds vs the Gen 1 5Gbps speed rating.
Hardware & Documentation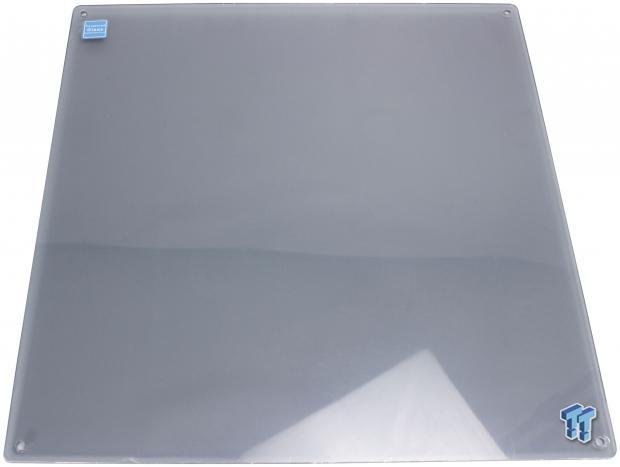 The main tempered glass panel is lined with film to protect it during transport. Here we see it also has a small blue square warning to handle the tempered glass with care. I wish I could explain just how thick and heavy this smoked panel is, but I feel like it's one of those situations where you have to have it in hand to understand. Having a tempered glass panel in this instance is a significant upgrade for the Core P5 series in general as the original window was a cool introduction. The initial implementation was a large acrylic window which, when cleaning can scratch or show a mess of tiny hairline or more significant scratches. This is all remedied by the behemoth windows we have here today.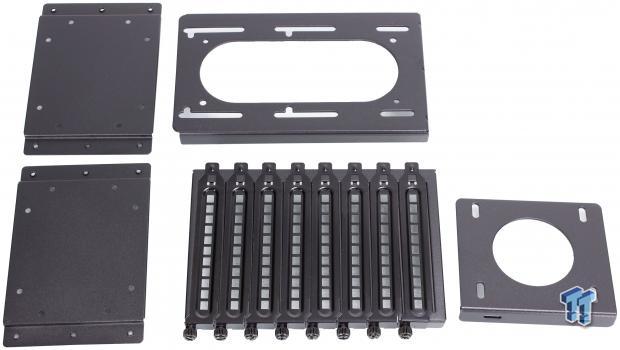 First set of parts we get out of the box (From left to right, top to bottom:
2x 3.5"/2.5" mounts to fit in Radiator mounting area

Pump/Reservoir long mounting bracket (to mount in front of radiator)

Expansion slot bracket (used for both vertical and std. layout)

Pump/Reservoir short bracket (to mount next to radiator area)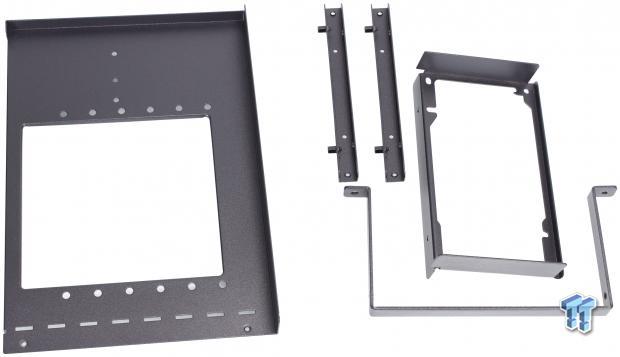 The next set of parts from the packaging is as follows (From left to right, top to bottom):
Vertical GPU bracket tray

2x Vertical GPU riser cable brackets

PSU rear mounting bracket

PSU support bracket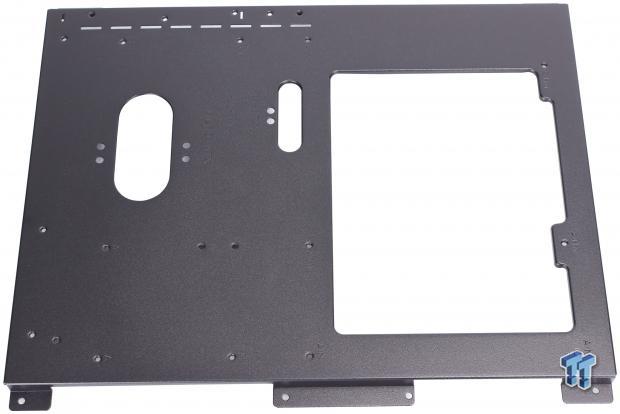 Next up in the ancillary parts category is the motherboard tray. This is for when you choose to mount the motherboard in a 90 degree rotated orientation. This will create a chimney style orientation for the motherboard and installed GPUs.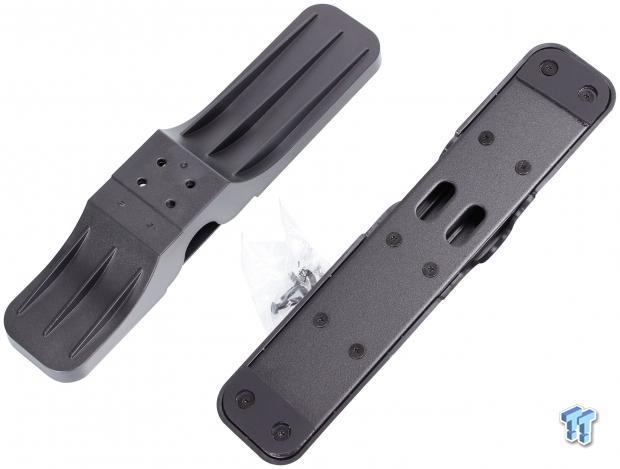 The chassis feet will need to be installed if the Core P5 TG V2 is going to be standing upright in a normal tower chassis style configuration.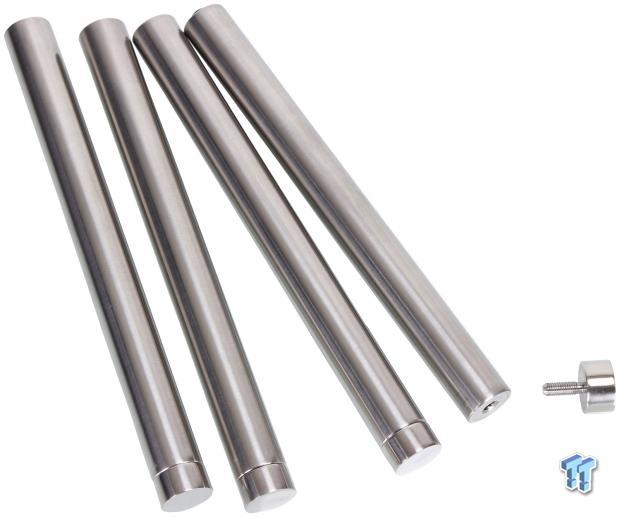 The window panel whether it be the original or the new tempered glass variant. They use these large metal standoffs that extend the window away from the components. The standoffs allows for a great component view through and around the panel, while also not hindering performance or components access to cooling airflow.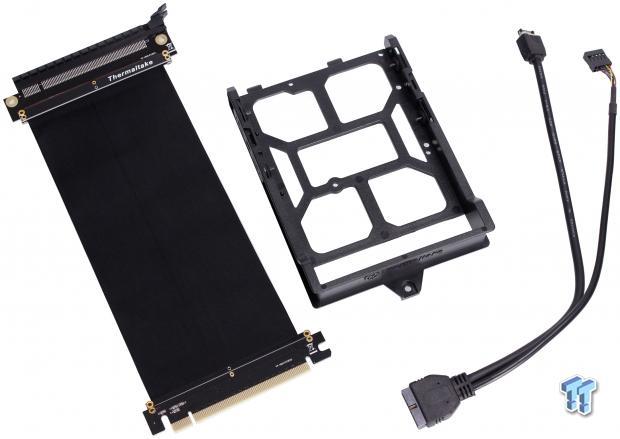 Here we have even more, and we're not close to being done yet. Here we have these parts listed (from left to right):
PCIe vertical GPU ribbon

HDD Tray for front mounting

Adapter cable for front USB Type-A ports
The Core P5 TG V2 comes with a standard style cloth-covered ribbon riser cable. This riser is only specified for PCIe gen 3 spec and most likely will not work very well with PCIe 4.0 devices which just arrived on the scene. Keep that in mind if you are thinking of going with a PCIe 4.0 GPU (there are only AMD 5700 series as of the time of writing) but it is still worth noting. The plastic tray you see here is for 2.5 or 3.6" HDD mounting same as the ones we looked at in the rear cable management section. This one can be inserted in the front of the chassis between the radiator and motherboard mounting. The cable to the far right is the adapter I mentioned before which can allow for two of the front panel USB ports to be alternately routed where one will be USB 3.2 Gen 2 and one would be USB 2.0.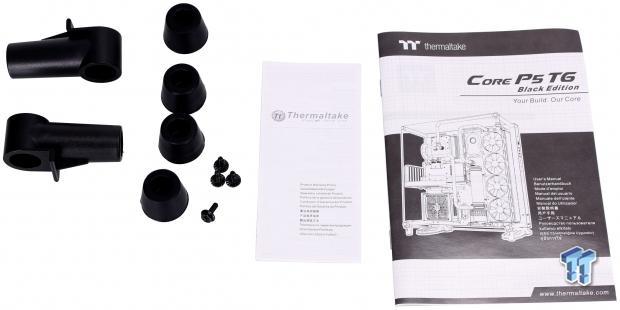 Here we have some of support related bits. (listed from left to right):
2x plastic support legs for tempered glass panel

4x rubber feet for chassis laying on its back panel in testbench mode

4x screws to secure rubber feet

Warranty and user manuals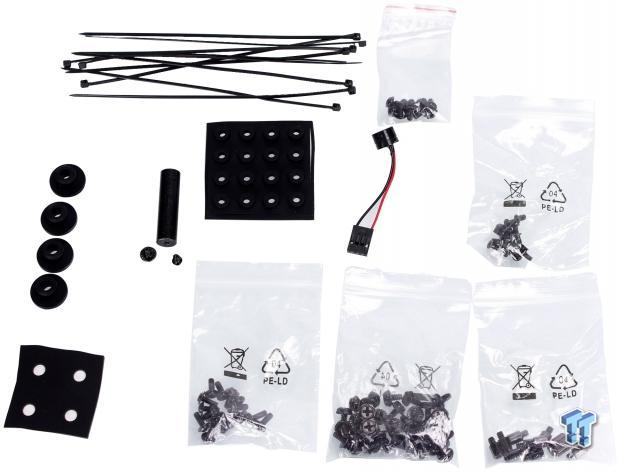 Here we have a large mass of parts we will list below. (listed from left to right, top to bottom)
10x zip ties for cable management

16x 2.5" HDD screws

4x tempered glass rubber mounts

1x vertical GPU bracket support with applicable screws

16x HDD rubber washers on sheet

PC post beep speaker

16x flat-topped 2.5" drive mounting screws

4x flat rubber washers for tempered glass on a sheet

45x screws for brackets, PSU and 3.5" drive mounting

10x motherboard standoffs with installation tool
Case Build & Finished Product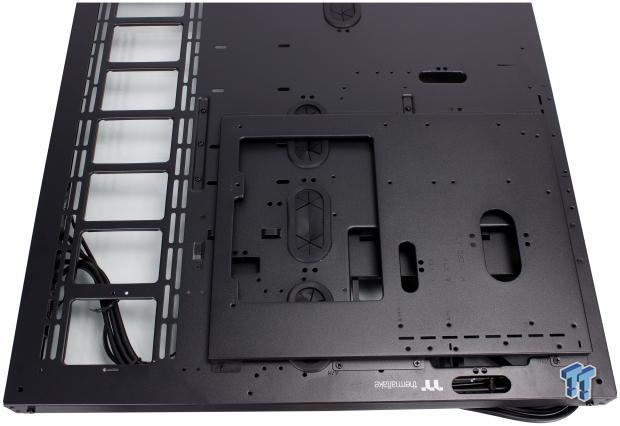 For testing we will be installing the motherboard in the standard orientation. Before moving to testing we wanted to test out the alternate mounting and see how the board fits and any observed issues. The motherboard tray uses eight screws to mount in this alternate orientation. Probably the biggest problem I see with this alternate mounting is that the cable management pockets are all covered for the most part. This could make for a unique looking setup in an open-loop build where there will be many bits to show off, and it closes the gap between the motherboard and the radiator.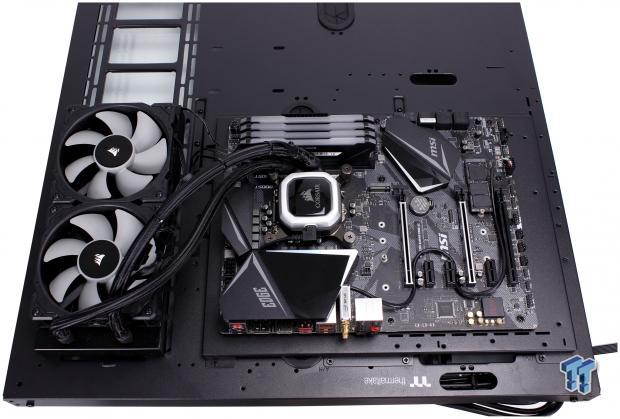 Here we see the motherboard in the alternate mounting method along with our standard ATX testbench cooler. The H100i shows that with the alternate motherboard mounting the AIO reached easily, and unfortunately with standard mounting, it's not so favorable.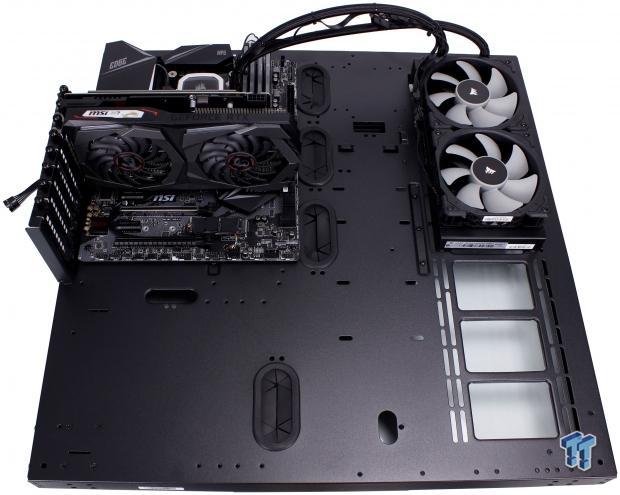 Here we now have the motherboard in its tested orientation. The standard orientation has the board upright like it would be in a standard ATX chassis. You will notice we have not fit feet or PSU to the chassis yet. The AIO tubes are a bit more strained as you can see here but still workable in the standard motherboard layout. I would not recommend running the AIO like this long term and would advise users pick up Core P5 AIO brackets by Thermaltake available at Amazon should you choose a Core P5 with an AIO setup. If you happen to have a 3D printer, you can also print up your own brackets albeit a bit thicker than the retail units, and possibly more costly depending on your filament costs.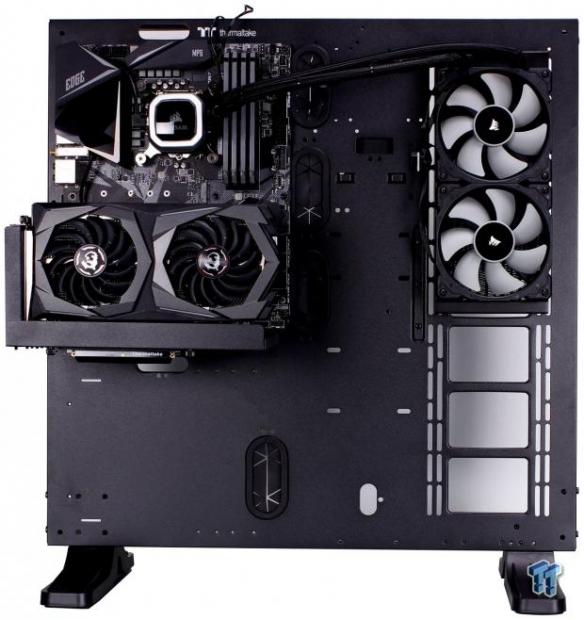 And with that Lt Dan, err the Core P5 TG V2 has legs. The feet are attached with four screws per foot assembly and thread into a strengthened two bottom corners of the chassis body to ensure the chassis stands firm with minimal wobble. As you can see here, everything is coming together with the P5 edging closer to being a complete system. You will also notice we employed the vertical bracket here to show what your rig can look like as the vertical GPU covers the normally empty slots.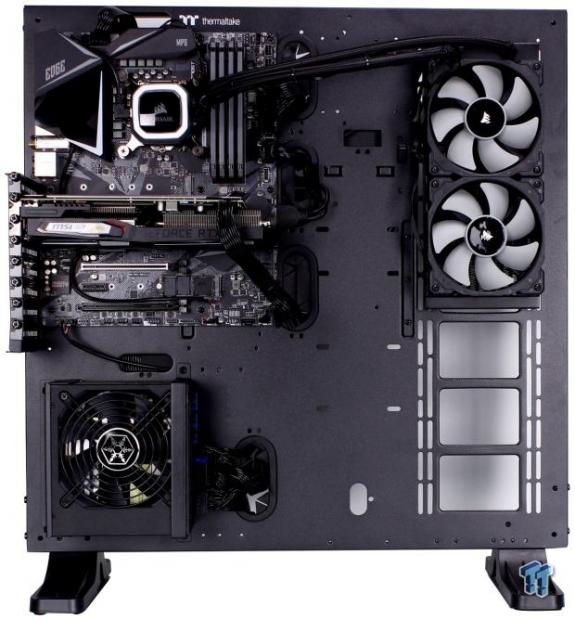 Here we now have removed all the vertical GPU bits and installed all parts in their standard orientation. Also, notice that the PSU is now in and I must say our SilverStone ST1000-PTS 140mm looks tiny mounted on this massive slate. You may also note that the tiny H100i barely covers half of the radiator mounting, showing that those who want to build a monster open-loop setup have all the room they need for a massive 480mm radiator.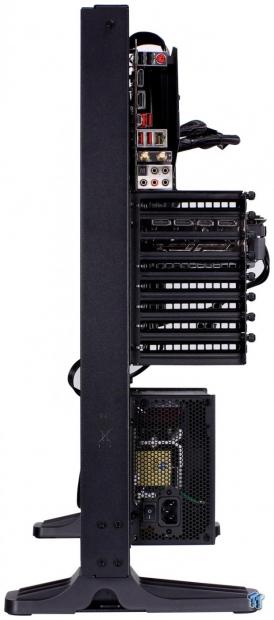 Now that everything is built into our system lets take a look at that rear I/O side. First thing you will notice is that you will want a motherboard with a fixed I/O shield or mock up a way to affix your I/O shield. The naked I/O shield feels incomplete, and with something like the Core P5 where creating a showpiece is life, this is an essential consideration for your component choice.
Case Build & Finished Product Continued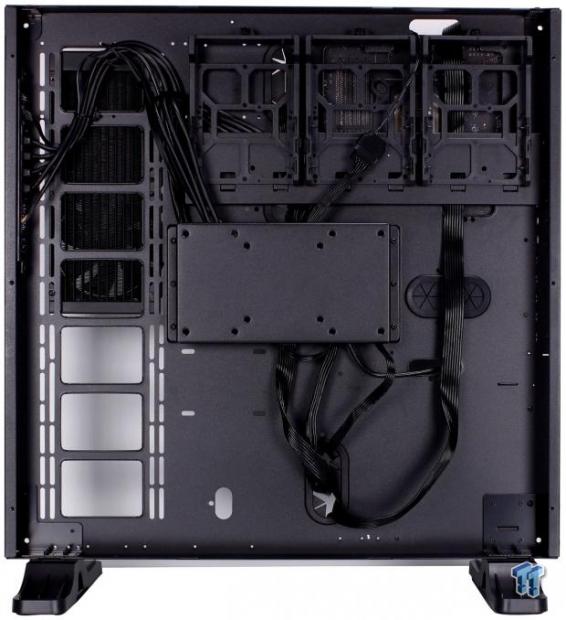 Peeking behind the curtain, or back panel as it is shows the cable management section. This area is large at about 45mm and has plenty of room for even the thickest bundles of sleeved cables. The HDD trays I left in place even though we were not using them as there was simply no gainful reason to remove them in the current configuration. Should you want to remove the HDD trays you can with just three thumb screws. You can even go as far as to remove the HDD tray bracket should you feel the need. Removing the bracket is only a four screw affair and the screws are removed from the opposite side on each side of the motherboard respectively.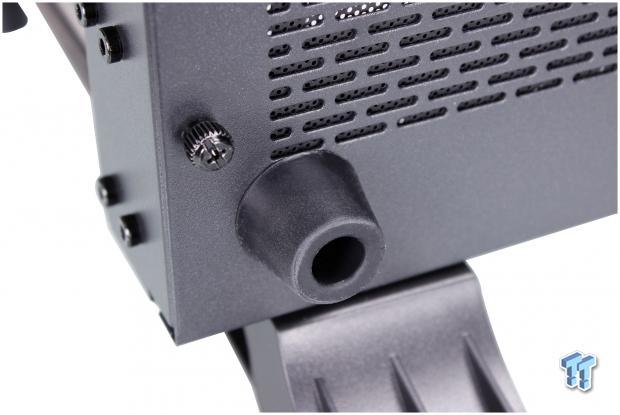 Here on the rear panel we affixed the rubber feet. This is simply to show you what the feet look like and how they attach since the rear panel has pre-threaded holes in place for these four feet. These feet are the ones you would use if you were laying the Core P5 on its back as a test bench setup.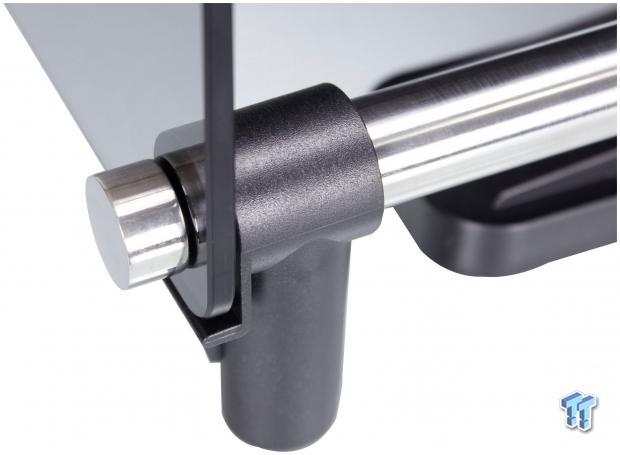 Last part on the list to install is the glass panel. Originally, the Core P5 had a much lighter acrylic panel for the front. With the new tempered glass panel, we also get much more weight and that requires a bit of support for the weight of the thick tempered glass panel. Here we see the plastic feet affixed to the standoff poles for the panel. These work as ancillary support to keep extra leverage force from leaning or twisting the Core P5 chassis with the heft of the glass.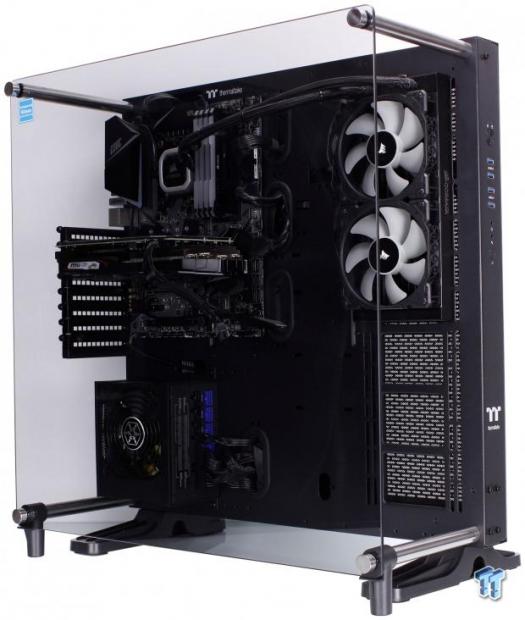 Here we have it, the coup de gras if you will. The Core P5 TG V2 in all of its glory with our default ATX test bench installed. I must admit, with such a mainstream system in place there is so much open space on the P5 it really is begging for more monster hardware to show off. But with all of that aside I will say that the presentation aspect of the Core P5 series is still strong, although you definitely need to mind the details if you strive to achieve a truly showpiece level system.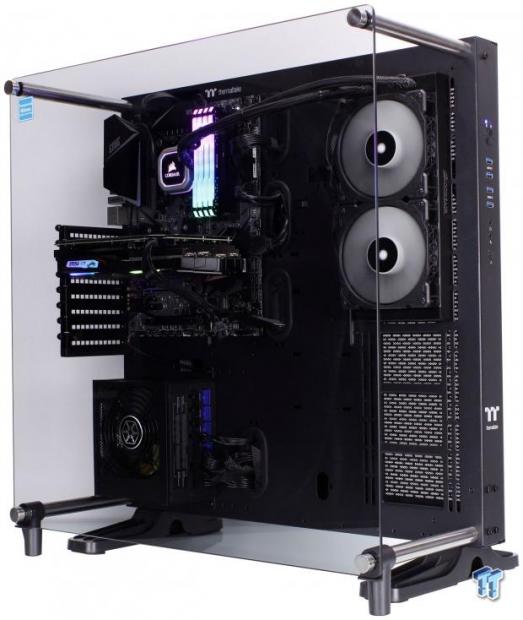 Powered on the new Core P5 TG V2 lights up and the fans start moving. One thing to note here is that there is no airflow fans like in a standard ATX box. The omission of fans will not be a major issue for most who will be water cooling in this chassis but if you happen to be on an AIO and have a few GPUs in tow you can easily build up some heat and you are relying largely on convection to radiate the heat away.
Final Thoughts
When I first received the Core P5 TG V2 Black Edition, I was met with fond memories of such a unique chassis when it debuted several years ago. Then came the wonder of what had changed and how much of the Core P5 unique character remained. I am happy to report that much of the Core P5's unique style and appeal remains although with a few more features now. Oh, and don't forget the tempered glass.
Testing the Core P5 TG V2 was carried out the same way as we do with all chassis via a burn-in session recording temp during the duration. The measured ambient during testing was 23.2C and RH of 45%. The CPU testing showed a delta over ambient of 45.1, while the GPU showed a delta of 39.8. This is well within the results we observed in other well performing cases. This also shows that in an open-air/open frame chassis, you can still achieve good thermal results.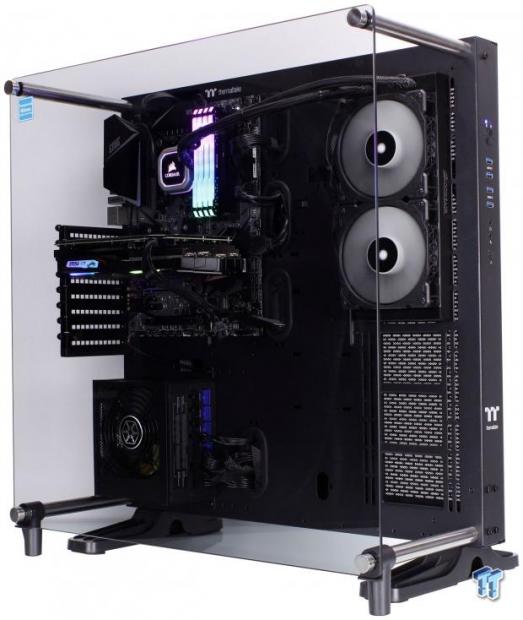 Now we gotta discuss what we like about the Core P5 TG V2 Black Edition. The Core P5 TG V2 is a very simple yet elegant case, some of its strongest points are its lack of things, things that may get in the way of what you want to showcase. If you are looking for massive RGB and tons of fans included do not apply. The Core P5 is a blank canvas you can build upon. The open slate style is its biggest feature as it allows you to make the Core chassis your own and build it how you want.
Now to what we don't like about the Core P5 TG V2, and there's not going to be much here. The Core P5 does an admirable job as an aging platform to improve and modernize the open chassis design. The radiator fitment is excellent, but if going nuts with the need for multiple radiators, you will have to turn to the creator community via the Thermaltake 3D printable part page or other 3D printing repositories where you can find various brackets to fit fans or even radiator expanses across the panel mounting poles. You can also find many maker spaces or online shops which will print the parts and ship them to you should you have the need to stack up parts in the Core P5 but lack the ability to 3D print them yourself.
The price point is admittedly high, edging close to $200. However, there are not many options in the open frame category that offer this level of detailed presentation and customization. The Core P5 as I said before offers a unique ability by cutting the fat and providing a blank canvas to build or mod. If you are looking for a chassis to just toss parts in and go the Core P5 can work but there are better options out there for far less. However if you are the right person looking for a literal blank canvas to build in, then the Core P5 is most undoubtedly a surefire way to get a solid start.
Shannon's Chassis Test System Specifications
| | |
| --- | --- |
| Performance | 97% |
| Quality | 95% |
| Features | 95% |
| Value | 95% |
| Overall | 96% |
The Bottom Line
Thermaltake proves that lightning can strike twice with the Core P5 TG V2 Black Edition. A simple blank slate that does everything by doing very little.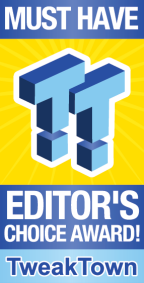 We openly invite the companies who provide us with review samples / who are mentioned or discussed to express their opinion. If any company representative wishes to respond, we will publish the response here. Please contact us if you wish to respond.