Plextor M6 PRO SSD with PlexTurbo Caching Layer Technology Preview
Plextor first displayed PlexTurbo and the M6 PRO SSD back in June, but since then little has leaked about the product... until now. Let's take a look!
Published
9 minute read time
Introduction & Specifications and Availability

One of the more interesting stories out of Computex last June was Plextor's first public demonstration of PlexTurbo. PlexTurbo is a software cache layer that uses DRAM to buffer IO for the data moving to and from the SSD. The first product PlexTurbo will work with is the company's soon to launch M6 PRO.
The Plextor M6 PRO is just about ready for public consumption, but Plextor is still brushing up the final firmware. We have a pair of drives in the Secret Bunker Lab, and were given the green light to leak some of the performance data we're seeing on the prerelease firmware, and even show some PlexTurbo numbers.

Before we dive into the numbers, let's take a look at the features. Plextor used a Marvell 88SS9187 controller and paired it with Toshiba's new A19 NAND flash. The firmware comes from inside the company, so Plextor is able to tune the programming and firmware for specific workloads, depending on the target market. In the case of the M6 PRO, Plextor is trying to push performance beyond the SATA 6Gb/s level.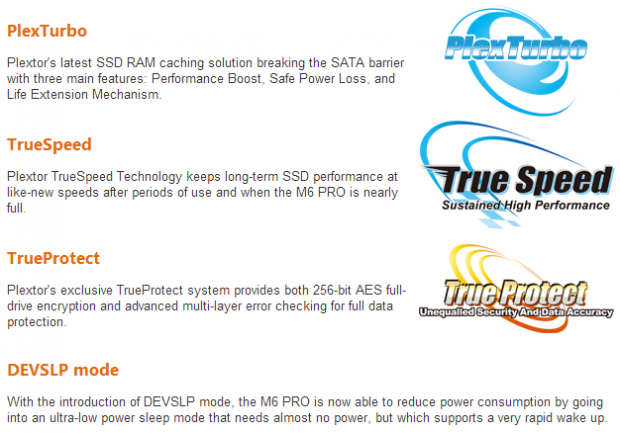 Getting past 6Gb/s means a buffer has to be on the other side of the SATA cable. Plextor isn't the first company to releases a DRAM buffer for SSDs, and they certainly won't be the last to do so either. At FMS 2014, we played with a few solutions on both the consumer and enterprise side. Plextor's own software, PlexTurbo, does more than just increase performance. Random writes pass through the DRAM first and the data is passed to the SSD as sequential data. This increases the flash endurance since sequential writes take less of a toll on the NAND than random writes does.
Plextor's TrueSpeed, special programing on the SSD to keep performance high even after intense use, and TruePROtect encryption carried over from the M5 Series and are also on the M6 PRO. The M6 PRO also supports DEVSLP for more power efficiency.
Specifications and Availability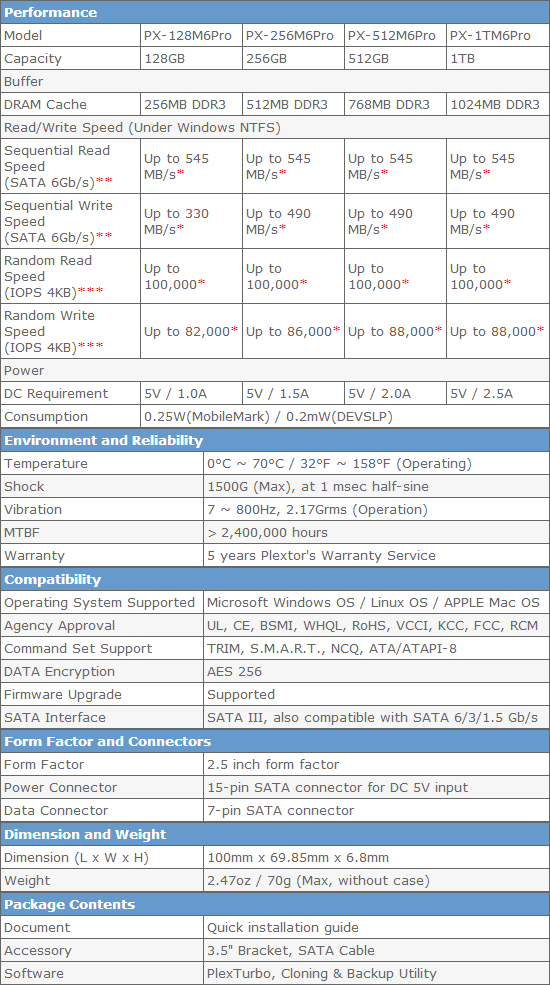 Plextor will releases the M6 PRO in four capacity sizes that range from 128GB to 1TB. In our preview today, we'll use the 256GB capacity size. The 256GB model shares the same performance specifications with the 512GB and 1TB models, other than the random write IOPS. The spec sheet shows the 256GB model at 86K random write IOPS, but the two larger capacity models go up to 88K.
Plextor should have the M6 PRO firmware finished up any day now. When they do, reviewers will get a few days lead time with it to test and get our reviews ready, while stock moves to Newegg, Amazon and other e-tailers. At this time, we can't nail down an exact date, but I'd say Plextor is less than 30 days out.
Plextor M6 PRO Retail Package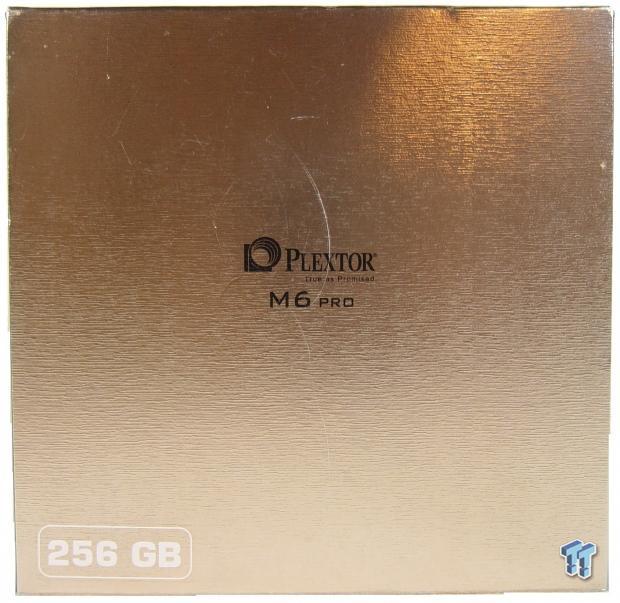 Unlike most of our preview articles, we have the full retail package for both the Plextor M6 PRO 128GB and 256GB drives. In this preview, we're looking at the 256GB model, since it's a bit faster than the 128GB drive, and higher numbers are always more pleasant to the eye.
Plextor always states the company's products are premium products, but if I had a dollar for every company that said that, I'd be rich. With this release, Plextor realized they needed to separate the company's products from the herd.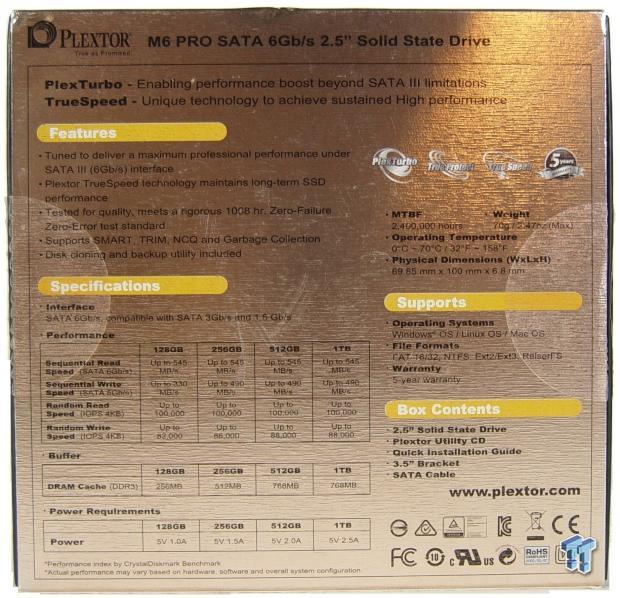 Our retail box took a beating on the plane from Flash Memory Summit, but you can still see that Plextor put a lot of effort into making a true premium SSD.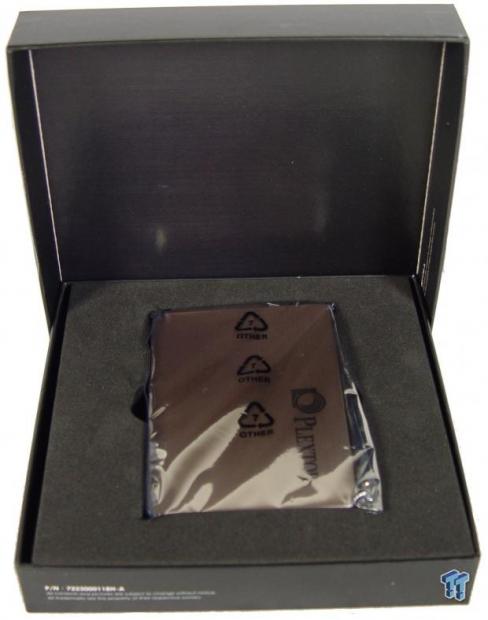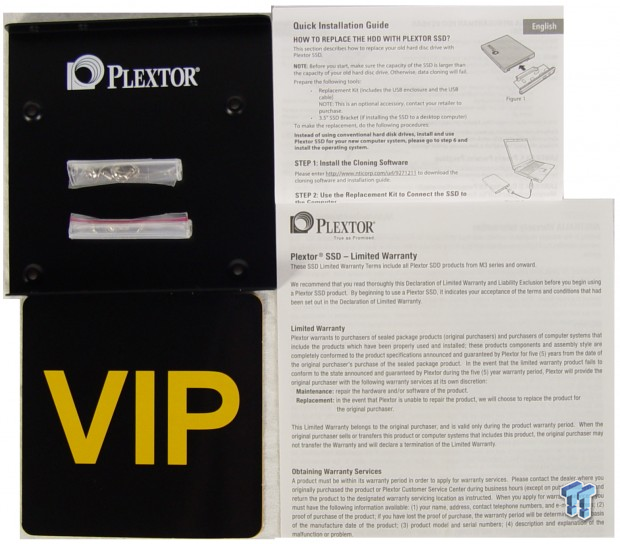 Inside, we found a desktop adapter bracket, screws for mounting and three paper manuals. The VIP pamphlet is for priority support services.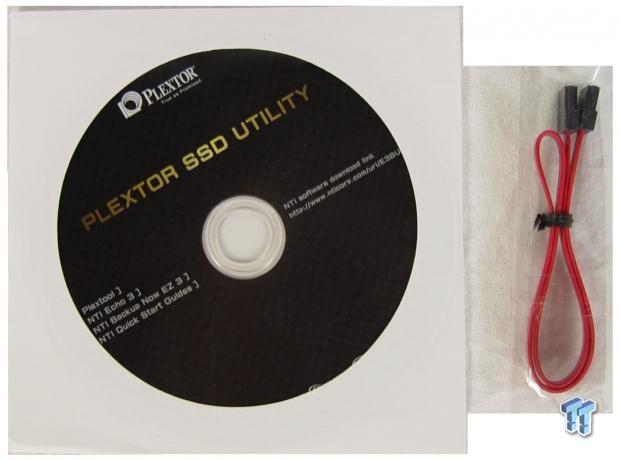 Instead of downloading Plextool with PlexTurbo, Plextor gives you the SSD utility disk. The disk also includes Echo 3, Backup Now EZ 3 and a guide for both pieces of software from NTI. For years, we've stated that SSD manufacturers need to include a SATA cable and Plextor has finally done it. The cable is actually really nice. It's thinner than most SATA cables and is shorter than the cables you get with your motherboard.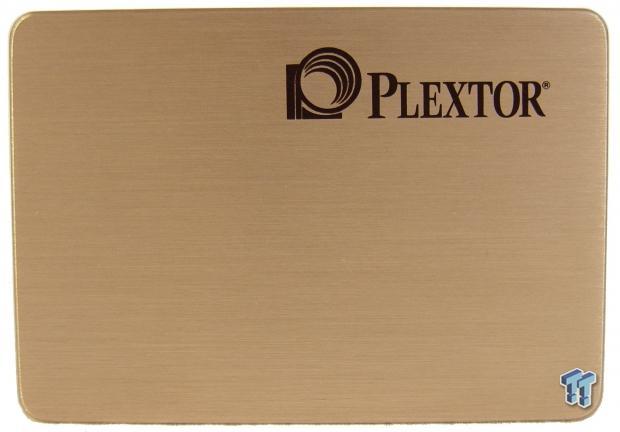 The case on the M6 PRO is champagne color. This is a very popular color for aluminum electronics in Japan, where Plextor is based.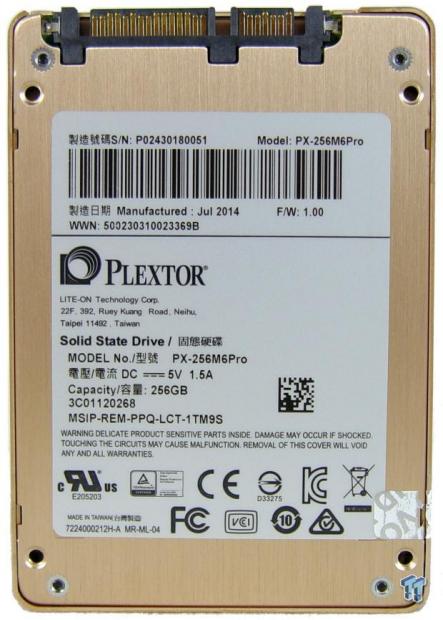 The label on the back shows the model, serial and product numbers as well as the capacity size.

The M6 PRO has a 7mm z-height, so it will fit in your slim Ultrabook.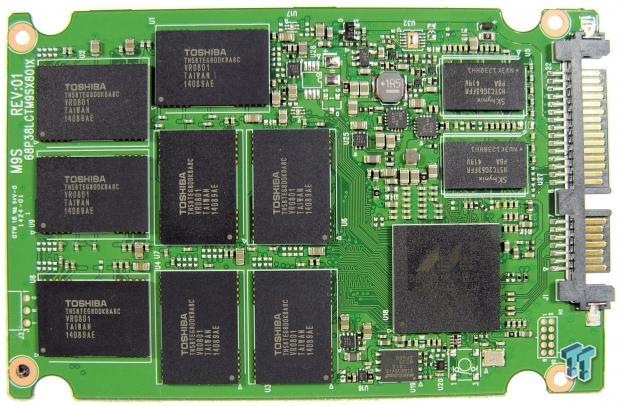 All of the surface mount components are on the same side of the PCB.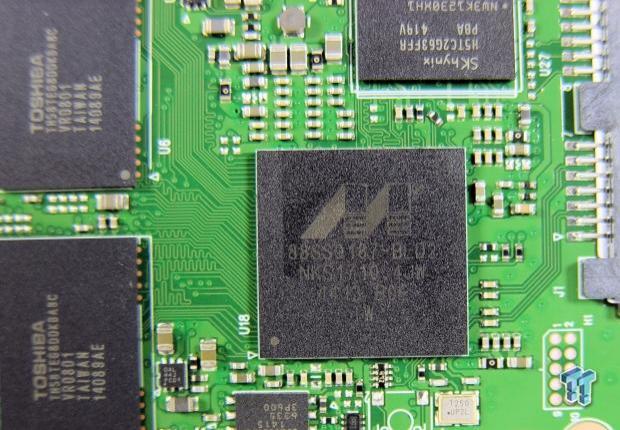 Plextor used the Marvell 88SS9187-BLD2 controller.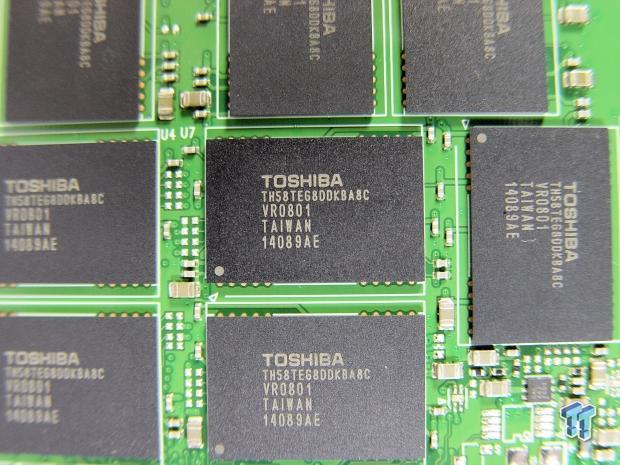 The flash was paired with Toshiba 19nm NAND flash. This is the new A19 2-plane flash.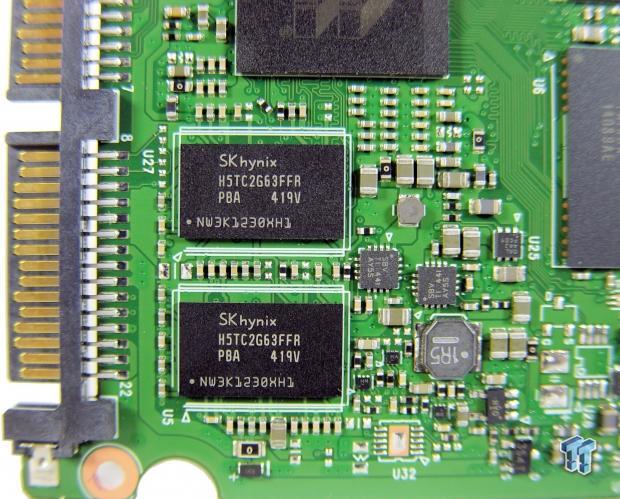 The 256GB model uses two SK Hynix DDR3 DRAM buffers that provide 512MB of capacity.
Benchmarks - Test System Setup and ATTO Baseline Performance
Desktop Test System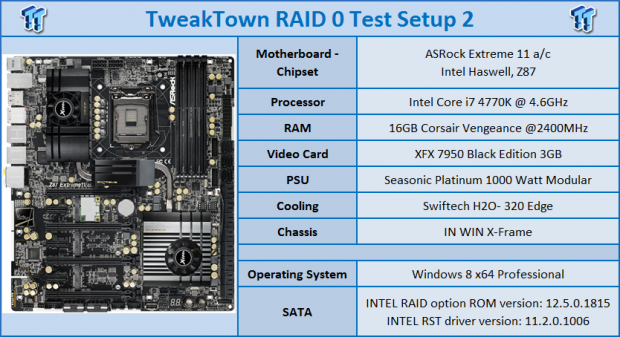 Lenovo W530 - Mobile Workstation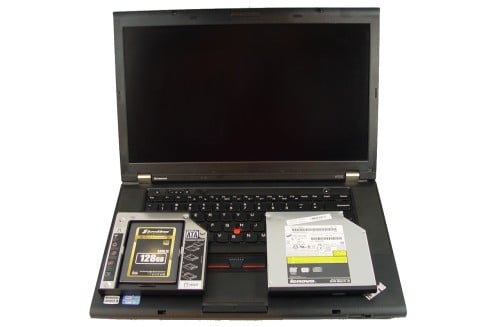 We used a couple of different test systems for this preview. With the Plextor M6 PRO 256GB as a secondary drive, we used one of Jon's test systems. These tests were ran at Flash Memory Summit. We also used a Lenovo W530 to test with the Plextor M6 PRO as the primary (boot) storage device. The PlexTurbo software will only work on the C drive at this time.
ATTO Baseline Performance
Version and / or Patch Used: 2.34
ATTO is used by many disk manufacturers to determine the read and write speeds that will be presented to customers.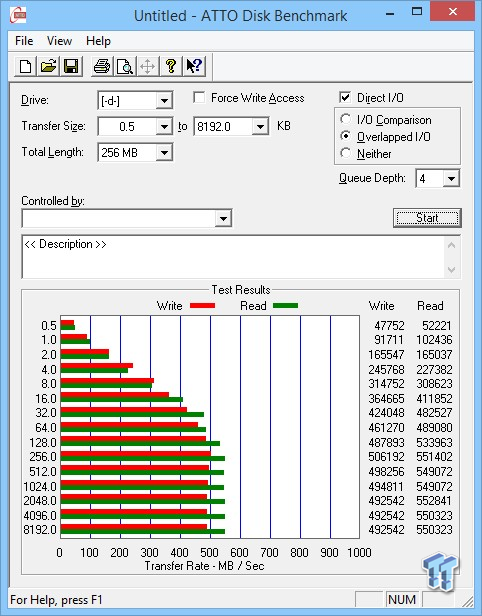 In ATTO, we measured the sequential read performance at just over 552 MB/s with the M6 PRO. The sequential write speed surpassed 506 MB/s. Again, this is with early firmware and performance should increase before the final roll out.
Benchmarks - M6 PRO All Drive Performance
Crystal Disk Mark
Version and / or Patch Used: 3.0 TP1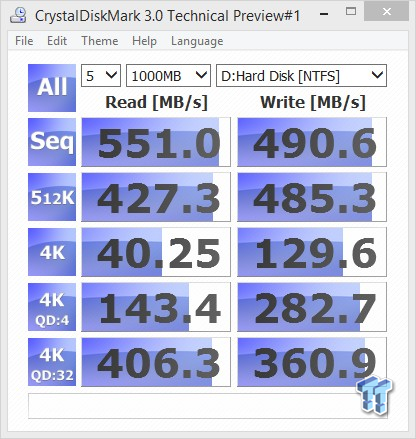 The first series of tests I'm showing today come from a desktop system with the Plextor M6 PRO as a secondary drive, like how we review single SSDs. Later in this preview, we'll show the M6 PRO as the boot drive, with and without PlexTurbo installed.
I wanted to start out with CDM so we could get the sequential reads and writes out of the way. 551 on the nose is a solid result for sequential reads and 490 MB/s sequential write is fast, but we'd like to see some more performance in this area.
Plextor will market the M6 PRO for gamers and enthusiasts. The M6 PRO surpassed 40 MB/s in 4K queue depth 1 random reads, a result very few drives can achieve. Let's take a closer look at that random performance.
Random IOPS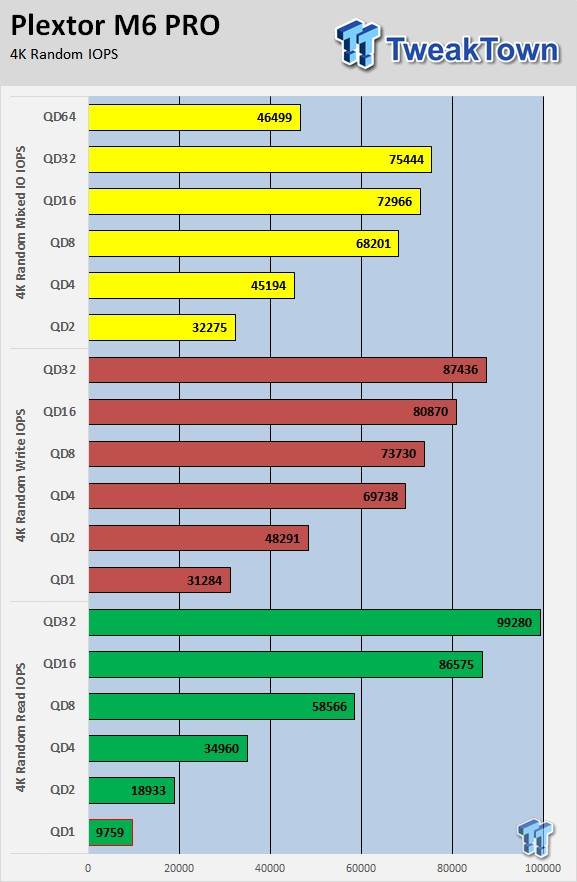 This is a new chart that I've wanted to use for a long time now. In the chart, there are three groups of results - random read IOPS (bottom), random write IOPS (middle) and at the top is a new data set, mixed IO IOPS (top).
Starting at the bottom, the Plextor M6 PRO nearly reaches the magic 10K read IOPS mark at QD1 that very few drives are able to reach. In the desktop system, the M6 PRO delivers just over 99K read IOPS at QD32. Later in the review with the operating system on the M6 PRO, we actually surpassed the 100K mark, but let's not get too far ahead of ourselves right now.
The middle group is the 4K random write IOPS performance for the M6 PRO. The drive does very well here too.
The top group is a metric we haven't published before here at TweakTown. This is mixed IO IOPS performance. This group of tests starts at QD2 instead of QD1 because each read and write command adds to the queue depth. You can't have a mixed read and write IO at QD1. In this test, we also scale to QD64, even though the SATA III dataset doesn't scale to QD64. This is a metric we can take advantage of in the future with NVMe.
PCMark 8
Version and / or Patch Used: 2.1.274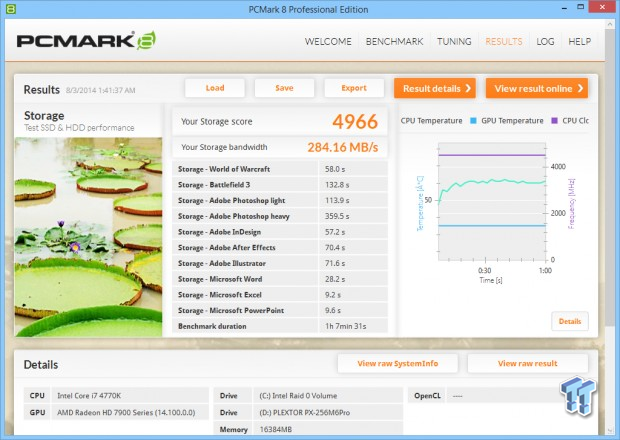 The last test in our preview for the M6 PRO as a secondary drive is Futuremark's PCMark 8. This test took just over an hour to run and in that amount of time the M6 PRO averaged 284.16 MB/s. Even though the Plextor M6 PRO 256GB is still a beta product for reviewers, it's already faster in this test than the Samsung 850 PRO 128GB. The 850 PRO 128GB scored 275.71 MB/s in the Storage Bandwidth Test.
Plextool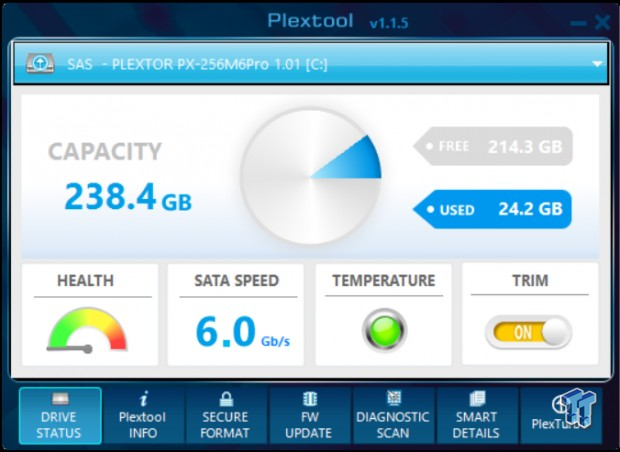 PlexTurbo is found in Plextool, Plextor's software package that works with every Plextor SSD. The main screen gives the status of the drive and shows the amount of space used and free. It also shows the drive health, as well as a temperature reading. The last bit on the initial screen shows if TRIM is enabled in Windows.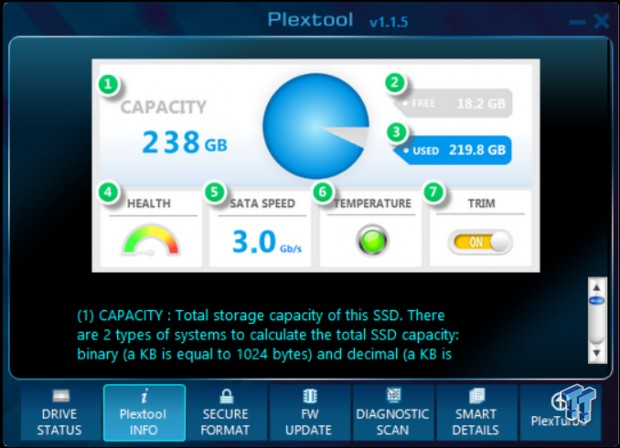 The second page just tells users what each module means on the previous page.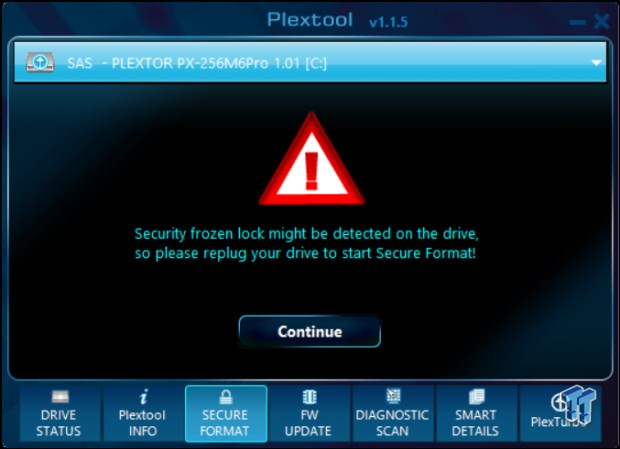 If your Plextor SSD was a secondary drive, you could use the software to secure erase the Plextor SSD.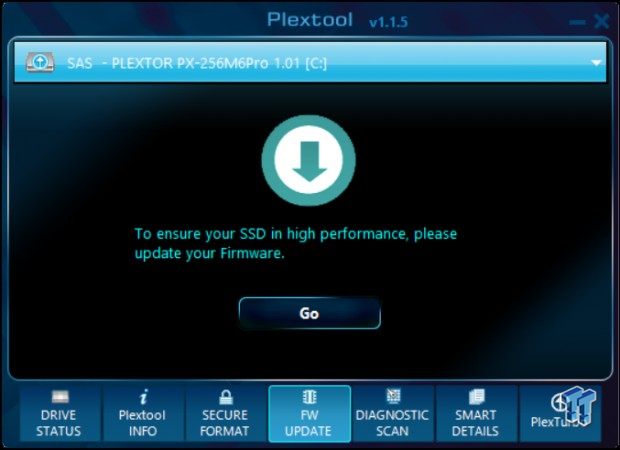 Even with your Plextor SSD as the boot drive, you can update the firmware on the drive in just a few easy clicks. No more DOS disks and command lines to remember.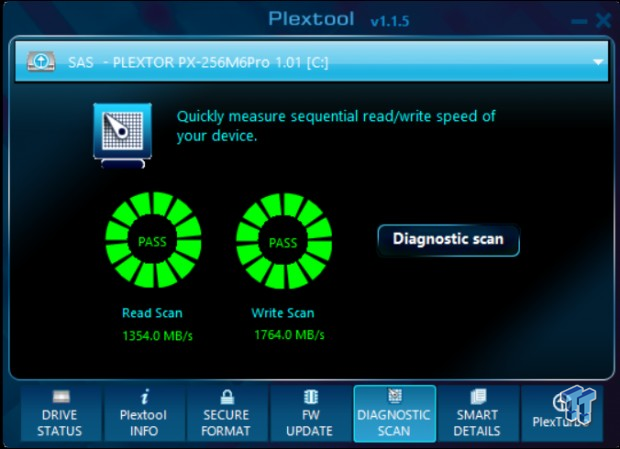 Plextor also included a quick read and write test.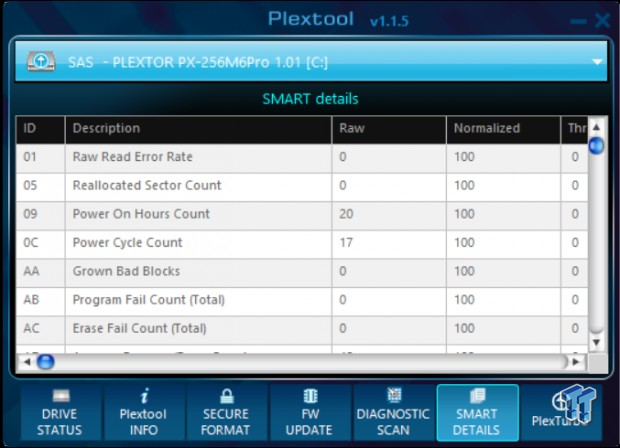 Plextool gives users easy access to smart information.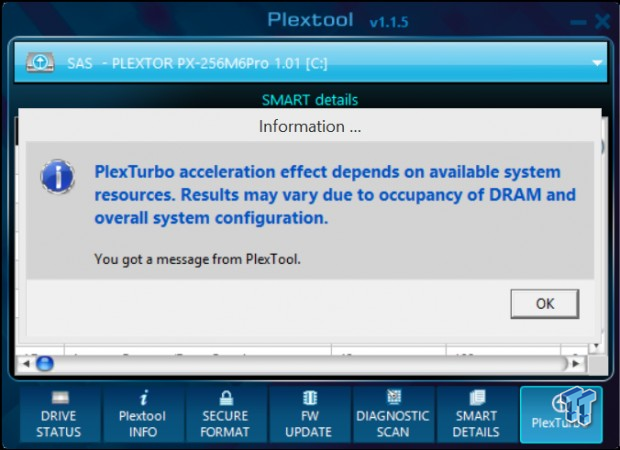 When you click on the PlexTurbo icon, a message appears that you have to click through.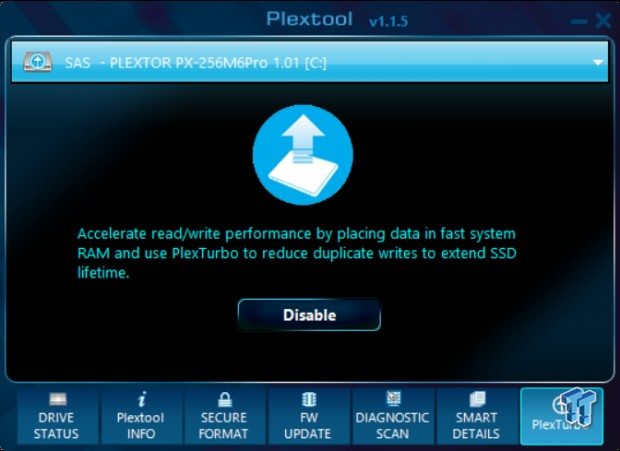 We already had PlexTurbo enabled, but if the feature is not activated, the screen looks the same just with an enable button replacing the disable button. Sadly, fireworks don't shoot from your PC when you hit the button. It's a pretty uneventful experience, but you do have to restart your system after enabling the PlexTurbo software. Plextool will force the restart so you won't forget.
Benchmarks - PlexTurbo
PlexTurbo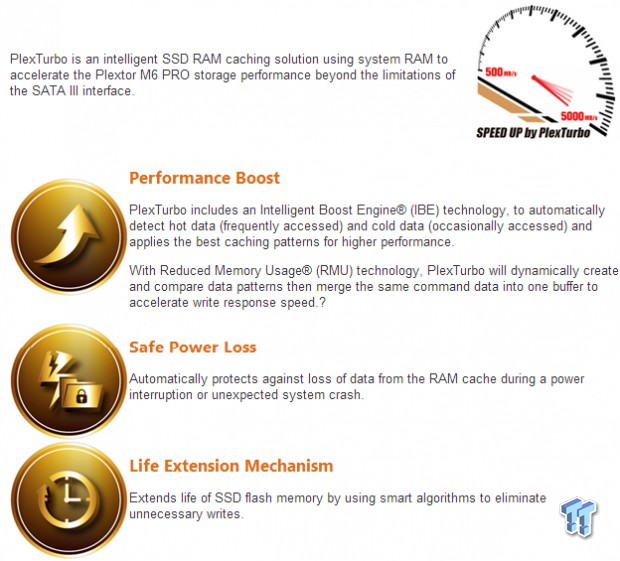 Most Plextor M6 PRO owners will never run their drive as a secondary volume until something shinier comes along in a couple of years. A majority of users will use the M6 PRO for the boot volume and with Plextor's PlexTurbo software. Since PlexTurbo will only work on the boot drive, we can't test the combination like we do other SSDs.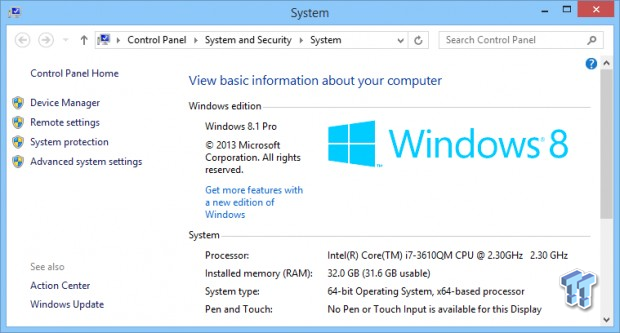 For this test, we reached for a Lenovo W530 notebook. The W530 was recently retired from our Notebook Battery Life Test system and replaced with a T440 that supports DEVSLP. The W530 uses a Core i7 Ivy Bridge processor running at 2.3GHz and a Maximum Turbo frequency of 3.3GHz.
Now that the system is retired, we were able to make some modifications. Patriot sent us four Viper series DDR3-1600 SODIMMs for another product that we later learned required ECC DRAM. With 32GB of LoVo (Low Voltage = 1.35v) DDR3 in our system, we were ready to get the most out of PlexTurbo. PlexTurbo does not require 32GB of DRAM - we just couldn't help but go overboard.
Also, this system uses four DDR3 SODIMMs at 1600MHz in dual-channel mode. A system based on X79 or X99 with quad-channel DRAM would be significantly faster. At this time, we can't show any results from our X99 systems and X79 had poor SATA III performance so we're sticking with a consumer based chipset.
Crystal Disk Mark Read
Version and / or Patch Used: 3.0 TP1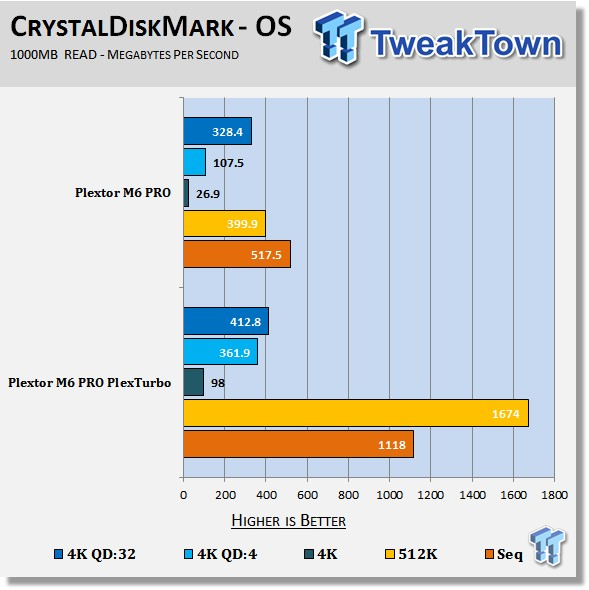 In the PlexTurbo results, we'll have two sets of results, the M6 PRO with an OS on the drive and the same M6 PRO with an OS and PlexTurbo running. In all of the tests we see the PlexTurbo software accelerating performance. The largest performance gains on the chart come in sequential workloads, but by percentage the random workloads increase a significant amount as well. The high queue depth tests have the least amount of increase.
Crystal Disk Mark Write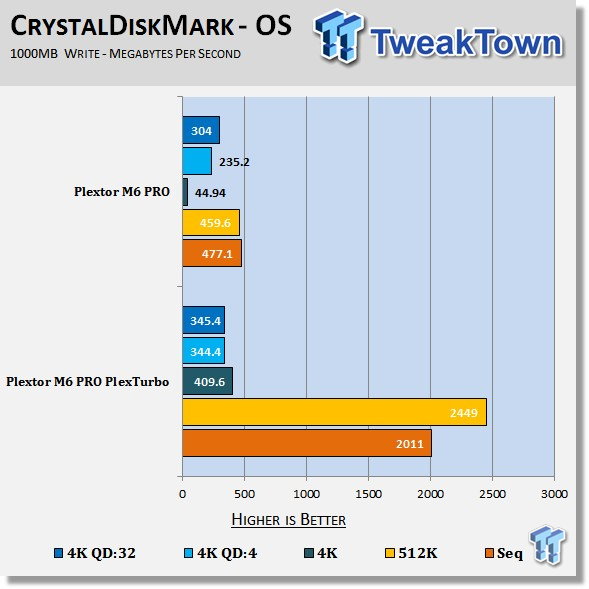 In the write test, we see a significant increase as well. Plextor's documentation states, "Automatically protects against loss of data from the RAM cache during a power interruption or unexpected system crash." We'll need to get more details on how this is possible when the DRAM is clearly accelerating the data writes. We'll cover this topic more in the actual review that is coming soon.
Random IOPS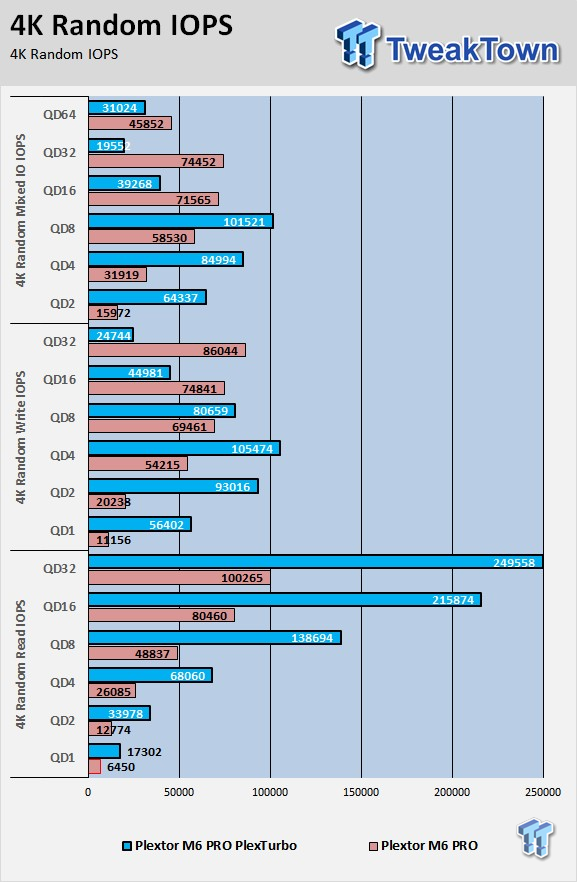 This is where things get really interesting with PlexTurbo (blue bars). Starting at the bottom with the random read IOPS, we see that PlexTurbo accelerates all of the random read IOPS regardless of the queue depth. PlexTurbo just takes over and go wild when reading cached data back.
The middle group shows 4K random writes at different queue depths. The PlexTurbo software accelerates all the way up to QD8 and then the accelerated M6 PRO drops off. Most users will never reach high queue depths under a normal consumer workload, so it's not an issue for gaming or even enthusiast tasks like video editing and so on.
The same is true for the random mixed IO test. The low queue depth tests show a significant increase, but as the commands stack up, the PlexTurbo software slows performance.
Final Thoughts

As we mentioned throughout this preview, Plextor is still working on the M6 PRO, but as you can see, the performance is already up to the marketing specs. It shouldn't be too much longer before this product is finished and e-tailers have stock to sell.
This is an exciting product for Plextor. The company has always billed itself as a premium SSD builder, and I think that was sort of lost over the last couple of years. It's not that Plextor's products faded in either performance or quality, other companies just caught up to the same position that Plextor has always been at. From what we've seen with the new M6 PRO, it appears Plextor is ready to make another leap forward.
I don't think many people actually care about the color of the aluminum case or the history of champagne aluminum in Japan, but it's a nice touch nonetheless. The product packaging has increased in quality too, but again, this will be lost on many people. The accessory package though, paired with Plextool and the new PlexTurbo feature is difficult to ignore. Plextor has also added AES 256-bit encryption for what it's worth as well.
The feature we're more excited about is DEVSLP, the technology that reduces the SSDs power draw and gives notebook users additional battery life. Notebooks, even desktop systems, with Intel's built-in HD graphics are powerful enough to play some games on and more gamers are converting over to portable gaming platforms. DEVSLP will help tame power consumption, even while gaming.
Stay tuned for a full review of all four capacity size Plextor M6 PRO drives in the coming weeks. We're just one firmware flash away from a retail product.
PRICING: You can find products similar to this one for sale below.

United States: Find other tech and computer products like this over at Amazon.com

United Kingdom: Find other tech and computer products like this over at Amazon.co.uk

Australia: Find other tech and computer products like this over at Amazon.com.au

Canada: Find other tech and computer products like this over at Amazon.ca

Deutschland: Finde andere Technik- und Computerprodukte wie dieses auf Amazon.de
We openly invite the companies who provide us with review samples / who are mentioned or discussed to express their opinion. If any company representative wishes to respond, we will publish the response here. Please contact us if you wish to respond.