Exclusive Interview with Pixar's Kelsey Mann on Monsters University
Take a peek behind the Pixar curtain to see how an animated film progresses from a blank page to a finished concept.

Published Mon, Nov 11 2013 9:33 AM CST
|
Updated Tue, Nov 3 2020 7:00 PM CST
Nearly twenty years on from the premiere of Toy Story, the world's first full length animated feature and after 14 feature films, it would seem that production at the burgeoning animation facility, now directly under the Disney umbrella, is now a finely tuned beast.
Delving back into the world of Monsters Inc. was always going to be a tough ask for Pixar, the 2001 film existing as a near perfect entity unto itself. And whilst returning to an established environment does have its benefits, it also has its fair share of difficulties.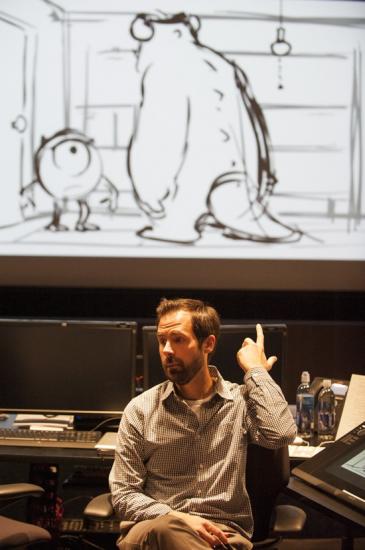 Of course, it all begins with the story - for without a compelling narrative, film production does not continue. Kelsey Mann, Story Supervisor for Monsters University, based at Pixar's Emeryville, California headquarters gave TweakTown an exclusive insight into the process of cracking the nut of the latest film in the Pixar stable.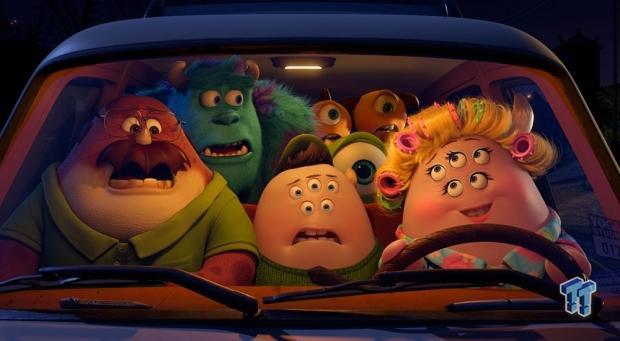 TweakTown (TT): Tell us a little about the initial steps - how does a film go from nothing, to a fully-fledged concept?
Kelsey Mann (KM): At the very beginning of the project, we were faced with the scariest thing we'll ever see: a big, blank, empty canvas. This is very, very intimidating. The first thing we try and do is to get an idea onto the canvas so that we can start reacting to it. Then we can start to move forward.
We all get together in a story room to come up with ideas for the story. It's a large room with a big long table and lots of snacks. There's candy and water everywhere, alongside pads of paper, colored pencils and markers; anything you want to use to get your ideas down. It's usually the story supervisor, the director and the writers at that first idea meeting. We ask things like, 'How are we going to open this movie? How are we going to begin it? What's the second act? What's the midpoint break?' We start to discuss everything and we throw out all kinds of ideas.
We do that for hours and hours, or days and days - and when we start to feel like we're getting somewhere, that's when we'll start to write things down. We start thinking really broadly and loosely about the movie - and then we start putting all of these ideas on a board.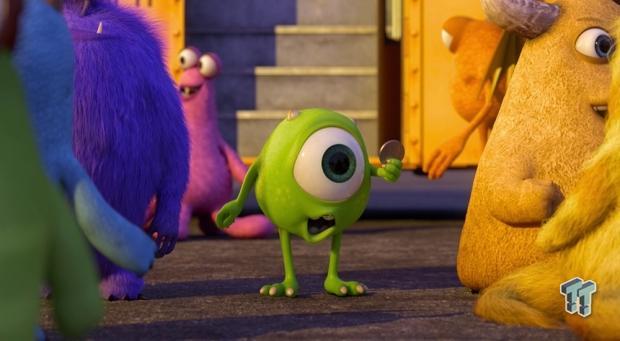 TT: How was the Monsters University story cracked?
KM: In the first act of Monsters University, we open with Mike Wazowski. Mike is a small monster in a large monster world. We felt like that was a good idea for the first act, so we then start to question: 'What's the point of this sequence? What's the essence of what we need this scene to tell?' When we're discussing these ideas, we come up with little details. Maybe he goes on a field trip to Monsters, Inc.? We start to add little ideas to the story and the writers will then go off to start writing script pages.
TT: So it's a team work process?
KM: Sometimes we'll have big brainstorming sessions together to come up with ideas. We'll have a topic to discuss and we'll just let the ideas flow. At one point, we worked on a commercial for Monsters University where the MU basketball team discovers they didn't make it into the finals. They are all really ticked off about it, so our topic was 'sports monsters getting mad.' What are the different ways that sports monsters get mad? Maybe there's a furry monster who yells and rips off all of his fur? We come up with different scenarios and ideas, and it's a lot like improvising. We'll pin all of the ideas onto a board and we spend the session trying to make each other laugh.
Sometimes, we're all riffing on each other's ideas and there's a lot of noise in the room. Then there are other days when we're sitting there staring at the walls with no ideas flowing at all. When that happens, we try to get inspired by drawing the person across the room from us. We'll create little sketches and see what happens.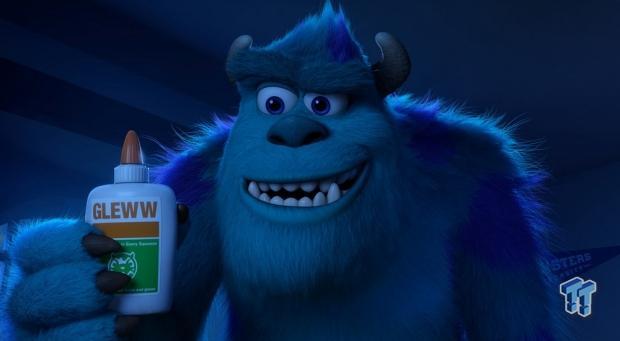 TT: So once the story is mostly fleshed out, what is the next step?
KM: Once all of the ideas have been thought through and the script is written, the story artists start storyboarding. At this stage, there probably isn't much reference material. We'll need an interior of a library for the storyboard, but what does that look like? That's up to you. It doesn't exist yet. When you're the first one to draw something, you go away and research. How big is it? Or how small is it? You create it and go from there.
TT: How does the storyboard process evolve?
KM: Well, I'll sit down with my script and I'll start to rough out the scenes. Typically, we start with thumbnails. Some people will draw them on paper; others have been done digitally. You think about the scene and where you want the cameras to be placed. You explore the emotion of the scene and the energy of what the scene needs to be. You're not only thinking of shots, you're thinking of how you want the characters posed.
The storyboards don't have to be pretty; you just want them to be clear. You don't have to think about the fine details; just roughly sketch what's happening to get a feel for the scene.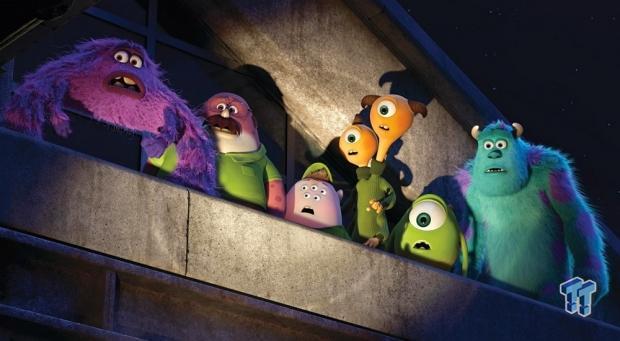 TT: The pitch process is quite legendary at Pixar, where an artist's ideas live or die by the response of their peers. Could you please talk a little about how this works?
KM: The story artist comes into a room with the director, the story supervisors and the writers - and they pitch the scene. They will try to sell the scene to everyone in the room. It's just like telling a story to people - but with your storyboard. This job is so interesting to me because you have to be funny, you have to be able to draw and you have to be able to convey emotion. Also, you have to be a bit of a performer. The scene is pitched and you'll get some notes back - and then you send it on to the editor, who will take the storyboard to the next stage.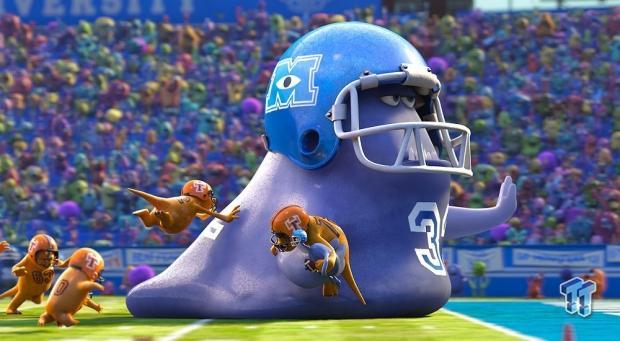 TT: And how can you tell whether the scene will actually work once transposed to the screen?
KM: Once the editor has the storyboard, they will actually create the scene for the first time. They will cut it together to make sure the timings are right. They will add temporary music, temporary sound effects and temporary dialogue, too. Typically, they will use people at the studio to create the dialogue. 'Oh, you do a great Don; you should do it.' That's what we call the 'scratch talent' - the temporary talent before the script is recorded with the real actors.
When the scene is cut together, we watch it again on a big screen with all of the music, dialogue and sound effects added. You have to get used to having your work cut and changed around because the story changes and evolves as the project moves forward. Lots of drawings are made - and a lot of them aren't used, but that's how it works.
Eventually, when the scene has been locked in, that's when it goes to editorial and is animated - but it can take a very long time to get to that stage. It's a lengthy process, but it's all worth it.
TT: Kelsey - thanks so much for your time!
PRICING: You can find products similar to this one for sale below.

United States: Find other tech and computer products like this over at Amazon.com

United Kingdom: Find other tech and computer products like this over at Amazon.co.uk

Australia: Find other tech and computer products like this over at Amazon.com.au

Canada: Find other tech and computer products like this over at Amazon.ca

Deutschland: Finde andere Technik- und Computerprodukte wie dieses auf Amazon.de
We openly invite the companies who provide us with review samples / who are mentioned or discussed to express their opinion. If any company representative wishes to respond, we will publish the response here. Please contact us if you wish to respond.