The Top 20 Films Unreleased on Blu-ray - Part I
With 2010 almost at a close and many more blockbuster releases of the past now transferred to Blu-ray, Ben gives a top 20 pick of movies we're left holding out for in the first of a four part series.

Published Sat, Dec 11 2010 10:17 AM CST
|
Updated Tue, Nov 3 2020 7:02 PM CST
The Top 20 Films Unreleased on Blu-ray - Part I
2010 ended up being a pretty good year for Blu-ray fans, with a slew of much loved catalogue titles seeing release, including
The Back to the Future Trilogy
, Disney's
Beauty and the Beast
,
The Sound of Music
,
The Exorcist
,
Psycho
, Baz Luhrmann's
Romeo + Juliet
,
Apocalypse Now
, David Fincher's
Se7en
and
The Bridge on the River Kwai
, just to name but a few.
While it's fantastic to own these movies in a quality never before attained, there are still a massive amount of Hollywood classics, films of cultural significance and fan favourites that have yet to be released. Some will be released in the coming year, whilst others are in need of some significant restoration and expensive new transfers before they can see the light of day.
At the conclusion of 2010, I thought it would be an appropriate time to discuss and countdown the Top 20 films yet to be released to Blu-ray disc. Look for parts II, III and IV in the coming weeks!
20
- GoldenEye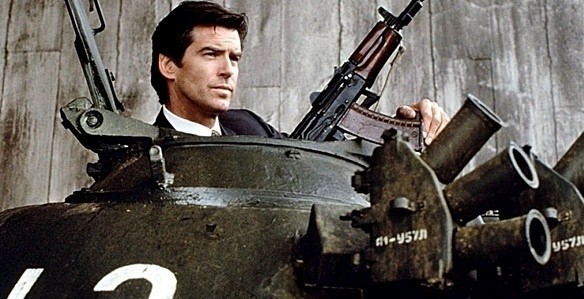 Arguably the best James Bond film of the modern era,
GoldenEye
saw the return of the franchise hit after 6 years of absence. With the world having changed significantly in this time, audiences were slightly sceptical, but the superb casting of Pierce Brosnan as the super spy allayed any fears. With an intelligent script, top direction and high production values,
GoldenEye
solidified the ongoing fortunes of the franchise.
The Bond franchise has seen roughly half of the 20 odd films released to Blu-ray thus far, but unfortunately the remainders, including this, have been shelved due to MGM's financial woes and their inability to tie these releases in with a new Bond theatrical release.
19
- Monty Python and the Holy Grail
[img]2[/img]
Frequently voted in the top few digits of the all time comedy greats, the Monty Python team's 1975 low budget epic struck a chord with audiences that lasts until this day. The Python team were quite crazy, but their no holds barred approach to film making, and off-the-grid shooting style meant that they were able to get away with quite a lot, which is why their films, and especially
Holy Grail
can appear so fresh and madcap, and to many the film is a classic for the resplendent musical numbers including 'Camelot' and 'The Knights of the Round Table'.
Monty Python and the Holy Grail saw a high definition restoration performed by copyright holder Sony Pictures at the turn of the century, but despite the release of another Python classic;
The Life of Brian
, and the odd rumour, this has not yet seen a release.
The Top 20 Films Unreleased on Blu-ray - Part I - Cont.
18
- Tron
[img]3[/img]
With the upcoming release of the sequel
Tron Legacy
, the timing would have appeared apt to tie in the release of the original. However, it seems that Disney are trying to appease nostalgic fans, but cater for a young and hip audience whom might otherwise be turned off by the original film, with special effects, whilst cutting edge for their time, were more in line with early 80's arcade games, and an electronic synthesizer soundtrack by Moog star Walter (now Wendy) Carlos.
But to the fans, there is only one
Tron
and it seems that it will be released in the second quarter of 2011, to tie in with the Blu-ray release of its sequel. Director Steven Lisberger has confirmed that
Tron
received a new high definition transfer earlier this year, and the opportunity to fix a few minor flaws.
17
- Who Framed Roger Rabbit?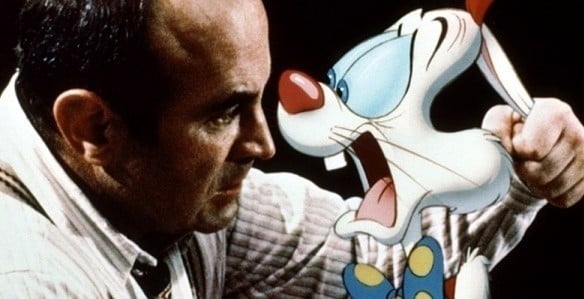 The combination of live action and animated worlds had been done before 1988's
Who Framed Roger Rabbit
, but never to the same degree of technical proficiency, and will likely never be done with the same heart again (see notable failures
Garfield
,
Scooby Doo
and the upcoming debacle
Yogi Bear
).
Roger Rabbit
is a classic partly because of the utterly convincing acting of Bob Hoskins, whom responded to nothing but cut outs on sticks waved by stage hands, the 1930's setting of Hollywood in its hey day, and partly because it rounded up all manner of animated stars, no matter what their studio's heritage was; Disney, Warner Brothers, Fleischer studios, Turner and King Features Syndicate.
Whilst rumours circle of a potential sequel, and mooted during a red carpet interview with Director Robert Zemeckis, there have been few rumours pointing to a Blu-ray release, other than an announcement by Disney in France a few years back, which was quietly withdrawn. However, due to the production of
Who Framed Roger Rabbit
which saw animators paint on the actual celluloid of the film, it's likely that the film is in need of an overhaul before a new transfer is struck.
16
- True Lies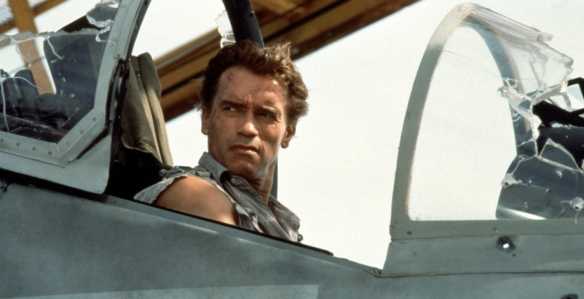 Fresh from his success with
Terminator 2: Judgment Day
and flush with Hollywood credibility after the moderate takings of
The Abyss
, Director James Cameron took a stab at the action spy comedy genre, again re-teaming with Terminator Arnold Schwarzenegger. The hilariously over the top scenario was at its time the most expensive film ever made, with cutting edge digital effects which were just coming of age and a story that was a frivolous take on the terrorism scene.
Unfortunately, its subject matter has been the reason for its delay on Blu-ray, and even before that was responsible for a hold on a special edition DVD and even a sequel after Cameron's rather correct claim in a 2002 interview that "in this day and age, terrorism isn't funny." However, we may soon see a Blu-ray for
True Lies
sooner rather than later, with James Cameron supervising new transfers for some of his films earlier this year, including the aforementioned
The Abyss
,
The Terminator
and
Aliens
, the last of which has just been released.
Please come back next week as we continue with part two of the countdown to the Top 20 Films Unreleased on Blu-ray disc!
PRICING: You can find products similar to this one for sale below.

United States: Find other tech and computer products like this over at Amazon.com

United Kingdom: Find other tech and computer products like this over at Amazon.co.uk

Australia: Find other tech and computer products like this over at Amazon.com.au

Canada: Find other tech and computer products like this over at Amazon.ca

Deutschland: Finde andere Technik- und Computerprodukte wie dieses auf Amazon.de
We openly invite the companies who provide us with review samples / who are mentioned or discussed to express their opinion. If any company representative wishes to respond, we will publish the response here. Please contact us if you wish to respond.