Introduction

CPU limitation is something that we always talk about when it comes to high-end graphics cards. When we say this, we mean that the CPU is holding back the frames that the graphics card is capable of putting out. The less intensive the game, or the lower resolution you play at; this increases the chances of hitting that bottle neck.
There are ultimately three ways to remove the bottleneck on a high-end graphics card. First, increase the settings in the game; things like turning on AA and AF help. The problem is that this might put you at an unplayable FPS level.
The second option is to buy a new monitor that offers a higher resolution, something like 1920 x 1200 or even 2560 x 1600. This can be an expensive task and again the increase in resolution might take your FPS to a level that isn't playable.
The third and best option which doesn't have a negative impact on performance is by overclocking. This not helps remove, or at least make the FPS limitation higher. Unlike the other two methods, this process will give you an increase in performance, which is ultimately what you want.
So what exactly have we done today? - We'll, let's have a look at the Test System Setup and a quick rundown on what we're doing here.
Test System Setup and 3DMark Vantage
Test System SetupProcessor(s):
Intel i7 920 @ 3.8GHz (190MHz x 20)
Cooling:
Noctua NH-U12P (Supplied by
Noctua
)
Motherboard(s):
GIGABYTE EX58-UD5 (Supplied by
GIGABYTE
)
Memory:
3 X 2GB OCZ Technology PC-12800 DDR-3 8-8-8-24 (OCZ3G1600LV6GK)
Hard Disk(s):
Western Digital 300GB Velicorapter (Supplied by
Western Digital
)
Operating System:
Windows XP Professional SP2, Windows Vista SP1 64-Bit
Drivers:
ForceWare 182.06
With our trusty i7 920 on hand, we've taken the time to overclock the processor to 3.8GHz and find out what kind of performance increase we get with the extra MHz on offer. Instead of just moving from 2.67GHz to 3.8GHz, though, we've taken the time to see what kind of increase moving to 3GHz and 3.4GHz gives as well; this in the event you don't want to overclock to 3.8GHz, or simply can't make it that high.
3DMark VantageVersion and / or Patch Used:
1.0.1
Developer Homepage:
http://www.futuremark.com
Product Homepage:
http://www.futuremark.com/products/3dmarkvantage/
Buy It Here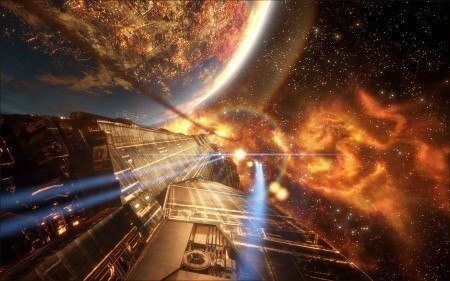 3DMark Vantage is the new industry standard PC gaming performance benchmark from Futuremark, newly designed for Windows Vista and DirectX10. It includes two new graphics tests, two new CPU tests, several new feature tests, and support for the latest hardware.
3DMark Vantage is based on a completely new rendering engine, developed specifically to take full advantage of DirectX10, the new graphics API from Microsoft.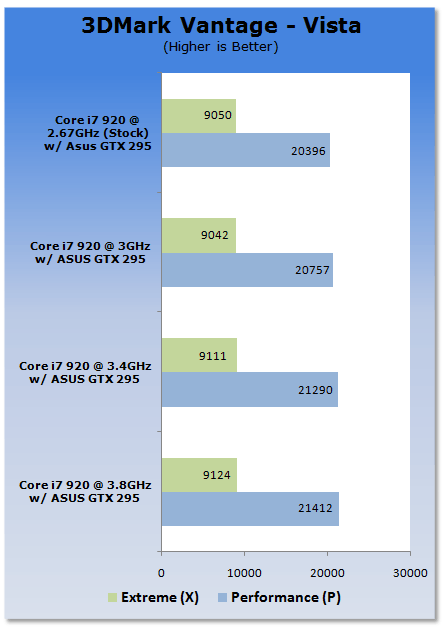 As we move up in speed we can see that Vantage doesn't see huge gains. Hopefully this isn't something we see throughout our real world testing.
Benchmarks - World in Conflict
World in ConflictVersion and / or Patch Used:
1.0.0.5
Timedemo or Level Used:
Built-in Test
Developer Homepage:
http://www.massive.se
Product Homepage:
http://www.worldinconflict.com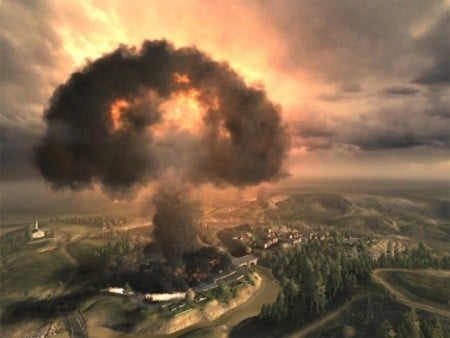 World in Conflict is a real-time strategy video game by Massive Entertainment and to be published by Sierra Entertainment for Windows (DX9 and DX10) and the Xbox 360.
The game is set in 1989 where economic troubles cripple the Soviet Union and threaten to dissolve it. However, the title pursues a "what if" scenario where, in this case, the Soviet Union does not collapse and instead pursues a course of war to remain in power. It is an intensive new game is sure to put plenty of stress on even the latest graphics cards and we use the built-in benchmarking for our testing.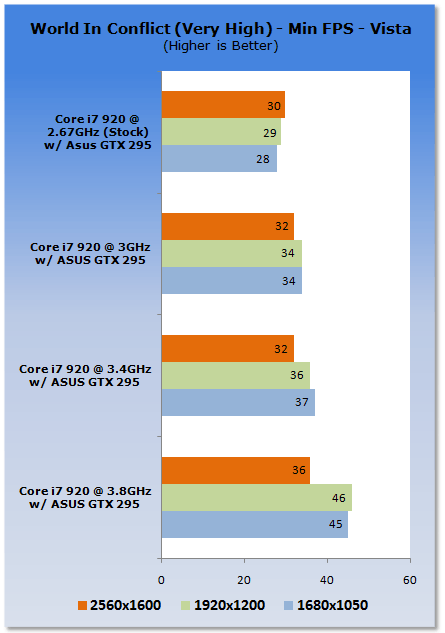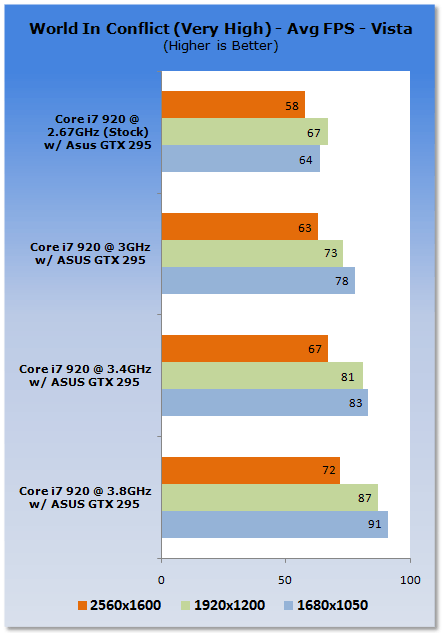 Moving to a real world game, we can see that as we move up in the MHz department we see some really good gains. At stock clocks you can see we're hitting a bit of a wall and at the higher resolution the minimum is a little higher. But as we start climbing up we see some good gains with the 3.8GHz setup which well and truly smashes the 30FPS minimum at 2560 x 1600.
Benchmarks - Crysis Warhead
Crysis WarheadVersion and / or Patch Used:
unpatched
Timedemo or Level Used:
Airfield
Developer Homepage:
http://www.crytek.com
Product Homepage:
http://crysiswarhead.ea.com/
Buy It Here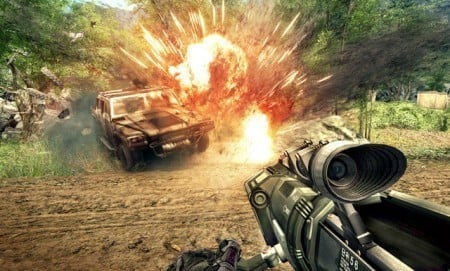 Crysis Warhead updates and refines the gameplay of the original game through a sidestory plot involving Psycho, one of previous protagonist Nomad's allies. The game is a parallel story that follows Sergeant Michael "Psycho" Sykes, a character from the original Crysis, as he faces his own trials and challenges on the other side of the island during the time period of the first game.
It also showcases a new, enhanced and optimized version of CryEngine 2 using full DX10 extensions and is the first game developed by Crytek's Budapest studio.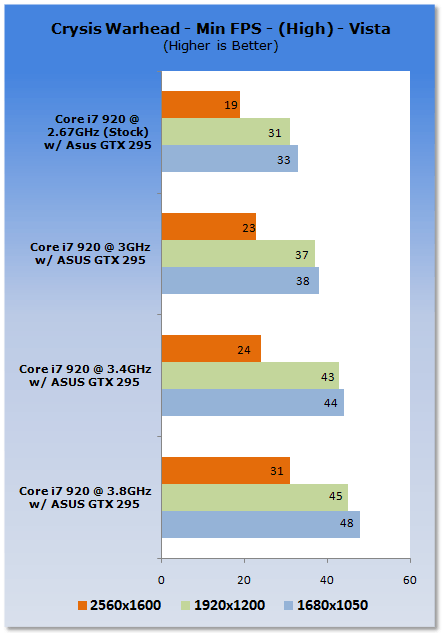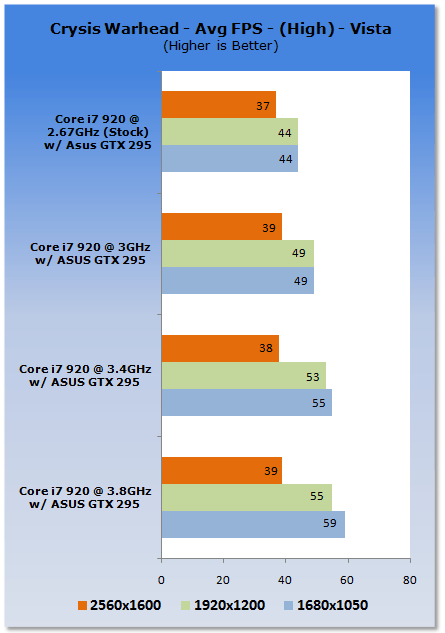 Under Warhead we can see good gains as we start to increase our CPU. If you're only playing on a monitor that puts out 1920 x 1200, 3GHz will offer you a good gaming experience. If you're playing at 2560 x 1600, though, you want to be sitting at 3.8GHz.
Benchmarks - Far Cry 2
Far Cry 2Version and / or Patch Used:
1.01
Timedemo or Level Used:
Ranch Long
Developer Homepage:
http://www.ubi.com/
Product Homepage:
http://www.farcry2.com/
Buy It Here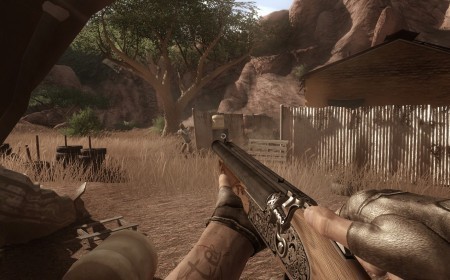 The Dunia Engine was built specifically for Far Cry 2 by the award-winning Ubisoft Montreal development team. It delivers the most realistic destructible environments, amazing special effects such as dynamic fire propagation and storm effects, real-time night-and-day cycle, dynamic music system, non-scripted enemy A.I. and so much more.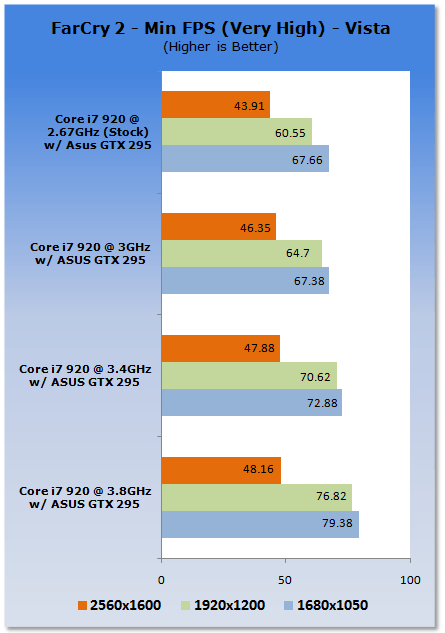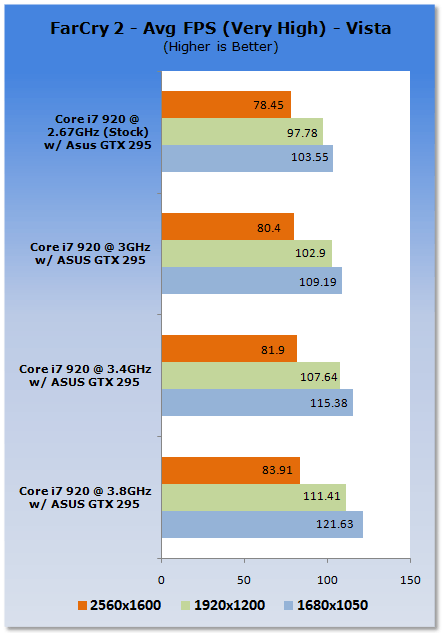 Under Far Cry 2 we can see that the increase in speed is best seen at the lower resolution. The good news is that Far Cry 2 is intensive enough and the GTX 295 is powerful enough that you really don't need a big MHz boost to have the game playable at even the highest resolution.
Benchmarks - Left 4 Dead
Left 4 DeadVersion and / or Patch Used:
Latest Steam Update
Timedemo or Level Used:
Custom Timedemo
Developer Homepage:
http://www.valvesoftware.com/
Product Homepage:
http://www.l4d.com/
Buy It Here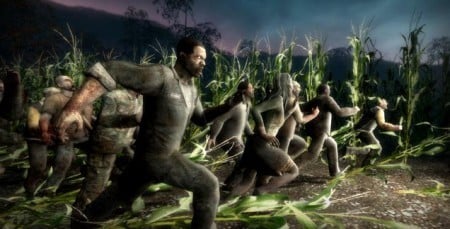 Left 4 Dead uses the latest version of Valve's Source engine, with improvements such as multi-core processor support and physics-based animation to more realistically portray hair and clothing, and to improve physics interaction with enemies when shot or shoved in different body parts. Animation was also improved to allow characters to lean realistically when moving in curved paths.
Rendering and artificial intelligence were scaled up to allow for greater number of enemies who can navigate the world in better ways, such as climbing, jumping or breaking obstacles. Lighting has been enhanced with new self-shadowing normal mapping and advanced shadow rendering that is important to convey information about the environment and player actions.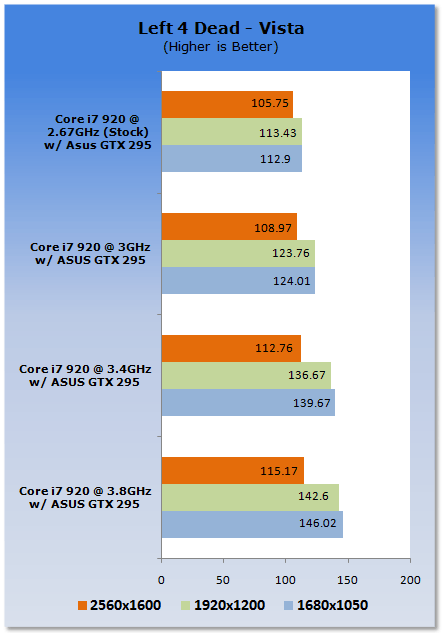 Source based games continue to hit CPU limitations with ease. We can see as we move up we see a bit of movement. With the game not being that intensive, though, it really is playable at all speeds and all resolutions with the GTX 295.
Benchmarks - High Quality AA and AF
High Quality AA and AF
Our high quality tests let us separate the men from the boys and the ladies from the girls. If the cards weren't struggling before they will start to now.
Far Cry 2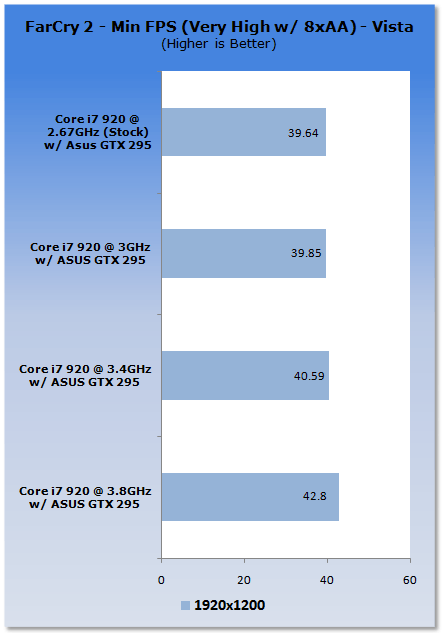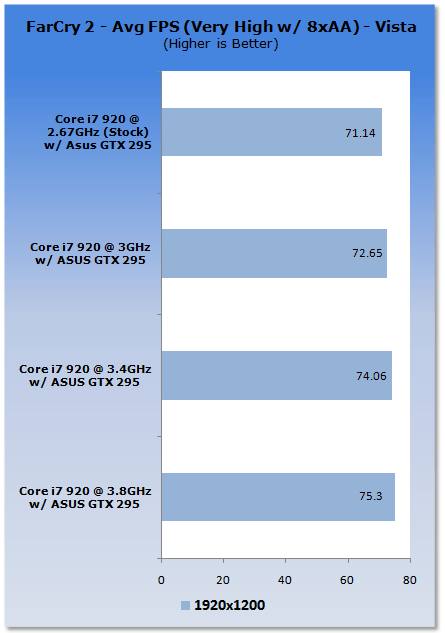 Like our non AA tests we find that the GTX 295 is powerful enough and FC2 is intensive enough that you can get a playable setup in these high settings with the CPU at all speeds.
World In Conflict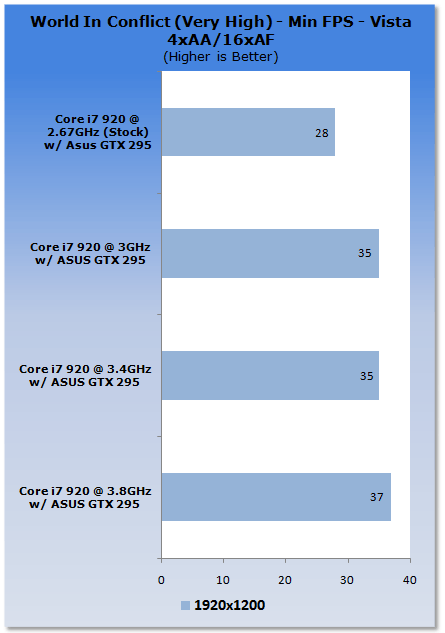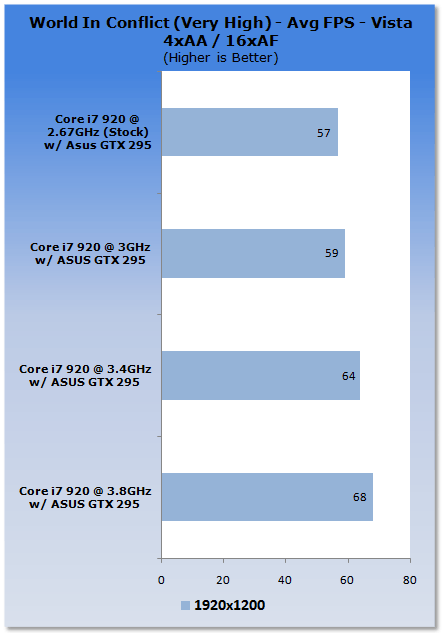 At stock we're not hitting that 30FPS minimum we like to see. With an extra 300MHz+, though, we see the 30FPS minimum well and truly being broken.
Left 4 Dead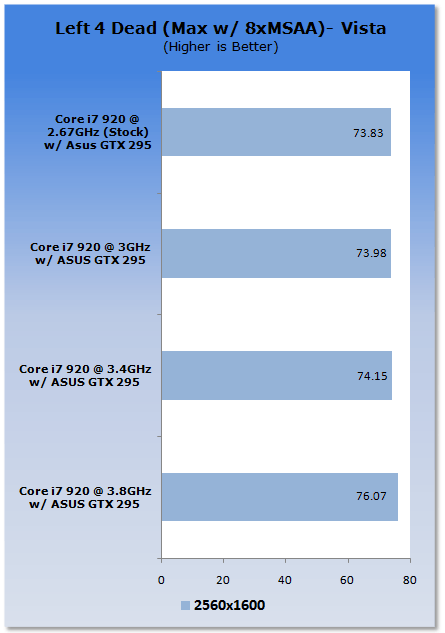 Under L4D we see that the score across all four setups is very similar.
Final Thoughts
Overclocking is always a great way to gain some extra performance and when you have a card that is as powerful as the GTX 295, the increase in MHz can really give some excellent gains. If you find yourself with an i7 series CPU sitting at around the 3.4GHz mark, you're going to have some pretty nice performance numbers at all resolutions.
The main thing we want to see when we benchmark is that we have a minimum FPS of 30; a few extra FPS is always appreciated, though. What you will find is that with no overclocking you might be able to play a game at high settings, while running at stock speeds and a resolution of 1920 x 1200. But the extra MHz on offer when you move to speeds in excess of 3GHz will allow you the ability to move those settings to very high.
Just because someone has the money to buy a GTX 295, it hardly means that they also have the funds needed to buy a CPU like the i7 965 which carries a stock speed of 3.2GHz and a massive price tag of
999.99
U.S. Dollars at Newegg, versus the i7 920 at
279.99
which is capable of offering performance greater than the i7 965's stock speed thanks to overclocking.
While you don't need to overclock your CPU to get good use out of the GTX 295, if you do you're able to get the most use out of it. For some people good is simply good enough, but for others they will want the most and that's where overclocking comes in handy for a card like this.