Introduction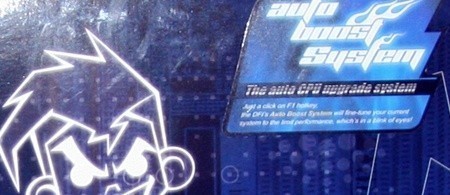 If anyone has ever made overclocking a hard task, it's been DFI. Mostly designed for the advanced users, we tend to find ourselves looking at a BIOS with not only more options than you can poke a stick at, but more options than you can poke two sticks at!
While it's great having all those options there, it seems like companies such as GIGABYTE and ASUS are able to offer just as impressive overclocks with less options, making the whole overclocking process a lot easier and less daunting.
Well, it seems like DFI have finally decided to look into this and offer a solution that's going to cater to a wider audience. The thing about ABS, though, is there's more than what meets the eye. DFI haven't just created a process to make overclocking easier, but also a community to bring overclockers together and try and increase the awareness.
Today what we'll do is have a look at how you go about setting up the whole ABS thing and see what kind of performance difference the stock and overclocked results give us. DFI could be onto a winner here, but there's only one way to find out for sure. So sit back and relax while we take the time to investigate DFIs Auto Boost System.
The Board
While there are a number of boards that support the ABS system, the board of choice for us today is the recently released LANParty JR P45-T2RS which looks to quickly become the mATX board of choice for anyone who wants a serious performing machine on the go.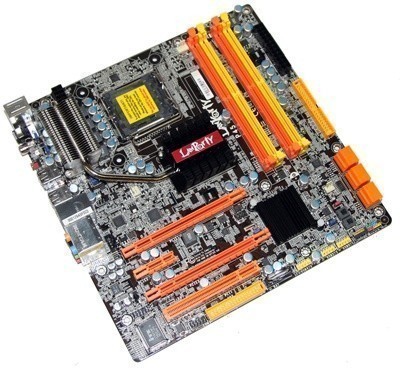 Of course, being of the mATX design we're not packed to the brim with expandability, but DFI seem to have done an excellent job in giving us as much as possible. Along with a PCI-E 1x slot and PCI slot we have two PCI-E 16x slots that run at 8x each thanks to the board being based on the P45 chipset.
While it's not perfect, it's one of, if not the best setup we've had to date for anyone who wants a serious mATX rig. Also included is a single IDE and Floppy connector and our four DDR2 ram slots across the top.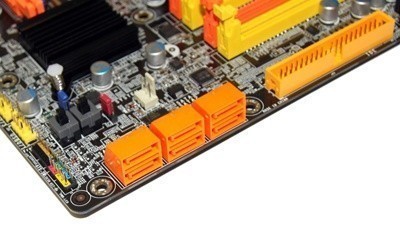 DFI have also managed to pack six SATA ports onto the board with the help of the ICH10R. The decision to also go with the 90c angle is simply fantastic as well, this due to the fact that if you use a really long card you would lose the ability to use all the ports if they where angled in the typical way.
Around this area we also have our headers for the front of your case along with a power and reset button to make powering the board on and off easily in the event that it's sitting out in the open.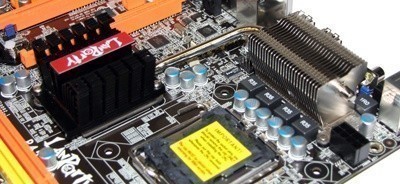 As for cooling, like the rest of the board it's not the best we've seen on a motherboard, but it's the best we've seen on an mATX one. The Mosfets and Northbridge are cooled with two heatsinks and a heat pipe. A fan can be attached to the Northbridge cooler or it can be replaced without losing the heat pipe.

When it comes to the I/O side of things we continue to see everything we need. 6x USB 2.0 ports, S/PDIF and optical out, two PS/2 connectors, single network port, audio out ports along with a jumper that lets you reset the BIOS without having to go into the case.
The Auto Boost System
It's really not worth going into too much detail on the whole setup of the ABS for the plain fact being that the online manual
found here
pretty much gives you all the information you need. What we will do instead is just give you a bit of a run down on the whole experience.
The way the system works is that you download "profiles" from the DFI website and upload them to your BIOS using the ABS software in windows. We're using an E8600 today and the only profile we could get on the DFI website was for an E8500. This wasn't the end of the world, though, so we downloaded that particular profile, followed the instructions to get it into the BIOS and upon reboot hit the F1 button.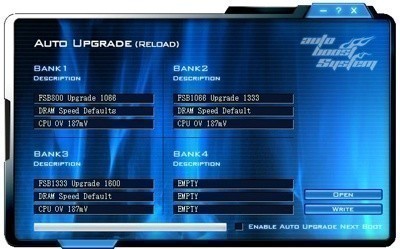 The machine did a bit of an on and off dance and the next thing we know the little mATX board has booted our E8600 using bank three of the profile. What this did is push out the E8600 from the standard 3.33GHz clock all the way up to a very healthy 4GHz.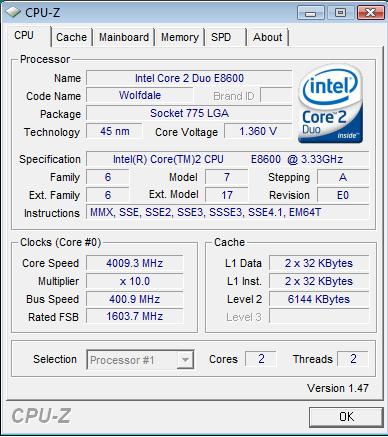 Well, that was all pretty easy; within a few blinks we find ourselves in Windows running at 4GHz. So what we need to do now is get into some of our benchmark programs to see if the system is stable at this speed and what kind of performance increase we get with the increase.
Test System Setup and 3DMark Vantage
Test System SetupProcessor(s):
Intel Core 2 Duo E8600 @ 3.33GHz (333MHz x 10) and 4GHz (400MHz x 10)
Cooling:
Noctua NH-U12P (Supplied by
Mittoni
)
Graphics Card(s):
Diamond HD 4870 XOC (Supplied by
Diamond
)
Memory:
2 X 2GB Chaintech Apogee DDR-2 1150MHz (Supplied by
Chaintech
)
Hard Disk(s):
Seagate 250GB 7200RPM SATA-2 7200.10 (Supplied by
Seagate
)
Operating System:
Windows Vista SP1
Drivers:
Catalyst 8.8
What we're going to do today is see how the E8600 goes at stock against the ABS loaded 4GHz setup. We'll test a number benchmarks to see just how handy this easy 667MHz overclock is.
3DMark VantageVersion and / or Patch Used:
1.0.1
Developer Homepage:
http://www.futuremark.com
Product Homepage:
http://www.futuremark.com/products/3dmarkvantage/
Buy It Here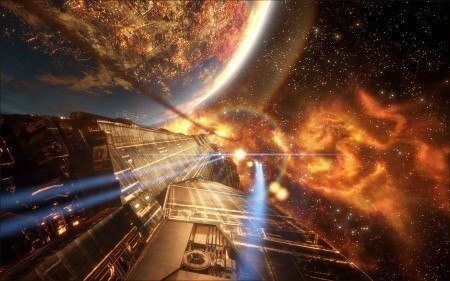 3DMark Vantage is the new industry standard PC gaming performance benchmark from Futuremark, newly designed for Windows Vista and DirectX10. It includes two new graphics tests, two new CPU tests, several new feature tests, and support for the latest hardware.
3DMark Vantage is based on a completely new rendering engine, developed specifically to take full advantage of DirectX10, the new graphics API from Microsoft.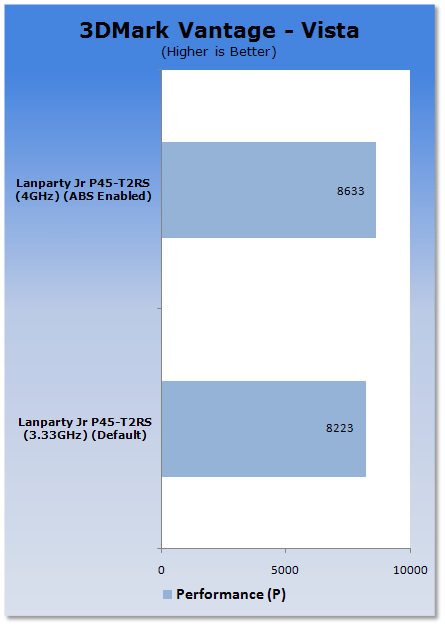 Under Vantage we can see a small gain that equates to about 5%. Considering we've got about a 20% jump in CPU performance, it's not really all that impressive.
Benchmarks - PT Boats: Knights of the Sea
PT Boats: Knights of the SeaVersion and / or Patch Used:
Benchmark Demo
Developer Homepage:
http://en.akella.com/
Product Homepage:
http://www.pt-boats.net/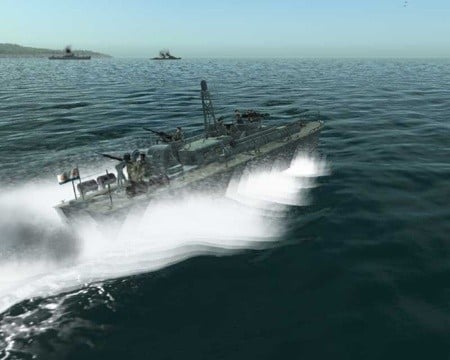 PT Boats: Knights of the Sea is a naval action simulator that places gamers in charge of a mosquito fleet of the Allied Forces, Russia or Germany during the height of World War II.
Using the latest Direct X 10 technology PT Boards - Knights of the Sea manages to apply a lot of stress to the components of today which in turn gives us quite an intensive benchmark.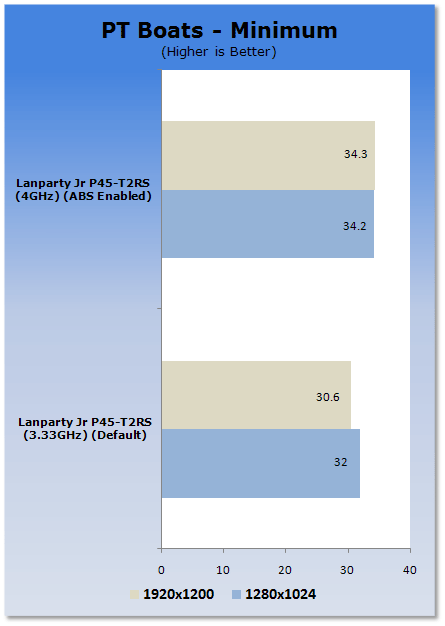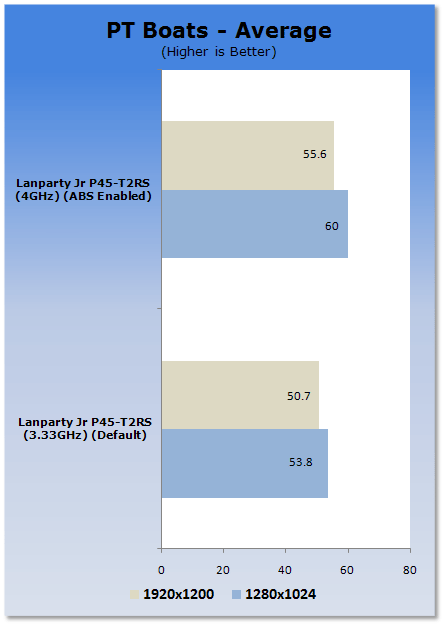 Moving to PT Boats, the gains are a lot more impressive; the extra 4FPS actually equates to a gain of about 13% which is a lot more attractive in the minimum department. We can really see that the extra CPU grunt has come in handy.
Benchmarks - CINEBENCH R10
CINEBENCH R10Version and / or Patch Used:
Release 10
Developer Homepage:
http://www.maxon.net/
Product Homepage:
http://www.maxon.net

CINEBENCH is a real-world test suite that assesses your computer's performace capabilities. MAXON CINEBENCH is based on MAXON's award-winning animation software, CINEMA 4D, which is used extensively by studios and production houses worldwide for 3D content creation. MAXON software has been used in blockbuster movies such as Spider-Man, Star Wars, The Chronicles of Narnia and many more.
MAXON CINEBENCH runs several tests on your computer to measure the performance of the main processor and the graphics card under real world circumstances. The benchmark application makes use of up to 16 CPUs or CPU cores and is available for Windows (32-bit and 64-Bit) and Macintosh (PPC and Intel-based).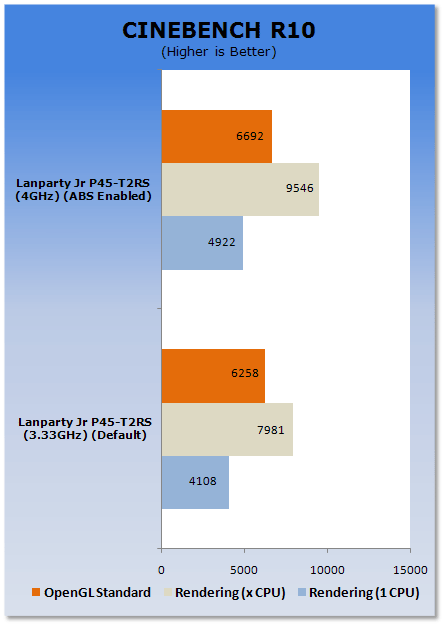 Across the board we can see very good gains from all the extra CPU power on offer. In certain areas the extra speed really comes in handy and this can clearly be seen with the rendering side of things.
Benchmarks - PCMark Vantage
PCMark VantageVersion and / or Patch Used:
Unpatched
Developer Homepage:
http://www.futuremark.com
Product Homepage:
http://www.futuremark.com/benchmarks/pcmark-vantage//
Buy It Here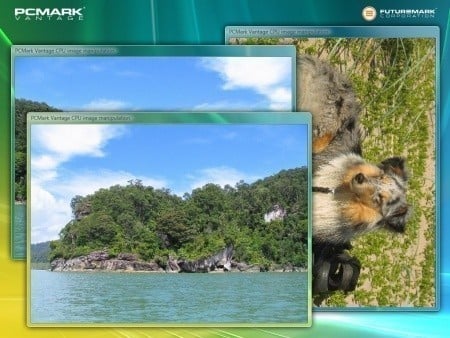 PCMark Vantage is the first objective hardware performance benchmark for PCs running 32 and 64 bit versions of Microsoft Windows Vista. PCMark Vantage is perfectly suited for benchmarking any type of Microsoft Windows Vista PC from multimedia home entertainment systems and laptops to dedicated workstations and high-end gaming rigs. Regardless of whether the benchmarker is an artist or an IT Professional, PCMark Vantage shows the user where their system soars or falls flat, and how to get the most performance possible out of their hardware. PCMark Vantage is easy enough for even the most casual enthusiast to use yet supports in-depth, professional industry grade testing.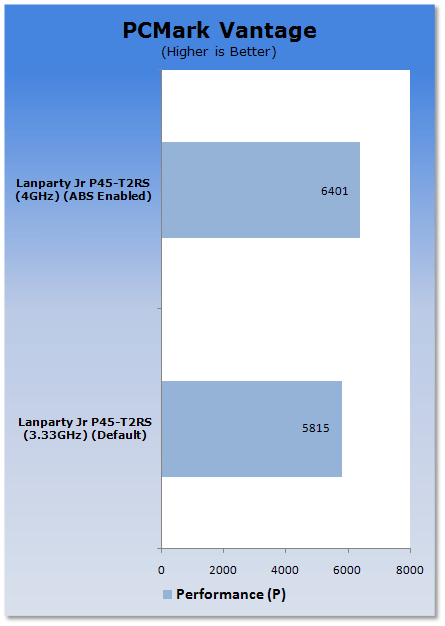 Overall, PCMark Vantage sees some very good gains with the increased speed from our CPU.
Benchmarks - Everest
EVERESTVersion and / or Patch Used:
Ultimate Edition 4.5
Developer Homepage:
http://www.lavalys.com/
Product Homepage:
http://www.lavalys.com/products/overview.php?pid=3&ps=UE&lang=en
Buy It Here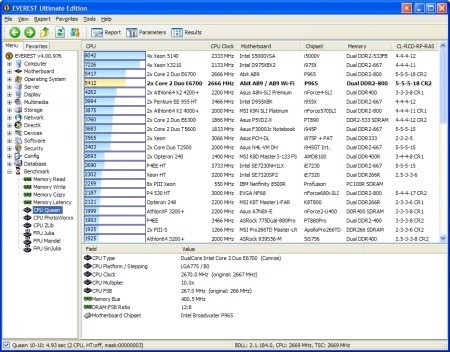 EVEREST Ultimate Edition is an industry leading system diagnostics and benchmarking solution for enthusiasts PC users, based on the award-winning EVEREST Technology. During system optimizations and tweaking it provides essential system and overclock information, advanced hardware monitoring and diagnostics capabilities to check the effects of the applied settings. CPU, FPU and memory benchmarks are available to measure the actual system performance and compare it to previous states or other systems. Furthermore, complete software, operating system and security information makes EVEREST Ultimate Edition a comprehensive system diagnostics tool that offers a total of 100 pages of information about your PC.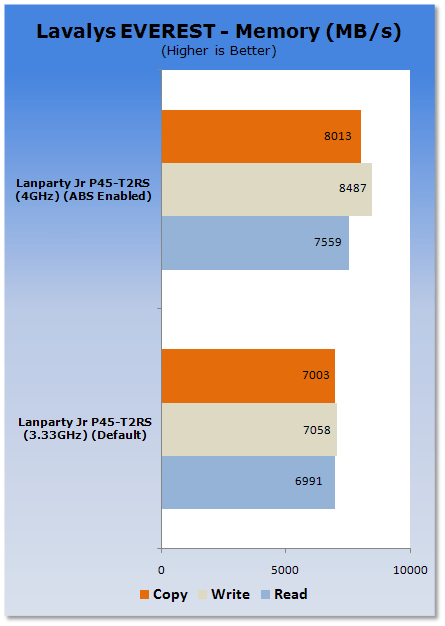 The extra bandwidth on offer from the profile we used has really given us a good boost in memory performance. This is largely due to the fact that our memory speed has moved up with our CPU, which is what the ABS is all about.
Benchmarks - wPrime
wPrimeVersion and / or Patch Used:
1.62
Developer Homepage:
http://www.wprime.net/
Product Homepage:
http://www.wprime.net/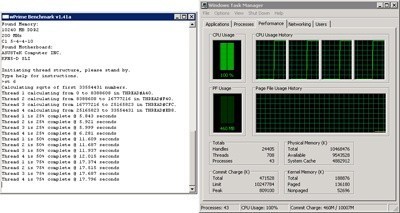 wPrime uses a recursive call of Newton's method for estimating functions, with f(x)=x2-k, where k is the number we're sqrting, until Sgn(f(x)/f'(x)) does not equal that of the previous iteration, starting with an estimation of k/2. It then uses an iterative calling of the estimation method a set amount of times to increase the accuracy of the results. It then confirms that n(k)2=k to ensure the calculation was correct. It repeats this for all numbers from 1 to the requested maximum.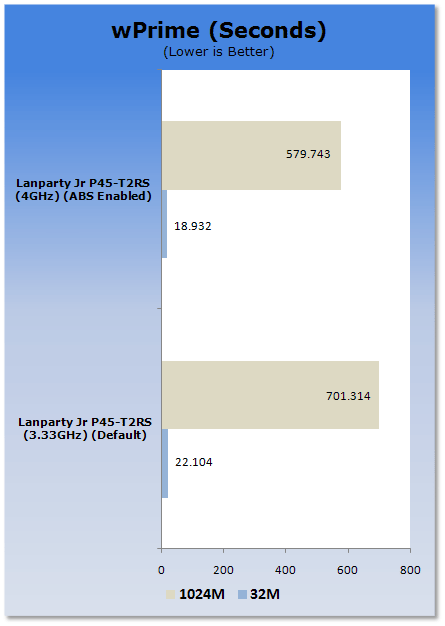 With more CPU grunt available we can see wPrime sees some big decreases in the time it takes to do calculations.
Final Thoughts
I have to admit that I was slightly disappointed the Auto Boost System wasn't fully automated; until I received the board, looked at the online manual and did some research into the ABS technology, it was really only then that I understand exactly how it worked.
As a lot of overclockers would know, many brands these days give you the ability to save your profile. This is handy for a few reasons; the first is if you lose your overclock you can hit a few buttons and have all your settings the way you wanted them. The other thing is that you can set it for a good overclock and use that as a jumping point; keep increasing and increasing and if it crashes you don't have to start with all the default settings; you can go to your loaded profile and just take it from there.
What ABS does is really kick this up a notch; it lets people give their BIOS settings out. Now, if you just happened to have a good CPU, some good RAM and decent cooling you can have all those settings that the overclock master has with a touch of a few buttons, in the event he has decided to share his BIOS, that is.
I originally thought that ABS was about hitting the F1 button at boot up and it would go through and try a bunch of settings 'till it got to something that worked, it would then proceed to leave the settings at that. Does the fact that ABS doesn't do this make it not a great technology? - Of course not, but it's really probably not as AUTO as you think it is, unless you have really had a look into it.
There are a few things DFI need to do, though; first they have to promote the thing a lot more, they also have to put more ABS profiles online; they need to get some of the master overclockers inside the office setting up profiles for popular CPUs like the Q6600, E8600, E8400 and more.
Unfortunately, what I can see happening with the technology is one of the big two motherboard manufacturers tweaking it and releasing it on their motherboards. ABS is good, and it's going to be an excellent tool for amateur overclockers, but I think they need to push the technology on their website more along with making a dedicated section in the forums on it.