Introduction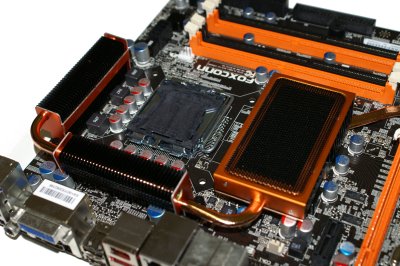 Foxconn has been one of the biggest surprises of late for us here at TweakTown. A relatively unknown name to us two years go, Foxconn has not only grown to produce a wider range of motherboards, but also to include some rather impressive designs with overclocking feats that can easily take on the big guns.
Intels 4 series chipsets are the big thing right now and every manufacturer has their own niche products coming out with enthusiasts right down to budget users in mind. Foxconn is following suit and today we have been lucky enough to get out hands on a very early beta sample of the Concerto series based on the Intel G45 chipset.
Today we are going to do a bit of a preview on the G45 chipset to see just how it compares to the P45 chipset in performance as well as taking a bit of a look at the Concertos feature set and what you can expect.
Specifications
Specifications of the Foxconn Concerto G45CPU
Supports Intel Core 2 Series (Extreme/Quad/Duo)
Supports Intel Pentium Dual Core Series
Supports Intel Pentium D Series
Supports Intel Pentium 4 5xx/6xx Series
Supports Intel Celeron D 3xx/4xx Series
Supports Intel 45nm Series CPU
Chipset
Intel G45 Express Chipset
Intel P45 Northbridge
Intel ICH10R Southbridge
DMI @ 2GB/s
System Memory
2 DDR2 SDRAM 240pin DIMM Sockets (Orange)
2 DDR3 SDRAM 240pin DIMM Sockets (Black)
Supports DDR2-533/667/800MHz
Supports DDR3-800/1066/1333MHz
64/128Bit Dual Channel
Supports up to 4GB Total Memory (4x 2GB DDR2 or 2x2GB DDR3)
Bus Frequency
100/133/200/266/333/400MHz Internal
400/533/800/1066/1333/1600MHz External
P4 Bus Architecture
Expansion Slots
2 PCI Express x16
2 PCI Express x1
2 PCI
Connectivity
1 Parallel ATA port supporting 2 IDE Drives
6 Serial ATA ports
2 e.SATA port
1 Gigabit Ethernet Port
Expansion Ports
1 PS2 Keyboard/Mouse Port
12 USB 2.0 Ports (4 rear accessible, 8 via expansion bracket)
6 Stereo Audio Ports
1 RCA SPDIF Port
2 e.SATA Port
1 RJ45 Ethernet Ports
2 Firewire ports (1 rear accessible, 1 via expansion bracket)
The Motherboard
The Board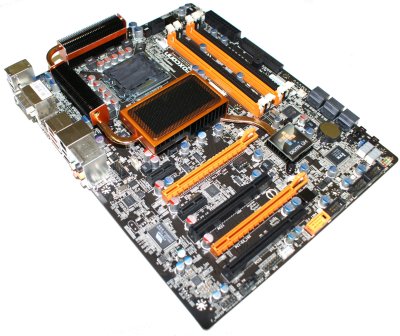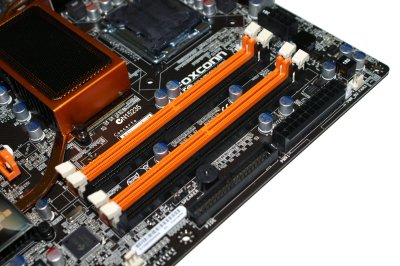 Due to the early beta nature of the board, we didn't get a retail package or any indication of what would be included in the package. But this isn't a major concern as we are only doing a beta evaluation of the board and the G45 Intel chipset.
Foxconns Concerto board comes on a black/brown 6-layer PCB measuring the full 30x24cm ATX format. The layout that Foxconn has gone for is extremely impressive; the 24-pin ATX power connector along with the single IDE port controlled by the secondary SATA/PATA controller chip gets placed behind the two DDR2 and two DDR3 memory slots that the board is equipped with on the right hand top edge of the board. One thing that is interesting to see is the lack of a FDD connector. This board has none at all and it looks like we are finally seeing the end of those nasty and slow 3.5" floppies. The 4/8 pin power connector is at the top of the board, just above the four DIMM sockets, keeping all of the large cables on one side of the board. This is a very impressive layout to say the least.
The six SATA ports controlled by the ICH10R Southbridge are located on the lower right hand edge of the board, stacked two upon two and rotated on the vertical; this keeping the cables free from any of the onboard slots or devices. Just below this are three momentary switches; one for Power On, one for Reset and one to clear the CMOS. Along the bottom edge of the board we have three extra USB2.0 connectors, a single FireWire connector, HD Front audio and a VFD connector which Foxconn has told us will support its new Vacuum Fluorescent Display which is a new control box for the board. We haven't been supplied with this yet, however we hope to re-visit this board when it becomes a full release.
Moving along, we now come to the CPU area. Foxconn has gone for a very impressive cooling system for the voltage regulation system. What's more, they have still managed to keep the clutter around the CPU to a minimum. Our OCZ Vanquisher heatsink was a bit troublesome to install, but no scraped or damaged knuckles on this board. The CPU itself is fed voltage through a 6-phase solid state voltage regulation system. Foxconn hasn't introduced any power saving hardware or software yet, but hopefully they will follow suit with some form of green power designs.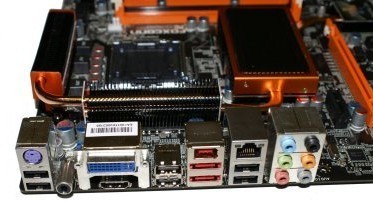 Pressing on, we now come to the rear I/O ports on the board and this is where we get some interesting designs. Foxconn has added into this board for the onboard graphics system a DVI-I port along with a HDMI interface. Since the G45s IGP is capable of running these outputs, it's good to see them actually being used. Keeping with the digital storage and media design, two eSATA ports controlled by the same chip that runs the onboard IDE port are also placed on the rear I/O, below the single rear accessible FireWire port.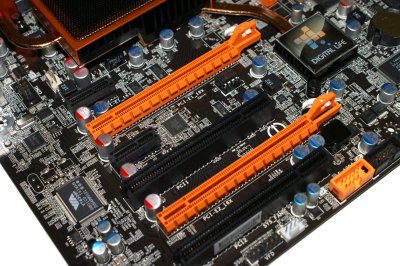 Last on the list is the expansion slots and the additional chipsets that make this board what it is. First off, you may have noticed that this board comes with two PCI Express x16 slots, but don't get your hopes up on a split Crossfire system. G45 doesn't come with the official twin x8 slot configuration, so Foxconn has gone with the older 16/4 configuration that allowed P35 and P965 chipsets to get Crossfire. The top most PCI-E x16 slot runs off the G45's 16 lanes; the second slot runs off four of the six lanes provided by the ICH10R Southbridge. Two PCIe x1 slots makes up the last of the PCI-E slots and two PCI legacy slots make up the final 2x2x2 configuration.
To add FireWire support to the board, Foxconn has chosen a VIA PCI based FireWire controller chip along with a JMicron PCI-E x1 SATA/PATA chip for the IDE and eSATA ports. This gives the board its final configuration.
BIOS and Overclocking
BIOS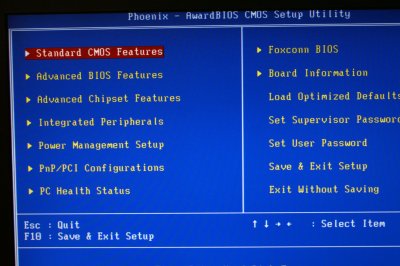 Foxconn has used the familiar Award 6 blue BIOS that 90% of motherboards out there use. No special key combinations are needed to access the overclocking features, they are all in plain view under the Foxconn BIOS menu.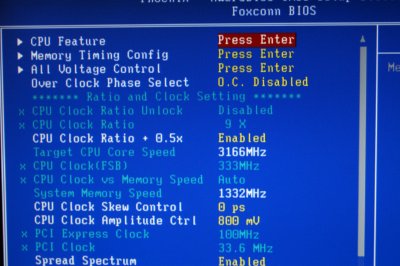 Buses
FSB Frequency: 100- 999 in 1MHz Increments
PCIE Frequency: 100 - 255MHz in 1MHz Increments
Voltages
CPU VREF Voltage: 1.218v to 1.848 in Various steps
CPU VTT Voltage: 1.2v to 2.46v in Various Steps
NB Voltage: 1.125v to 2.448v in Various Steps
DRAM Voltage: 1.5v to 2.445v in Various Steps (DDDR3)
DRAM Voltage: 1.8v to 3.02v in Various Steps (DDR2)
Overclocking
Due to the very early nature of the motherboard and the BIOS, overclocking was extremely poor. In fact, it was extremely unstable above the 400MHz bus clock. 425MHz caused system crashes and refused to load Vista at all; it just simply locked up after all the hardware was detected. But at this stage we aren't worried about the overclocking potential of the board, just its features as well as the performance of the G45 chipset compared to the P45.
Important Editor Note: Our maximum overclocking result is the best result we managed in our limited time of testing the motherboard. Due to time constraints we weren't able to tweak the motherboard to the absolute maximum and find the highest possible FSB, as this could take days to find properly. We do however spend at least a few hours overclocking every motherboard to try and find the highest possible overclock in that time frame. You may or may not be able to overclock higher if you spend more time tweaking, or as new BIOS updates are released. "Burn-in" time might also come into play if you believe in that.
Test System Setup and Memory Performance
Test System
Processor
: Intel Core 2 Duo E8500 @ 3.16GHz (9.5x333MHz)
Memory
: 2x 1GB DDR2-1186 Geil (Supplied by
Geil
)
Hard Disk
: 500GB Western Digital SE16 (Supplied by
Western Digital
)
Graphics Card
: GIGABYTE 9800GX2 (Supplied by
GIGABYTE
)
Cooling
: GIGABYTE 3D Galaxy II (Supplied by
GIGABYTE
)
Operating System
: Microsoft Windows Vista SP1
Drivers
: Intel INF 9.0.0.1008, Forceware 175.16
Today we will be pushing the P45 based GIGABYTE EP45-DQ6 against the Foxconn Concerto to see how much difference there is between the two chipsets. Not only will we be testing out the chipset, but we'll also focus our attention on the onboard IGP, the X4100 of the G45 to see how well it manages to keep up compared to a discrete solution in real world applications. We aren't expecting it to keep up when playing Crysis, however, we will endeavour to test it nonetheless.
EVEREST Ultimate EditionVersion and / or Patch Used:
2006
Developer Homepage:
http://www.lavalys.com
Product Homepage:
http://www.lavalys.com
Buy It Here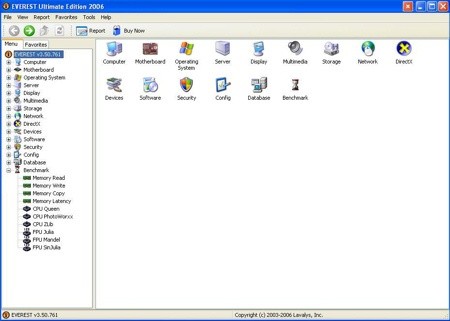 EVEREST Ultimate Edition is an industry leading system diagnostics and benchmarking solution for enthusiasts PC users, based on the award-winning EVEREST Technology. During system optimizations and tweaking it provides essential system and overclock information, advanced hardware monitoring and diagnostics capabilities to check the effects of the applied settings. CPU, FPU and memory benchmarks are available to measure the actual system performance and compare it to previous states or other systems.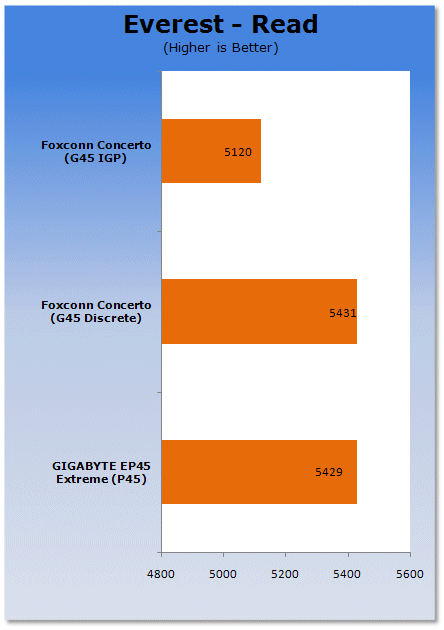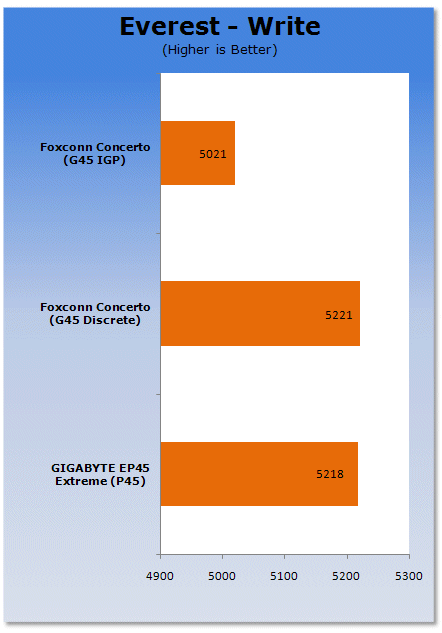 First off, it's into memory performance. G45 and P45 with discrete GPUs perform identically since Intel used the same memory controllers on the G45 and P45. When we enabled onboard graphics we see a slight drop in memory bandwidth. However, Intel's new DVMT management limits the system down to 8MB of memory when the GPU is in 2D mode, allowing more system memory to be used by the CPU and other applications.
Benchmarks - PCMark Vantage
PCMark VantageVersion and / or Patch Used:
Unpatched
Developer Homepage:
http://www.futuremark.com
Product Homepage:
http://www.futuremark.com/benchmarks/pcmark-vantage//
Buy It Here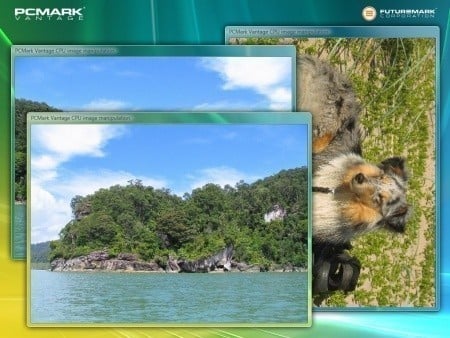 PCMark Vantage is the first objective hardware performance benchmark for PCs running 32 and 64 bit versions of Microsoft Windows Vista. PCMark Vantage is perfectly suited for benchmarking any type of Microsoft Windows Vista PC from multimedia home entertainment systems and laptops to dedicated workstations and high-end gaming rigs. Regardless of whether the benchmarker is an artist or an IT Professional, PCMark Vantage shows the user where their system soars or falls flat, and how to get the most performance possible out of their hardware. PCMark Vantage is easy enough for even the most casual enthusiast to use yet supports in-depth, professional industry grade testing.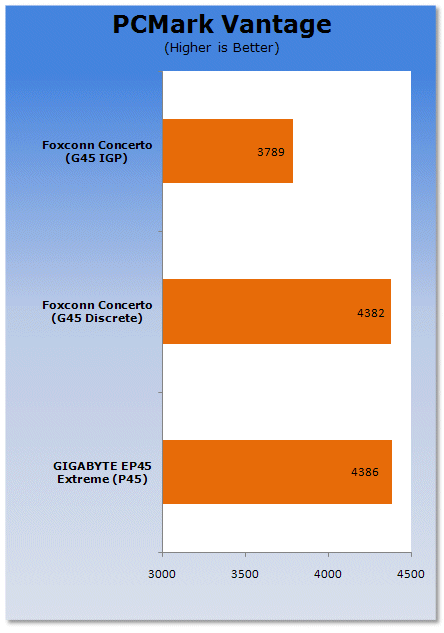 PCMark Vantage shows the same performance between the two platforms using discrete GPUs. However, the onboard GPU takes a hit in the overall result due to the IGP not being powerful enough to keep up in the gaming tests.
Benchmarks - SYSmark 2007 Preview
SYSmark 2007Version and / or Patch Used:
1.04
Developer Homepage:
http://www.bapco.com/
Product Homepage:
http://www.bapco.com/products/sysmark2007preview/>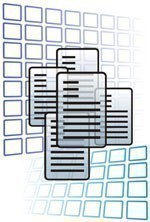 SYSmark 2007 Preview is the latest version of the premier performance metric that measures and compares PC performance based on real world applications.
SYSmark 2007 Preview extends the SYSmark family, which has been widely accepted by IT Managers, PC OEMs, press and analysts worldwide to support Windows Vista™.
SYSmark 2007 Preview allows users to directly compare platforms based on Windows Vista™ to those based on Windows XP Professional and Home.
The new release also incorporates numerous new features and enhancements such as an improved GUI allowing streamlined start-up and run along with a heads-up-display (HUD) and automated error reporting.
SYSmark 2007 Preview is an application-based benchmark that reflects usage patterns of business users in the areas of Video creation, E-learning, 3D Modeling and Office Productivity. This new release includes a robust and refreshed set of applications.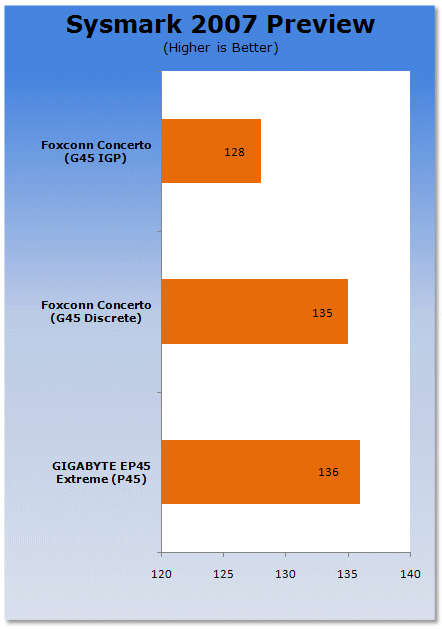 SYSmark doesn't have any major 3D applications that use a lot of GPU power; this is where the IGP manages to keep right on the tail of the two setups using discrete GPUs. Intel's X4100 seems to be a good performer in the office environments.
Benchmarks - Adobe Premiere Elements 4.0
Adobe Premiere Elements 4.0Version and / or Patch Used:
4.0
Developer Homepage:
http://www.adobe.com
Product Homepage:
http://www.adobe.com/products/premiereel/
Buy It Here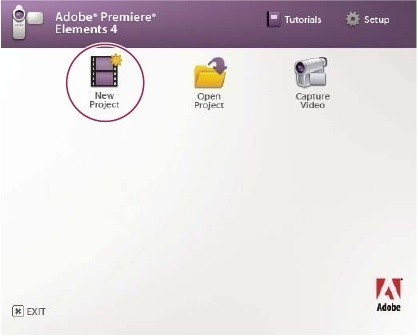 Our test with Adobe Premiere Elements 4.0 is performed with a raw two hour AVI file. It is then compressed into DivX format using the latest version codec. We measure the time it takes to encode the video.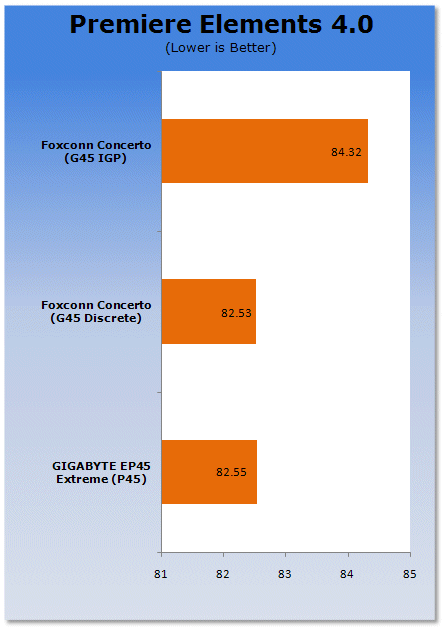 In video encoding tasks we see that the IGP based setup loses only a couple of minutes due to less memory bandwidth over the discrete setups, but it's nothing that would make life difficult for the IGP user.
Benchmarks - 3DMark Vantage
3DMark VantageVersion and / or Patch Used:
1.01
Developer Homepage:
http://www.futuremark.com
Product Homepage:
http://www.futuremark.com/products/3dmarkvantage/
Buy It Here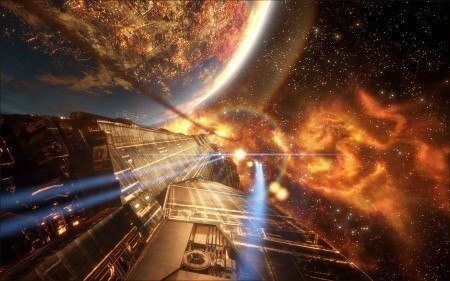 3DMark Vantage is the new industry standard PC gaming performance benchmark from Futuremark, newly designed for Windows Vista and DirectX10. It includes two new graphics tests, two new CPU tests, several new feature tests, and support for the latest hardware.
3DMark Vantage is based on a completely new rendering engine, developed specifically to take full advantage of DirectX10, the new graphics API from Microsoft.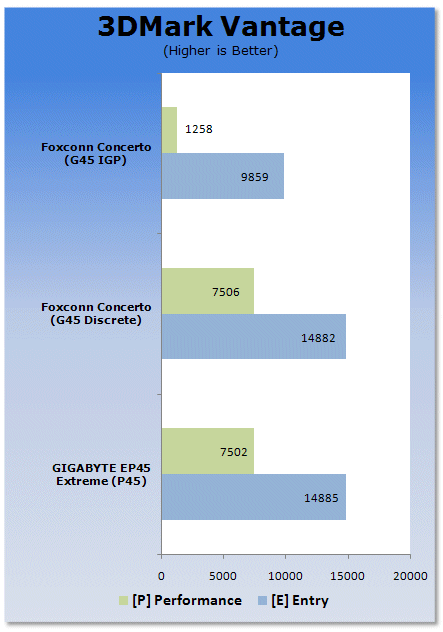 In our first gaming test we come to 3DMark Vantage and here is where the G45 takes its major hit on the IGP. It's not a gaming platform; more a digital media platform. When using the discrete GPU we see that the G45 and P45 are ideally matched.
Benchmarks - Crysis
CrysisVersion and / or Patch Used:
1.1
Timedemo or Level Used:
Custom Timedemo
Developer Homepage:
http://www.crytek.com/
Product Homepage:
http://www.ea.com/crysis/
Buy It Here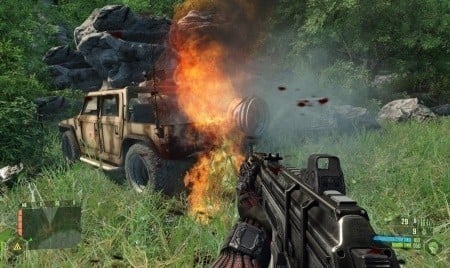 From the makers of Far Cry, Crysis offers FPS fans the best-looking, most highly-evolving gameplay, requiring the player to use adaptive tactics and total customization of weapons and armor to survive in dynamic, hostile environments including Zero-G.
Real time editing, bump mapping, dynamic lights, network system, integrated physics system, shaders, shadows and a dynamic music system are just some of the state of-the-art features the CryENGINE™ 2 offers. The CryENGINE™ 2 comes complete with all of its internal tools and also includes the CryENGINE™ 2 Sandbox world editing system.
Our real world gaming test replicates our synthetic gaming test results; G45's X4100 GPU isn't anywhere near todays high end GPUs. While it's DX10 compatible, it's no where near able to play any current DX10 games at playable frame rates. With the discrete setup, however, P45 and G45 tie it right up.
Power Usage and Heat Tests
Power Consumption
We are now able to find out what kind of power is being used by our test system and the associated graphics cards installed. Keep in mind; it tests the complete system (minus LCD monitor, which is plugged directly into an AC wall socket).
There are a few important notes to remember though; while our maximum power is taken in 3DMark06 at the same exact point, we have seen in particular tests the power being drawn as much as 10% more. We test at the exact same stage every time; therefore tests should be very consistent and accurate.
The other thing to remember is that our test system is bare minimum - only a 7,200RPM SATA-II single hard drive is used without CD-ROM or many cooling fans.
So while the system might draw 400 watts in our test system, placing it into your own PC with a number of other items, the draw is going to be higher.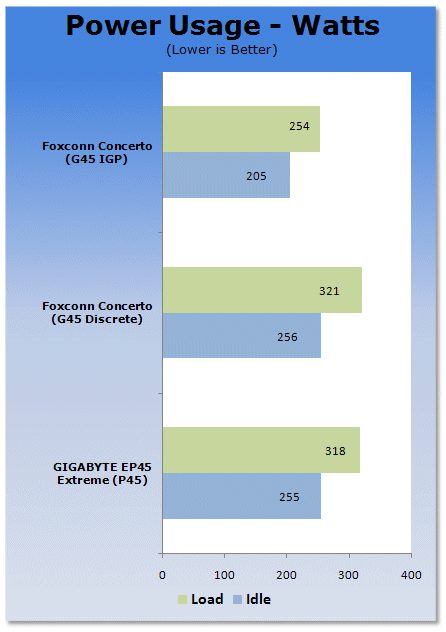 Power usage on the two discrete setups is just about identical. The G45 isn't more or less power hungry than the P45. However, when we move to the IGP we see a drop in power as the very power hungry 9800GX2 is taken out of the equation.
Heat Generation
As a new measure, we are now monitoring the heat generation from the key components on the motherboards, this being the Northbridge, Southbridge (if it contains one) as well as the Mosfets around the CPU. The results are recorded at idle and load during the power consumption tests.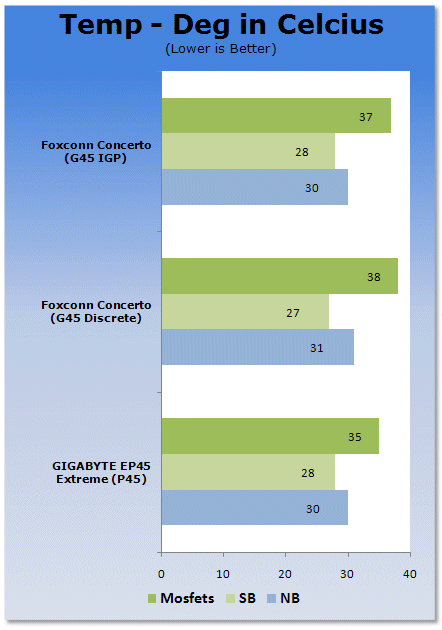 Heat generation between the two setups is hard to judge because of the different components used. However, Foxconn managed to keep the system quite cool. There is little difference between the IGP and discrete G45 tests.
Final Thoughts
Intel's G45 chipset seems to be just what the digital world has been looking for. Not only does it have dual memory support (no, you can't use DDR2 and DDR3 at the same time, just like you couldn't use SIMM and DIMM together) the option of DDR2 or DDR3 makes the G45 a fantastic chipset.
The X4100 GPU, while lacking any real gaming functions, it does has a lot of hardware based encode and decode functions built into it. Furthermore, its new DVMT sharing manages memory much better than previous Intel chipsets, limiting the stress on the system memory and keeping more total memory for system tasks rather than just stripping off a chunk like NVIDIA or ATI IGPs do; this regardless of how much they actually need at the time.
Using the discrete system, we see that the G45 and P45 are equal in performance. The only major setback to the G45 is it lacks a balanced Crossfire setup; the 8/8 setup of the P45 running on the Northbridge will work faster than that of the 16/4 configuration. While the first GPU has 16 lanes to work with, the other only has four lanes and it has to not only go through the ICH10R, but also through the DMI bus that the SATA/PATA and other devices on the ICH10R are using, limiting bandwidth again.
We hope to re-visit this board and give it an overall rating on its overclocking potential when it makes it to full production status. Then and only then will we be able to give you a yes or no answer for your buying, but its features and layout are extremely promising. Let's hope all goes well on release day.