DFI Hybrid Motherboard HD Video Preview (P45 + ION - Two Systems, One Mobo)
Today DFI invited us to its Taipei county headquarters to have an exclusive look at a very cool, upcoming motherboard from the company who is always willing to try sometimes radical new designs with its products.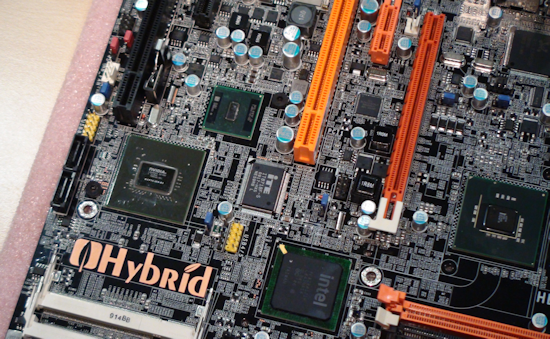 What we got a look at today was a pre-production version of the Hybrid P45-ION-T2A2 motherboard. At first, we didn't know exactly what to expect, when DFI called and asked us to come and visit and see its "
hybrid motherboard
". We know the term in modern times from cars and most things green, but when the word is added before motherboard, it really did get us thinking exactly what we should expect and what we would be getting a look at on our visit.
It turned out that DFI created a totally unique motherboard design that actually allows for two systems to run shared (KVM style) or fully independent of each other, on the one single board.
The left side of the system is built up of the components for the NVIDIA ION and Intel Atom platform. This part could be used as a low-power file server or torrent downloading system or even Blu-ray movie playback. And the right side of the board features the parts seen on a traditional P45 + Socket 775 CPU motherboard, which could be used for gaming, video editing or other intensive applications.
Watch our video below as Jarry, DFI's head engineer, introduces his hybrid motherboard in lovely HD quality. Remember to click the HD button at the bottom of the player.
What a novel and interesting idea from the folks at DFI. It will be interesting to see how it sells for them.
I've setup a forum thread and we would love to hear from you on what type of usage scenarios you would have with this motherboard.
Please provide your feedback here
.