Introduction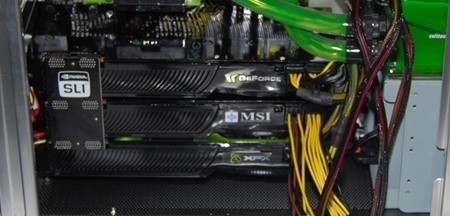 It was always going to happen; the testing of two and three GTX 280 cards. We had hoped to have had it ready by launch date, and we've fortunately done it with an absolutely massive weekend that has involved over 250 benchmark runs across four different motherboards.
So we're back at the
IBuyPower Australia
bunker for the last night of GTX 280 palooza, and I have to honestly say that it couldn't come any sooner. No doubt that we've left the best till last with our 4GHz clocked system and three GTX 280 cards.
Before we get into it though, we have to laugh at our power supply situation. When we started testing our Tri SLI setup with a 1000 Watt Zalman PSU, we ran into some problems. During the Canyon test on 3DMark06, the system would just shut down! - Since this would seem to resemble a power problem, it was time to pull out a HX 620 Watt and do a bit of ghetto modding to get the two power supplies working together. What we ended up doing is running one GTX 280 off the Corsair HX 620 PSU while the 1000 Watt took care of the other two cards and the rest of the system.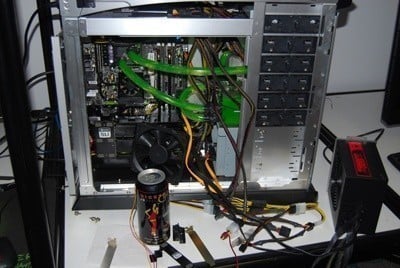 This is one thing that we will definitely be evaluating in more detail over the coming weeks.
Some System Pictures
IBuyPower System Pictures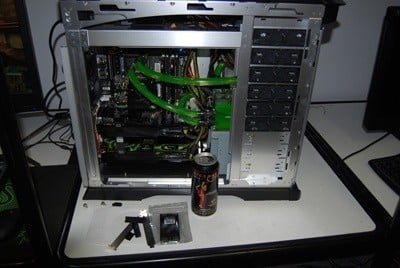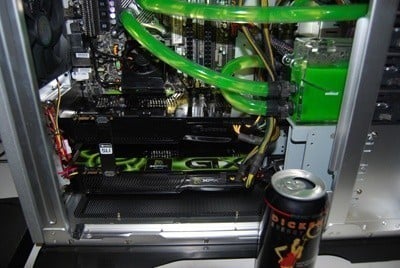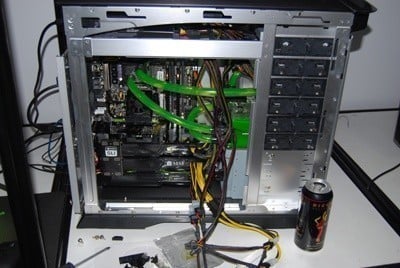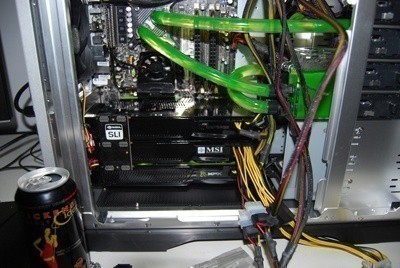 Test System Setup and 3DMark06
Test System SetupProcessor(s):
Intel Core 2 Quad QX9650 @ 4GHz (400MHz x 10)
Cooling:
Swiftech Apogee GTX Block (CPU) 3x 120mm Radiator, MCP655-B Pump
Motherboard(s):
EVGA 780i SLI
Memory:
2 X 2GB OCZ Reaper X 1066MHz DDR-2
Hard Disk(s):
Western Digital Velociraptor 150GB 10,00RPM SATA
Operating System:
Windows Vista SP1
Drivers:
Forceware 175.16 (9 Series) 177.34 (GTX 280)
We've got three cards, 1620 Watts of PSU grunt and a bunch of benchmarks to run, so let's get straight into it.
3DMark06Version and / or Patch Used:
Build 110
Developer Homepage:
http://www.futuremark.com
Product Homepage:
http://www.futuremark.com/products/3dmark06/
Buy It Here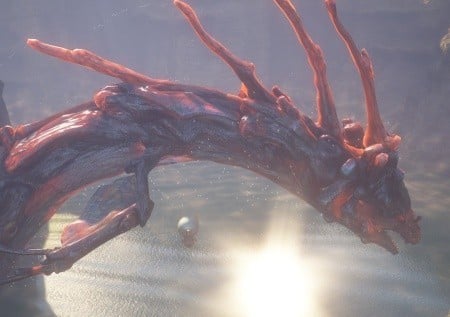 3DMark06 is the very latest version of the "Gamers Benchmark" from FutureMark. The newest version of 3DMark expands on the tests in 3DMark05 by adding graphical effects using Shader Model 3.0 and HDR (High Dynamic Range lighting) which will push even the best DX9 graphics cards to the extremes.
3DMark06 also focuses on not just the GPU but the CPU using the AGEIA PhysX software physics library to effectively test single and Dual Core processors.
In our first test we can see the SLI GTX 280 managing to come out slightly ahead of the GX2 Quad SLI setup. Tri SLI really gives us minimal gains here, though.
3DMark Vantage
Version and / or Patch Used:
1.0.1
Developer Homepage:
http://www.futuremark.com
Product Homepage:
http://www.futuremark.com/products/3dmarkvantage/
Buy It Here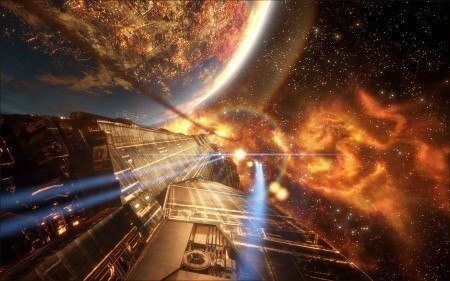 3DMark Vantage is the new industry standard PC gaming performance benchmark from Futuremark, newly designed for Windows Vista and DirectX10. It includes two new graphics tests, two new CPU tests, several new feature tests, and support for the latest hardware.
3DMark Vantage is based on a completely new rendering engine, developed specifically to take full advantage of DirectX10, the new graphics API from Microsoft.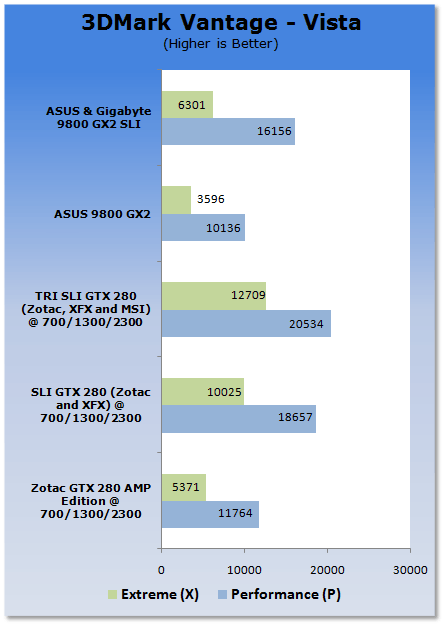 Moving to the more intensive Vantage test, the SLI GTX 280 setup really comes out ahead of the Quad SLI GX2 one. Adding a third card, we received almost a 30% increase in performance at the higher setting.
Benchmarks - PT Boats: Knights of the Sea
PT Boats: Knights of the SeaVersion and / or Patch Used:
Benchmark Demo
Developer Homepage:
http://en.akella.com/
Product Homepage:
http://www.pt-boats.net/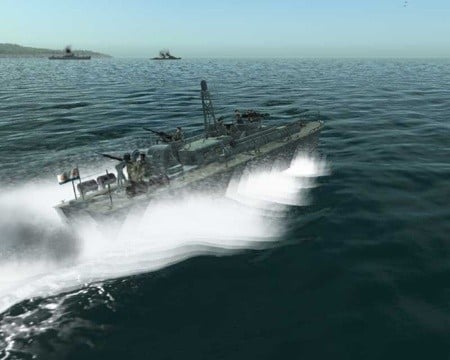 PT Boats: Knights of the Sea is a naval action simulator that places gamers in charge of a mosquito fleet of the Allied Forces, Russia or Germany during the height of World War II.
Using the latest Direct X 10 technology PT Boards - Knights of the Sea manages to apply a lot of stress to the components of today which in turn gives us quite an intensive benchmark.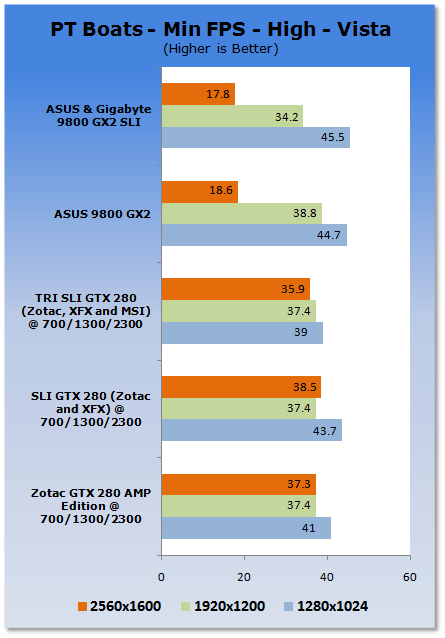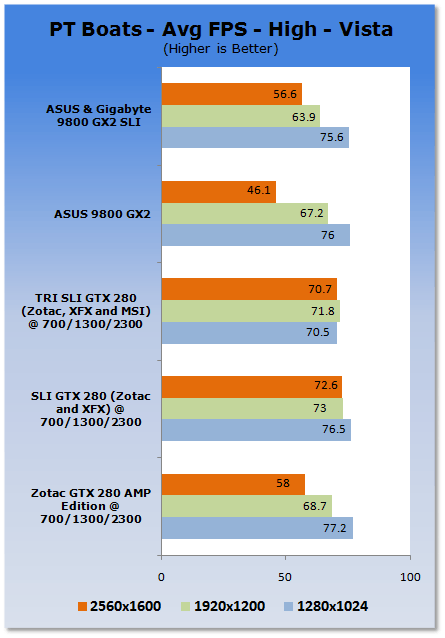 Looking at PT Boats, we can see in the minimum department the GTX 280 performs significantly better than the GX2. However, the SLI configurations really do very little for the results bar the average at the highest resolution.
Benchmarks - CINEBENCH R10
CINEBENCH R10Version and / or Patch Used:
Release 10
Developer Homepage:
http://www.maxon.net/
Product Homepage:
http://www.maxon.net

CINEBENCH is a real-world test suite that assesses your computer's performace capabilities. MAXON CINEBENCH is based on MAXON's award-winning animation software, CINEMA 4D, which is used extensively by studios and production houses worldwide for 3D content creation. MAXON software has been used in blockbuster movies such as Spider-Man, Star Wars, The Chronicles of Narnia and many more.
MAXON CINEBENCH runs several tests on your computer to measure the performance of the main processor and the graphics card under real world circumstances. The benchmark application makes use of up to 16 CPUs or CPU cores and is available for Windows (32-bit and 64-Bit) and Macintosh (PPC and Intel-based).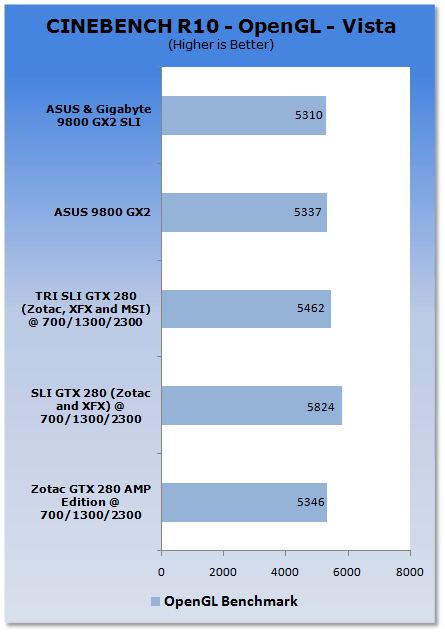 It doesn't come as any real surprise that we see no performance gains with SLI under CINEBENCH.
Benchmarks - World in Conflict
World in ConflictVersion and / or Patch Used:
1.0.0.5
Timedemo or Level Used:
Built-in Test
Developer Homepage:
http://www.massive.se
Product Homepage:
http://www.worldinconflict.com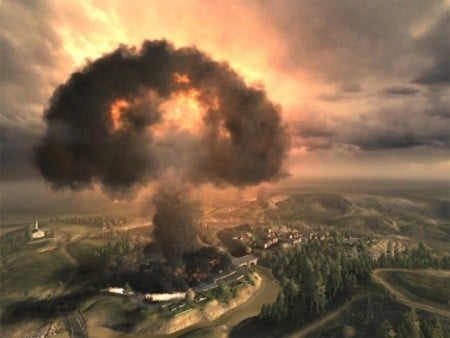 World in Conflict is a real-time strategy video game by Massive Entertainment and to be published by Sierra Entertainment for Windows (DX9 and DX10) and the Xbox 360.
The game is set in 1989 where economic troubles cripple the Soviet Union and threaten to dissolve it. However, the title pursues a "what if" scenario where, in this case, the Soviet Union does not collapse and instead pursues a course of war to remain in power. It is an intensive new game is sure to put plenty of stress on even the latest graphics cards and we use the built-in benchmarking for our testing.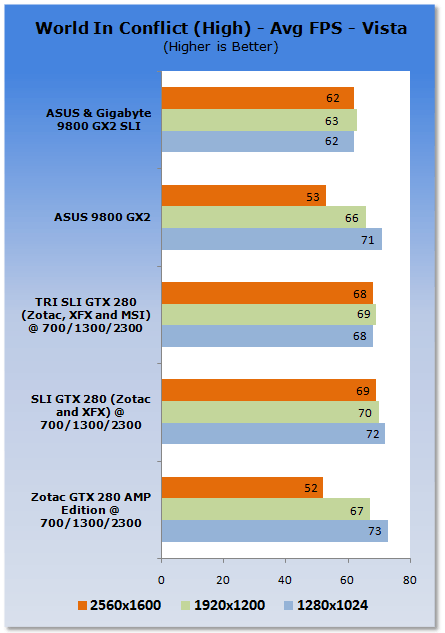 It seems clear that when we move to SLI, we hit a CPU limitation with the cards scoring quite similarly.
Benchmarks - Crysis
CrysisVersion and / or Patch Used:
1.1
Timedemo or Level Used:
Custom time demo
Developer Homepage:
http://www.crytek.com/
Product Homepage:
http://www.ea.com/crysis/
Buy It Here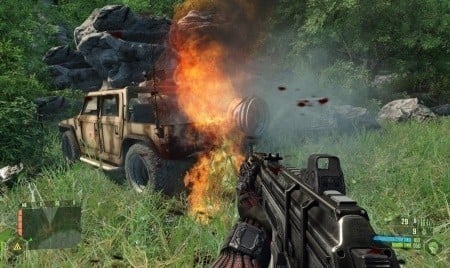 From the makers of Far Cry, Crysis offers FPS fans the best-looking, most highly-evolving gameplay, requiring the player to use adaptive tactics and total customization of weapons and armor to survive in dynamic, hostile environments including Zero-G.
Real time editing, bump mapping, dynamic lights, network system, integrated physics system, shaders, shadows and a dynamic music system are just some of the state of-the-art features the CryENGINE™ 2 offers. The CryENGINE™ 2 comes complete with all of its internal tools and also includes the CryENGINE™ 2 Sandbox world editing system.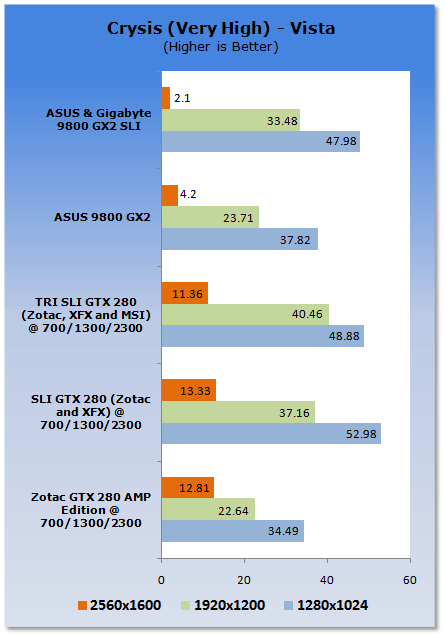 Moving to Crysis, this is where we had really hoped to see Tri SLI shine. The results do speak for themselves though; there's just no gains with an extra card added.
Benchmarks - Unreal Tournament 3
Unreal Tournament 3Version and / or Patch Used:
1.1
Timedemo or Level Used:
Developer Homepage:
http://www.epicgames.com/
Product Homepage:
http://www.unrealtournament3.com/
Buy It Here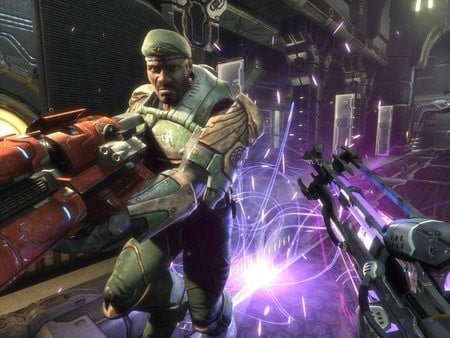 Following the formulae that made Unreal Tournament so great the third installment to the series has hit us recently with better than ever graphics. The games uses the latest Unreal Engine which like most modern day games when maxed out puts the pressure on our lineup of graphics cards.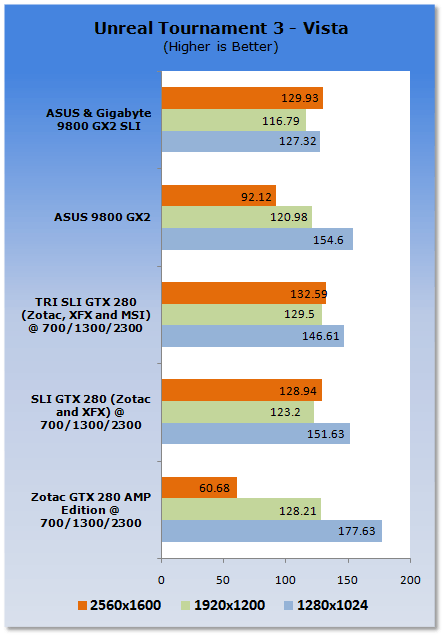 We again see with all these cards in play that we have a CPU limitation which stops us from moving past that 140ish FPS mark.
Benchmarks - High Quality AA and AF
High Quality AA and AF
Our high quality tests let us separate the men from the boys and the ladies from the girls. If the cards weren't struggling before they will start to now.
3DMark06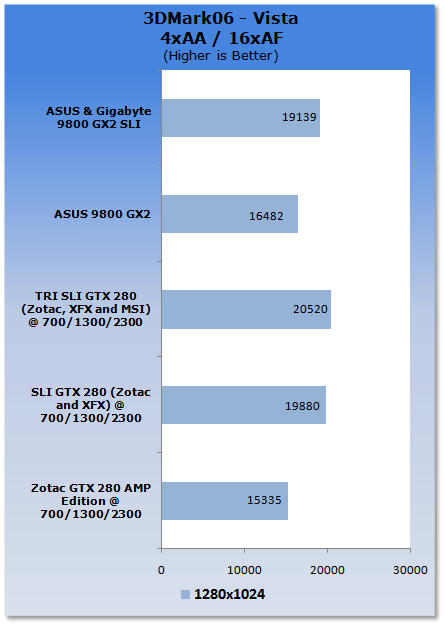 We see the SLI GTX and GX2 perform quite close to each other, while the Tri SLI GTX 280 configuration gives us a few more points, but nothing ground breaking.
World In Conflict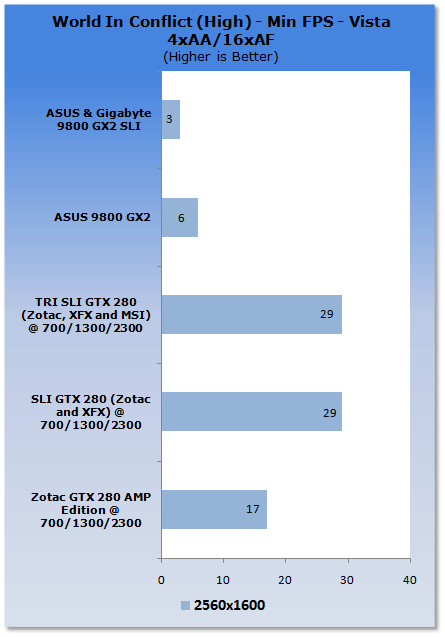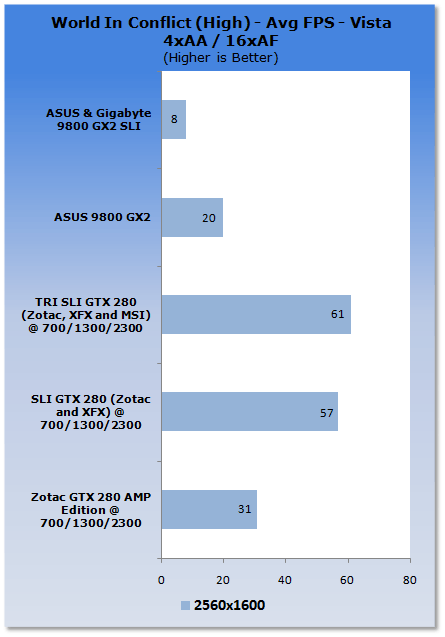 This is the first time we've really seen the GTX 280 shine in SLI against the GX2. Moving to SLI; here is the difference between smooth sailing at these settings under WIC or some horrible choppiness.
Final Thoughts
I have to honestly say that I thought SLI would be the savior of these cards. While I was testing them I was extremely happy with the results and they looked extremely impressive, but once you put them into your graphs and begin to get a better perspective of how it compares to the other setups, you don't realize just how disappointing the results are. For the most part the GTX 280 in SLI and GX2 in Quad SLI perform the same, bar WIC AA/AF 2560 tests and Vantage.
Sure it's nice to see NVIDIA condense the power of two cores into one and four cores into two, but this doesn't come at a price drop. Unfortunately I didn't have my "power thingy" handy while at the
IBuyPower Australia
bunker, but what I thought was a quality power supply (1000W Zalman) wasn't able to handle the strain three cards placed on the system. Considering the water cooling pump uses only 24Watt, you can't even say that's the cause of it.
Like I said in the review of the ZOTAC GTX 280, the cards clearly have potential as far as PhysX and CUDA go, but it doesn't seem like they're ever going to be the performance beasts we thought they would be. After months of having Tri SLI and Quad SLI drivers out you would have think that NVIDIA would have improved on the technology, but adding a third card to your system and pulling another $600+ USD out of your wallet is going to be an extremely painful process.
As much as I would like to think NVIDIA have some magical driver around the corner that adds an extra 40% performance to the cards, the hard fact is it's highly unlikely as it would be ready now. It's been a while since NVIDIA has made a misstep in the graphics card world, but it looks like this could be one. It will be interesting to see what's going on with the GTX 280 in a few more weeks time; we can't see people embracing it like the 7800 and 8800 series of cards from yesteryear, though.