F1 2018 Benchmarked: TITAN Xp in SLI pushes 8K at 60FPS
F1 2018 is finally here, and it cranks along at 8K 60FPS with TITAN Xp in SLI and even 4K at 96FPS.

Published
5 minute read time
Introduction
F1 2018 is the latest iteration of the super-popular franchise that Codemasters has worked on for close to a decade now, with F1 2009 kicking it all off. The game is powered by the EGO game engine, which is a modified version of the Neon game engine that was developed by Codemasters and Sony Computer Entertainment for Colin McRae: Dirt, which was released in 2007.
The revamped EGO engine was developed to give Codemasters the ability of using more detailed damage and physics in the game world, as well as rendering larger-scale environments. It looks super-fluid and detailed when running, especially at higher resolutions. We've been testing all current major resolutions including 1920x1080, 2560x1440, 3440x1440, 3840x2160, and even 7680x4320. The first one that is off-the-belt and finished is the 8K article, which we have here today.
NVIDIA released their new GeForce Game Ready 399.07 WHQL drivers in the hours leading up to the launch of F1 2018, so we downloaded them and installed them on our refreshed Core i7-8700K test bed and ran every single combination of cards we have in SLI at the massive 8K resolution, as well as every resolution below it. It's one of only a few games that has great SLI scaling, and pushes our hardware to the limits rendering 7680x4320.
F1 2018 Engine & SLI Support
F1 2018 Engine & SLI Support
F1 2018 has a great built-in benchmark that lets you get results in repeatable fashion as I tried running the various tests 3-5 times over to see if the averages would change, and if they did it was by 1-2FPS max. At the highest 8K resolution benchmark, the results were spot on every time.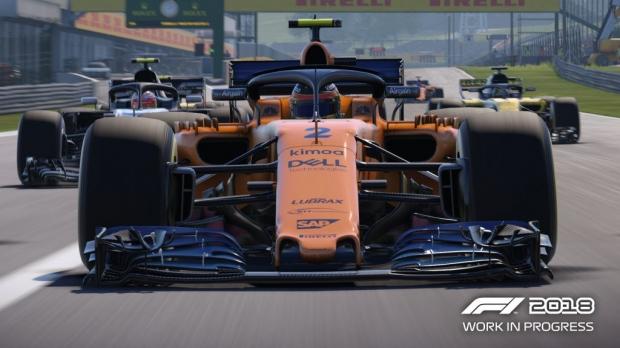 I chose to run the Australia track with heavy rain enabled, with a 3-lap run of the benchmark with the FPS counter displayed. I tried other benchmark runs with different cities and weather, with the clear skies option seeing a 3-5% performance improvement. The detailed weather animation is much harder on the system, so I kept that enabled for all testing.
F1 2018 has an official SLI profile from NVIDIA inside of their latest GeForce 399.07 WHQL drivers, so I ran the NVIDIA GeForce GTX 1080 Ti in SLI as well as the higher-end TITAN Xp cards in SLI. AMD has no CrossFire profile for F1 2018, so multi-GPU testing with the RX 500 and RX Vega series did not take place. This is the reason why there are no AMD cards in the SLI benchmarks.
I did however test the Radeon RX 570, RX 580, RX Vega 56, RX Vega 64 and RX Vega 64 Liquid Cooled Edition graphics cards in F1 2018 at 1920x1080, 2560x1440, 3840x2160, and 3440x1440 - with those results coming very soon. We also tested all of these cards, including all of the cards you see in the benchmarks on our current GPU test bed specs: an Intel Core i7-8700K @ 5GHz, while our other CPU is the AMD Ryzen 7 2700X. These results are right around the corner... for now, 7680x4320.
System Specs
Our New GPU Test Rig
Welcome to the latest revision of our GPU test bed, with our system being upgraded from the Intel Core i7-7700K to the Core i7-8700K. The CPU is cooled by the Corsair H115i PRO cooler, with the 8700K overclocked to 5GHz. We've stayed with GIGABYTE for our motherboard with their awesome Z370 AORUS Gaming 7.
We approached our friends at HyperX for a kit of their kick ass HyperX Predator DDR4-2933MHz RAM (HX429C15PB3AK4/32), with 2 x 8GB sticks for a total of 16GB DDR4-2933. The RAM stands out through every minute of our testing as it has beautiful RGB lights giving the system a slick look while benchmarking our lives away, while the Z370 AORUS Gaming 7 motherboard joins in with its own array of RGB lighting.
Detailed Tech Specs
CPU: Intel Core i7-8700K @ 5GHz
Cooler: Corsair Hydro Series H115i PRO
MB: Z370 AORUS Gaming 7
RAM: 16GB (2x8GB) HyperX Predator DDR4-2933
SSD: 1TB OCZ RD400 NVMe M.2
SSD: 512GB OCZ RD400 NVMe M.2
PSU: InWin 1065W PSU
Chassis: In Win X-Frame
OS: Windows 10 Pro x64
Additional Images
8K Benchmarks
Here we go, running all of our NVIDIA GeForce GTX 10 series graphics cards, as well as the TITAN Xp all at 7680x4320. Not only that, but we've run the GeForce GTX 1080 Ti in SLI as well as the TITAN Xp in SLI. Keep in mind the TITAN Xp SLI cards would cost $2400 in total... just to give some perspective against the GTX 1080 Ti in SLI which should cost under $1400.
Here we can see that a single GeForce GTX 1080 Ti can provide 32FPS average at 8K, enough for it to be considered better-than-console performance in terms of frames per second, except with a blistering 7680x4320 native resolution. I wouldn't recommend anything less than 60FPS for all gaming (if the game is not locked to 30FPS, and we're on a PC not a console).
8K 30FPS isn't enough in my opinion, so what is next? Well, the GeForce GTX 1080 Ti in SLI pushing 56FPS average is a huge achievement, as it's a 75% increase in performance from the single GTX 1080 Ti. The slightly higher-end TITAN Xp graphics cards in SLI resulted in 3FPS more, for a near-perfect 59FPS average - a 73.5% increase in performance over the single TITAN Xp.
Remember that we ran F1 2018 on Ultra details (minus AA) so reducing the detail to Medium would net more FPS, but I didn't do that as the 8K display has a native 60Hz refresh rate. There's not much use pushing higher than 60FPS, but I do prefer hitting over 60FPS minimum to ensure you never drop below 60FPS. I wouldn't recommend gaming on an 8K monitor right now because of the cost, but if you have one and can use it for gaming - or have enough spare cash to 'just buy it' (this ain't not GeForce RTX 2080 Ti, eh eh) - then sure, you want 60 FPS at 8K.
SLI cards in either GTX 1080 Ti or TITAN Xp are the only cards you'd use for this - except for the fact the next-gen GeForce RTX 20 series are right around the corner. We've run this benchmark at 8K preparing for the new GeForce RTX 2080 and RTX 2080 Ti, so we'll be adding them to this list - as well as NVLink results. It would be amazing to breach 100FPS average at 8K with two GeForce RTX 2080 Ti cards in NVLink. Oh boy.
Final Thoughts
I didn't think we'd see a game that would run at 8K 60FPS for a while yet... but here we are: F1 2018 has incredibly great SLI scaling and can drive 7680x4320 on Ultra settings (with HBAO+ and AA disabled) at a huge 47FPS minimum and 59FPS average as long as you have two super-expensive NVIDIA TITAN Xp graphics cards in SLI.
If you've got a new 4K 144Hz HDR G-Sync panel and want to play F1 2018 tricked out, the TITAN Xp SLI configuration pumps out 96FPS average at 4K making it near perfect for the new super-fast refresh rate 4K displays from Acer and ASUS. Gaming at 2560x1440 results in a huge 148FPS average on TITAN Xp in SLI, so if you have a high-end 1440p 144Hz G-Sync panel you know what to buy if you want to max F1 2018 out.
F1 2018 looked absolutely gorgeous at 8K with details popping right out of the Dell UP3218K, the detail on the tires and the rain falling off of the car as it was driving at 300kmph were intense.
As I said on the previous page, NVIDIA's next-gen GeForce RTX 2080 and RTX 2080 Ti will be released in the next two weeks and I will be running them through their paces at 8K. I'll be including SLI results from the GTX 10 series and TITAN Xp versus the new RTX 2080/2080 Ti in NVLink, and running them through their paces at 7680x4320. It should be an exciting time, especially with the new Turing architecture and GDDR6 (as well as NVLink) seemingly built for the next generation of resolutions.
8K 60FPS solid in every game could be possible with GeForce RTX 2080 Ti cards in NVLink, and that's something I'm excited to explore.
PRICING: You can find products similar to this one for sale below.

United States: Find other tech and computer products like this over at Amazon.com

United Kingdom: Find other tech and computer products like this over at Amazon.co.uk

Australia: Find other tech and computer products like this over at Amazon.com.au

Canada: Find other tech and computer products like this over at Amazon.ca

Deutschland: Finde andere Technik- und Computerprodukte wie dieses auf Amazon.de
We openly invite the companies who provide us with review samples / who are mentioned or discussed to express their opinion. If any company representative wishes to respond, we will publish the response here. Please contact us if you wish to respond.