Lenovo ThinkPad X300 Series Notebook
Lenovo seems to be making a bit of a splash in the notebook market. We find out if the X300 sports any surprises.
Published Sun, May 25 2008 11:00 PM CDT
|
Updated Tue, Nov 3 2020 7:04 PM CST
Introduction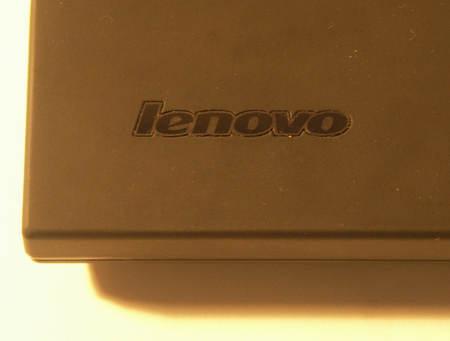 Dynamite Comes in Small Packages
Lenovo were originally named Legend prior to 2003, but reformed to combine the "Le" from the word "Legend" with "Novo" (meaning "new" in Latin) to make up the current name, Lenovo. This traditional Chinese company, with headquarters in Beijing, China made a name for itself in the western world when it acquired IBMs Personal Computing Division in May of 2005.
Since then, the new Lenovo has evolved to become a world leader in the global PC market, with an annual revenue of approximately $13 billion according to the website. It has service centres in almost every major country in the world, with massive resources in research and development as well as in many other aspects of the 3C arena (computer, communications and consumer electronics). From this heritage, the Lenovo Thinkpad notebooks are formed.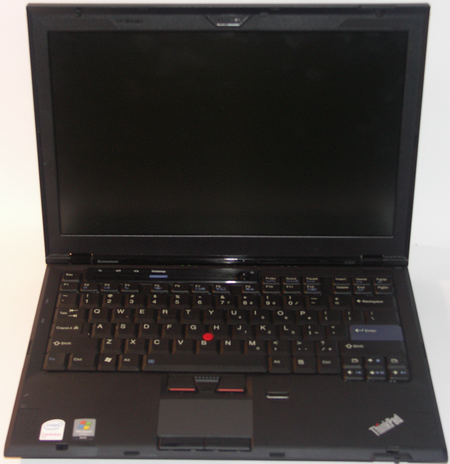 Today we are lucky enough to have the X300 ThinkPad in our lab, and we put it to the test. Read on for more.
The Packaging and Bundle
The box is nothing special; in fact, it is almost industrial in nature with no gloss, bells nor whistles. Very drab indeed! For the price one has to pay for this product, I have to question if Lenovo shouldn't take more care and attention to detail in presentation of the package.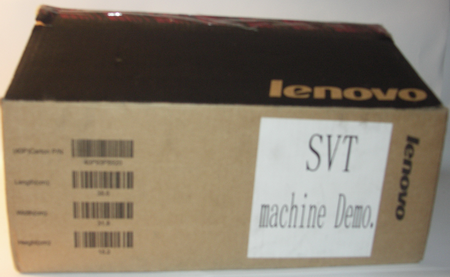 Looking inside, you get the same feeling or mediocrity and lack of "bling", for want of a better word. Some will find this preferable to a glossed up box, however I would personally enjoy a neat box with a few details of the product included on the packaging.
When I looked closer however, I did notice a very clear label stating that the product is a "Machine Demo", so perhaps because it is a Demo product they have packaged it without much regard for presentation. In terms of functionality though, it has to be said that the product was very secure and steadfast, with little chance of it being damaged through regular shipping and handling of the box.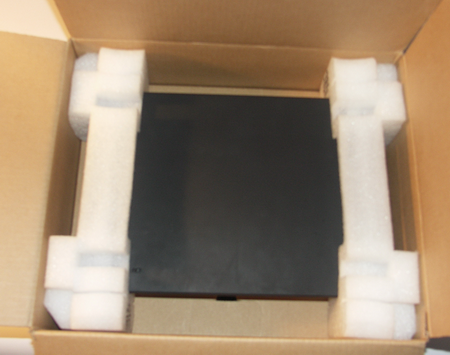 The bundle included a battery pack power cord AC adapter and several documents including the following manuals :-
- Setup Instructions (Quick Start Guide)
- Other supplements or flyers for purchasing peripherals
- Service and Troubleshooting Guide
There were no CDs of any kind supplied.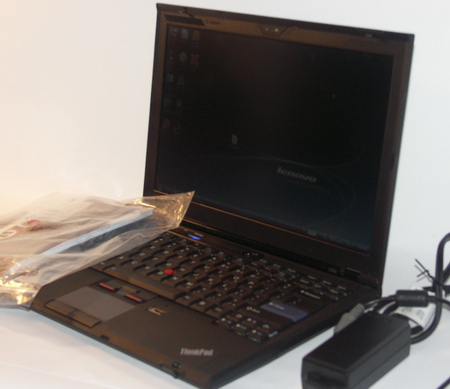 NB:
Our product was the Taiwan version and therefore did not have WiMAX capabilities installed. However, it should be mentioned that the USA version does cater to that need.
The Experience - Video Presentation
This film on YouTube shared the same experience as we had with our Lenovo product, and many of the opinions were an exact reflection of what we were thinking as we tested our X300. It's well worth checking out.
The Specifications
The X300 notebook has an Intel Core Duo SL7100 (1.2GHz, 4MB L2, 800MHz FSB) CPU. The monitor is a 13.3" WXGA+ TFT (LED backlight). There is a 3x3 UltraConnect II which is a connectivity suite offering wireless LAN, UWB (UltraWide Band), Bluetooth and numerous wireless WAN choices including a system that utilizes native GPS functionality that is built into the X300. The product is designed to support WiMax when it becomes available, however this product was for the Taiwan market and as such this feature was not included. The receiver sensors have been placed in the top left hand side of the monitor. Check it out below.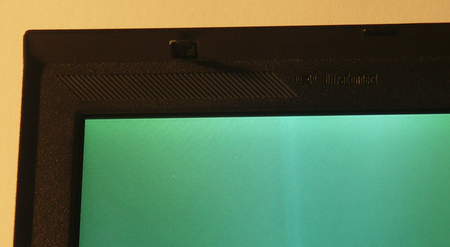 The graphics stem from the Intel Graphics Media Adapter X3100 offering a native resolution of 1440x900 pixels in accordance with the monitor specifications. The product has 1GB PC2-5300 DDR2 SDRAM 667MHz SODIMM Memory (1 DIMM) with up to 4GB PC2-5300/667MHz supported (it should be noted that only 3GB of memory is addressable with a 32-bit OS). The product we tested had Windows Vista Ultimate (32-bit) pre-installed.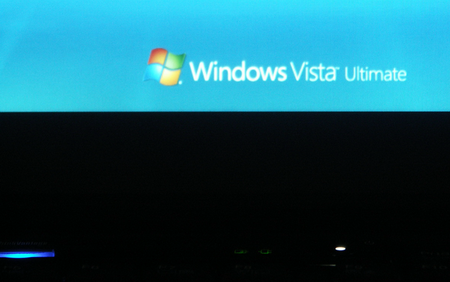 The hard drive is unique in that it is a solid state drive (SSD) 64GB in size. What this means is that the hard drive is not a rotating disk in the traditional sense, but rather comprises of several chips with addressable memory arrayed in a specific format to prolong the usability of the SSD drive. With no moving heads to read/write data and thus no moving parts, the SSD drive makes it almost impossible for a sudden bump to cause data loss on the drive. The SSD drive is also said to be quicker than conventional disk drives.
The only penalty for these advantages is that the chips' ability to store data erodes over time as more and more data is interchanged over and over. Lenovo has a unique approach in that it uses special software, which according to an algorithm uses all the space on the drive equally so that no one area is abused and other areas neglected. This ensures longevity to your product.
The presence of an ultra-thin DVD burner cannot be harped on enough, and it is to be found on the right hand side of the notebook. There are no other ports on this side.

The Specifications - Continued
In something so thin and light (1.42Kgs with the ThinkPad X300 Series 3 Cell Li Polymer Battery), it really is a remarkable engineering feat. The entire package is one powerful neat device for the road warrior, and truly there is nothing to fault the product in terms of functionality. The fact that it is designed for business people means it has to have the right kind of connectivity while keeping as small a profile as possible. The very thin (less than 2cm thick) profile is ideal for portability and convenience when travelling.
The below picture of the X300s front view shows the clip mechanism with no other ports to be seen.

Lenovo has achieved a better, more complete unit than the guys over at the fruit factory (Yep, I'm talking about Apple) who despite working hand in hand with Intel, were not able (or not willing) to include the DVD burner option in their Macbook Air; a grievous mistake in my humble opinion.
The left hand side of the X300 has two USB ports, a microphone and headphone stereo jack, as well as vents for the internal fan to pump out hot air.

The rear-end of the X300 has the DC connector port, an extra USB port (bringing the total to three USBs) as well as the RJ-45 port, or probably better known as an ethernet port which is your landline link to the internet world.

In addition, there is a VGA port for an external monitor, or as in most cases for a projector, since the product is aligned for business users.
To compliment long trips away from home, the X300 has an integrated web camera, with two nicely placed speakers arranged to the front left and front right on the lower keyboard platform. The quality is fair with decent projection, although with such a small screen, should you ever watch a movie, you are most likely going to be fairly close to the device, and therefore the speakers are more than adequate. Below you can see the position of the webcam, which seems to be standard for almost all notebooks these days.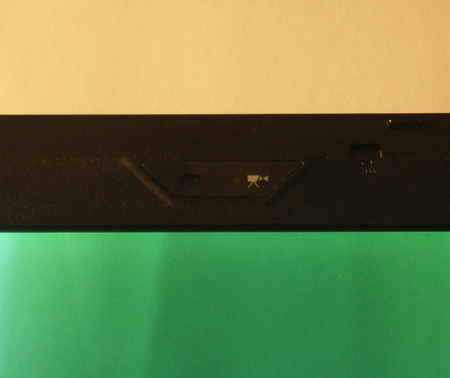 The Look and Feel
Aesthetics
Aesthetics are not normally something one considers when buying a business notebook, since functionality is primarily the main concern. Despite this, Lenovo has taken care on the product itself, incorporating what I would consider a certain polished upper-class look and feel. The surface of the X300 is plastic, but it has a distinct rubberized feel to it. In addition, the beveled contours make the keyboard stand out. These may not be noticeable at first glance, but once in a while you may be sitting reflecting on your product, and this is where you will notice all the extra love and care that has gone into manufacturing this remarkable device.
In the below picture I have tried to capture some of that essence, but truly I just don't do it justice. You will have to have hands on to appreciate what I am writing here.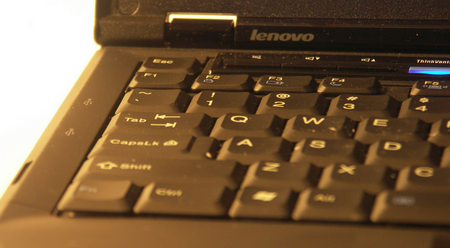 Security
This is an aspect of modern life that people take for granted. Security of data is expected to one degree or another. In the event of theft or loss of that data, it can leave a person reeling at the implications should that data fall into the wrong hands.
It's nice to know that Lenovo has taken that kind of consideration into account, ensuring that you have a fingerprint scanner conveniently set up right next to the track-pad. You will also notice the standard Track-point (a legacy device unique to Lenovo and in the past IBM notebooks) with associated buttons included above the track-pad.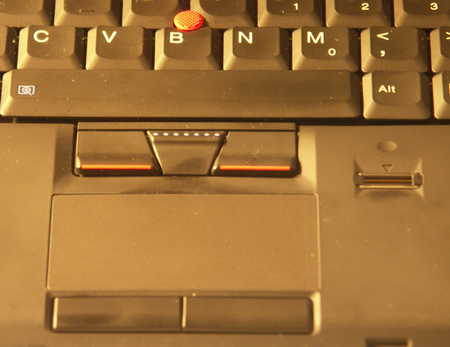 Why no CDs? And what is ReadyBoost?
ThinkVantage
ThinkVantage is a button labeled very clearly on the X300 notebook, and the reason for this is it single handedly replaces all CDs which are usually shipped with a notebook product. What Lenovo has done is partitioned the SSD and arranged a sector of the SSD to hold all the relevant software required to refresh your device, should something catastrophic ever happen.
So, the next time a virus gets past your firewall and infects your entire system, all you have to do is push the ThinkVantage button and allow it to take you back to your last backup. If you prefer, it can start you off from a clean install since all the necessary files are included. It is highly recommended to allow the software to backup your files regularly in the event that something should ever happen.
What is really convenient about this system is Lenovo has done all the planning and implementing, and so therefore business people who own the notebook can just go about their business instead of worrying about silly things like backups. For me, this type of innovation separated the men from the boys, and the sheer magnitude of the Lenovo service capabilities worldwide gives a sense of security that few other companies can match.
Windows ReadyBoost Cache
This experiment was done not to show up the Lenovo product, but simply to see how much better SSD drives are than traditional HDDs. What we tested was the improvement of benchmarks within the FutureMark PCMark Vantage suite when using a 1GB standard flash memory USB device.
Windows ReadyBoost cache is defined by Wikipedia as follows:-
"Using ReadyBoost-capable flash memory (NAND memory devices) for caching allows Windows Vista to service random disk reads with performance that is typically 80-100 times faster than random reads from traditional hard drives. This caching is applied to all disk content, not just the page file or system DLLs. Flash devices are typically slower than the hard drive for sequential I/O, so to maximize performance, ReadyBoost includes logic to recognize large, sequential read requests and then allows these requests to be serviced by the hard drive."
With ReadyBoost activated, one should see a significant improvement in performance for the CPU, memory and HDD capabilities when using the USB flash drive. This however was not the case. Why? Well let's look at the results and speculate further.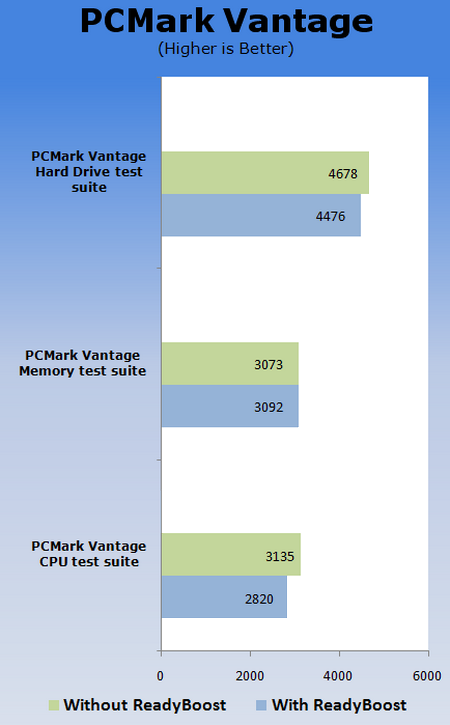 What is clear to me is that ReadyBoost does not increase performance on the X300. I speculate that the SSD works so much quicker than a normal HDD that the fairly slow solid state memory to be found on the flash device acts as a hand brake; not significantly though, since it seems to give a very slight increase in performance to the memory performance. That increase is very slight as mentioned, and is not enough to show that the flash will improve overall performance, especially when considering it lags in both the CPU and hard drive suite tests.
Looking at the CPU performance decrease, I have to speculate that the bus speed and interaction with the SSD is much more efficient in this notebook than notebooks with traditional HDDs, because according to Wikipedia there should be an 80-100 times increase in performance with the flash disk attached. Clearly this is not the case and I have to wonder if the ReadyBoost system will work better if I used a faster speed flash disk. Unfortunately we did not have a faster one in the lab at that time, so we were unable to test further.
This small glimpse into the efficiency of SSD over mechanical HDDs is simply a teaser to get the real boffins checking the facts and proving the theories. The bottom line for us is that SSD works quicker and therefore it is a good step forward.
Final Thoughts
Lenovo is an excellent brand. It is consistent in manufacturing products of high quality and durability. The company sticks to its strengths, which are business platforms, and so it excels at delivering the end-user what he or she wants.
The notebook has heaps of features, starting from a 64GB Solid State Drive, which has been proven to be considerably faster than traditional HDDs, not only in the speed of access, but also in general performance. The 7mm DVD burner on such a small device is an engineering feat worth mentioning, as well as the thin profile of less than 2cm wide, the host of wireless communications and standard LAN, Bluetooth and WAN capabilities.
The multimedia aspect is solid and capable, with good working speakers, good connectivity options and also an integrated web camera for VOIP conference calls with families or colleagues while travelling. All in all, the entire product exudes quality and craftsmanship.
We have been extremely impressed by this product, mainly due to the engineering feats such as very small profile and footprint, while retaining all the essential ingredients for the target customer. In this case the target customer is a business person on the move, and with almost every aspect of functionality geared towards portability, ease of use and convenience, we have no doubt that it deserves the "Best Features" award.
The only area that it is let down in is the price, but since it is a premium product, the above $3000USD price tag is to be expected. What should also be noted is that it doesn't have an SD card reader, or PC Card slot, but these are essentially legacy devices and are seldom needed since most media devices, from cameras to cell phones connect directly through the USB port anyway.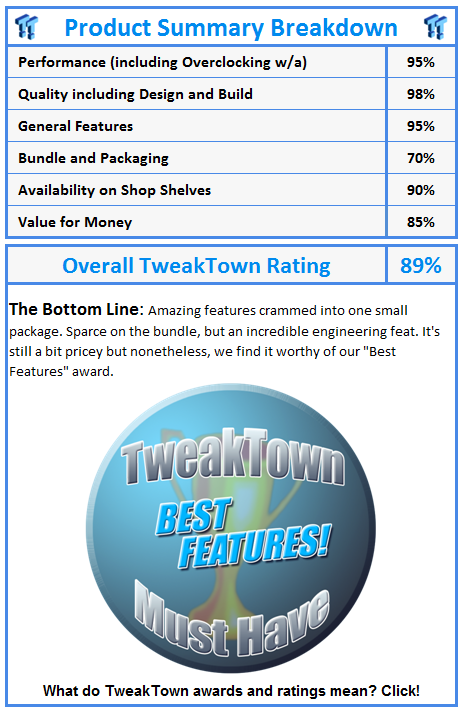 PRICING: You can find products similar to this one for sale below.

United States: Find other tech and computer products like this over at Amazon.com

United Kingdom: Find other tech and computer products like this over at Amazon.co.uk

Australia: Find other tech and computer products like this over at Amazon.com.au

Canada: Find other tech and computer products like this over at Amazon.ca

Deutschland: Finde andere Technik- und Computerprodukte wie dieses auf Amazon.de
We openly invite the companies who provide us with review samples / who are mentioned or discussed to express their opinion. If any company representative wishes to respond, we will publish the response here. Please contact us if you wish to respond.