An Inconvenient Truth about your PC gaming
They tried to hide it! We uncover the shocking secret the games and benchmark industry has been keeping from you.
Published Sun, May 27 2007 11:00 PM CDT
|
Updated Tue, Nov 3 2020 7:04 PM CST
Introduction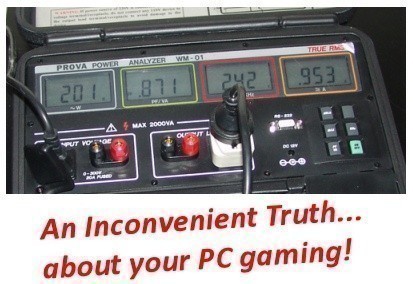 It has been on man's mind for years... ok ok, maybe that is a lie. It has been on the minds of Shane and Cameron Wilmot for the past hour! Does your game of choice harm the environment more than someone else's?
You thought you knew what controversy was, well we are talking it to the next level as we bring you The Inconvenient Truth... about your PC gaming! Al Gore would be proud.
With our new toy, the Prova Power Analyzer WM-01, or as popular TweakTown staff like refer to it - that power thingy, it was time to get down and dirty to see what your games are doing to the environment. Are multiplayer gamers that play games based on the Source engine looking after the environment more than those playing Prey? And which game type is better, FPS or RTS? There was only one way to find out, to do our normal array of benchmarks and see what results that new super dopper power thingy gave us.
Stay tuned the results will shock you!
Test System Setup and Shocking Results
Test System SetupProcessor(s):
Intel Core 2 Duo E6600 @ 3.6GHz (400MHz FSB x 9)
Motherboard(s):
ASUS P5K3 Deluxe (Supplied by
ASUS
)
Video Card(s):
MSI Radeon HD 2900 XT (Supplied by
MSI
)
Memory:
2 X 1GB Corsair XMS3 DDR-3 1066MHz 7-7-7-21 (Supplied by
Corsair
)
Hard Disk(s):
Hitachi 80GB 7200RPM SATA 2
Operating System:
Microsoft Windows XP Professional SP2
Drivers:
ATI Catalyst 7.4 and DX9c
Using our fancy new DDR-3 test rig we benchmarked our favorite array of games and applications to see which were using more power.
Games were tested at 1920 x 1200 while our benchmarking applications ran at 1024 x 768 for 3DMark05 and 06 and 1280 x 1024 for the upcoming RyderMark. We benchmarked each game and application a total of three times and then averaged the results from the same power level draw test section each time.
Idle wattage sitting in Windows is 227 watts!
Power Used in Games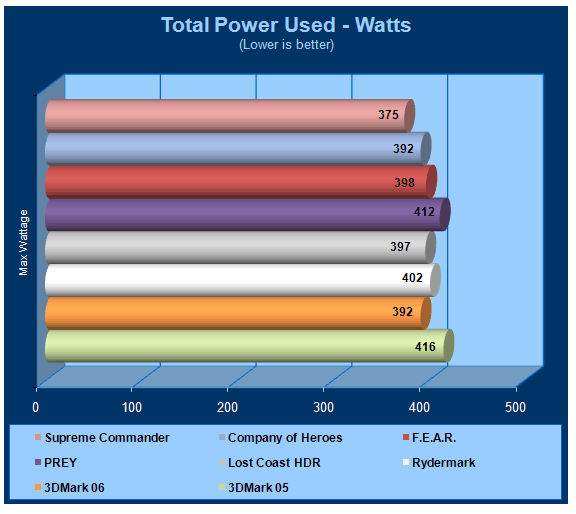 Supreme Commander players are the most environmentally friendly! If you are playing Sup Com we salute you and give you a pat on the back. Now you can say to those damn FPS players when they make fun of your choice of genre "Hey at least we are working towards a cleaner planet."
Feel like doing a bit of old school benchmarking? "Tisk tisk" we say, 3DMark05 shows us the maximum wattage followed closely by Prey... we always knew those peeps were trouble.
RyderMark which is on its final beta build also comes in with a max draw of over 400W, hopefully this is addressed before the final version comes out, some how. Futuremark managed to clean up its act to make the newer 3DMark06 more Earth friendly... whether this was intentional or not, who knows, but it is good news for current benchmarkers.
If you cannot draw yourself away from Source-based games such as Counterstrike at least know that your addiction is helping the environment. Lost Cost delivered the best result out of all the FPS games tested but if you are benchmarking on 3DMark06 and feeling pretty happy about yourself you are not out of the woods yet, take a look at our next page.
Shocking Results Continued and Final Thoughts
Power Used in Overclocking
No, that is not a mistake, we did not accidentally hit the 2 before the 9...you overclockers are the worst. With total wattage used increasing by almost 20% we throw out another big "Tisk tisk".
Final Thoughts
In all seriousness, it is interesting to see what different applications do to overall power draw, and what kind of impact overclocking has on your power supply. The next time someone says you do not need a good power supply to overclock give them two whacks across the back of the head, one from the team at TweakTown and one for yourself.
Our new Power Analyzer is going to come in extremely useful for future reviews. It will be first used in our upcoming HD 2900 XT article and in the future we will be paying more attention to what impact hardware has on the old power supply.
We hope you enjoyed the article and had a good laugh, we had better get back to those more serious reviews now but this was something interesting to look at nonetheless.
PRICING: You can find products similar to this one for sale below.

United States: Find other tech and computer products like this over at Amazon.com

United Kingdom: Find other tech and computer products like this over at Amazon.co.uk

Australia: Find other tech and computer products like this over at Amazon.com.au

Canada: Find other tech and computer products like this over at Amazon.ca

Deutschland: Finde andere Technik- und Computerprodukte wie dieses auf Amazon.de