We have been powering through our AMD Radeon R9 Fury X content since the High Bandwidth Memory powered video card launched just 11 days ago now, where we have our review of the card on its own, two of them in CrossFire, and our latest: the R9 Fury X in triple 4K Eyefinity at 11,520x2160.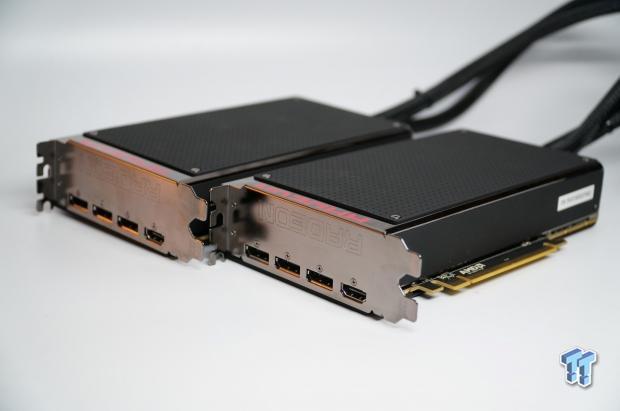 During this testing, the R9 Fury X on its own was good, but not great at 1080p and 1440p. At 4K however, it really came into its own. The second card really added some huge benefits to performance at 2560x1440 and 4K, but the single card on its own with a triple 4K Eyefinity monitor setup didn't really offer much over the NVIDIA offerings.
Well, we can say that two AMD Radeon R9 Fury X cards in CrossFire at 11,520x2160 - or triple 4K Eyefinity - is absolutely balls-to-the-wall insane. The Battlefield 4 performance blows everything NVIDIA has away, which is the most surprising. So without further delay, let's dive right into one of the harshest monitor setups you can throw at any PC and see how Fury X CrossFire goes.
So we decided to test out our AMD Radeon R9 Fury X on our triple 4K setup, which consists of three Acer XB280HK monitors in a 4K Eyefinity setup. With individual resolutions of 3840x2160, or 4K, three 4K displays pumps up the resolution count to 6480x3840 when in portrait. In landscape mode, triple 4K monitors offers up 11,520x2160... an insane number by any standard.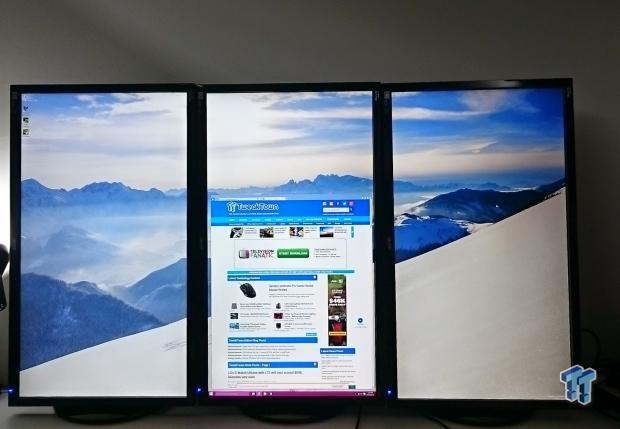 Let's clarify that: 11,520x2160 in landscape, or 6480x3840 in portrait. This means we're rendering 1,492,992,000 pixels per second. 1.4 billion pixels, every second. Compare this to 1920x1080 (Full HD, or 1080p) which is rendering 124,416,000, or 124 million pixels per second - the 4K Surround system is rendering over 10x that of the 1080p resolution.
Instead of writing about how many pixels are being rendered, we've put them into a chart so you can better understand just how many pixels we're driving here today. Right now, the 'next-gen' consoles are rendering games at around 720p - 900p, which if they were running at 60Hz (or 60FPS) which most of the time they aren't, it's usually 30FPS or so, they would be rendering 55 million pixels per second.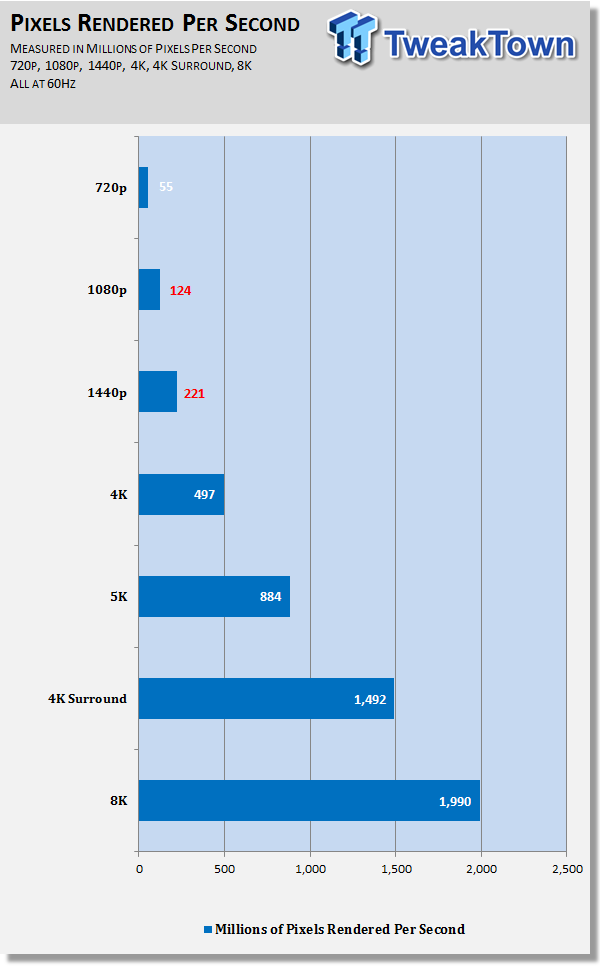 Jumping up to 1080p, that number climbs to 124 million while 1440p has it jump to 221 million. At 4K, the pixels rendered per second at 60Hz start to get serious, with 497 million, but 4K Surround has this catapult to 1.49 billion. 8K, which is in the not-too-distant future, sees 1.99 billion pixels being rendered per second.
Before we get into the numbers, let's take a look at the setup we're testing the GTX 980 Ti in 4K Surround on: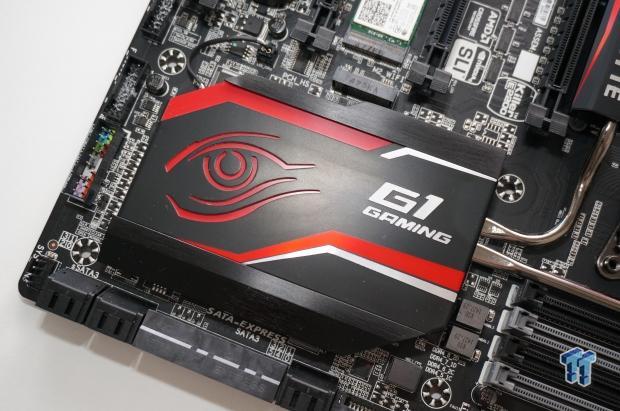 CPU: Intel Core i7 5820K processor w/Corsair H110 cooler
Motherboard: GIGABYTE X99 Gaming G1 Wi-Fi
RAM: 16GB Corsair Vengeance 2666MHz DDR4
Storage: 240GB SanDisk Extreme II and 480GB SanDisk Extreme II
Chassis: Lian Li T60 Pit Stop
PSU: Corsair AX1200i digital PSU
Software: Windows 7 Ultimate x64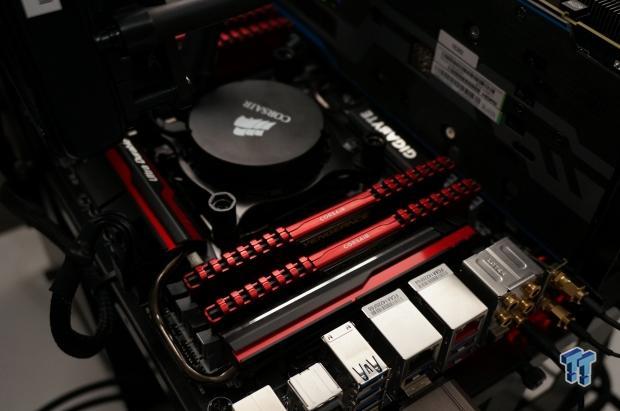 Heaven - 4K Surround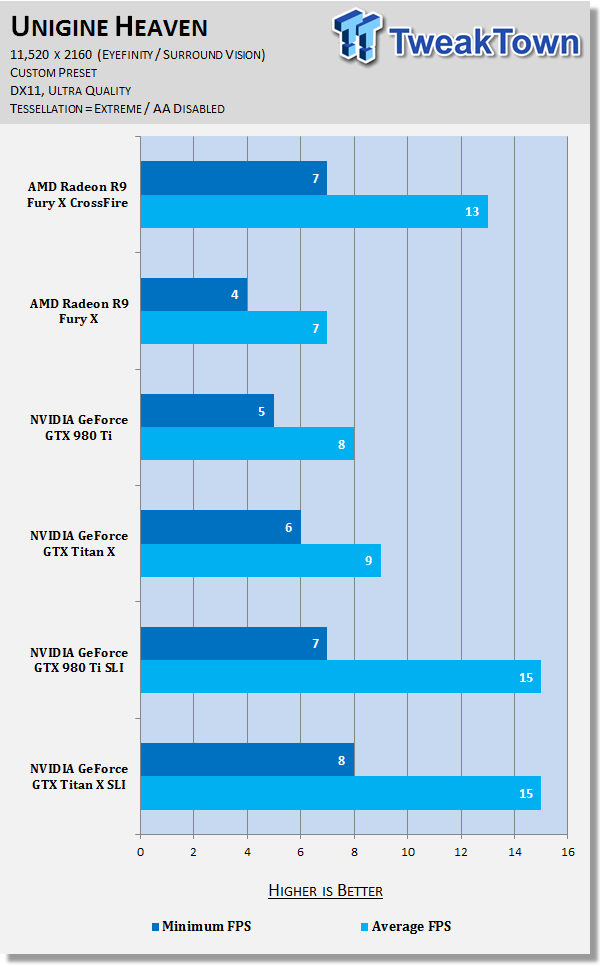 Heaven has never really liked AMD, so even with two Fury X cards in CrossFire, it still doesn't beat GTX 980 Ti or Titan X cards in SLI.
Battlefield 4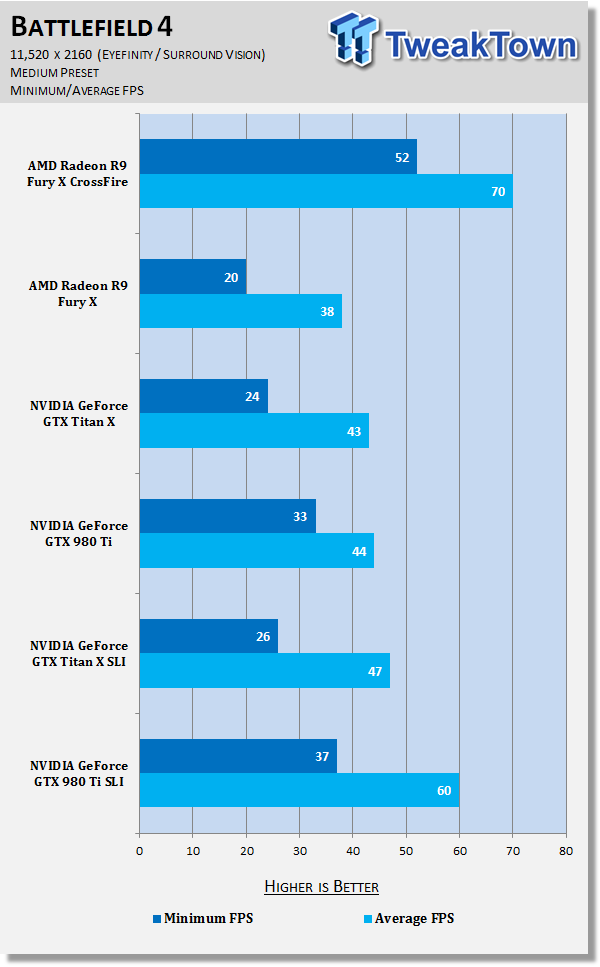 Holy crap - look at that, 70FPS average and 52FPS minimum in Battlefield 4 at either 11,520x2160 or 6480x3840
Metro: Last Light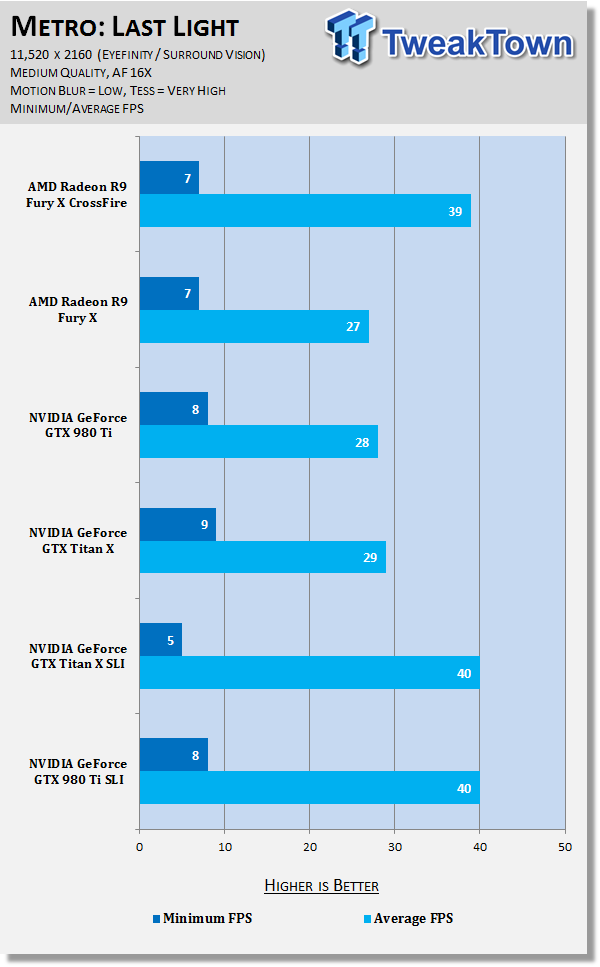 Moving to Metro: Last Light, the two HBM-powered Radeon R9 Fury X cards in CrossFire continue to impress, where they are on equal footing with the GM200-powered offerings from NVIDIA.
Middle-earth: Shadow of Mordor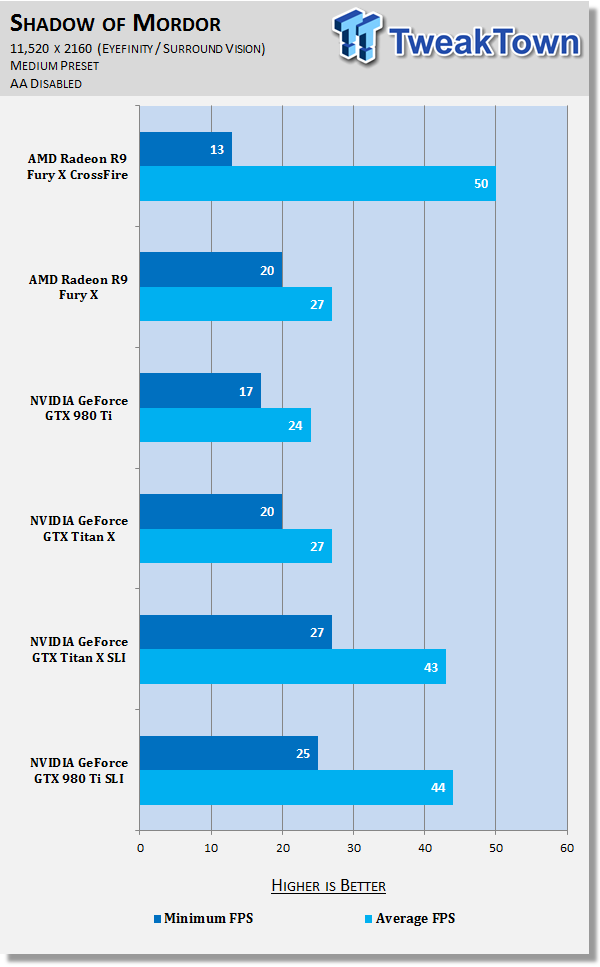 But, the Fury X CF setup begins to pull away in VRAM heavy games like Shadow of Mordor, where we have 50FPS average. Comparing this to the two NVIDIA GeForce GTX Titan X cards in SLI, or the GTX 980 Ti SLI setup, with 43FPS and 44FPS, respectively.
Thief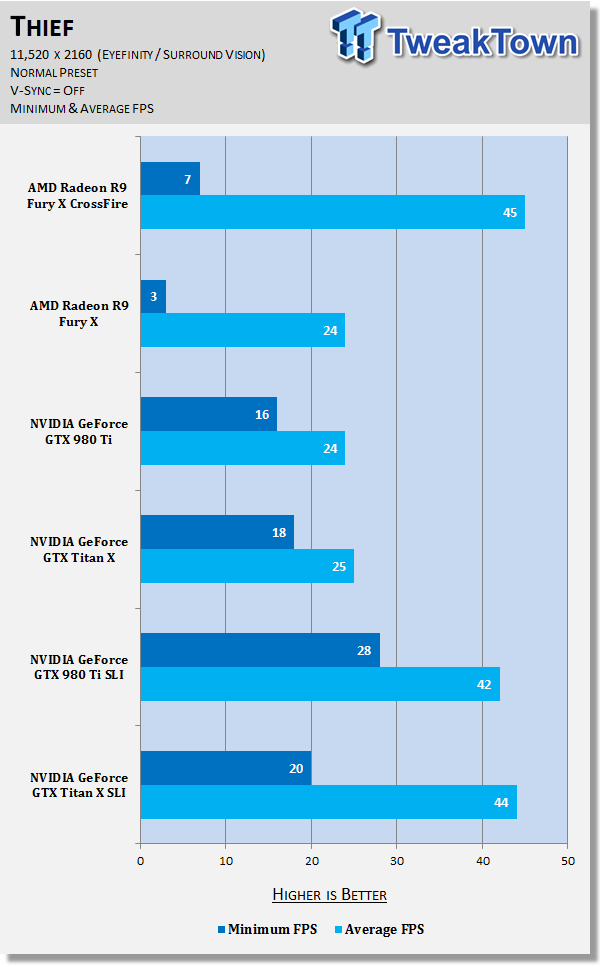 Moving onto Thief, the R9 Fury X cards in CrossFire continue to impress, beating out the Titan X and GTX 980 Ti SLI setups.
Tomb Raider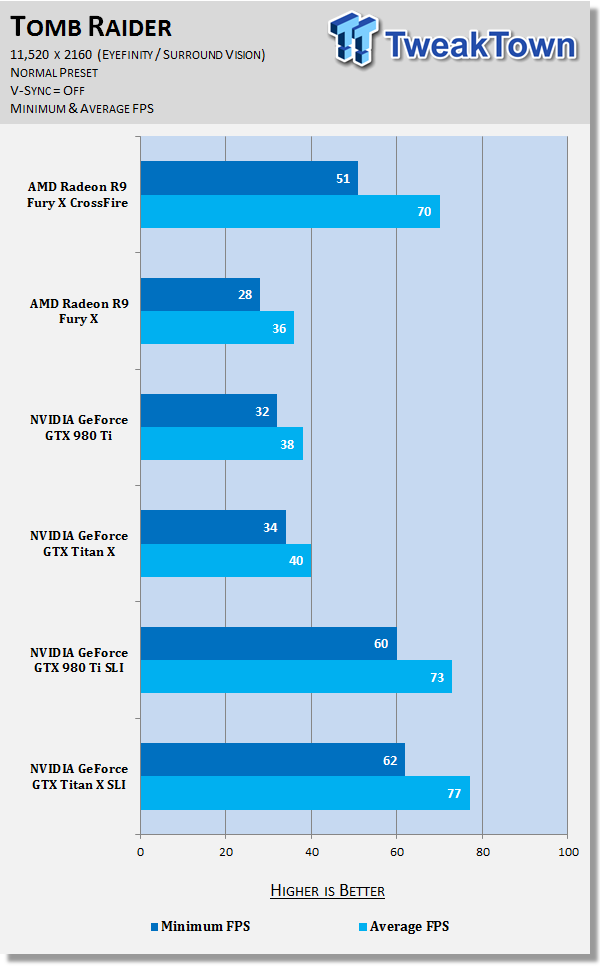 Things slow down a little in Tomb Raider, with the Fury X cards in CrossFire losing out to both the Titan X SLI and GTX 980 Ti SLI setups.
BioShock Infinite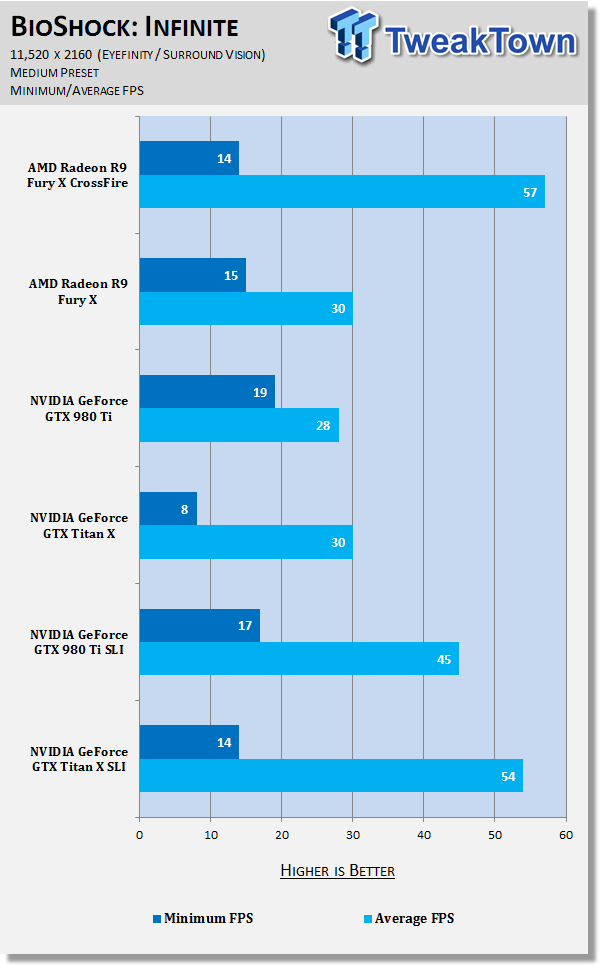 For our final test, AMD kicks it out of the ballpark with the Fury X CF setup, beating the Titan X SLI and GTX 980 Ti SLI builds.
Final Thoughts
Here we are again, in our final thoughts. Last time around, I wasn't too impressed with what the single AMD Radeon R9 Fury X had to offer at 11,520x2160. But with two of them in CrossFire, I'm blown away. We're looking at equal to, or better than GTX 980 Ti SLI or Titan X SLI, which is really saying something.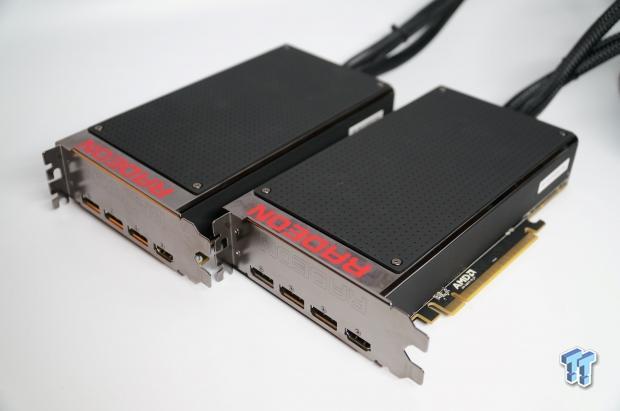 AMD has created a card that is good in a single GPU solution, but great in a CrossFire setup. It's quite an achievement, since it's so early in the game for AMD and its new HBM-powered Fury X cards, to have Catalyst drivers that see the Fury X cards scaling this incredibly well in CrossFire.
If you're in the market for a new GPU setup that can power your triple-monitor dreams, AMD has a great option for you with the Fury X. But at the end of the day, I think you should wait a couple of weeks to see what the air-cooled R9 Fury can offer. It won't have you spacing out your chassis for two spots to install radiators, which is a huge hurdle AMD is going to have with its Fury X going into the future.
If the Fury can offer performance within 10-15% of the Fury X, it's going to be a very viable alternative to the watercooled Fury X. A card for AMD fans and lovers, that can be installed without the huge radiators getting in the way. Two of those in a system running 11,520x2160 is going to be interesting. We will have two of them soon, so check back for the multi-monitor, multi-GPU dominance here at TweakTown.
Last updated: Nov 3, 2020 at 07:12 pm CST