Mantle Reloaded: We test our Radeon R9 290X with an AMD CPU
Mantle Reloaded: We re-test our Radeon R9 290X with Star Swarm.
A couple of days ago we did a preview piece on AMD's Mantle technology, using our trusty Haswell-based system, and Star Swarm as our benchmark. Well, our system has been changed around a little - well, a lot - a fresh installation of Windows performed, and an updated version of Star Swarm.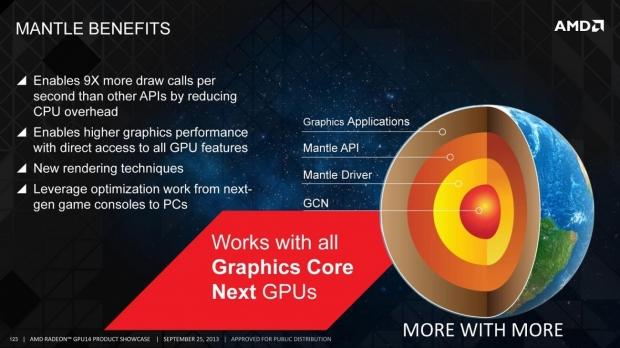 This is why we used the word "Preview" in our article - right there on the headline. AMD's Mantle technology is a constantly-evolving piece of technology, that heavily relies on the software (games) side of things for it to work well.
An update of Star Swarm was pushed out between us writing the original piece, and now - so now we're up to date, and back with a better system - and an AMD system - to test it with.
First off, as usual, I'd like to thank our partners and friends for helping us out. These companies include Corsair, SanDisk, AMD, ASUS, SAPPHIRE and InWin. Without these companies, this system wouldn't exist - and we are truly thankful for their help in getting us the parts.
Our new Intel system:
CPU: Intel Core i7 4930K processor w/Corsair H110i cooler
Motherboard: ASUS Rampage IV Black Edition
GPUs: SAPPHIRE Radeon R9 290X Tri-X
RAM: 32GB Corsair Vengeance Pro 2400MHz DDR3 (2 x 16GB kits)
Storage: 240GB SanDisk Extreme Pro
Chassis: InWin X-Frame Limited Edition
PSU: Corsair AX1200i digital PSU
Software: Windows 7 Ultimate x64
Drivers: Catalyst 14.1 Beta 6
The new AMD system:
CPU: AMD FX-8350 processor
Motherboard: GIGABYTE 990FXA-UD3
GPUs: SAPPHIRE Radeon R9 290X Tri-X
RAM: 16GB Corsair Vengeance Pro 1866MHz DDR3
Storage: 240GB SanDisk Extreme Pro
Chassis: Lian Li Pit Stop T60
PSU: Corsair AX1200i digital PSU
Software: Windows 7 Ultimate x64
Drivers: Catalyst 14.1 Beta 6
First up, we have the benchmark run on our Intel system: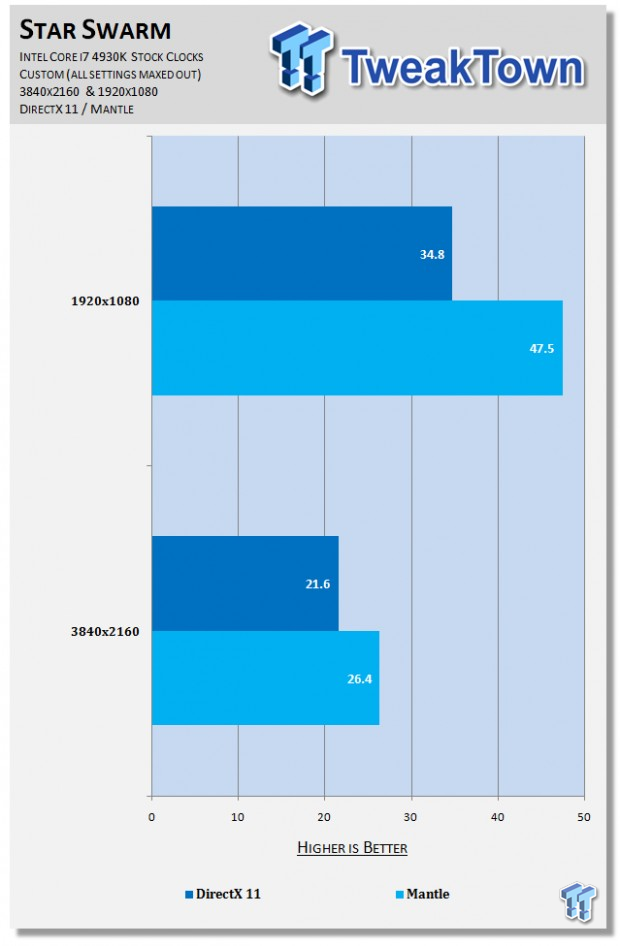 At 1920x1080, we have 34.8FPS average running Star Swarm under DirectX, but things definitely heat up when it comes to turning on that Mantle tap. We launch from 34.8FPS to a massive 47.5FPS - a 36.4% increase in performance! This is what we're talking about, right here folks.
Turning the resolution up to 4K, or 3840x2160, didn't really have the same results - we saw 21.6FPS with DirectX, and an increase of 22.2% using Mantle, which saw 26.4FPS.
As you can see from those results, using Mantle at 1080p has a much better effect than it does at 4K. Most people use a 1080p monitor, so this is great news. A 36.4% increase in performance from an Alpha of a game, running on a not-quite-yet-finished technology from AMD is nothing short of spectacular.
Now for some results from our AMD system: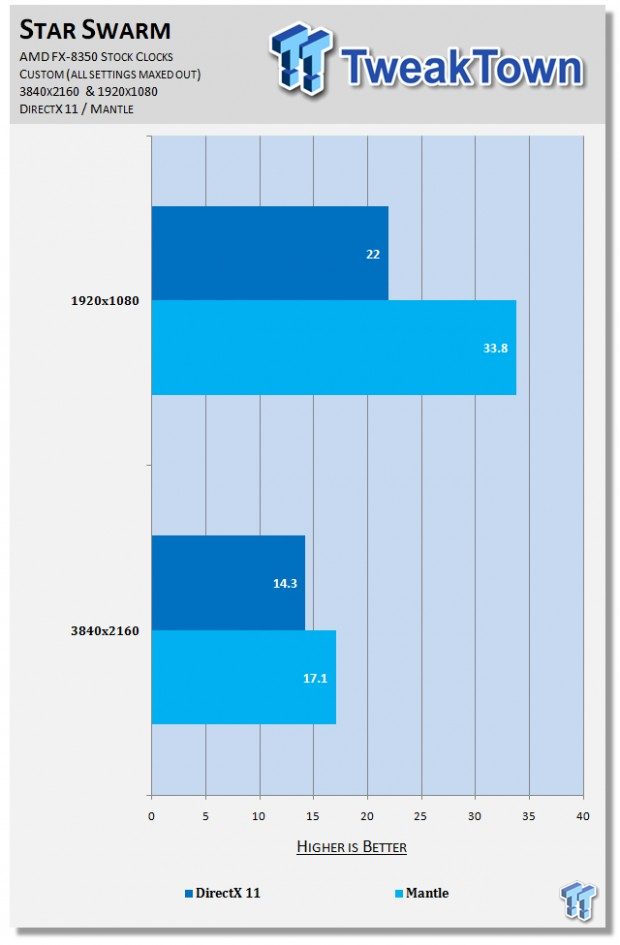 Starting off with 1080p, we have 22FPS using DirectX but look at that result for Mantle: 33.8FPS! This is an increase of 53.6% - absolutely incredible. This is what we heard about when Mantle was first announced, massive increases from CPUs that aren't the Extreme Edition's from Intel.
Moving up to our Ultra HD resolution, we see just 14.3FPS using DirectX, with a not-much-better result of 17.1FPS using Mantle. This is still a decent 19.5% improvement, but it doesn't quite compete with the massive increase we saw at 1080p of 53.6%.
Using our AMD system drew much better results, and made Mantle look like something it should: a massive difference in performance by not using the DirectX API.
Comparing Intel against AMD when using Mantle:
Intel still rules the roost when it comes to performance, but AMD receives a much bigger performance increase - with much, much less spent on the CPU and motherboard required for a high-end LGA2011 build.
When using the AMD CPU, I expected a big difference in performance, but 53.6%? Not that much, that's for sure. Given that AMD's FX-8350 CPU can be picked up for just $189 from Amazon, compared to $549 for the Intel Core i7 4930K, it is some noteworthy performance.
There's a $360 difference between the processors, and a $440 difference between motherboards - that's a total of $800 more for Intel. But, the performance we receive - while better with Intel - isn't $800 worth. This is where Mantle comes into play.
With Mantle, AMD can position themselves much better - offering a cheaper CPU, with similar performance to that of a much more expensive setup from the competition. Once AMD has Mantle under control and working with more games, it could really disrupt the gaming market with its APU line of products.
Imagine a $300 APU giving performance similar to that of a $1200+ Intel setup... which would you buy? I know what I'd buy, and I can tell you it starts with an 'A'.
Last updated: Nov 3, 2020 at 07:12 pm CST
Related Tags