Introduction and What's Required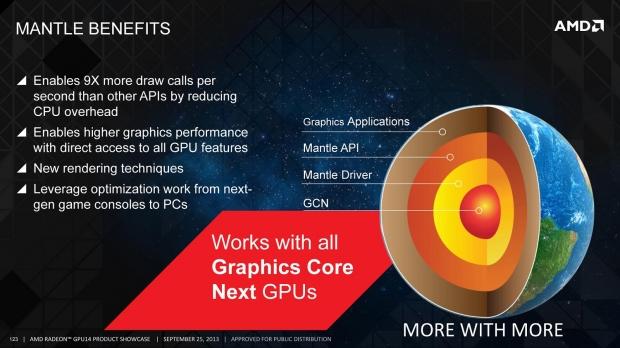 Today, AMD dropped its new Mantle-enabled drivers in the form of the Catalyst 14.1 Beta drivers. For those not familiar with Mantle, we'll give you the quick rundown on AMD's hot new API.
Mantle is an Application Programming Interface (or API) that allows game developers to get deeper access to your GPU, and more specifically, your Graphics Core Next (or GCN) based GPU. Mantle acts like DirectX or OpenGL, but was built specifically as a lower-level API.
This means that Mantle is better built to work with modern GPUs, as the GCN architecture, and removes a lot of the bloat from the software bottleneck for improved performance. A majority of this is saved time and resources from CPU and GPU communication.
Mantle is a big proponent of removing CPU-bound hassles, especially with lower-cost, lower-performing APUs. The improvements using an AMD APU and a decent AMD GPU are massive; some gains are over 300%, which is unheard of in today's world of tech and gaming.
What's Required
What you'll need is the Catalyst 14.1 Beta drivers, and a compatible Radeon GPU of course.
We used two SAPPHIRE Radeon R9 290Xs in CrossFire for our testing, on our Seiki Digital 39-inch 4K TV at 3840x2160.
Our Setup & How We Tested Mantle
Our Setup
We tested the new Mantle abilities unleashed in AMD's latest drivers on an Intel Core i7 4770K CPU at stock clocks, 16GB of Corsair Vengeance Pro 2400MHz DDR3 RAM, and SAPPHIRE's Radeon R9 290X Tri-X GPU.
We used Windows 7 with the latest updates as our OS of choice.
Once I had downloaded the drivers, I ran Star Swarm at 3840x2160 on a single SAPPHIRE Radeon R9 290X Tri-X GPU.
How We Tested Mantle
We tested our Mantle-enabled setup at 1080p, and 4K. This provides us with a high-end, performance resolution to start off with. We'll re-run the tests at 1080p with another article, where we'll also see how AMD's Mantle tech fares against 4K/1080p on Intel CPUs, and again on AMD CPUs.
Star Swarm - Star Swarm is a technical demo developed by Oxide Games, and is Mantle-compatible. It uses the "Nitrous" engine, which will power some upcoming next-gen RTS titles. Thanks to its Mantle capabilities, it can use render bigger battlefields, and many more on-screen units.
The improvements with Mantle on Star Swarm are huge, especially when a lower-powered CPU comes into play.
The Results & The Future of Mantle
The Results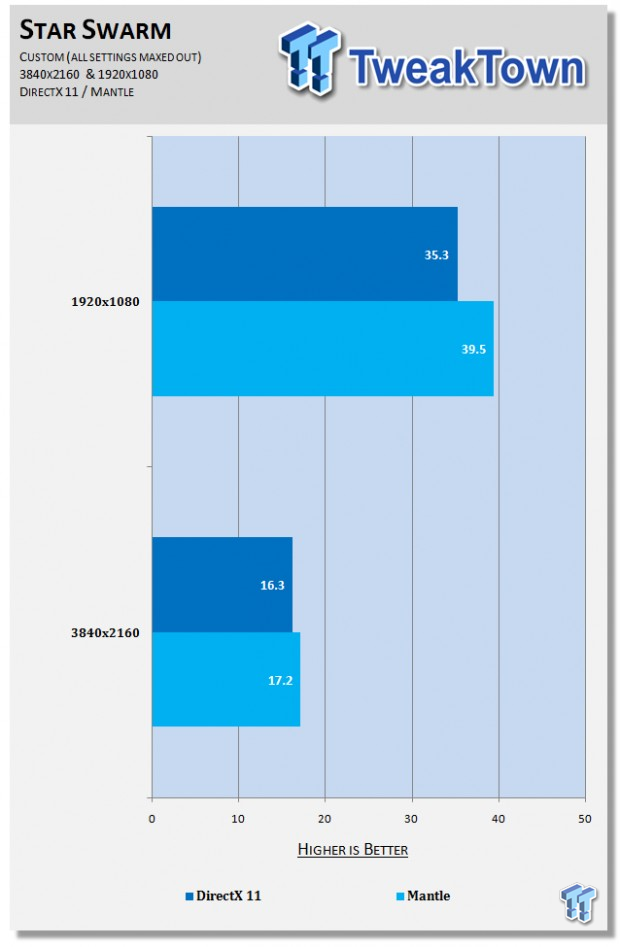 Star Swarm: First off, we tested our SAPPHIRE Radeon R9 290X Tri-X GPU at 1920x1080, where DirectX 11 provided us with a result of 35.3FPS. Trying out Mantle for the very first time, we have over 10% improvement at 1080p, with 39.5FPS.
Then we tested again at 4K, where the results of Star Swarm were not so different. Using DX11, our Radeon R9 290X was pumping out just 16.3FPS, but turning on the magic Mantle switch saw just 17.2FPS. This is next to impossible to see in a real-world scenario, so there's nothing to see here with Mantle.
Battlefield 4, kinda: After installing the Catalyst 14.1 Beta drivers, I attempted to join a 32-player match of Battlefield 4; well, it didn't work. As soon as it loaded in, I would press Escape to change my Graphic options, and it would simply lock up.
Even if I didn't touch anything and loaded into the same game, within seconds it would error again. I tried Battlefield 4, so we're going to have to come back with results for Battlefield 4.
From what I've seen, we can expect an average of around 10% more performance for most systems, but those with lower-end CPUs can expect even more. From what I've read, 64-player games have much less frame variance thanks to not requiring so many callbacks to the CPU -something I'm definitely going to test when I have it working (a full format and look into why it's crashing).
Expect another article from us in the near future, as we have a new LGA2011-based setup that is going to be built before the end of February. Between now and then, we should see some improvements made to Mantle (and AMD's drivers. Oh, and Battlefield 4).
I didn't want to post up half-assed results, so I do apologize for leaving Battlefield 4 results out of the picture.
The Future of Mantle
Mantle is a great offering from AMD, but will it be the future? Probably not. Games have to be coded to support it, which makes it harder to be pushed in all games. It's specific to certain GPUs, so we're playing the same game as PhysX, etc.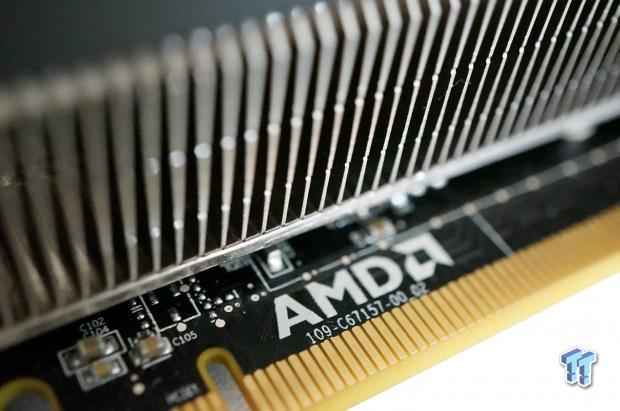 But, with AMD having hardware inside of the next-gen consoles, this could be a big thing for the company. From AMD's own internal tests, the proof is in the CPU-limited pudding. With an APU - which is cheap - the performance Mantle delivers is equal to that of spending an additional $400+ on a better CPU and motherboard.
That is where it will do great things, in the lower and middle ground. If you can go out and buy a $150 AMD APU, $250 GPU, and game like the 'big boys' do with their 4960Xs, then that is a major selling point for AMD.
With limited games supporting it right now, it's a fringe tech that is used for tech sites to show you the difference on. If it weren't for Battlefield 4 having baked-in support for it, this would've been another PR statement from AMD. Having DICE on its side is definitely helping it.
If AMD wanted to be committed to this, it would work with DICE on a built-in benchmark for Battlefield 4. This way everyone could fairly benchmark and test Mantle against other GPUs, resolutions, CPUs, and what not.
As it stands, everyone is benchmarking different parts of single player, or the varying multiplayer to get numbers. This provides every write up, every opinion, media site, or professional with varying numbers - something I don't like.
Give me a built-in benchmark for Battlefield 4 with all the bells and whistles for me to play with, where I can select APIs, and you'll have me hooked, AMD.