Sabrent Rocket Q NVMe 2TB NVMe PCIe Gen3.0 x4 M.2 SSD Review
With class-leading sequential performance, Sabrent's Rocket Q QLC SSD has a lot to offer. Here's our full review.

Published Feb 20, 2020 8:16 PM CST
|
Updated Tue, Nov 3 2020 6:57 PM CST
Manufacturer: Sabrent (SB-RKTQ-2TB)
6 minute read time
TweakTown's Rating: 94%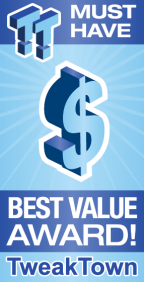 The Bottom Line
Sabrent's Rocket Q NVMe SSD is QLC done right. It's a top value product that will not disappoint.
Introduction & Drive Details
Having already documented Sabrent's rise as a top brand for NVMe SSDs, we are back with another. It is another cutting edge SSD that is all about value, and as such, it is a QLC (4-bit per cell) SSD. QLC SSDs have been kind of a niche product until recently, mostly regarded as cost-effective but inferior in terms of performance and endurance.
QLC is taking the same path we saw TLC (3-bit per cell) take when it came to the market as a low-cost alternative to MLC (2-bit per cell) flash. At first, no one wanted TLC, and it was honestly lackluster in terms of endurance as well as performance. However, as technology advanced and flash got faster and faster, TLC soon became the dominant form of NAND. Today we all consider TLC flash to be the 'good stuff.'
Currently, we are on the cusp of QLC replacing TLC as the dominant form of flash-based storage. This is actually good news for the consumer user. Here, let me make a case for QLC with a few facts that you may not realize. Current and incoming QLC flash is the most advanced consumer flash ever made. Generally speaking, QLC flash reads back data as fast as any other type of flash. 80% of what you do in the consumer space is read related.
Most of the time, when you are writing data to the drive, it happens in the drives SLC cache meaning it can be written to even faster than MLC flash most of the time. QLC is ushering in high capacities for a much lower cost. Endurance ratings are much lower than TLC, but even with where they are at currently, almost no one in the consumer space will even come close to wearing out their QLC SSD inside of their warranty period. We will soon see 8TB M.2 SSDs thanks to QLC technology.
Powering Sabrent's Rocket Q NVMe SSD is Phison's latest SSD controller, the E12S. The E12S is a variant of Phison's E12 controller that is physically smaller than the original E12. The E12S is, as far as we can tell, just as powerful as the original, but provides greater flexibility because of its smaller footprint. The drive we have on the bench today is a perfect example of what a smaller controller brings to the table. With more real estate for flash packages, the Rocket Q 2TB is a single-sided design. Single-sided designs (all components on one side of the PCB) are the most desirable because they are thinner.
Sabrent's Rocket Q NVMe SSD is checking all the boxes as they relate to design and pricing, now let's get into the review and see what the Rocket Q is serving up in terms of performance.
Drive Details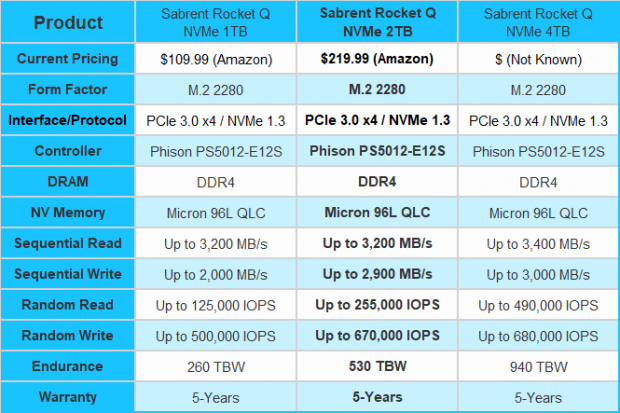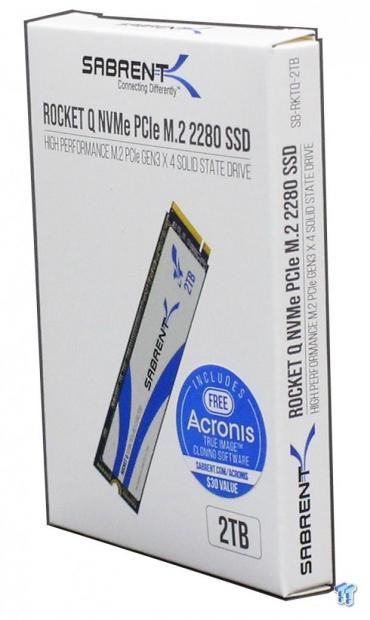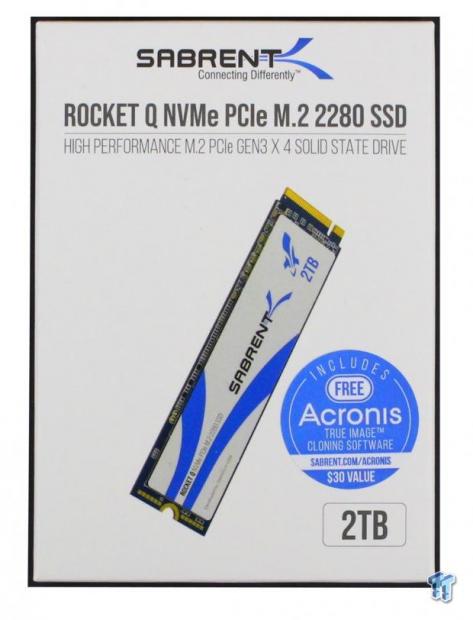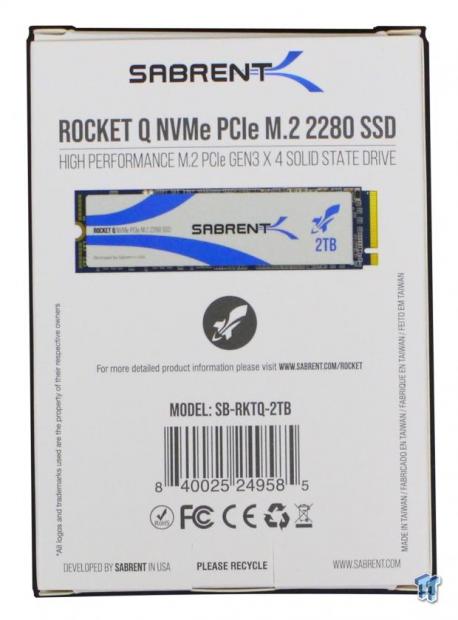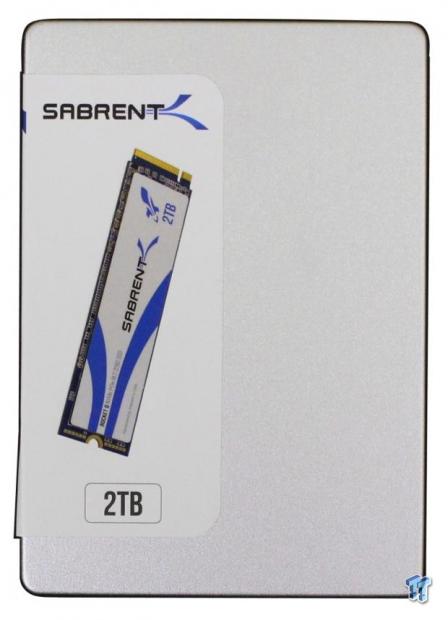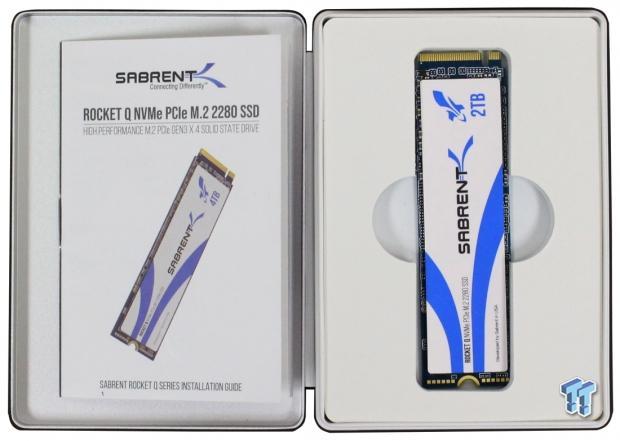 The first thing we notice is the Rocket Q's rated sequential speeds as they are by far the best we've seen to date for any consumer QLC product. We also notice that the Rocket Q has an endurance rating that is far better than Intel's 660P series QLC SSDs.
The packaging is white themed with all the characteristics we've become accustomed to seeing from Sabrent. Total quality. As always, Sabrent includes a free custom-tailored version of Acronis cloning software available via download.
The drive's single-sided M.2 PCB is populated with a Phison E12S controller, a DDR4 DRAM package, and four 512GB Micron 96L QLC flash packages. Additionally, the SSD features a pure copper label that boosts thermal capabilities.
Jon's Test System Specifications
SSD Toolbox
Sabrent SSD Toolbox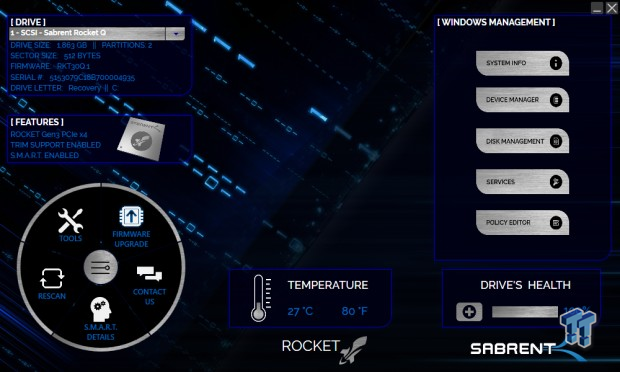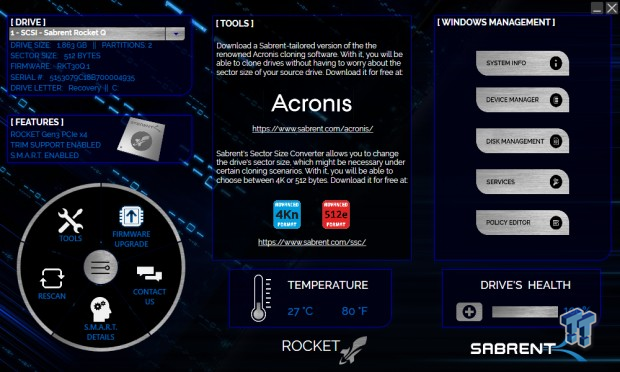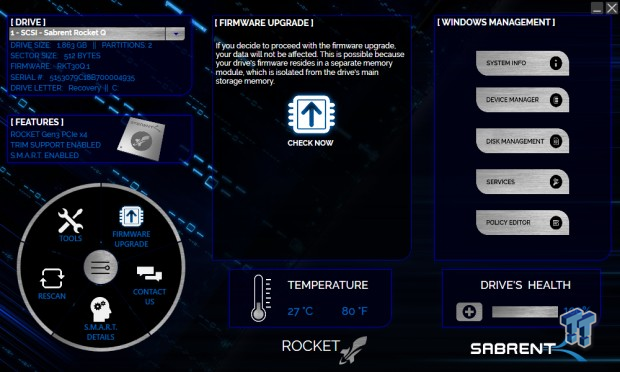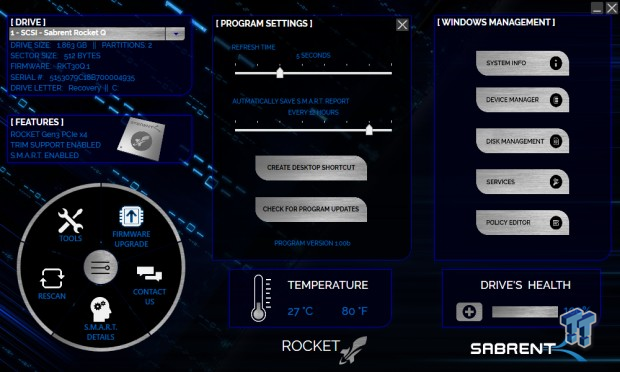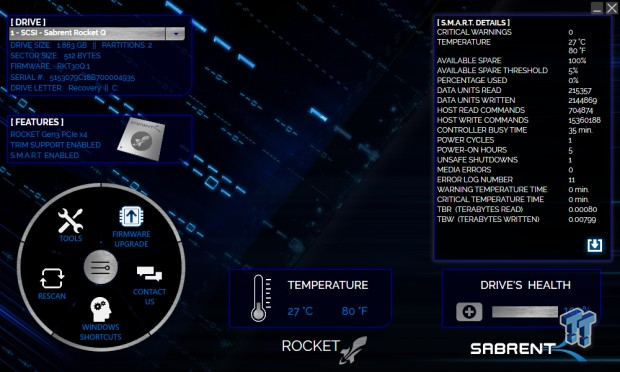 To complement their NVMe SSDs, Sabrent has developed a full feature SSD Toolbox. Sabrent's toolbox allows monitoring of your SSDs health, temperature, and SMART details. With the toolbox, you can easily update firmware, secure erase, register your SSD, and download Sabrent's custom-tailored version of Acronis cloning software.
If you register your SSD with Sabrent within 90 days, your warranty period increases from one year to five years. Be sure to register.
Synthetic Benchmarks: CDM & Anvils
CrystalDiskMark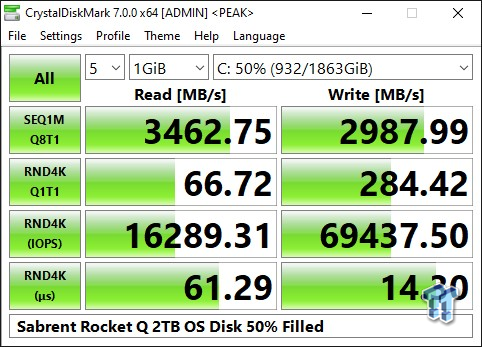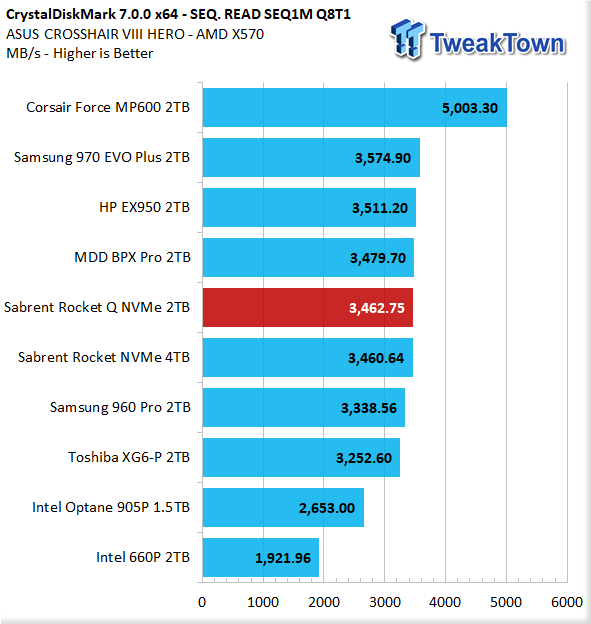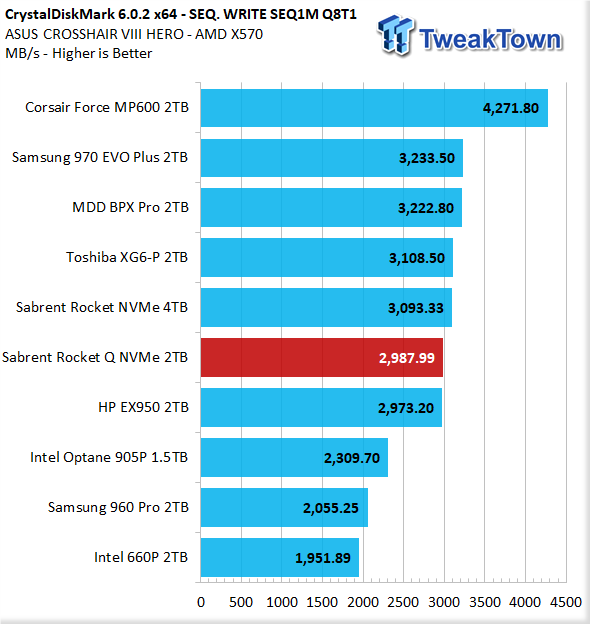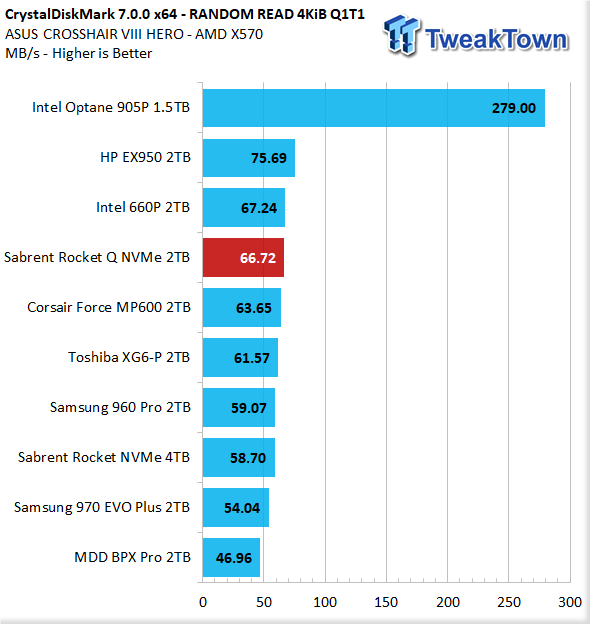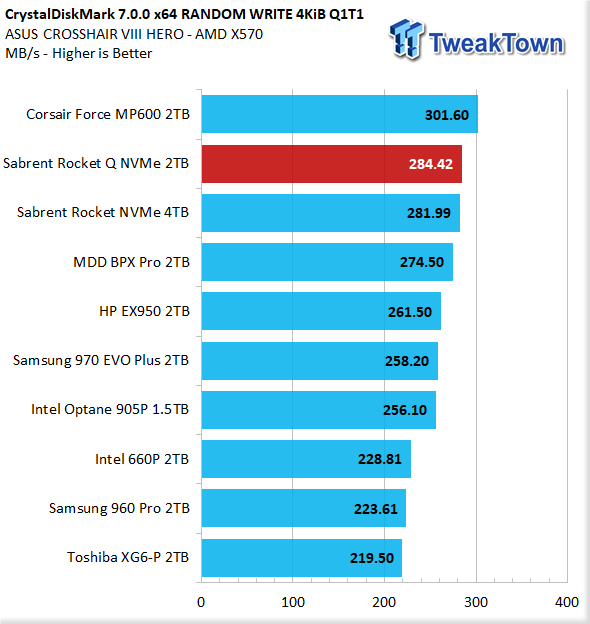 And there you have it - the best sequential speeds we've seen from any QLC product. Factory sequential specs are 3,200/2,900 with CrystalDiskMark. We have no issues significantly exceeding both specifications despite the fact that our user state is OS Disk 50% filled. These results also serve to illustrate the fact that data read back from QLC is served up as fast as other typed of flash.
Anvil's Storage Utilities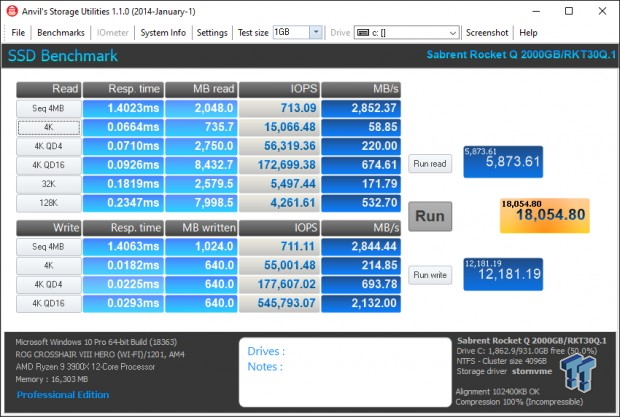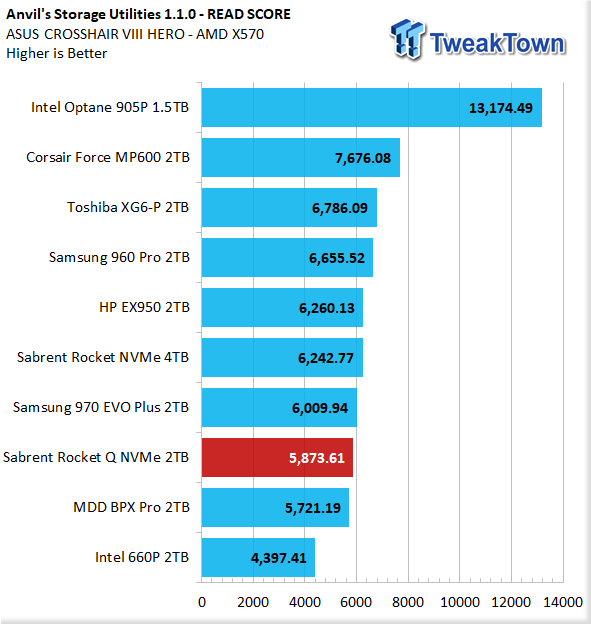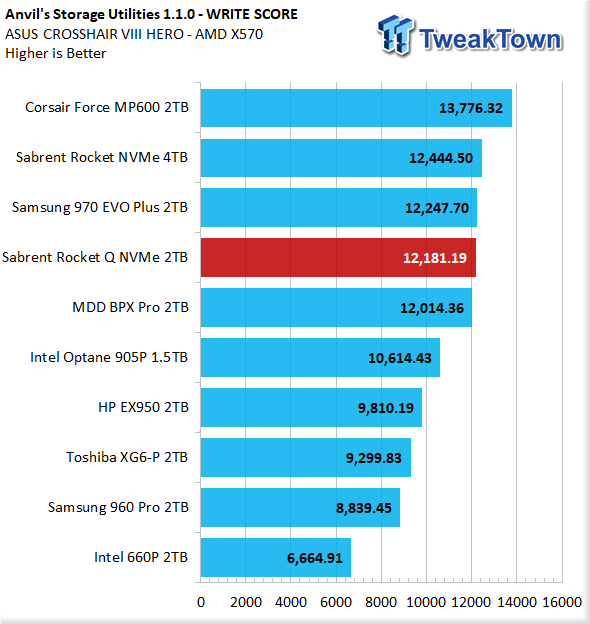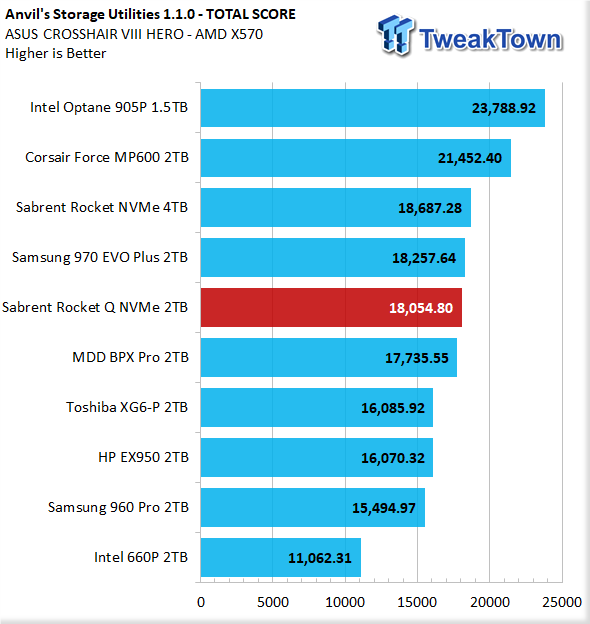 The Rocket Q comes very close to hitting the 6,000-point threshold we are looking for in terms of total read score. Our test subject comes in just below Samsung's 970 EVO Plus and beats out the MDD BPX Pro. This is quite a feat considering that we are dealing with QLC, which is at a disadvantage when reading back random data at higher queue depths. In terms of overall scoring, the Rocket Q delivers a remarkable 18K. Impressive.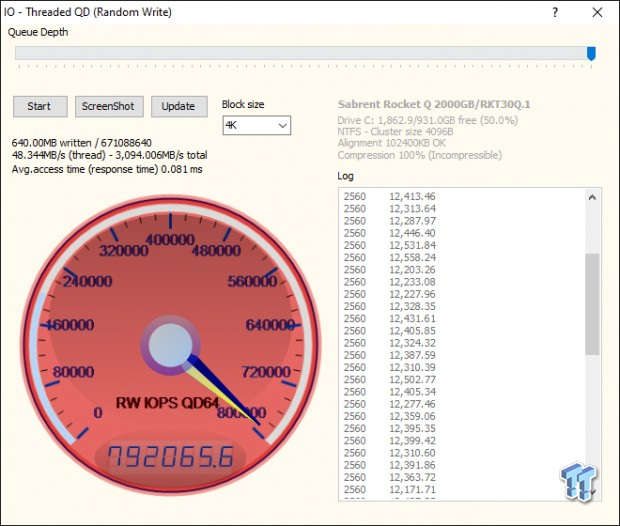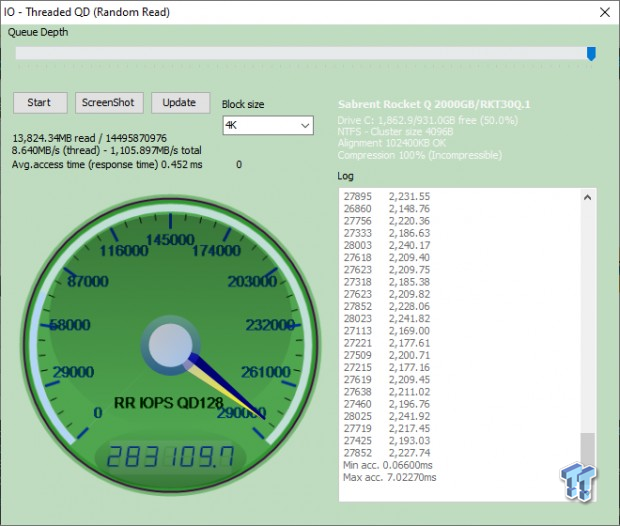 The read results serve to illustrate our assertion that QLC performance does suffer some at high queue depths. Random writes are happening in the drives SLC cache, and we see an impressive number of almost 800K.
Synthetic Benchmarks: AS SSD & ATTO
AS SSD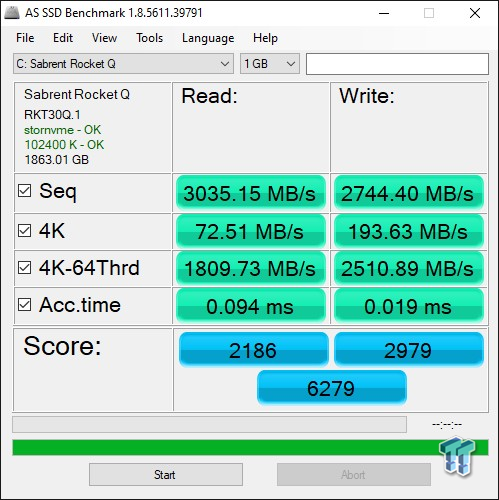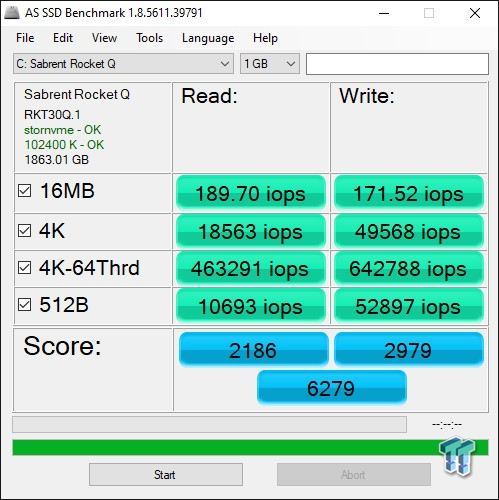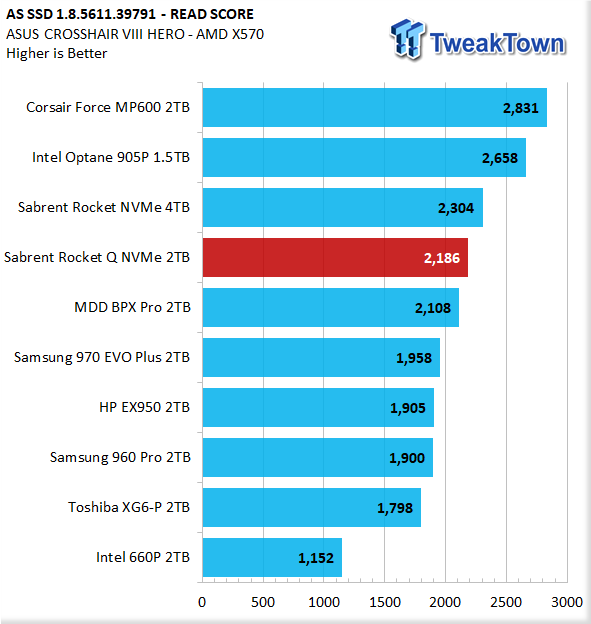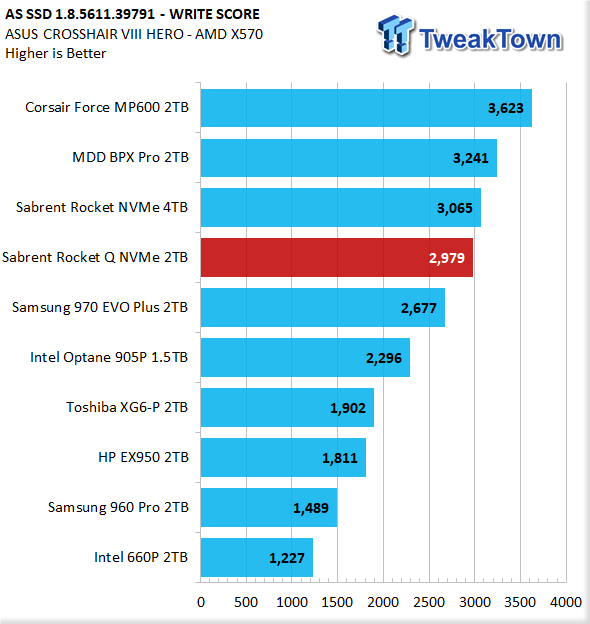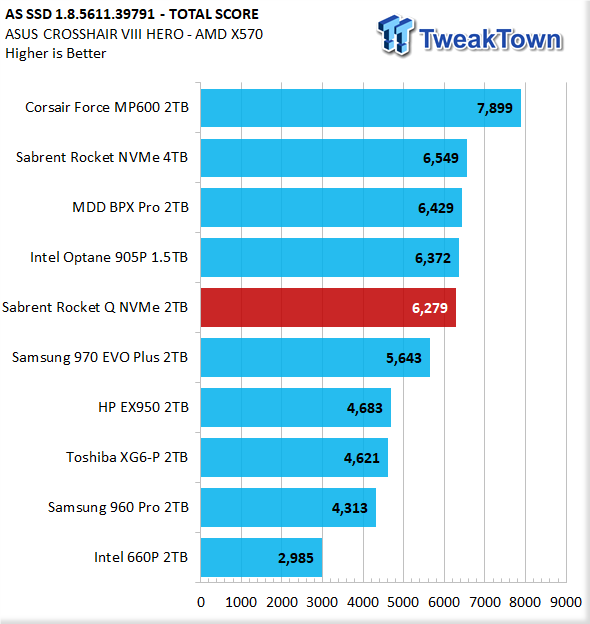 Phison powered SSD digest AS SSD's data particularly well, and the Rocket Q is no exception. The Rocket Q eviscerates the competition across the board. The only SSDs that can beat the Rocket Q are also powered by Phison controllers.
ATTO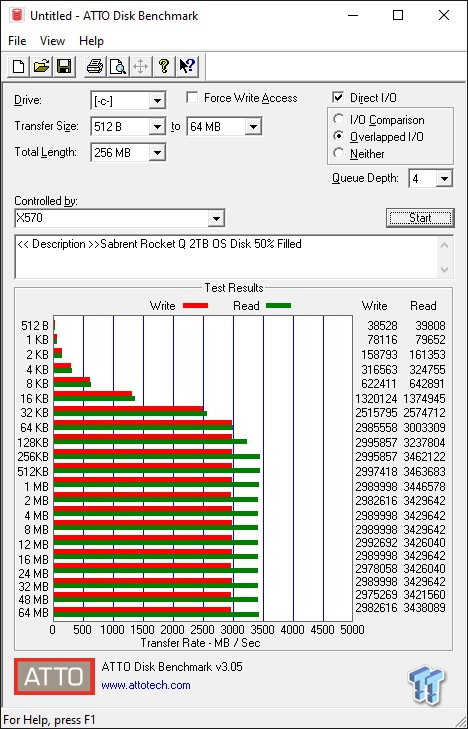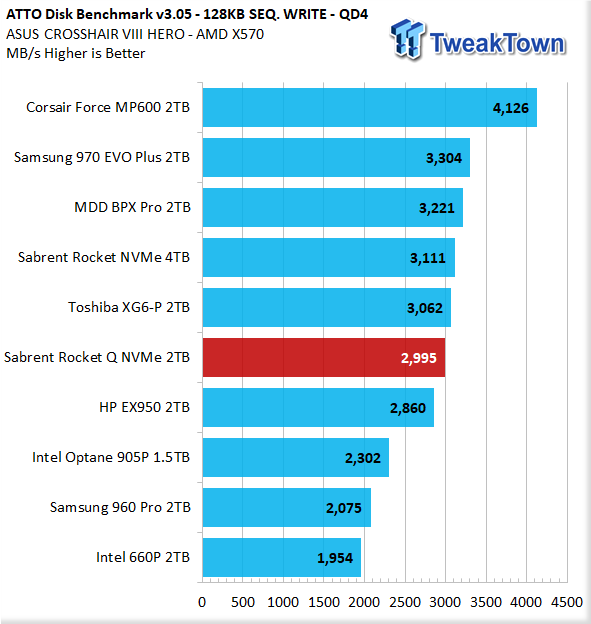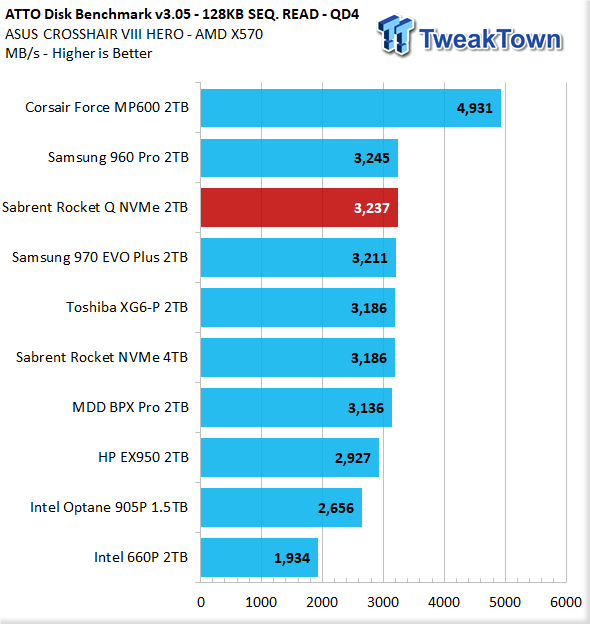 The Rocket Q serves up some fantastic sequential speeds at 128K transfers, most notably where we want to see it; when the host is reading data.
Real-World Testing: Transfer Rates & Gaming
Transfer Rates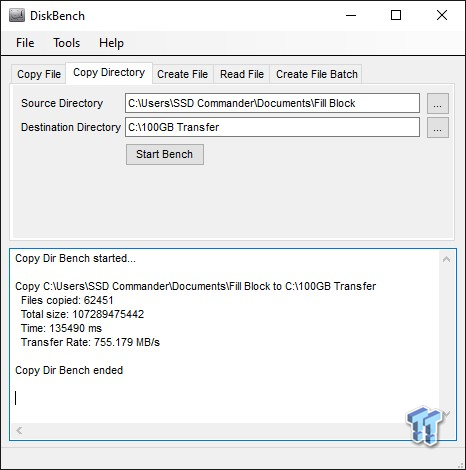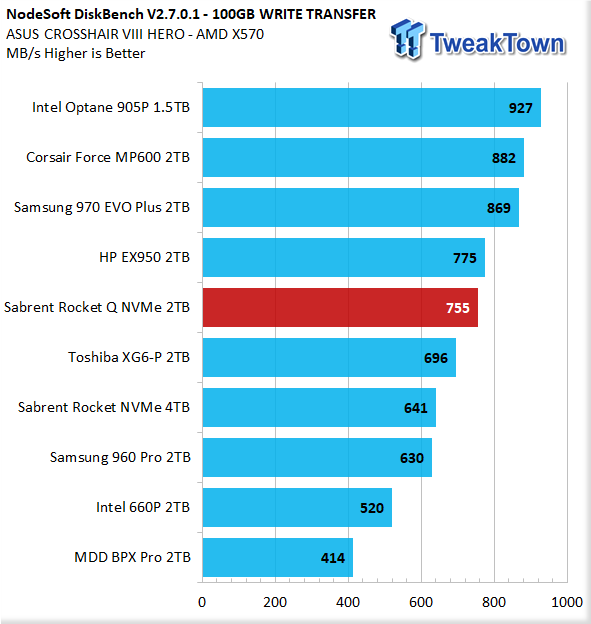 Our write transfer is 100GB in size and composed of more than 62,000 files. Not an easy test to be sure. The Rocket Q delivers a jaw-dropping result of 755 MB/s. Totally unexpected and a testament to the effectiveness of Phison's QLC firmware. So far, we've seen the Rocket Q delivering the goods better than many current TLC based SSDs.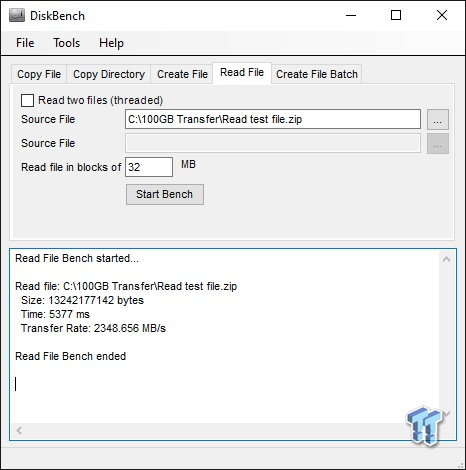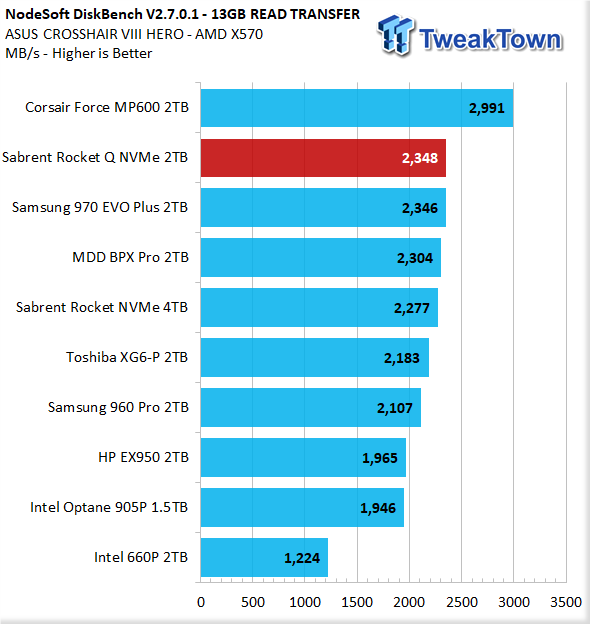 Reading back data is something the Rocket Q does very well. The only drive doing it faster is a Gen4 SSD. The Rocket Q is serving up data at nearly twice the rate of Intel's 660P.
Game Level Loading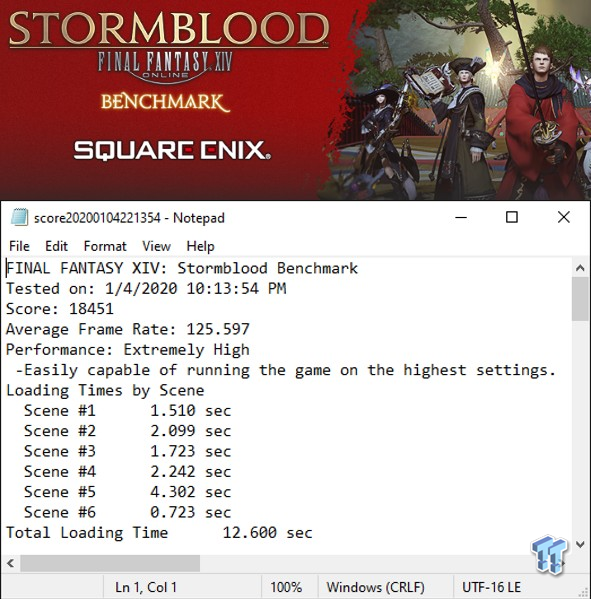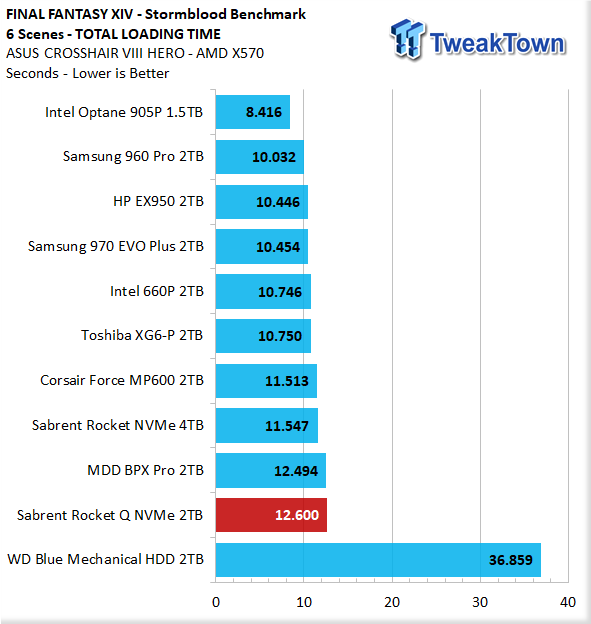 This time the Rocket Q takes a back seat to the rest of the SSDs in our test pool. The time delivered is still plenty fast, but we would like to see it come in a bit lower. We do not believe this is due to the drive's QLC flash array, but rather a firmware related issue that will be improved upon in the near future.
Real-World Testing: PCMark 10 Storage Tests
PCMark 10 Storage Test is the most advanced and most accurate real-world consumer storage test ever made. There are four different tests you can choose from; we run two of them. The Full System Drive Benchmark and the Quick System Drive Benchmark. The Full System Drive Benchmark writes 204 GB of data over the duration of the test. The Quick System Drive Benchmark writes 23 GB of data over the duration of the test. These tests directly correlate with user experience. Of the two tests, we feel that the Quick System Drive Test most accurately replicates a typical user experience.
PCMark 10 Full System Drive Benchmark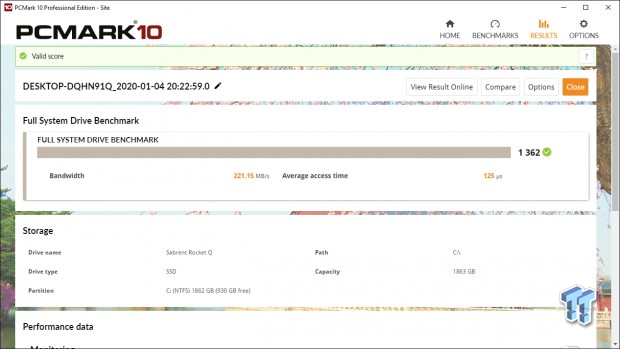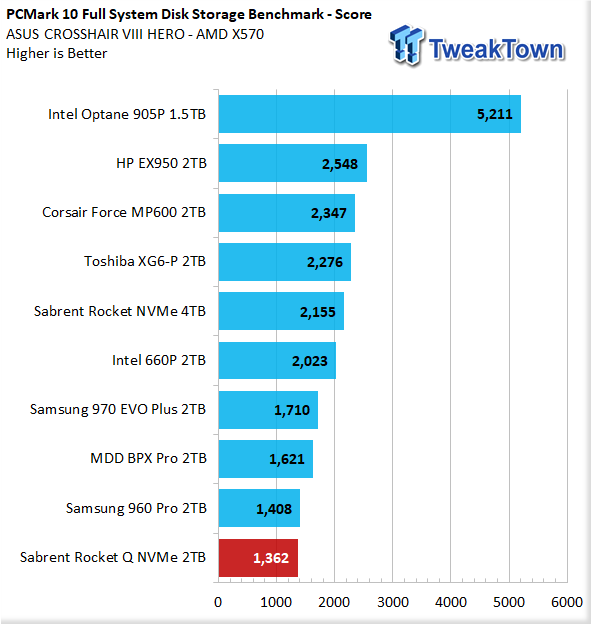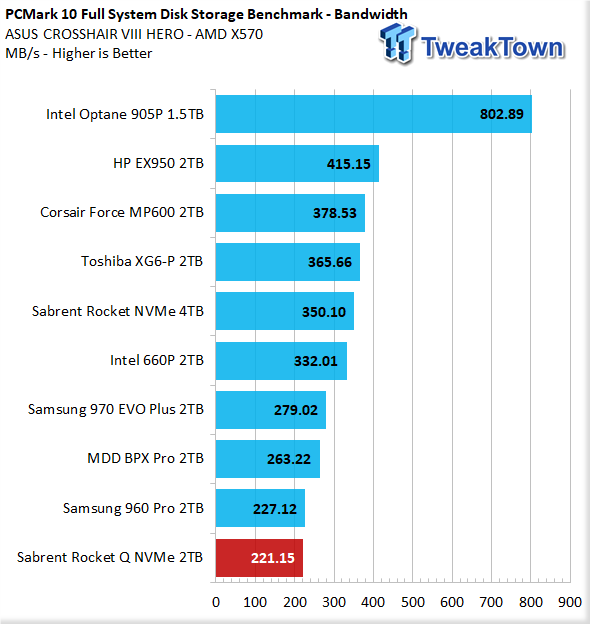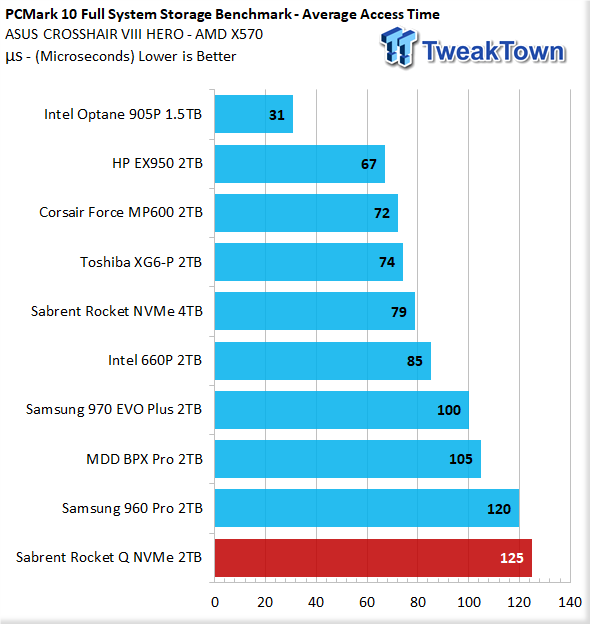 This test writes a total of 204GB of data, which proves to be a bit much for our QLC powered test subject. The Rocket Q falls to the bottom of our chart. However, it's still nearly as fast as Samsung's older 960 Pro SSD. Although acceptable, we would like to see a bit better performance here, but we will remind you that we consider the next test to be more important.
PCMark 10 Quick System Drive Benchmark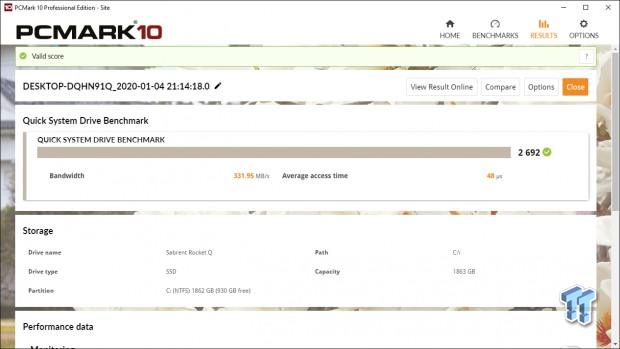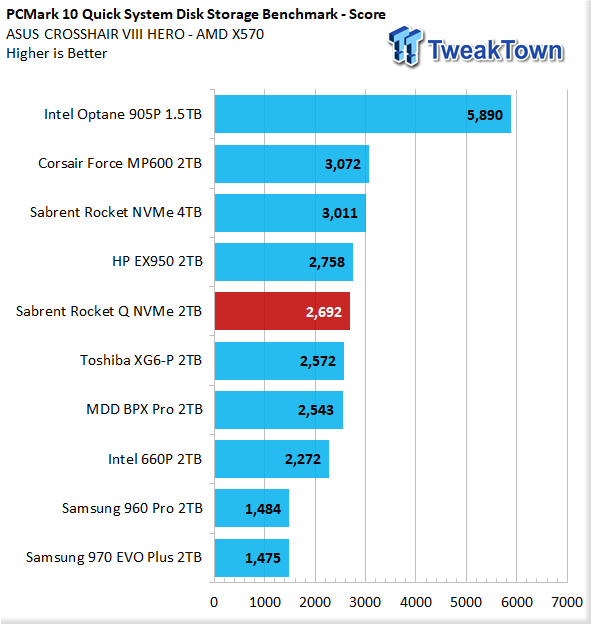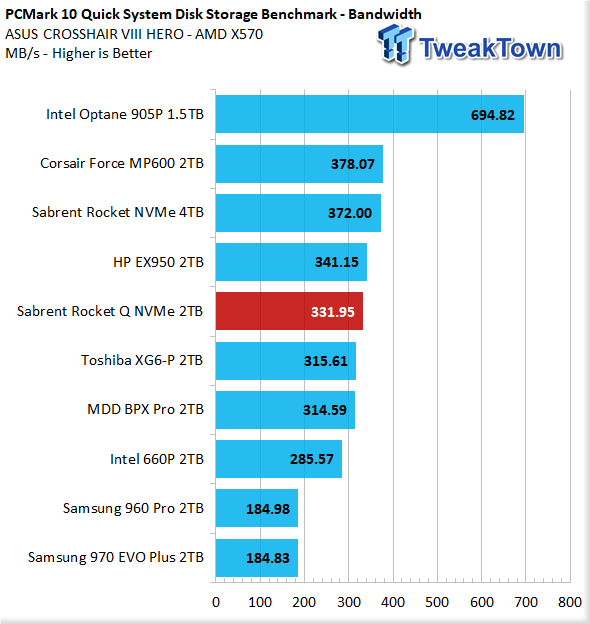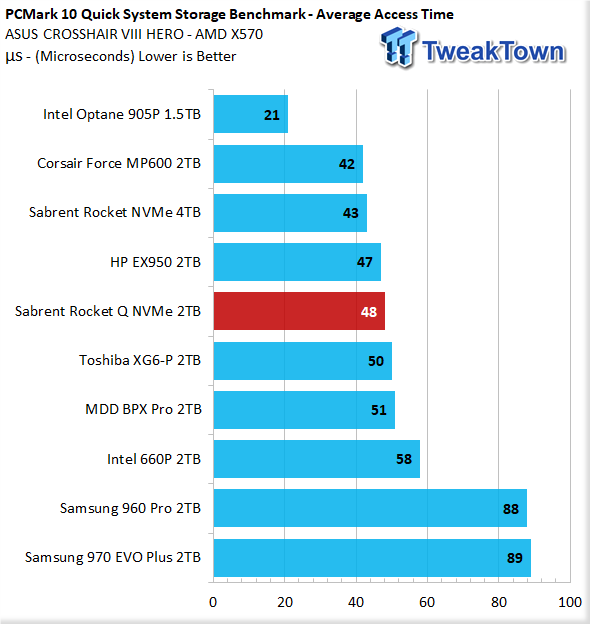 Okay, this is more like it! Fantastic performance coming from the Rocket Q. This is where we want to see great performance more than any other testing we do. The Rocket Q is outperforming a whole host of top-shelf SSDs, which is quite remarkable considering that it is the most affordable SSD of the bunch. This proves that for most consumer-related everyday tasks, the Rocket Q will deliver a tier-1 user experience.
Final Thoughts
This is our first experience with a Phison-powered QLC SSD, and we have to say we are pleasantly surprised. Sabrent's Rocket Q NVMe 2TB SSD is the complete package. It's super affordable, comes with all the bells and whistles that the end-user could need, and is backed with an industry-leading five-year warranty.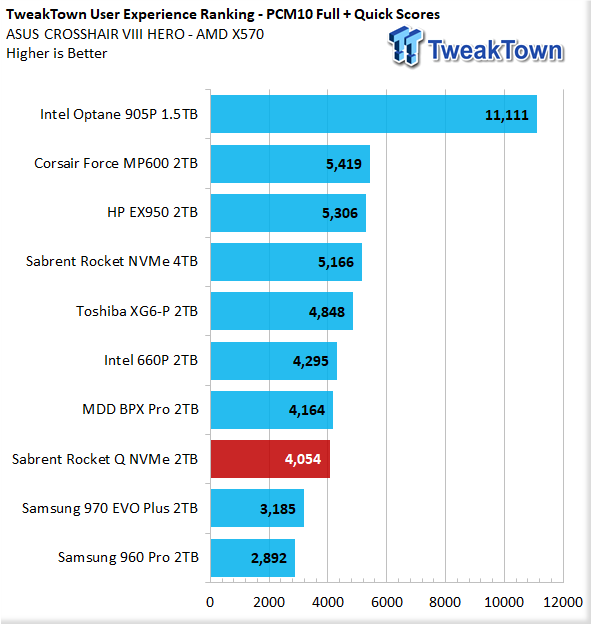 We can attest to the fact that running the Rocket Q as our system disk was overall an excellent experience. The drive delivers lightning-quick boots, it feels very nimble and capable when performing everyday tasks and while multi-tasking. As our user experience rating shows, Sabrent's 2TB Rocket Q NVMe will deliver a user experience that belies its price tag.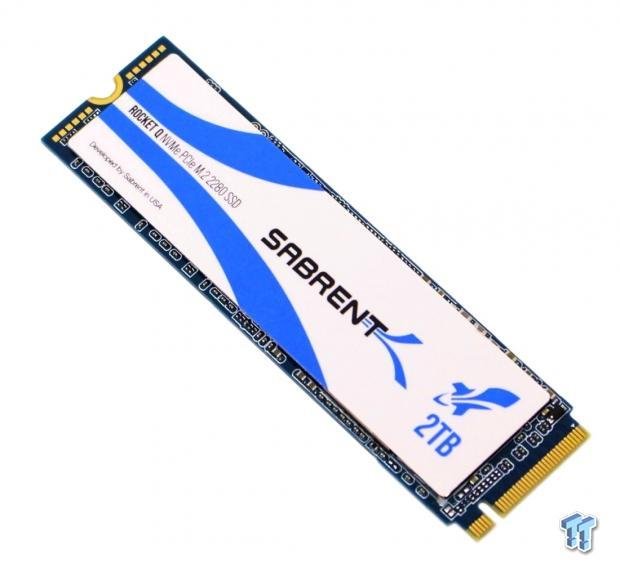 Looking back at our test results, we find the Rocket Q is a synthetic powerhouse, easily delivering sequential speeds that are as fast as anything else running on a Gen3 interface. When we get to transfer rates, we see the Rocket Q is actually a cut above most SSDs currently on the market, which we find remarkable for a QLC powered SSD.
Game level loading wasn't quite what we would like to see, but it's still in what we consider an acceptable range. Heavy workloads do kind of hammer it a bit, but when we get to normal consumer type workloads, the Rocket Q delivers exceptionally well, and that is what really matters.
Sabrent's Rocket Q NVMe 2TB SSD is TweakTown approved and highly recommended.
Pros
Affordability

Capacity

Endurance
Cons
| | |
| --- | --- |
| Performance | 86% |
| Quality | 95% |
| Features | 95% |
| Value | 98% |
| Overall | 94% |
The Bottom Line
Sabrent's Rocket Q NVMe SSD is QLC done right. It's a top value product that will not disappoint.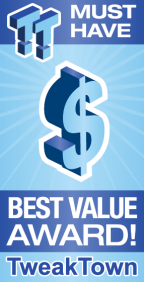 We openly invite the companies who provide us with review samples / who are mentioned or discussed to express their opinion. If any company representative wishes to respond, we will publish the response here. Please contact us if you wish to respond.