TweakTown's Rating: 95%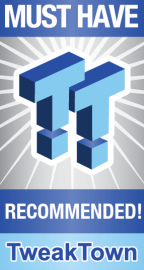 The Bottom Line
FSP delivers a robust SFX solution in the Dagger Pro 650W Gold SFX power supply. It handles a full system sustained load while keeping cool and manageable. The Dagger Pro is a solid choice for any SFF build.
Introduction, Specifications, and Pricing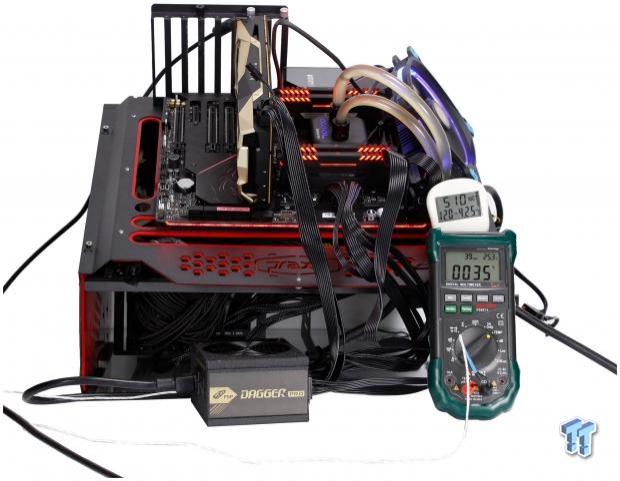 We have tested the big unit, the Hydro G 1000W, recently, so we were due to take a look at the smaller of the units from FSP. FSP, as many are aware, may not be of the same popularity or notoriety as some of the more well-known brands such as Seasonic, EVGA, Corsair, and Thermaltake. However, FSP OEMs for many manufacturers, and you may not even know it.
The PSU we have today is an SFX unit, which means it's much smaller than standard ATX and is made for smaller form factor systems. SFX and SFX-L being much smaller mean that you obviously cannot fit nearly as many components, which means wattage availability will be limited. The technology has improved, and we have seen wattages grow north of 700W while offering efficiency rise up to platinum in some units.
Key features for the Dagger Pro SFX from FSP are listed as follows:
Compliant with latest SFX12V V3.3

Efficiency ≧ 90% at typical load

MIA IC (Multiple Intelligence Ability) chip set inside

Semi-fanless design for silent operation

Quiet and long-lasting 92mm ball bearing fan

All black ribbon cables

Powerful single +12V rail design

Full Japanese electrolytic capacitors

Intel Latest CPU ready

Full protections OCP, OVP, SCP, OPP, OTP
The MIA IC is a fascinating inclusion as it lists via FSP material as "An integrated power solution of FSP's own patented IC design with DC-DC module ensures solid power delivery to your system." This means that FSP developed its own controller to manage voltage regulation and means this supply should have top-notch power delivery. However, we must take marketing for what it is and place it under some real-world load to know what it can do.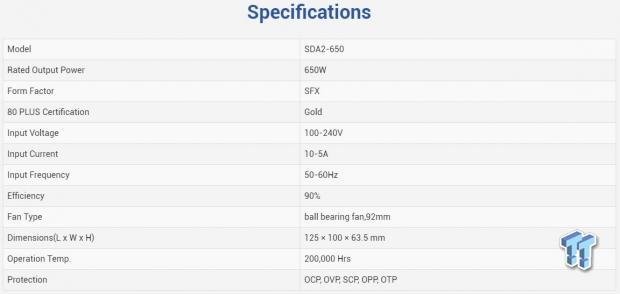 The Dagger Pro we have today is the 650W model, which carries a part number of SDA2-650. There is also a 550W model for those who don't need the overhead available from the 650W model. The Dagger pro is Gold rated.

Here is the output table for the Dagger pro, and as you can see, it has a nominal rating of 54A on the +12V. This will be where our CPU and GPU will be pulling from primarily, while the lower rails will be used for various other components on the board and components.

Lastly, we take a look at the efficiency and noise charts supplied by FSP. The output chart shows over 90% efficiency at 20% - 50% load, which is what is considered a 'typical load.' Even at 115V AC input, such as here in the states, the efficiency never drops below 86% at the extreme top or bottom end, although I do not expect many to load a PSU to 100% simply because you are ensuring your system will fail.
The price for the Dagger Pro 650W shows up to the market at $114.99, which is quite a bit less than the comparable SilverStone 650W gold SFX unit at $144.99. Looking at SFX options in the 600 - 699W range, the next closest PSU in the stack would be the Thermaltake Toughpower SFX 600W Gold or the Corsair SF600, which is $139.99. It is, however, worth noting that the Corsair unit is platinum rated, which gives you a small bit more efficiency.
Shannon's Power Supply Test System Specifications
Packaging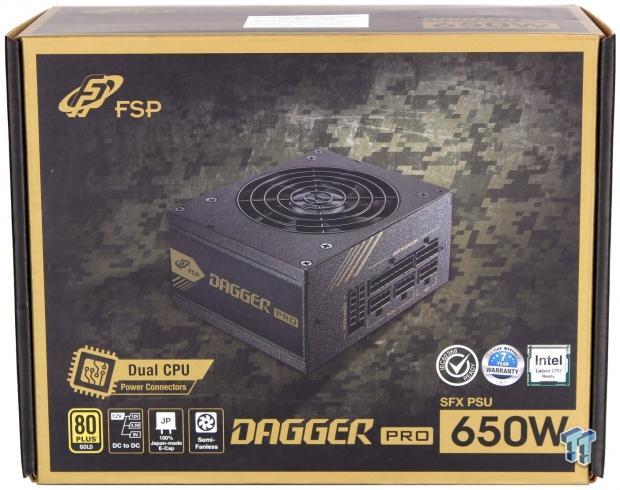 The front of the packaging shows the dagger pro along with a background of digital camouflage, so we must assume this is the theme of the Dagger Pro SFX units. It, of course, contains several icons of note, including a 7-year warranty. One particular interest is the dual CPU power connectors, which means that you can hook up two EPS connectors should you have a high draw platform. That is admittedly a strange addition being SFX is made for small form factors.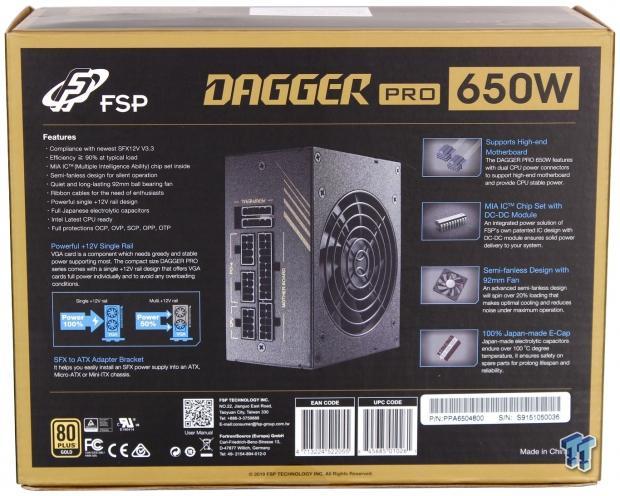 The rear of the package has a few of the previously listed features form the website and also the dual CPU power connectors listed again. It also has several inventory control barcodes in place here and a myriad of certification logos. The left-hand side has a single rail listing, which I find the chosen pictographic representation amusing as a multi-rail PSU. It is shown as only powering your GPU partially (50%), which is not really how multi-rail PSU's work, but we will stack that one up as more marketing stuff.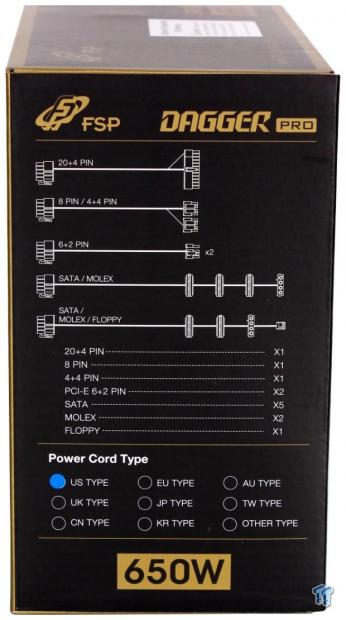 The smaller side of the package shows the cables the Dagger Pro comes with along with a listing below it. This is designed to show how many connectors of each type are included. There is also a checkbox for what AC input cable type is included.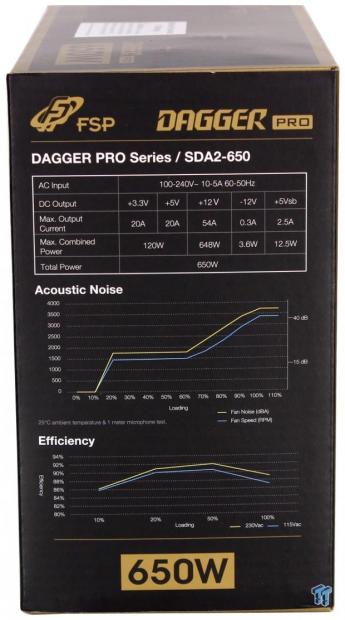 The opposing side shows the output table along with the acoustic and efficiency charts we explained previously.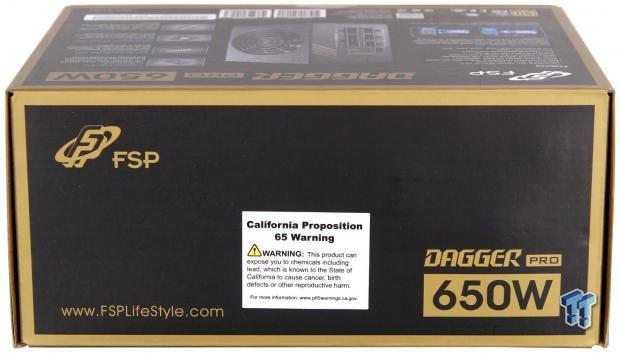 The lid of the packaging that you see before opening has the white California prop 65 decal as we saw on the Hydro G unit we looked at previously. This is just a notice that components within the PSU or included may contain harmful chemicals as most electronics do. The lesson for today, don't eat solder.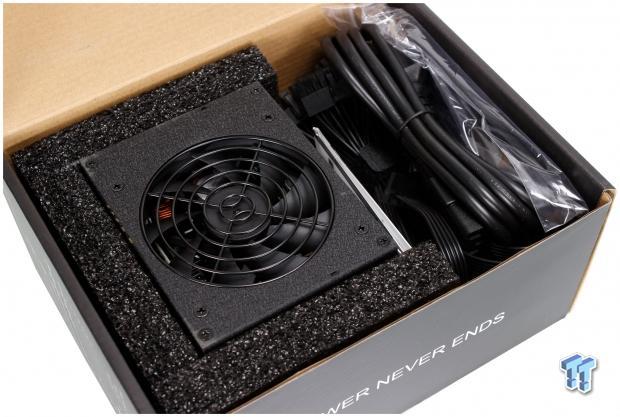 Opening the packaging and the Dagger Pro SFX greets us encased on three sides by Polystyrene style foam with the bundle of cables and accessories sitting adjacent to it.
Hardware & Documentation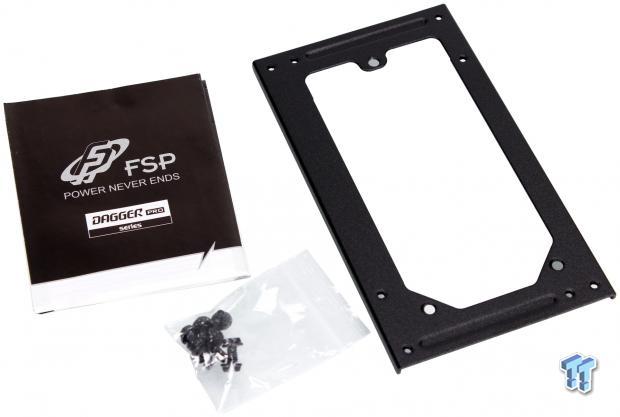 Here is everything that comes as accessories for the Dagger Pro 650W Gold SFX Power supply:
Multi-fold manual

SFX to ATX adapter

8x PSU mounting screws
The Dagger Pro SFX comes with an ATX adapter, which makes sense as the PSU includes a dual EPS connector. Dual EPS is a feature that is only found on larger performance series boards, and therefore this will fit those who opt for a smaller PSU in their full-size build, or maybe even a custom build chassis. The amount of screws is a bit much, but I will always take having extra of something over not having enough.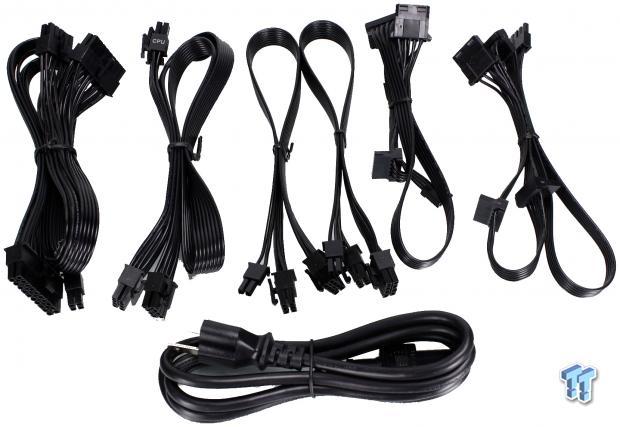 Here we have the input (AC) and output (DC) cables. The CPU cable contains a single output from the PSU, which pigtails off to two EPS 4+4 connectors similar to what we see with GPU leads. The two GPU leads are both 6+2, and two peripheral cable sets are included with variations of SATA and PATA connectors to fit your build best.

Here we have the breakdown from SFX of the number f connectors included with the Dagger Pro SFX Gold 650W.
Dagger Pro 650W Gold SFX Power Supply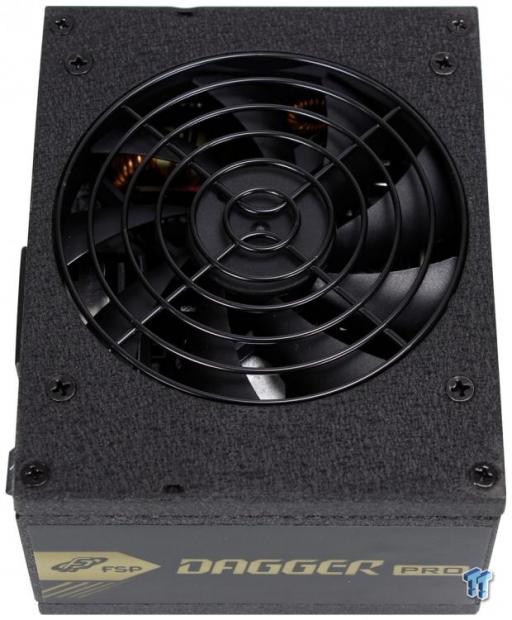 First up is the fan side, which shows the integrated 92mm fan. The fan will not even start until over 20% loading, so normal desktop usage will likely not need the fan spinning and will run passively.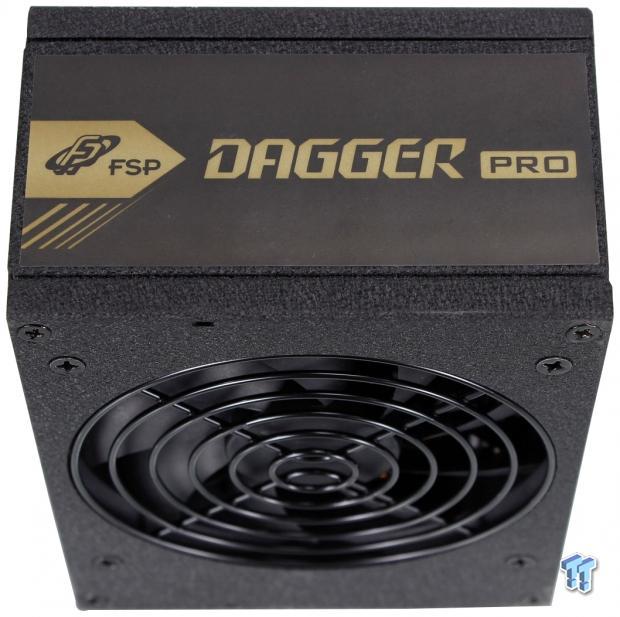 The side decal is simple and almost feels like a paper label. The case has a textured paint finish, so you could remove this label for a clean textured finish if you do not like the decal styling or if the PSU is visible in your build.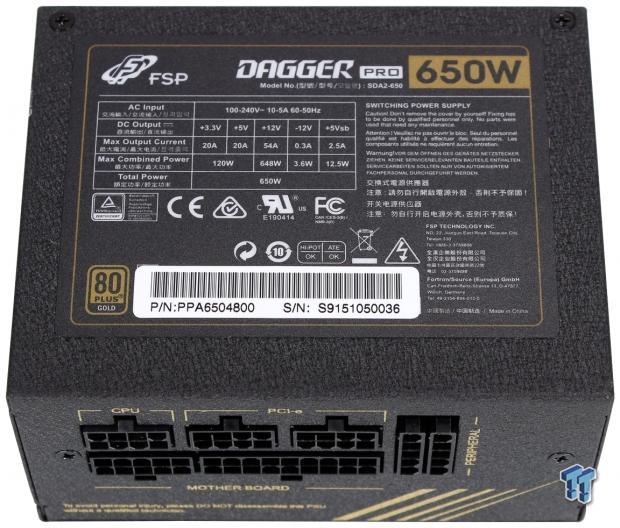 The side opposite of the fan is where we find the sped table decal. Here we see the serial number label and a broad array of safety and certification logos. The output table is also here directly on the unit in case you needed to reference it.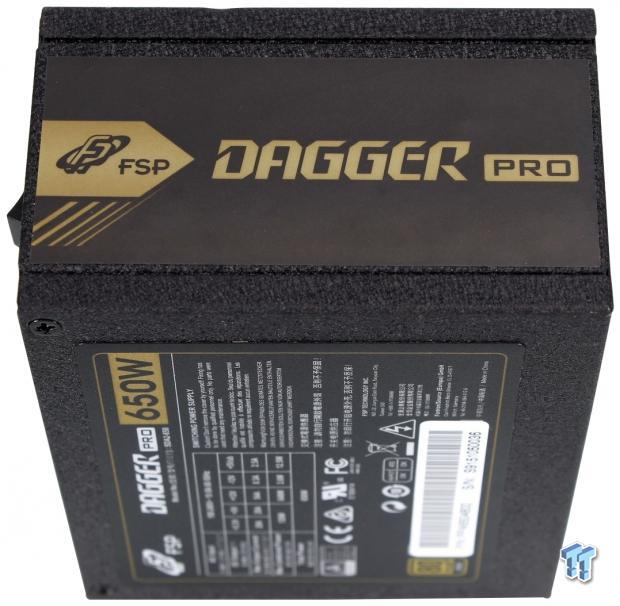 The small opposing side shows another of the same decal as the other side.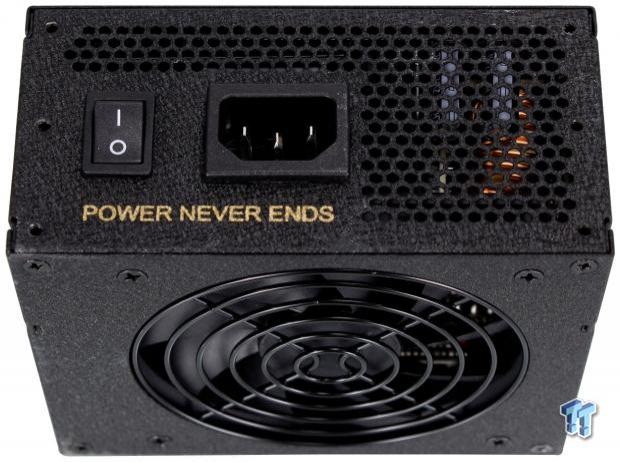 The input side of the Dagger Pro 650W Gold SFX is simple, having the power toggle and the AC input connector. The 'power never ends' slogan is found here, as we observed on the Hydro G, which we looked at previously.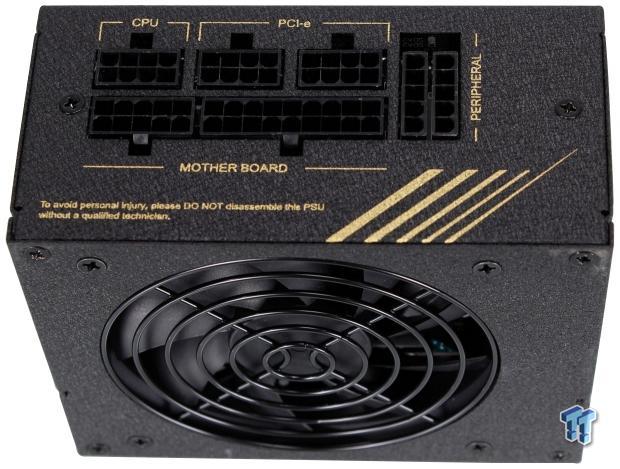 The output side of the unit shows the modular connectors. The Dagger pro employs enough connectors to fit every cable included; just be mindful that each GPU lead has a single connector, which means that only one GPU could be used with this unit. This is quite smart of FSP as it avoids most users from exceeding standard loading capability if the GPU cables were pigtails splitting off to two 6+2 connectors that would likely exceed the capabilities of the unit.
Real World Test System & Observations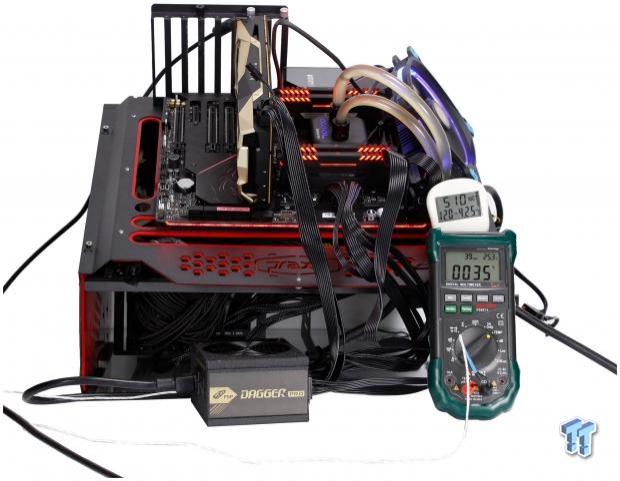 The first test was to put the fire to a TITAN V and the 2990WX to gulp power from the Dagger Pro unit. As you can see, AC draw reached 510W, and after an hour of testing, we saw a max temperature of 35C, which was good to see that such a heavy load the unit stayed in the mid-30s.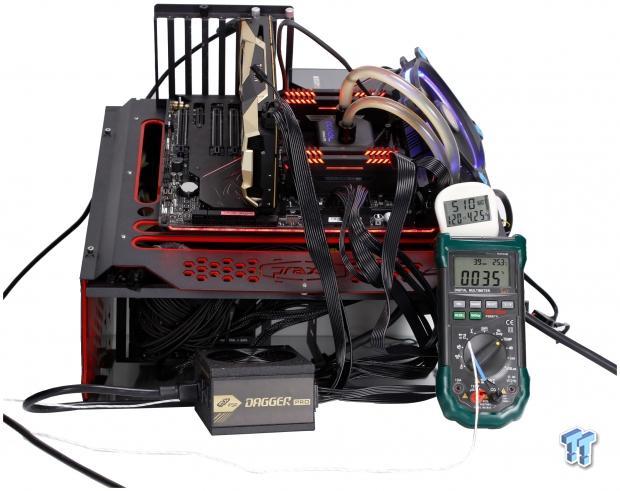 The Dagger Pro cannot support any more GPUs due to limited cabling, so we had to go another direction to increase loading. With that, we started pushing the CPU to get more draw from the unit. This is why I selected the 2990WX as a suitable load during real-world PSU testing as it is one of the hungriest CPUs we have had to date.
Turning the wick up a bit, we got the AC draw to reach 775W. This was the limit of what we could draw effectively for sustained loading, and the Dagger Pro sustained this load admirably, only reaching 40C after over an hour of loading.
Final Thoughts
When testing an SFX supply, I am always interested to see how companies can pack components into such a small unit. More surprisingly is seeing how far they can go under a real-world loading. As I always say, I would never recommend pushing a supply to its rated limit as this will increase wear and omit the efficiency of the unit. This, however, is proof positive that the Dagger Pro 650W Gold SFX can meet the needs of a reliable small form factor build; however, don't push it as far as we did.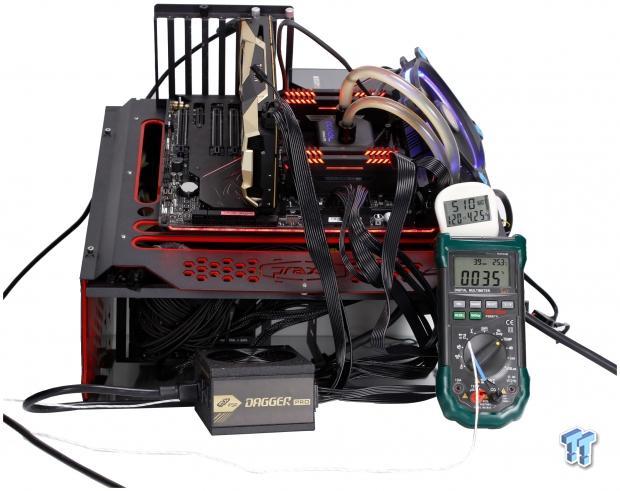 What we like about the Dagger Pro 650W Gold SFX is, first and foremost, the price. The price point makes this one of the most inexpensive of the SFX options at its class. The inclusion of dual EPS connectors is exciting and works well when we tested it. The fact that such a small unit can run passive at standard desktop loads is admirable.
As far as dislikes, it is a tough nut to crack for the Dagger Pro as it does everything it should. The only detriment would be that I could not find a short cable kit available for the unit, and with small form factor builds, I think an optional cable kit is a welcome addition for builders similar to what we see from SilverStone.
At the price point of $114.99, the Dagger pro is a leader in its class. It performs as it should, has the necessary connectors to support its output rating, and does so while staying at a max recorded temperature of 40C at the exhaust side.
FSP has made a robust Power supply for small form factor fans or even those looking to fit a smaller unit into their more massive build. The Dagger Pro SFX does its job well and has a 7-year warranty to ensure if it has an issue, you are covered.
Shannon's Power Supply Test System Specifications
| | |
| --- | --- |
| Performance | 97% |
| Quality | 95% |
| Features | 90% |
| Value | 99% |
| Overall | 95% |
The Bottom Line
FSP delivers a robust SFX solution in the Dagger Pro 650W Gold SFX power supply. It handles a full system sustained load while keeping cool and manageable. The Dagger Pro is a solid choice for any SFF build.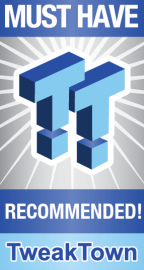 We openly invite the companies who provide us with review samples / who are mentioned or discussed to express their opinion. If any company representative wishes to respond, we will publish the response here. Please contact us if you wish to respond.