FSP Hydro G PRO 1000W Power Supply Review
FSP's Hydro G PRO 1000W PSU gets investigated today as we work out if it's a power supply to consider or not.

Published
Manufacturer: FSP (PPA10A2401)
9 minute read time
TweakTown's Rating: 94%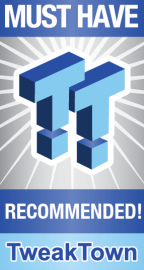 The Bottom Line
FSP made quite the stout PSU option with the Hydro G PRO 1000W. The supply can exceed its capabilities with stability and performance to keep your PC running for years to come.
Introduction, Specifications, and Pricing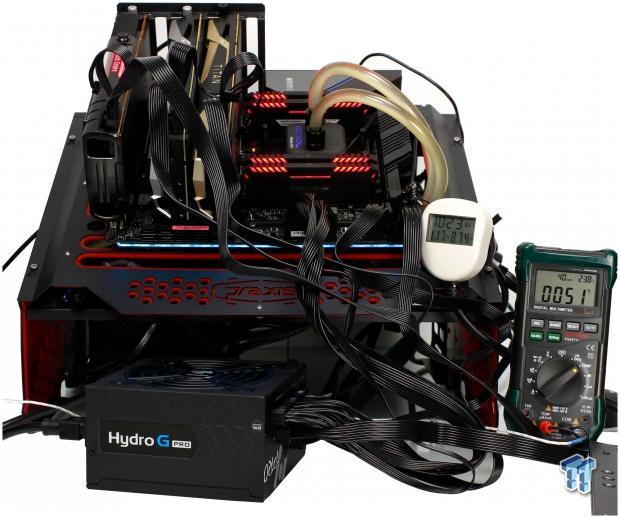 FSP is probably one of the lesser known named to many users as they tend to see those like Corsair, EVGA, and others before knowing who FSP even is. However, it is worth noting that many manufacturers or companies use FSP. Those companies use FSPs platform as an OEM for their PSU models. This means that FSP has chops in many cases to create some excellent products.
Today we have the Hydro G series, which is odd since I first saw the FSP hydro series with the Hydro PTM models. Those models had an integrated Bitspower water block to cool some components, bit now the Hydro name seems to be sticking around but sans liquid cooling parts.
Some of the key features FSP promotes for the Hydro G would be:
Compliance with newest ATX12V V2.52

Efficiency ≥ 90% at typical load

Intelligent fan speed control

Quiet and long-lasting 120mm FDB fan

Ribbon cables design for enthusiasts

Powerful +12V single rail design

Full Japanese electrolytic capacitors

Full protections: OCP, OVP, SCP, OPP, OTP

Conformal coatings for harsh environments

Intel Latest CPU ready
The FSP Hydro G PRO unit has the necessary suite of certifications along with a lot of useful features to ensure users have a better experience. The conformal coating to allow operation in up to 95% RH is fantastic, as that means that there is less worry for small liquid issues, although I would not recommend pouring fluid of any type into your PSU to test this claim. Newest ATX compliance is also useful as it ensures that all of the new platform power features work as expected, including extremely deep sleep and almost 0W sleep loads.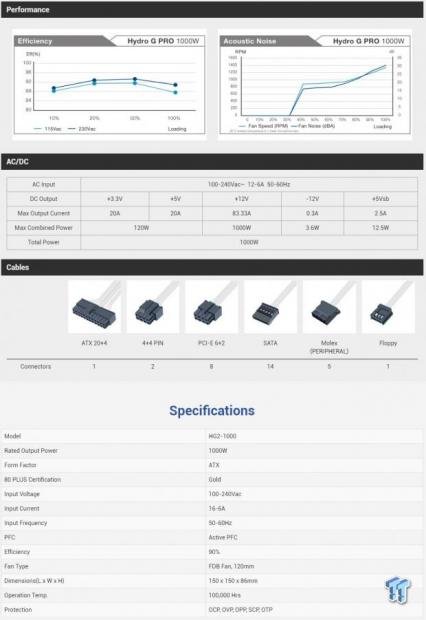 As previously mentioned, the PSU we have today is a 1000W unit in the Hydro G PRO lineup. The model number, if you look at the FSP website, is HG2-1000, while the label on the box shows a P/N of PPA10A2401, so with that, I listed both. However, it seems that HG2-1000 is the most applicable with a quick Google search. The PSU measures square with a 150mm length and width, while the height is standard for ATX PSUs at 86mm. This is almost the smallest you can realistically get a higher-end PSU which will be 140mm length. This means potential space savings where you can tuck more cables in front of the PSU as needed.
The FSP Hydro G PRO 1000W has a current running price of $165.99 at Amazon, and this is at the lower-end of 1000W pricing. Gold units the Hydro G PRO will compete with would be Seasonic FOCUS Plus, Antec HCG1000 Extreme, and the Phanteks Revolt Pro at a similar price point. I could not in good conscience include the EVGA 1000GQ in the listing due to it being semi-modular. The fully modular SuperNOVA edition is about $20 - $25 more expensive, depending on where you shop it.
It will be interesting to see how the FSP Hydro G PRO performs under load in our real-world test rig. We will see under real workloads, how much pain the FSP can handle.
Shannon's Power Supply Test System Specifications
Packaging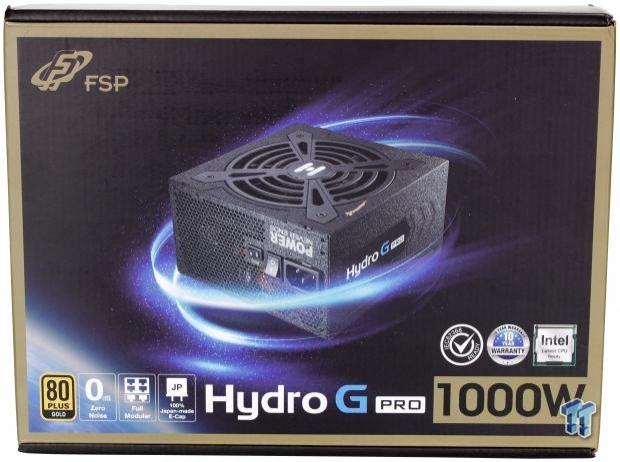 The front of the Hydro G Pro packaging has a stylized image of the PSU with its default labels (more on that later) and some colorful swoosh graphics circling the unit. The front also has some feature icons listing the following:
80 PLUS Gold

0dB zero noise fan mode

Fully modular cables

100% Japanese made capacitors

IEC62368 Ready

10 year warranty

Intel latest CPU ready
This is a stout mix, and the 10-year warranty is excellent, and it has also become a standard among top-end PSU manufacturers now.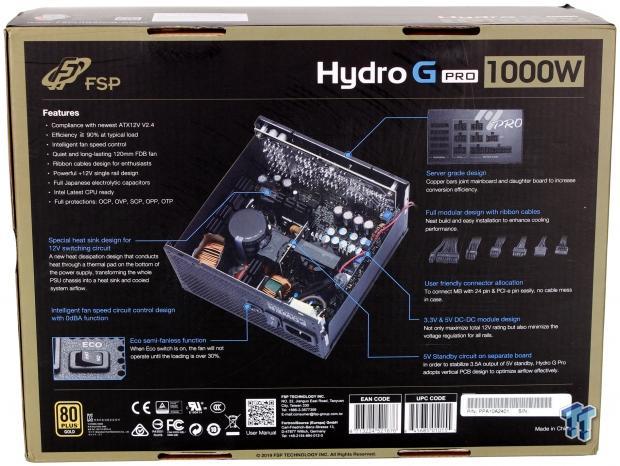 The rear of the package shows an opened up Hydro G PRO PSU. Many of the components, which many of you may not know or be familiar with. But FSP does a reasonably decent job of explaining what they are showing and how their design can be beneficial for you. The use of thermal pads to effectively make the PSU case itself a passive heat sink for the PSU is a good idea and enables heat to be pulled from the components and using the case and even the chassis itself to wick it away.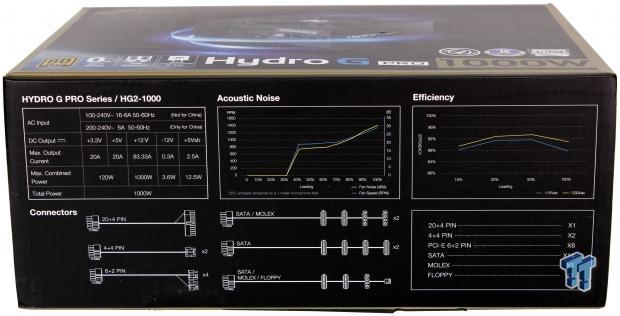 On the side of the package, we have the output breakdown chart. We also have fan speed/noise graphs and efficiency graphs running adjacent. Then we have visual depictions of the modular cables along with a listing of how many of each connector is available.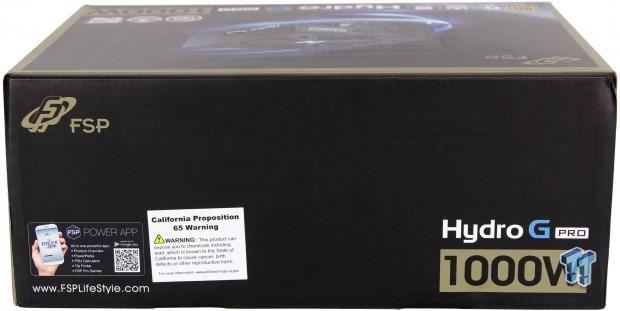 The other large side panel we have the name, a QR code for an FSP app, which strangely includes games and a warning label. The warning is the bog-standard warning most electronics have to apply with their prop 65 warning label requirement for materials known to potentially cause health concerns such as lead, which is used in many solders and other materials.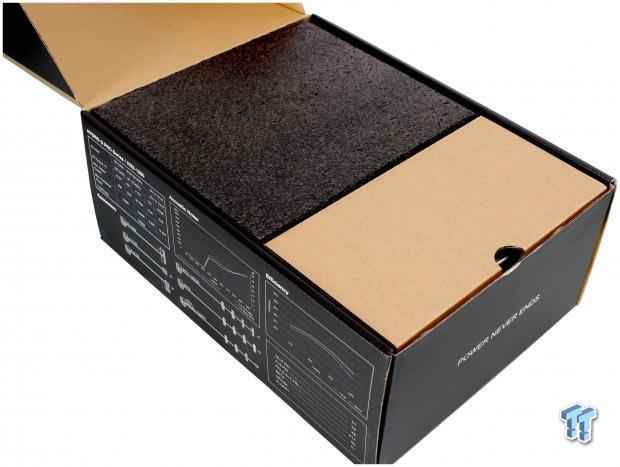 When opening up the Hydro G PRO, the PSU itself is encapsulated within a soft polystyrene shell. The accessories and cables are in the cardboard separator we see next to the dark foam shell.
Hardware & Documentation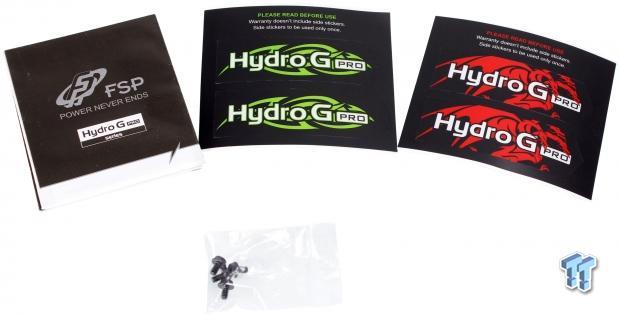 The bulk of the accessories is what you see here. There is the manual, along with a set of mounting screws and two other side labels. The labels are stickers and can be applied to the sides of the PSU if you prefer the more aggressive and colorful aesthetic to match your system build.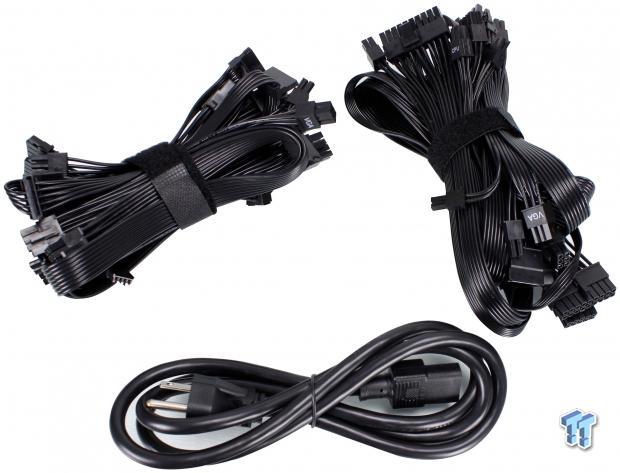 The PSU cables come in two bundles, and then the primary AC input cable twist-tied on its own.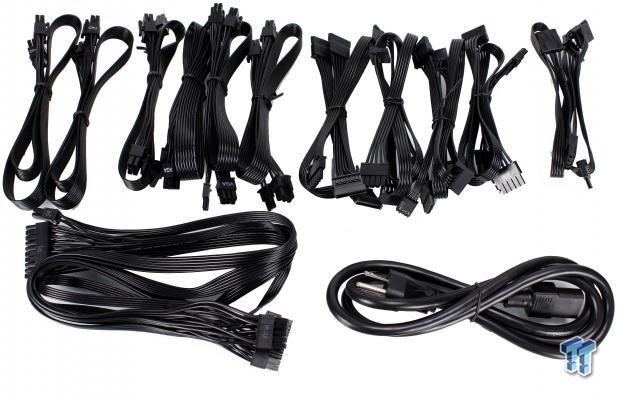 The modular cables are as follows.
Main ATX Cable (24-pin)

2x CPU 4/8-pin EPS connectors

4x GPU leads, each with 2x 6+2 connectors

2x SATA Leads, each with 4x SATA power connectors

2x SATA/Molex leads, each has 2x SATA and 2x Molex (PATA)

1x SATA/Molex/Floppy, has 2x SATA, a Molex (PATA) and Floppy connectors
The mixing of PATA connectors with SATA is cool as it eliminates the need for a PATA lead if you only need one of them. This has the potential to remove a cable entirely if the SATA/Molex lead can cover what you need.
Hydro G PRO 1000W Power Supply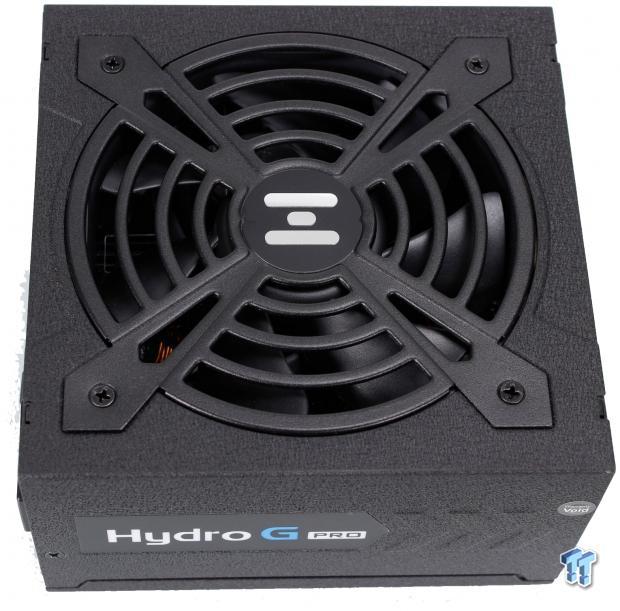 The fan side of the Hydro G pro shows a textured finish on the PSU case. There is also a stylized grille covering the FDB fan. The grille is recessed so that it should ensure less likelihood of hang-ups on some chassis, which require rear insertion of the PSU, which may have a very tight opening.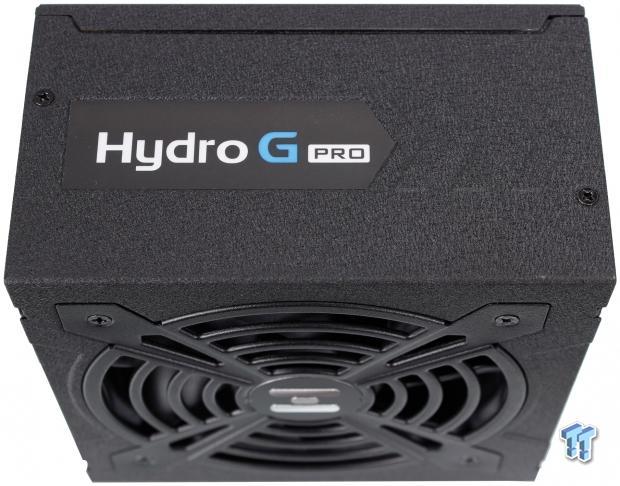 Here we get a look at the default and much more subdued label styling. This is where those accessory labels we looked at previously would be applied. The textured finish of the PSU seems to do well on the fingerprint test. The textured finish hides the oils well and could even help with scuffing as well, although we did not test this.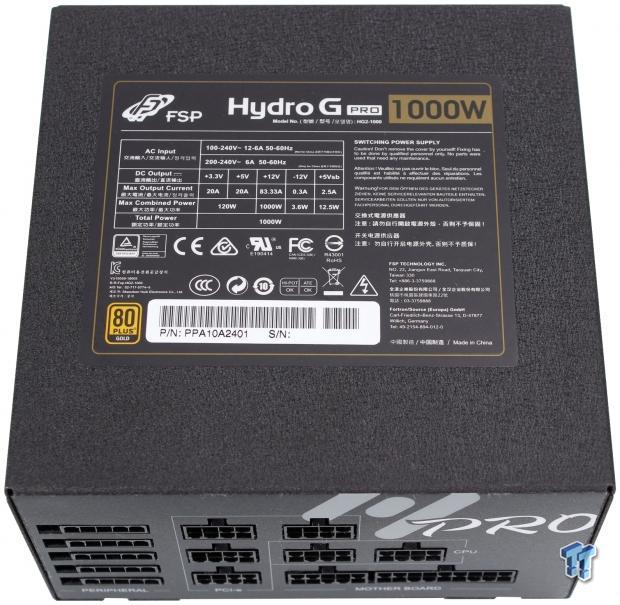 Here we get a look at the spec label for the Hydro G PRO and the output capabilities for what the PSU is rated for.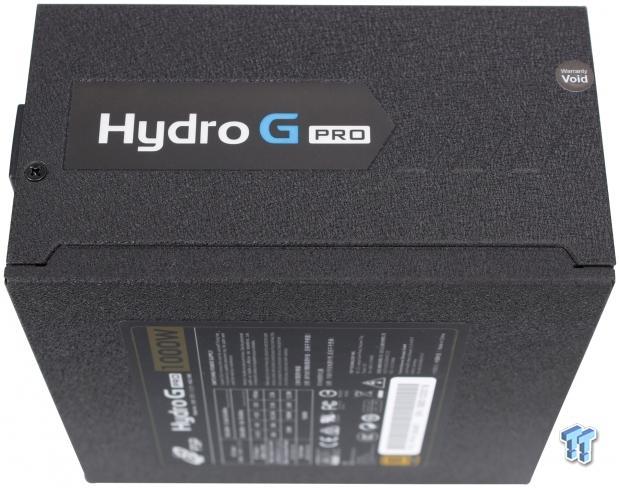 Here we see the opposing side with the same label applied, which can be replaced the same as the other side. One thing we see here that we do not like is the 'warranty void' sticker, which is illegal here in the United States thanks to the right to repair act. I am sure that the labels are kept in place for regions in which they can enforce this policy. However, it is worth noting that the Hydro G PRO carries the 10-year warranty, and therefore the likelihood of you needing to repair your PSU is quite unlikely.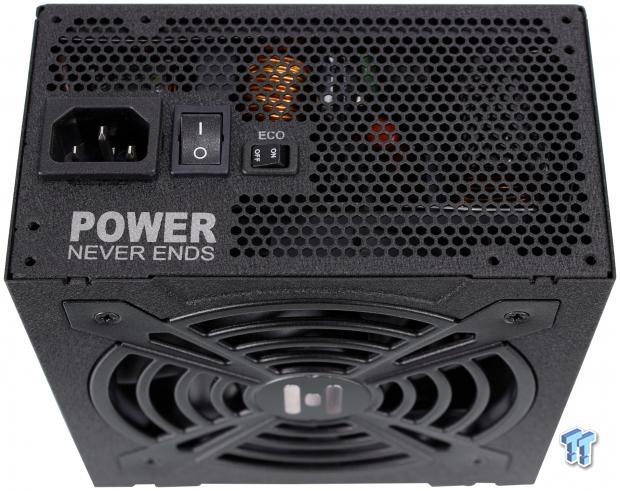 Here we have the input side of the PSU or the part which generally will face out of your PC case and accept the AC input cable. Here we find the standard fare connection along with a power toggle and an ECO mode switch. The ECO mode switch toggles the 0 RPM fan function to allow fan-less operation until load or temps require the fan turn on. The FSP tagline' power never ends' is found here printed on the PSU as well.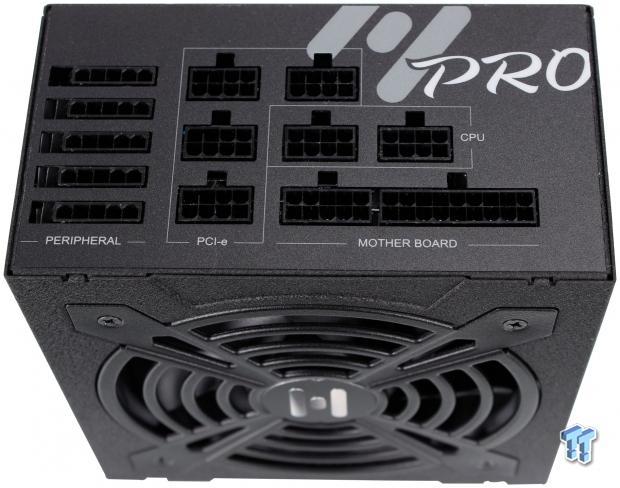 The modular board on the Hydro G Pro has marked sections for the cable connections you will need. The motherboard 24-pin is split into two unequal parts, which will aid in ensuring that the connectors could not be inserted into the incorrect location. The EPS connector location is keyed differently from the GPU connectors. Some PSUs have all of those the same and just wired differently on the cable to match needs. But this solution works well to avoid any oopsie moments.
Real World Test System & Observations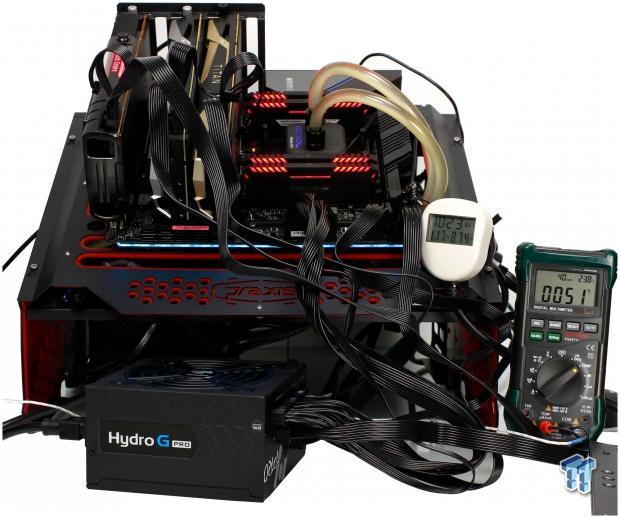 We started with our test system, which is an ASUS Zenith Extreme Alpha running 32GB of RAM and a 2990WX CPU for maximum power pull. We then proceeded to add one card at a time to assess noise and performance as the load grew. With the three cards you see here, and we observed an input of 1023W with the bench running both CPU and GPU based render loading to keep the PSU fully loaded with a real-world workload. The load was between 1023 - 1037W depending on the clock rate and thermals of cards, which caused a minor (less than1% fluctuation) during testing.
The Hydro G PRO passed this with no issues whatsoever, so we went a bit unconventional to push the PSU just a bit further.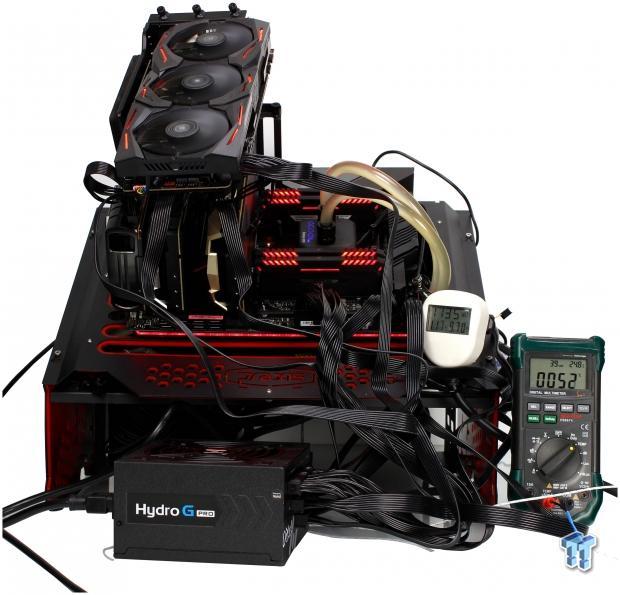 Since our Zenith board does not have quad double spaced slots, we had to improvise a bit here. We used the riser from our Phanteks case review. It has a cushioning foam, we then laid an extra 1080 Ti GPU across the top to give us four GPUs to work with for more loading. This time wattage jumped to 1135W with peaked into the 1154W range as GPUs adjusted their clocks based on their boost algorithm.
The exhaust of the Hydro G PRO was toasty at this point, reaching a peak of 52C with an ambient of 24.8C. This is not ideal as components wear more quickly as they are warmer, but we are pushing this PSU to a load that most people would opt for a 1500W+ to support. The Hydro G PRO performed admirably and kept chugging along without a single issue or hang up on our workloads. The Hydro G PRO ran for over 2 hours at this loading without any problems, which for me is more than a pass.
Final Thoughts
When I first got hands-on with the Hydro G PRO, I was a bit unsure as the Hydro PTM seemed kind of a strange entry, and I wasn't sure why the hydro name would be used on an air-cooled PSU with no option for liquid cooling. However, after testing, I can say that the Hydro G PRO holds it's own and delivers power well above a loading I would ever recommend for a 1000W unit.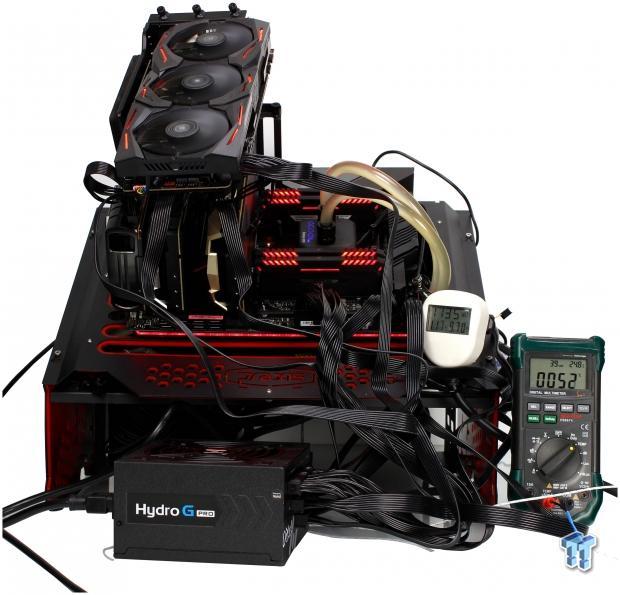 Now for what we like about the Hydro G PRO PSU, I would start with the fact that it handled way more load than it really should. Add to this the textured exterior, which helps hide blemishes and fingerprints. The useful mix of peripheral connectors on the modular cables will help those with devices that still use Molex (PATA). Overall the styling is subdued enough; it will fit into any blacked out build while looking just fine in a showcase enthusiast build. The additional stickers are not my style, but I'm sure many out there will find them cool for their usage.
There's not a ton to say I would not like about the Hydro G PRO. One thing would be the lack of included zip ties which most PSUs come with, but they do include a few Velcro straps which you saw when the cables were bundled. Overall, it's a PSU, and it does PSU things just fine.
At the price point of $165.99, I do not see any reason why we could not recommend the Hydro G PRO from FSP; it's merely a stable supply that does what it should. Much like the mighty ant, the Hydro G PRO we have on hand today can lift far more than its weight in our testing.
FSP delivers a reliable PSU option in the Hydro G PRO, offering reliable performance, protection, and everything you would need for a gaming or workstation rig.
Shannon's Power Supply Test System Specifications
| | |
| --- | --- |
| Performance | 97% |
| Quality | 92% |
| Features | 90% |
| Value | 95% |
| Overall | 94% |
The Bottom Line
FSP made quite the stout PSU option with the Hydro G PRO 1000W. The supply can exceed its capabilities with stability and performance to keep your PC running for years to come.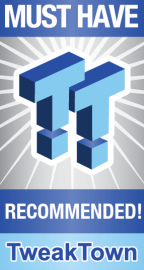 We openly invite the companies who provide us with review samples / who are mentioned or discussed to express their opinion. If any company representative wishes to respond, we will publish the response here. Please contact us if you wish to respond.