Western Digital Caviar RE2 - Tweaked RAID 0 storage
On the agenda today is Western Digital's Caviar RE2 hard disk drive which offers great performance when setup in RAID 0.
Published Thu, Jun 29 2006 11:00 PM CDT
|
Updated Tue, Nov 3 2020 7:04 PM CST
Introduction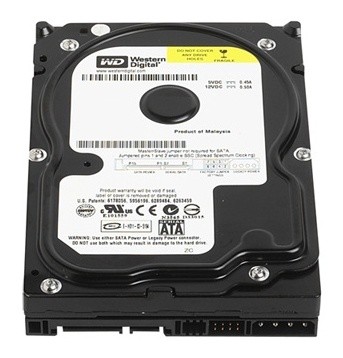 Since their introduction to the PC world, Hard Disk Drivers have been getting bigger and bigger. Technology to pack more onto the platters of a HDD keep getting better to the point where we are now seeing storage capabilities hitting half a terabyte or a whooping 500GB.
Speed on these drives have also been increasing, with speeds from the original 2,300 RPM drives up to 10,000 RPM on the Western Digital Raptor and even higher again on server / enterprise drives - things keep getting better all the time.
One of the most important additions to the desktop market is the inclusion of RAID technologies, which not all that long ago was only reserved for enterprise computing such as servers. This technology, while now very common among consumers, allows for spanning, mirroring and mirroring with spanning, all depending on what your needs are (speed, redundancy or both).
Western Digital has recently introduced a new hard disk drive to the market. It's dubbed the Caviar RAID Edition or RE2 for short. It is tweaked and designed to offer the best performance when setup in a RAID configuration environment. We'll take a quick look at the drive and then see how it performs against one of Seagate's latest hard drives in RAID and non-RAID testing.
Let's begin and check it out!
The Drives
Looking at the drive itself, you may be forgiven for thinking that this drive is just like any other Wester Digital hard drive currently on the market. This is where you're wrong. The Caviar RE2 has a few performance and specification changes from its other models, like the Caviar SE16.
Western Digital has two versions of the new Caviar RE2 series of hard drives. We'll cover the WD4000YR model first. Unlike the SE16 series, the RE2 WD4000YR model only uses a 150MB/s transfer protocol, which is half the 300MB/s that SATA-II offers. Since the drive is set for RAID setups, you aren't demanding as much on a single channel, this is the reasoning behind Western Digital's use of only 150MB/s transfer rate on this particular mode.
The second and more expensive model in the Caviar RE2, which we have on the test bed today, is the WD5000YS. This model is the same as the WD4000YR except it includes 300MB/s transfer speeds making it fully SATA-II compliant.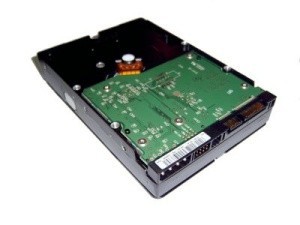 Since the RE2 WD4000YR model lacks the 300MB/s transfer speed, it can't be classed as SATA 2.5 compliant. However, you will find all the other SATA 2.5 specs on this drive, namely staggered spin-up and Native Command Queuing (NCQ). The drive has a seek time of 8.7ms and that makes it 0.2ms quicker than the SE16. This is due to the denser platters used in the RE2 series of drives. Denser platters means the heads cover more territory in a shorter amount of rotation time.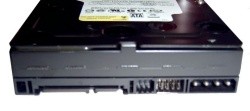 Western Digital's circuitry is extremely clean. There are no chips on the lower PCB. These have all been sandwiched between the PCB and the drives lower casing. On the back of the drive, we have a single SATA data port that supports the new snap lock SATA data cables, so no more cable pops. The drive supports both SATA and Molex power connectors, but you are warned on the top of the drive to use one of the other, not both.
The RE2 come in sizes from 100GB up to 500GB with 16MB of cache. These seek times are better then Seagate's 7200.9 series hard drives, which we are comparing against today, with seek times of 9.5ms.
Benchmarks - Test System Setup and PCMark
Test System SetupProcessor
: Intel Pentium EE 840 (800MHz FSB) (Supplied by
Intel
)
Motherboard
: ASUS P5WD2-E Premium (Intel ICH7R)
Graphics Card
: ASUS GeForce 7800GT (Supplied by
ASUS
)
Operating System
: Microsoft Windows XP Professional SP2
Drivers
: Intel INF 8.0.1.1002
Our testing methods are to test the different drives using RAID 0 as well as in single drive mode through the Intel ICH7R Southbridge.
We wanted to see just how well the drive does on its own and then paired up in RAID, which is the exact idea of the Caviar RE2 series of hard drives.
We pit the Western Digital WD5000YS RAID Edition drive against Seagate's latest 7200.9 drives to see just what happens. Seagate's latest series of drives are known to offer very good performance, so it will be interesting to see how Western Digital fair against the competition.
PCMarkVersion and / or Patch Used:
1.1.0
Developer Homepage:
http://www.futuremark.com
Product Homepage:
http://www.futuremark.com/products/pcmark04/
Buy It Here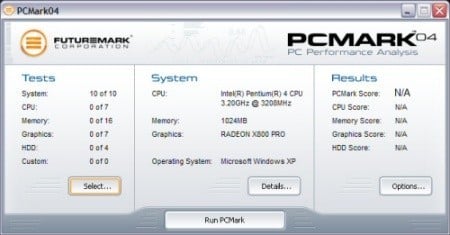 PCMark is a multipurpose benchmark, suited for benchmarking all kinds of PCs, from laptops to workstations, as well as across multiple Windows operating systems. This easy-to-use benchmark makes professional strength benchmarking software available even to novice users. PCMark consists of a series of tests that represent common tasks in home and office programs. PCMark also covers many additional areas outside the scope of other MadOnion.com benchmarks.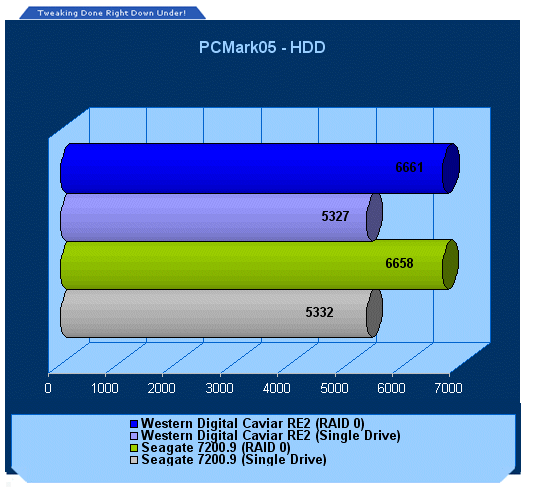 Single drive mode gives the Seagate the crown, but when in RAID 0, the Western Digital drives manage a slight lead.
Benchmarks - HD Tach
HD TachVersion and / or Patch Used:
3.0
Developer Homepage:
http://www.simplisoftware.com
Product Homepage:
http://www.simplisoftware.com/Public/index.php?request=HdTach
Buy It Here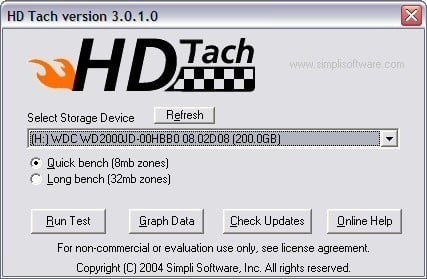 HD Tach has been around for a long time and is excellent when it comes to testing hard drive performance. It is also a very handy program when it comes to testing the controller used on particular motherboards. Tests such as Read, CPU Utilization and Burst are available at a click of the button and give you a good idea of how the hard drive can perform from system to system.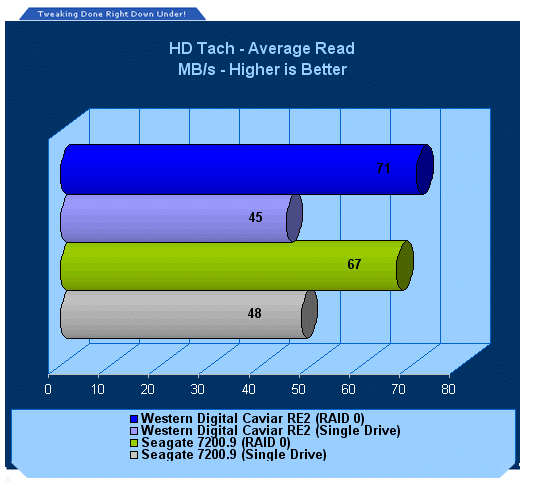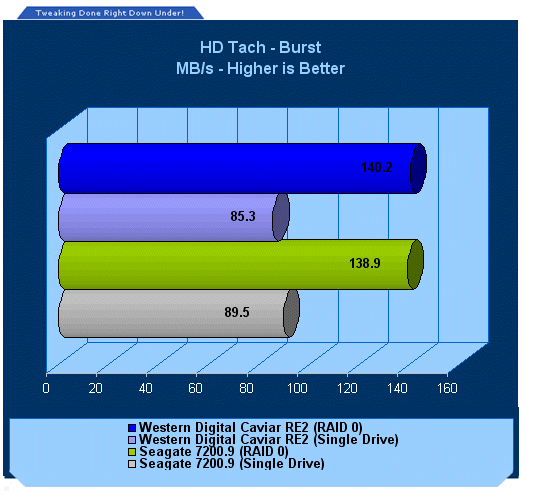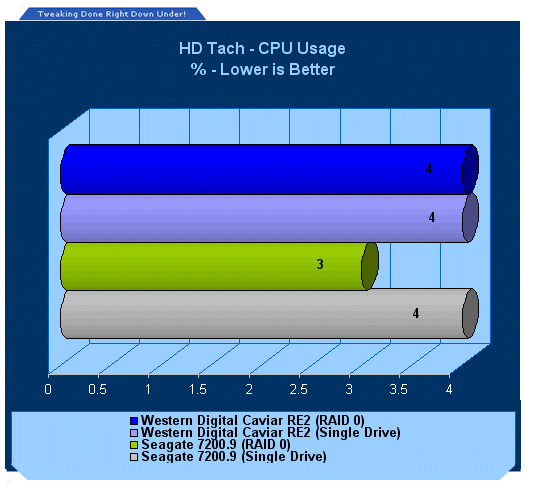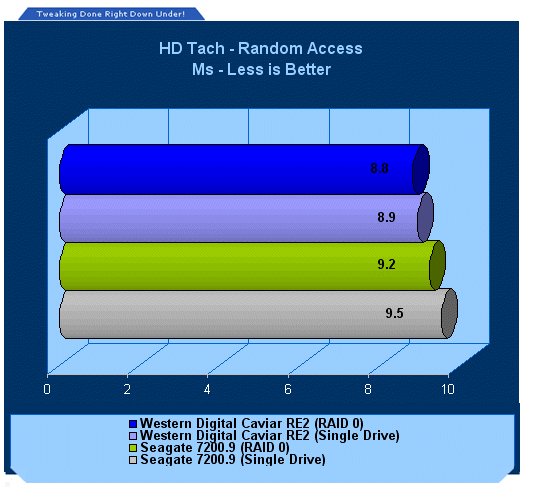 Again in single drive mode the Western Digital falls just behind the Seagate, when in RAID, they take the lead by a considerable margin.
Benchmarks - File Copy Test
X-Bit Labs File Copy TestVersion and / or Patch Used:
0.5.3
Developer Homepage:
http://www.xbitlabs.com
Product Homepage:
http://www.xbitlabs.com/articles/storage/display/fc-test.html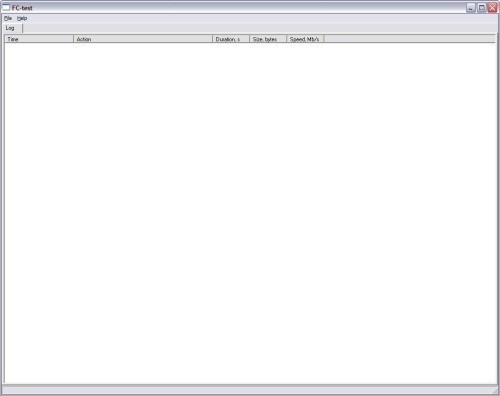 X-Bit Labs File Copy Test is a real world benchmark used to measure the performance of IDE subsystems. In this test, we time how long it takes to copy 2.3GB worth of data (four x 590MB files) onto the same hard disk drive with File Copy Test program optimizations disabled to help provide the most accurate time possible.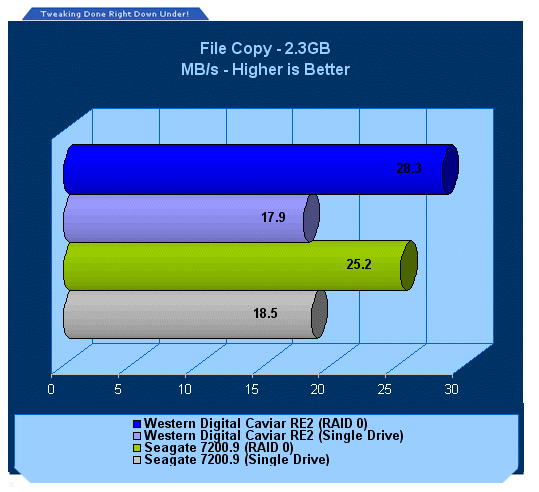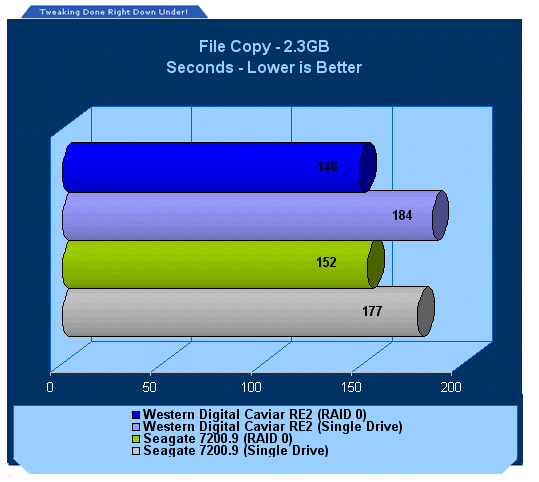 We have the same story here, again.
Benchmarks - HD Speed
HD SpeedVersion and / or Patch Used:
1.5.22.5
Developer Homepage:
http://www.steelbytes.com
Product Homepage:
http://www.steelbytes.com/?mid=20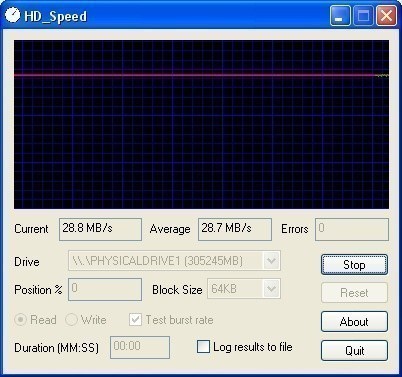 Measures both sustained and burst data transfer rates of your hard disks, cd/dvd-roms and floppy.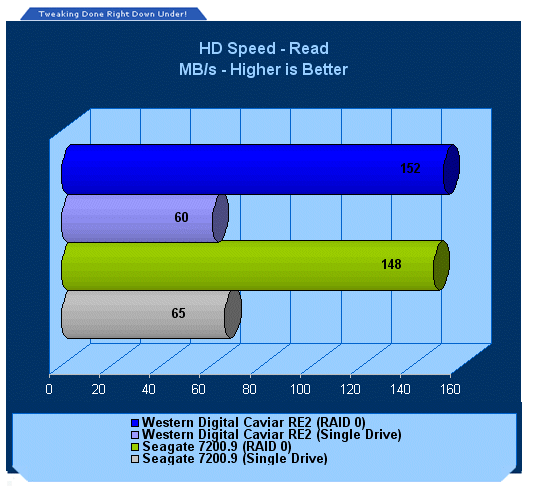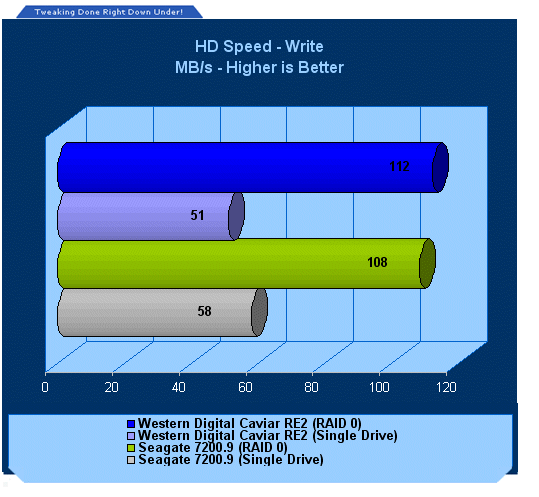 Seagate continues the trend of managing to offer better performance in single mode.
Benchmarks - Game Level Loading
Game Level Loading Times
Here we manually time (with a stop watch) game level loading times.
We loaded our test maps in Half Life 2, Doom 3, F.E.A.R. and Quake 4. We did the tests over three attempts on each and used the average time to give a fair example. Due to the human factor, there is a light reaction time delay because no one is able to hit the button on the exact millisecond, however, all were right on the point of full load in each map.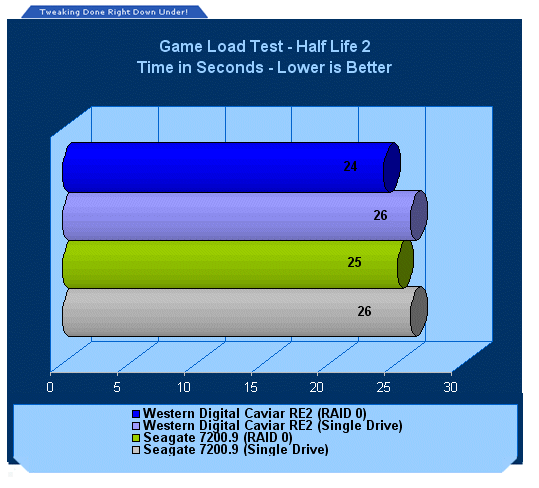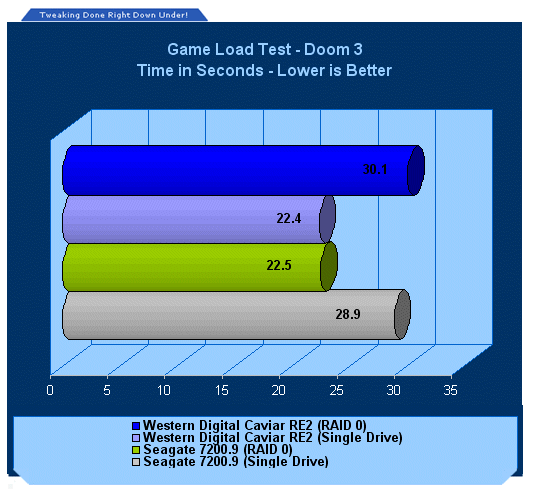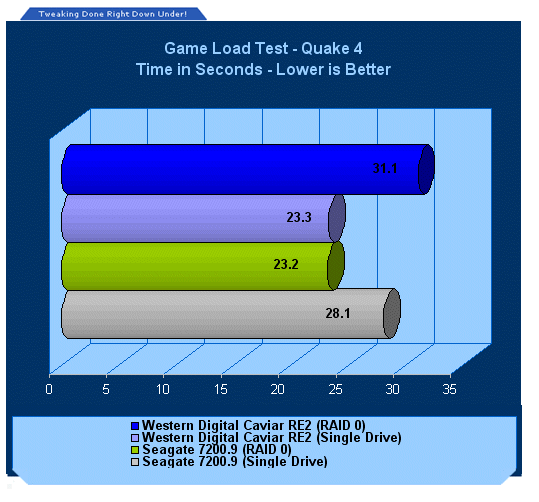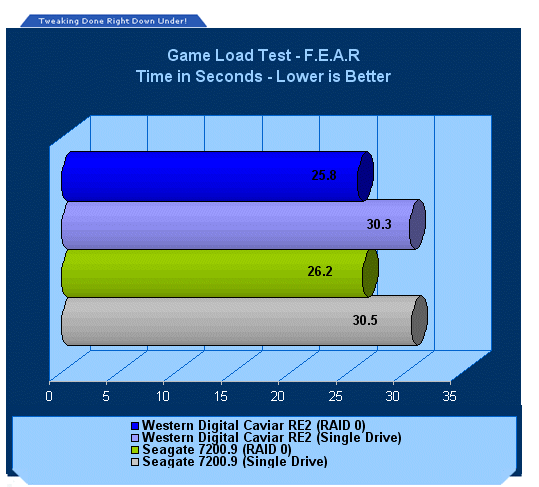 In real world game level loading times, we see little difference between the various hard drive configurations.
Final Thoughts
It is clear that HDD technology has taken a turn for the better.
For 10 years hard disk drivers have been on the same old parallel interface with only two drivers per channel. Now SATA is here as well as in full swing and we can have as many channels as a chipset manufacturer wants to allow. And with speeds now hitting 300MB/s in transfer rates, there is no reason why these hard drives cannot last another 5 years as the storage medium of choice.
When we reviewed the Seagate Barracuda 7200.9 hard drive, we were impressed with it a lot - in fact, it received an award for its performance. We are impressed with the Western Digital WD5000YS RAID Edition when setup in RAID 0 but in single drive mode, it is behind the 7200.9.
Therefore, if you're looking for a single drive setup for your PC, you're probably better off sticking to Seagate. However, if RAID 0 is your thing, Western Digital has tuned their latest Caviar RAID Edition 2 drives perfectly and they'll be a great option for you.
While solid state is on the horizon, we have to deal with the here and now in our busy technological age. Western Digital's RAID Edition 2 hard disk drive is more than capable of producing the power and the storage capabilities of an enterprise environment with two drives in RAID 0, for the performance hungry desktop users, through its tweaked RAID engineering - and they are priced quite reasonably, too.
- Pros
Great performance when in RAID 0
Up to 500GB models available
16MB cache
SATA 150MB/s or 300MB/s options
Molex power connector for older PSU's
RAID Optimised (RAID 0 is your friend with these drives)
Reasonable pricing, roughly on par with Seagate
5 year warranty
- Cons
Single drive mode performance struggles a little at times
- Latest Pricing
Rating - 9 out of 10 and TweakTown's "MUST HAVE" Best Performance Award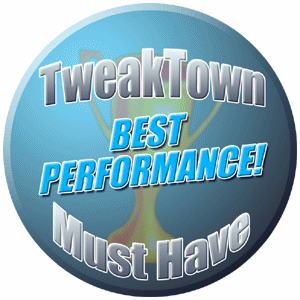 PRICING: You can find products similar to this one for sale below.

United States: Find other tech and computer products like this over at Amazon.com

United Kingdom: Find other tech and computer products like this over at Amazon.co.uk

Australia: Find other tech and computer products like this over at Amazon.com.au

Canada: Find other tech and computer products like this over at Amazon.ca

Deutschland: Finde andere Technik- und Computerprodukte wie dieses auf Amazon.de
We openly invite the companies who provide us with review samples / who are mentioned or discussed to express their opinion. If any company representative wishes to respond, we will publish the response here. Please contact us if you wish to respond.
Related Tags