Asustor Nimbustor 4 (AS5304T) Review
2.5Gbe goes mainstream as Asustor intros the Nimbustor.

Published
6 minute read time
TweakTown's Rating: 89%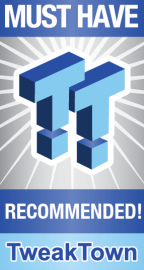 The Bottom Line
Asustor raises the bar on mainstream NAS appliances with the Nimbustor 4.
Introduction
Gigabit ethernet has long outlived its welcome in SOHO NAS platforms but for the longest time consumer infrastructure has been lacking the supports for anything more. With the release of 802.11ac and now 802.11ax consumer routers are ready more than ever for a 2.5Gbe future. To this point, nearly every vendor that pushes an 802.11ax or Wi-Fi 6 router will have a solution with at least a 2.5GBE LAN connection.
Making the jump to 2.5GBE in a "mainstream" platform, Asustor created an entirely new segment aimed at creators, gamers and enthusiasts that would enjoy the ability to save livestream content to their NAS along with typical media; music, photos, and video. The Nimbustor lineup includes both 2 and 4-Bay models and is really the second generation of Asustor' "enthusiast" appliances with the 4002 and 4004T of 2018 being first gen. Moving from the first generation units, Asustor took a step back and came back with a gaming angle full of glossy black plastics and dragons breathing fire.
As for the hardware, I'm happy to say Asustor didn't cut corners offering a Celeron J4105 from the Goldmont Plus family, operating at 1.5GHz burst to 2.5GHz paired with 4GB of DDR4 upgradeable to 8GB. The J4105 also carries with it UHD 600 Series graphics and Asustor includes support over HDMI. Onboard eMMC carries a 4GB capacity, plenty for storing the OS, currently ADM 3.4.
Further supports include four SATAIII drive bays compatible with 2.5 and 3.5" drives, max internal raw capacity is 54TB using 14TB drives. The Nimbustor 4 does support use of three AS6004U expansion units bring total capacity to 16 drives and 224TB. Expansion is done over the three USB 3.0 ports two on back and one on front. Ethernet connectivity is provided by two 2.5GBe ports both supporting Link Aggregation. The Included HDMI port is 2.0a compliant supporting 4K output.
The Nimbustor 4 offers a class-leading three-year warranty. MSRP comes in at $479.99
The Nimbustor 4
Packaging and a Closer Look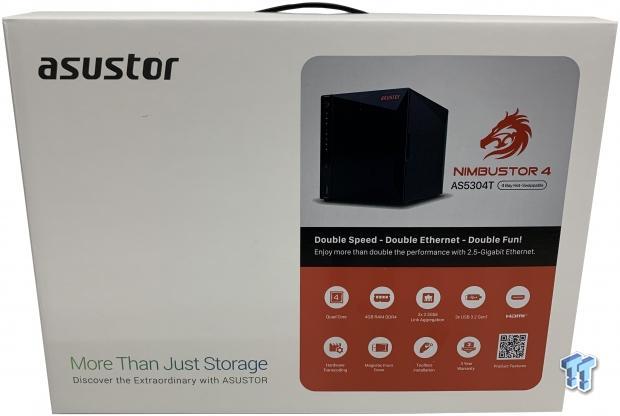 Packaging has been overhauled in favor of a more "gaming" feel. To the right, we have model and marketing information along with an image of the NAS.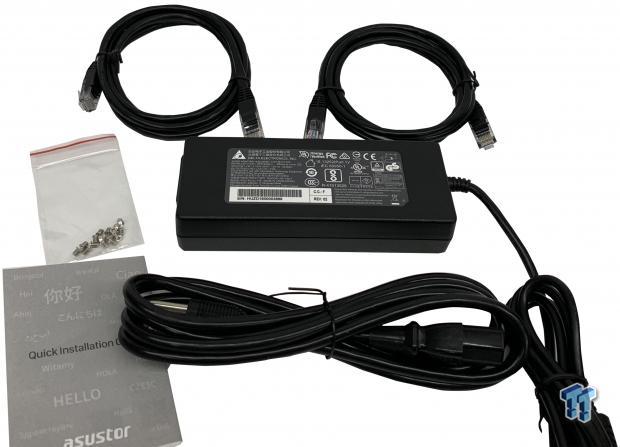 The accessories box included two ethernet cables, 90W power adapter, and reading materials.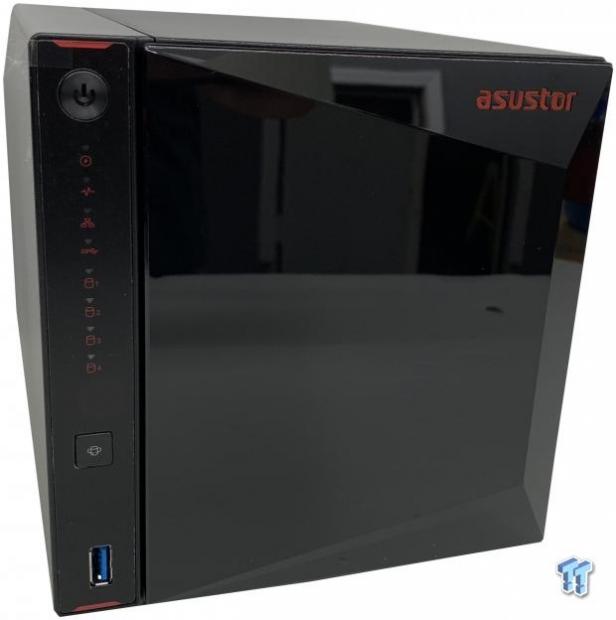 The NAS itself has been equipped with a magnetic front panel that doubles as a mirror with its piano black exterior. The the left we have a full array of LEDs for power, activity, and LAN.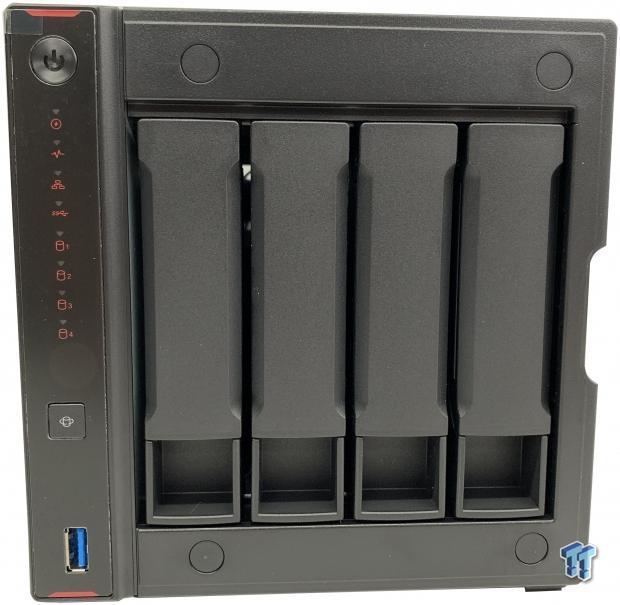 Removing the cover, gives us four magnets and four drive trays.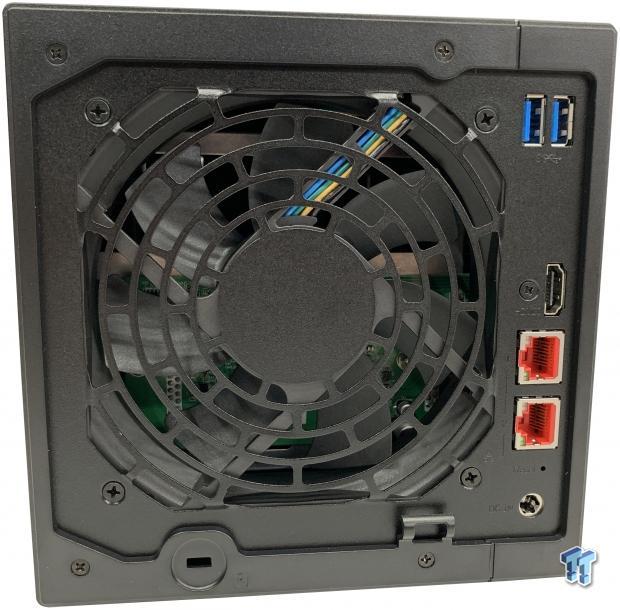 On the backside, we start with the large 120mm cooling fan. Dual USB 3.0 at the top followed by the HDMI port. The two red ports are your 2.5GBE ports, and last we have the 12v input at the bottom.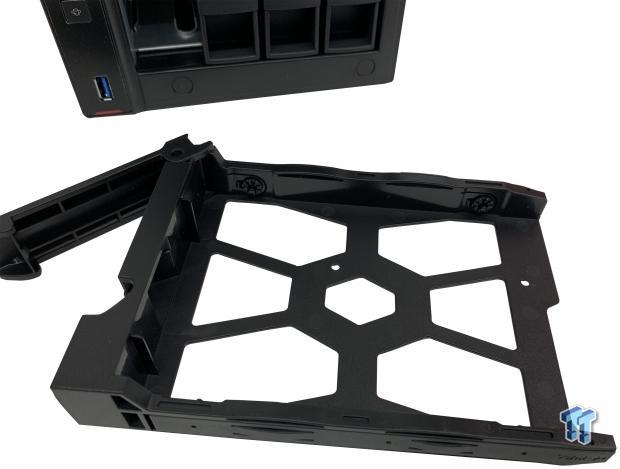 Drive trays are top to bottom plastic similar to Synology with tool-less functionality.
Test System Setup and Web Management
Tyler's Test System Specifications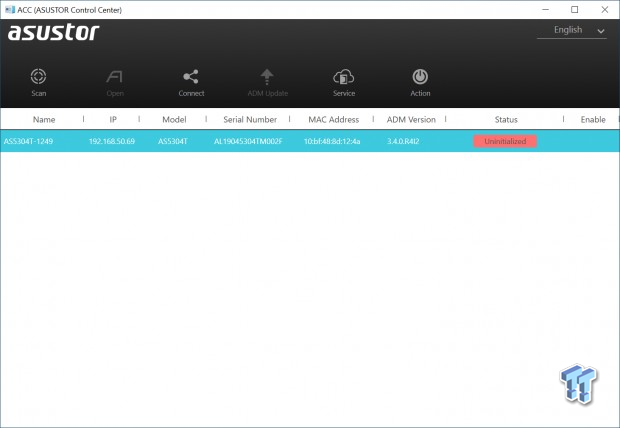 The setup hasn't changed for the Nimbustor 4. We start with the Asustor Control Center to initialize the NAS.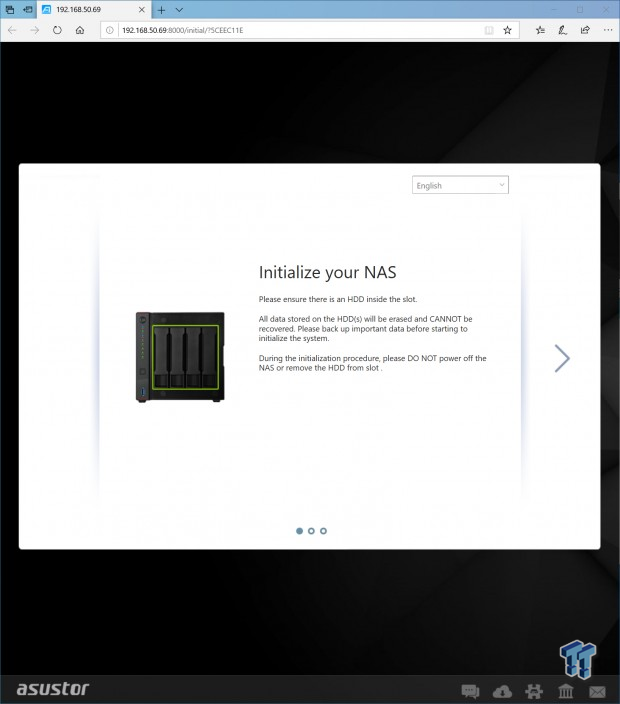 Moving through setup, we go from the ACC to WebGUI.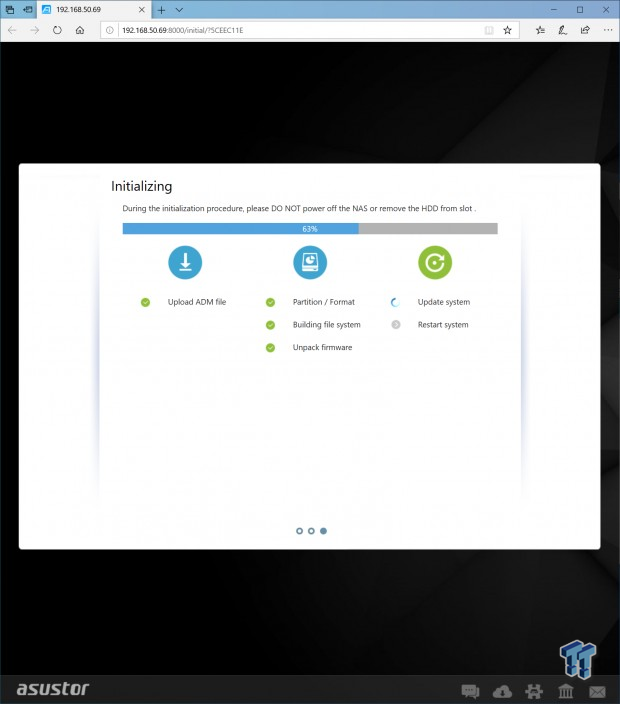 Initializing the NAS we upload the ADM file.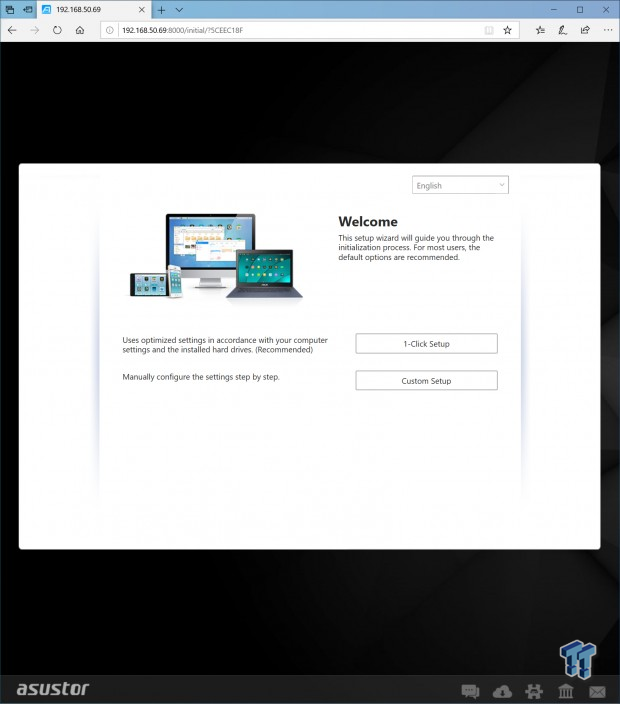 Once ADM is installed, we move into customization. Asustor allows a simple 1 click method, or you can run a custom setup.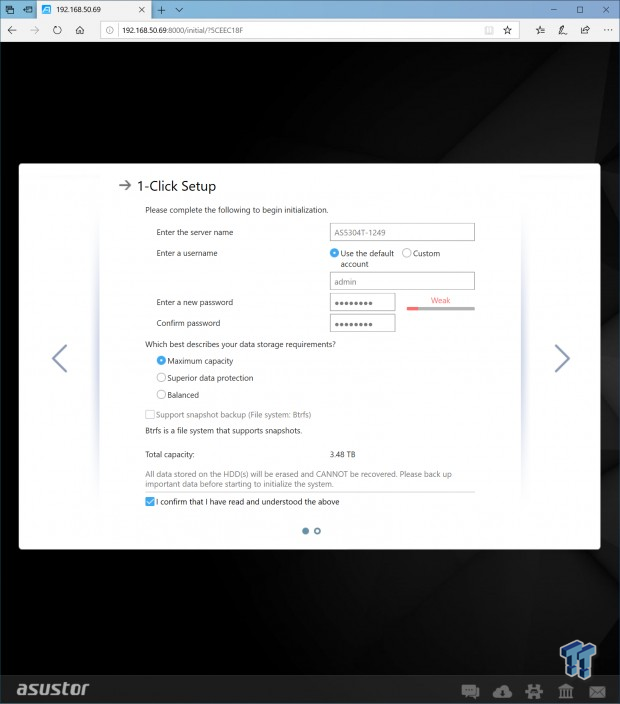 1-Click setup allows you to fill in the NAS name along with admin details. You then choose your storage needs, and it chooses the best setup for you both RAID type and filesystem.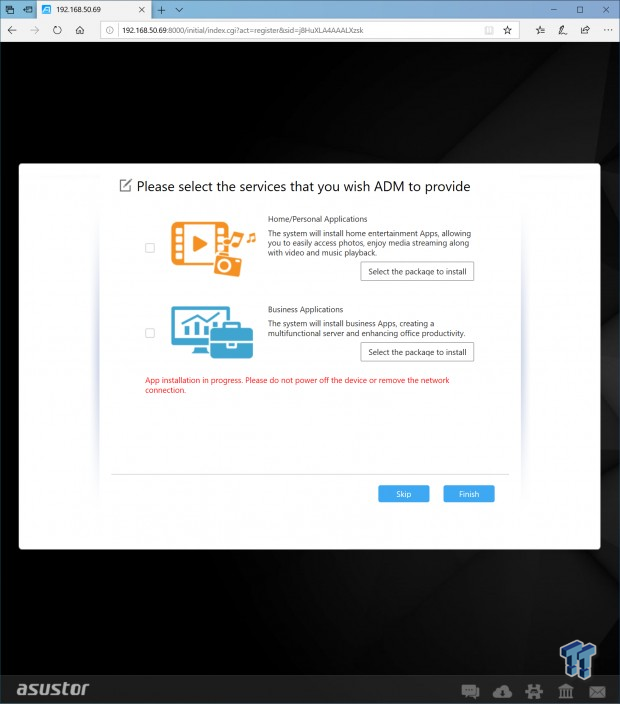 Another options ADM gives you during setup is to choose apps based on home or business use.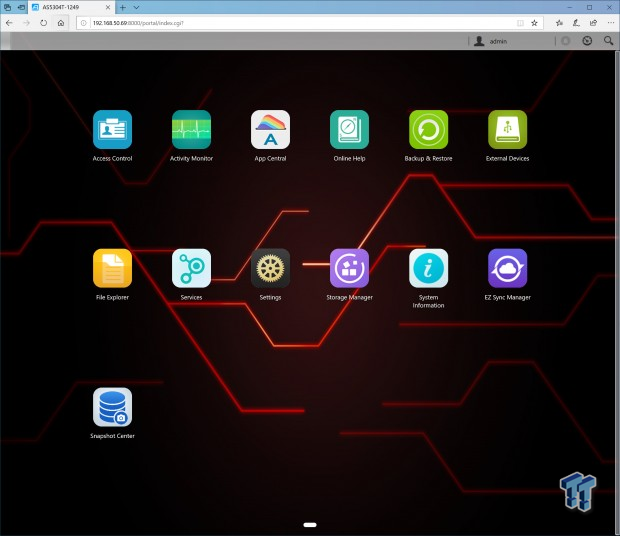 Landing on the dashboard, we have a more "gamer" feel with the new wallpaper. All standard options are available.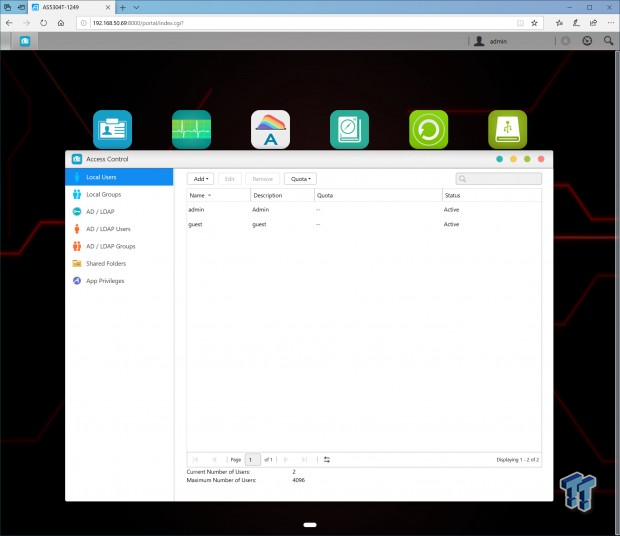 We start with Access control, here we setup users, groups, and privileges along with shared folder access.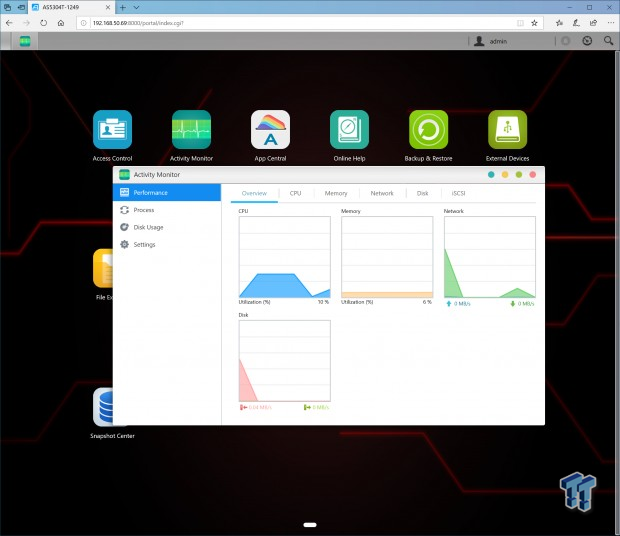 Activity Monitor is self-explanatory but does offer a performance overview with live graphs.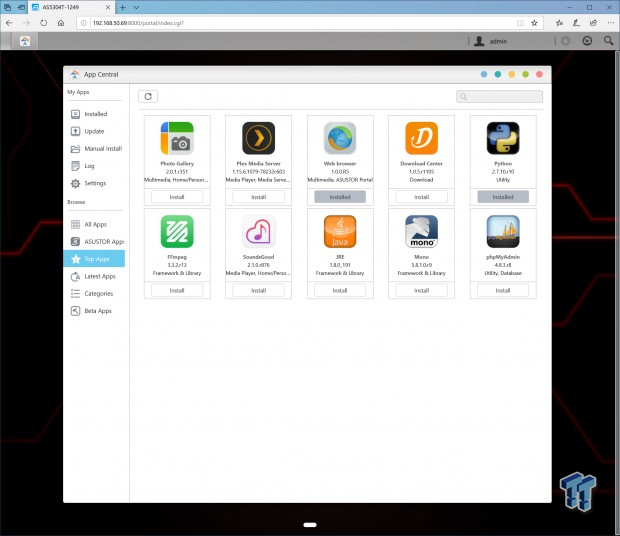 ADM has one of the biggest app libraries available, above we have highlighted some of the top offerings.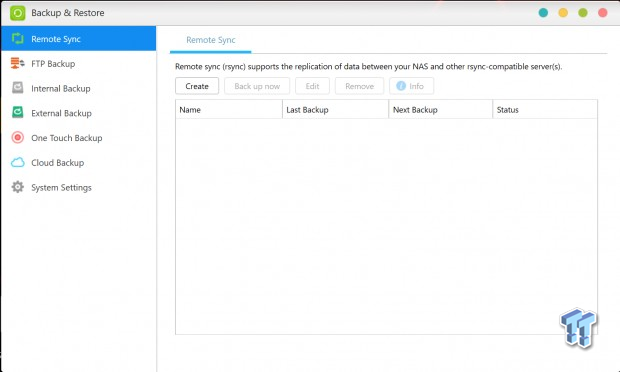 Backup options include Remote, FTP and External options along with Cloud and One-touch via the front USB 3.0 port.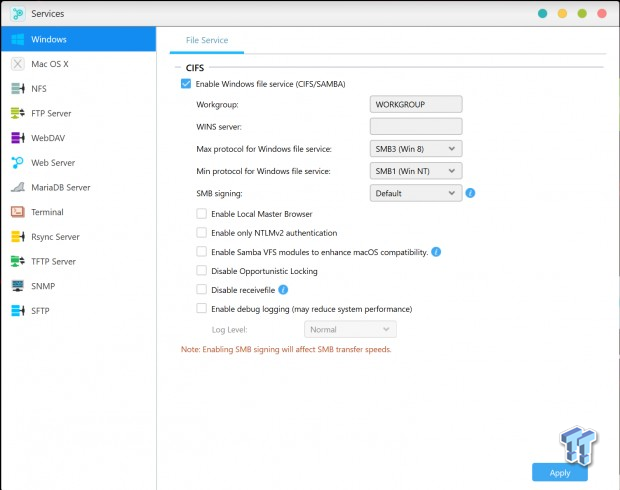 Services include both Windows and macOS options for SMB and AFP along with NFS for Linux.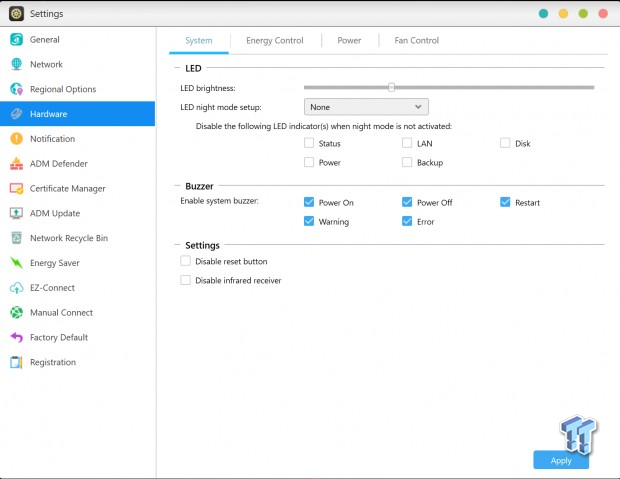 The Settings menu allows configuration of everything from Network to LEDs and power consumption.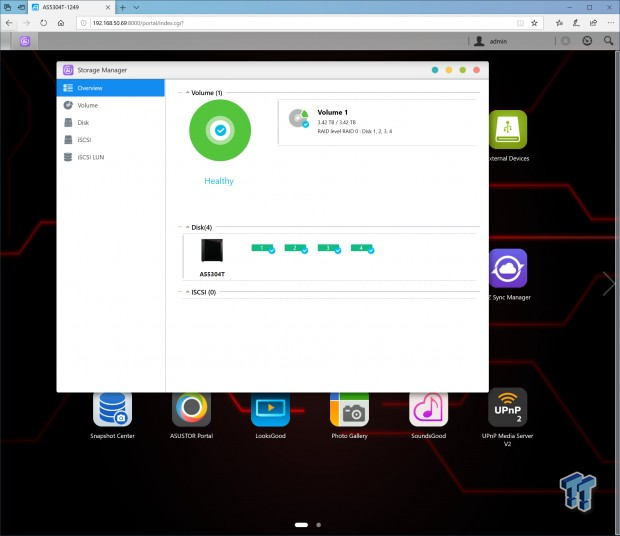 Storage manager offers access to volume and storage pool creation along with iSCSI and Cache setup. This unit does support IHM for IronWolf drives but didn't seem to support our 110 SSDs during testing.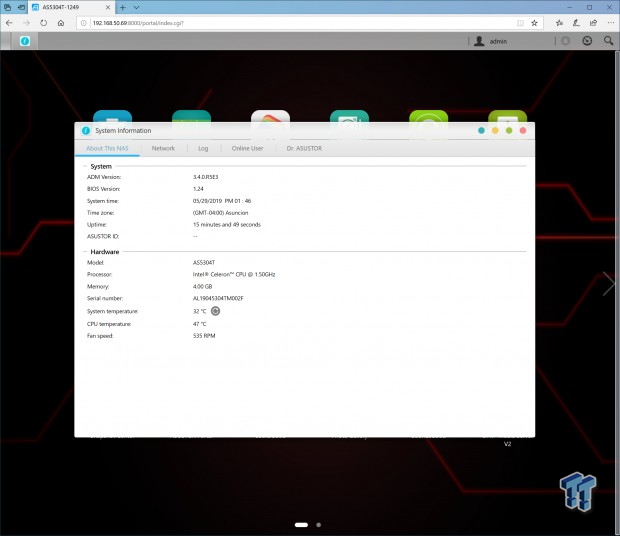 System info shows the current hardware and temperatures.
Benchmarks – Single Client Throughput, Sequential Performance, and Workloads
Single Client Throughput
HD Video Play - 720p HD stream from Windows Media Player, 256kB reads
HD Video Record - 720p HD stream, 256kB writes
File Copy from NAS - 4GB file copy, 64kB reads
File Copy to NAS - 64kB writes
For testing, we used four 960GB IronWolf 110 SSDs. This allows us to reach the full potential of the hardware, especially in mixed workloads. We ran each scenario three times and tested each with 1Gbe and 2.5Gbe.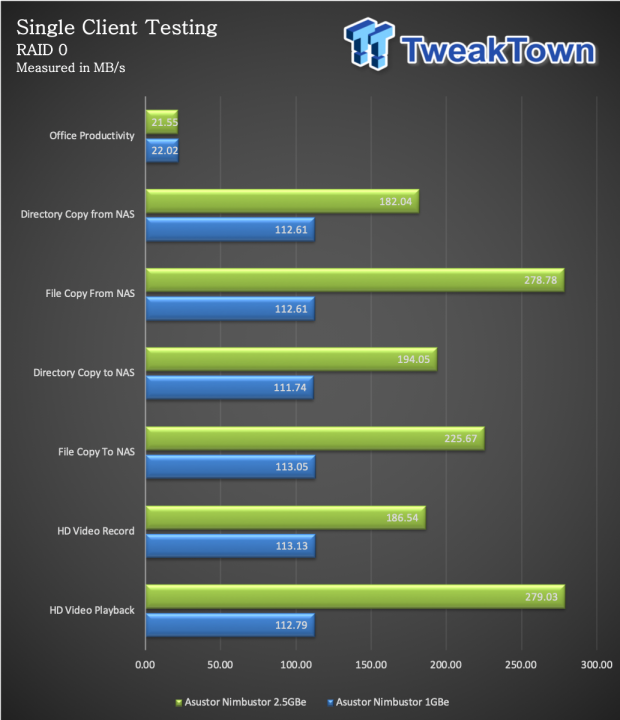 Starting off with RAID 0, we immediately see the benefits of 2.5Gbe in our single client testing. Playback goes from 112.7 to 279 MB/s while File Copy operations to the NAS reach 225 MB/s and 278 MB/s from the NAS.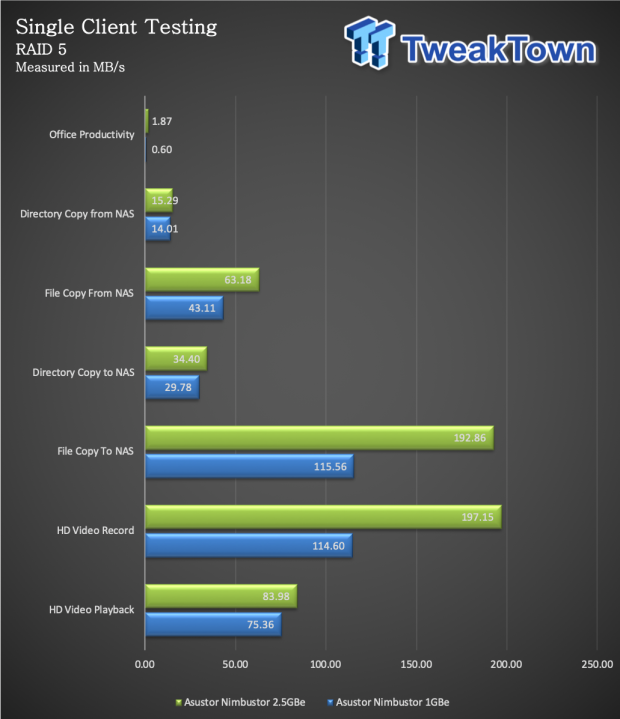 Looking at RAID 5 we see a boost in both Video Record and File Copy to the NAS reaching 197 and 192 MB/s respectively. Playback gains a marginal 10 MB/s while Office Productivity is tripled.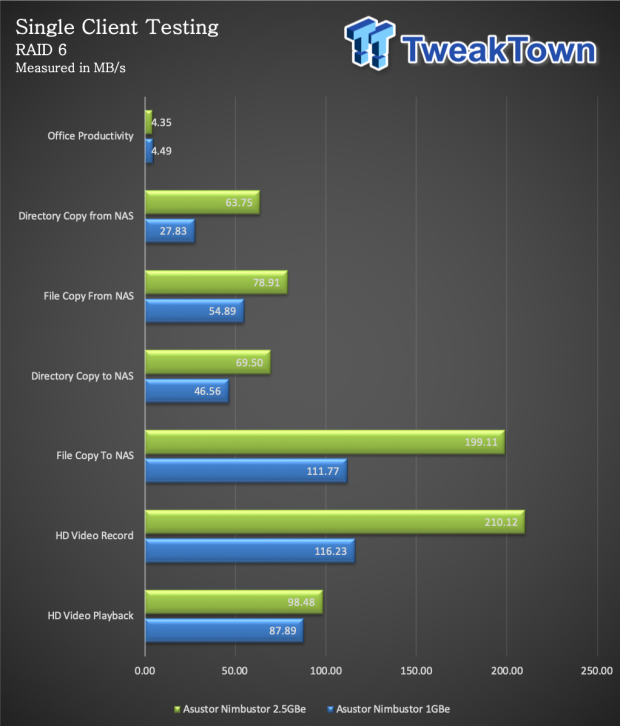 In the last of our single client testing, we look at RAID 6 which sees great gains in Record and Copy once again. Directory Copy to and from seems to gain a good bit here as well.
Benchmarks – Sequential and Workloads
Our Sequential read/write workload is centered on 128K transfer sizes at QD32.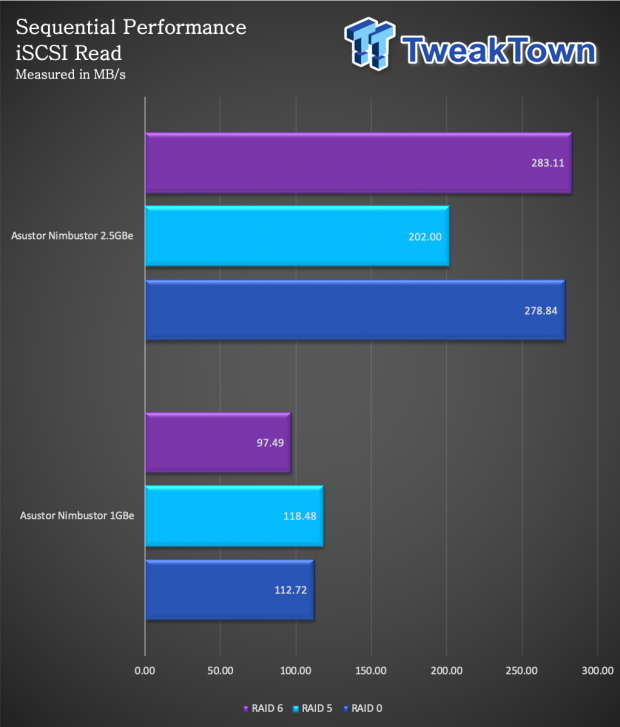 Looking at sequential performance over iSCSI it's quite clear, and we knew this coming in, 2.5Gbe is far superior. In RAID 0,5 and 6 we see throughput go from 112,118 and 97 MB/s to 278,202 and 283 MB/s.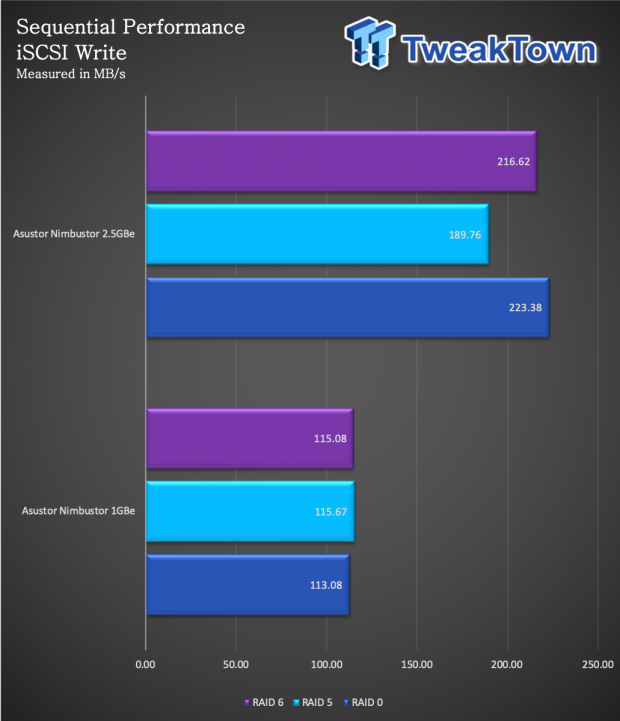 Sequential Write sees the same level of increase going from ~113 MB/s to ~220 MB/s.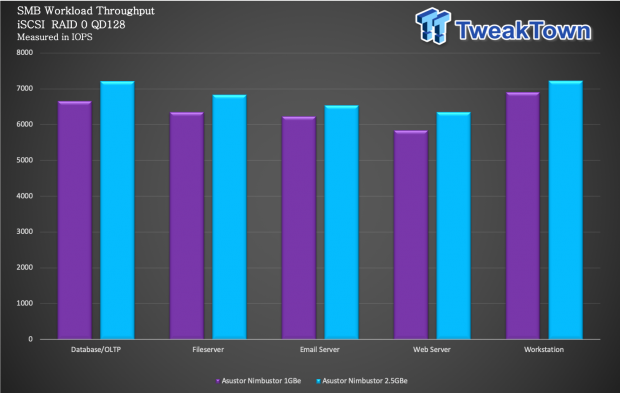 Moving into workloads, you will notice a smaller jump in performance due to us reaching the limitations of the hardware itself. Starting with RAID 0, we see about 500 IOPS between 1Gbe and 2.5Gbe across the board.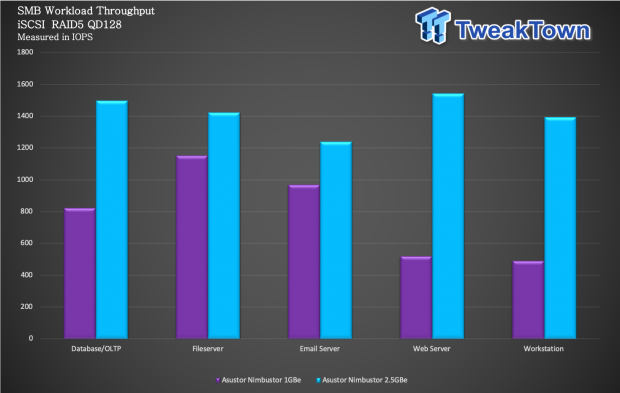 Getting into RAID 5, we start to see more of a gap between 1 and 2.5Gbe. Web Server gets a 1000 IOP boost moving to 2.5Gbe along with Workstation.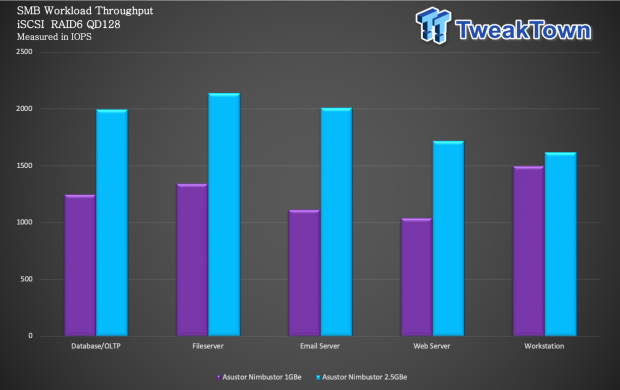 RAID 6 shows a good amount of gains as well, Database getting a good 750 IOP boost next to Email Server which sees 1000 IOPs increase.
Final Thoughts
I was able to spend a little over a week with the Nimbustor 4 for testing and running through ADM, and I am quite pleased with how fluid the interface is with the new hardware behind it. Wait times between menu loading seemed to be decreased from my last experience with the 6302T.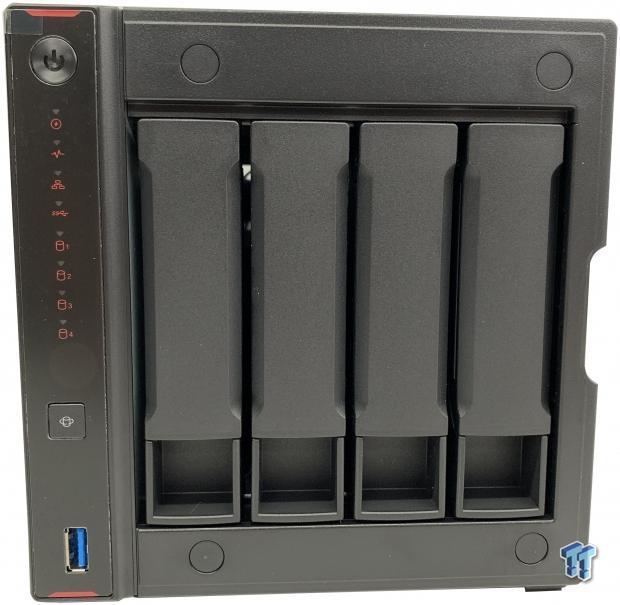 As for build quality, the entire shell of the Nimbustor is plastic, so the unit is quite lightweight and even more with the power supply being external. That said I had no issues with the unit apart from the drive trays sticking and wanting to be difficult, which now that I think of it could be from the lack of a full framed drive in the tray (we used SSDs).
Overall Performance was increased thanks to the 2.5Gbe connection and in most cases, we saw a 75% gain over 1Gbe. Single Client testing showed doubled performance going from 112 MB/s to 279 MB/s with Playback and File Copy and moving over to Sequential performance we saw almost triple the throughput in RAID 0 and 6. Workloads showed the limit of the hardware in RAID 0 while users that take advantage of RAID 5 or 6 will see a larger boost in performance going from 1 to 2.5Gbe.
With the increase in throughput, Asustor has positioned its marketing into an area I've not thought of before. Using iSCSI "gamers" are able to live stream record up to 4K HDR directly to the NAS without affecting game performance, further Asustor has deployed Takeasy RSS to download video from YouTube or Twitch allowing you a personal archive of your channels content.
This, of course, adds to the already massive library of applications that run on ADM along with their comprehensive setup of backup solutions that includes Dropbox, Google drive, one drive and AWS next to hardware solutions like USB or eSATA, FTP and Rsync.
Current, comparable systems would be the DS918+ from Synology and TS473 from Qnap, both of these units hover just north of $600 USD.
| | |
| --- | --- |
| Performance | 91% |
| Quality | 92% |
| Features | 93% |
| Value | 80% |
| Overall | 89% |
The Bottom Line
Asustor raises the bar on mainstream NAS appliances with the Nimbustor 4.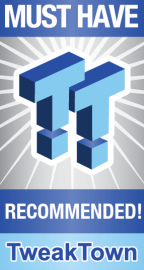 We openly invite the companies who provide us with review samples / who are mentioned or discussed to express their opinion. If any company representative wishes to respond, we will publish the response here. Please contact us if you wish to respond.