Layers of Fear 2 Review: Lynchian Horror at its Finest
If David Lynch made a video game, it'd be Layers of Fear 2.

Published May 24, 2019 8:00 AM CDT
|
Updated Tue, Nov 3 2020 6:57 PM CST
7 minute read time
TweakTown's Rating: 94%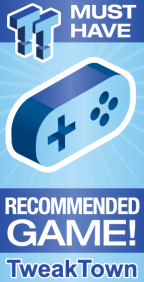 The Bottom Line
Bloober Team creates another macabre masterpiece with horror, heart, and incredible style. If David Lynch made a video game, it'd be Layers of Fear 2.
An Introduction To Layers of Fear 2
Developer: Bloober Team
Publisher: Gun Media
Release Date: May 28, 2019
MSRP: $29.99
Platform: PC (Reviewed), PS4, Xbox One
Genre: Horror, Supernatural
A Chilling Introduction to Layers of Fear 2
Layers of Fear 2 isn't just a video game. It's an experience. Bloober Team has created something that transcends what video games are and shows us what they could and should be, opening a window into a warped but dazzlingly captivating reality that goes beyond the outer reaches of the Twilight Zone. The game is found in the beyond, the unexplored territory between and outside of worlds, and it's yours to explore.
I daresay Layers of Fear 2 is a masterpiece.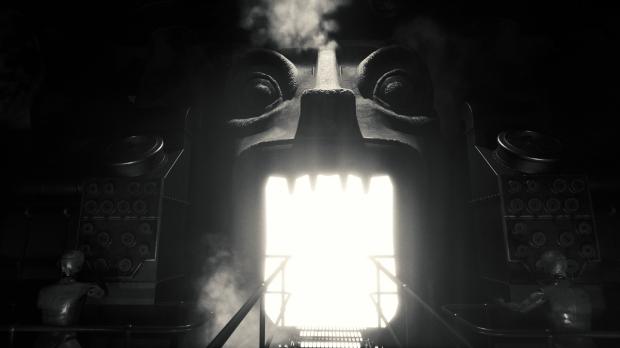 Bloober Team has come very close to realizing the full potential of video games as an artistic medium. Every single scene of this game is a work of twisted, macabre art that taps the rich vein of the bizarre. It's one of the most supremely weird entertainment experiences I've ever had, and honestly, it goes beyond a game and even a film--it's somewhere in between, in that colorful limbo between worlds.
In many ways, Layers of Fear 2 is like a movie. It has a extremely high cinematic production value and an eerie, pervasive atmosphere. Every transition, every level, every hallway and sequence has its own little bit of horror magic. It's not necessarily outright scary, but more like a disturbing Lynch film with its weird body horror and startling imagery.
If David Lynch were to make a video game, it'd look just like this.
But it's also interactive like a game. You make decisions, solve puzzles, and move forward in a linear progression while unfolding the story. At the same time, Layers of Fear 2 breaks both of these molds by folding the two together in such an ingeniously clever way that you often forget you're playing a game. Its potent visuals and storyline have the same magnetic pull as a good book or film. Total immersion happens frequently with Bloober's latest project and it's a wonderful thing.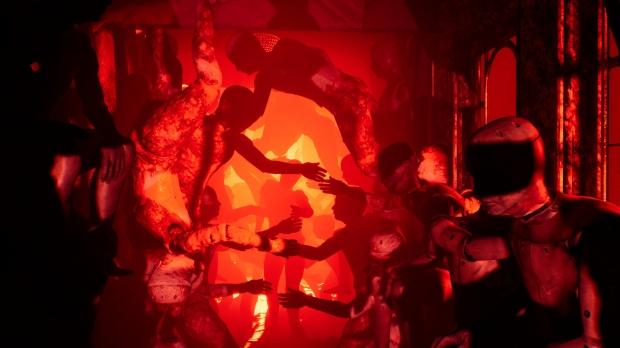 The best part about Layers of Fear 2 is how unpredictable it is. You absolutely never know what the game is going to throw at you next. There is suspense thick enough you could cut it with a knife. A cold dread permeates every level, but your curiosity pushes you forward. You have to know; you have to see. That's what really fueled my play: a desire for my psyche to soak up the strangeness like a sponge.
Layers of Fear 2 propels you with this kind of dire fascination where you try to anticipate what'll happen, but in reality, you have no clue. It's one curve-ball after another. And that's really the beauty of it because once you're immersed in the world-bending weirdness you can simply revel in it. It's almost like re-watching your favorite horror movie over and over to see that one perfect monstrous Cronenberg scene with its quivering flesh, or bask in the beautiful haunted vibrance of a Kubrick flick.
The visuals are what sells the experience, and there's a kind of instinctual familiarity with the game. As you play, there's always this itch in the back of your mind. You feel as if you've been here before, seen this before, but you can't say why. It's a strong feeling of deja vu that brings back memories of Konami's ill-fated P.T. demo infused with the raw power of the horror film genre.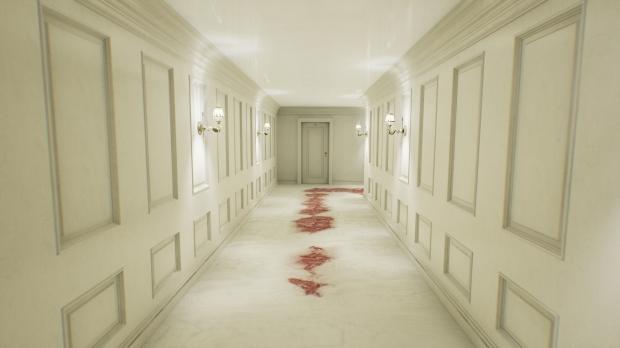 Horror buffs will recognize the themes and influences. Although the game is set in the 1930s, Bloober has tapped decades of terror, suspense, and otherworldly strangeness to craft Layers of Fear 2.
There's Hitchcockian suspense lovingly crafted using the world as a centerpiece. There's the meaningful symbolism of Twilight Zone morphed with inter-dimensional Outer Limits lore. Kubrick's brilliant, sterile, and hallowed visuals ignite your screen. Eraserhead's cruel and bleak industrial shadow-city grounds us into a dismal setting. Twin Peaks' surreal world-behind-a-curtain feel and dark overtones bathe the ship in a thick blanket of shadow.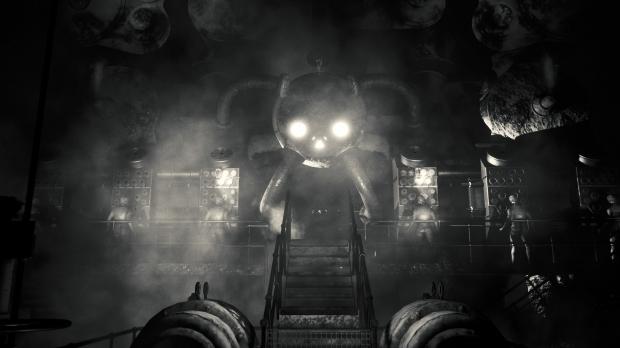 Bloober also has lots of throwbacks to Fritz Lang's Metropolis and George Melies films like A Trip to the Moon, creating stark eye candy that excites and tantalizes.
At the same time, the devs created their own unique style. Layers of Fear 2 is unlike anything I've seen or played and remains one of the best games I've experienced in the last few years. It feels like the game was made specifically just for me. Sure it's not a long game--it took me roughly 10 hours to beat--but in today's landscape of never-ending games, I'll take condensed magic over elongated tepidity any day.
I was so utterly enraptured by Layers of Fear 2's style that I took 230 screenshots will conducting the review. Every transition made me excited enough to want to permanently capture, the same way a director captures a scene on film.
Speaking of...the show's about to start and it's your line. Get ready, actor, it's your time to shine.
Story - Magic Hour
Layers of Fear 2 takes place aboard a British cruise liner carving its way across the Atlantic Ocean. It's the perfect place for a ghost story. Bloober transforms the liner into a haunted house fraught with danger and weirdness, but the developer's true skill lies in the execution of this transformation.
When you play this game you surrender yourself to it completely. You're led along like a rat in a maze. You have no choice but to trust Bloober Team as they guide you through their twisted tale of horror, woe, and redemption. This journey goes deep into a broken psyche of a mysterious actor trying to reveal who they actually are, delving deep into the very soul of their being.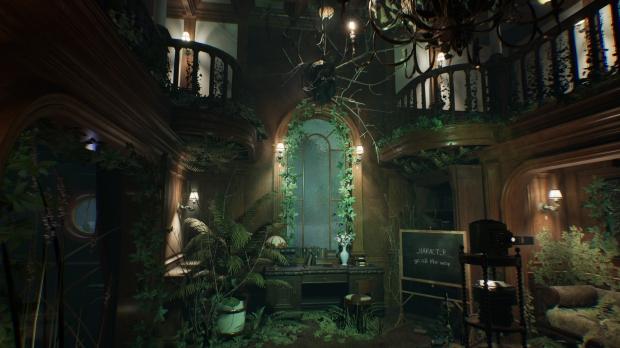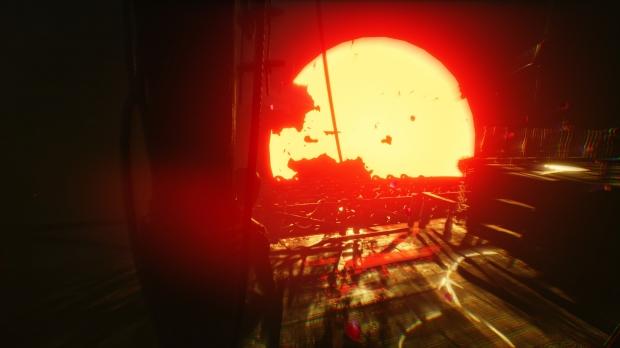 Throughout the seemingly random weirdness, there's a beating heart that binds everything together. Masterfully-crafted symbolism winds its way through everything like an undercurrent flowing just below the surface, bringing strong meaning to everything you see, do, and uncover.
The story is actually tear-inducing and filled with real human drama that's exemplified and brought to life with such striking imagery that it pervades your heart and mind.
I found myself tearing up a few times because of how immersed I was in the experience. The game made me care about the character because I not only controlled them, but I also watched sequences that pulled me out of the captain's chair and set me firmly in the audience. You'll often find fragments laying around that piece together the story and pull at your heartstrings even more, and I found myself constantly searching for more tidbits just to give me more understanding.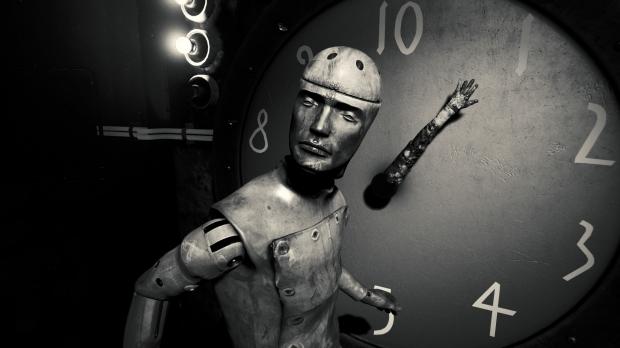 It's how the story is told that gives it power and meaning, and Bloober Team uses everything from an always-shifting environment to flashback sequences, metaphors, and a rich flowing vein of symbolism to deliver a very potent and memorable experience.
The story arc is profound, unique, and haunting because it's a personal, human tale interspersed with a dark terror straight out of reality. In many ways, real life is scarier than fantasy, but in Layers of Fear 2, you don't always know what's real and what's a figment of your imagination.
That's half of the fun.
Mechanics and Environment - Ghost Ship
The real magic of Layers of Fear 2 lies in how it's willing to consistently break the rules to deliver a visual feast.
Exploration feels rewarding because the game is always changing. Every new area feels fresh and unique, bringing a real sense of progress. The ship is fading in and out of reality, transporting you to unholy fanes of strange gods, monstrously dark corners of a lunatic's twisted mind, and then back to a normal oceanic cruise liner from the 1930s.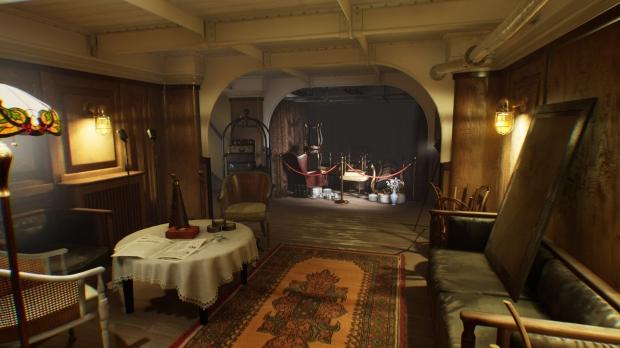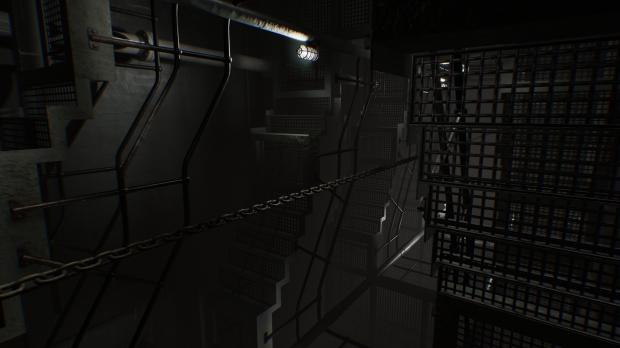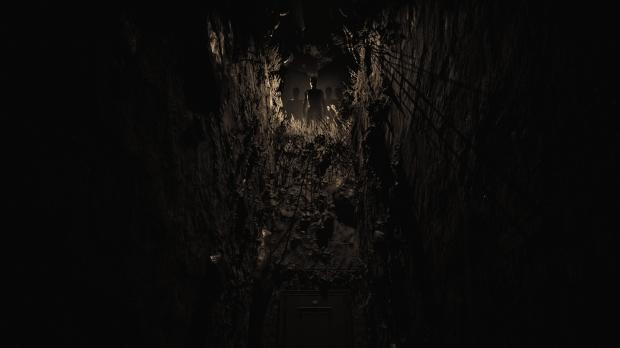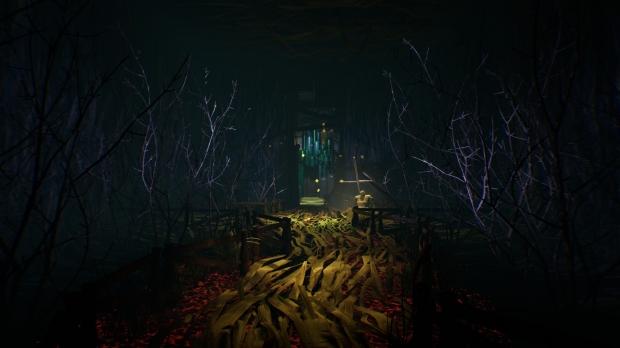 It's actually quite jarring, and it messes with your head real fast. I actually love it though. I love it when I play a game for an hour, and it feels more like ten minutes have gone by because I'm so deeply immersed. Time has no meaning here; the laws of nature and physics are just notions. All the rules are thrown out the window. The ship is a vortex of the bizarre, a black hole of the weird and is constantly spitting you in random places like a gateway into the Twilight Zone.
Just when you think you have a handle on things, the game goes upside down--sometimes literally. Everything shifts and is always changing, morphing to recreate a pivotal moment in the player character's life or psyche, twisting the very world around them into a bloody massacre or a dismal steam-powered city.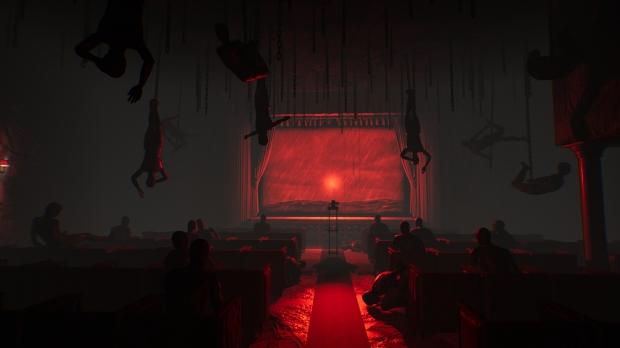 You open a door, and suddenly there's a black and white M.C. Escher painting waiting for you to fall into. Creepy stunt mannequins stalk the shadows. You're hunted by a formless monster who bends the very fabric of the world around you. The ship itself isn't bound by any rules and Bloober quickly reminds you that they're firmly in control...and you're just a pawn.
Turn around and suddenly that wall is a passageway into some strange overgrowth as you literally walk into one of your memories. It's like some clever trickster is constantly molding the environment just for kicks. Layers of Fear 2 has a way of absolutely throwing you off kilter at every turn and when you actually start adapting, it changes up the rules again.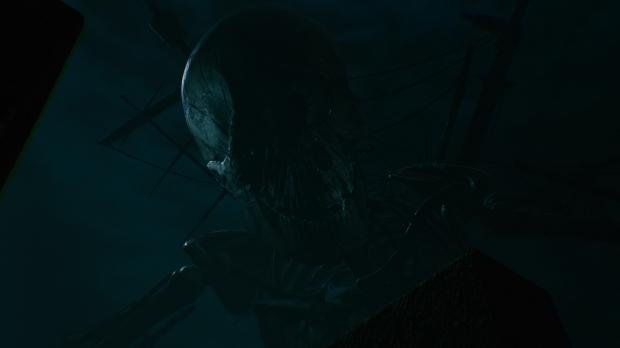 One of the best parts of the game is the puzzles. There are all sorts of small interactive sequences you have to solve before moving on, and many of them are actually quite unique. I found myself looking forward to these oddities because they not only gave more exposition in the story, brilliantly melding into the lore with Bloober's masterful symbolism, but they're actually quite fun. They keep things interactive and serve as small setpieces to the world.
Since these puzzles are the mainstay of progression we won't delve too far into them, but let's just say they're always strange and have a surprising effect on the game's ending.
Final Thoughts
Bloober Team has once again proven they're the masters at unique horror storytelling. I'm absolutely blown away by the dazzling spectacle of weirdness that is Layers of Fear 2 and am spellbound by the amazing attention to detail the team spent on their haunted cruise liner. The game almost defies logic and reality itself: it's like the magic of an ultra-creative feature-length film was condensed to the point of maximum potency, but also stretched out to last a cool 10 hours of interactive storytelling.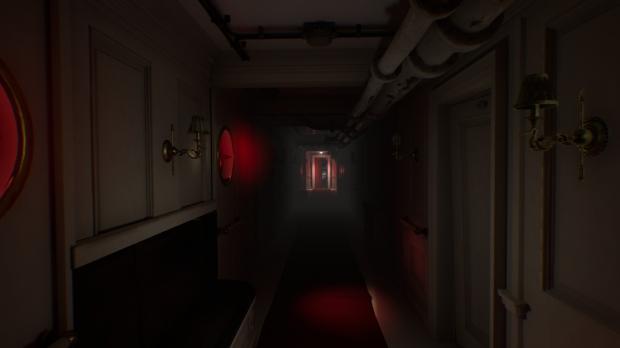 This particular slice of horror isn't just a game, though. It's something beyond, something on the fringes that can't easily be defined. I'm glad these types of experiences exist--make no mistake, Layers of Fear 2 isn't just a game but an experience--and we absolutely need more experimental artistic creations like this in the games industry.
Layers of Fear 2 is a must-have game for any horror fan, especially those who enjoy movies from directors like Hitchcock, Kubrick, Melies, Lang, and Lynch. It also helps to have an undying passion for shows like The Twilight Zone, The Outer Limits, and Twin Peaks.
What's Hot
+ Incredibly bizarre visuals that go beyond anything I've seen
+ Powerful, harrowing storyline
+ Suspenseful atmosphere
+ Masterful blend of horror themes and films
+ Haunted ghost ship is captivating and compelling
+ Creative puzzles blended with macabre style
What's Not
- Minor performance hiccups here and there
- Alt tabbing sometimes led to black screens
Extra Screenshots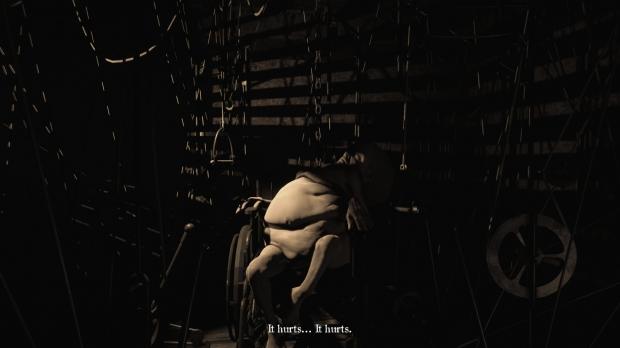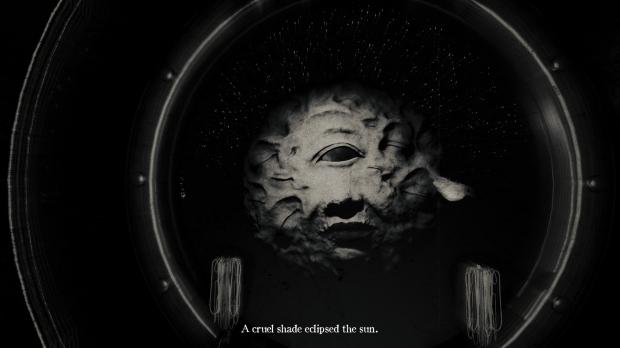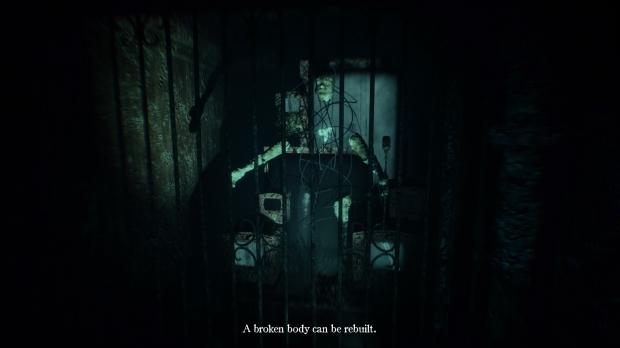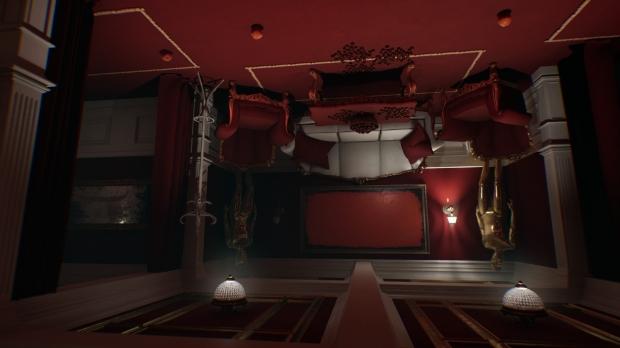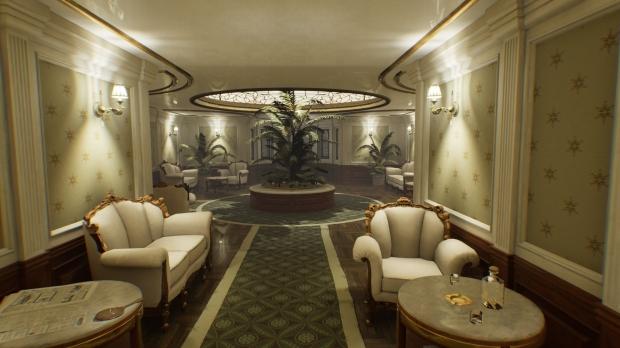 | | |
| --- | --- |
| Performance | 100% |
| Quality | 100% |
| Features | 85% |
| Value | 90% |
| Overall | 94% |
The Bottom Line
Bloober Team creates another macabre masterpiece with horror, heart, and incredible style. If David Lynch made a video game, it'd be Layers of Fear 2.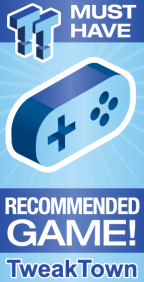 Layers Of Fear: Masterpiece Edition - PS4 [Digital Code]
Today
Yesterday
7 days ago
30 days ago

-

-

-

* Prices last scanned on 12/4/2022 at 12:57 am CST - prices may not be accurate, click links above for the latest price. We may earn an affiliate commission.
We openly invite the companies who provide us with review samples / who are mentioned or discussed to express their opinion. If any company representative wishes to respond, we will publish the response here. Please contact us if you wish to respond.