TweakTown's Rating: 92%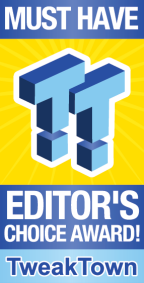 The Bottom Line
ASUS leads the way into Tri-Band Wi-Fi 6 with the ROG Rapture.
Introduction
While Wi-Fi 6 isn't expected to truly take off until later this year, there is no shortage of early adopters chomping at the bit to check out the latest technology. Netgear and ASUS are both on the frontlines with solutions on the market for this demographic. After looking at the AX88U earlier in the year, we are now back to check out the latest "gaming" solution from ASUS ROG, the GT-AX11000
The ROG Rapture AX11000 follows the GT-AC5300 of the last generation, using a similar design with updated colorway. Internally hardware is a complete upgrade as expected with a Broadcom 4908 at 1.8GHz across four cores, paired with 1GB of memory and 256MB of flash. For the radios, we have three BCM43684 allowing two 5GHz bands at 4804Mbps and one 2.4GHz at 1148Mbps.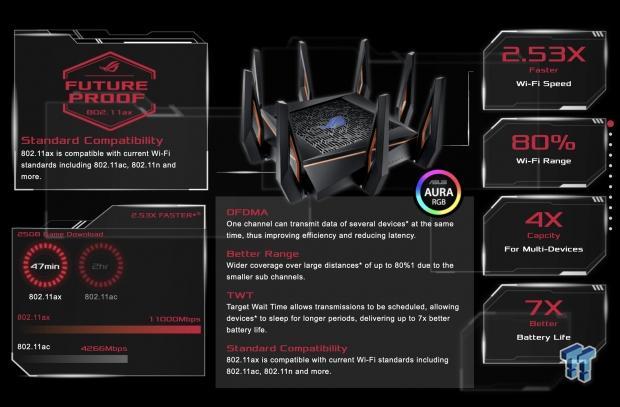 Wired ports include four LAN and one WAN controlled by the 4908 SoC along with a separate Aquantia AQR109 supporting the single 2.5Gbe connection. The 2.5Gbe port can be switched between WAN and LAN.
MSRP of the ASUS ROG Rapture GT-AX11000 comes in at $449.99 with a one-year warranty.
ASUS GT-AX11000 Wi-Fi 6 Router
Packaging and a Closer Look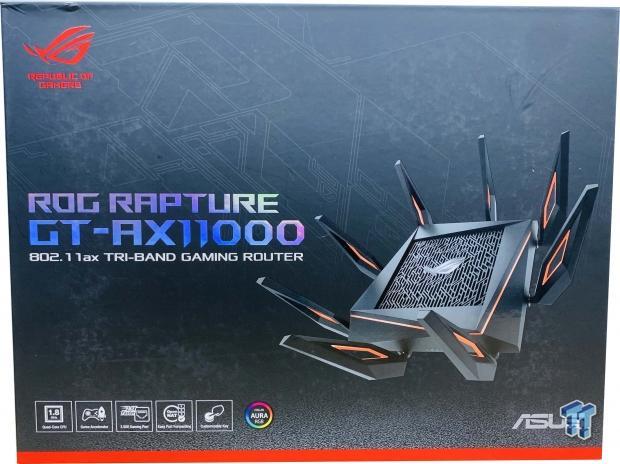 The ROG Rapture packaging reminds me of what you would see from a motherboard. We have the red on black colorway ROG and ASUS branding with a holographic model listed next to an image of the router. Along the bottom, we have features listed including Aura RGB support.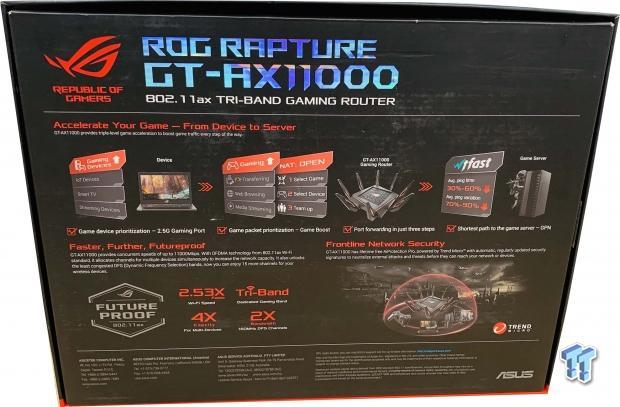 On the backside, ASUS has a good amount of marketing top and bottom.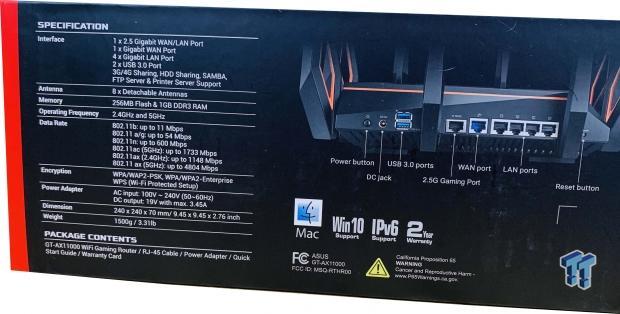 The bottom edge of the box includes a full specifications list.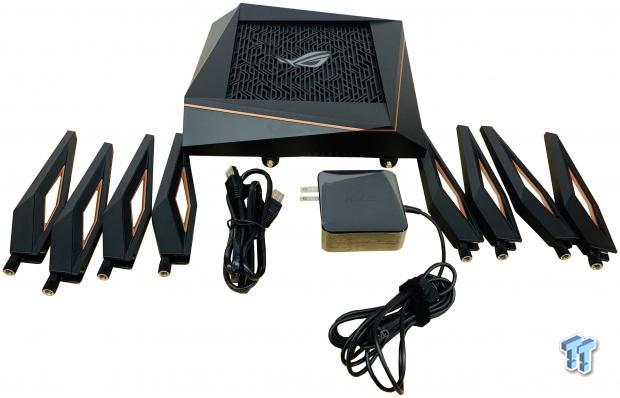 The scope of delivery includes the router, eight antennas, ethernet and power cables.

All four sides of the router are covered by antenna connections, leaving the LED panel as the only way of designating the front of the router. Within the LED panel we have power, 2.4GHz, 5GHz and internet activity lights followed by LAN connectivity 2.5Gbe and WPS.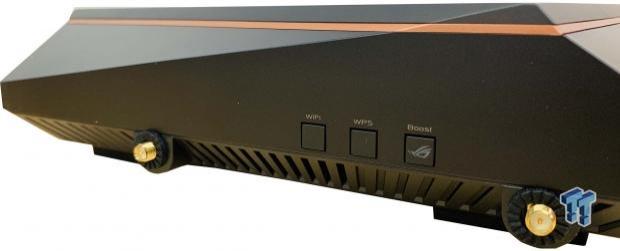 Of to the side, we have Wi-Fi, WPS and Game Boost buttons along with two more antenna connections.

On the backside, we start with the power button to the left followed by power input and dual USB 3.0. We then move into the 2.5Gbe port followed by Blue WAN and four more LAN.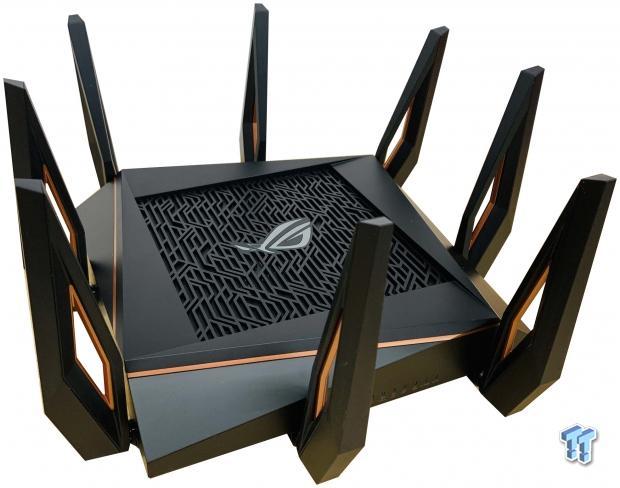 With all eight antennas connected, the ROG Rapture takes on an impressive look.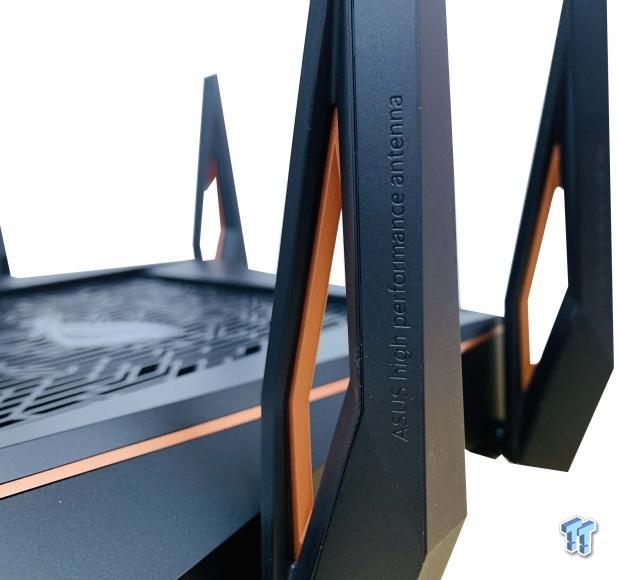 Each antenna carries over the copper and black colorway.
Test System Setup and Web Management
Tyler's Test System Specifications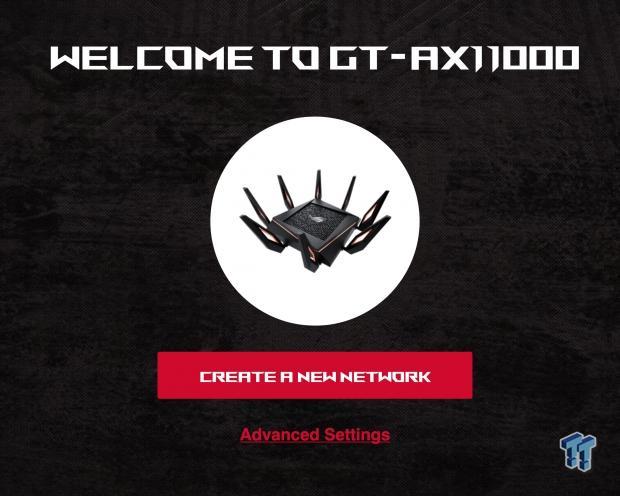 Setup hasn't changed too much for now. We still start with the ASUS screen above similar to the AX88U.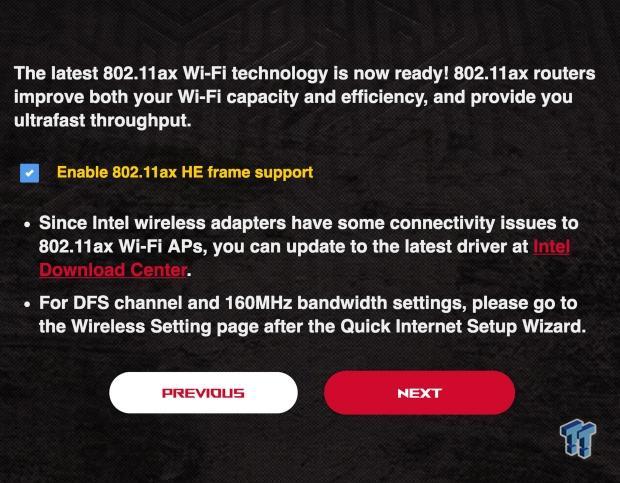 Moving through setup, you will be greeted with a message for enabling 802.11ax HE frame support.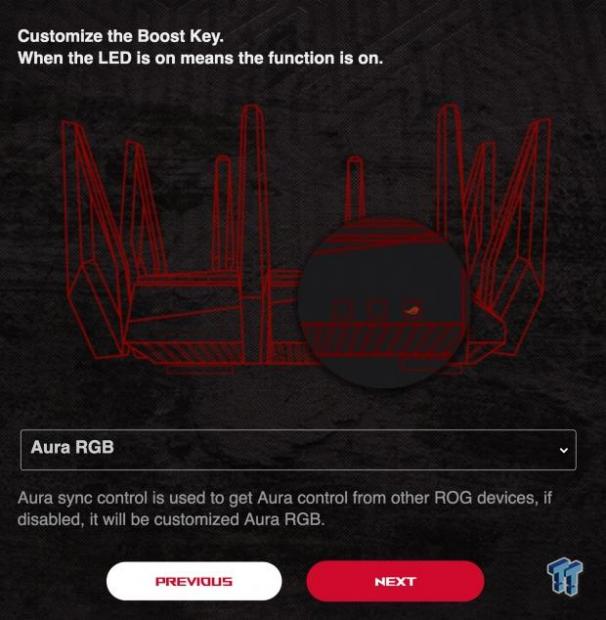 The boost key found on the side of the router is customizable as is the Aura RGB lighting.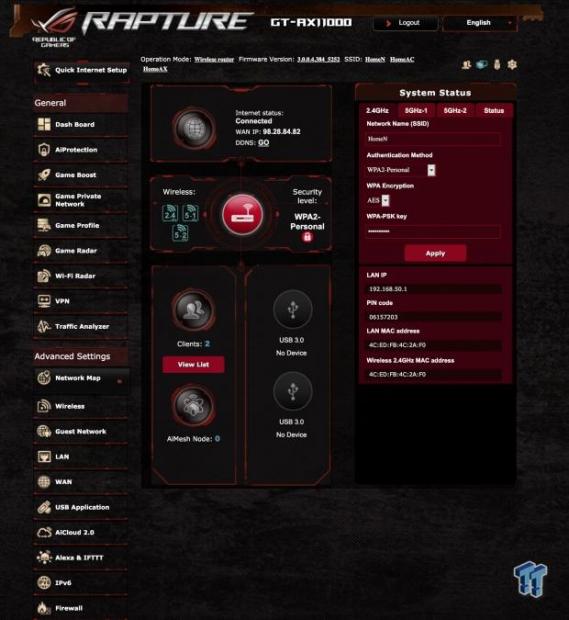 The ROG lineup has always offered a more "gamer" centric control panel. At the top we have the ROG logo and black/red colorway. On the side panel, we will find a few new options when compared to the AX88U. These include GPN, Game Radar and Wi-Fi Radar. Youll notice items like AiCloud and USB applications have been moved down to advanced. The center of the screen is mostly the same with ISP status along with clients and node list.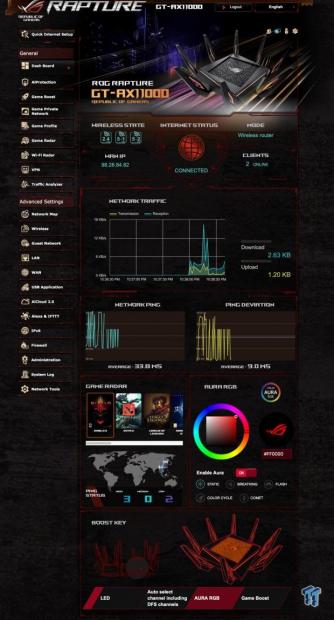 Tapping into dashboard on the left pane, you will be greeted with more information about your connection than you ever wanted to know. At the top we have wireless state for all three radios along with clients, moving down into network traffic live feed and ping and ping deviation. At the bottom, we have Game Radar, that gives insight into certain games server, so you know the ping before joining a session. To the right we have Aura RGB and below you can customize the boost key.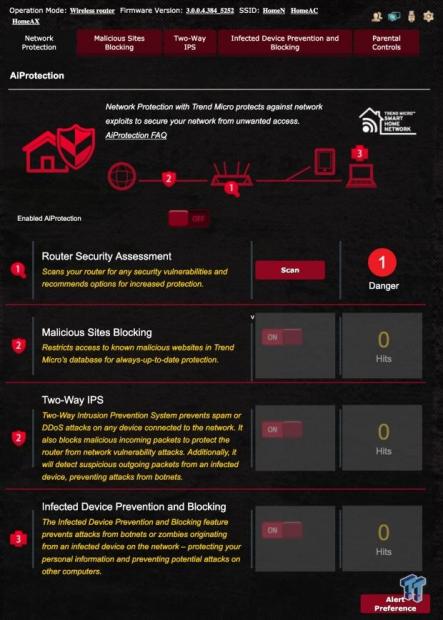 As with all ASUS routers, the ROG Rapture enjoys AiProtection from Trend Micro, this includes a router security assessment, blocking of malicious sites and Two-way intrusion prevention. Using the menu across the top, you can also add on parental controls.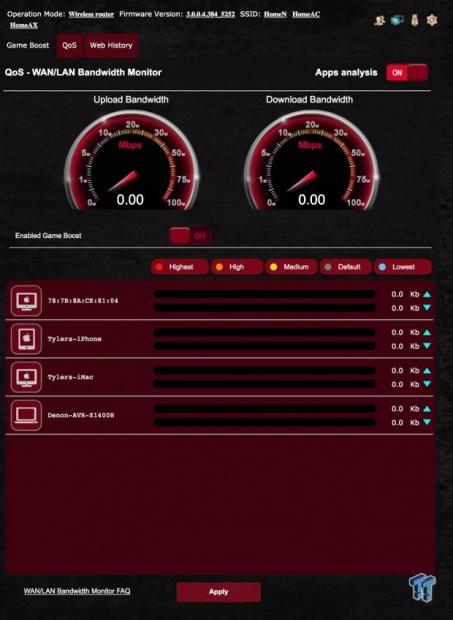 QoS operates the same with the ROG with an updated colorway to match. Here you can prioritize devices and watch traffic moving through.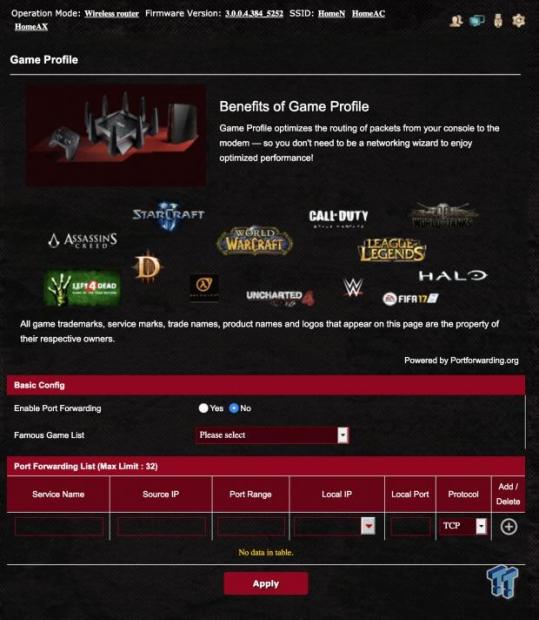 Included in the QoS engine is game profile allowing you to setup your console by IP. You select the game and your console and add to the menu.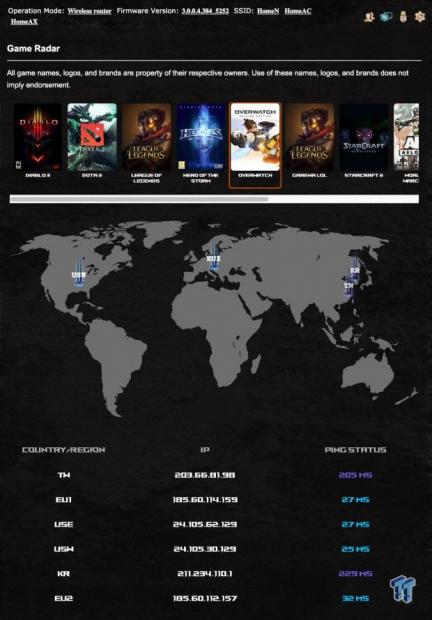 As mentioned above, Game Radar shows you ping stats of the most popular game servers before you ever join the session.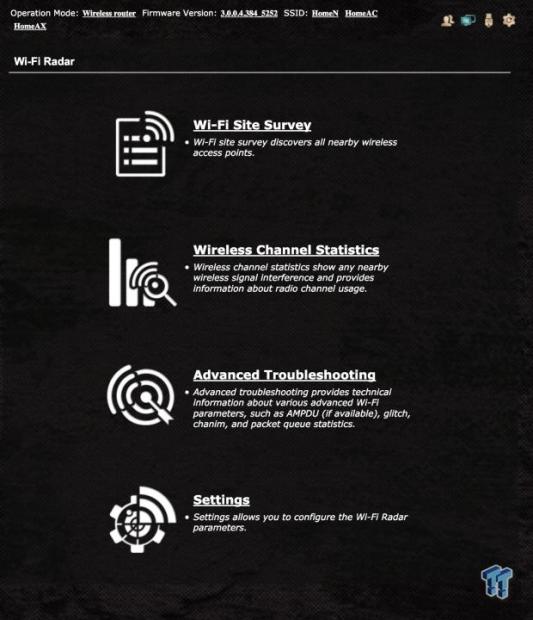 Wi-Fi Radar is a new tool ASUS has added allowing you to perform site surveys and channel stats to optimize the bands you are using for your network.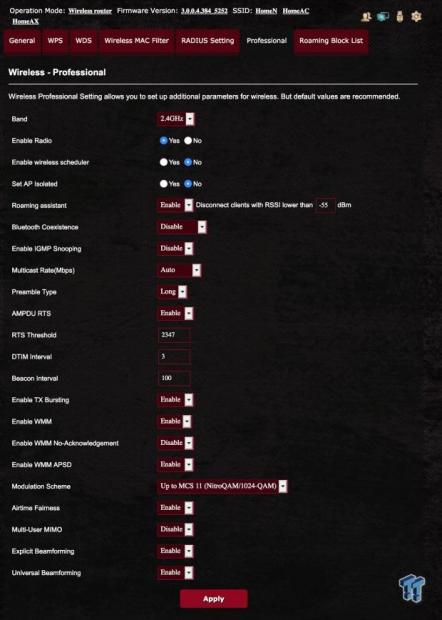 Wireless settings haven't really changed. Each band is accessible by the top drop-down box. The options to change the SSID, password, and security are below.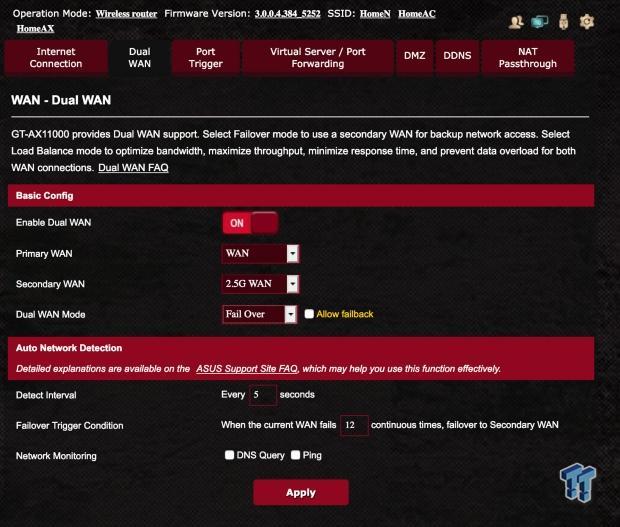 The image above shows the dual WAN feature that allows you to choose the port and mode. This router does also support Link Aggregation.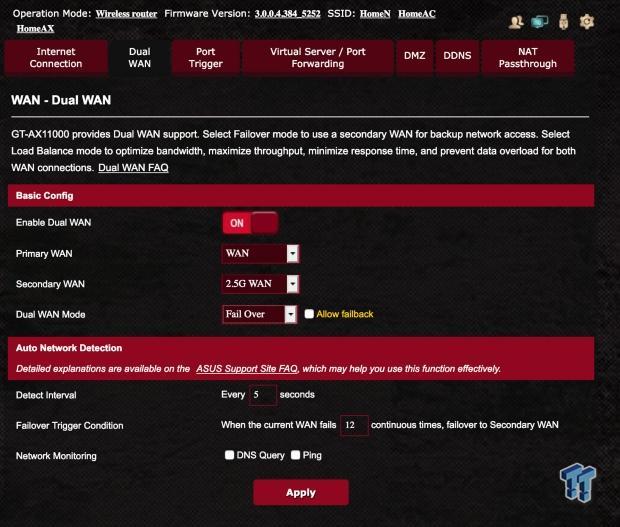 Last, we have Administration allowing you to select operation mode. Along the top, we have system, firmware and restore options as well.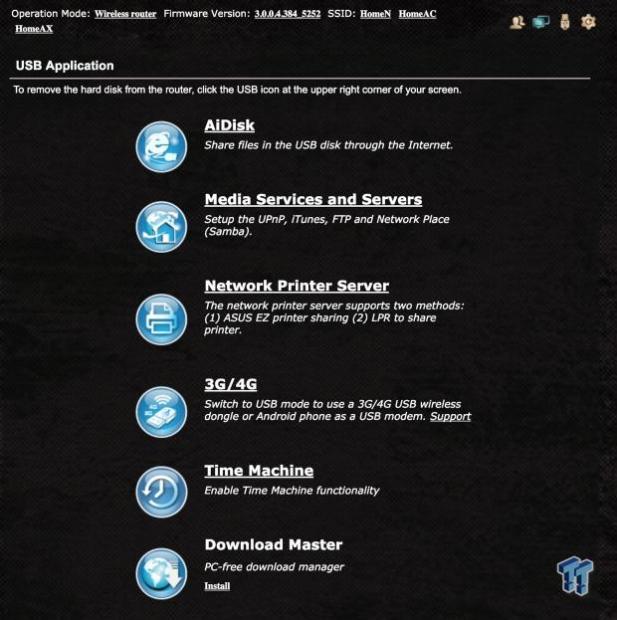 The USB application menu hasn't changed with options for AiDisk, NPS and Time Machine. You can also setup a 3 or 4G dongle.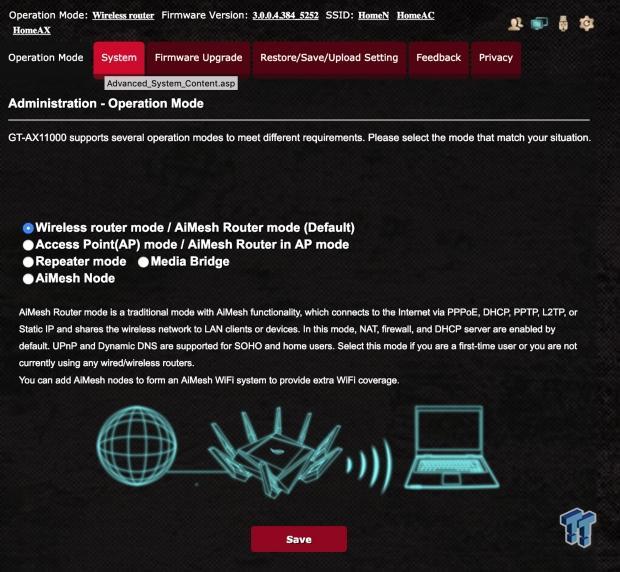 The administration menu allows you to choose operating mode, firmware upgrade and restore settings.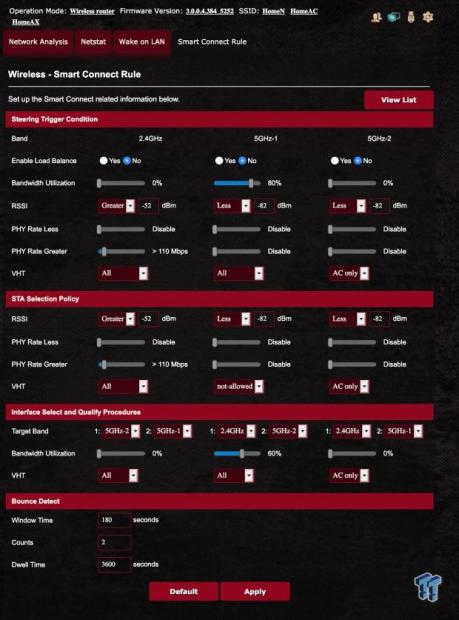 Last, we have the ability to tune the smart connect rules in this solution allowing you to choose when a device switches from 2.4GHz to 5GHz or vice versa.
Testing - LAN and WLAN Throughput
As mentioned in the beginning, 802.11ax testing is currently done with the Intel 9260 2x2 solution. Peak rates of this solution are 300mbps on the 2.4GHz and 1.73Gbps on the 5GHz band using 160MHz. The ROG Rapture is capable of 1148Mbps on the 2.4GHz and 4804Mbps on the each of its two 5GHz bands.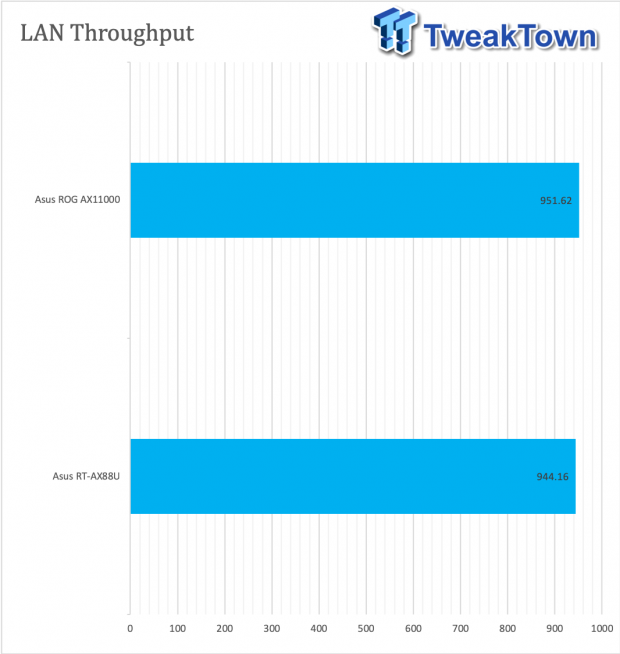 Comparisons for 802.11ax are short, but this list will grow as we move through the year. For now, we have the AX88U, and ROG Rapture tested. Both achieving solid wired throughput.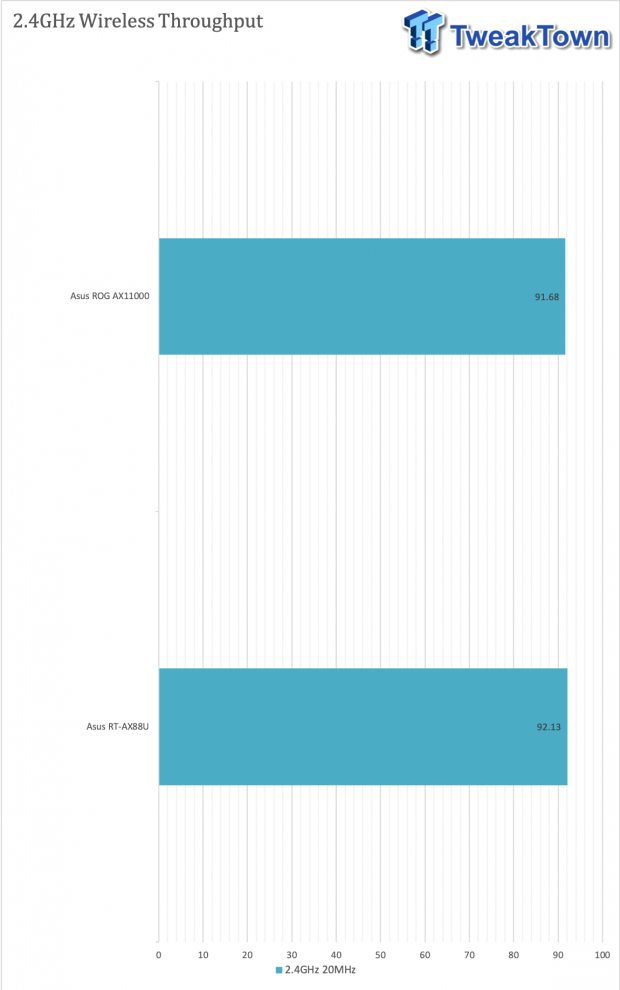 Moving into WLAN, we start off with 2.4GHz reaching 91Mbps for the ROG Rapture.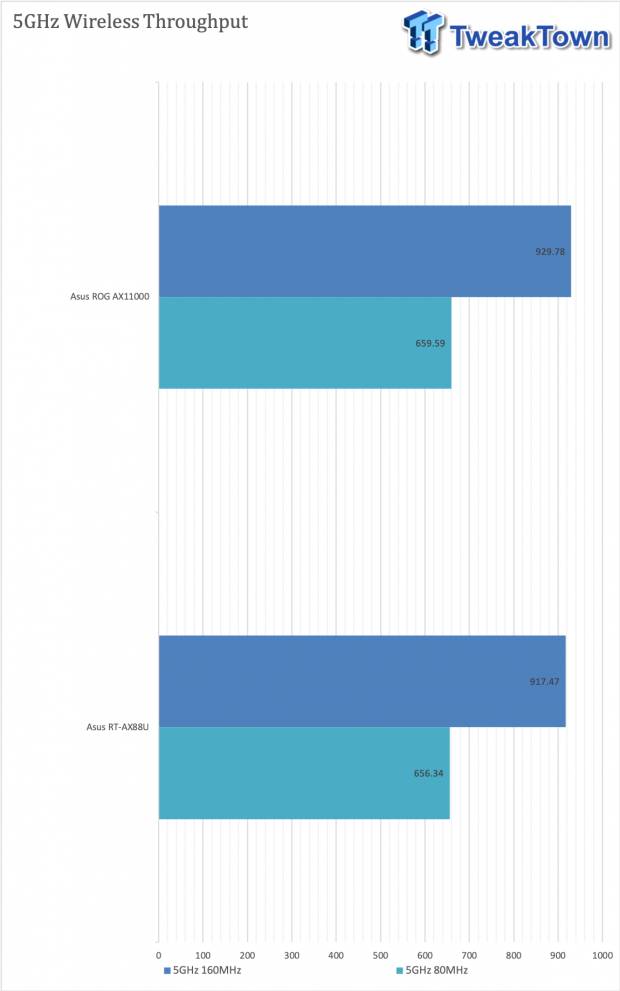 Over to 5GHz, we see 80MHZ reach 659.59 a touch faster than the AX88U and with 160MHz 929MBps the full potential of our wired connection.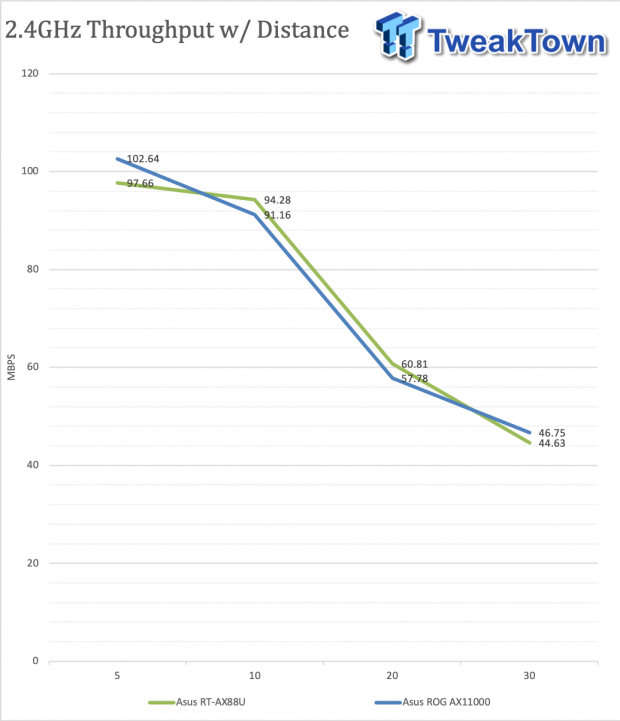 Range testing is done with an iPhoneXR running iOS 12. For this test, I physically move my phone away from the router in increments of 5 and then 10ft checking performance along the way. For 2.4GHz we start strong at 102Mbps at 5FT. Moving out to 10ft we see a slight performance drop to 91Mbps, and at 20ft we are down to 57Mbps. At 30ft we end testing at 46Mbps as any further we lose connection.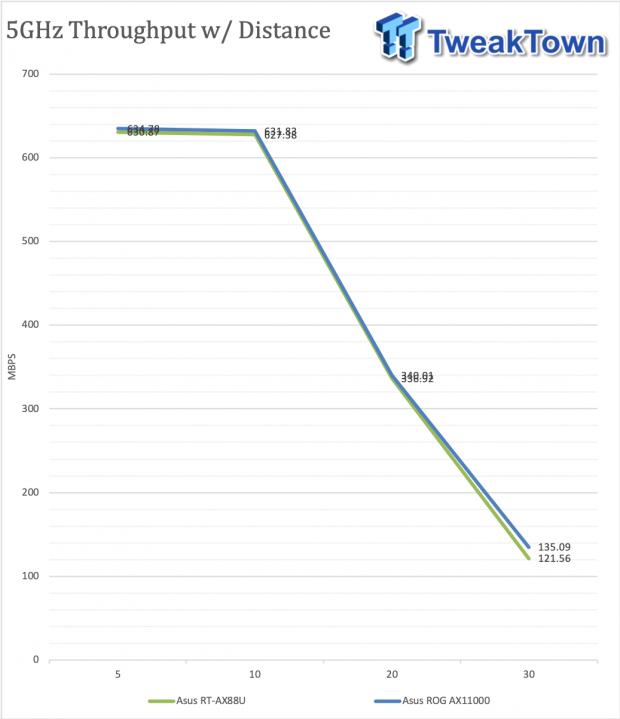 With 5GHz we start at 634.8Mbps and at 10 land at 631Mbps. Moving out to 20 feet we see performance drop to 340MBps and end at 135Mbps at 30 feet.
Final Thoughts
I didn't get to use the ROG Rapture as long as I would like as I'm still testing 802.11ac units as they come in. That said I was able to go back to it after this last run of testing to see how it performed in everyday tasks and I can certainly say you notice the difference between AC and AX in stability and the amount of traffic you can push before the router starts needing to buffer video etc. Build quality is solid for a router, ASUS certainly goes all out in design when it comes to their ROG solutions, and this black and copper look is quite nice in my setup as it matches my home theater.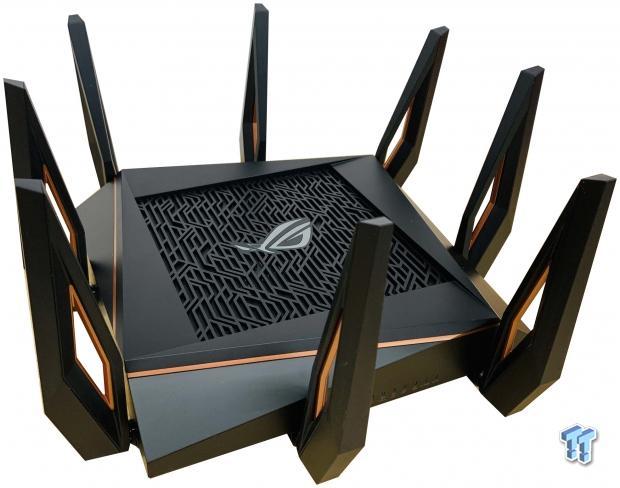 The performance was amazing, and you can certainly expect more than what was produced here today if, in the future, you have an AX client. 2.4GHz showed 102MBps peak which is what we have seen many times in the past from 802.11ac solutions. 5GHz perked up a bit from what we traditionally see with 659Mbps at 80MHz and 929Mbps using 160MHz channels. On a side note, I was able to do a speed run using a secondary test system with 2.5Gbe and the 160MHz 5G channel and reached 1200Mbps real-world.
The interface of this router isn't going to be for everyone, luckily you don't have to spend day and night in there and for the most part it's really easy to navigate and get things setup. That said if you are one that loves features, the ROG Rapture delivers with a fantastic implementation of QoS with Traditional and Game Radar options along with all the basics we have come to love from ASUS solutions like AiCloud and AiDisk, Dual WAN and 4G support if you use a dongle for internet.
Now the ROG Rapture comes at a price and while its certainly not cheap this router is a tri-band Wi-Fi 6 solution on the bleeding edge of what's available currently. That said it comes at an MSRP of $449.99 which puts it at the high-end of the current market if we include 802.11ac
| | |
| --- | --- |
| Performance | 92% |
| Quality | 91% |
| Features | 94% |
| Value | 90% |
| Overall | 92% |
The Bottom Line
ASUS leads the way into Tri-Band Wi-Fi 6 with the ROG Rapture.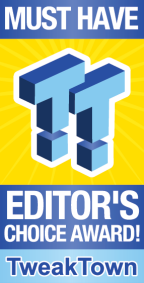 We openly invite the companies who provide us with review samples / who are mentioned or discussed to express their opinion. If any company representative wishes to respond, we will publish the response here. Please contact us if you wish to respond.