Silicon Power XPOWER Turbine DDR4-3200 16GB Kit Review
Despite the lack of lighting, the The XPOWER Turbine do very well out of the box and we certainly recommend them, find out why here.

Published Tue, Dec 25 2018 10:00 AM CST
|
Updated Tue, Nov 3 2020 6:57 PM CST

Silicon Power may not be your go-to company when it comes to Filling DIMM slots with RAM, they may not have even been in your mind at all, but out of the blue, we were offered a chance to look at what they have. It appears Silicon Power provides three versions of DDR4 at this time, some without heat spreaders, and two kits with them, but searching the list; we found out that XPOWER is their gaming moniker, and it happens to be part of what brings us together now.
More specifically, it is a set of Silicon Power XPOWER Turbine DDR4. Under this lineup, users have a few options. Currently, the XPOWER Turbine is offered as single 8GB and 16GB sticks, and when "kits" are sent, you get multiple single stick packages in 16GB or 32GB densities. Speeds start at 2666MHz, but you can also opt for 3200MHz, 3600MHz, even 4133MHz. Timings change dependent on the speed but come as either CAS16 or CAS 19. Voltage starts at 1.20V for the slower RAM yet gets as high as 1.40V for the faster memory. Lastly, should any issues arise with your XPOWER Turbine memory, no worries, it comes with a lifetime warranty.
What we have in our hands are two packages of SP008GXLZU320BSA, each of them 8GB for a total of 16GB of RAM to test in dual channel. The XMP profile for this set delivers 3200MHz of speed with CAS16 used. With 10-layer PCBs and the use of Samsung ICs, we have a feeling that there is more left in the tank as well. Stick with us as we cover the aesthetics, features, components, and get through testing. As for a company that slips the minds of many when looking for DDR4, they do offer something worthy of your attention.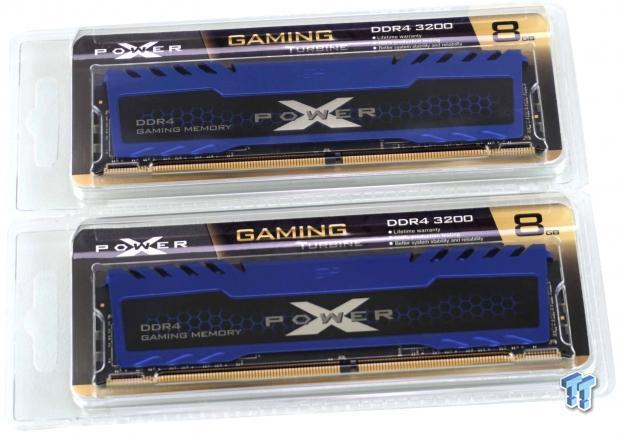 Silicon Power sent over a 16GB "kit" of the XPOWER Turbine, but our 8GB sticks are packed individually in hermetically sealed packages. While we can see the memory, all of the names like XPOWER Turbine Gaming, and even a few features, on the back is a QR Code to ease the activation of the warranty.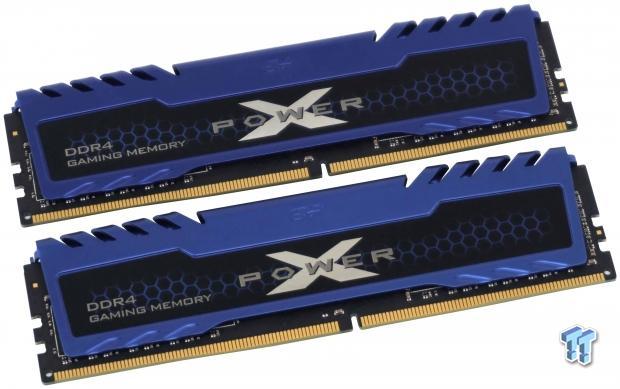 Most of the time, we see black, red, or white used for heat spreaders, and it is refreshing to see electric blue heat spreaders again. The top of the spreader has "wings" and in the middle of them, "SP" is pressed into the metal. The stickers sporting the XPOWER name over the honeycomb shape is also sleek, as it matches the black PCB.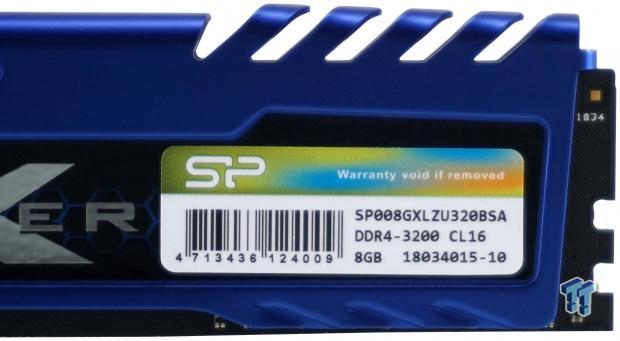 On the reverse, the heat spreader and sticker are identical to what is shown above, but there is the product sticker to look at this time too. Below the SP logo and multi-colored stripe across the top, we can see the part number for this stick, the speed, and CAS timing, as well as the density, but no mention here of the voltage needed.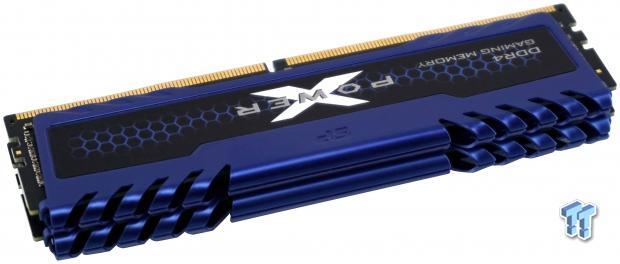 The heat spreader is a typical two-piece design where the spreaders are taped to the ICs or the back of the PCB. The wings and gaps are what you will see inside of your system, and for the RGB haters out there, no lighting what so ever is present.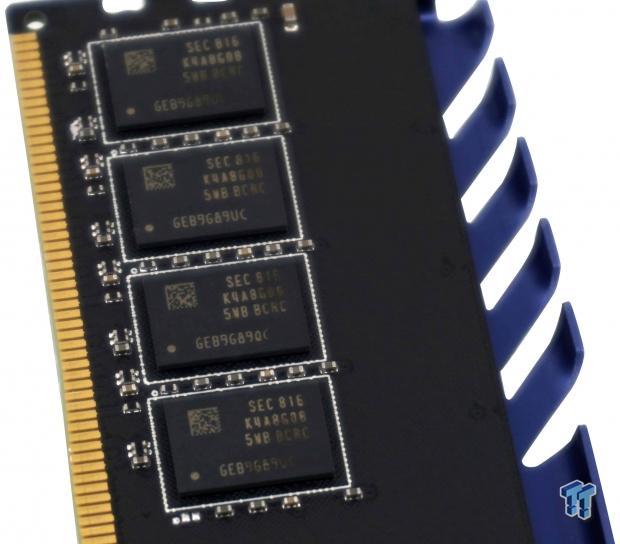 First, we used software to read the ICs, but the full part number is not offered there. Instead, we removed the heat spreaders to see the K4A8G085WB-BCRC modules used, which we can only assume are B-die chips.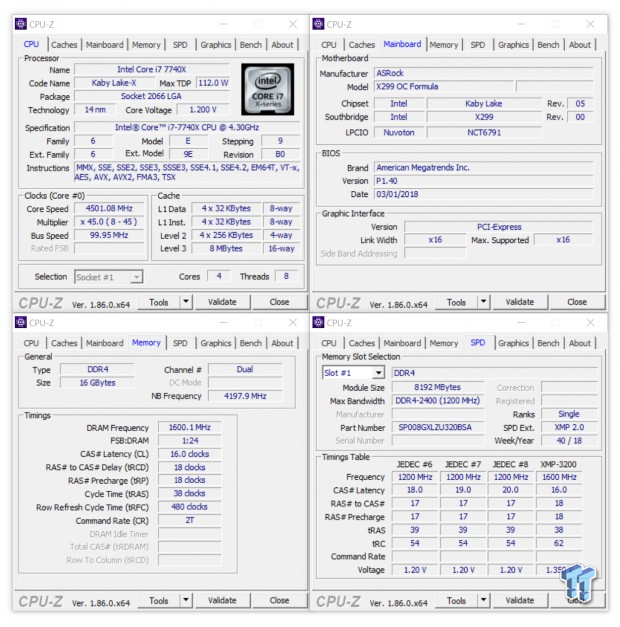 By enabling the XMP 2.0 profile in the BIOS and restarting the PC, our first boot with the XPOWER Turbine has us running as we should at 3200MHz. Now is also the first time you see all of the 16-18-18-38 2T timings. To accomplish this, the VDIMM is set to 1.35V, with the VCCIO and VCCSA using 1.20V and 1.35V respectively.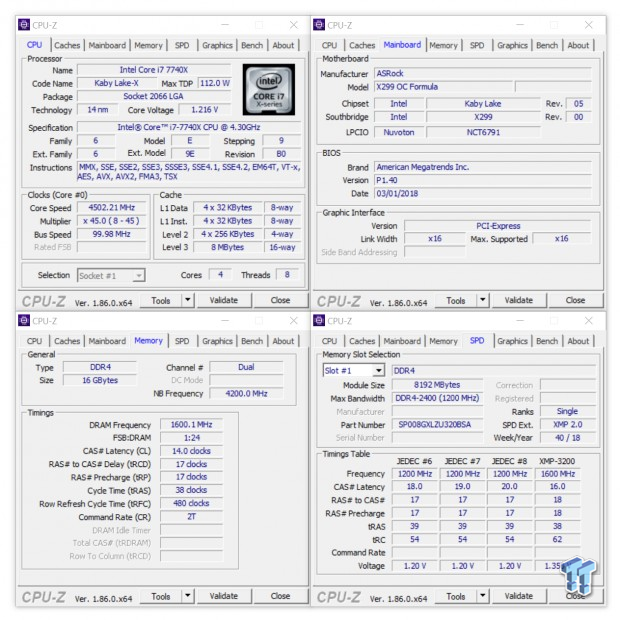 Starting from the XMP profile and working down in timings, we also set the VDIMM to 1.45V and bumped the VCCIO to 1.30V while not touching the VCCSA. While there is not a massive change in what we accomplished, we are still happy with the 14-17-17-38 2T timings we were able to achieve with stability.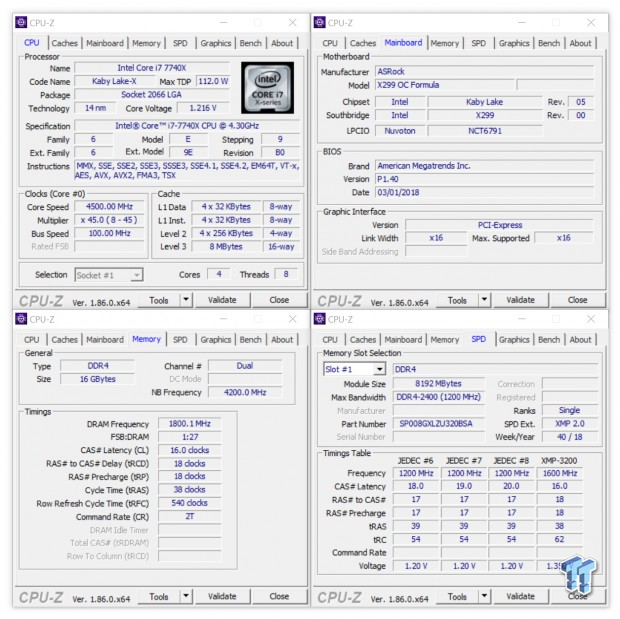 With the same voltages applied as in our search for the lowest timings, we now started increasing the memory speed with the XMP timings in play. Surprisingly enough, even though the timings do not move much, there was another 400MHz left to gain. 3600MHz with 16-18-18-38 2T timings should spice up the charts, and is more than we expected from the "sleeper" appearance of the XPOWER.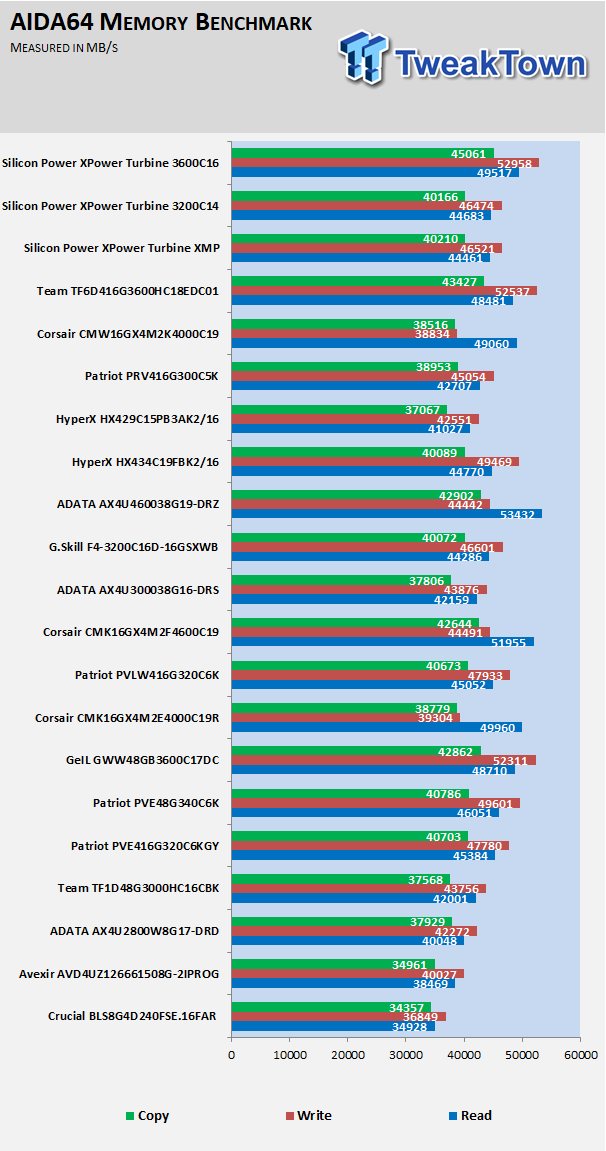 This XPOWER RAM runs neck and neck with the likes of G.Skill and Patriot kits, at the same speed when using the XMP profile, and is where it should be in the chart. With lower timings, we lose a bit of Copy and Write speed, but gain a little in the Read department. At 3600MHz the XPOWER crushes everything else at that speed in all three parts of AIDA64 testing.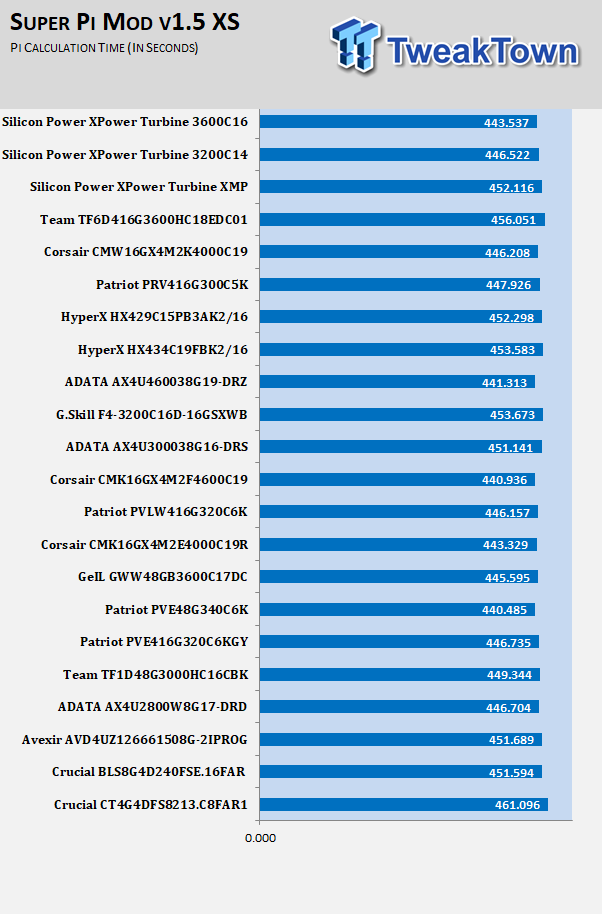 Testing with Super Pi shows that the XPOWER Turbine is ahead of G.Skill, but slightly behind the Patriot kits using the XMP profiles. Lowering the timings got us almost five and a half seconds faster results, while incre4asing speed was worth nearly ten seconds gains.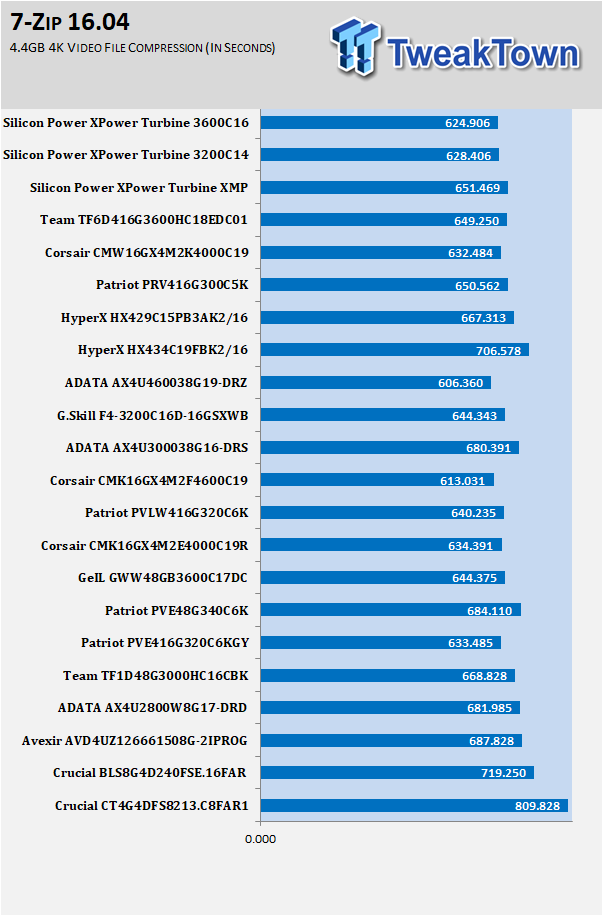 Video compression leaves the Silicon Power XPOWER Turbine lacking in ability compared to similar kits. However, with just the slightest bit of overclocking changes things completely as seen with the twenty to twenty-five-second drop in time to complete the run.
To be blunt, we are impressed. For never having a single stick of Silicon Power memory in our hands, or a system before this review, first impressions were fantastic. With a heat spreader design similar to others on the market, giving us a nostalgic feel from our days of benching on DDR3 modules.
The lack of any lighting is also something of the past, as many companies want to pack their RAM with as much marketing as possible to draw you in. Silicon Power took a different route, in which a simple design made with good components can win over buyers as well. The way in which the XPOWER Turbine runs out of the box using the XMP profile, keeping up with some of the most significant players in the DDR4 game says a lot about what you get.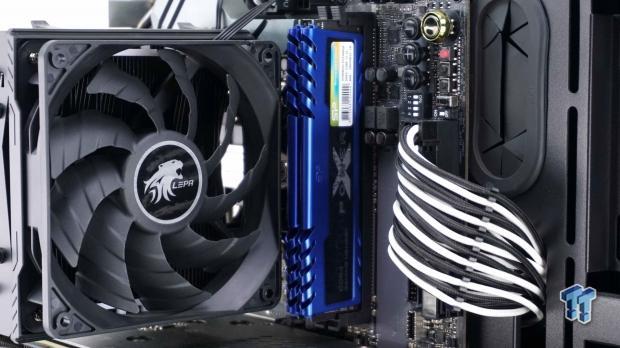 While we get the fact that placing the product sticker on the right side of the modules makes it easier to read, we would much rather have them on the other side for a cleaner appearance once installed. However, at the same time, without LEDs flashing and a rainbow of colors spewing from them, they do not attract the same attention in a build that the others do. Sticker placement is something we can easily overlook, and as our only complaint about the XPOWER Turbine was the lackluster performance in video editing. Even then, for those who are not afraid to tinker and tweak things, the video renderings then was some of the best we seen so far, only beat out by the 4600MHz kits.
While we were able to obtain these sticks for the review inside of the US, at this time, the XPOWER Turbine DDR4 Gaming Memory is not available. All we can say is at this time discussions are happening to make them widely available on this side of the pond. We were, however, sent the estimated price for what we have. In an email, it was disclosed that we should expect to have to pay $157.30 for the 16GB worth of 3200MHz Silicon Power XPOWER Turbine.
That being said, it seems quite high. Considering all things such as features, or lack thereof, speed, timings, density, and the rest of the market, we would have expected a near $130 price point. With all of this in mind, we still feel that the top-notch PCB and use of Samsung ICs bodes well for Silicon Power, and with room left to improve upon what the XMP profile delivers, it is difficult not to recommend these modules.
Chad's DDR4 Dual-Channel Test System Specifications
Motherboard: ASRock X299 OCF
CPU: Intel Core i7 7740X - Buy from Amazon
Cooler: LEPA NEOllusion - Buy from Amazon
Video Card: ZOTAC GeForce GTX 970 AMP. Extreme Core
Storage: Samsung XP941 256GB
Case: Thermaltake Core P3 - Buy from Amazon
Power Supply: Corsair RM750 - Buy from Amazon
OS: Microsoft Windows 10 Home 64-bit - Buy from Amazon
Software: CPU-Z 1.78.3 x64, Super Pi Mod 1.5XS, 7-Zip 16.04, AIDA64 Engineer 5.92.4300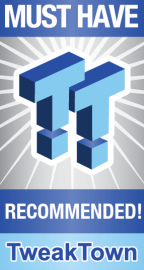 | | |
| --- | --- |
| Performance | 98% |
| Quality | 95% |
| Features | 85% |
| Value | 78% |
The Bottom Line: The XPOWER Turbine do very well out of the box with XMP, and has room for the overclockers to have fun too. They lack any form of lighting, and you do pay more than market value, but we still like what we saw enough to recommend you try them out!
PRICING: You can find products similar to this one for sale below.

United States: Find other tech and computer products like this over at Amazon.com

United Kingdom: Find other tech and computer products like this over at Amazon.co.uk

Australia: Find other tech and computer products like this over at Amazon.com.au

Canada: Find other tech and computer products like this over at Amazon.ca

Deutschland: Finde andere Technik- und Computerprodukte wie dieses auf Amazon.de
We openly invite the companies who provide us with review samples / who are mentioned or discussed to express their opinion. If any company representative wishes to respond, we will publish the response here. Please contact us if you wish to respond.