Introduction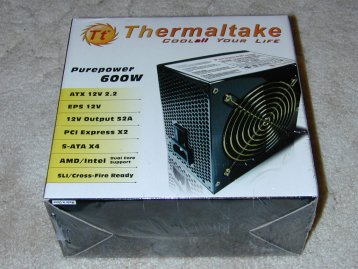 For those who have been building their own computer systems for a while, the name Thermaltake will certainly be known. Starting off back in 1999, their main goal was to come up with innovative cooling products for this new group calling themselves "enthusiasts". Since then they have branched out to other areas, but still maintain that desire to put out a product line that can handle the chores of a hardcore PC.
One of the areas branched into was the power supply arena. With modern systems requiring more and more power to make things run with any degree of stability, the folks at Thermaltake have added the Purepower 600 to their lineup and seem to think it will handle the rigors of a high-end system.
So kick up your heels for a bit as we delve deeper into this very product and see if it not only meets the claims of the manufacturer, but also if it merits consideration for those of us who call ourselves "enthusiasts".
In The Box
It seems anymore that everything is hermetically sealed (yes, those old enough to remember the Tonight Show with Johnny Carson will know that term). After the plastic wrappers are removed and the box opened, we find ourselves with nothing but what is needed to accomplish the task at hand. Thermaltake created this PSU for the power user and didn't add in a bunch of extra stuff that wouldn't be used anyway. We get the power supply itself, a power cord, a small manual and mounting screws.
Now that we have everything out of the box, lets hit up a few areas of interest.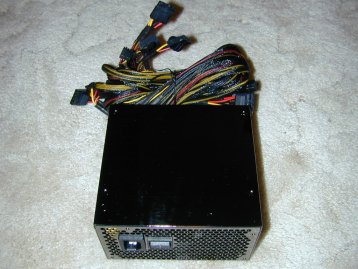 Beginning with the basic specs of the PSU, this model is designed to put out 600 watts of constant power. While this isn't particularly abnormal, one item of interest is the three 12v power rails. Yes, I said
THREE
12v rails! With individual capacities of 14A, 23A and 15A respectively, there is a total of 52A available just on the 12v rails. We're almost getting to the point where we could consider running a peltier based setup without an external power source!
For the other rails, the 3.3v rail has a limit of 28A and the 5v rail has a limit of 30A. There is also a 5VSB rail for those using something along the lines of OCZ's DDR Booster, but it has a small limit of only 2.5A total output so will have limited usefulness.
If you happen to be interested in power efficiency, this particular model boasts Active PFC and an average rating of 80% overall power efficiency. The efficiency is about average for most power supplies currently on the market, and the Active PFC reportedly helps deliver a cleaner flow of power to the voltage rails.
For those with an eye for aesthetics, check this out...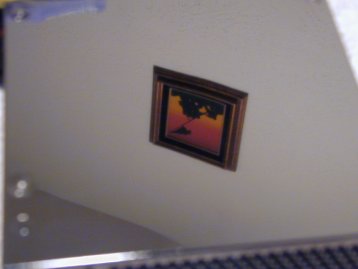 Pictured above is the reflection of a picture I have hanging in my workroom. The exterior of this power supply is a brilliant mirror finish and will set off a windowed case very nicely. A lot of models are now using powered LED lighting to enhance their looks, but Thermaltake has gone back to the basics with this unit and just made it very neat and clean. Another benefit of this is that it takes no power from the unit to make it look good, leaving more juice for that power rig.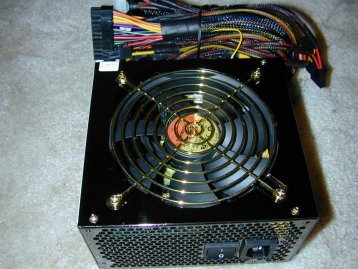 To help in keeping the internals cool, this model makes use of a 120mm fan. This, in conjunction with the waffled back panel, will do a fine job of ensuring the operating temperature of this PSU doesn't get out of control. It is a very quiet fan and moves plenty of air for the cooling needs of the power supply, but I still do not advocate using this as a part of the enclosure cooling setup. Using a good internal airflow scheme will always give better results than relying on the power supply to be the primary exhaust component within the case.
Taking a look at the back panel shows us another area that has been kept very neat in appearance. The only components visible are the power port and the On/Off toggle switch. The rest of the space is given over to ventilation. Also of note is the lack of a voltage switch. This unit handles this task internally so you don't have to worry about forgetting to set it to the proper level before powering up the system.
Cabling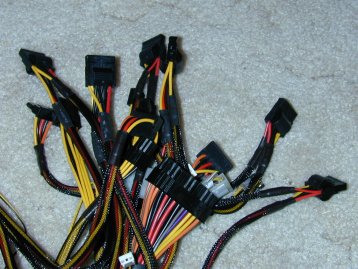 I remember many of the older power supplies having only a few Molex connectors, maybe a FDD connector and the main power coupler. Come to think of it, that was only a few years back. With the increased power needs and the plethora of peripherals commonly in use nowadays, there is a need to have a lot more flexibility in the department.
Well, the folks at Thermaltake have heard these pleas and answered them. Besides the main power coupling and the auxiliary ports, you have eight 4-pin Molex, two FDD connectors, four native SATA power connectors, two PCI-Express connectors and two additional Molex for use with case cooling only.
This goes a long way in terms of that flexibility I was talking about. Add this to the amazing power levels along the rails and you have the making of an excellent power supply.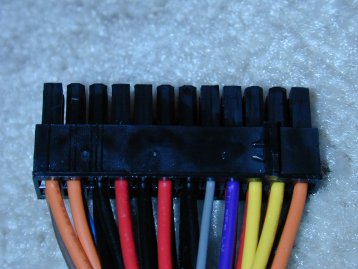 For those with nearly any motherboard that isn't totally obsolete, you will be set with regards to the main power coupling. This unit uses the now-common 20+4 configuration that allows you to give proper power to either a 20-pin or 24-pin mainboard.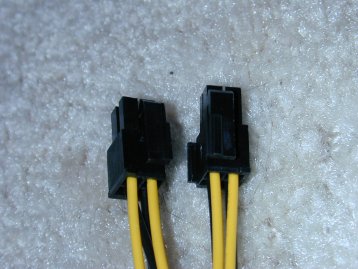 Taking a closer look at the auxiliary power connector shows us the newer 4+4 configuration. This is one of the things that makes this model ATX 2.2 compliant. I've been seeing some newer motherboards that require this new 8-pin connection for the supplementary power requirements, so if yours needs this, you're set.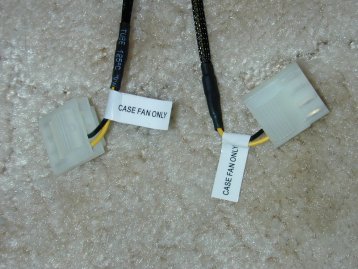 I still have a lot of mixed feelings about this particular feature. Antec came out with it a few years back and now Thermaltake has come up with their version as well. I'm talking about the "
Case Fan Only
Molex connectors. The concept behind this type of power connection is to allow the power supply to determine how fast a case fan needs to spin by using a thermal probe. The hotter the temperature it reads, the faster the fans spin. While this may be fine for some, I always want to be in firm control of cooling within the case. This is why I generally have very good results no matter the type cooling I use, because I know how to make a good cooling setup work properly.
It all comes down to what you're comfortable with, but I make it a habit to secure these little devils out of the way with a zip tie. To each their own.
Testing
I've been playing with power supplies for quite a while now and I guess in my old age, I like to sometimes make things interesting. My normal method of testing a PSU is to get the system up and running, get a burning session on a CD-RW running in the background, then cranking up something along the lines of Quake 4 and run a long-winded demo. Once everything is cranked up, I'll measure the voltage levels along the power rails to see how close they remain to specifications. The thought behind this method of testing is to see if the power supply can maintain acceptable power levels while under stress.
While I will continue to use this methodology, I also decided to compare these results with the power levels at system idle just to see how much the unit drops off while the system is under a load. This should give us a little more in depth picture of what the PSU in question is capable of. After all, with power supplies becoming a very important component in modern computers, it pays to know ahead of time what works and what doesn't.
But before we dig into the multimeter readings, lets take a quick look at the test system being used:
DFI LANParty UT nF4 Ultra-D motherboard (nVidia nForce4 Ultra chipset)
AMD Athlon FX-53 processor (Supplied by
Newegg.com
)
2x 512MB Mushkin "Redline" PC3200 memory (Supplied by
Mushkin
)
Sapphire X1900XT graphics card (Supplied by
Sapphire
)
Four case fans + Thermaltake CPU cooler using 80mm x 38mm high performance fan
All right then... the system is running and the tasks are chugging along. The processor is at default speed and voltage is set to 1.5v. The memory is running at 2.9v and all other levels are set to default. The motherboard is an absolute power hog and the video card has sent many lesser power supplies to an early grave. Lets see what this thing can do!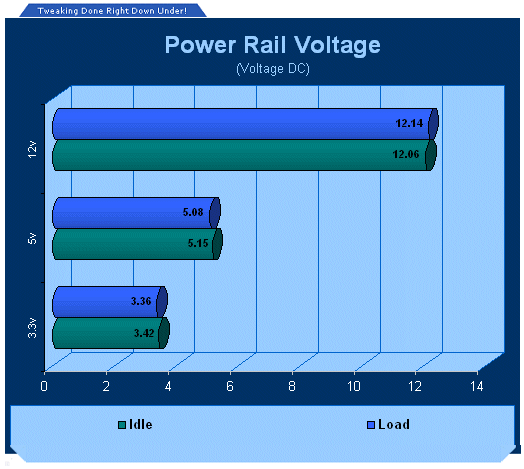 All right, I'm stumped. Impressed, but stumped. All voltage rails, no matter what level of system stress, produced excellent results of over specified ratings. But I cannot figure out how this power supply actually got a
higher
voltage reading on the 12v rail when the system was pulling. I might buy off on this if I had been using an older AthlonXP based rig, which generally uses more juice from the 5v rail instead of the 12v rail, but not on this hog. I even double checked the results and they were the same. The multimeter is calibrated, so I don't know.
Like I said, I'm impressed with the overall results, but I'm still stumped.
Another item of note during testing is the very steady voltage levels. Many power supplies will produce voltage readings that are constantly moving, even just a bit. All readings taken above were extremely steady with the only jumping being a slight .01v movement in the 12v rail at idle. Very nice indeed!
Final Thoughts
After all is said and done, I'm impressed with this power supply. It has a very clean look, very adequate internal cooling and produced excellent voltage readings along all power rails regardless of system load. Add to this the 600 watts of available power along with the ability to be compatible with nearly any motherboard and you end up with a PSU that is ready to work for you regardless of system specs.
There are connectors aplenty and even using a motherboard with requirements for an additional Molex and FDD connector to handle the power needs, I still had no problems with running out of connectors. This is certainly a nice change of pace when compared to several power supplies currently on the market.
I'm still not real comfortable with the addition of the thermally controlled fan Molex connectors, but again, that is something that some will like and others like myself will not use, so it will have a very minimal effect on the overall rating of this device.
As far as price is concerned, you can expect to shell out somewhere in the neighborhood of $140US. While this isn't exactly cheap, it isn't anywhere close to the top of the pricing ladder for this wattage of PSU.
Bottom line... If you're looking for fancy lights and frilly features in a power supply, then don't even bother with this model. If, on the other hand, you're looking for a power supply that has an excellent power output along all voltage rails and enough juice to handle the meatiest of enthusiast rigs, then do yourself a favor and take a hard look at the Thermaltake Purepower 600. With many systems requiring a minimum of 450-500 watts of quality power, this little gem won't let you down.
- Pros
600 watts of available power
Excellent voltage along all power rails
52A on the 12v rail
Very steady power
Mirror finish
- Cons
"Case Fan Only" connectors (Yes, I'm picky)
- Latest Pricing
Rating - 9.5 out of 10 and TweakTown's "MUST HAVE" Editor's Choice Award!