Team T-Force Xcalibur RGB DDR4-3600 16GB Review
The T-Force Xcalibur RGB Special Edition DDR4-3600 16GB Dual-Channel Memory Kit has some upsides, but the downsides unfortunately outweigh the good.

Published Sat, Oct 27 2018 10:00 AM CDT
|
Updated Tue, Nov 3 2020 6:57 PM CST

Not that long ago, a random post popped up on our Facebook feed that Team was releasing some new DDR4. Our initial thought was that the RAM looked pretty cool and that we wouldn't mind testing a set of it. Before we could even kick out an email, Team was asking us if we wanted to take a look and offered us a choice of which of the two freshly released sets we would want to look at. Since the ad had shown two versions, the standard set and another version that is considered Special Edition, it is not hard to guess which of the two we chose.
Team and their well know memory brand T-Force has been keeping us busy since we took over reviews of memory. From what we have seen along the way, they tend to develop products that do not fit the typical mold that many other makers follow, but still do offers more standard designs for those who like what the industry standard is. By this, we mean, that the T-Force series has been delivered with wide wing shaped spreaders, some have hints of RGB lighting from them. Unusual designs to the styling of the heat spreaders, and now there are even heat spreaders that are topped with a thick sword-shaped RGB lit section that delivers lighting in all directions and offers a stunning aesthetic inside of any chassis.
With the release of this new series of DDR4, we are introducing the world to the Xcalibur RGB. The standard version looks very close to the kit we have on hand at the moment, but it lacks the "totem" design that has been painted onto the RGB LED light bar. Not only does Team opt for the use of Samsung ICs in these kits, but they can be had in 3600MHz or 4000MHz, both delivered with the same timing set and voltage requirements. All there is left to do from here is to show off these sexy T-Force Xcalibur RGB Special Edition sticks, see what they are capable of in overclocking and testing, and deliver our opinion on whether or not we feel this should be the next set of modules to fill the slots in your motherboard.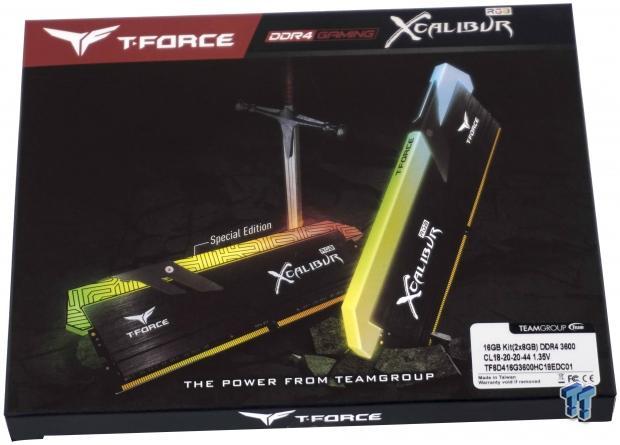 Packaging for the T-Force Xcalibur RGB memory covers both the standard and special edition designs, while in the bottom-right corner we find a sticker denoting capacity, speed, timings, voltage, and the part number for clarity. On the back, there are mentions of the 120-degree viewing angle, the optional totem design, Blitz RGB software, and XMP 2.0 support.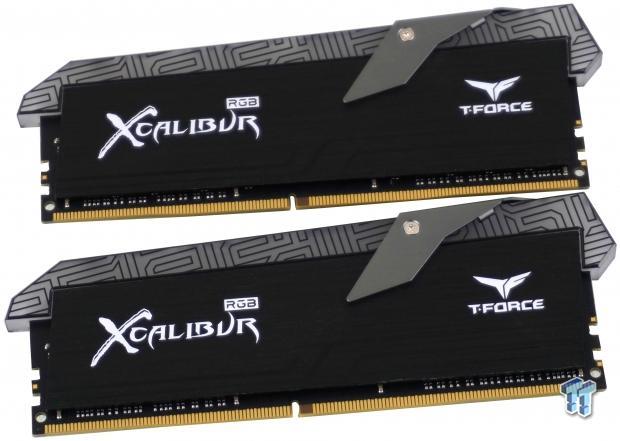 The modules are very attractive from the sides with the large brushed metal heat spreaders in black, the white painted product and company names, contrasting against the grey wings at the top. In this instance, the thick RGB LED section, shaped like a sword, have the totem design painted, wherein the standard Xcalibur RGB; it is not present.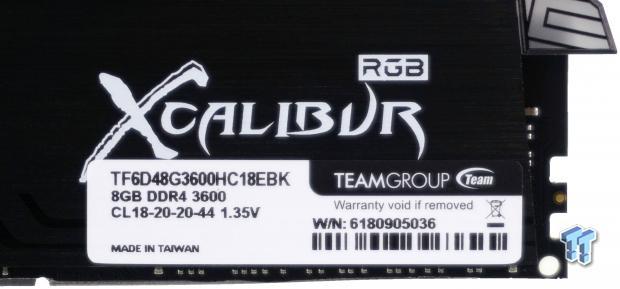 Flipping the modules over, while the look is mostly the same, the bottom-right corner holds the product sticker. The density and model number reflects this stick, not the kit, but the speed, timings, and voltage are the same as we saw on the box.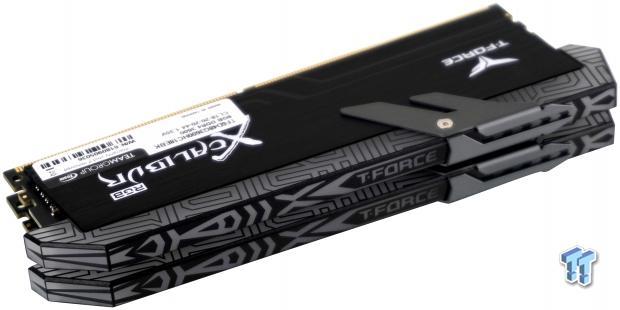 The totem design is carried over to the top of the RGB LED light bars, and the T-Force name is found near the gray wings. We also notice that the lines are thicker at the top, which we can only assume it to make the design more distinct while the bright glow of RGB lighting is passing through it.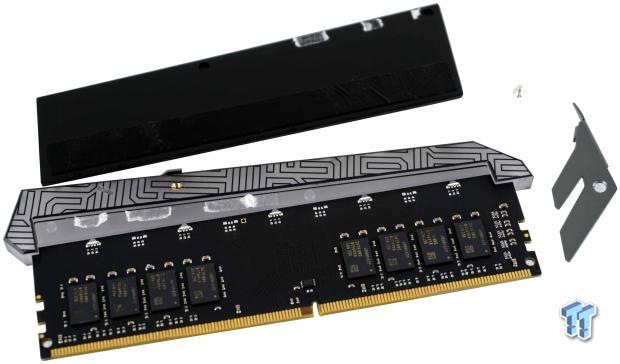 To get an idea of what was going on under the hood, we removed the screw from the wing section to allow us to pull the heat spreader. Doing so exposed the black PCBs, shows us the five RGB LEDs along the top edge, as well as revealing the Samsung K4A8G085WB-BCPB ICs, but don't get too excited about that just yet.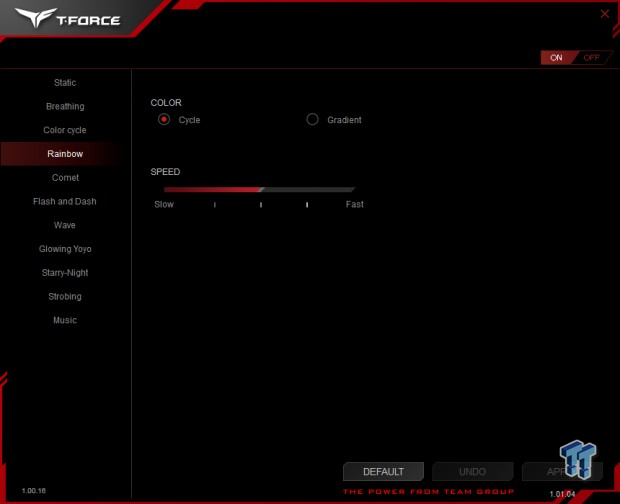 If you do not happen to have access to Aura Sync, RGB Fusion, Mystic Light Sync, or Polychrome Sync capable motherboards, Team wants you to have all options. The BLITZ software is what you can use to address the sticks individually or synced with eleven modes, cycle or gradient display of lights, and even a slider bar to adjust the speed of the modes.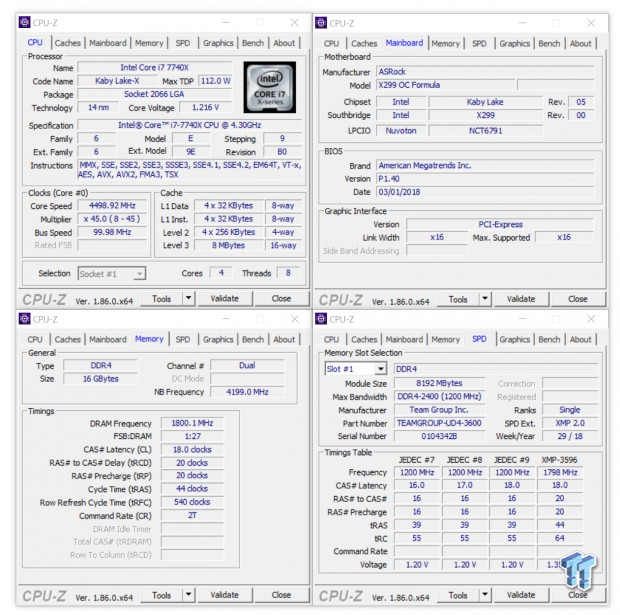 Once in the motherboard, BIOS cleared, and the XMP 2.0 profile enabled, this is what we saw in Windows. The Xcalibur RGB SE is running at 3600MHz with 18-20-20-44 2T timings and using 1.35 VDIMM. However, we also saw that the VCCIO was set to 1.30V and the VCCSA was using 1.35V which is a tad much for the speed in our opinion.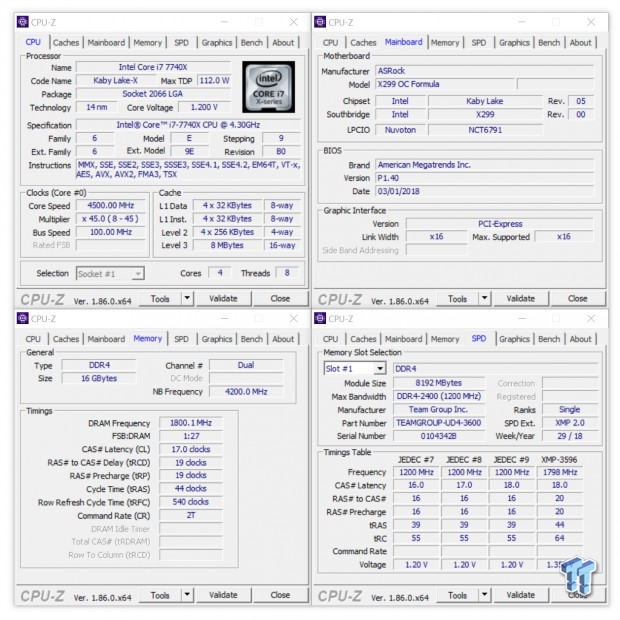 The next step is trying to lower the timings, and this is our first indication that the Samsung ICs used are not that great. All we could muster for the sticks were 17-19-19-44 2T, and that is with 1.45VDIMM, leaving the VCCIO and VCCSA the same as they were before.
The second indication of poor ICs is the fact that no matter what we tried, there is no extra speed left. Working for the next memory divider left us with issues passing benchmarks, and anything more resulted in BSODs.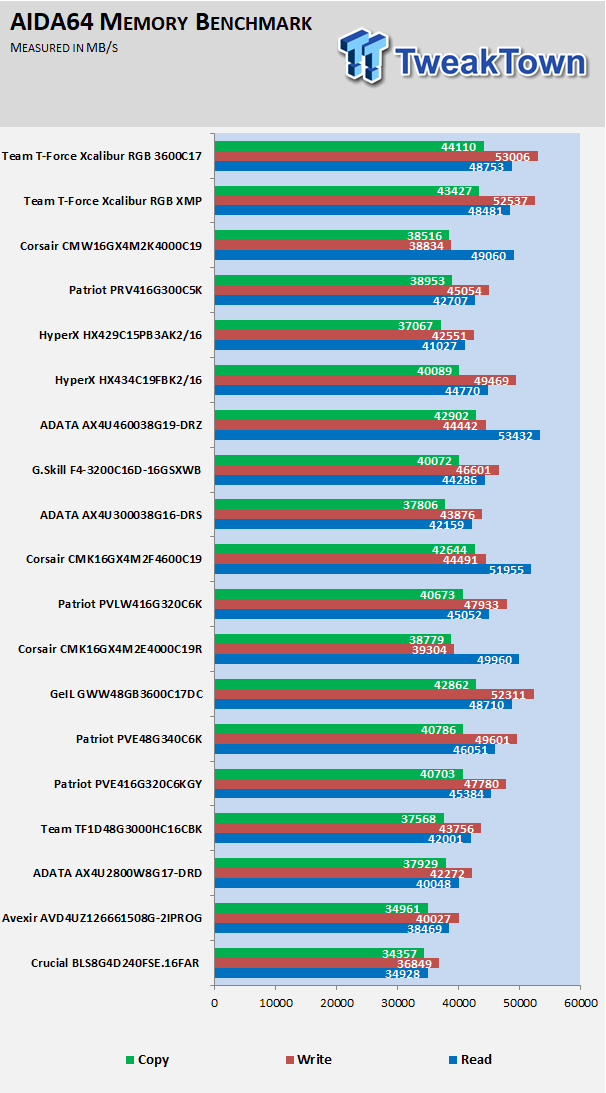 At 3600MHz, even with the timings being what they are, the Xcalibur holds its own against the competition. We also noticed, that it appears that the timing reduction we achieved was beneficial across all three sections of AIDA64 tests, where the Copy seems to take the most advantage.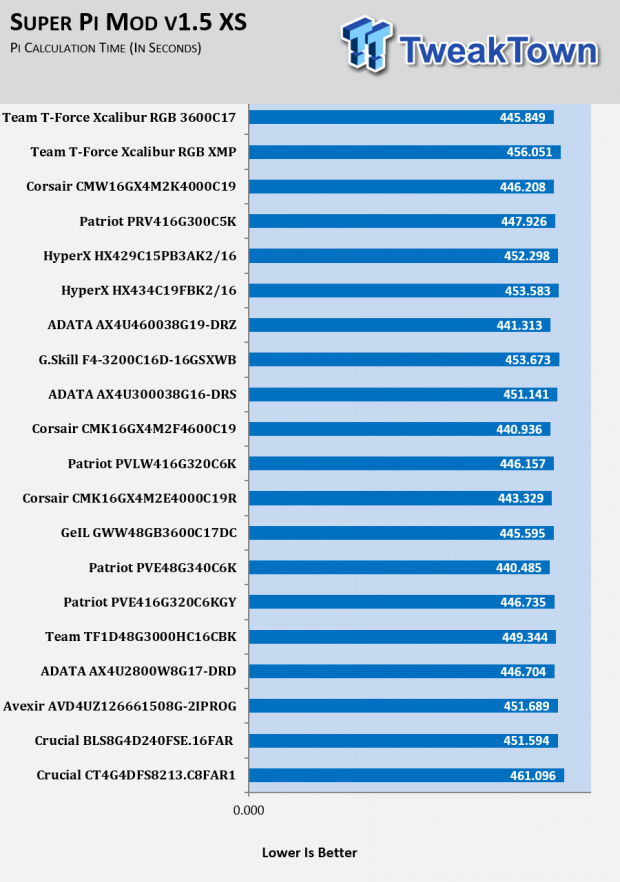 In Super Pi, the Xcalibur shows some of its weakness. Only the 2133MHz DDR4 does worse in this test compared to the XMP 2.0 profile. Even with reduced timings, there are still many slower kits that put up better results, yet at the same time, we were able to beat out a few kits with higher speeds too.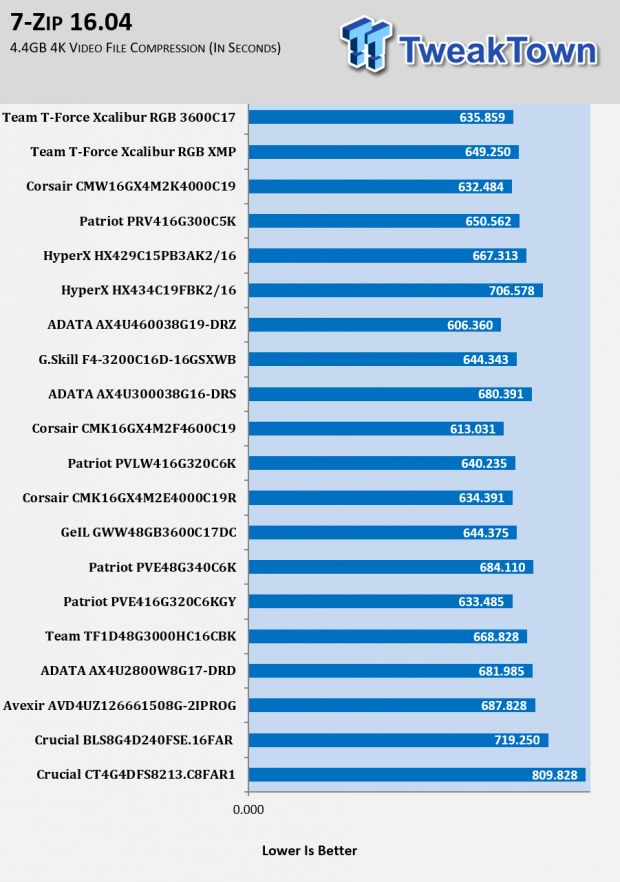 In compression scenarios, the T-Force Xcalibur RGB rank where we expected. There are similar kits that can do better, and even slower kits that beat out our lowered timings test, which leaves us a bit confused as to what exactly Team thought when it comes to the real reason for faster DDR4.
The Team T-Force Xcalibur RGB Special Edition RAM is a mixed bag for us. On the one hand, the look like no other kit currently on the market, and there is a lot to be said for originality and aesthetics. Use of high-quality materials for the heat spreaders is a plus, and even if our kit did not have the totem design on the light bar, the way that Team illuminates these modules is done very well, with minimal hotspots, as can be seen in the image below. In these aspects, we give Team high marks, and deservingly so.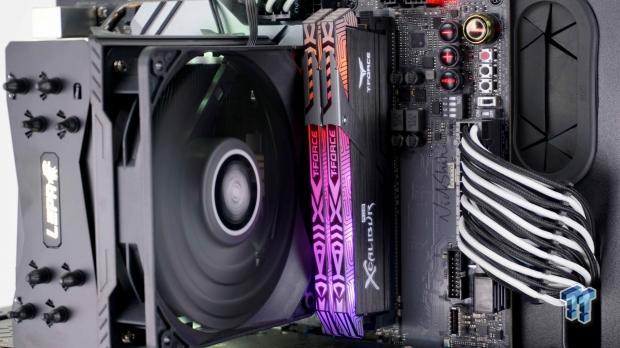 On the other hand, we found a lot to be left in the wishes and wants from this kit of memory. Using Samsung B-die ICs should be a huge plus to a set of DDR4, but in this instance, what we expect from their use is not to be found. Typically, we could lower the timings much further with the voltages we applied, but it is not able to be done with this kit. Even more so, we completely expected to be able to raise the speed without hassle, but again, instability and BSODs squashed that dream almost immediately. We do realize that nothing is promised in overclocking anything, yet it is rare that we find any DDR4 with such limited movement in this area.
Pricing to obtain the T-Force Xcalibur RGB Special Edition is quite high compared to other kits with similar specifications, and more expensive than other 3600MMHz modules with much better timings, and that means many will gravitate away from this set of memory. We see a price as high as $250.99 on Amazon, and a more reasonable $219.99 on Newegg. However, at the same time, you can have proven better sets of DDR4 in the range of $150 to $190 any day of the week.
With such a premium applied to the Xcalibur RGB Special Edition memory, we expected more out of them than just the stunning looks they deliver. Sorry to be so harsh and blunt, but we must call things like they are, and in this instance, we cannot with good conscience recommend this over other RGB kits that are a much better value, and also contain better binned ICs.
Chad's DDR4 Dual-Channel Test System Specifications
Motherboard: ASRock X299 OCF
CPU: Intel Core i7 7740X - Buy from Amazon
Cooler: LEPA NEOllusion - Buy from Amazon
Video Card: ZOTAC GeForce GTX 970 AMP. Extreme Core
Storage: Samsung XP941 256GB
Case: Thermaltake Core P3 - Buy from Amazon
Power Supply: Corsair RM750 - Buy from Amazon
OS: Microsoft Windows 10 Home 64-bit - Buy from Amazon
Software: CPU-Z 1.78.3 x64, Super Pi Mod 1.5XS, 7-Zip 16.04, AIDA64 Engineer 5.92.4300
| | |
| --- | --- |
| Performance | 75% |
| Quality | 95% |
| Features | 90% |
| Value | 70% |
The Bottom Line: There are things to admire with the T-Force Xcalibur RGB Special Edition DDR4, but the downsides overpower the good. They have little to offer when overclocking, they are expensive, and performance is not great enough to appreciate them at face value!
PRICING: You can find products similar to this one for sale below.

United States: Find other tech and computer products like this over at Amazon.com

United Kingdom: Find other tech and computer products like this over at Amazon.co.uk

Australia: Find other tech and computer products like this over at Amazon.com.au

Canada: Find other tech and computer products like this over at Amazon.ca

Deutschland: Finde andere Technik- und Computerprodukte wie dieses auf Amazon.de
We openly invite the companies who provide us with review samples / who are mentioned or discussed to express their opinion. If any company representative wishes to respond, we will publish the response here. Please contact us if you wish to respond.