AMD EPYC 7401 Consumer Tested
AMD's EPYC 7401 has been run through some consumer level testing, check out how the workstation CPU does at a consumer level!
Published Wed, Mar 28 2018 6:00 AM CDT
|
Updated Tue, Nov 3 2020 6:57 PM CST
Rating:

92%
Manufacturer: AMD
Introduction, Specifications, and Pricing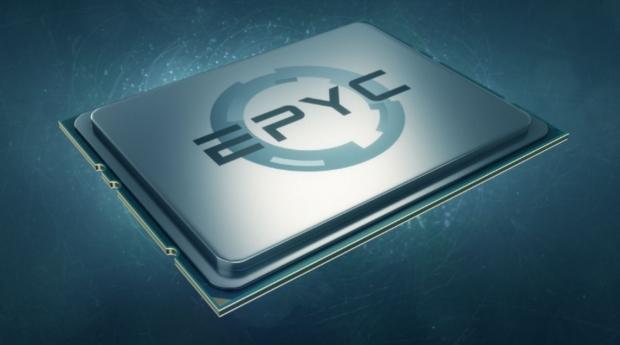 We typically don't publish reviews on enterprise grade hardware, but today we are taking a look at one of AMD's new EPYC processors from a different perspective. As we move towards more high computing devices like AMD's Thread Ripper processors, a lot of software applications will start to use more cores, so we will take a look at a processor with more cores than even the top level Thread Ripper CPU has to offer.
However, we will write this article, not as a review of the EPYC processor, but as a sort of comparison between workstation tasks and normal consumer tasks anyone who uses a workstation might use.
There are many people out there, especially with the gig-economy who need tons of cores, have the money to invest, but won't necessarily run enterprise software, but rather a mixture of content creation software and consumer software.
Specifications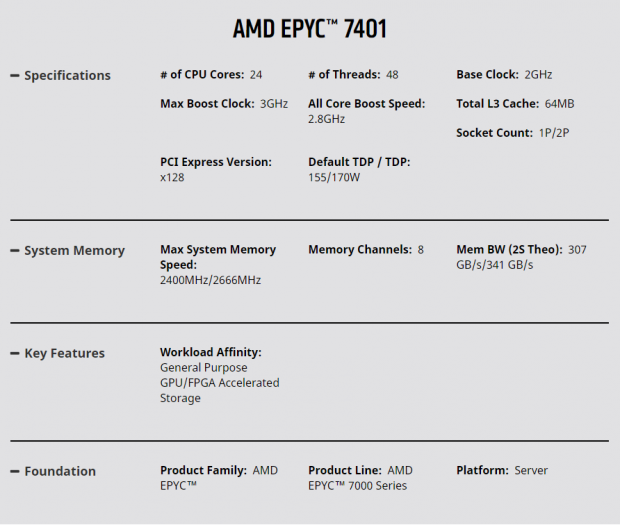 For starters, we get 24 cores and 48 threads. Each die would have six cores, meaning each CCX would have three cores. The base clock speed is 2GHz, with a Max boost clock of 3GHz, and an all core boost of 2.8GHz. There is also a total of 64MB of L3 cache, which is double that of Thread Ripper CPUs.
It also offers up an astounding 128 PCI-E lanes and a TDP of up to 170W. AMD has an easy to understand naming scheme in place for EPYC. If there is a P at the end of the model, then it's only meant for single-socket systems, and the dual socket hardware is disabled. The 7401 has the dual socket hardware enabled, but it's not being used in this case. Unlike Thread Ripper, EPYC doesn't require a chipset; everything is integrated into the CPU.
The CPU also supports 8 DDR4 channels, with up to 16 DIMMs and 2TB of memory. The system only supports registered DIMMs, NVDIMMs, or 3DS DIMMs. The way EPYC is set up, each die has its own DDR4 controller and IO hubs.
Pricing
The EPYC 7401 costs $1999, and it looks like you are paying a tax for the CPU since the 7401P only costs $1,149. The only difference between the CPUs is that the 7401P isn't able to be in a dual CPU system.
Test Setup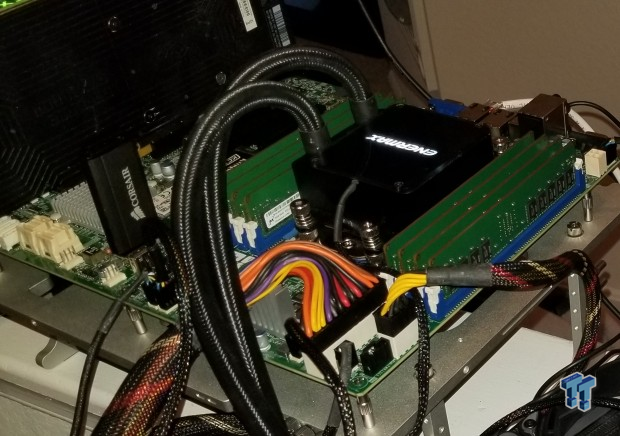 Workstation Benchmarks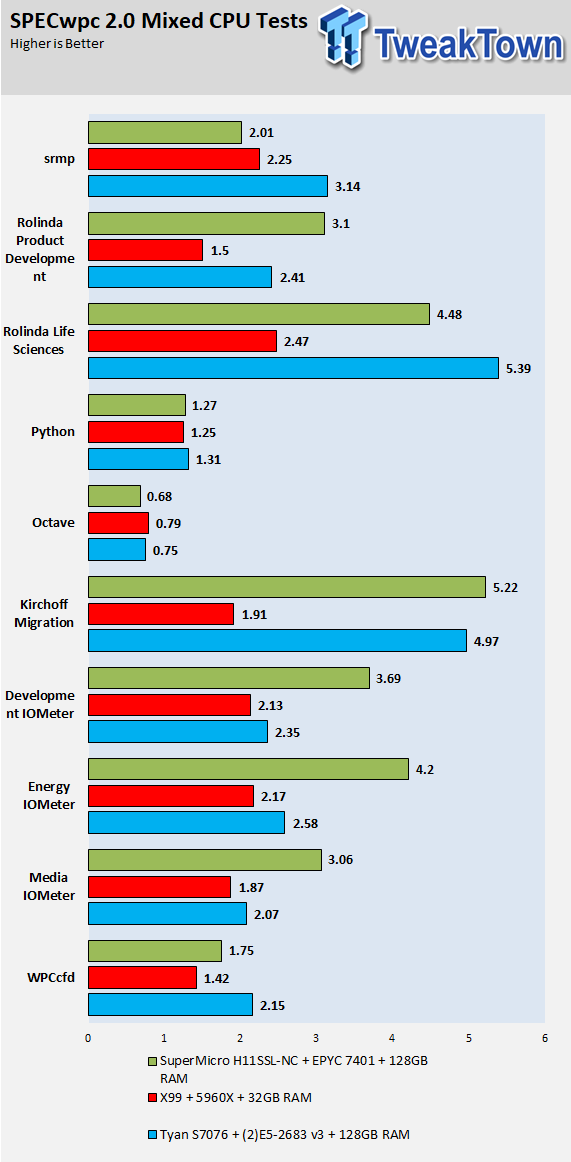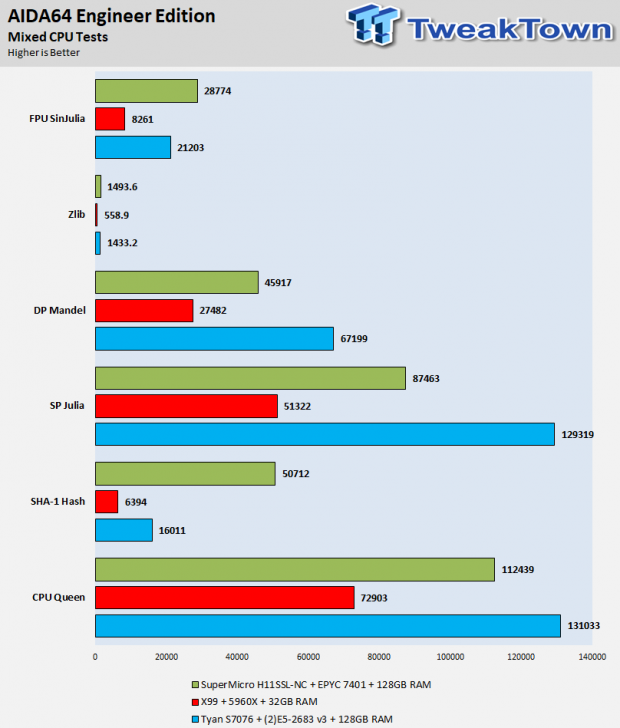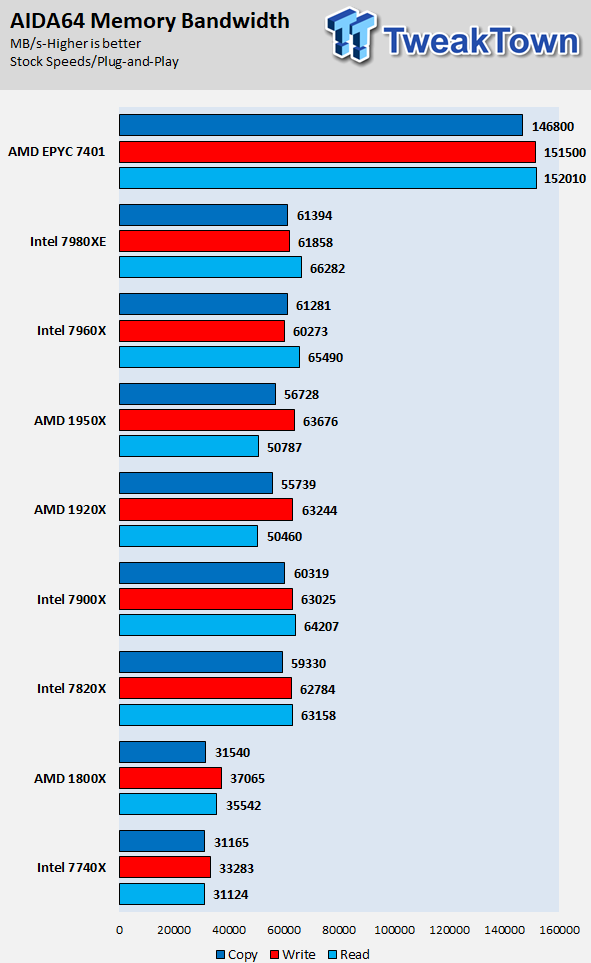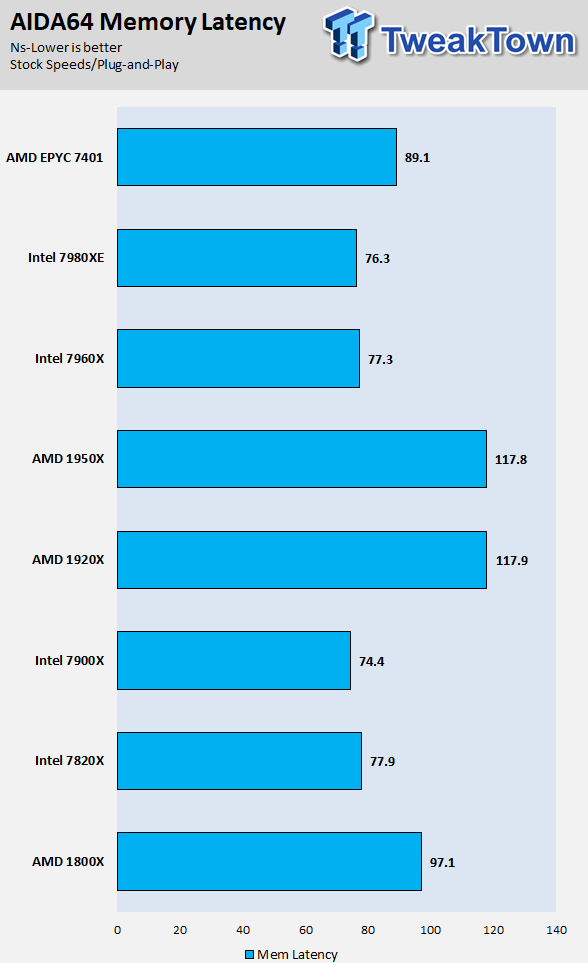 SPECwpc results show strong multi-core performance, keep in mind that the CPU's main competition in the SPEC test is a dual CPU system made up of two E5-2683 v3 CPUs that are each 14 cores and 28 threads with a base clock of 2.0GHz and boost of 3.0GHz. This is very similar to the EPYC CPU's speeds.
The Intel system here has more cores and threads overall (4 cores and 8 threads in total), and in either case, the EPYC system wins hands down, or the Intel one wins hands down. It's a very situational scenario. Memory bandwidth is insanely high, and latency is better than ThreadRipper.
Benchmarks Continued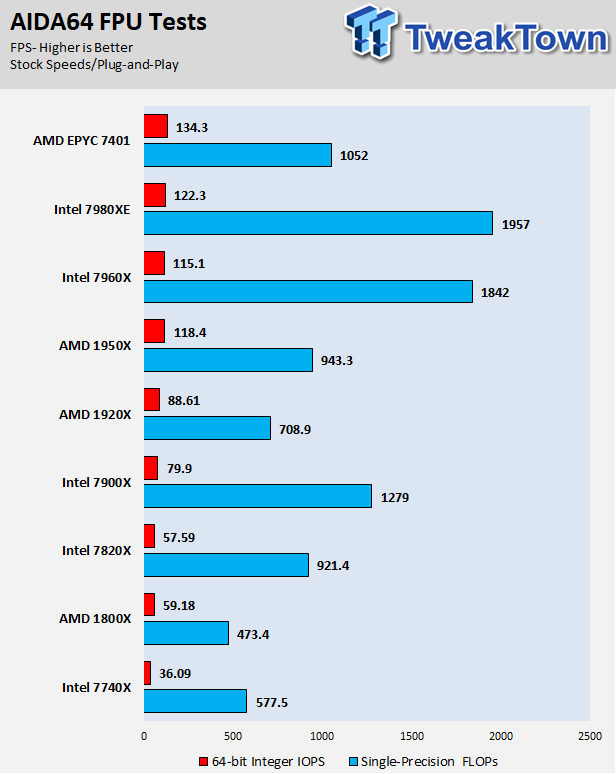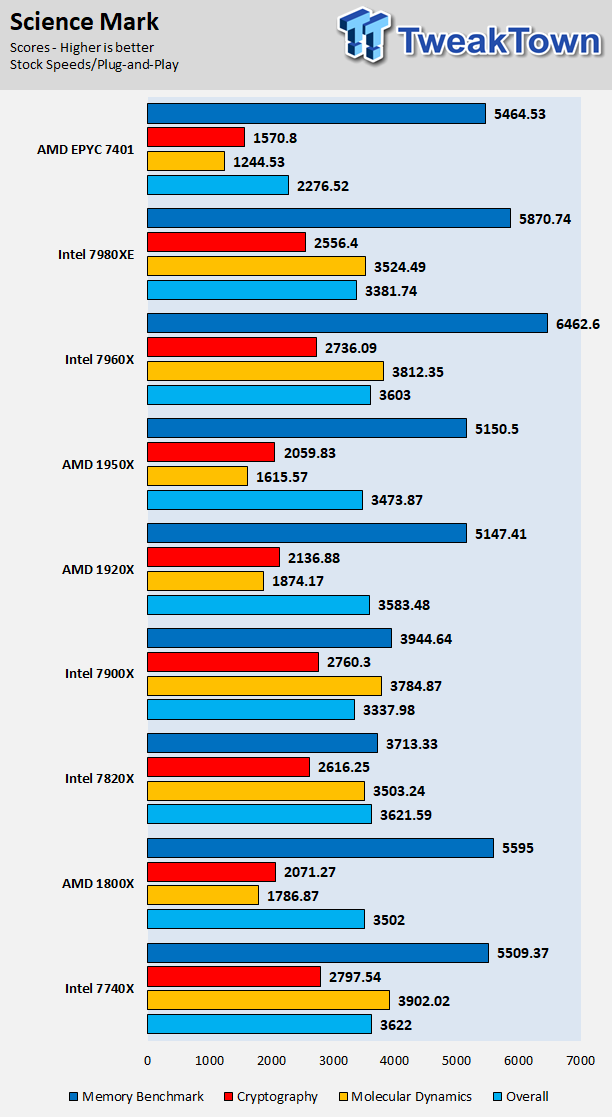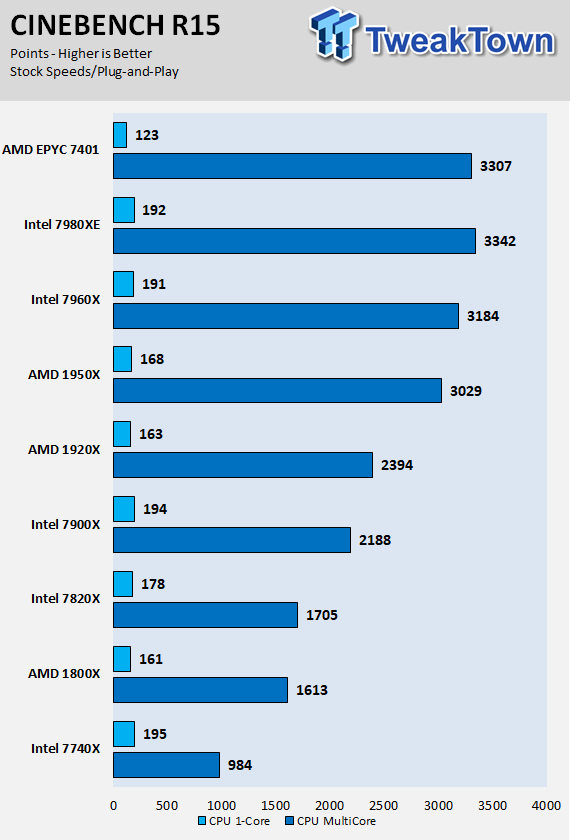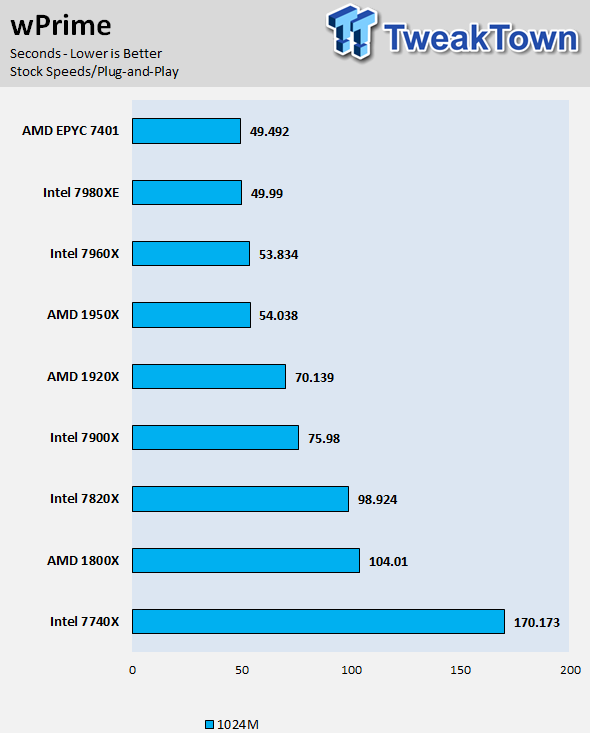 The results we see in wPrime and CINEBENCH, show that the number of cores scales, but the overall frequency hurts overall performance a bit.
Compared to the lower core count 16/18 core Intel CPUs. AIDA64 FPU tests show leadership in IOPS, but the same performance restriction in FLOPs as we have seen with Thread Ripper. Science mark seems to like frequency, so in this case, the consumer CPUs do quite well.
Benchmarks Continued
HandBrake HD Video Transcoder (x264)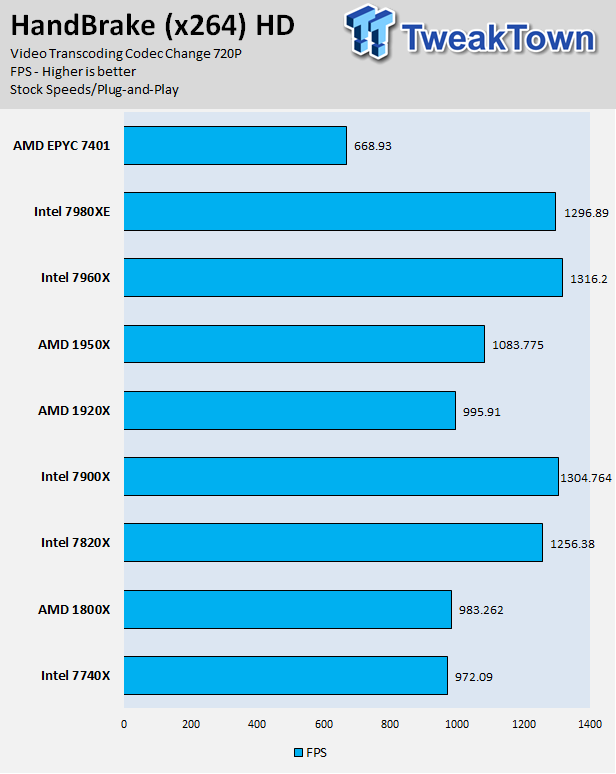 HandBrake UHD Video Transcoder (x264)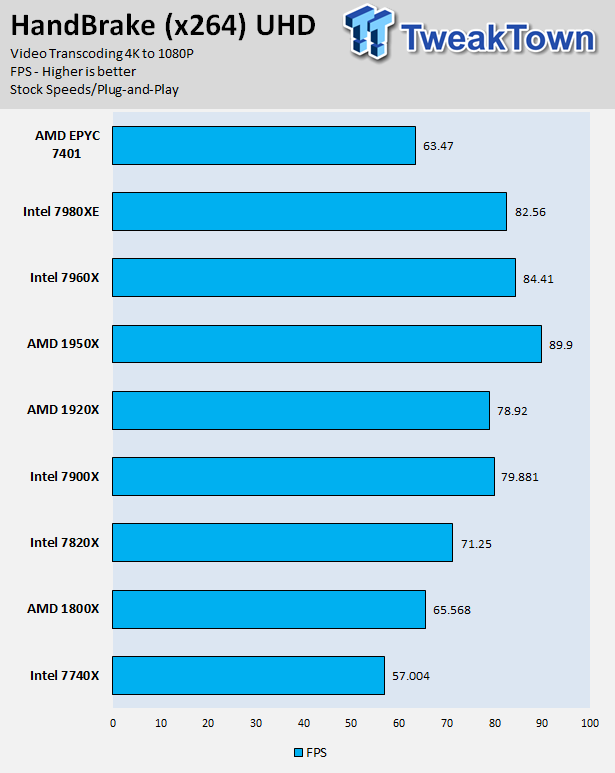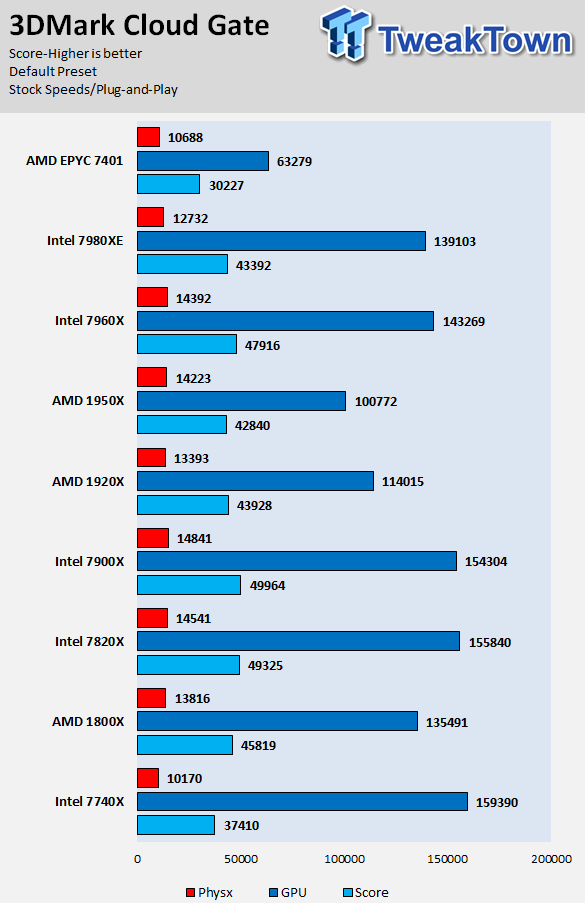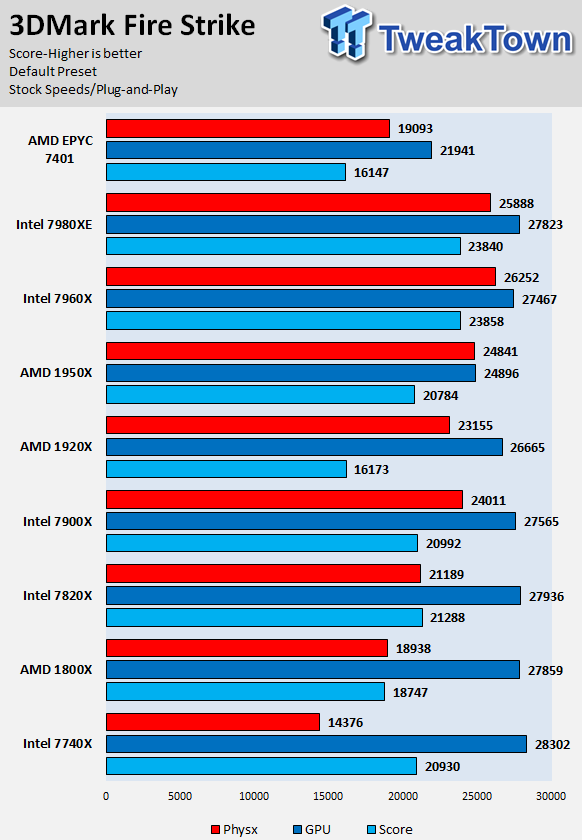 Power Consumption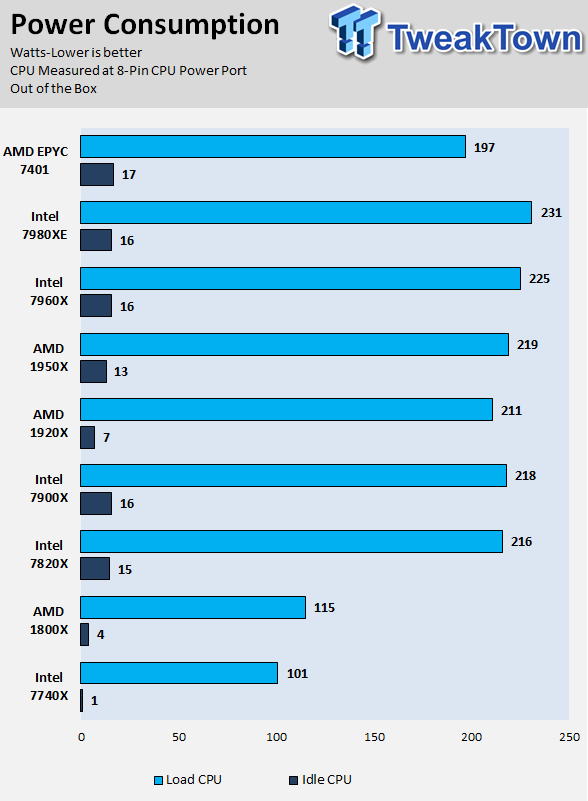 For fun, I wanted to see how some synthetic gaming benchmarks would run on the system, and as you might expect, enterprise CPUs aren't designed for gaming. The advances made to improve extremely high core count CPUs impede the performance of lightly or single-threaded programs.
HandBrake uses only as many cores and threads as it needs, it doesn't utilize all cores, and in this case isn't that good on EPYC. None of this software is enterprise, so we didn't expect any wins, we only wanted to see how these programs are handled. The good news here is that power consumption is quite good, better than Thread Ripper, but that is a granted because of the lower TDP.
What's Hot, What's Not & Final Thoughts
This is where you can fast forward to the final section of the review, and get a quick recap and points on the EPYC 7401.
What's Hot
Cores: We get 24 cores and 48 threads, more than any consumer CPU on the market and perfect for optimized enterprise environments. If you need more cores, at a reasonable price, EPYC is the way to go.
Octa-Channel DDR4: With 8-channels of DDR4, you get insane memory bandwidth, but our latency results also surprised us as they were better than latency on Thread Ripper.
128 PCI-E Lanes: With 128 PCI-E lanes the possibilities are pretty much limited to the amount of space on the PCB for additions and the amount of room in your chassis and its thermal capabilities.
Dual CPU: The non-P version EPYC CPUs support dual CPU configurations, and the EPYC CPU we have here is perfect for dual CPU setups. However, if you are going to go with one CPU, you should get the 7401P version of the CPU and save $800.
What's Not
Tax for Dual-CPU: The EPYC 7401 costs $1999, and it looks like you are paying a tax for the CPU since the 7401P only costs $1,149, and the only difference is dual CPU support.
Final Thoughts
When it comes to consumer and consumer workstation scenarios when you need mixed performance, Thread Ripper is epic. It provides a lot of cores compared to what consumers are used to.
However, if you want more than 16 cores and 32 threads you need to go EPYC if you want to stick with AMD, and the good news is that you will save some power since frequencies are lower. Overall, the EPYC CPU did very well when more cores could be used and in more enterprise/workstation scenario benchmarks, but didn't do well in any type of program that relies on frequency and single core performance, which is what we expected.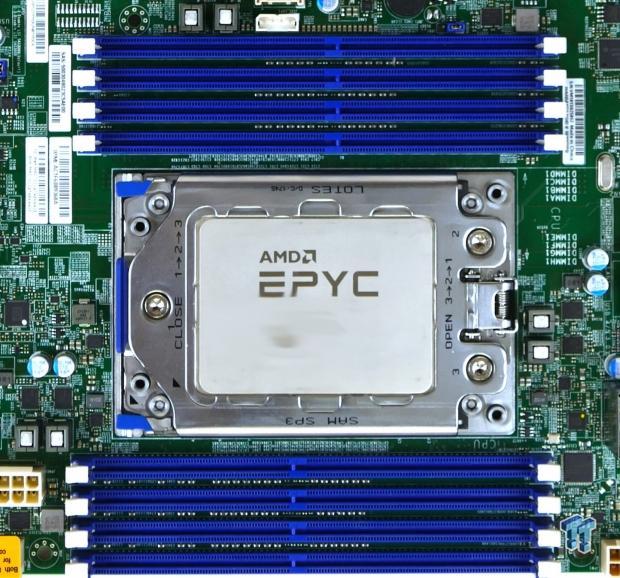 Thread Ripper is the best of both worlds, where EPYC is the best of one of the worlds. If you need EPYC, you know you need EPYC, and if you are on edge then you should probably go with Thread Ripper.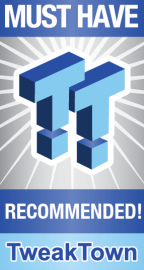 | | |
| --- | --- |
| Performance | 89% |
| Quality | 90% |
| Features | 95% |
| Value | 95% |
The Bottom Line: AMD's EPYC processors are definitely aimed at the enterprise, and anyone looking to virtualize their operations, with so many cores at a very, very reasonable price.
PRICING: You can find products similar to this one for sale below.

United States: Find other tech and computer products like this over at Amazon.com

United Kingdom: Find other tech and computer products like this over at Amazon.co.uk

Australia: Find other tech and computer products like this over at Amazon.com.au

Canada: Find other tech and computer products like this over at Amazon.ca

Deutschland: Finde andere Technik- und Computerprodukte wie dieses auf Amazon.de