ADATA XPG Spectrix D40 RGB DDR4-3000 16GB Review
The ADATA XPG Spectrix D40 RGB DDR4-3000 16GB kit is a stylish set of RAM, attractive addition to almost any PC build.

Published Mar 23, 2018 10:00 AM CDT
|
Updated Tue, Nov 3 2020 6:57 PM CST
TweakTown's Rating: 87%
The Bottom Line
The XPG Spectrix D40 RGB DDR4 is stunning to look at, and level of RGB customization is up with some of the best. The lack of performance and current expense for said performance does not equal the smartest buy in our eyes!

XPG has jumped on the bandwagon of RGB illumination in their latest submission to our lab. What we initially saw as the XPG Dazzle RAM has evolved, and with the addition of RGB illumination, is now called Spectrix D40 RGB, but it is virtually identical in every way outside of the LED options.
Not only is this XMP 2.0 capable RAM offering fancy lights which many gravitate towards, but XPG has also gone as far as to make sure that this DDR4 is compatible with ASUS, GIGABYTE, MSI, and ASRock customizable RGB software suites. Also, XPG has also created their own suite to deliver options for those systems which do not have motherboard supported RGB LED options.
The Spectrix D40 memory can be had in a range of speeds from 2666MHz all the way up to 4000MHz with no mentions of maximum density, although all we see available are 8GB sticks at this time. Not only does this memory come with full support for X299 as well as any motherboard using XMP 2.0 profiles, but it is also touted as fully compatible with AM4 motherboards as well.
Fully customizable RGB illumination on ten layer PCBs, use of Thermal Conductive Technology (TCT), overclocking capabilities, and even dual XMP 2.0 profiles on these kits are all something which should attract customers to XPG.
In this instance, we are looking at the XPG Spectrix D40 RGB with a two stick kit in 16GB of density, with speeds of either 2666MHz or 3000MHz dependent on which of the XMP profile is chosen to run this kit.
More specifically, we have the AX4U300038G16-DRS kit, in which the main XMP profile runs at 3000MHz with 16-18-18-36 2T timings at 1.35V, or you also have the option to use the Extreme XMP profile, which runs this kit at 2666MHz, 16-16-16-39 2T timings with just 1.20V needed to accomplish it.
It is rare that we see DDR4 with multiple profiles, but we will run it through testing with both options, and see just how well the XPG Spectrix D40 RGB memory can compete for your hard earned dollar amongst other similarly specified options.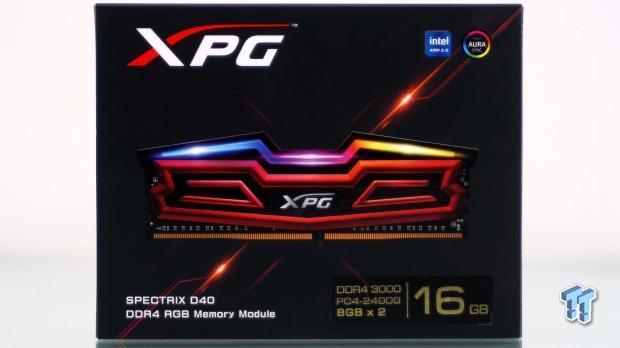 The XPG Spectrix D40 RGB DDR4 comes in a matte black box, where at the top we see the company name that it is XMP 2.O capable, and ASUS Aura Sync compatible.
In the center is a look at a single stick, which has been illuminated to highlight the RGB nature of it, with bright red accents are used, with similar lines to the shape of the heat spreaders. The bottom delivers the name of the products and is also where the sticker is placed to specify the speed and density of the RAM inside of the box.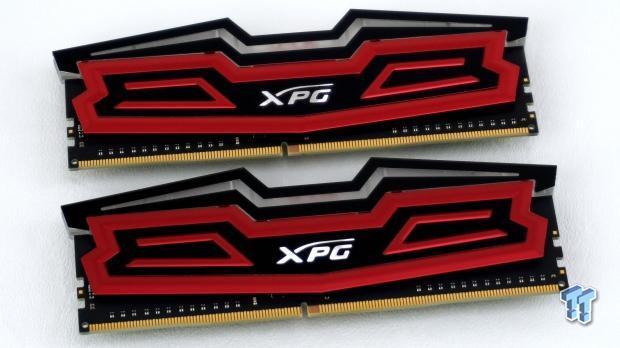 At first glance, you would be hard-pressed to distinguish the Spectrix D40 RGB from the Dazzle kits. Both have the same shape and overall design of red and black, even down to the natural metal XPG name on the side, they are all the same. While the red-rimmed section is the IC heat spreader, the black around the nearly clear plastic is much thinner, and is there solely for the looks.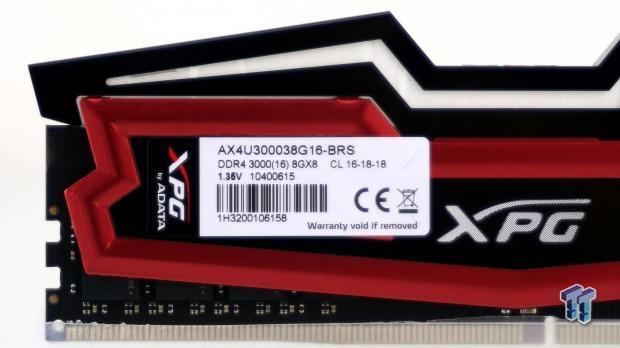 The reverse of the sticks look just like the image we saw previous to this one, but XPG also places a product sticker on the left end of each. On it, we see a slightly different model number, which is AX4U300038G16-BRS, while the box denotes them as DRS. We also find the speed, main tree timings, voltage, serial number of the stick, as well as a warning not to void the warranty by peeling it off.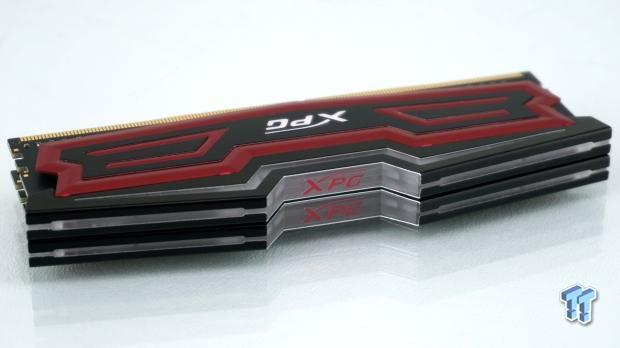 After installation, this is likely a view which would become very familiar. You would see the "clean" side of the heat spreaders, as they do face the right side when in the motherboard, and of course, the top of the sticks would be the prominent view.
We do like that the black on the plastic top portion segments and gives shape to the lighting, and the addition of the red XPG name makes sure that anyone who sees it knows who made it.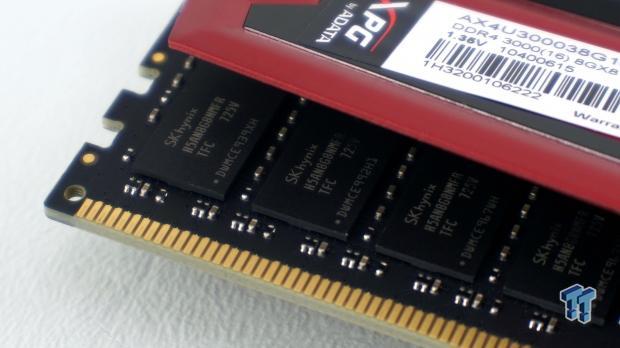 We were not able to politely remove the entire heat spreader, so we lifted it as best we could to show the ICs being used. Just like what we found in the Dazzle, the Spectrix D40 RGB also uses SK Hynix ICs.
More specifically, these are H5AN8G8NMRF-VJC ICs, which happily enough are binned well for the given speeds, as well as leaving a bit of room for tinkering later.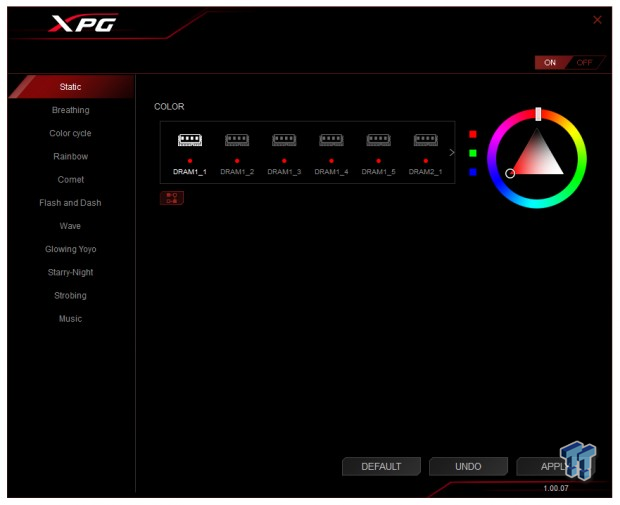 Once installed, unless using a supported motherboard to gain control of the RGB LED customizations, you need to go to the product page, and download the XPG control suite.
With it, you have options of ways to present the lighting in various modes on the left; each stick used can be individually controlled, or set as a group, and to the right, you can pick any custom color that suits your needs.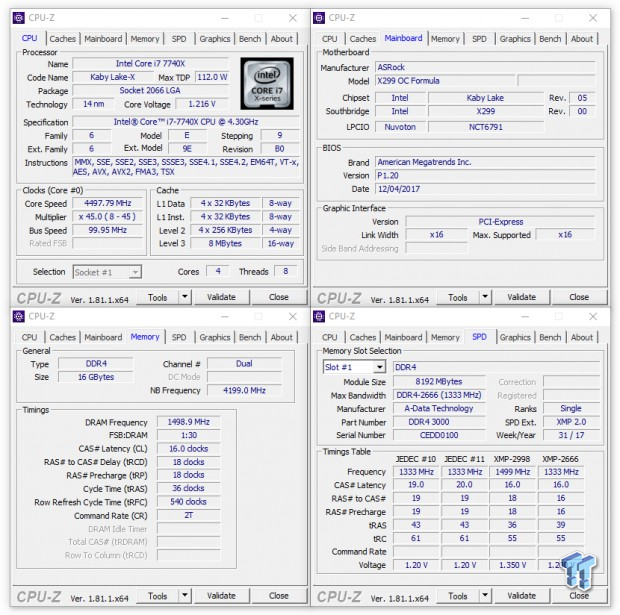 As we always do, we fire up the PC after enabling the XMP 2.0 profile, and this is what we see with our XPG Spectrix D40 RGB. The speed is nearly 3000MHz due to a bit of clock modulation, and the timings shown are as advertised. Using this profile requires 1.35VDIMM and 1.25V for both the VCCIO and the VCCSA.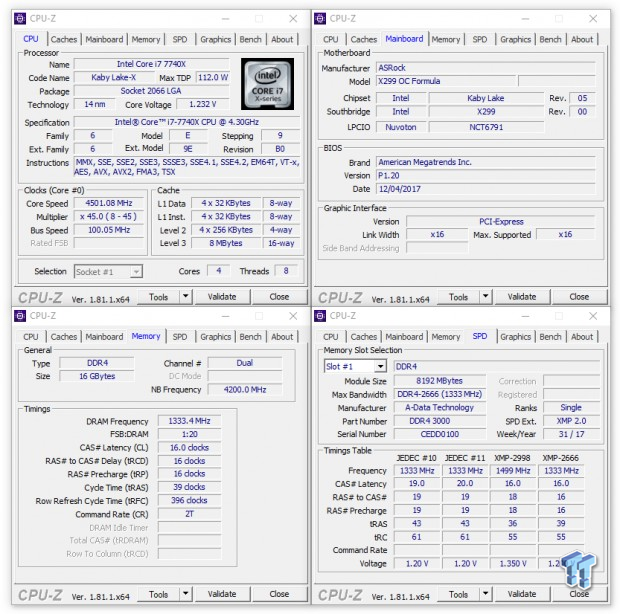 When we set the XMP profile, we also saw the second entry for the XMP Extreme profile, which we also configured and tested. This profile delivers a lower speed of 2666MHz, which allows for slightly tighter, 16-16-16 timings, and requires only 1.20V to operate. VCCIO drops to 1.10V and VCCSA is reduced to 1.20V at this time.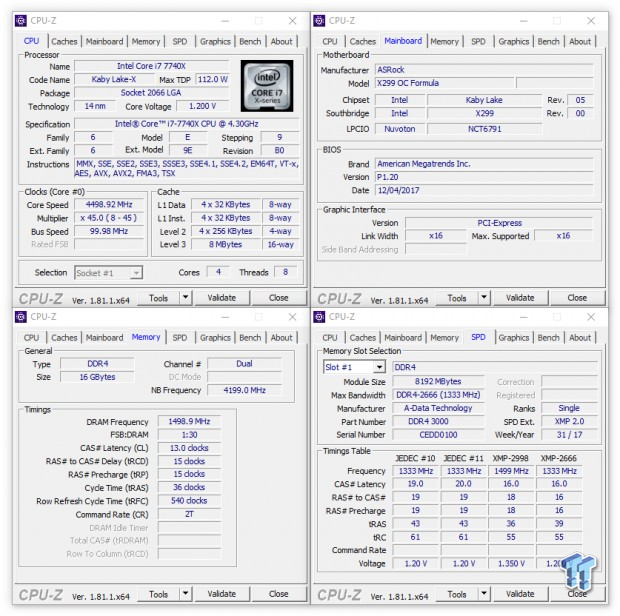 We were also able to tighten the timings beyond the XMP profile while using the 3000MHz speed option. Using 1.45VDIMM we were able to run this kit at 13-15-15-36 without issue, but trying 1T Command Rate caused noting but instability. Still a fair amount of movement for Hynix based memory, and we are happy to have the room to tinker.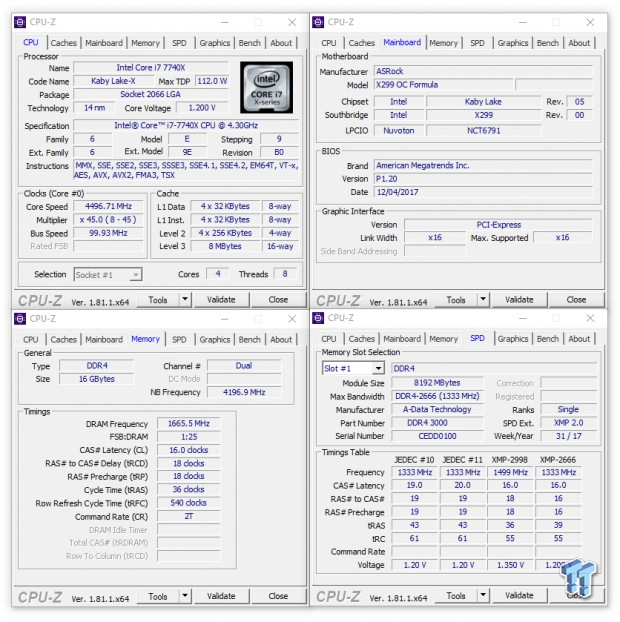 Using the same increase of DIMM voltage, resetting the XMP profile timings, we attempted to get more speed for our samples, and again are pleased to report there is wiggle room here as well. While an increase to 3333MHz is not astounding, it is free speed, and if you want it, it is there to use.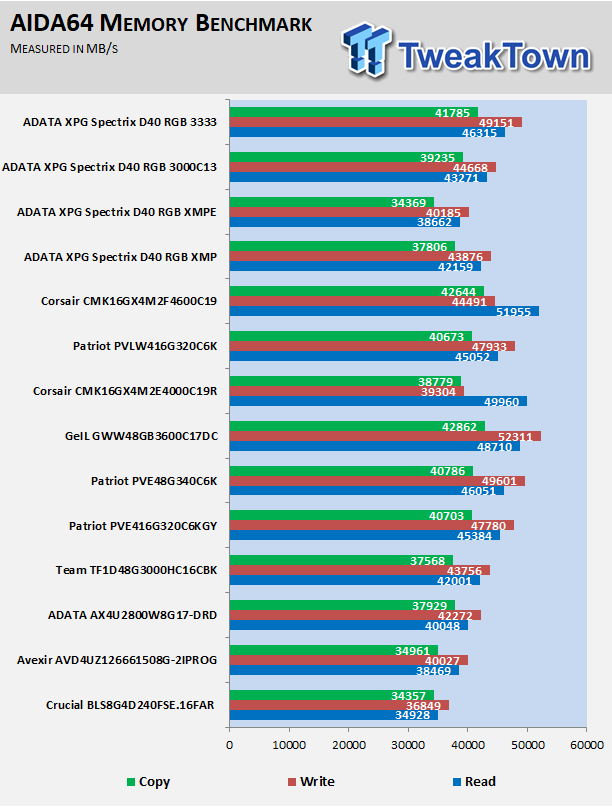 The standard XMP profile delivers performance similar to our other 3000MHz kit on the chart, but the Extreme profile competes with the other 2666MHz kit, but what is so extreme about a drop in performance? When it came time to tinker with the memory, we are pleased with the results shown with overclocking, and speed wins out over lower timings here.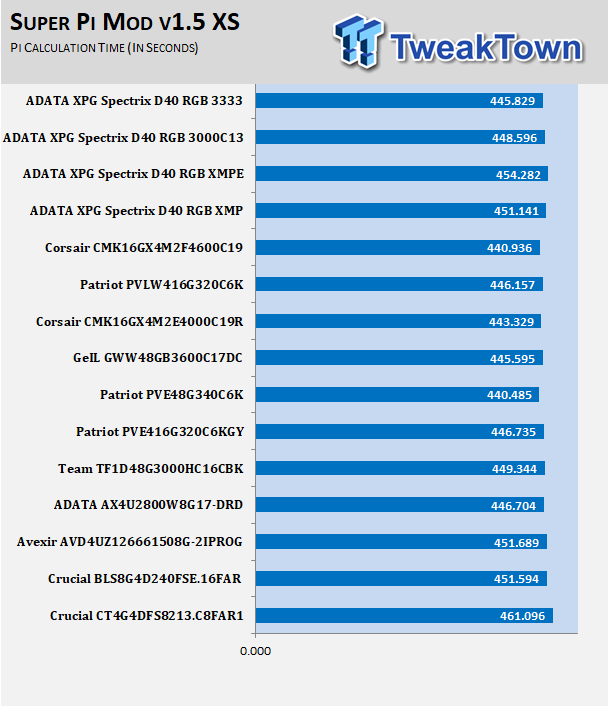 Super Pi does not shed great light on the Spectrix D40 RGB. It is slower than the other 3000MHz kit in the chart, and is slower running the Extreme profile as well when compared to a similar kit. Lowering the timings gets close to the 3200MHz performance, and the 3333MHz run does outpace the 3200MHz scores.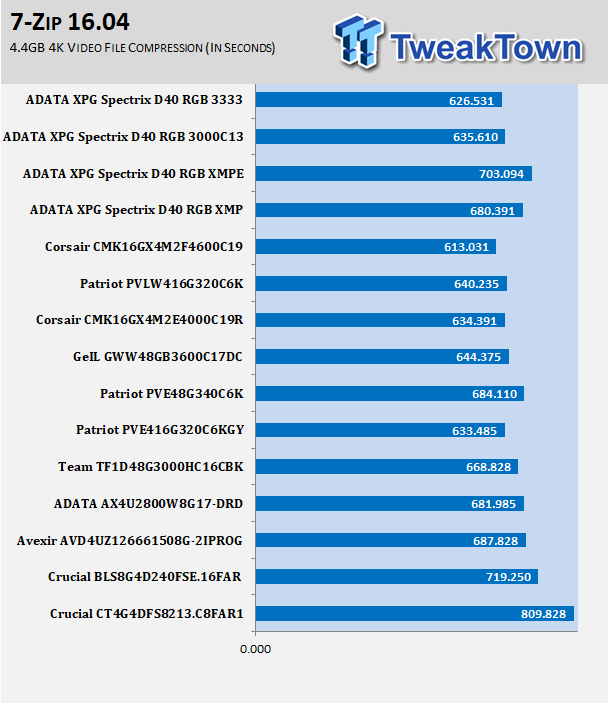 &-Zip results are impressive though. If compressing large files, there are huge advantages when the memory is overclocked, presenting us with the second and third best results on the chart. However, when using either of the XMP profiles, the Spectrix D40 does not perform as well as other kits at that speed.
The trickling effect of the RGB LEDs is the closest we have seen to what the G.Skill Trident Z sticks can deliver, but still not quite as awesome to watch. We do applaud XPG for the way in which the lighting is presented, the modes offered in their software, and the lack of conflict issues between it and any motherboard software or BIOS options set.
Outside of the illumination, we do like the styling of the RAM, and it is an attractive addition to almost any PC, as long as the red accents do not clash with another color theme. We also like that XPG offers a pair of profiles, likely for compatibility, but we do like having an option to play with and see which delivers the best results.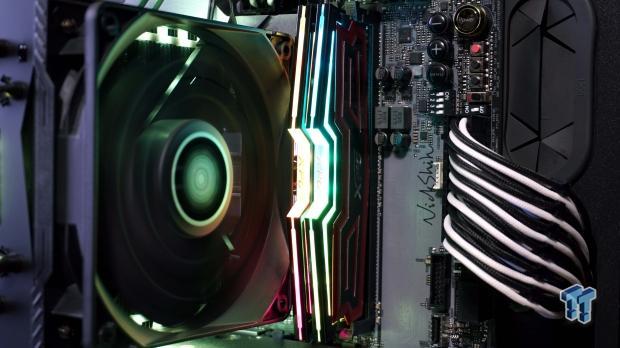 Sadly though, unless you are planning to venture into overclocking the kit from the jump, the numbers do not tell a favorable tale for the XPG Spectrix D40 RGB DDR4. Other similar kits, comparing either of the XMP profiles, does get beat out by other kits. While we do realize that not every kit will be equal, we have to come to a conclusion based on the facts that testing presents.
In doing this exactly, we do feel that unless the styling and RGB lighting wins out over the real reason to buy faster than JDEC speed memory, we think you may be better off with other options. However, with minimal effort, and just a bit of time stability testing, we were able to get better results. Nothing surprising, but there is more left in the tank for those willing to push boundaries a touch.
If you are sold on this memory and are about to look for pricing, we suggest you stay clear of Newegg, as they are listing this exact kit currently for over $400. We then looked at Amazon and found the 16GB kit of 3000MHz XPG Spectrix D40 RGB priced at $218.98.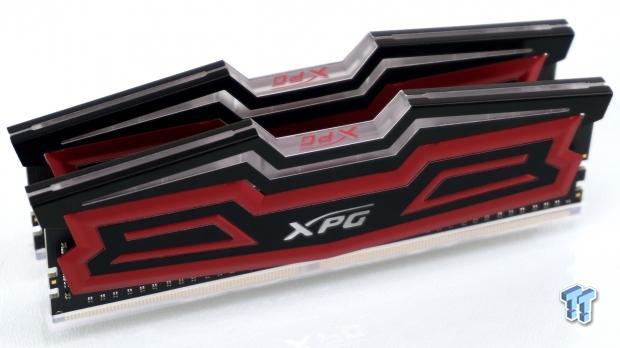 In the grand scheme of things, that is a lot of money for a 16GB kit at any speed, but with current prices what they are, this kit from XPG is right in the mix. In the end, the timing and the performance leave this XPG memory in a shadow of sorts. Outside of the looks and the RGB illumination, there is nothing that screams "buy me" beyond the fact of possibly AM4 compatibility.
Chad's DDR4 Dual-Channel Test System Specifications
Motherboard: ASRock X299 OCF
CPU: Intel Core i7 7740X - Buy from Amazon
Cooler: LEPA NEOllusion - Buy from Amazon
Video Card: ZOTAC GeForce GTX 970 AMP. Extreme Core
Storage: Samsung XP941 256GB
Case: Thermaltake Core P3 - Buy from Amazon
Power Supply: Corsair RM750 - Buy from Amazon
OS: Microsoft Windows 10 Home 64-bit - Buy from Amazon
Software: CPU-Z 1.78.3 x64, Super Pi Mod 1.5XS, 7-Zip 16.04, AIDA64 Engineer 5.92.4300
| | |
| --- | --- |
| Performance | 80% |
| Quality | 92% |
| Features | 95% |
| Value | 79% |
The Bottom Line: The XPG Spectrix D40 RGB DDR4 is stunning to look at, and level of RGB customization is up with some of the best. The lack of performance and current expense for said performance does not equal the smartest buy in our eyes!
PRICING: You can find products similar to this one for sale below.

United States: Find other tech and computer products like this over at Amazon.com

United Kingdom: Find other tech and computer products like this over at Amazon.co.uk

Australia: Find other tech and computer products like this over at Amazon.com.au

Canada: Find other tech and computer products like this over at Amazon.ca

Deutschland: Finde andere Technik- und Computerprodukte wie dieses auf Amazon.de
We openly invite the companies who provide us with review samples / who are mentioned or discussed to express their opinion. If any company representative wishes to respond, we will publish the response here. Please contact us if you wish to respond.