TweakTown's Rating: 94%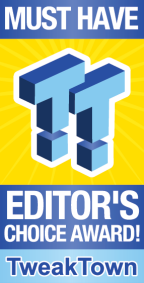 The Bottom Line
Loaded with an overclocked i7, two GTX 1070s in SLI, a Pantone X-Rite calibrated 4K display, and an overabundance of other exciting features, the AORUS X9 is the definition of a brilliant thin ultra-high-end gaming notebook.
Introduction, Specifications, and Pricing
Update: We made two errors. The first is that the adapter is rated for 330W (not 300W), and the second is that the notebook does not feature G-SYNC technology.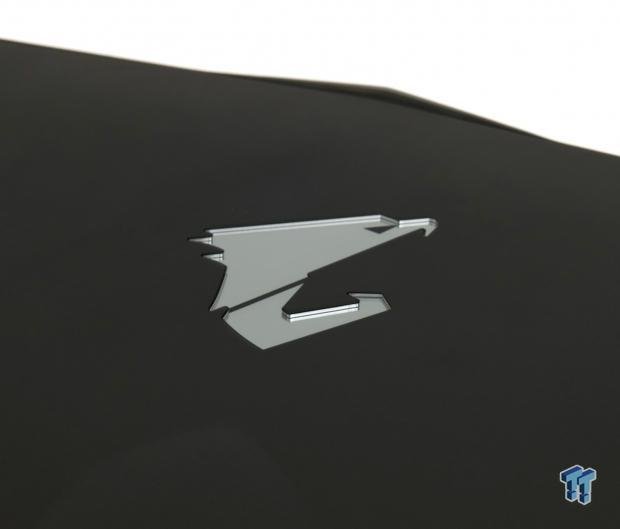 At COMPUTEX 2017 in Taipei, Taiwan, we took a hands-on look at GIGABYTE's AORUS X9 gaming laptop. It's unique because it not only has an overclockable 7th generation processor, support for multiple M.2 drives, a brilliant Pantone certified 17.3" display, but it also comes with two GTX 1070 8GB cards in SLI.
Yes, SLI on a gaming laptop, and on a gaming laptop that is quite thin (0.9-1.2 inches). At 30mm tall, it's one of the thinnest gaming notebooks with an overclockable CPU and two GTX 1070 8GB under the hood. Of course, the notebook also comes with a lot of other extras, such as a mechanical keyboard with RGB LEDs, custom designed trim, and flare, as well as a redesigned cooling system.
Let's take a look at this beast.
Specifications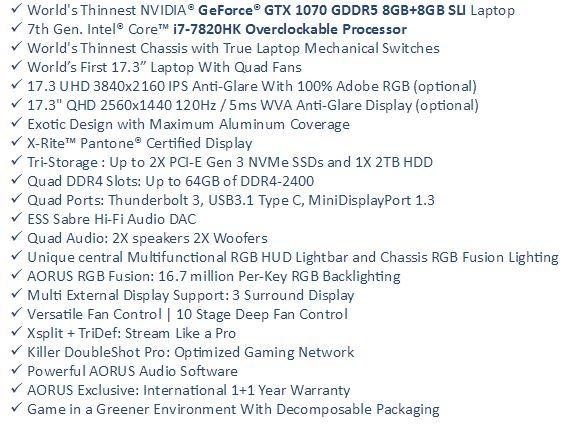 The X9 offers an i7-7820HK overclockable mobile processor, two NVIDIA GTX 1070 8GB GPU in SLI (should be 30% better than one 1080), 32GB of DDR4 running at 2400MHz, two 512GB Samsung NVMe SSDs, a 17.3" 4K IPS anti-glare display with X-Rite Pantone certification and G-SYNC, ThunderBolt 3, ESS Sabre Hi-Fi DAC, 2 speakers and 2 subwoofers, mechanical RGB keyboard, and versatile RGB lighting aground the notebook.
The notebook features a 94.24Wh battery and weights 7.9lbs/3.59Kg. It also has dimensions of 428(W) x 314(D)x23.5-29.9(H) in millimeters. That's 0.9-1.2 inches thick.
Pricing
The X9 starts at $3649 for the version with a single 512GB NVMe SSD, and there is one version that is $3799, and it has two 512GB NVMe SSDs, and it's exclusively on Newegg. We have the model with two SSDs.
Physical Overview
Update: We made two errors. The first is that the adapter is rated for 330W (not 300W), and the second is that the notebook does not feature G-SYNC technology.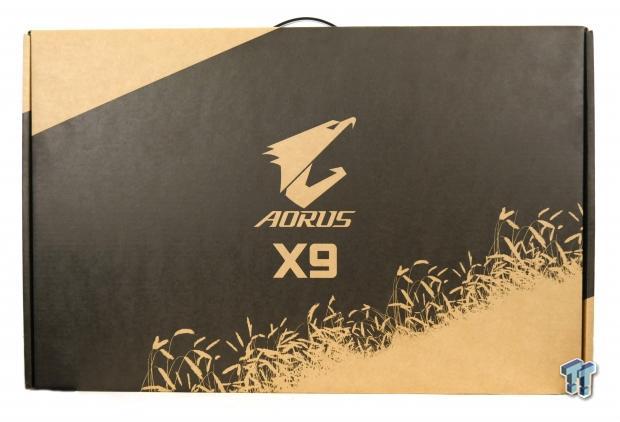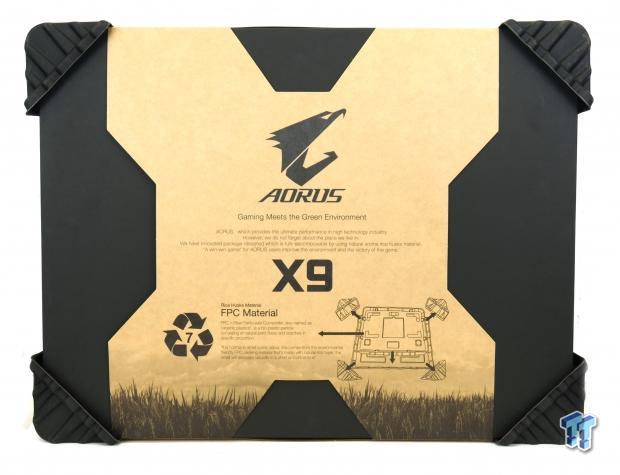 The AORUS X9 has very special packaging. Since the notebook is so powerful, AORUS decided it would be helpful to ensure the packaging was environmentally friendly. Rice husks were used to create some of the internal protective packagings, and they show GIGABYTE/AORUS's commitment to the environment. You can actually smell the packaging; it reminds me of Fall when people start using their wood fireplaces, and you can get a nice whiff of it down the road.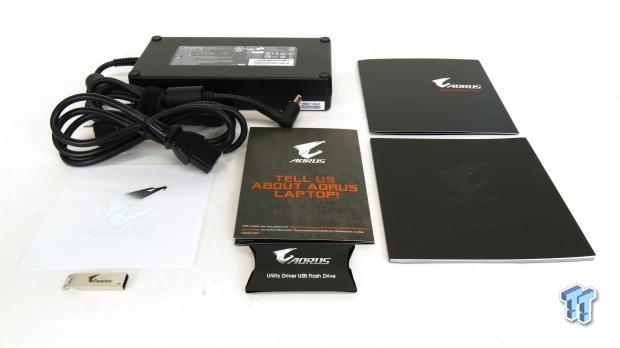 Accessories include a huge AC/DC power supply, and AC power cable, AORUS driver/software USB stick, large AORUS sticker, warranty card, user manual, and review request documentation. The AC/DC adapter is rated 19.5v @ 16.9A for a total of 300W output.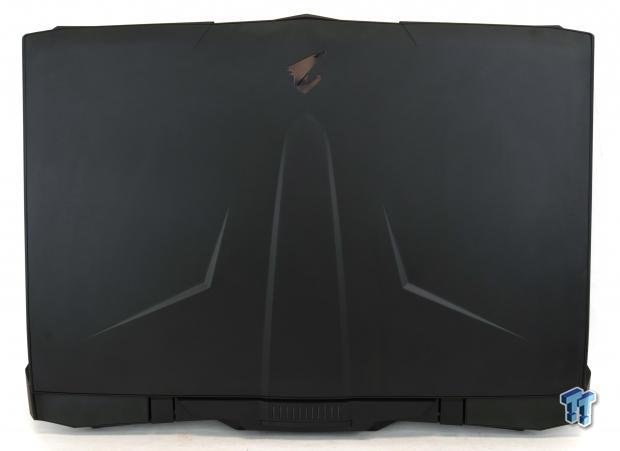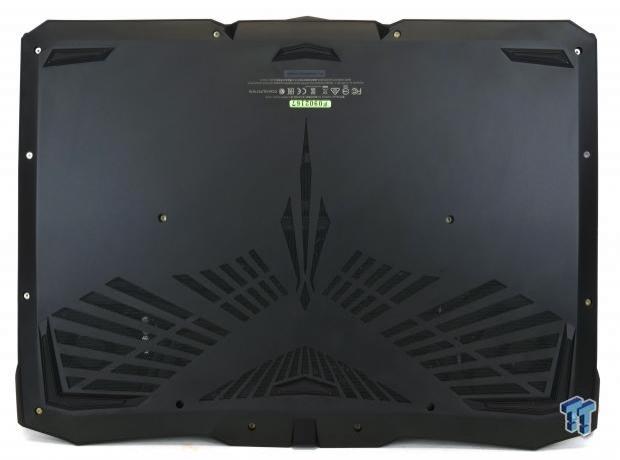 The top and bottom of the unit are made up of solid aluminum, the texture is nice, and the unit feels sturdy. However, the unit attracts fingerprints with ease. The AORUS logo on top actually lights up any color you like when the notebook is turned on. The bottom of the notebook features a large spread eagle style vent array, which can be used as air intakes. Two straight rubber feet at the front, two centered rubber feat at the center front and rear, and two large L shaped rubber feet at the rear prevent the notebook from sliding around on smoothe surfaces.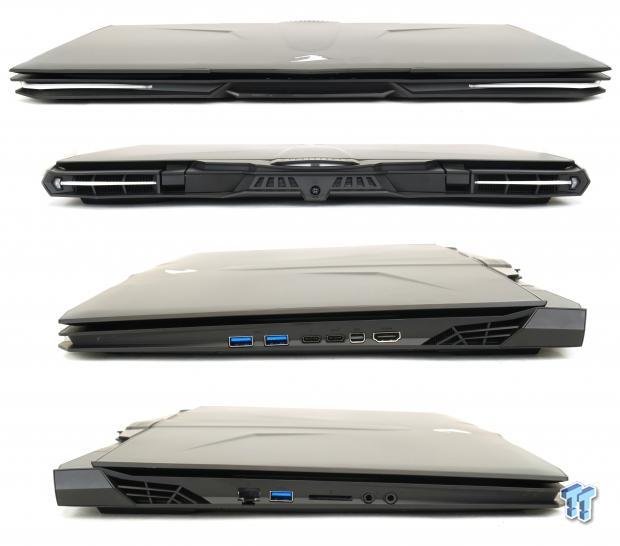 The notebook has a unique body shape and style, the front of the unit features two large RGB LED panels on the right and left as does the rear of the notebook. Dead center at the rear of the notebook is a DC input jack. The rear of the notebook also features two large exhaust vents. We find two more exhaust vents on the right side and left side panels of the notebook. We get a total of three USB 3.0 ports, ThunderBolt 3 type-C, USB 3.1 type-C, mini DisplayPort 1.3, HDMI, 1Gbit LAN port, SD card slot, headphone jack, and a microphone jack.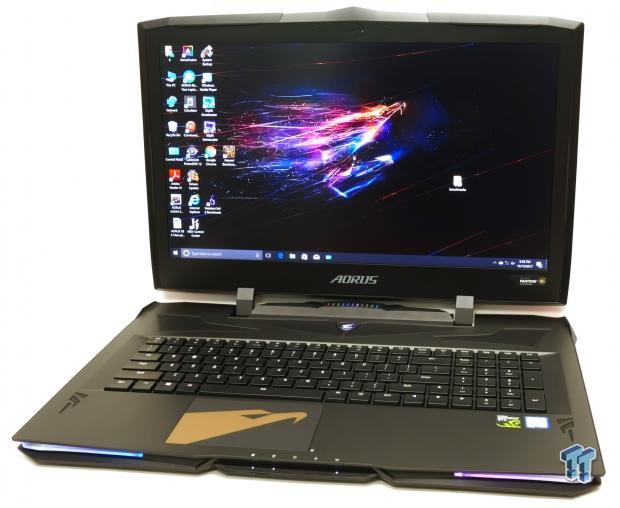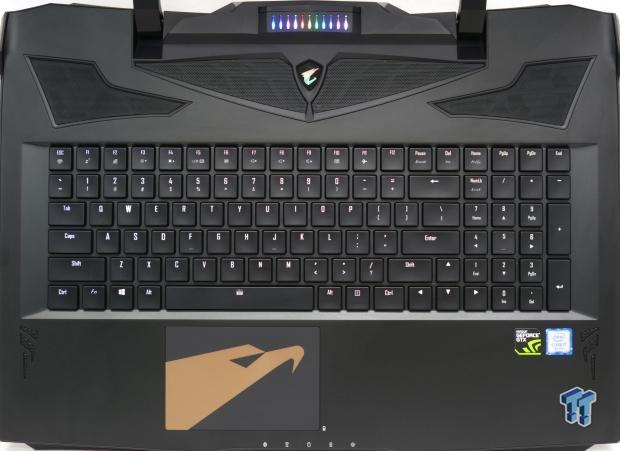 The AORUS X9 lights up all around, and the display is stunning. The notebooks internal layout is quite large, making it simple and easy to use the keyboard for gaming.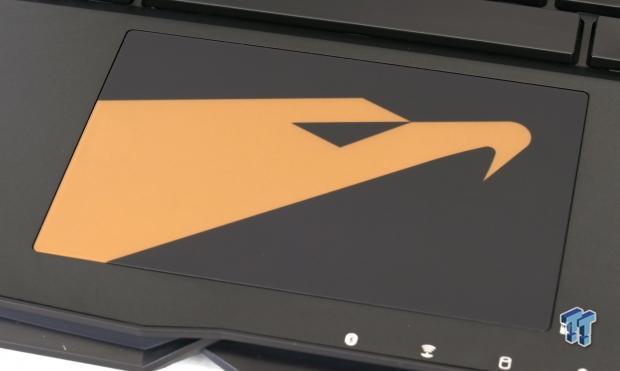 The notebook features a full-sized RGB mechanical keyboard, each key is individual lit, and you can customize exactly how the RGBs work. I thought that pressing the key felt sturdy and not much like a plastic keyboard. There is also a touchpad that feels a bit metallic to the touch. I felt it was a bit sensitive, but of course, you can alter that in the OS.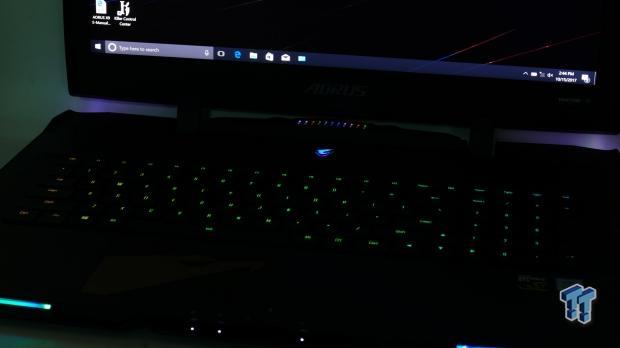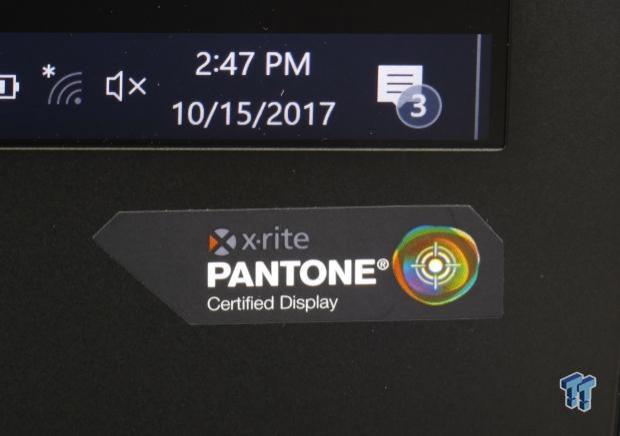 Balancing colors is a big deal with this notebook. Not only is the display X-Rite Pantone certified, meaning it has been color balanced, the RGB LEDs also produce amazing glowing effects. When you turn the lights out, the notebook lights up brilliantly.
Physical Overview Continued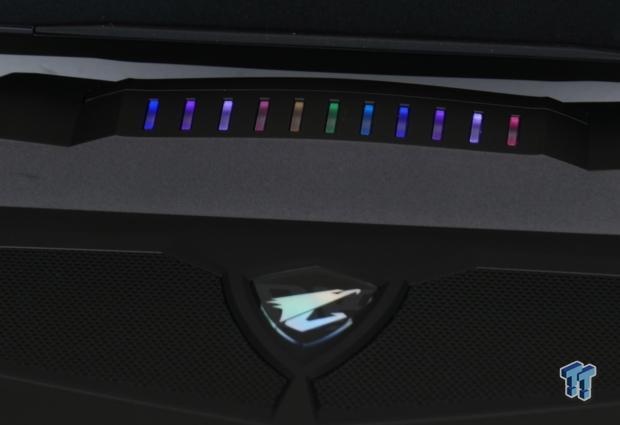 The power button is the AORUS symbol in the middle, behind the keyboard, and it has a few RGB LEDs built into it. The array of RGB LEDs you see in front of the power button can be configured any way you like. You can have them synchronize to battery life, temperatures, music, and even hardware utilization. It's a cool feature once you customize it, I prefer using it for battery life. Status indicators are located on the lip ledge at the front of the notebook.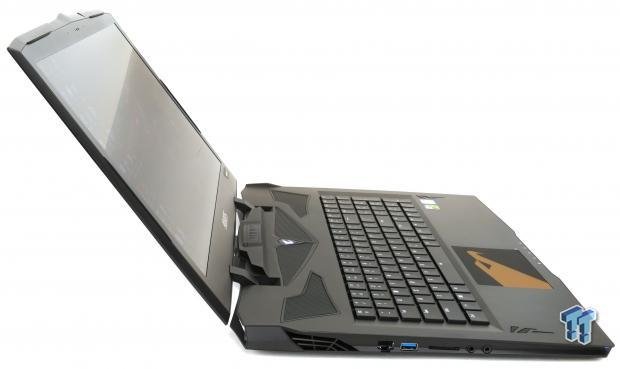 The notebook opens up roughly 120 degrees, with the display connected to the notebook by two hinges.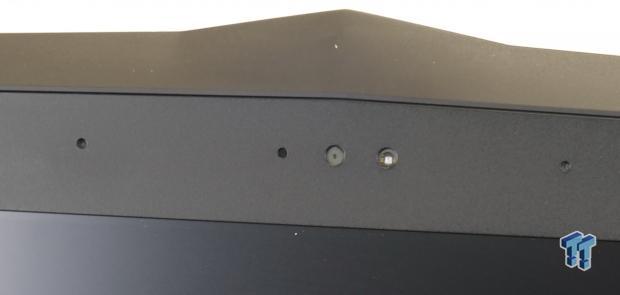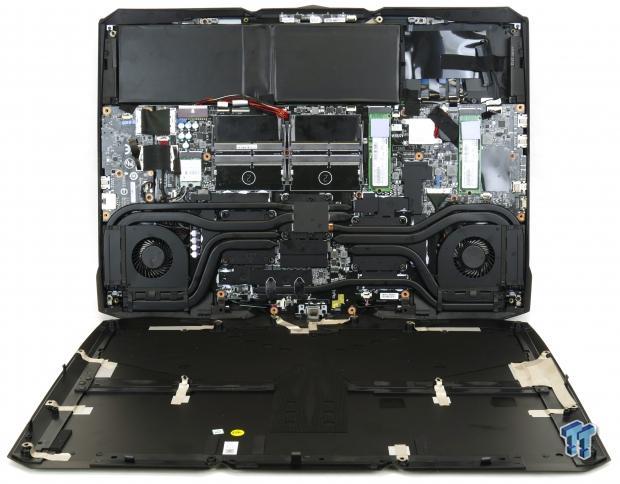 We have a dual array microphone, a 720P HD camera, a light sensor, and a camera indicator light located at the top of the notebook. Opening the notebook wasn't difficult, but there are two warranty voiding stickers on top of two of the screws, so if you just want to see what's inside, you can now.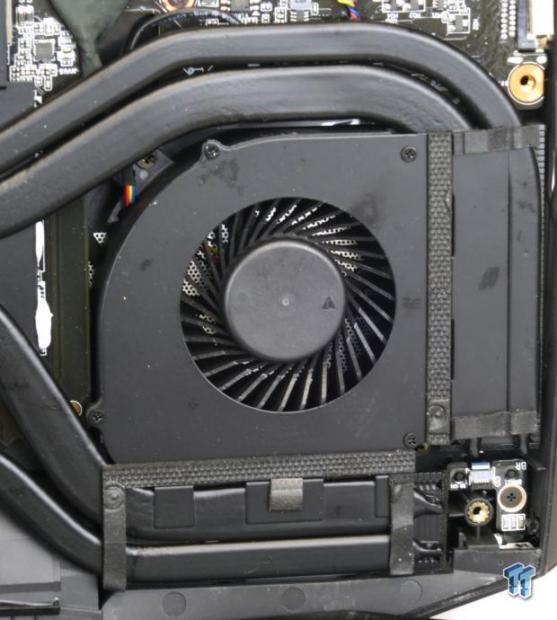 Remember, since this notebook has two GPUs and a CPU, there need to be three cooling plates, and each CPU/GPU's VRMs and GPU memory need to be cooled. You can see a large network of heat pipes going to two blower fans that blow out heat in two directions (to the back and the side). AORUS has implemented four fans into the notebook, and we can see the four fan headers boxed in red in the image above.
While you can see two fans that do the majority of cooling the GPUs and CPUs, there are two other fans on the other side of the PCB that move hot air outside of the system out the back. I drew orange squares over the area where I think the two system fans are. These extra fans are key to the AORUS X9's low noise levels and excellent cooling performance. It's a very useful and effective method of cooling the notebook.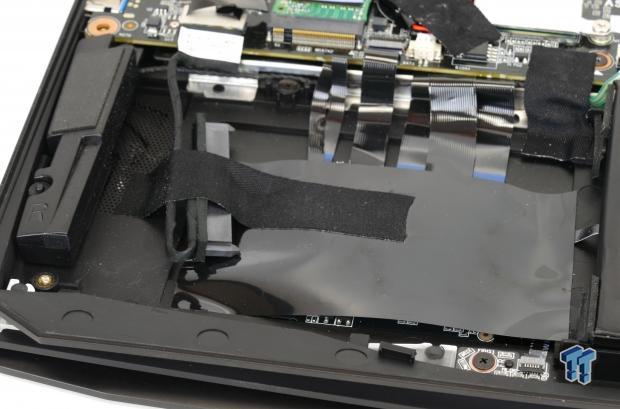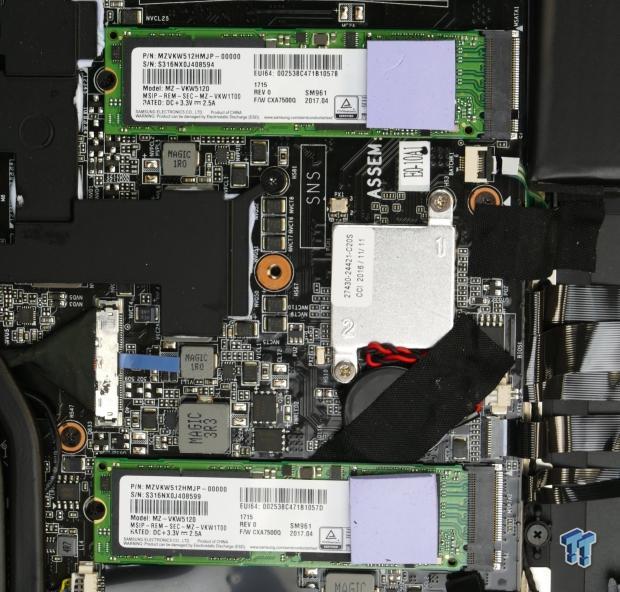 The notebook can take one 2.5" drive, but our model left it out. Instead, our model has two 512GB Samsung NVMe SSDs, and these are as fast as Samsung's 960 series of drives.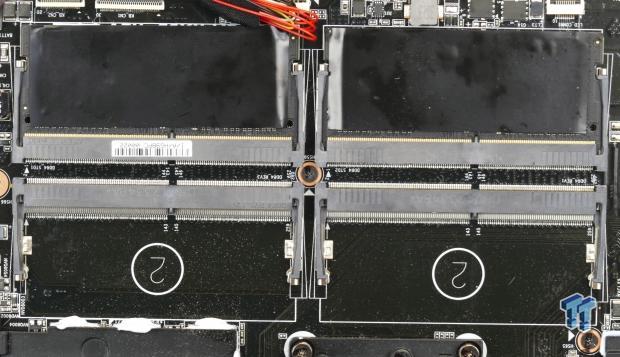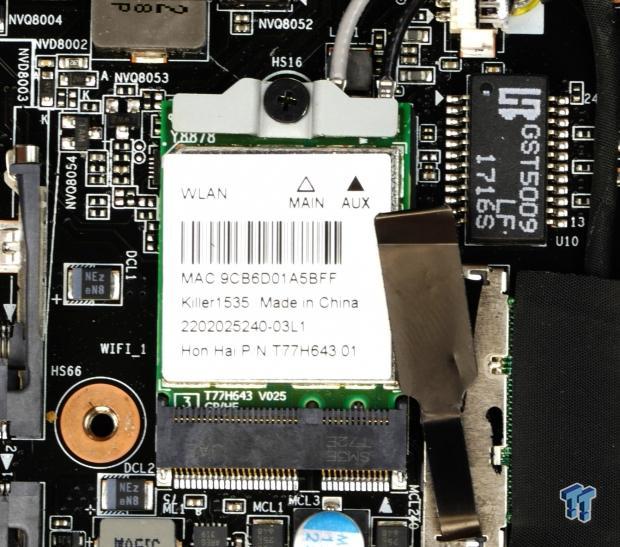 Two of the four memory DIMMs were filled with two 16GB sticks. The killer Wireless AC 1535 card is used to provide Wireless AC. There is also a Killer e2500 NIC on board for the wired LAN port.
Software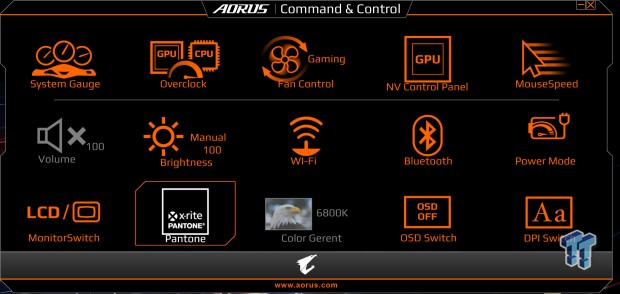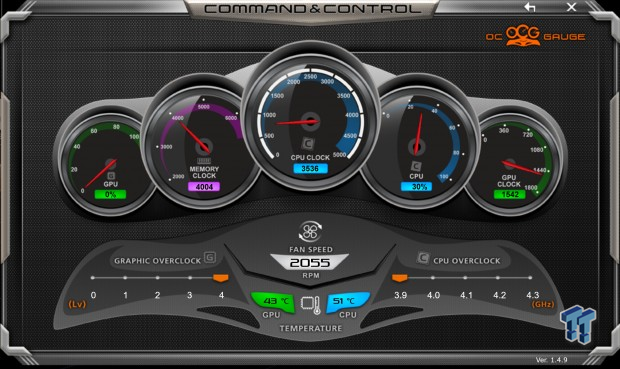 The AORUS Command & Control center is where you will find a launch pad for the custom software features the motherboard has. That includes everything from overclocking to fan control and even toggling the OSD and Pantone color calibration. The OC Gauge provides easy viewing of hardware clocks, utilization, and temperature.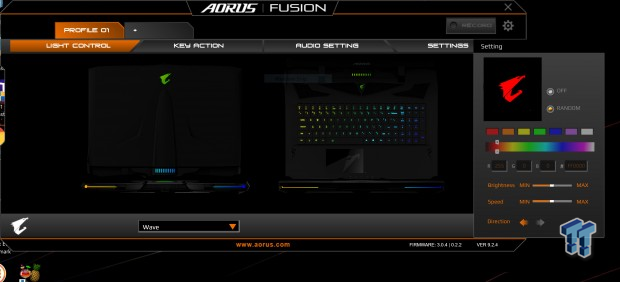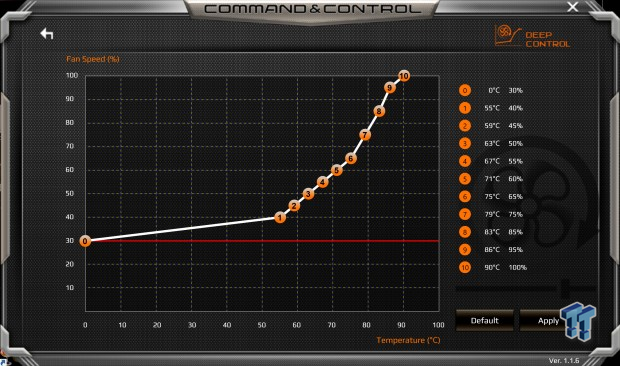 AORUS Fusion software provides RGB LED control over the keyboard and lighting zones. Each zone for LEDs (AORUS top symbol, power button, RGB array, and corner RGBs) is individually configurable. My favorite feature is that you can configure the array of RGBs to light up depending on hardware levels, such as battery level. Cooling can also be customized with up to 10 temperature selection points.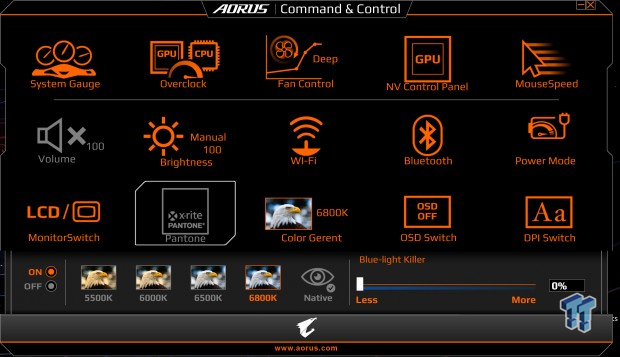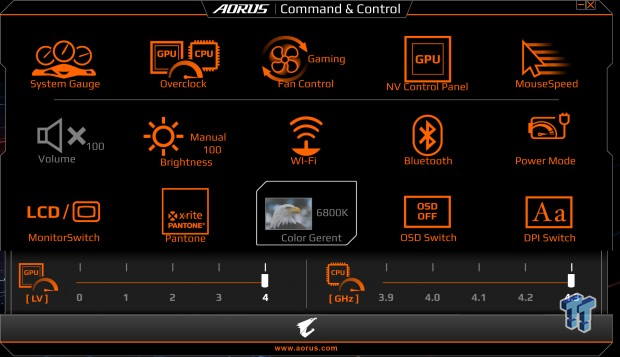 You have the option to choose between different color grades for the display (5500K, 6000K, 6500K, and 6800K), blue light killer mode, and finally Pantone X-Rite color calibrated mode.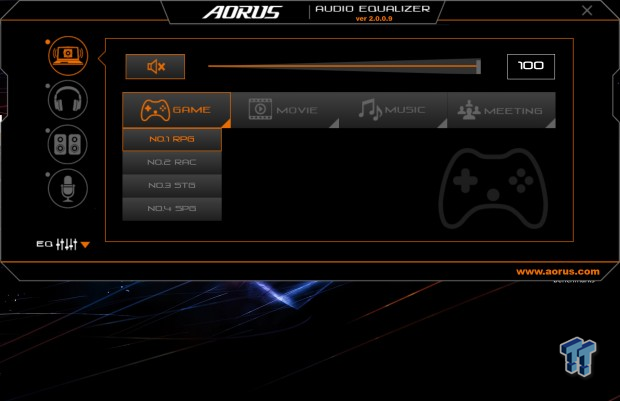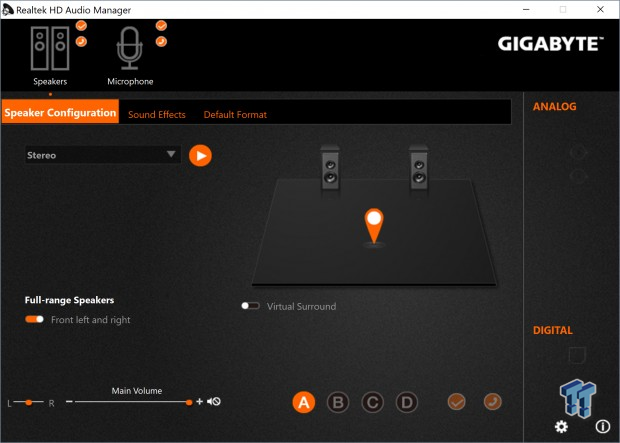 AORUS has their own built-in audio equalizer application where you can choose between different audio modes. Realtek's audio manager is also present, and you can use that as well.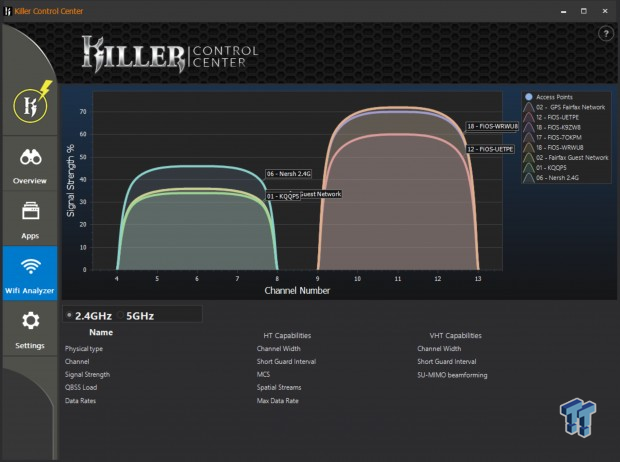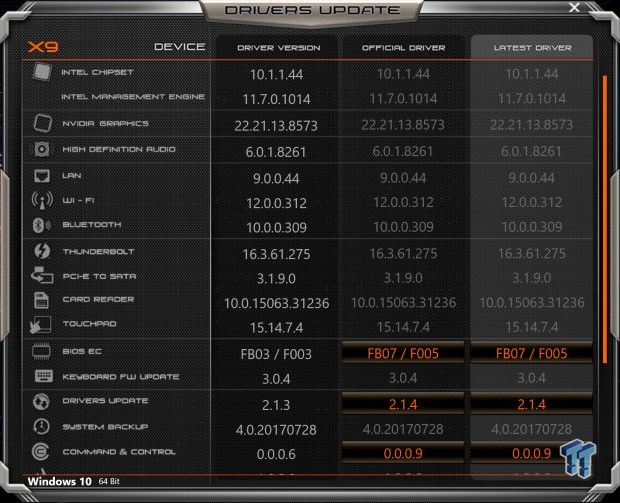 Killer's new Control Center software allows you to prioritize data streams, but if you plug into your router through the Killer LAN card and connect through WIFI, you can team the WIFI and LAN card up so that you can do all background tasks on WIFI and game on Ethernet. AORUS also has their own custom driver update program that will not only update drivers but also firmware for the different hardware features.
System Performance Benchmarks
CPU, Memory, and System Benchmarks
These benchmarks are run using default settings and configuration.
CINEBENCH 11.5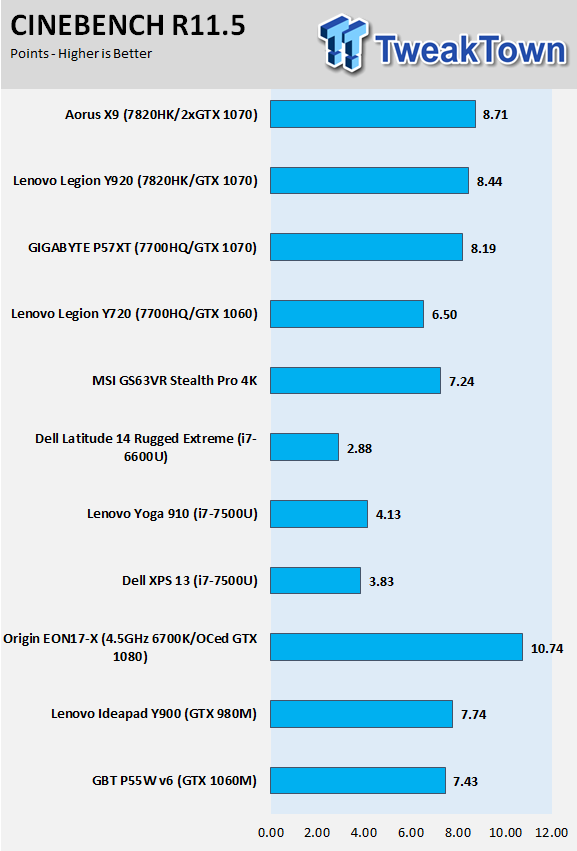 wPrime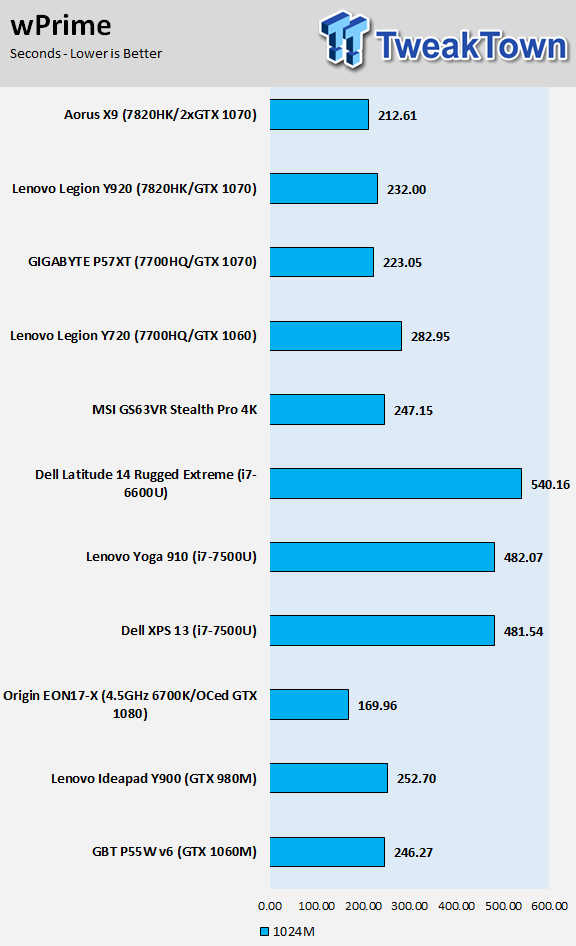 AIDA64 AES and HASH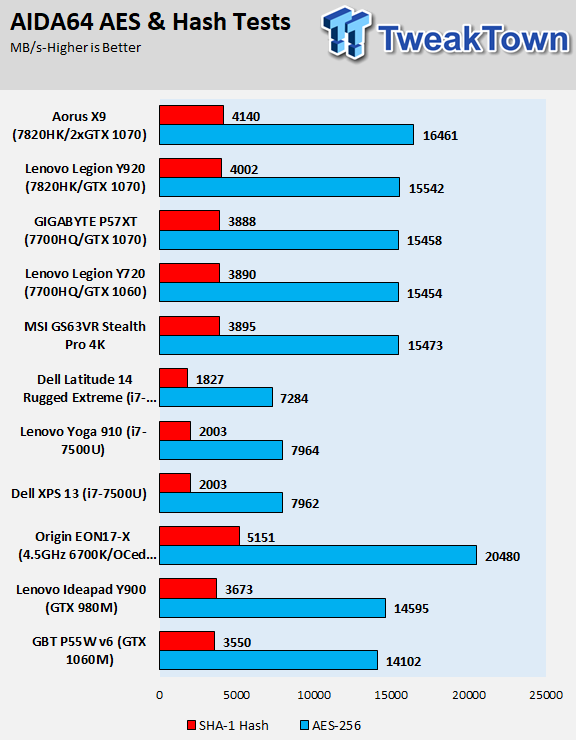 AIDA64 Memory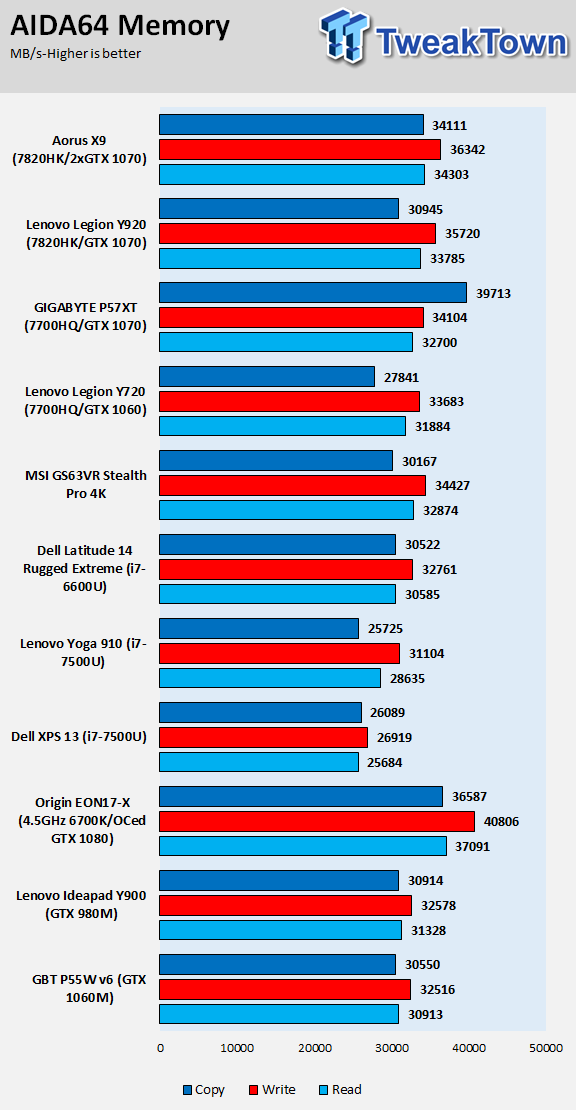 PCMark8 Home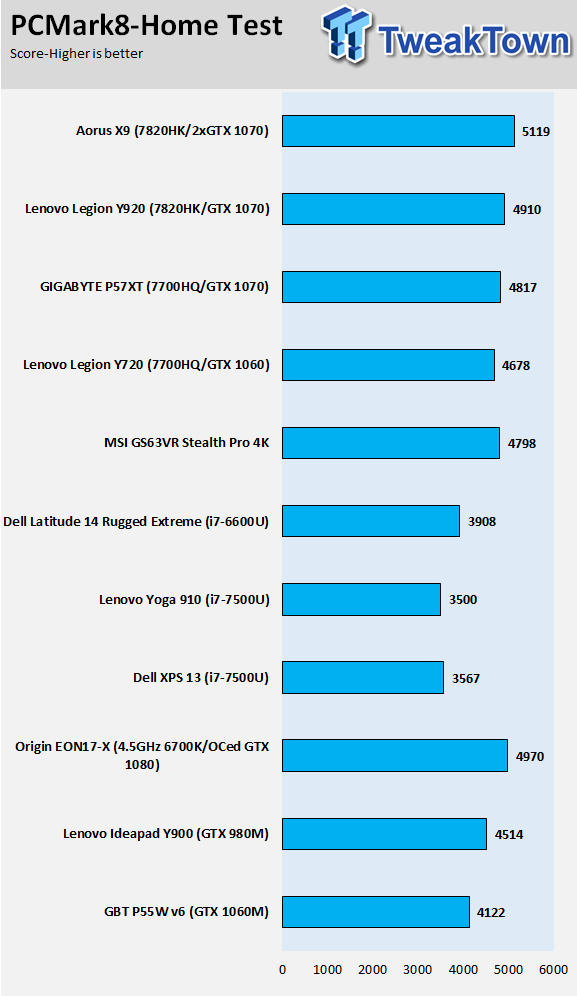 Handbrake 4K and 720P Transcoding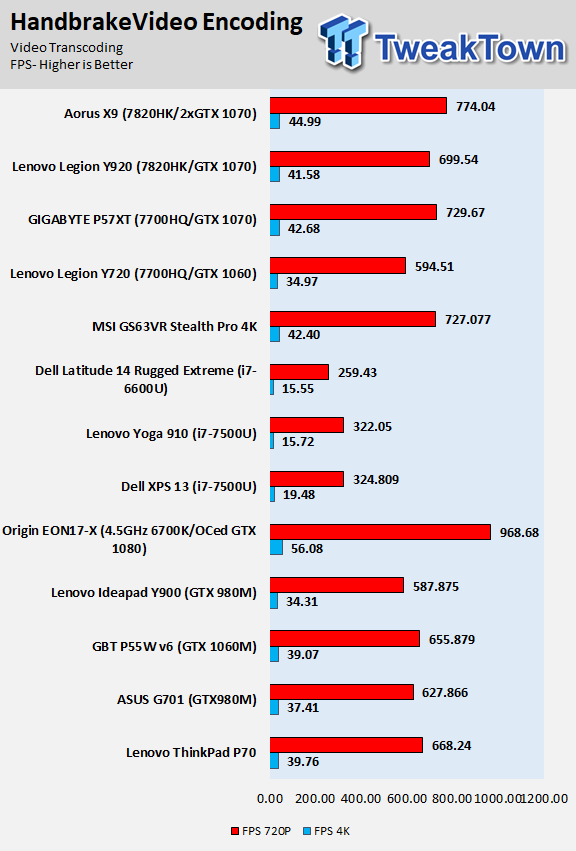 WebXPRT 2015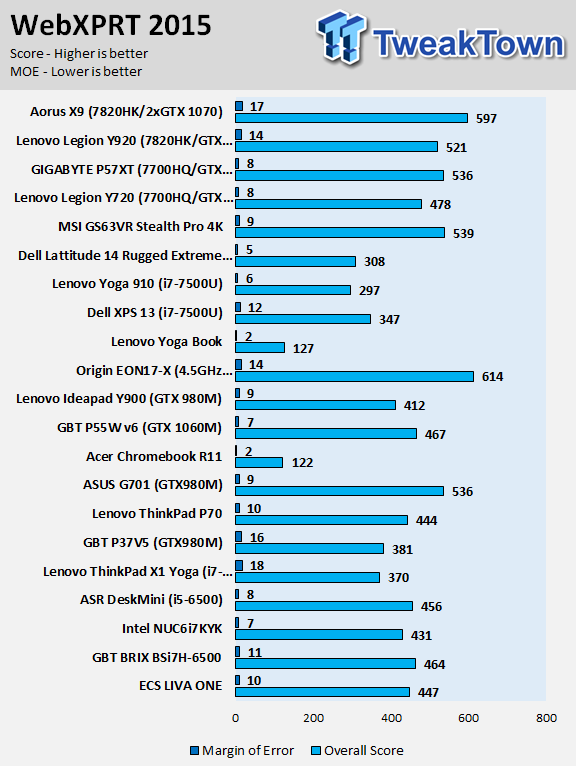 The i7-7820HK in its overclocked form is excellent, the only thing that is noticeably faster is the EON17-X, which uses a desktop 6700K overclocked to 4.5GHz, but that notebook is significantly thicker and heavier.
The AORUS X9 is simply the fastest notebook with a mobile processor in our charts, and that is not easy to accomplish.
Gaming Performance Benchmarks
3DMark11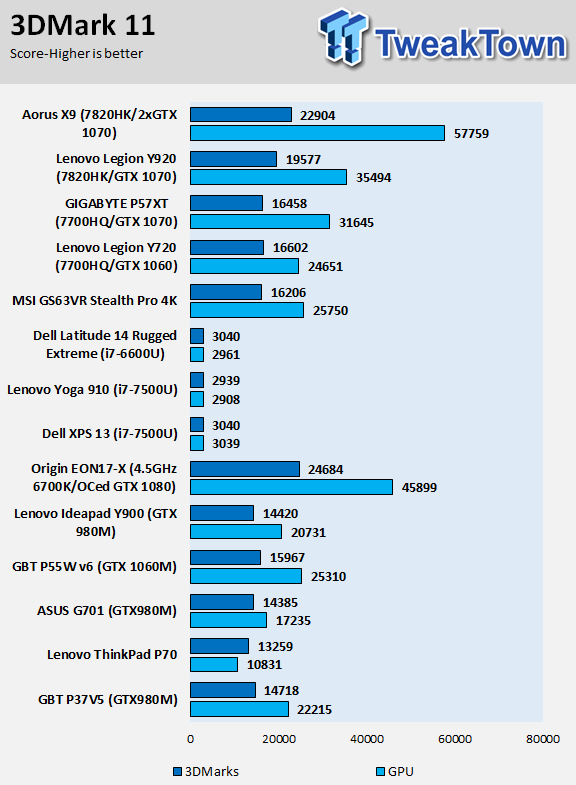 UNIGINE Heaven 4.0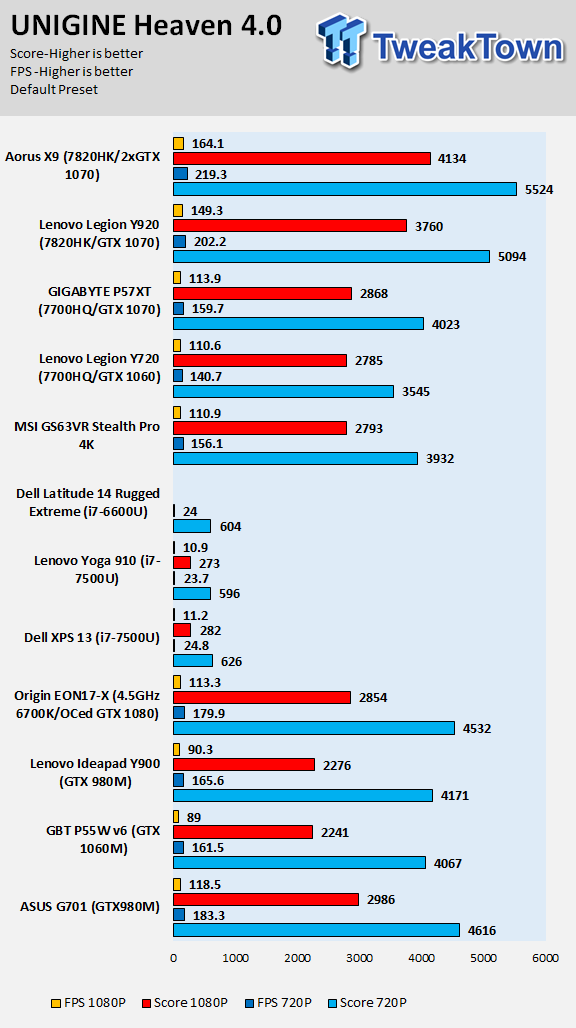 ResidentEvil 6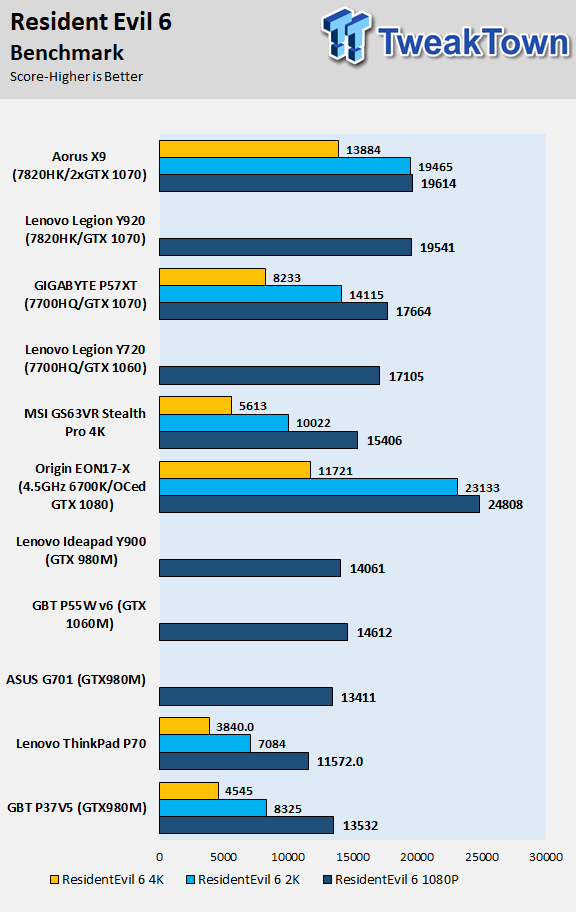 3DMark FireStrike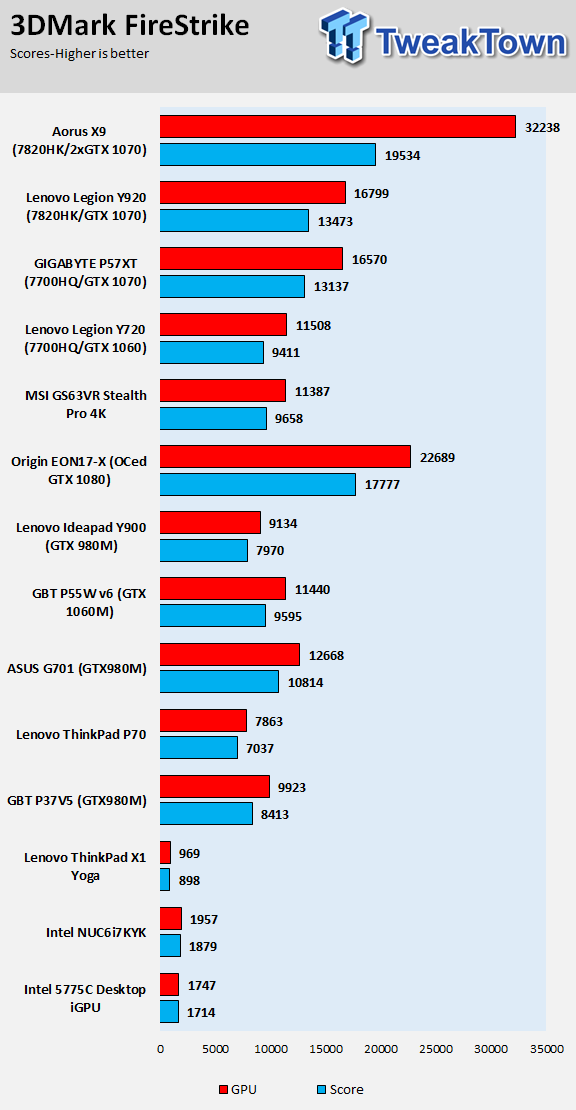 Ashes of Singularity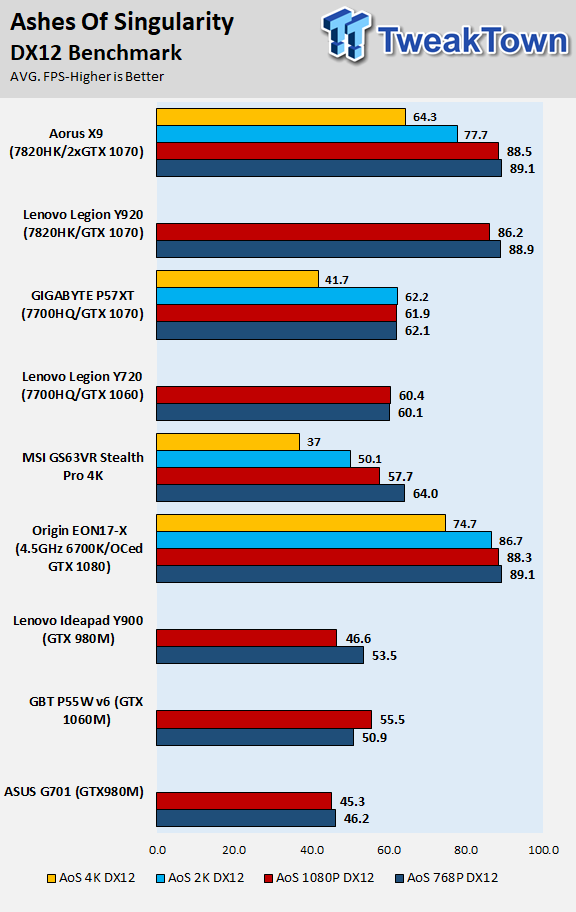 GTA:V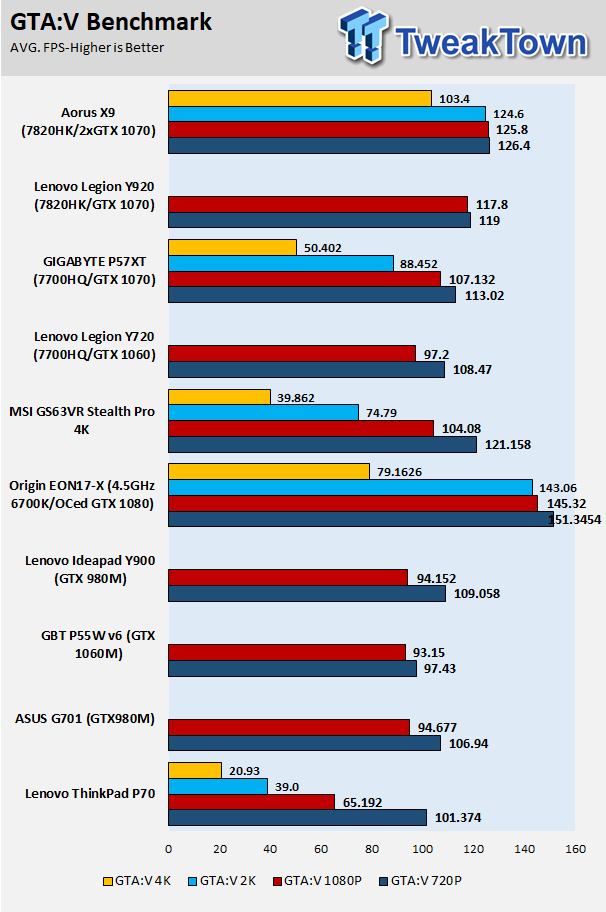 The AORUS X9 uses two GTX 1070 in SLI, which should be roughly 30% faster than a GTX 1080 in games that can take advantage of SLI. We see that in synthetic benchmarks, the two GTX 1070s in SLI shine and destroy everything in our charts. However, in benchmarks such as Resident Evil 6, SLI isn't fully supported, and so we get similar performance to a single GTX 1070 (at least battery life would be extended).
In Ashes of the Singularity, you might think that the EON17-X with the GTX 1080 OCed is beating the AORUS X9 because of iffy SLI support, but that isn't totally the case. Ashes of the Singularity loves strong CPUs, and the overclocked desktop 6700K is stronger than the overclocked 7820HK, and the fact that they are close to even is a nice thing. In GTA:V we also get excellent performance and in 4K the AORUS X9 easily beat the EON17-X with 103 FPS vs. 80.
System IO and Battery Performance
System IO Benchmarks
Internal Storage Read Test: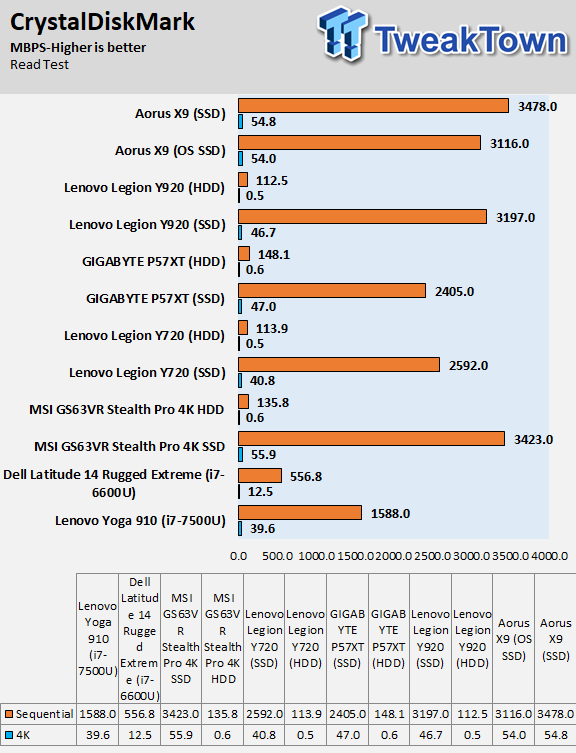 Internal Storage Write Test: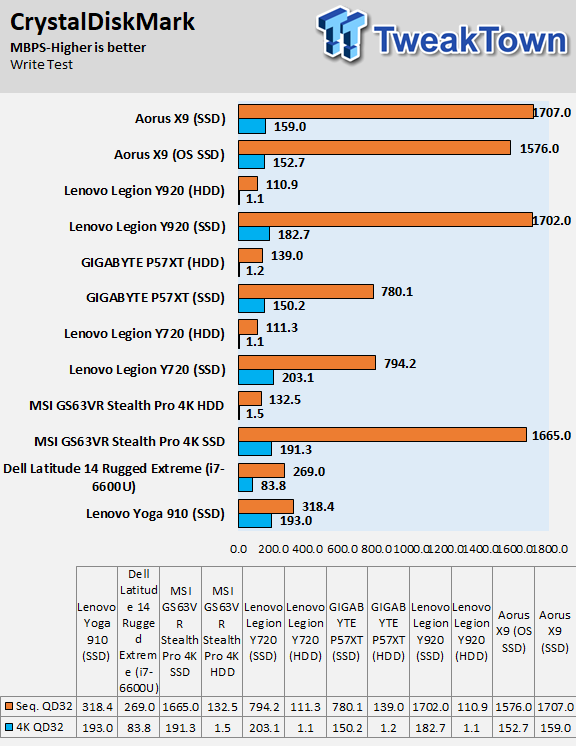 ixChariot Network Throughput: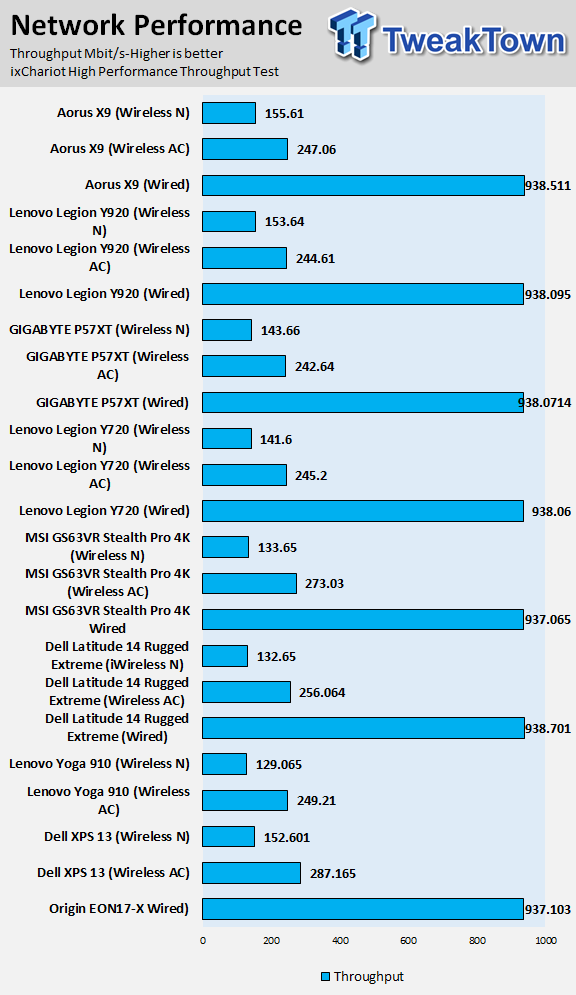 The Samsung NVMe SSD used in the AORUS X9 is similar to a Samsung 960 Pro, and while the OS drive performs a bit slower than the second drive (they are the same drive), both perform excellently. Network performance is also solid, and the notebook performs great.
Battery Tests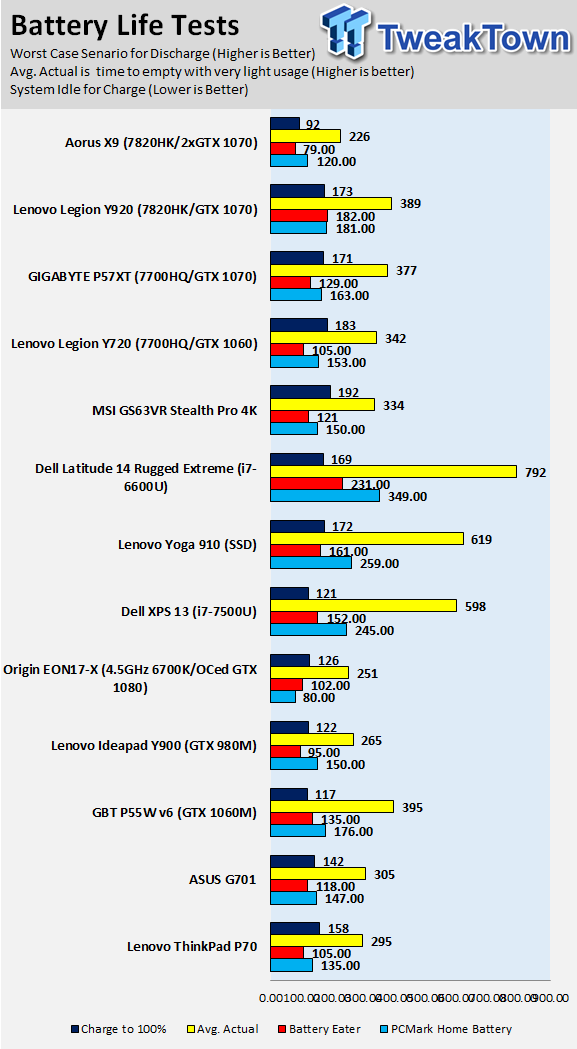 The battery performance is not the best, in fact, it's not good. However, battery life on the other very high-end gaming notebook is also very bad. If you look at the EON17-X you will notice that it's benchmarked battery life in PCMark is worse but its battery eater results are better than the AORUS X9.
That is because the AORUS X9 has two GPUs and a power hungry CPU, so depending on how you use the device, battery life might be better or worse than other ultra-high-end gaming notebooks.
Thermal Performance and Noise
Thermal Imaging and Noise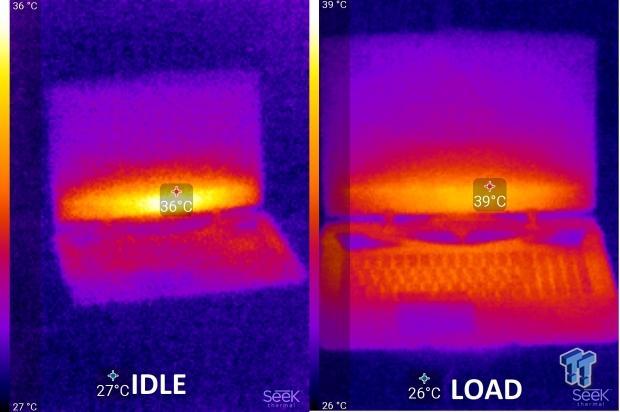 The screen of the notebook warms up a few degrees when under load, and the keyboard does as well, but surprisingly the keyboard doesn't get hot. Topside thermal performance is solid, and we can see how the air intake vents draw in the cool air right behind the keyboard.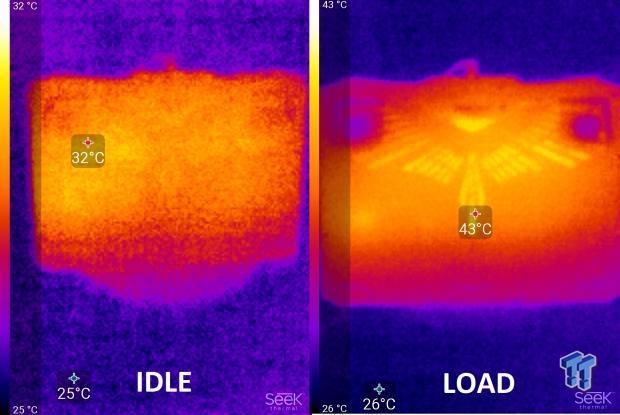 Check out that Falcon (the God AORUS used a Falcon as symbolism) that become visible under IR thermal vision when a load is applied. The tips of its wings are where the air intake is located, and temperatures are actually decent.
Fan noise, when the machine is at full speed, is not as bad as you might think. The fans will ramp up just like any other gaming notebook, but they don't holler or go into a dust-removal mode (full speed).
What's Hot, What's Not & Final Thoughts
Update: We made two errors. The first is that the adapter is rated for 330W (not 300W), and the second is that the notebook does not feature G-SYNC technology.
Here are key points about the AORUS X9.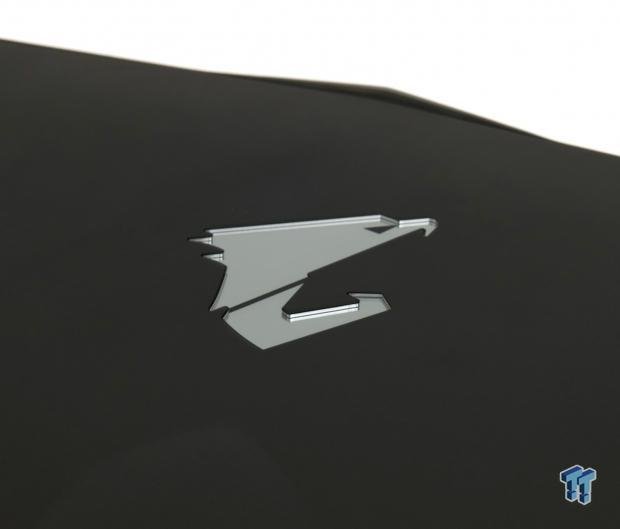 What's Hot
All Around Performance King: It destroyed every single other gaming and productivity notebook in our tests, except the one that uses a top of the line desktop processor overclocked to 4.5GHz. The 7820HK can be overclocked up to 4.3GHz, and its performance is actually better than another notebook with the 7820HK overclocked, and that is because of the cooling capability of the notebook. Other than that, the two GTX 1070 8GB in SLI with G-Sync produce excellent results in most everything they do. The two M.2 slots with Samsung drives are also super-fast, as is the installed memory.
True 4K Gaming on the Go: I see a lot of gaming notebooks with 4K displays and top of the line i7 processors matched with a single GTX 1070 or 1060, and to be honest, those notebooks can't play games at 60FPS at 4K. Only an overclocked GTX 1080, or in this case two GTX 1070s in SLI are capable of running 4K content at or above 60 FPS on a 4K panel. All the games I tested were playable at 4K, and that is something amazing considering how thin the notebook is.
Super Slim and Quite Cool: The notebook is very thin, and surprisingly, cooling is also excellent. I typically can throttle down a notebook in under 30minutes with my loading software, but I wasn't able to make this notebook throttle like that. Its cooling design is sound, no pun intended. It's also not that loud compared to some other ultra-high-end gaming notebooks.
ThunderBolt 3 and Output Capability: ThunderBolt 3.0 is a very nice connection protocol. You don't only get 40Gbps ThunderBolt 3.0, you also get Display Port 1.2, faster charging, and the ability to plug in USB 3.1 and below type-C devices. The notebook also features a second type-C port that supports USB 3.1 10Gb/s, DisplayPort 1.3, and HDMI 2.0. Did I mention the headphone output uses an ESS SABRE DAC?
RGB Customization: Some people might not care for RGBs, but those people haven't experienced it in a sleek and chic fashion. I get why people dislike lights in their faces, but in the case of the AORUS X9, the lighting is well diffused, the effects are neat, and they can actually be useful. You have an array of RGB LEDs built right under the screen, and you can customize that display to indicate the temperature of your CPU, indicate battery life, or even synchronize with music.
What's Not
Super Heavy: The notebook might be extremely thin, but it's also extremely heavy. Even carrying around the notebook in its box isn't that easy. The notebook weights 8lbs or 3.6Kg, so it's lighter than some other gaming notebooks, but it's still really heavy.
Battery Life: It's not that great, but that was expected because of the notebook's size and weight.
Final Thoughts
The AORUS X9 is a masterpiece; it embodies everything GIGABYTE wants the AORUS brand to stand for. It is basically what an ultra-high-end 4K gaming laptop should be. The choice of GPUs is also very good.
Thermals and power consumption become a big deal with GPUs, and if this notebook had two GTX 1080s instead of two GTX 1070s, it definitely would have been thicker, heavier, more expensive, and battery life would have been even worse. Going with two GTX 1070s should provide roughly 30% better performance than a single GTX 1080 in games where SLI is fully optimized, so it makes sense for an ultra-high-end notebook such as this to use two GTX 1070s.
Some of you might be wondering why I didn't mention price as a negative, and while I do think the notebook is extremely expensive, I don't think the price is unreasonable. There are many other gaming notebooks out there above $3000, and the AORUS X9 offers something unique and new in that price bracket. If you want an ultra-high-end gaming notebook that can truly play games at 4K with ease and is loaded with features, then the AORUS X9 is the right notebook for you.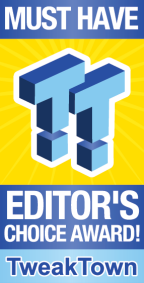 | | |
| --- | --- |
| Performance | 98% |
| Quality | 96% |
| Features | 95% |
| Value | 85% |
The Bottom Line: Loaded with an overclocked i7, two GTX 1070s in SLI, a Pantone X-Rite calibrated 4K display, and an overabundance of other exciting features, the AORUS X9 is the definition of a brilliant thin ultra-high-end gaming notebook.
PRICING: You can find products similar to this one for sale below.

United States: Find other tech and computer products like this over at Amazon.com

United Kingdom: Find other tech and computer products like this over at Amazon.co.uk

Australia: Find other tech and computer products like this over at Amazon.com.au

Canada: Find other tech and computer products like this over at Amazon.ca

Deutschland: Finde andere Technik- und Computerprodukte wie dieses auf Amazon.de
We openly invite the companies who provide us with review samples / who are mentioned or discussed to express their opinion. If any company representative wishes to respond, we will publish the response here. Please contact us if you wish to respond.