ASUS Crosshair VI Extreme (AMD X370) Motherboard Review
ASUS' ROG Crosshair VI Extreme (AMD X370) is a feature-packed motherboard to consider for your shiny new Ryzen CPU.
Published
12 minute read time
TweakTown's Rating: 93%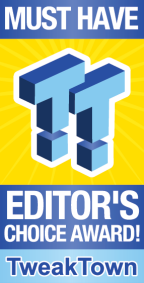 The Bottom Line
ASUS' ROG Crosshair VI Extreme offers excellent performance, top-shelf component quality, and a ton of features not found on any other AMD X370 motherboard, but it does not come cheap.
Introduction, Specifications, and Pricing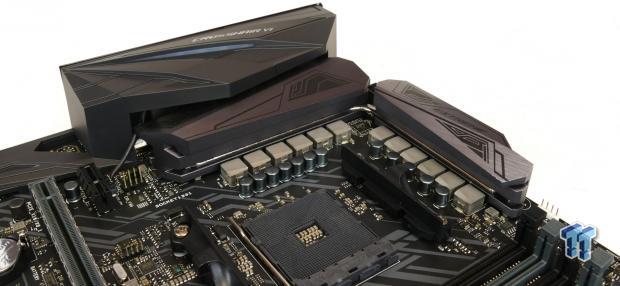 The X370 chipset launched many months ago, and recently we have seen the launch of second wave X370 motherboards. The one we have here today is the Crosshair VI Extreme, which is ASUS's top of the line X370 motherboard.
Many had thought that the Crosshair VI Hero was going to be ASUS's topmost X370 motherboard, but it seems that ASUS has moved the ante up a bit and released an even more loaded X370 motherboard.
At the time, the Crosshair VI Hero was one of the best X370 motherboards, so let us see what its successor has to offer.
Specifications

The Crosshair VI Extreme features dual M.2 slots, Intel LAN, Wireless AC, a hefty VRM, SATA6Gb/s, USB 3.1, and extreme OC features.
Pricing
The Crosshair VI Extreme costs $349.99.
Packaging and Crosshair VI Extreme Overview
Packaging and Overview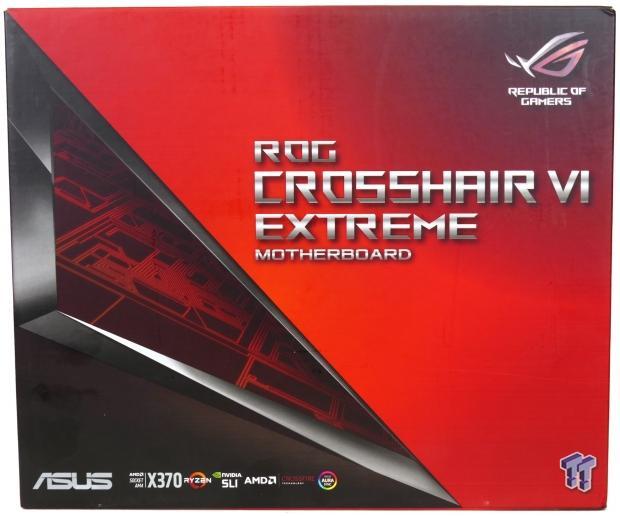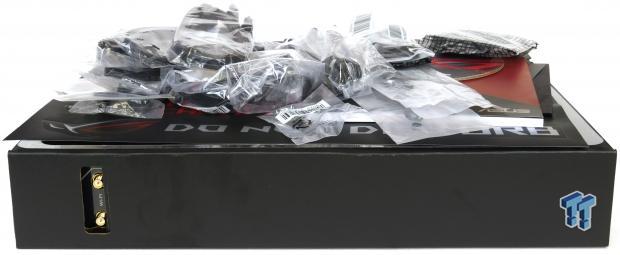 The motherboard's box is very similar to that of the Hero, and actually very similar to that of ASUS's other ROG products. The packaging is also top-notch, and the motherboard is well protected.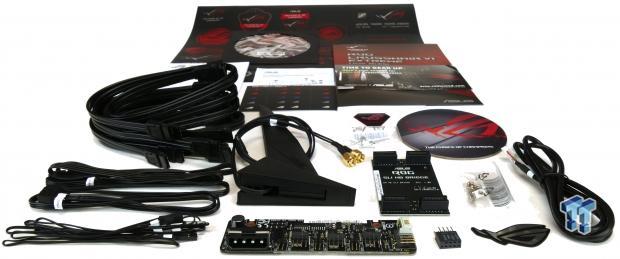 The accessory package includes four SATA6Gb/s, RGB extension cable, addressable RGB extension strip, three temperature probes, wafer cable, WIFI antennas, SLI HB bridge, Fan Extension card, Q-Connector, M.2 screws, bracket for fan card, ROG cable labels, ROG coaster, ROG logo plate sticker, ROG stickers, driver DVD, manuals.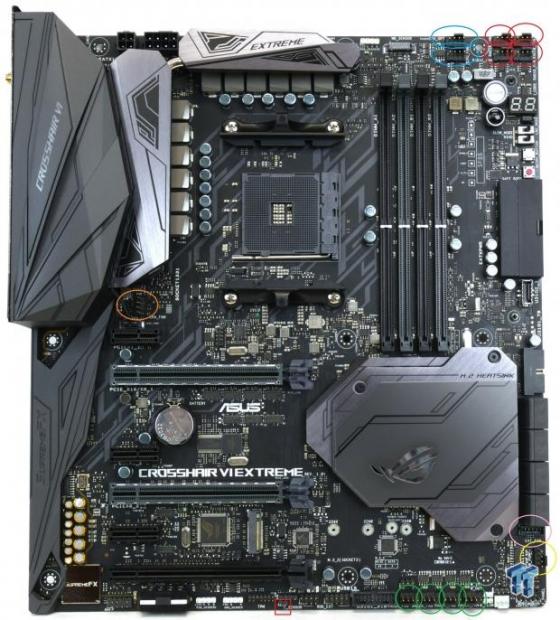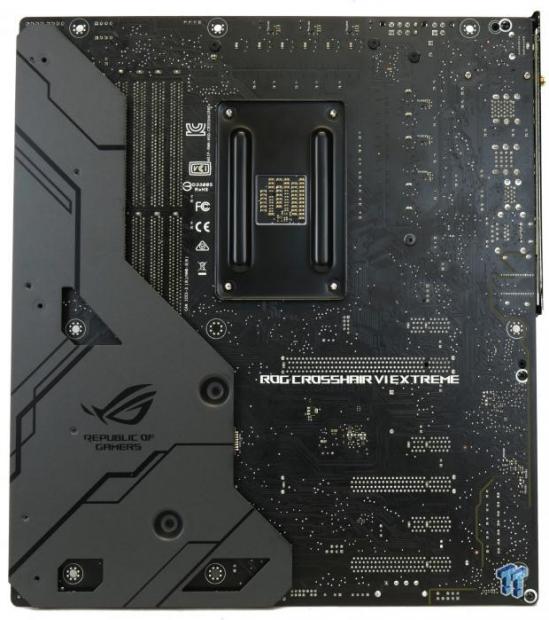 ASUS put a total of twelve fan headers on the motherboard, and they also include a fan extension card for three extra fan headers and three extra temperature sensors. All fan headers all hybrid PWM/DC mode headers, but they aren't all the same. A new type of header called the Radiator header are grouped into groups of four and are all controlled as if they were one header. There are two groups of radiator headers, one is circled in red and the other in green.
The CPU header and CPU optional header are circled in blue (grouped control), a single chassis fan header is circled in orange, and a water pump header is circled in yellow. All headers are rated for 1A, except the pump header that supports up to 3A and runs full speed by default. The fan extension card header is circled in pink, and a temperature probe header is boxed in red. The motherboard has the same gun metal/black aesthetics as its predecessor, and lights up with RGB LEDs. The motherboard also has a backside shield to help reinforce the PCB.

The rear IO panel features Clear CMOS button, BIOS Flashback button, WIFI antenna, six USB 3.0 ports, four USB 2.0 ports (one for keyboard and one for BIOS Flashback), USB 3.1 type-A, USB 3.1 type-C, Gbit LAN, and 7.1 gold-plated audio outputs. The rear IO panel shield is integrated into the motherboard, and the audio outputs light up in different colors.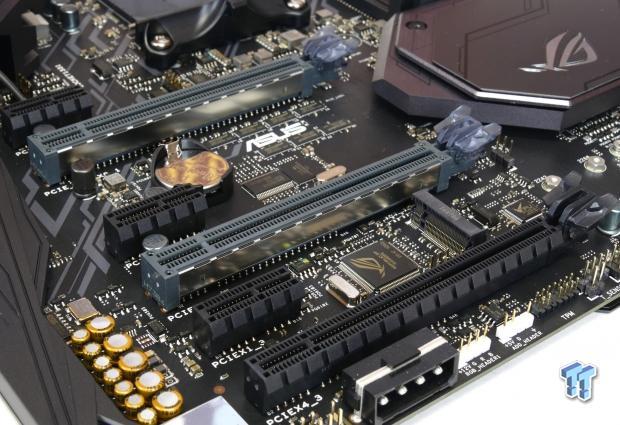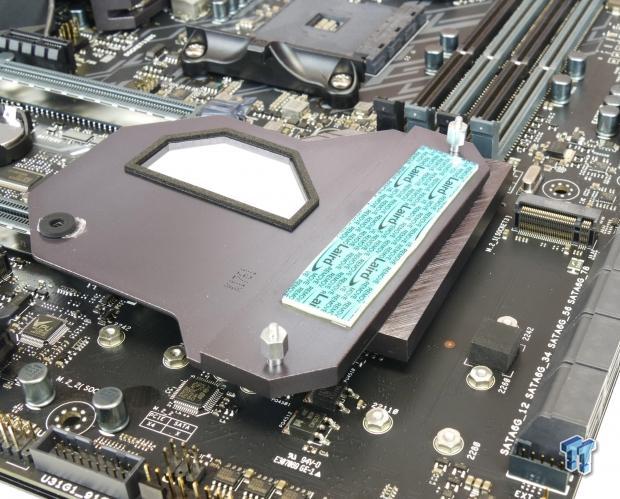 The first and second gray x16 slots operate at x16/x0 or x8/x8 PCI-E 3.0. However, the M.2_2 slot shares bandwidth with the second x16 slot from the CPU. The last x16 slot is x4 PCI-E 2.0 and shares bandwidth with the three PCI-E 2.0 x1 slots. There is one M.2 slot under a heat sink that cools it, this M.2 slot doesn't share bandwidth with the second x16 slot, but is always x4 PCI-E 3.0.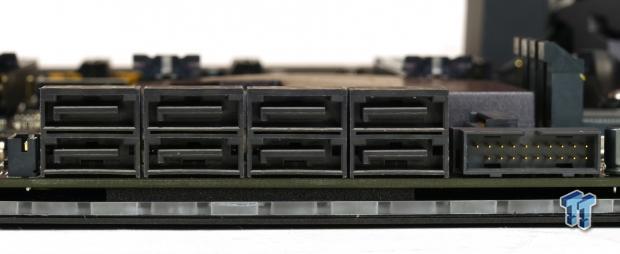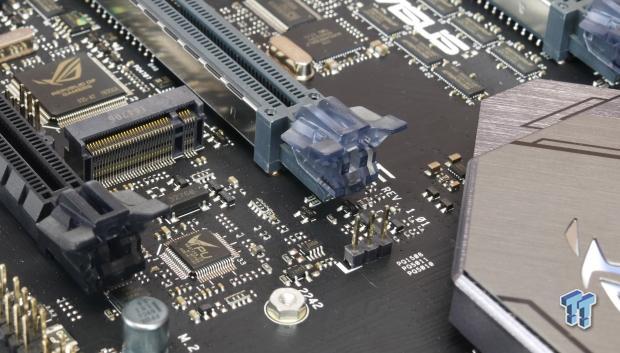 There are right SATA6Gb/s ports from the FCH (AMD's X370 chipset), and a right angled USB 3.0 header. The second M.2 slot operates at x4 PCI-E 3.0 as well but will get its bandwidth from the second x16 PCI-E slot.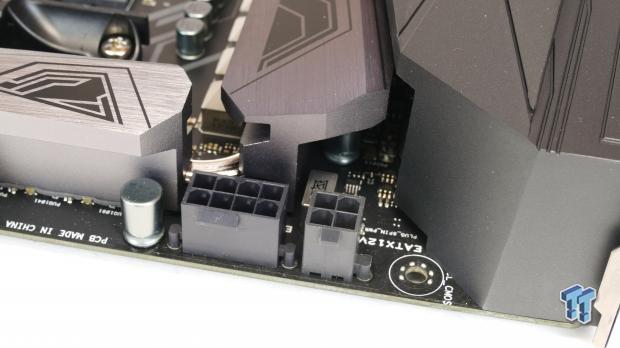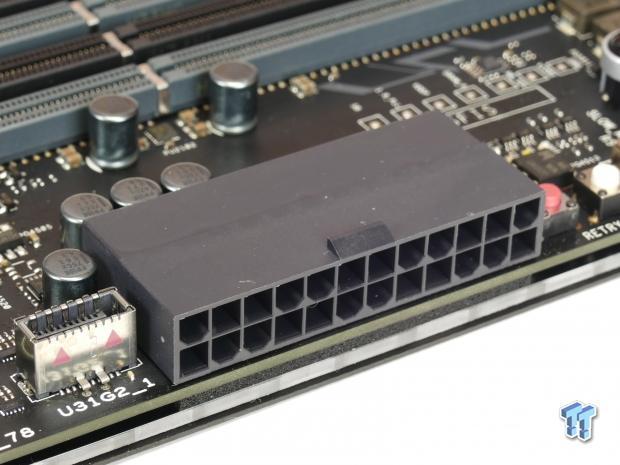 The motherboard features two CPU power connectors; one 8-pin and one 4-pin. The motherboard's 24-pin connector is angled at 90 degrees, something we haven't seen for a long time.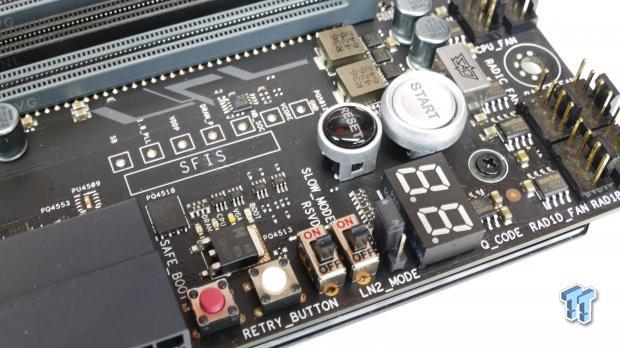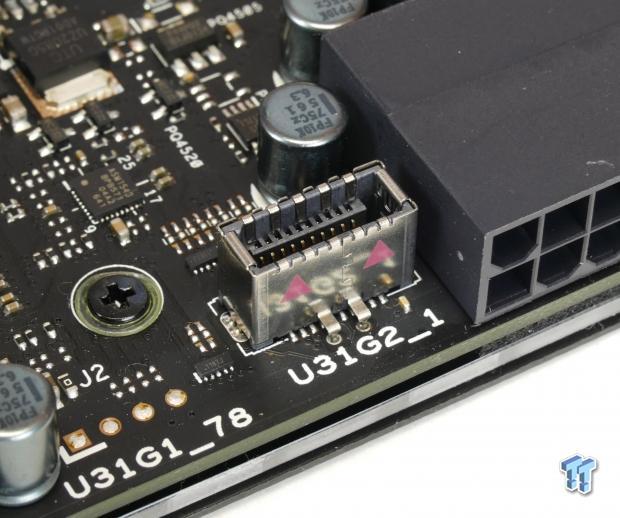 Overclocking features are plentiful! We get voltage read points, POST code display, LN2 mode jumper, Slow Mode switch, RSVD switch (cold boot bug prevention), a retry button (re-applies OC settings), a Safe Boot button (for when you don't want to clear CMOS), and we also get power and reset buttons. The motherboard is well equipped for liquid nitrogen overclocking. A USB 3.1 internal header sits below the 24-pin connector.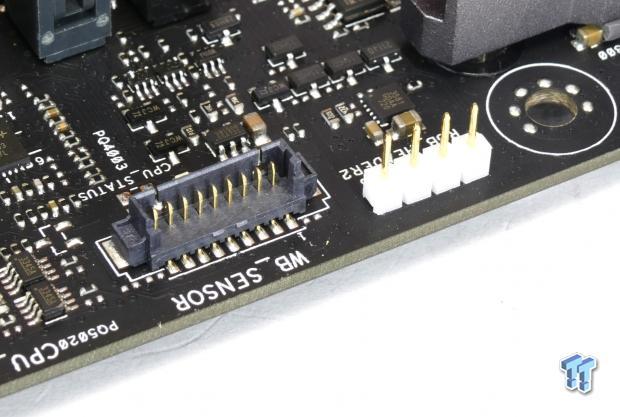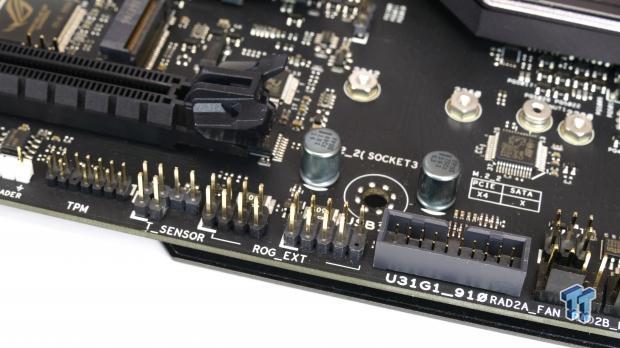 A water block sensor header indicates that EK has a custom water block for the motherboard with built-in RGBs and water leak sensors built in. One of the RGB LED headers are located at the top of the motherboard. At the bottom of the motherboard, we find a second USB 3.0 header, ROG Extension header (that doubles as a USB 2.0 internal header), and a TPM header.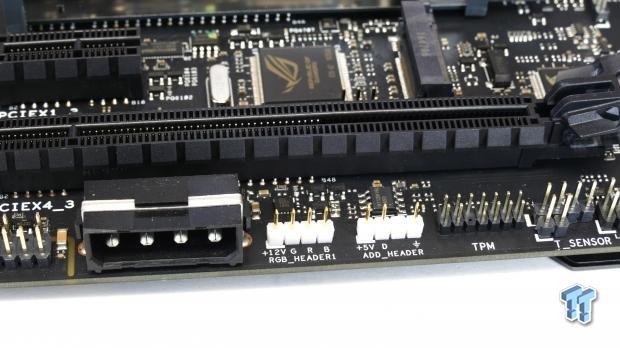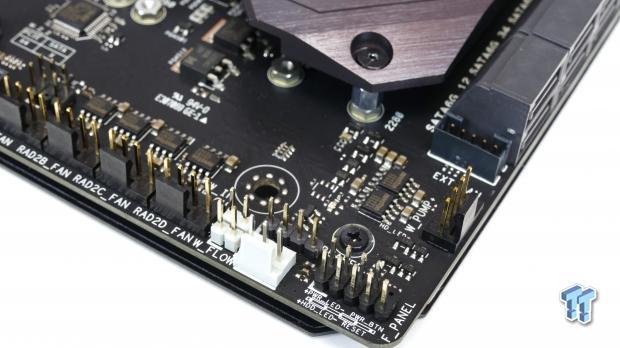 We find our second RGB LED header and our addressable RGB LED header at the bottom of the motherboard. The motherboard also features headers for water cooling; a water flow rate header and two water temperature sensor headers are colored in white and located in the bottom right-hand corner of the motherboard.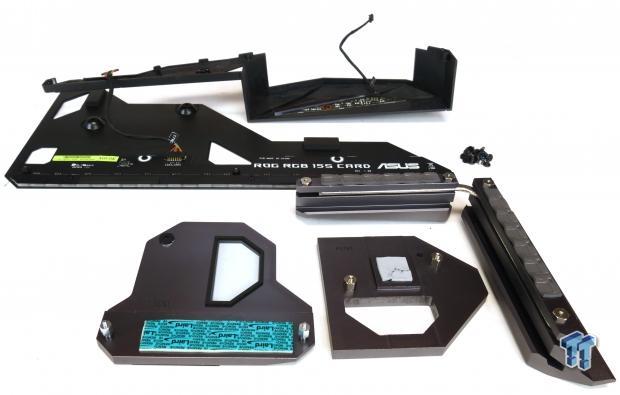 A MOLEX power connector sits at the bottom of the motherboard to provide extra PCI-E power. The motherboard's heat sinks make excellent contact with the motherboard.
ASUS Crosshair VI Extreme Circuit Analysis
Circuit Analysis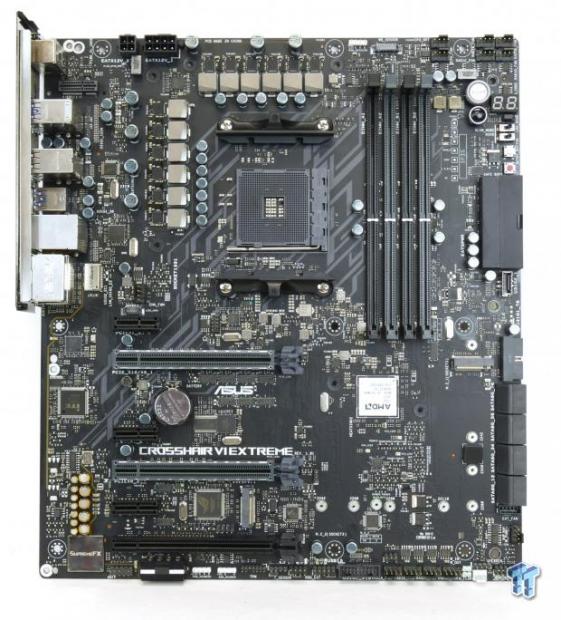 The Crosshair VI Extreme reveals its goods with the heat sinks off.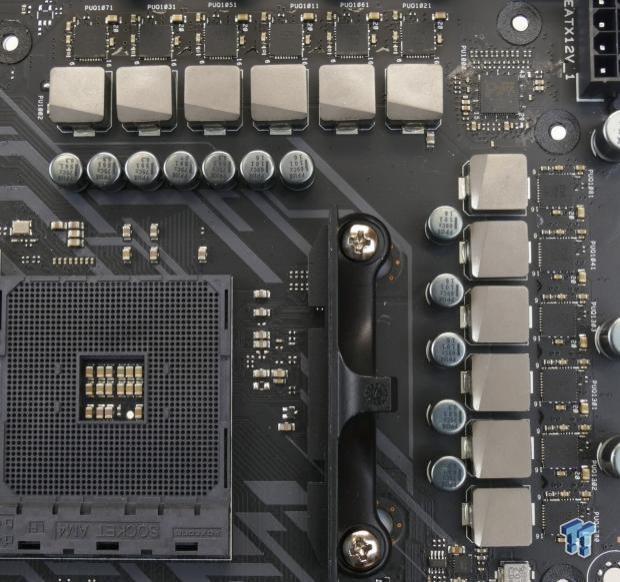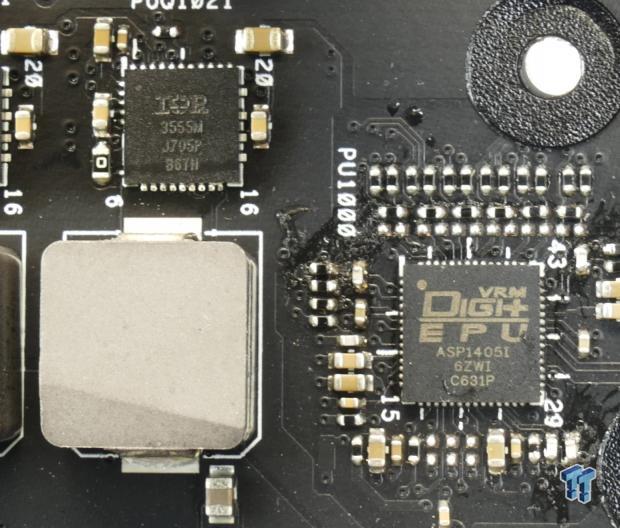 The VRM is in an 8+4 phase configuration. The ASP1405 produces 4+2 phases and is most likely an IR35201 with support for up to 6+2 phases or 8+0 phases. Here the four CPU phases and two SoC phases are doubled to 8+4 phases through six IR3599 doublers/quadruplers working in doubler mode located on the back of the motherboard. Each power stage is made up or an IR3555M, International Rectifier's latest 60A PowIRstages, and best in class. ASUS is also using their 10K solid capacitors and micro-fine alloy inductors. The VRM is pretty much overkill for the platform.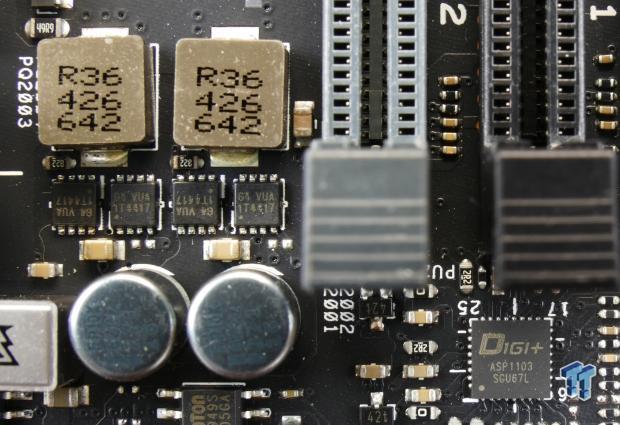 The memory VRM uses an ASP1103 PWM we have seen on other ASUS ROG motherboards, along with two phases made up of very compact MOSFETs that seem to be able to get the job done, as they are used on the APEX and EXTREME boards on the Intel side of things as well.
ASUS Crosshair VI Extreme Circuit Analysis Continued
Crosshair VI Extreme Circuit Analysis Continued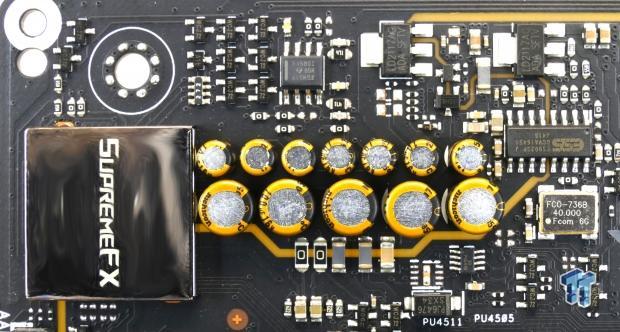 ASUS is using a Realtek ALC1220 along with an ESS Sabre 9023P DAC which provide excellent sound output. A Texas Instruments RC4580 is used as a buffer for more stable voltage levels, Nichicon Gold series audio capacitors, a high precision clock source, and physical PCB division to improve audio quality.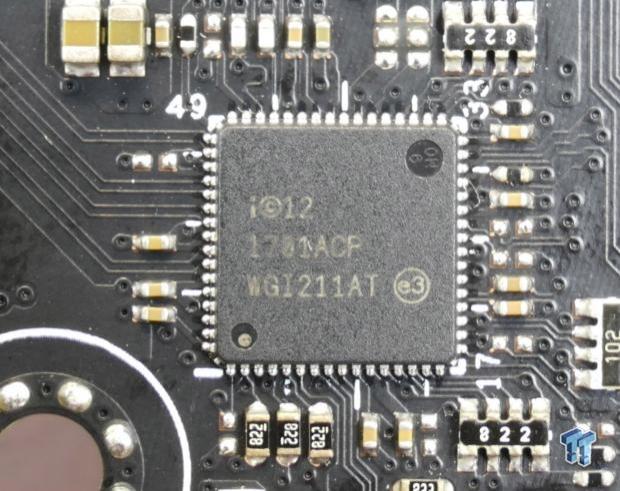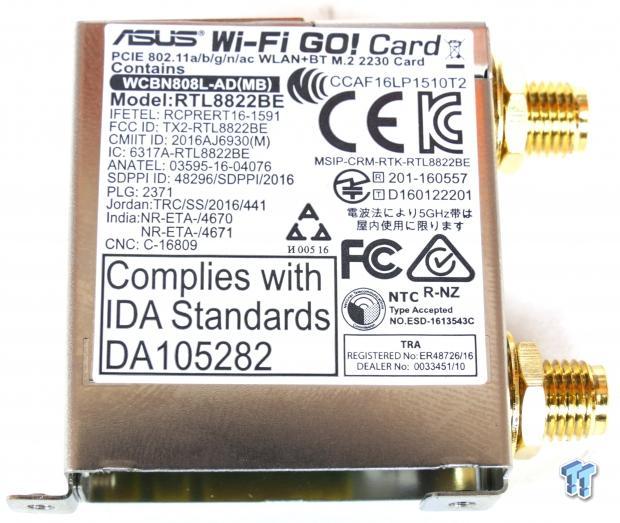 An Intel i211AT is used as the GBit NIC, and a Realtek RT8822BE controller is used for the Wireless AC. I haven't really seen this wireless card used, but it's a wave 2 wireless AC device and supports MU-MIMO.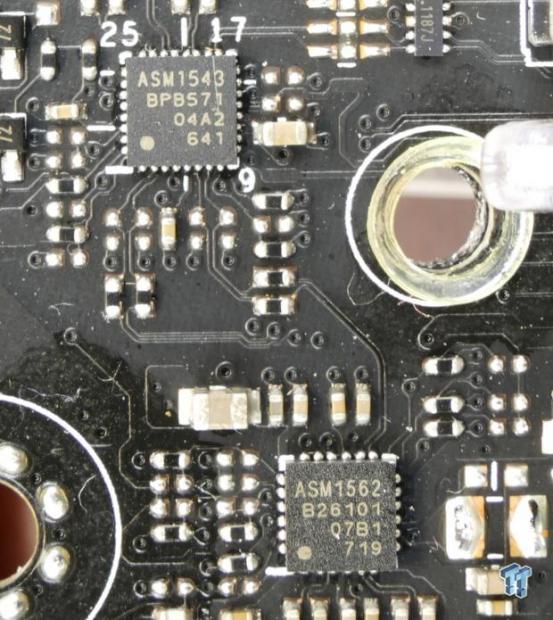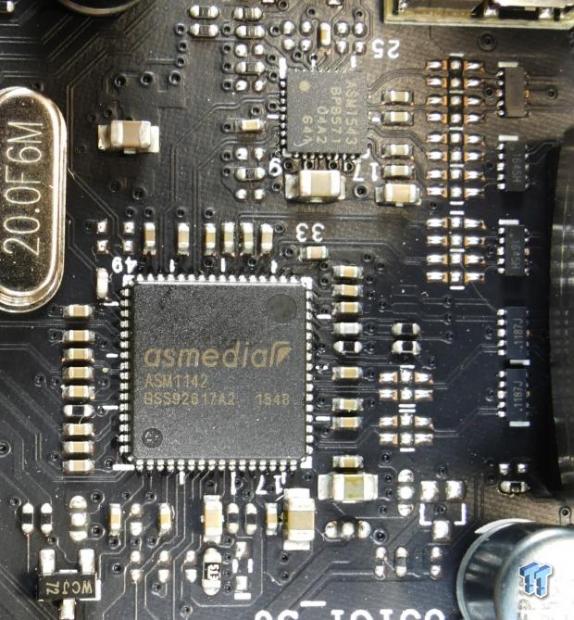 We find the integrated USB 3.1 from the chipset routed to what must be an ASMedia USB 3.1 re-driver, the ASM1562, and then to an ASM1543 type-C switch/CC logic chip, and then into the USB 3.1 internal header. The rear IO gets its USB 3.1 from an ASMedia ASM1142 that outputs to one type-A port and to a type-C port after going through an ASM1543 port. I am unsure why ASUS used the ASM1142 instead of the ASM1143, 2142, or 3142, as they are all more recent.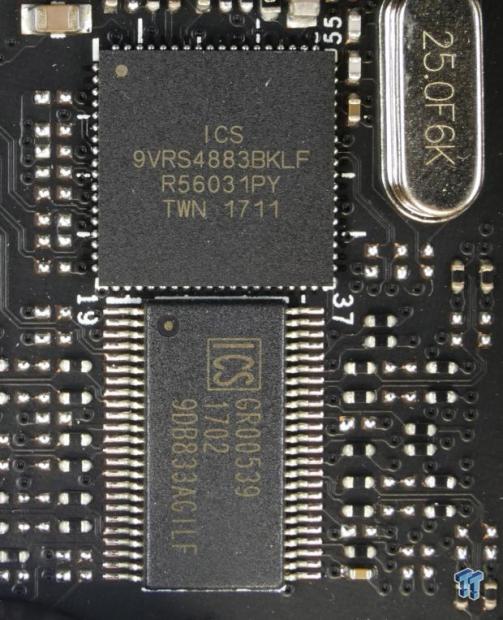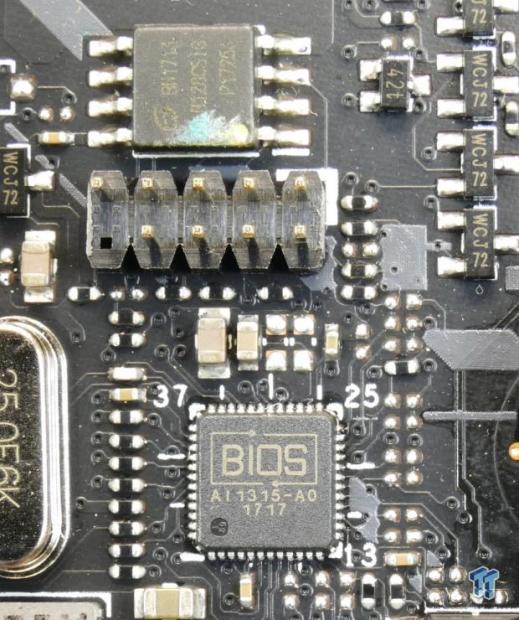 The ICS clock generators, the 9VRS4883BKLF and 9DB833AGILF provide the ability to change the PCI-E/base clock speed of the CPU. The BIOS chip near the 128Mbit BIOS ROM provides USB Bios Flashback technology to recover a corrupt BIOS.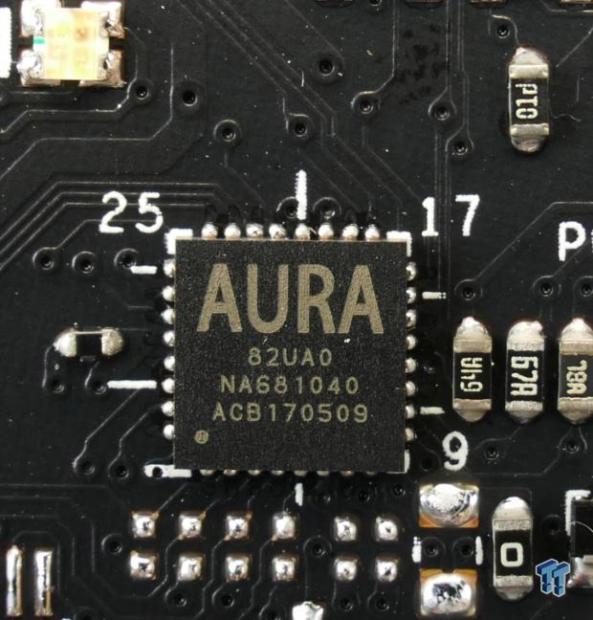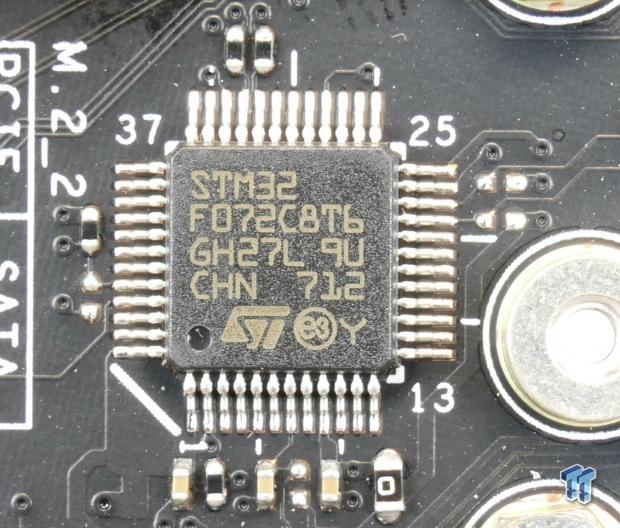 The AURA chip provides RGB LED technology to control the RGB headers and some onboard RGBs. The STM32 chip is a microcontroller that provides digital/addressable RGB LED control technology for the header and some of the built-in RGB LEDs.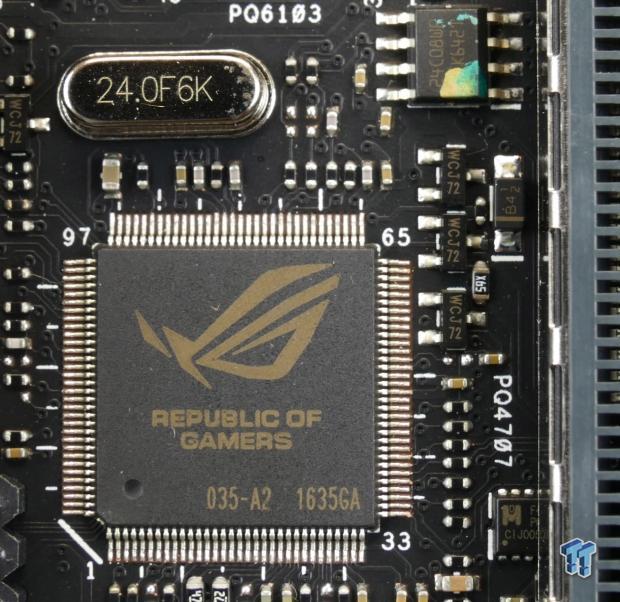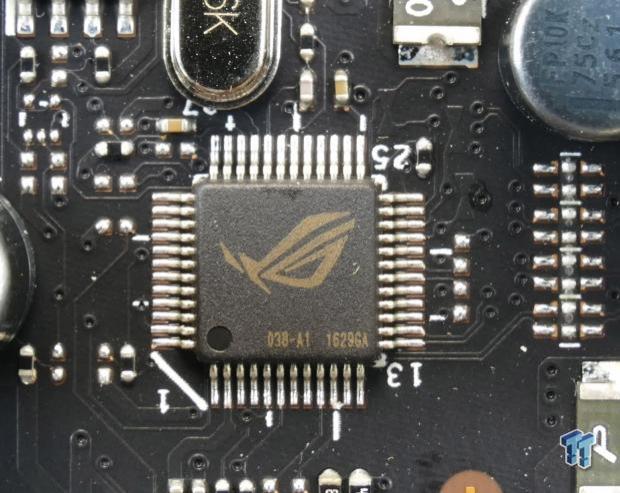 We find multiple ROG chips around the motherboard, and they provide functions such as improved fan control or monitoring, overclocking features, Keybot, and other ROG-exclusive features. There is also a chip labeled TPU, and that provide TPU features.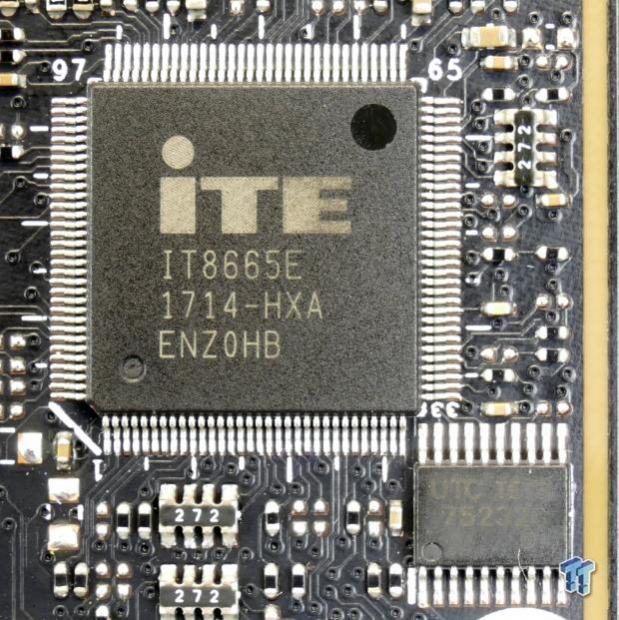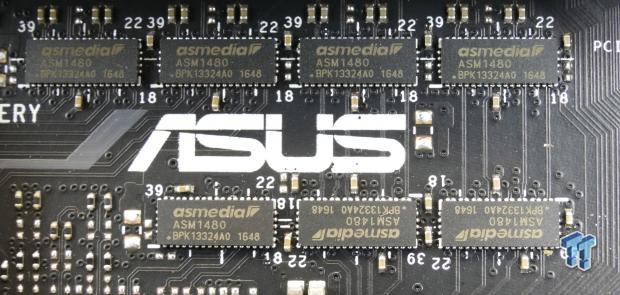 The super IO chip is the ITE 8665E, and it provides hardware monitoring, fan control, and some system management. The UTC 75232 chip is a driver and receiver IC that provides the COM port. The ASMedia ASM1480 we see above switch the CPU's bandwidth between the two top x16 slots and the M.2 slot, so you can have them operating at x16/x0/x0, x8/x8/x0, or x8/x4/x4(M.2).
BIOS and Software
BIOS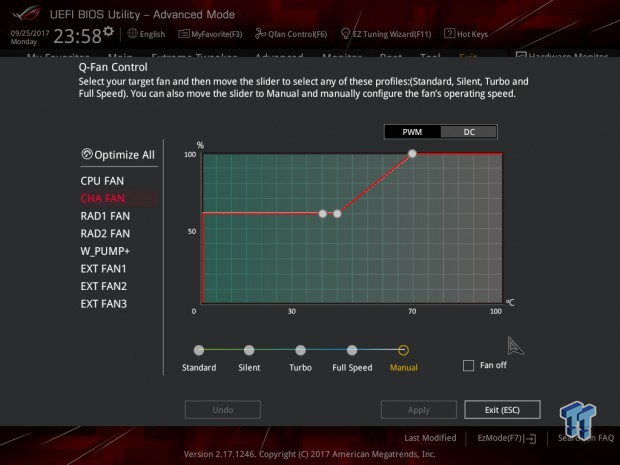 ASUS's UEFI for the Crosshair VI Extreme is very similar to that of the Crosshair VI Hero, but it does have some minor differences. You get OC profiles built in for extreme overclocking or even a gamer's 4GHz profile. You get many more DRAM timing settings than were available before through the AGESA 1.0.0.6 update. Fan control is also a bit more straightforward because of the new radiator fan grouping technique, where you can set up fans in groups for radiators. Overall, ASUS's UEFI was solid, and most of the settings have a decent description. Also, AMD"s CBS menu is present so you can explore those common options menus that control basically everything and which are a bit more dangerous to mess with.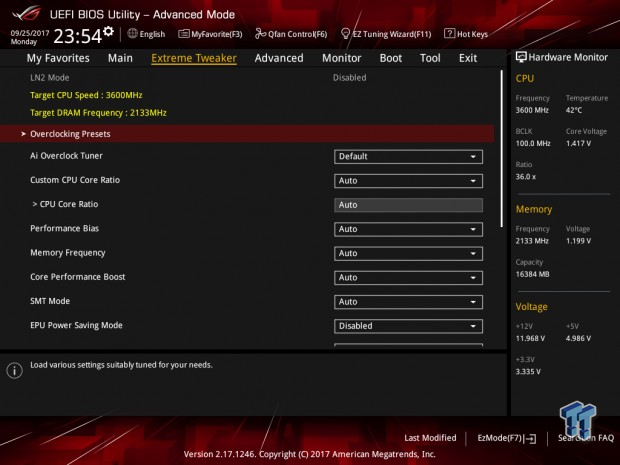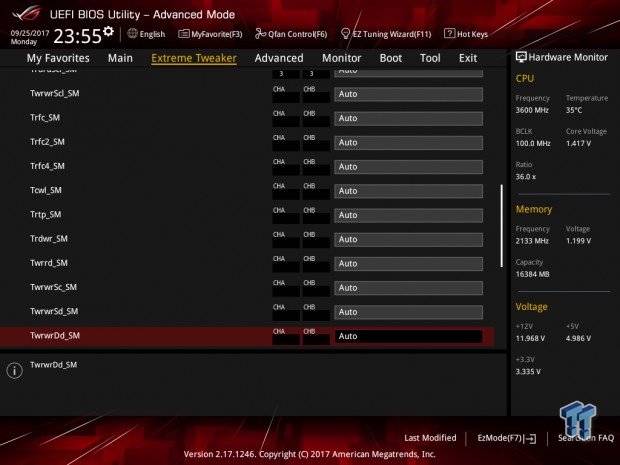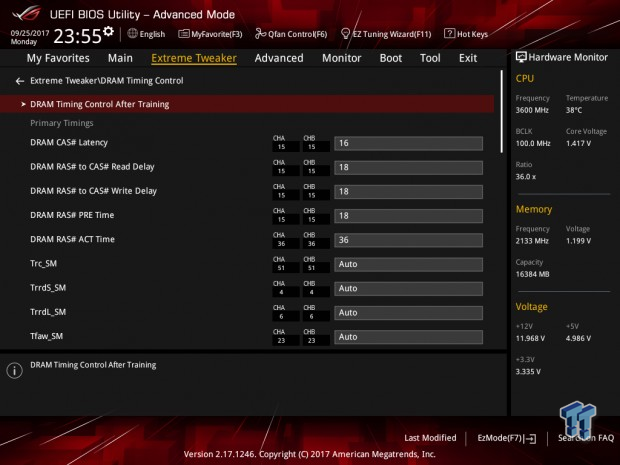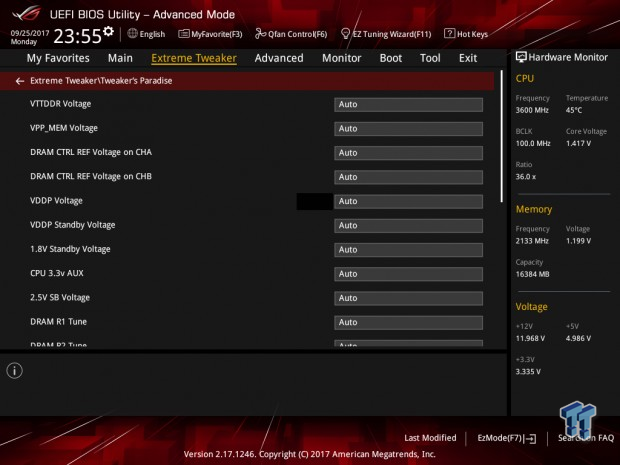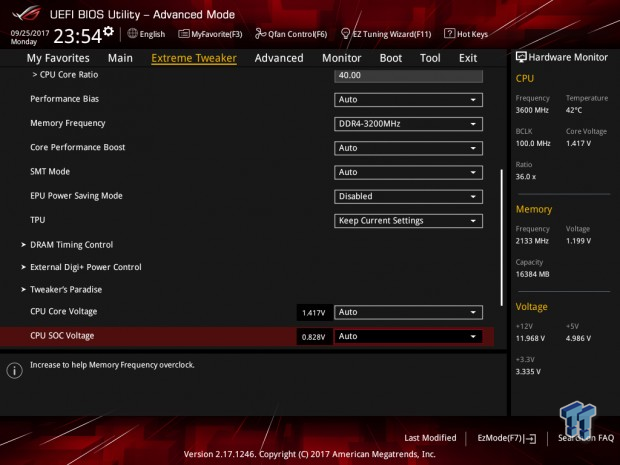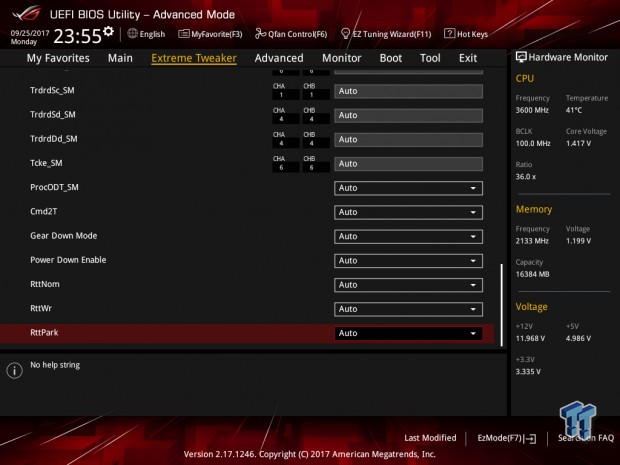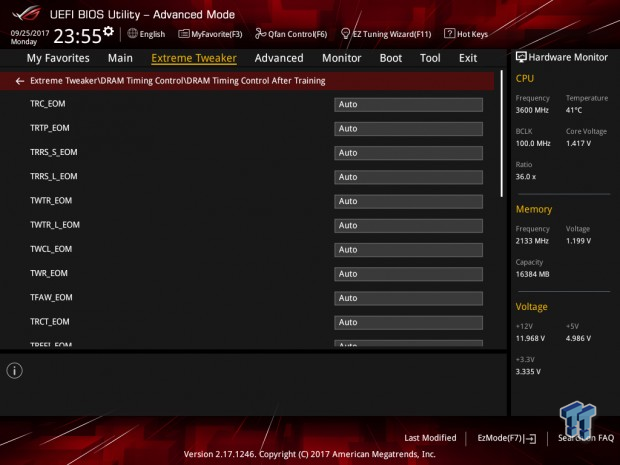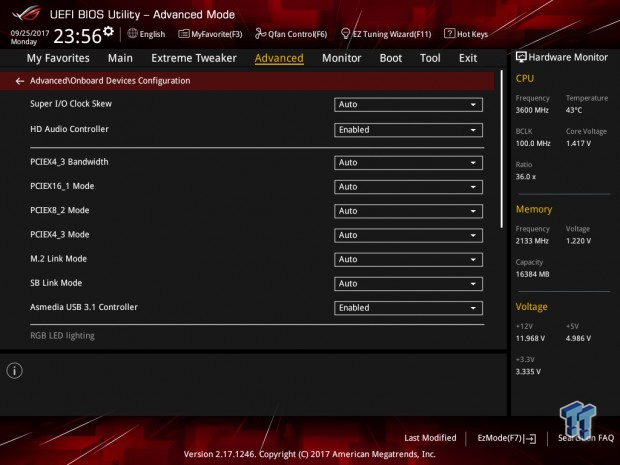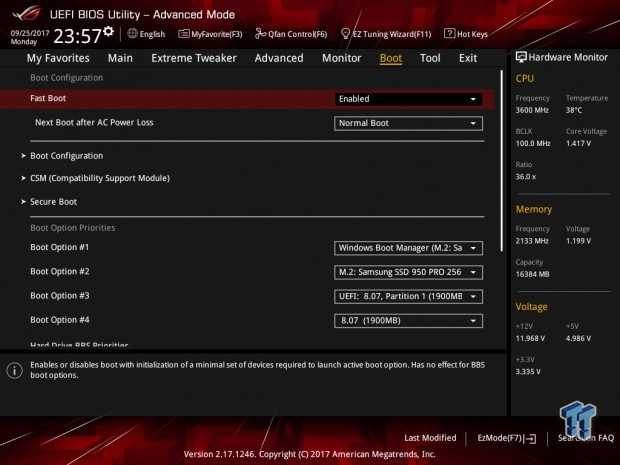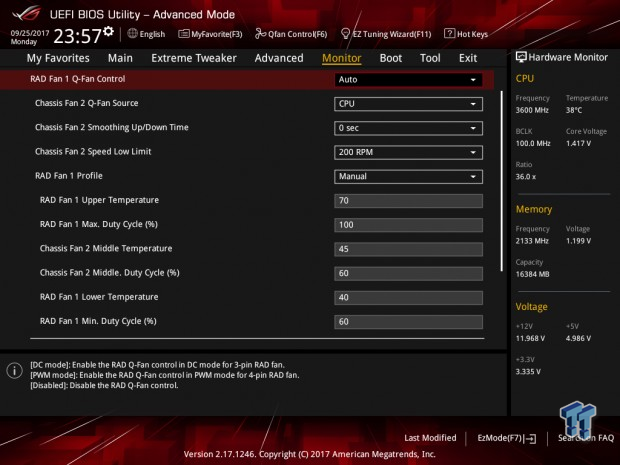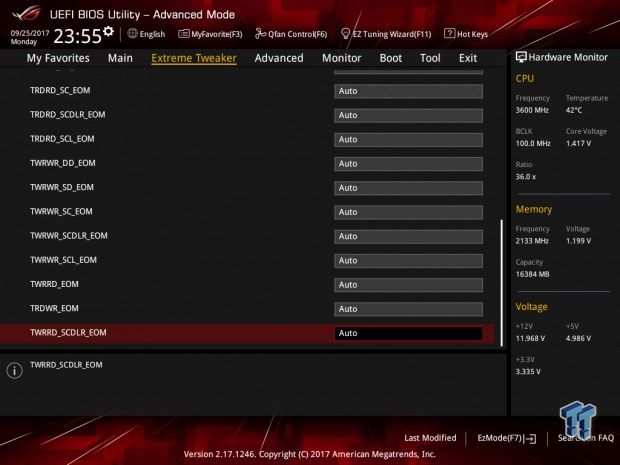 Software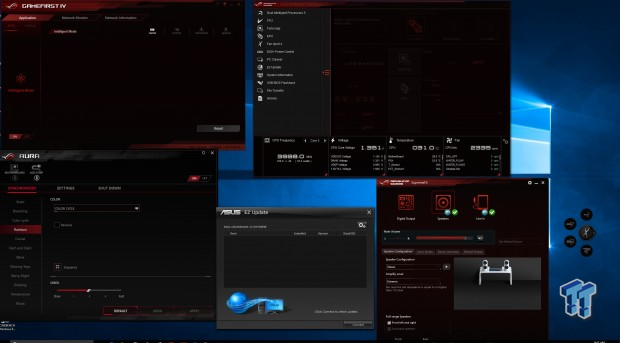 ASUS's software suite includes ASUS AISuite (that has many different software applications that support everything from overclocking to fan control), AURA, GameFirst IV, RAMDisk, RAMCache II, Keybot II, Sonic Studio III, Sonic Radar III, and many more.
Test System Setup
Steven's Motherboard Test System Specifications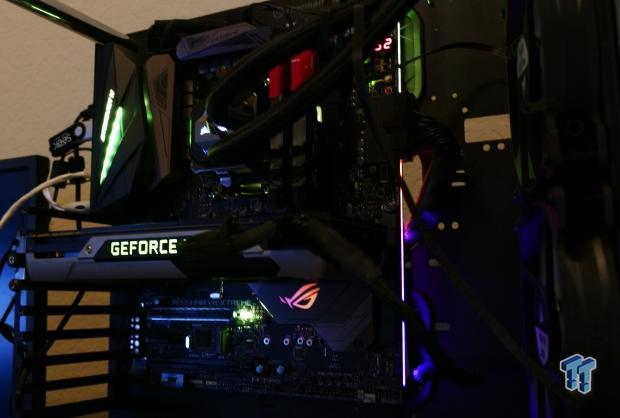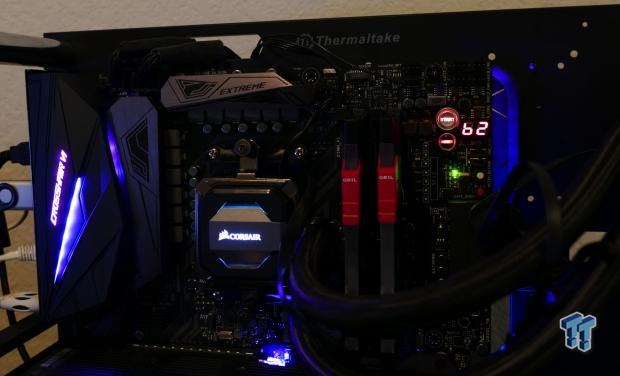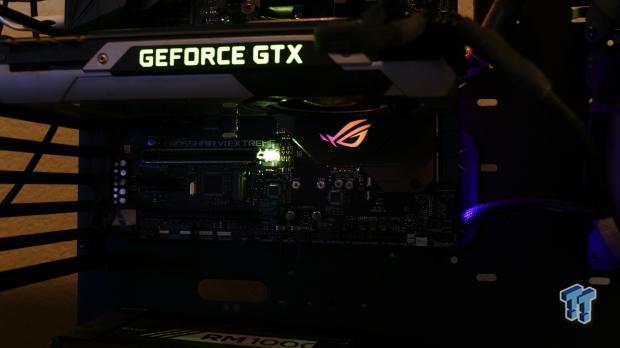 That is one beautiful motherboard, and the addressable RGB LEDs are built into the rear PCB shield on the right side, and I believe in the FCH heat sink. The IO shield RGBs and the RGBs under the PCI-E slots seem to be normal RGB LEDs. Either way, the motherboard is rather brilliant when the lights are dim, and even when they are not, it has solid, sleek aesthetics.
Overclocking
Overclocking Results
CPU Overclocking
AMD's Ryzen platform is quite new; AMD and its partners are working very hard on fixing issues and getting things to work across the board. The CPU also doesn't validate that much higher than its maximum stable frequency. Memory overclocking is topped at 3200MHz on most motherboards, and bus adjustment is also very tricky. Don't get me wrong, the CPU can overclock, mine does 4.0GHz, and the best I can get a kit is to 3200MHz.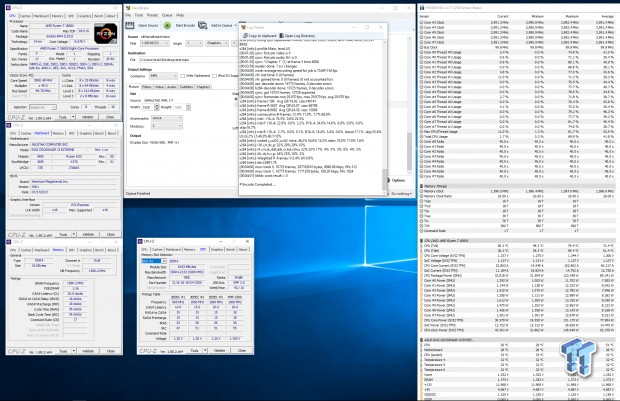 The Crosshair VI Extreme is easy to overclock; so easy I didn't even set LLC to get a solid overclock, the motherboard seems to pick a decent level on its own. I set the CPU multiplier to 40x, set the VCore to manual mode at 1.35v, set D.O.C.P. at the standard level, and that was pretty much it. The tuning options on the motherboard are huge, and I don't think I have seen another board with more options for tuning your CPU and RAM.
CPU, Memory, and System Benchmarks
CINEBENCH R15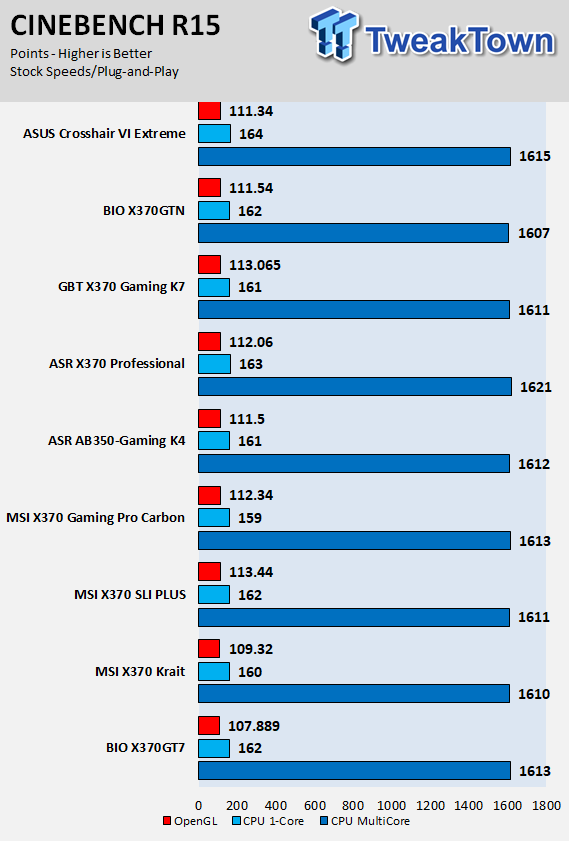 wPrime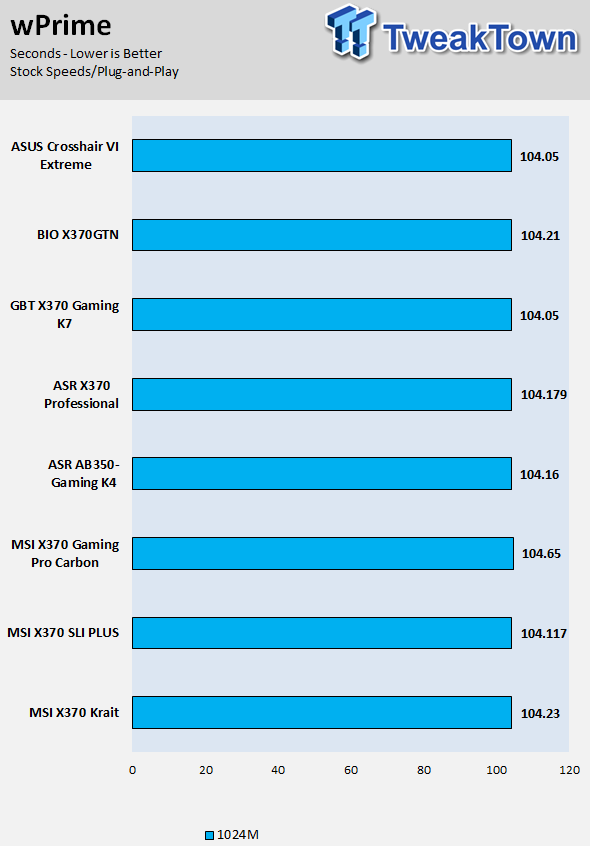 AIDA64 FPU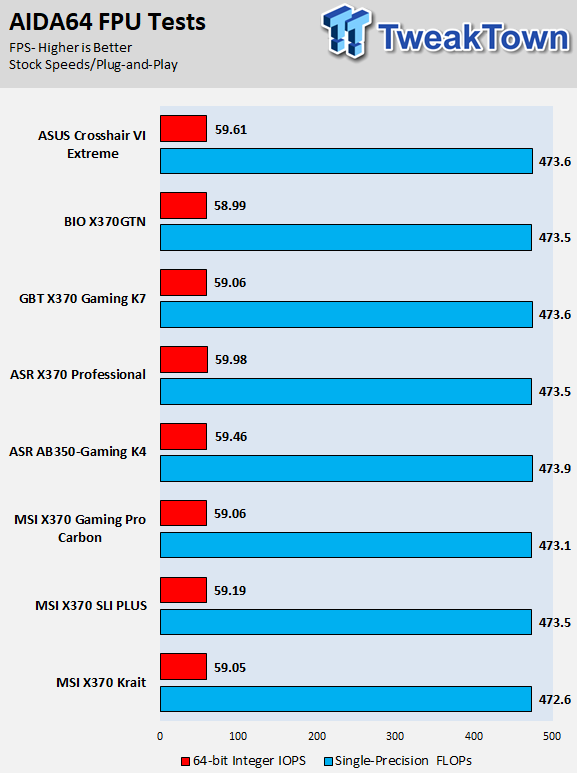 AIDA64 Memory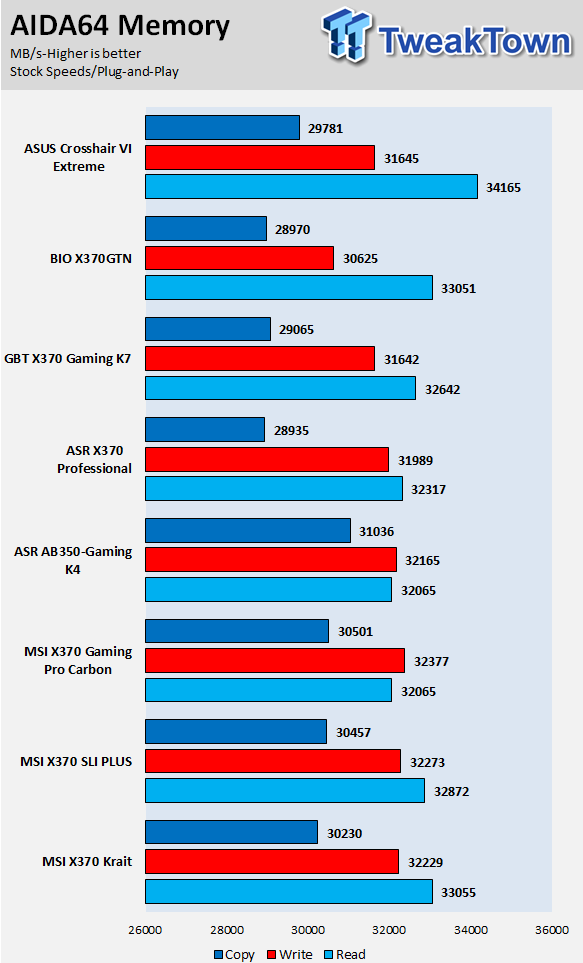 ScienceMark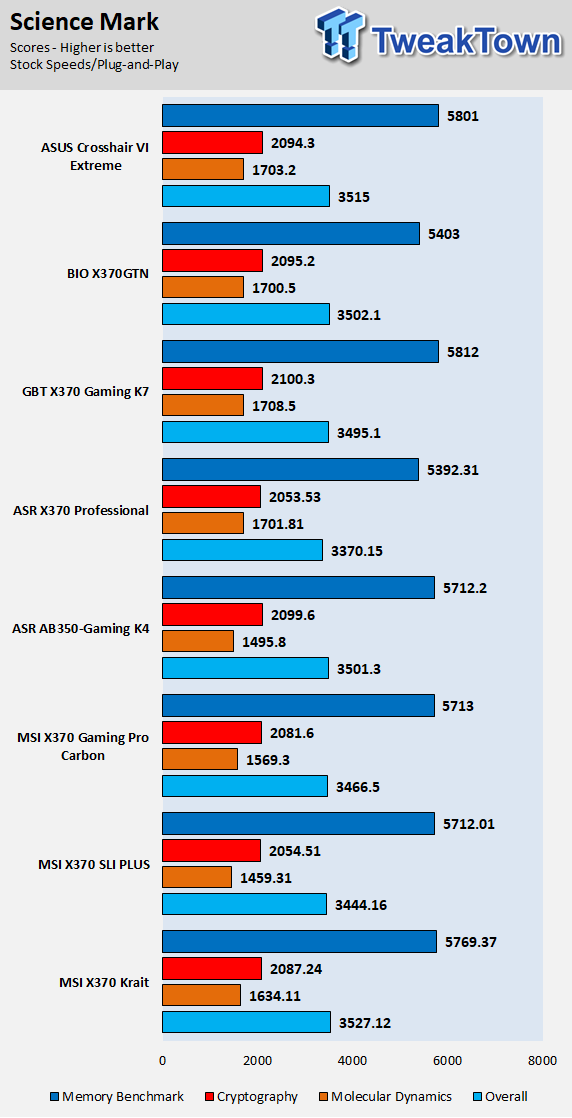 HandBrake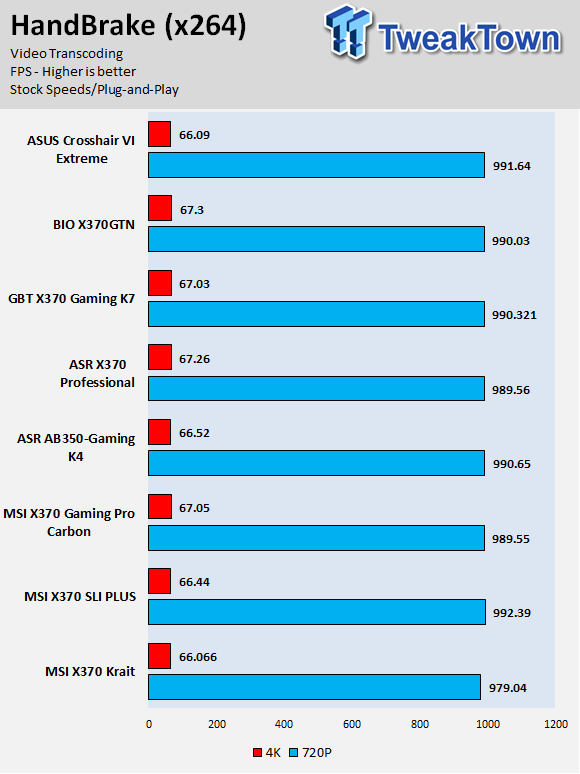 SuperPi 32M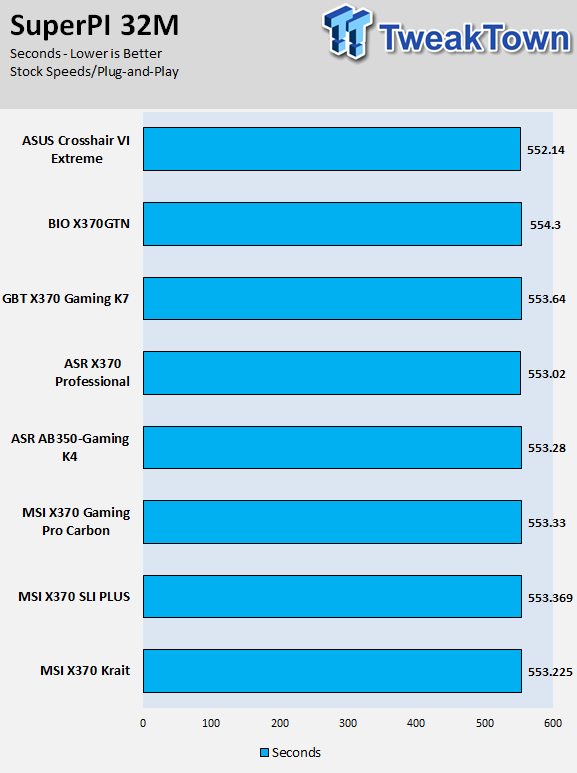 3DMark: Fire Strike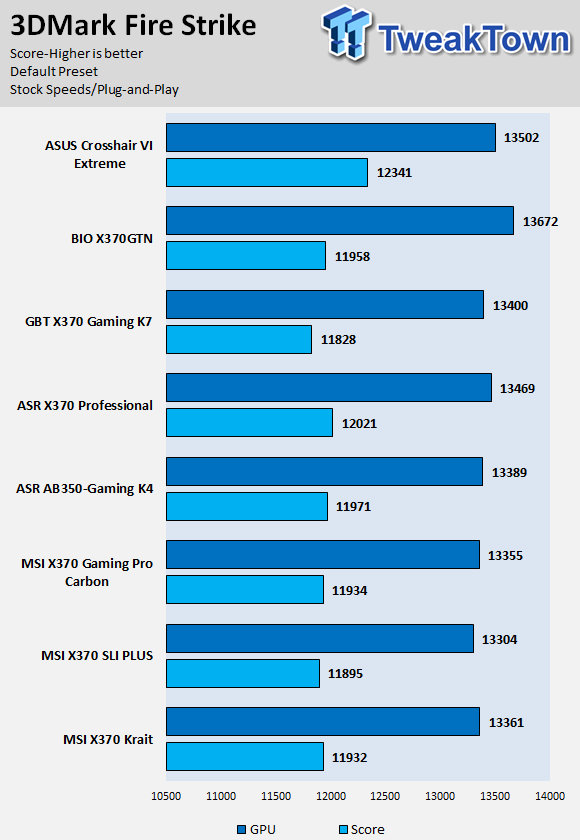 3DMark: Cloud Gate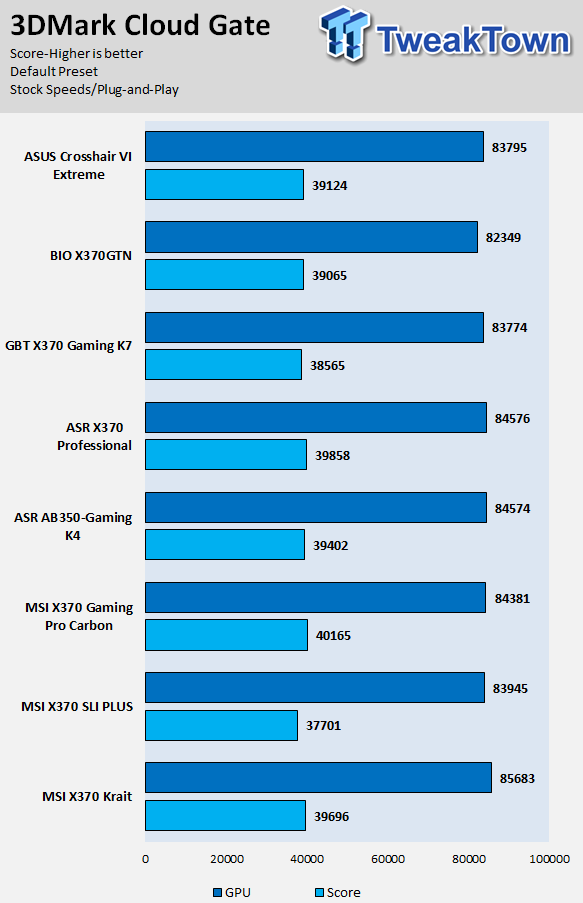 ResidentEvil 6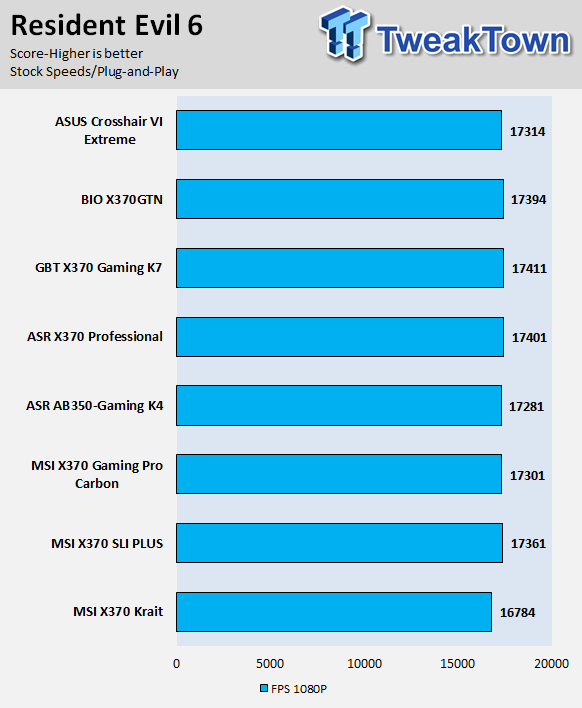 The Crosshair VI Extreme's performance is very strong, and that is partially due to the newer microcode and the tweaks and improvements ASUS has made to the motherboard overall. In many areas where it doesn't lead the pack, it's mostly within the margin of error of the benchmark. Its CPU performance is excellent as is memory performance, and GPU performance is where it should be.
System IO Benchmarks
CrystalDiskMark SATA6G: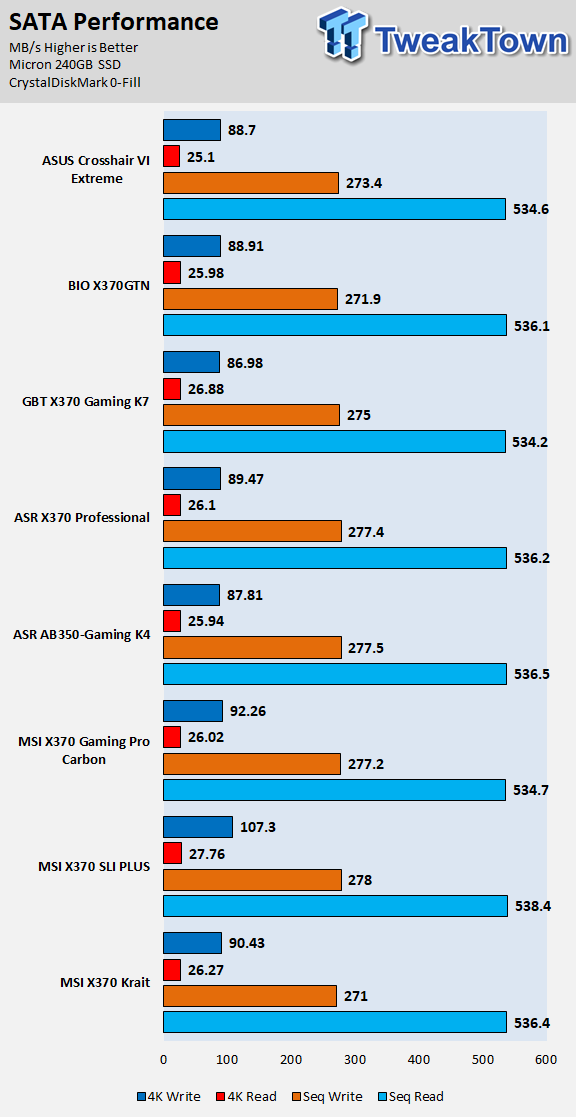 CrystalDiskMark M.2: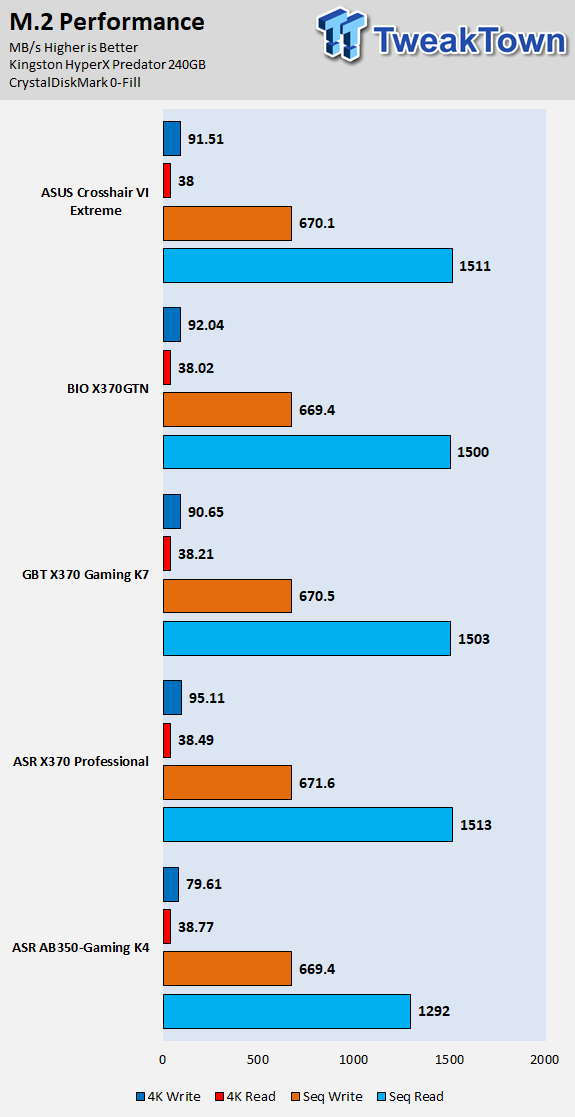 ixChariot Network Throughput: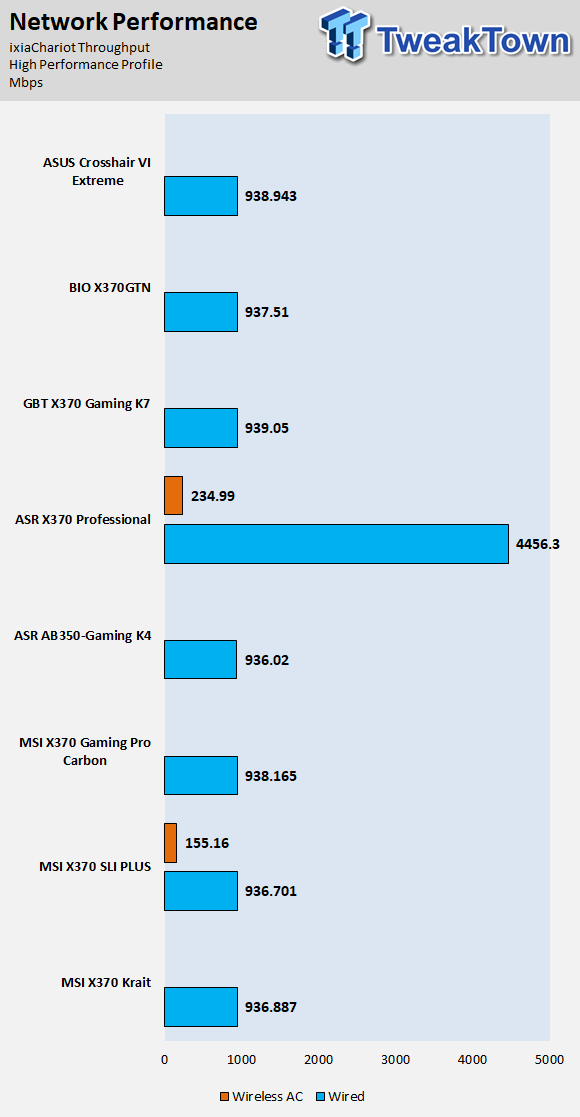 The Crosshair VI Extreme's storage performance is best in class, while networking is solid as well. Not many X370 motherboards have wireless AC built in, and those that do don't have the best controllers, but ASUS is using a decent controller.
Audio RMAA 5.5:
I disable all audio features, set the correct bitrates, and then test the audio with a loopback test.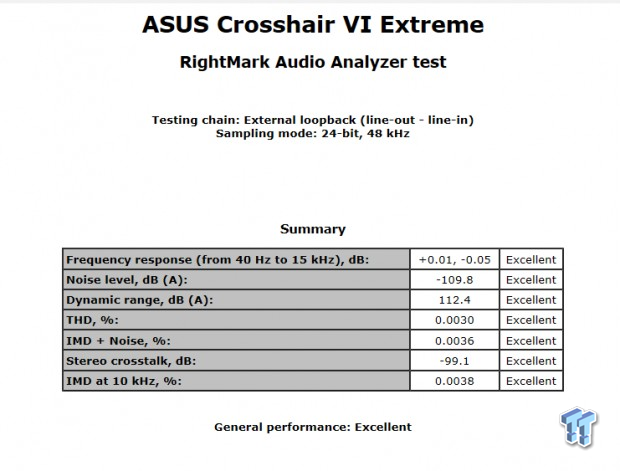 Sound Judgment by Ear: Excellent. These are some of the best results we have been able to achieve on the X370 platform. There are five ratings for audio: 1. Problems, 2. Okay, 3. Acceptable, 4. Very good, 5. Excellent
Thermal Imaging and Power Consumption
System power is measured at the wall with an AC power meter.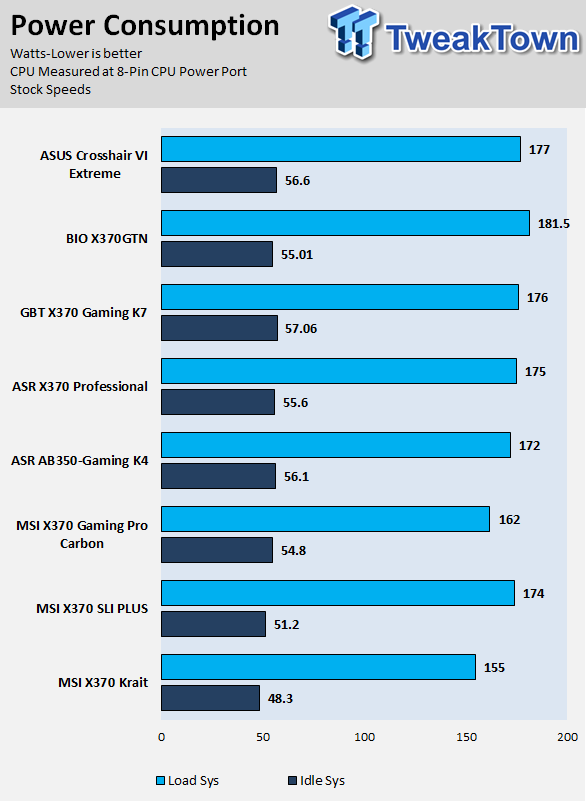 Note on Thermal Images: In the temperature section, we use our Seek thermal imaging camera to capture the surface temperatures of major components on the board. I look at the VRM and then all other things that light up the screen. If there is something to worry about, then I will state it. Otherwise, I will just show the hotter running parts of the board for fun. Unless some component is over 80-90C, then there isn't anything to worry about.
All systems will act differently, so I will look for commonalities, such as how far from the VRM the heat spreads through the PCB and the difference in temperature between the front side and backside of the PCB. Keep in mind, the majority of the heat from the VRM goes into the PCB as it is a giant soldered on copper heat sink. A larger difference in temperature between the back and front of the PCB points towards a more effective heat sink.
Thermal Testing at Stock Speeds:
The image on the left is always at idle, and the image on the right is at load. During ALL TESTS, fans above the VRM that cool the CPU cooler's (Corsair H110i) radiator are turned on to high (12v).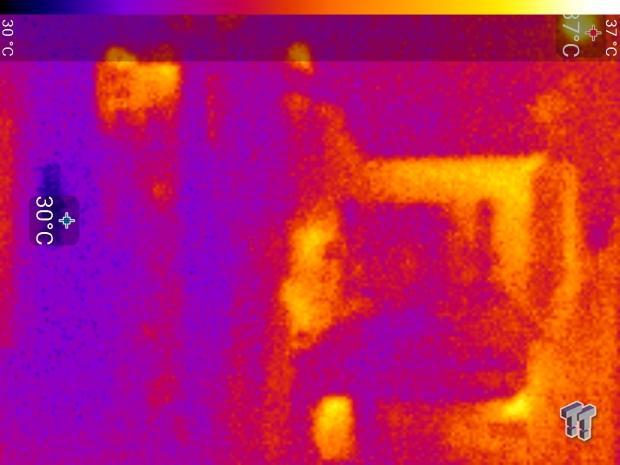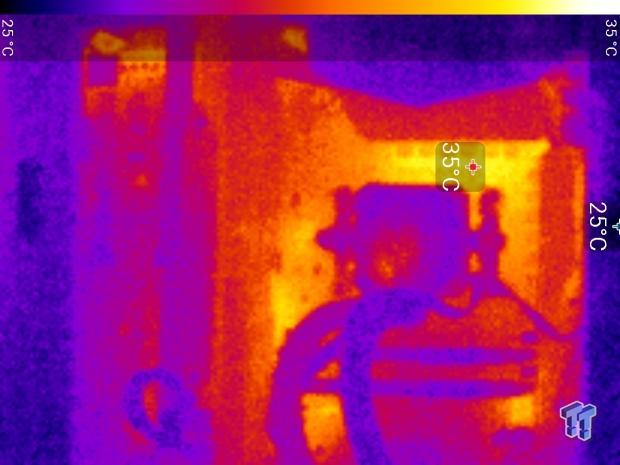 Full frontal.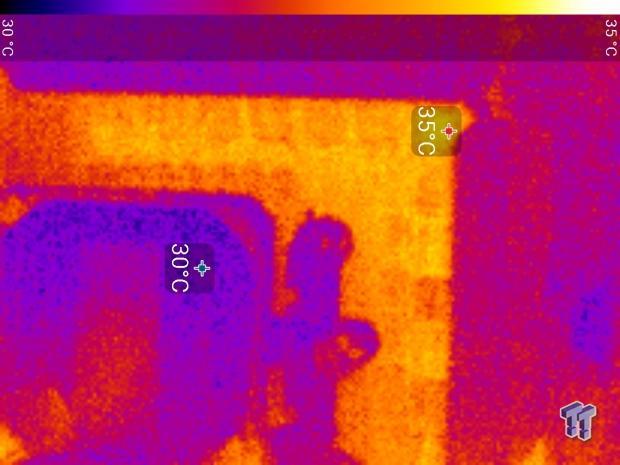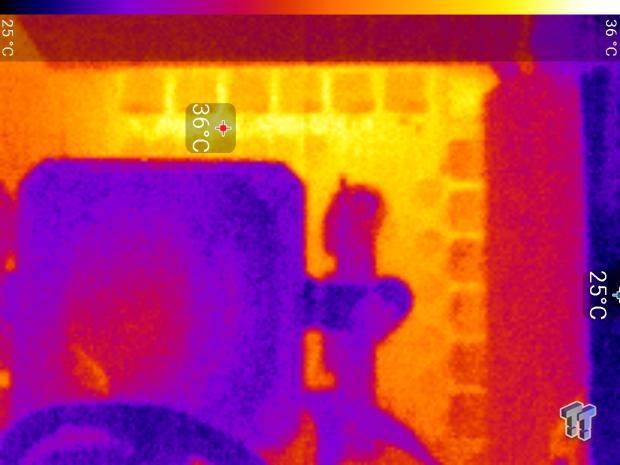 Up-close of the front of the VRM.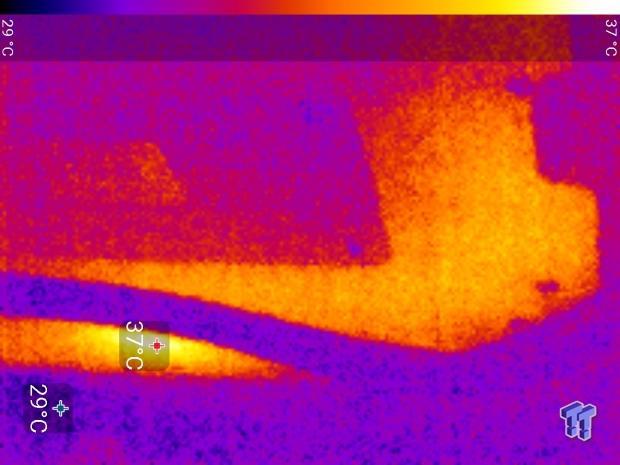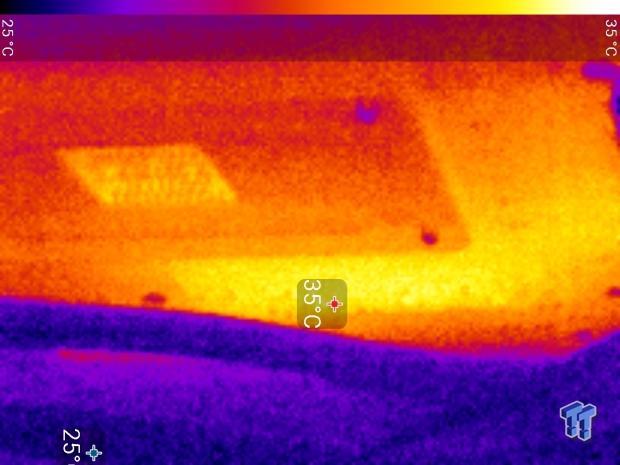 Up-close of the back of the VRM.
Wow, just wow. The VRM on this motherboard is capable of handling a Thread Ripper CPU, let alone an R7 1800X. The temperatures don't increase that much (1C at the top and a few at the bottom) from idle to load, but rather the heat spreads among the phases more evenly when a full load is applied over time.
Anything under 60C is great, 60-80C is acceptable, and anything above 80C is a bit worrisome (if at stock).
What's Hot, What's Not & Final Thoughts
Here are key points about the ASUS Crosshair VI Extreme.
What's Hot
Component Quality: The VRM has such great component quality that the topside VRM temperature didn't even increase over 1C from idle to load in our controlled test suite. Instead, heat just spread. However, that isn't where quality ends. Many X370 motherboards, use slightly lower quality controllers such as Realtek wired NICs, type-C switches that lack CC logic, and even audio codecs almost a decade old, but the Crosshair VI Extreme doesn't do that. Instead, you get the latest and greatest controllers almost all over and very upgraded audio, and that's probably why the price of the motherboard is so high. The motherboard also feels very high quality and the rear PCB shield helps to strengthen the PCB.
Fan Control: Twelve headers, with the possibility of 15 if you use the fan extension card is what the Crosshair VI Extreme is capable of supporting. That high number of built-in headers is due to the new radiator fan clusters, which offer shared control over groups of four headers. The fan extension card adds three extra fan headers that are fully controllable and three temperature sensor inputs. ASUS also includes three thermistor cables for these temperature sensor headers, so you should be set for cooling down your beastly X370 rig.
Aesthetics: While the Extreme doesn't look all that different from the Hero when it's turned off, it does when you turn on the RGB LEDs. The motherboard incorporates RGB LEDs into the IO shield, but it also integrated addressable RGB LEDs into the rear of the PCB and in the FCH heat sink, which produce really neat effects. The Crosshair VI Extreme is currently the only X370 motherboard on the market to support an addressable/digital RGB LED header. The right-angled 24-pin power connector is also a very nice touch.
Dual x4 PCI-E 3.0 M.2 Slots: The Crosshair VI Extreme is the only X370 motherboard with dual x4 PCI-E 3.0 M.2 slots. ASUS achieves this by taking x4 PCI-E 3.0 from the CPU's x16 PCI-E 3.0 lanes meant for the GPUs, so you have a lot of options when it comes to storage.
Crazy Overclocking: There is no other X370 motherboard with as many overclocking features as the Extreme. It features everything from voltage read points to LN2 specific features to help the system survive and boot up at temperatures below -100C. The motherboard also has built-in features for enthusiast overclockers that sport custom water cooling setups, such as a custom water block sensor header and water speed and temperature monitoring headers.
What's Not
Very Expensive: The X370 Crosshair VI Extreme is almost $100 more expensive than the second most expensive X370 motherboard (which is the Crosshair VI Hero). At $349, it's as expensive as X399 or X299 motherboards.
Final Thoughts
The ASUS Crosshair VI Extreme is the most loaded X370 motherboard, with basically everything you might ask for to compliment your Ryzen 3, 5, or 7 CPU. It has the most features of any X370 motherboard I have seen as well as excellent component quality. Its VRM is extremely durable and powerful, as is the motherboard as a whole.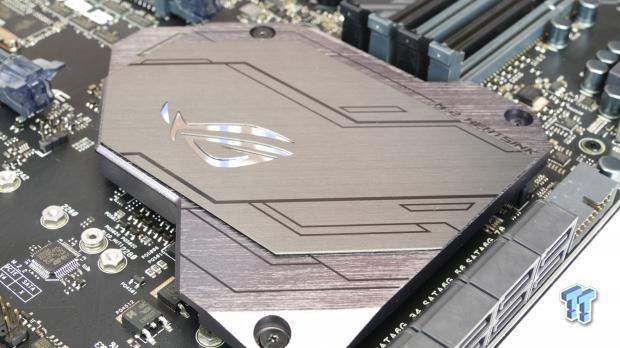 The Crosshair VI Extreme is also the most expensive motherboard, but that is because it has features that no other X370 motherboards have. Addressable RGB LED headers, dual x4 PCI-E 3.0 M.2 slots, support for up to 15 fan header, and a right-angled 24-pin power connector are just a few of the unique features the motherboard sports. However, it's also super easy to overclock on air/water and is designed for heavy duty extreme liquid nitrogen overclocking.
Overall, if you need the most loaded X370 motherboard you can find, the X370 Crosshair VI Extreme should definitely be at the top of your list.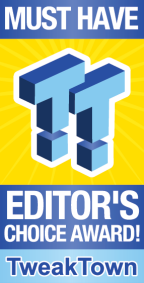 | | |
| --- | --- |
| Performance | 95% |
| Quality | 95% |
| Features | 95% |
| Value | 85% |
The Bottom Line: ASUS' ROG Crosshair VI Extreme offers excellent performance, top-shelf component quality, and a ton of features not found on any other AMD X370 motherboard, but it does not come cheap.
PRICING: You can find products similar to this one for sale below.

United States: Find other tech and computer products like this over at Amazon.com

United Kingdom: Find other tech and computer products like this over at Amazon.co.uk

Australia: Find other tech and computer products like this over at Amazon.com.au

Canada: Find other tech and computer products like this over at Amazon.ca

Deutschland: Finde andere Technik- und Computerprodukte wie dieses auf Amazon.de
We openly invite the companies who provide us with review samples / who are mentioned or discussed to express their opinion. If any company representative wishes to respond, we will publish the response here. Please contact us if you wish to respond.