Lenovo Legion Y720 (Kaby Lake) Gaming Laptop Review
Lenovo's Legion Y720 gaming laptop featuring Intel's Kaby Lake platform goes under the spotlight as we see what it can do.
Published Aug 23, 2017 11:35 AM CDT
|
Updated Tue, Nov 3 2020 6:58 PM CST
8 minute read time
TweakTown's Rating: 91%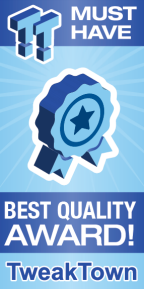 The Bottom Line
Lenovo's Legion Y720 is a very well thought out notebook specifically targeting the wants and needs of gamers who don't mind paying a bit extra for higher quality and performance.
Introduction, Specifications, and Pricing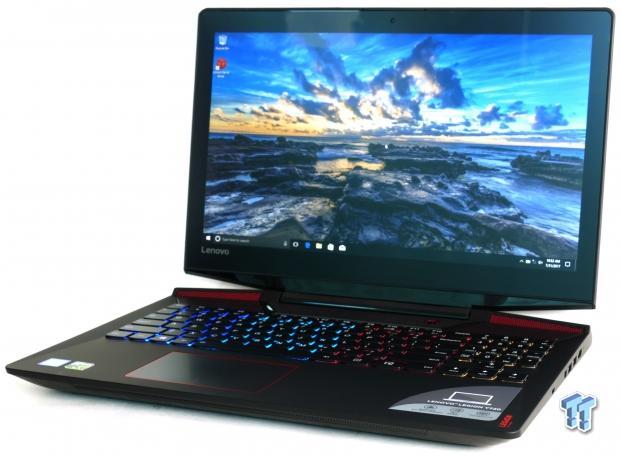 It's been a while since I reviewed a gaming notebook, and that's mainly because the market was a bit over saturated with Skylake and Maxwell based mobile parts. More recently Kaby Lake and Pascal based mobile parts have become more prevalent, and so has the number of high-performance gaming laptops that are almost twice as light and thin as their previous generation counterparts.
Today we look at one of Lenovo's Legion series notebooks, which are designed to cater to gamers and pretty much any mainstream user who might make use of a discrete graphics card in a notebook.
The Legion Y720 uses a 15.6" display, which makes it much more portable than 17" notebooks, and now we are going to take a look.
Specifications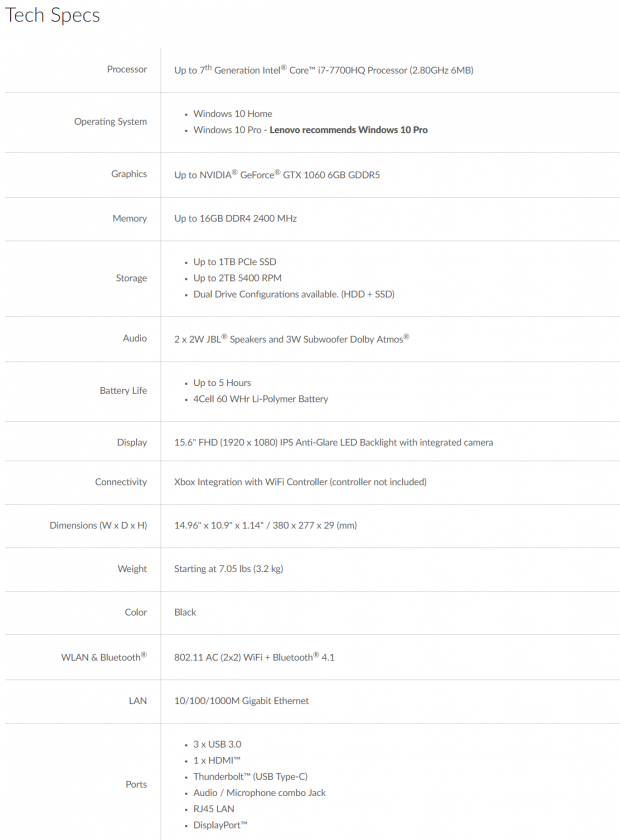 The Legion Y720 uses the i7-7700HQ 4C/8T CPU with a 2.8GHz base and 3.8GHz Turbo Boost clock. The notebook uses a 15.6" FHD (1920 x 1080) IPS Anti-Glare LED Backlit display, a GTX 1060 6G GDDR5, 16GB (2x8GB) of DDR4, a 128GB M.2 SSD, a 1TB HDD, Realtek Wired LAN, and Intel wireless LAN (wireless AC 8625). The notebooks starts at 7.05lbs and is 14.96" x 10.9" x 1.14" (L x W x H). It uses an integrated 4-cell 60Wh battery.
Pricing
The Legion Y720 starts at $1,363.99; our configuration is $1649.99.
Physical Overview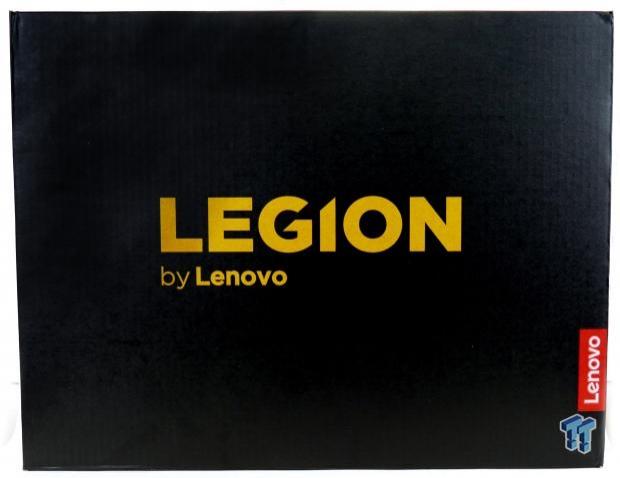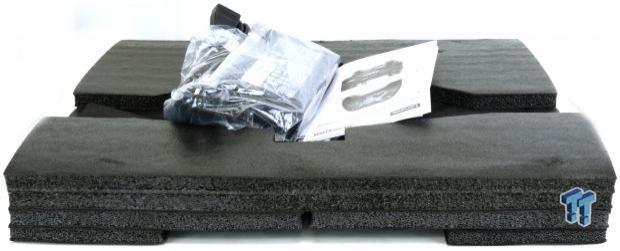 Lenovo's box is simple yet elegant, and the packaging encases the notebook in foam.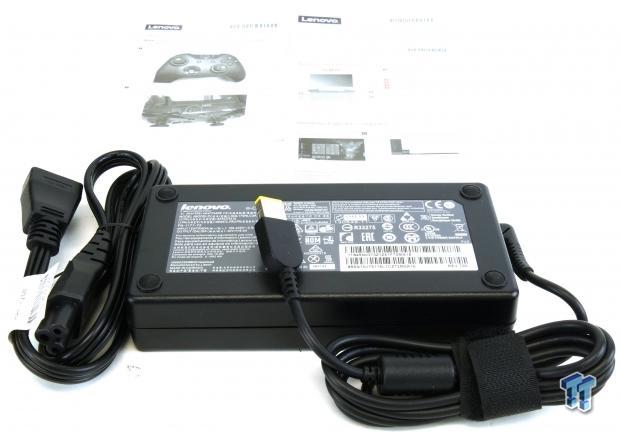 Accessories include AC/DC power adapter, AC power cord, driver DVD, and manuals. The AC/DC adapter is rated at 8.5a at 20v, so 170W.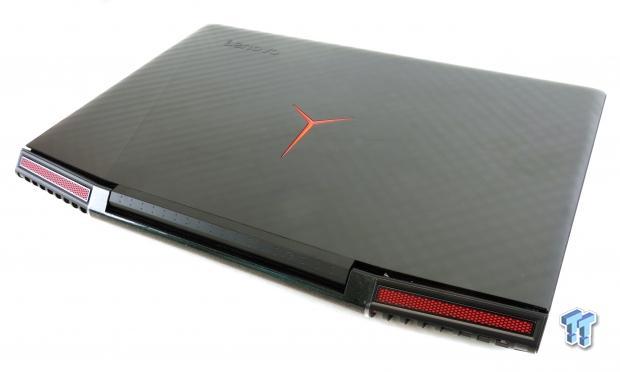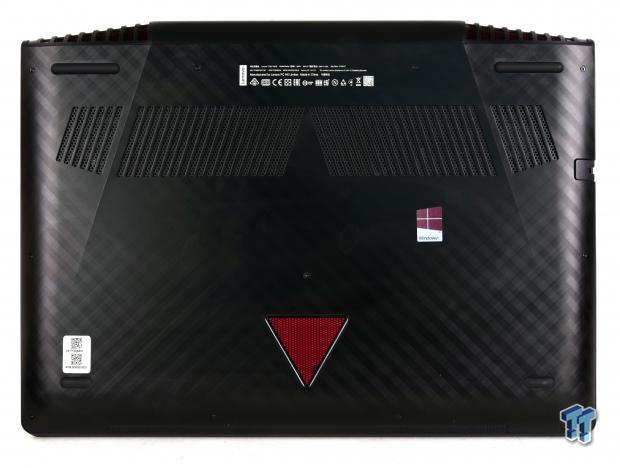 The top and bottom of the notebook feature an interesting glossy metal surface with a criss-cross textured pattern. Lenovo's "Y" symbol is made of metal and has fine detailing is located right at the center of the top of the notebook. The bottom features a 3W JBL audio subwoofer. There are two 2W JBL speakers built into the machine. The bottom also features four rubber feet, the two towards the back are longer than those are the front.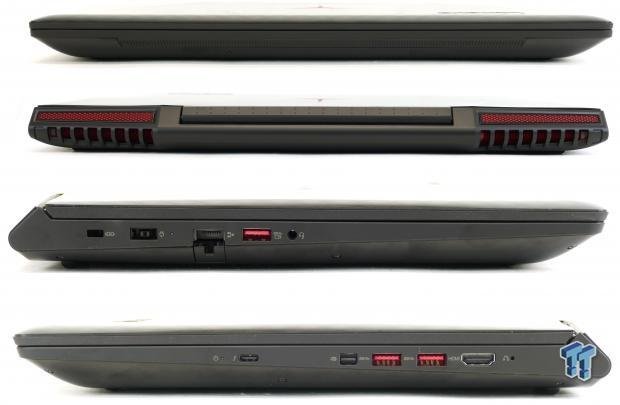 The front of the unit has almost nothing of significance to show, the rear of the unit has two air vents. The left side of the notebook has a Kensington lock port, charging port, 1Gbit LAN port, USB 3.0 port (also fast charging), and a headphone/microphone combo jack. The right side of the unit features the power indicator LED, Thunderbolt 3 port (type-C), DisplayPort, two USB 3.0 ports, HDMI port, and a hole to reset the system.

The full QWERTY keyboard is back lit with RGB LEDs in four sections. You can customize the color of each section. The keyboard was large and not cramped. The backlight seems like it's quite bright, but in reality isn't that visible unless you are in the darker setting.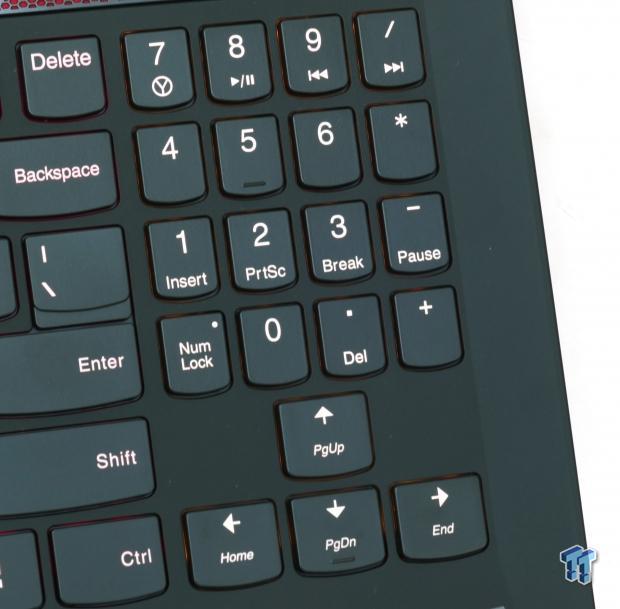 The shot of the number pad above is pretty much how the backlight looks when at its brightest. Arrow keys are also present, so in games where they are useful, you are all set with this notebook.
Physical Overview Continued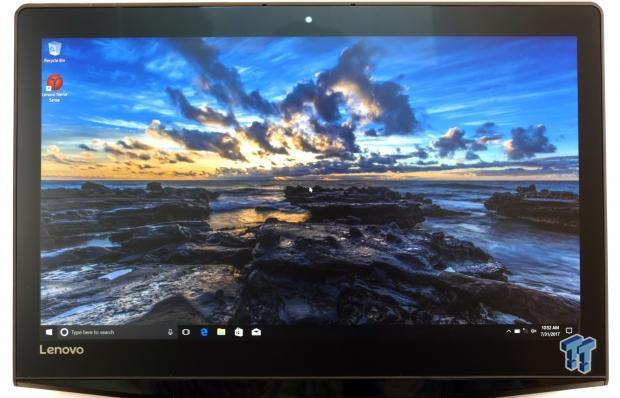 The display is vibrant and has an anti-glare coating. It's a 1.56" IPS LED backlit display and has a resolution of 1920x1080.

The notebook has a small 720P webcam at the center of the monitor. The dual array microphone is located at the very top of the notebook.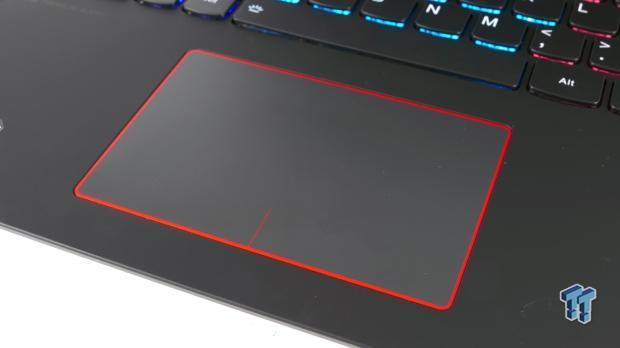 The touch pad is soft to the touch and features a nice vibrant red border. A small line helps distinguish where the right and left click points are.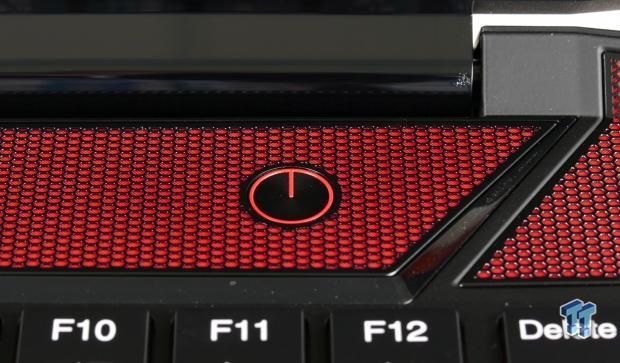 The power button sits near the large center hinge, and is clearly visible and not easy to accidentally hit.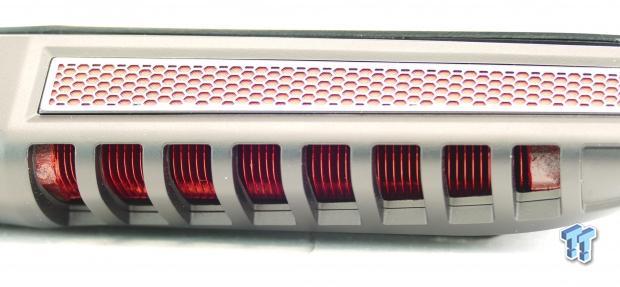 The heat sink fins are made of anodized aluminum and coated in red. Two heat pipes connect both the CPU and GPU to both set of heat sink fins, so both sides can cool either or both the CPU and GPU.
Software and BIOS
Software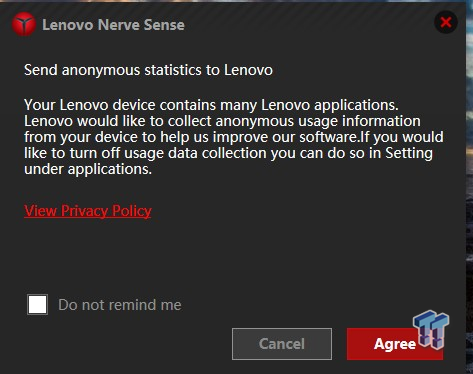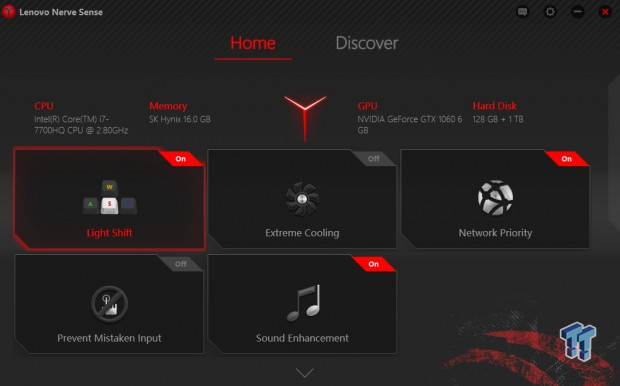 Lenovo does include a decent amount of software, and whether or not that is your thing, I will cover it now. At first, you will get a pop up that asks if you want to send back statistics to Lenovo, you can check it not to remind you again if you don't want to. Lenovo's Nerve Center is where a lot of the custom features of the notebook are located. You can control the light, fans, networking, and audio. It is just a simpler way to reach a lot of the settings.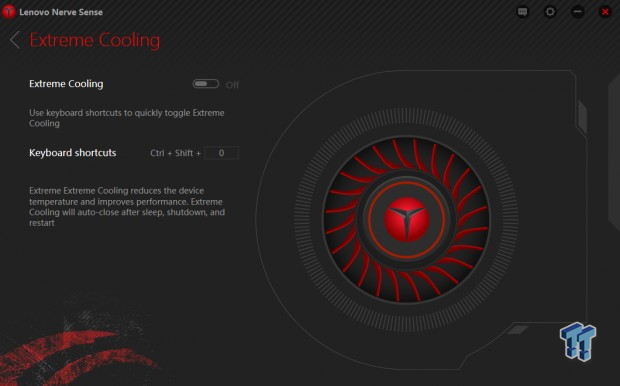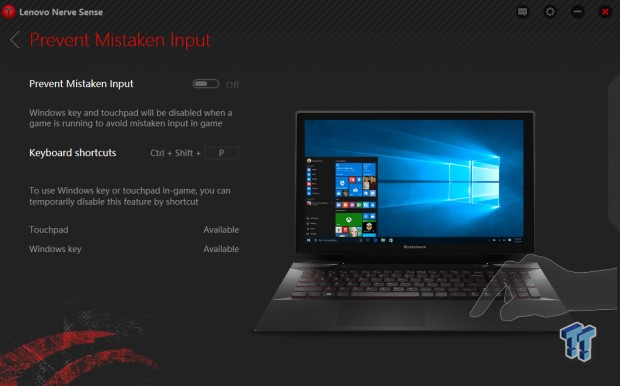 Extreme Cooling allows you to basically rev up the fans to full speed. Increasing fans to maximum does help temperatures, which could give you a bit more leeway with turbo clocks on the GPU and CPU, but you can also use it to blow out dust. Mistaken input allows you to disable the touch pad and or Windows key when playing a game. It's especially useful if you have a mouse and your write sits above the "WASD" keys.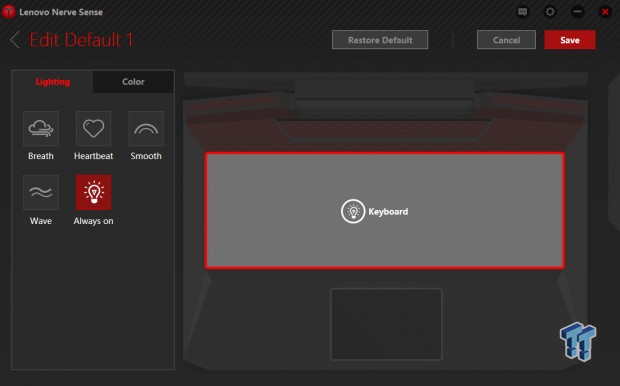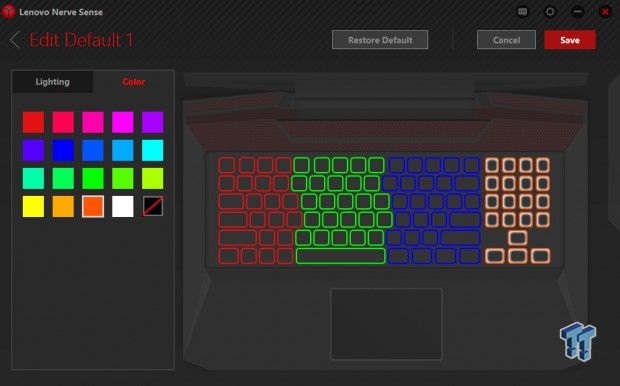 Lighting effects aren't that crazy, but they are present so you can change the color and speed at which the lights shine. You can choose between different colors for each of the four sections.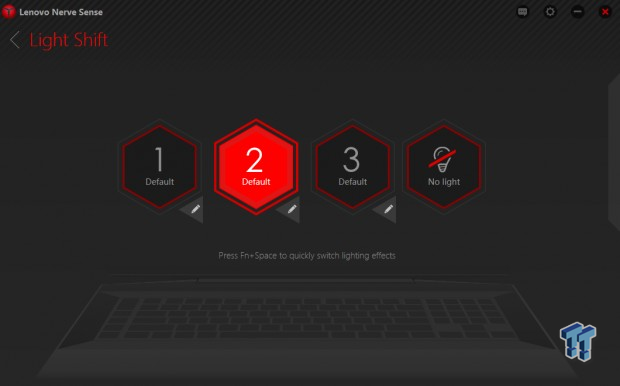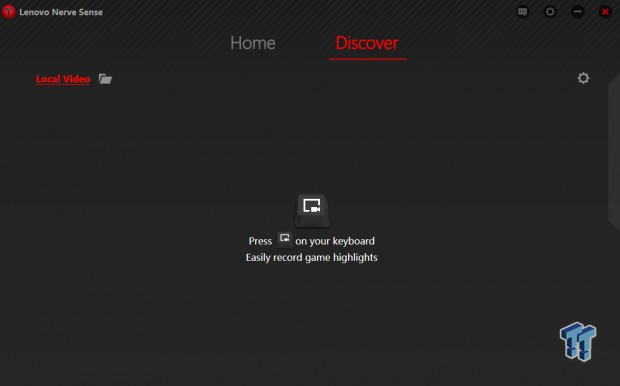 Lighting does come with a few different profiles, and you can cycle through them in the menu or through keyboard shortcuts. There is also a special record video feature, where you can press a special key on the keyboard and the system will start recording your screen, so you can quickly record gameplay when needed.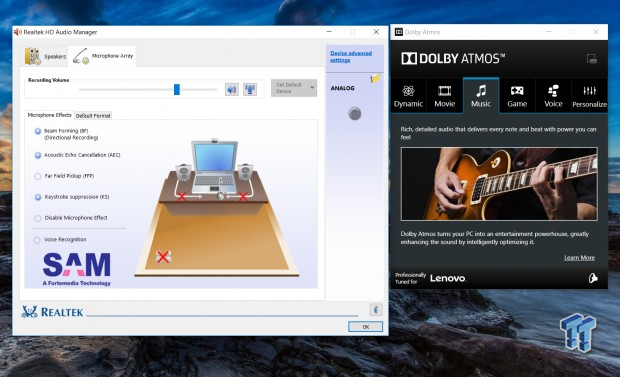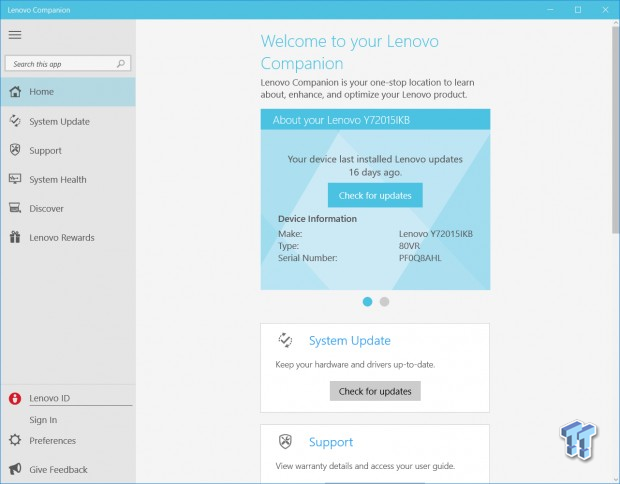 You get a bunch of options in the Realtek audio software for the dual microphone array. Dolby Atmos is also present. Lenovo also has a Lenovo Companion application, where you can do different things to the system and look for support or diagnose any issue you might face.
BIOS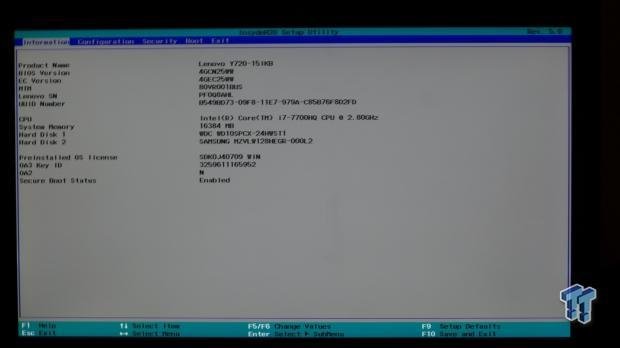 Lenovo's UEFI is very basic and looks like the old BIOS. You browse through it with a keyboard, and you can disable different devices and change some settings. There isn't much need to change these settings, and there aren't many settings to change.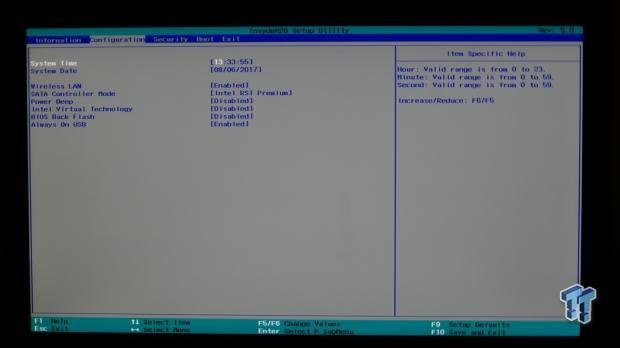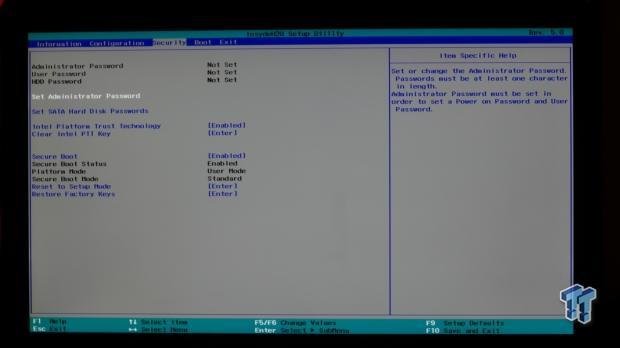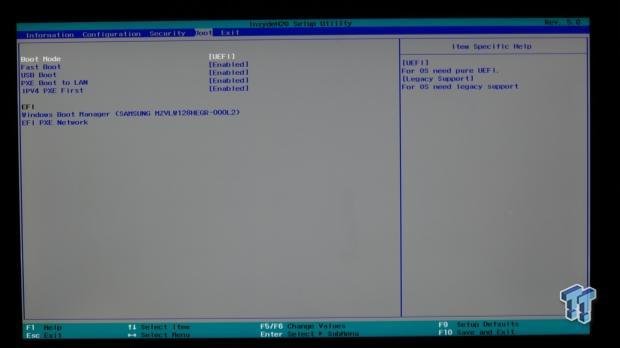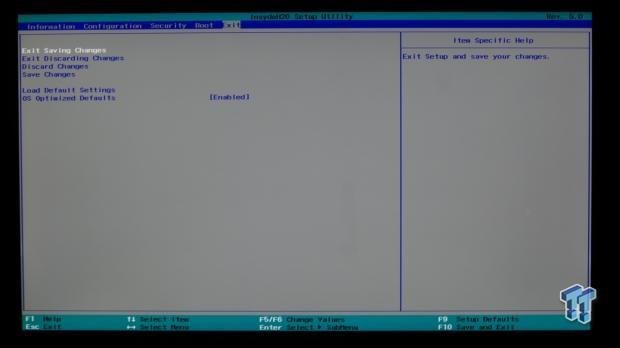 System Performance Benchmarks
CPU, Memory, and System Benchmarks
These benchmarks are run using default settings and configuration.
CINEBENCH 11.5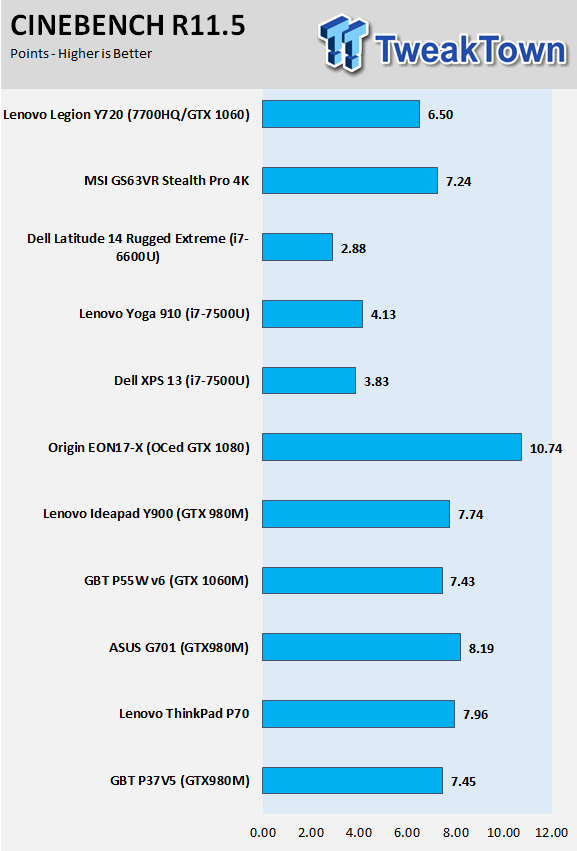 wPrime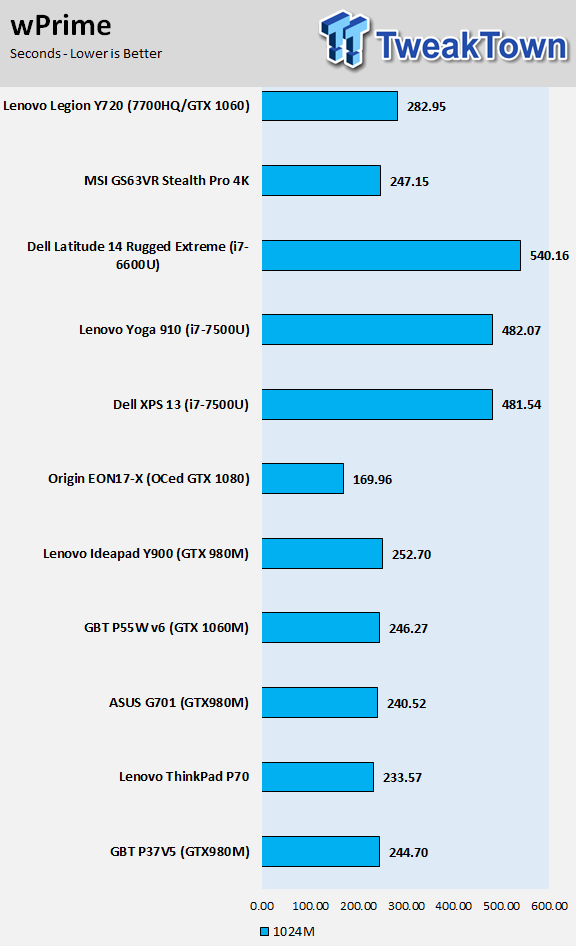 AIDA64 AES and HASH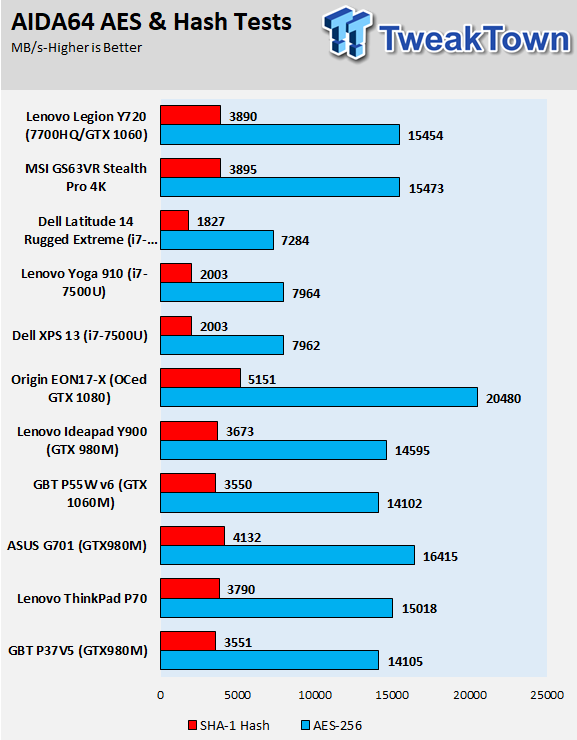 AIDA64 Memory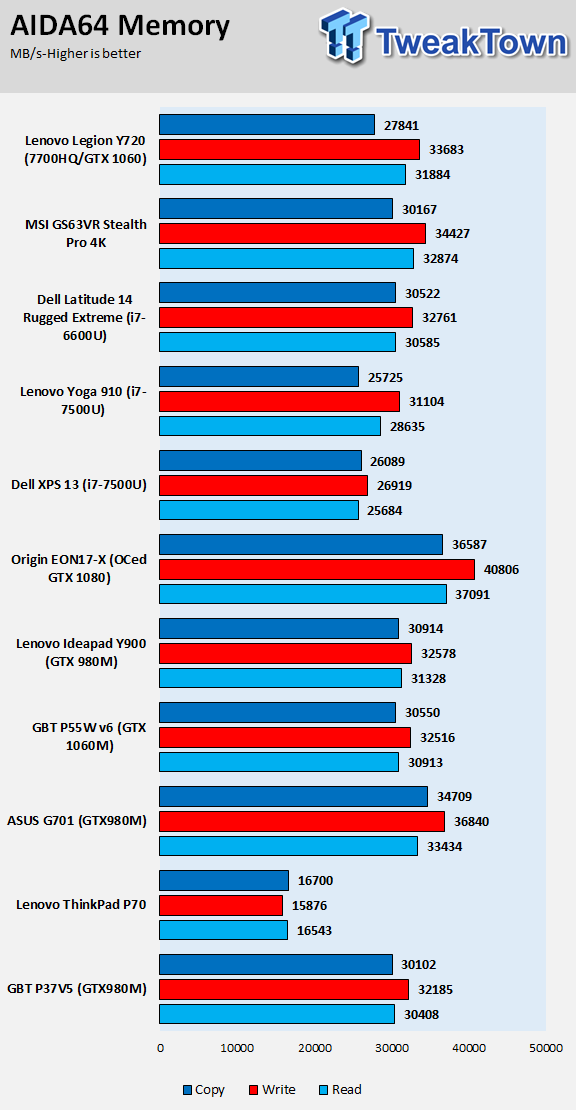 PCMark8 Home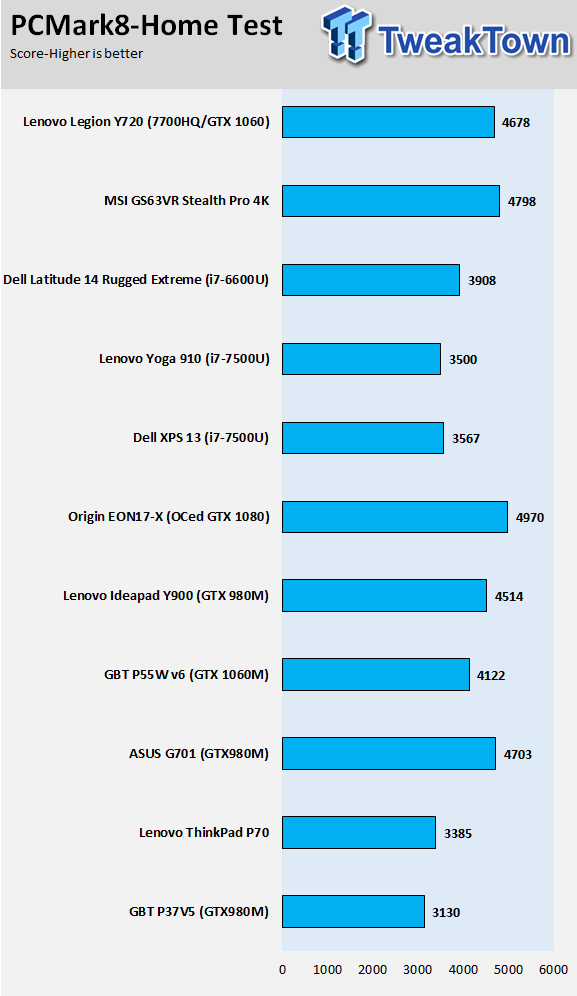 Handbrake 4K and 720P Transcoding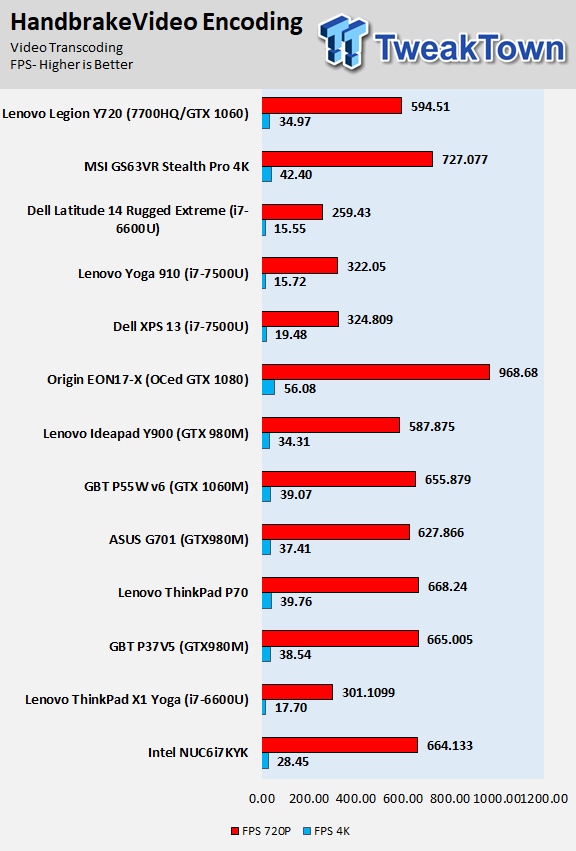 WebXPRT 2015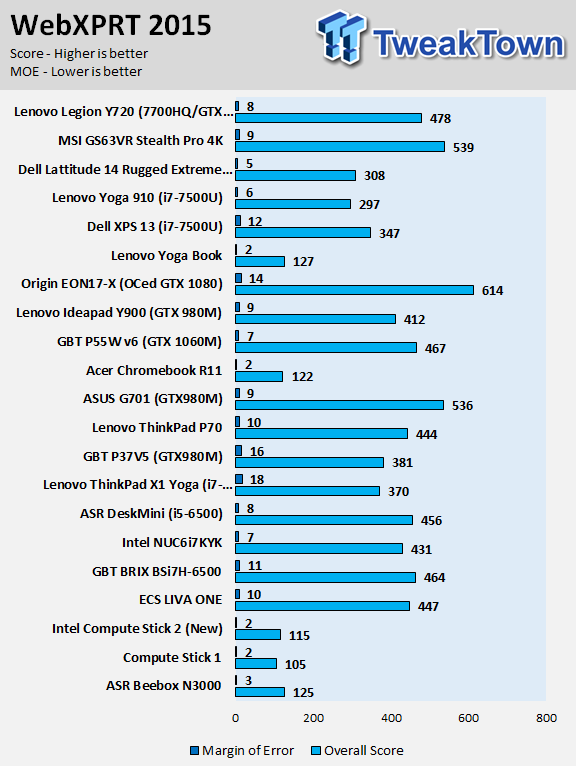 The 7700HQ is a very powerful mobile CPU, and while it might not be able to match the performance of desktop CPUs or some of the overclocked mobile CPUs in some of the other notebooks, it does maintain enough power to get the job done at a reasonable price point.
I find it to be a nice match for the GTX 1060 on a mobile platform. Of course, the extent at which it performance also has to do with the cooling apparatus and noise the machine makes.
Gaming Performance Benchmarks
3DMark11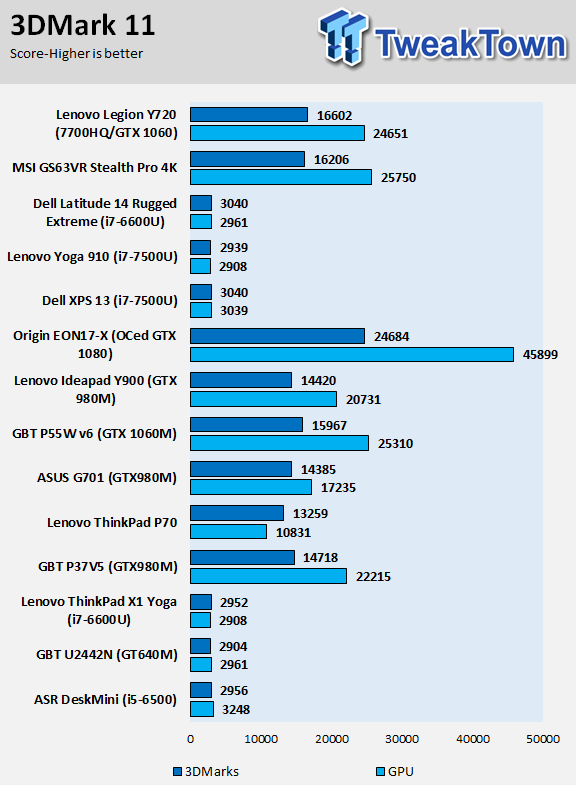 UNIGINE Heaven 4.0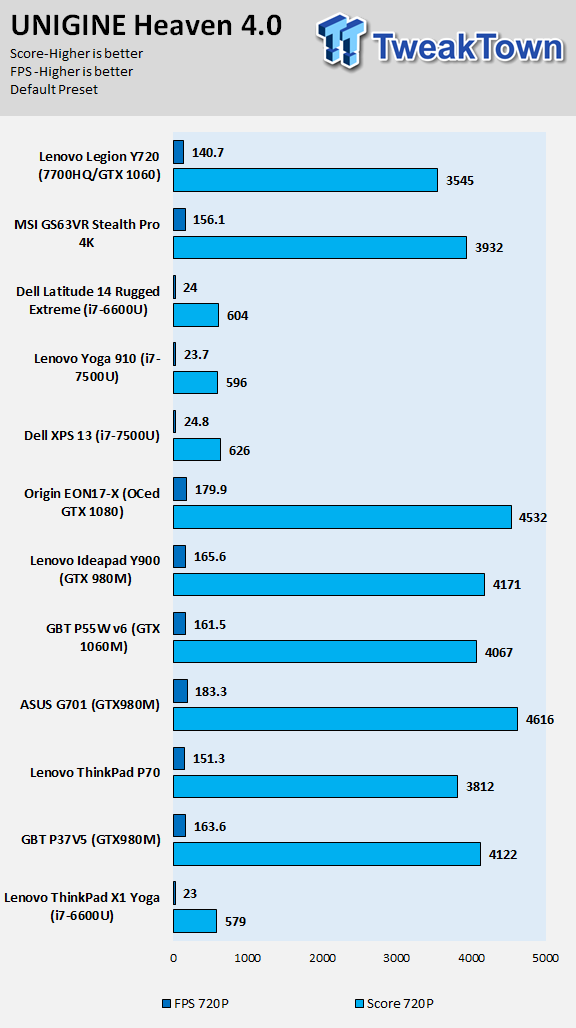 ResidentEvil 6
3DMark FireStrike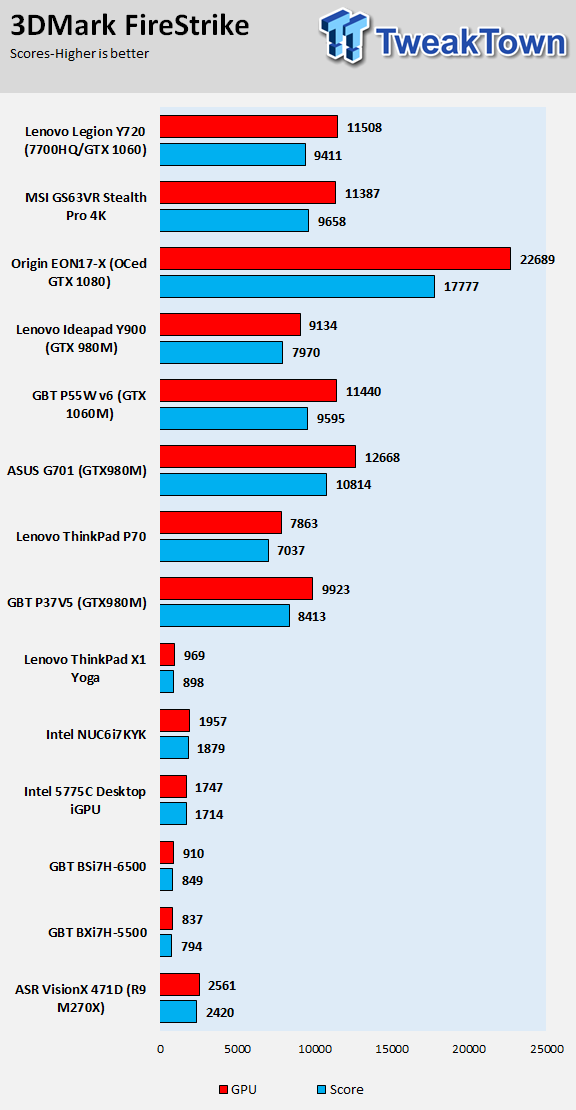 3DMark Cloudgate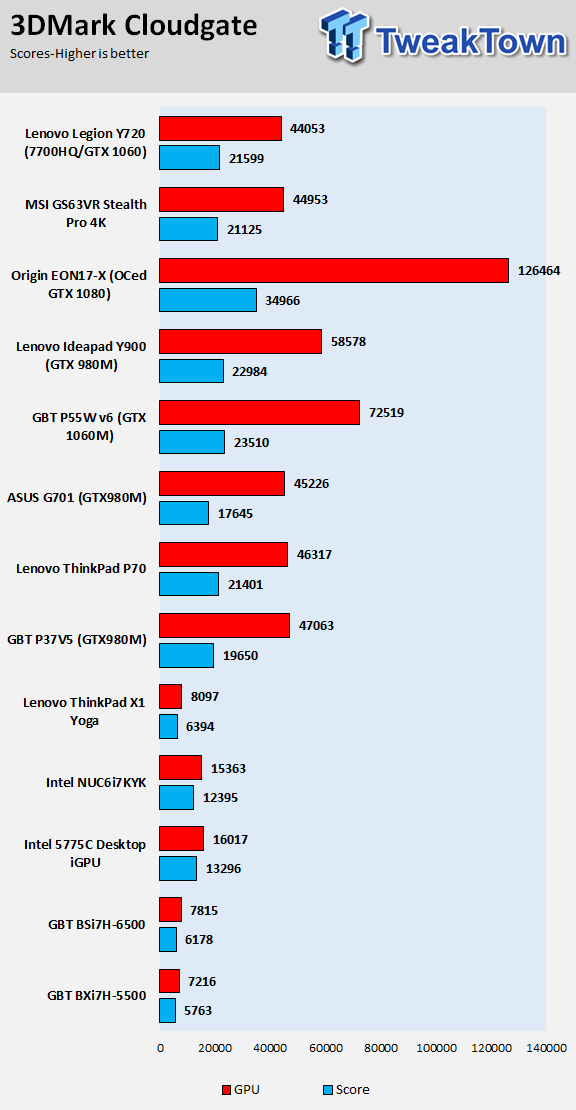 Ashes of Singularity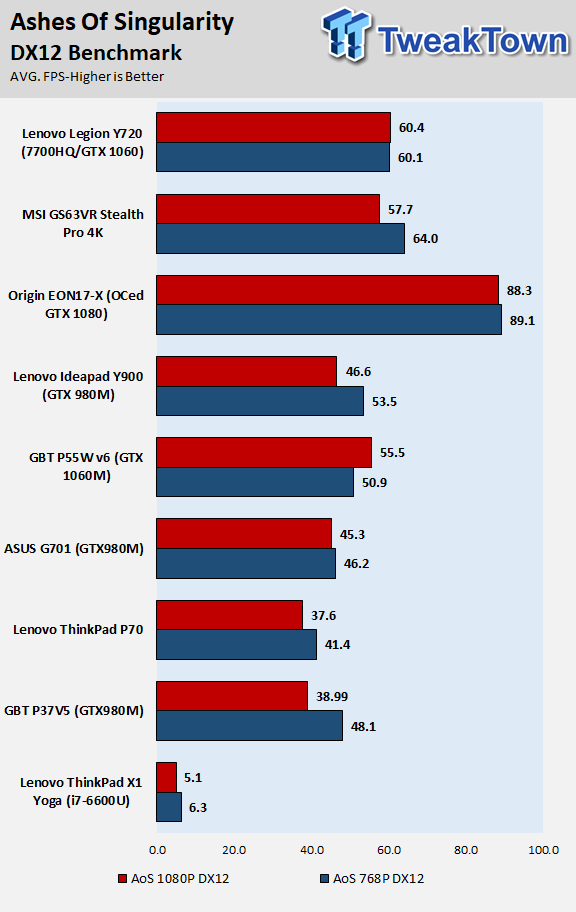 GTA:V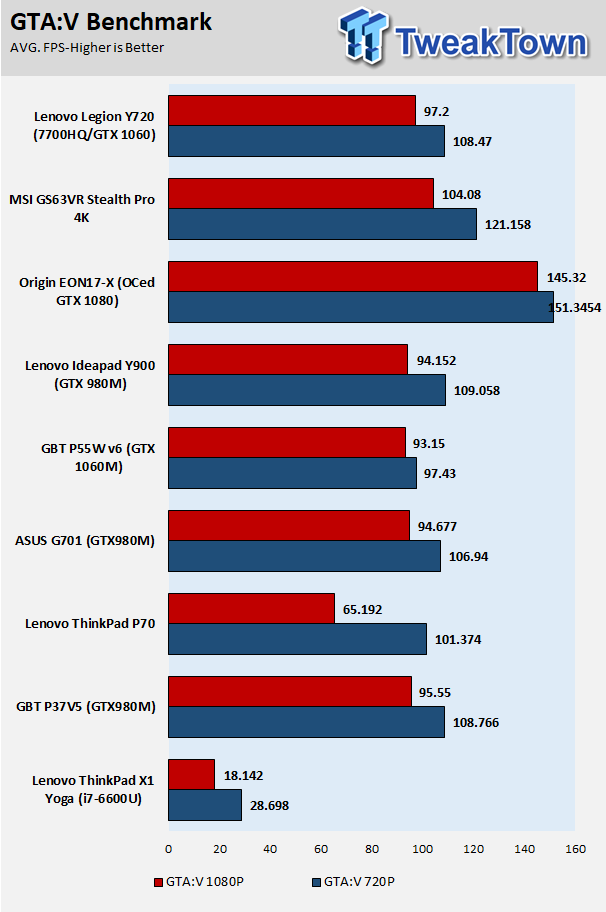 The Lenovo notebook we are looking at now and the MSI notebook right below it in the charts use the same CPU and GPU configuration, and they go head to head in many games. I do not think the 7700HQ and GTX 1060 are a great choice for 4K gaming, so I am glad to see that Lenovo has chosen to have us evaluate the 1080P version of the device.
It's doing quite well in games at 1080P, in some, it's better than the MSI, and in others, it's not.
System IO and Battery Performance
System IO Benchmarks
Internal Storage Read Test: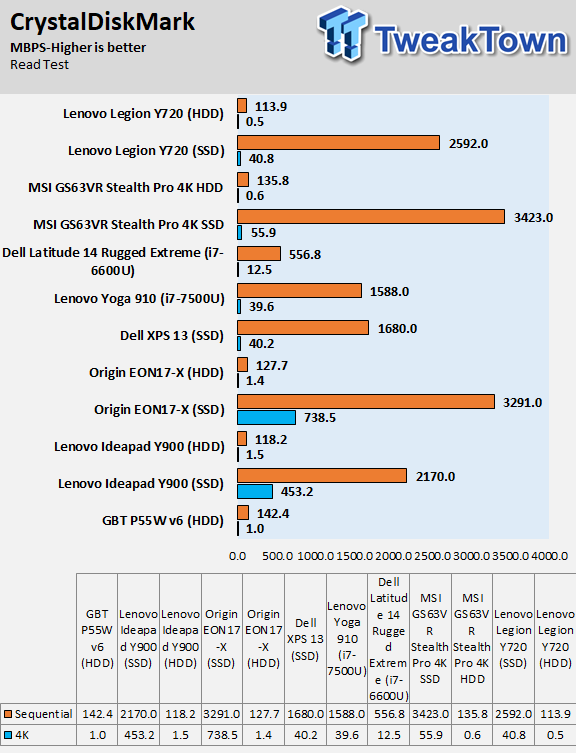 Internal Storage Write Test: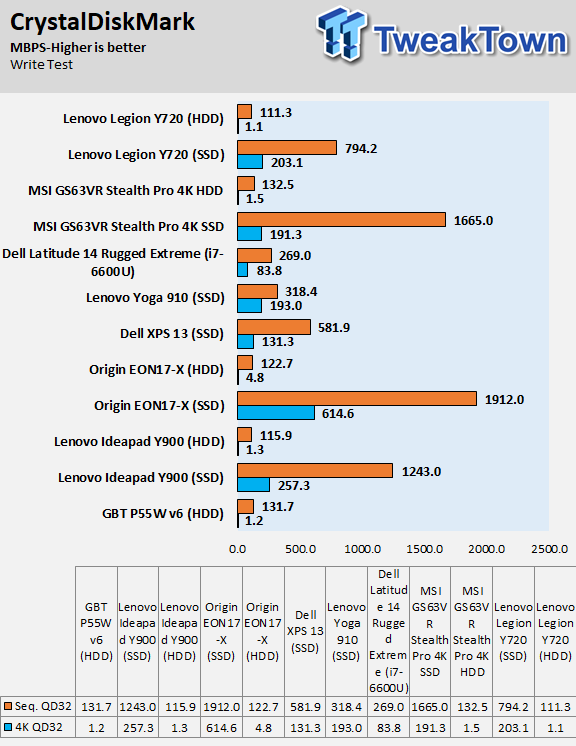 ixChariot Network Throughput: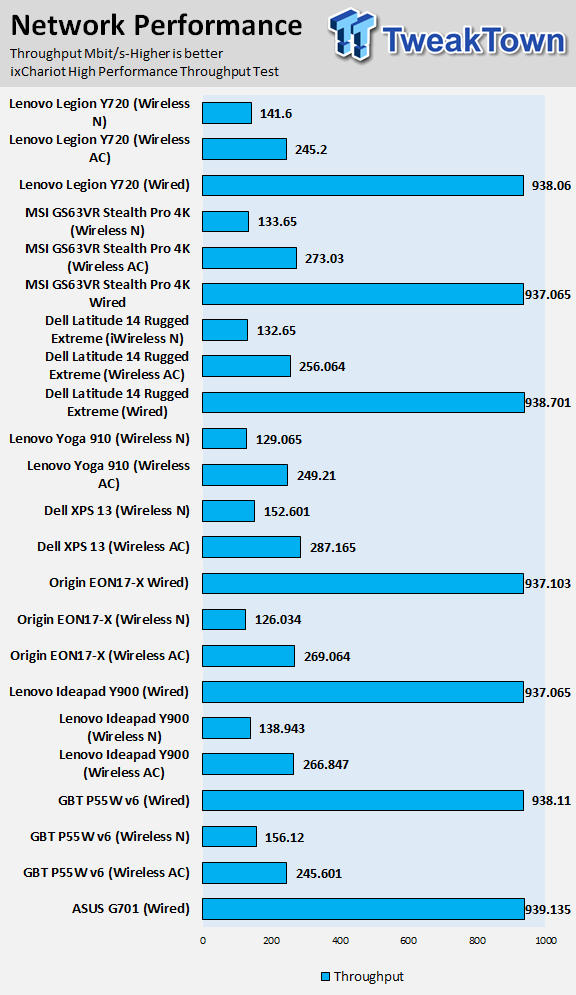 The PCI-E based M.2 drives does well, and the HDD is quite average. There isn't anything too special to say about the storage on this device, other than I recommend ordering a larger SSD, as I wasn't able to open the notebook, so I don't think you will have an easy time upgrading down the line if you choose that route.
The Intel Wireless card is quite good in this scenario, and wired LAN is where it should be.
Battery Tests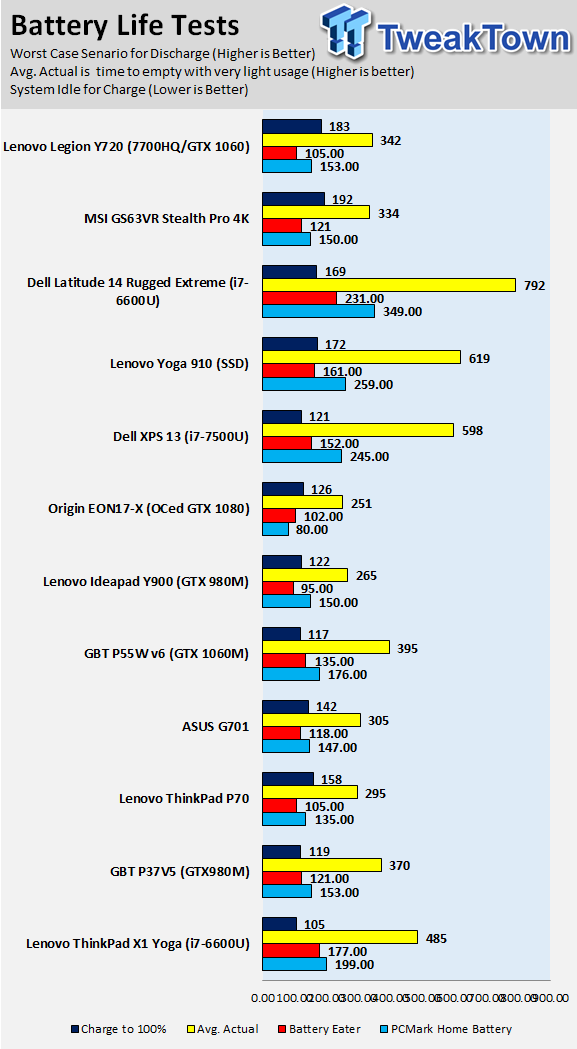 The battery performance is what I have come to expect from most gaming notebooks. You should be able to get an hour or two of hardcore gaming on the go, otherwise just plug in, so you get more performance.
Doing normal tasks, you will get roughly 4-5 hours depending on screen brightness and other power settings.
Thermal Performance
Thermal Imaging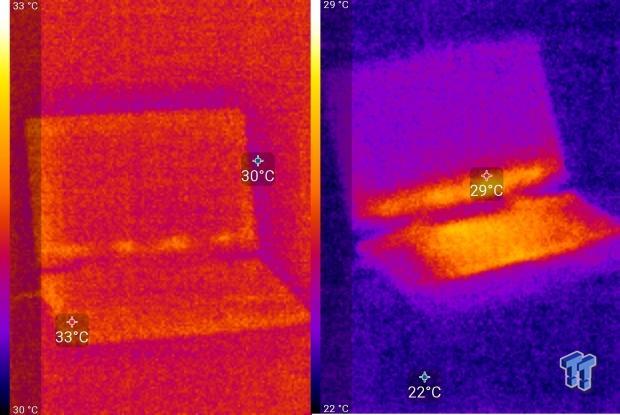 The top of the notebook doesn't really get hot, and neither does the screen. The keyboard might get a bit warm, but nothing uncomfortable. The image on the left is at idle and on the right is during extreme stress testing.

The image on the left is at idle and on the right is during extreme stress testing. The shots above are of the bottom of the notebook, where the cooling system is located. We might notice the center vents, and these sit above the part of the heat sink that attaches to the CPU and GPU, but there isn't much active airflow here, just ambient airflow moving about.
The intake vents to the blower fans and the exhaust vents from the blower fans show that the cooling system is working well. I should note that the notebook doesn't get super loud.
What's Hot, What's Not & Final Thoughts
Here are key points about the Lenovo Legion Y720
What's Hot
Solid Hardware Combination: I have said it a few times, but 4K panels on gaming notebooks that don't use best in class GPUs, are pretty much only good for viewing movies in 4K. That is why I would highly recommend the Y720 with the 1080P panel to gamers; it has the right mobile CPU (7700HQ), a sweet spot mobile GPU (GTX 1060), and a good looking panel to match. It's also not crazy expensive, and you can play newer titles at ease and on the go.
Gaming Look and Feel: Red is the go to color for companies when it comes to building a one-for-all solution, and Lenovo has done a nice job with red on the Y720. The looks of a product are pretty subjective, and I have seen some ugly or dull notebooks, but I actually like the look and feel of the Y720. Everything from the accents to the metal build of the notebook makes it look fun and feel high quality. I was impressed with the amount of aluminum, although it does add some weight.
ThunderBolt 3: The ultimate type-C port is included on the Legion Y720, and it should prove to be very useful in the future. There are even external GPU enclosures that could house current and future GPUs, so a few years down the road when the GTX 1060 inside isn't cutting it, you can hook up to an external GTX 1280 or RX 850, or whatever will be there in a few generations. Until then, the port is useful for external storage, connection to a multitude of devices, and can even be used to network two computers together.
Noise Level: The Legion Y720 actually runs kind of quiet, and I didn't expect that. Perhaps if the fans were more aggressive, it could do a bit better in the performance arena at very high load levels, but I think Lenovo tuned it correctly for games. The last thing you want to do is have the noisiest notebook in the room, which does not matter if you have headphones. If you have headphones, then the Dolby Atmos and Full Speed Fan mode could provide a very different, and enhanced, gaming experience.
What's Not
Not User Upgradable: I read that Lenovo says that users are prohibited from servicing the device, aka you aren't supposed to open it. Otherwise, you could lose your warranty. I even tried to open it just to see what was inside, and I found that I couldn't easily remove one portion of the back panel from the device. I did not want to break it, so I decided just to leave it alone, and most people will come to that same conclusion as well.
Final Thoughts
The Legion Y720 has many things I really like that haven't been mentioned yet. For one, the speakers are quite powerful and only distort when they get really loud, the headphone audio quality is surprisingly good, the keyboard (with arrow keys) is large and not crammed, the single centered hinge is very durable, and there are certain areas where I was impressed with the attention to detail (such as the Y symbol's texture on the top lid).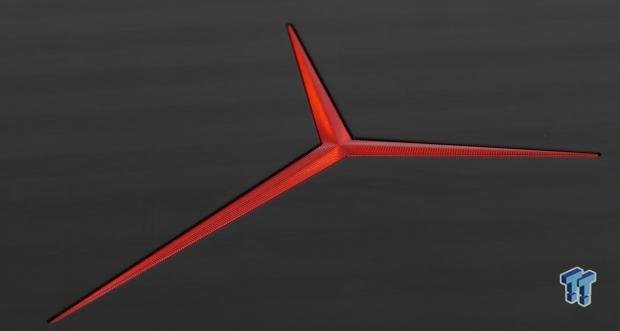 The notebook also has some points I didn't find that great; it doesn't have the best battery life, and all that aluminum and cooling power weigh it down a bit. It also seems that Lenovo has balanced out the CPU's performance to try and extend battery life, especially when gaming on the battery, but of course you can tune that after the fact through power plans.
Overall, I think Lenovo has produced a really solid notebook, built with quality hardware and gaming in mind.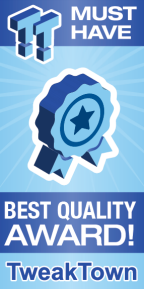 | | |
| --- | --- |
| Performance | 90% |
| Quality | 95% |
| Features | 91% |
| Value | 86% |
The Bottom Line: Lenovo's Legion Y720 is a very well thought out notebook specifically targeting the wants and needs of gamers who don't mind paying a bit extra for higher quality and performance.
PRICING: You can find products similar to this one for sale below.

United States: Find other tech and computer products like this over at Amazon.com

United Kingdom: Find other tech and computer products like this over at Amazon.co.uk

Australia: Find other tech and computer products like this over at Amazon.com.au

Canada: Find other tech and computer products like this over at Amazon.ca

Deutschland: Finde andere Technik- und Computerprodukte wie dieses auf Amazon.de
We openly invite the companies who provide us with review samples / who are mentioned or discussed to express their opinion. If any company representative wishes to respond, we will publish the response here. Please contact us if you wish to respond.