AMD Ryzen 3 1300X and Ryzen 3 1200 CPU Review
AMD debuts its Ryzen 3 1300X and Ryzen 3 1200 processors today and we have ran them through their paces to see how they perform.
Published Thu, Jul 27 2017 8:00 AM CDT
|
Updated Tue, Nov 3 2020 6:58 PM CST
Rating:

94%
Manufacturer: AMD
Introduction, Specifications, and Pricing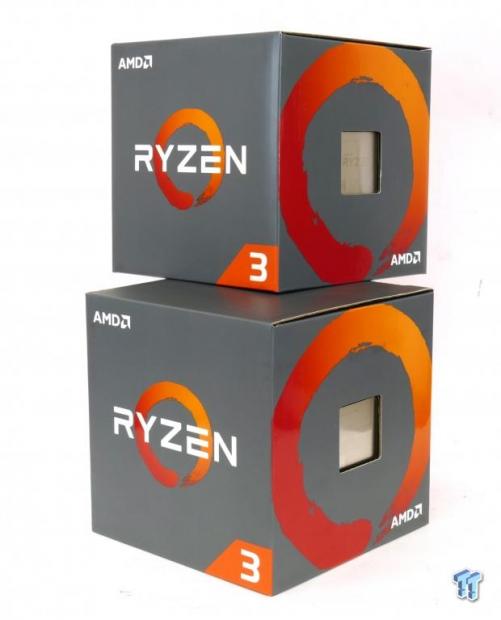 We have seen AMD's strong multi-core performance with Ryzen 7 and Ryzen 5 processors, and now we will watch as they take aim at Intel's Core i3 series processors with the new Ryzen 3 lineup. Today we have the Ryzen 3 1200 and the Ryzen 3 1300X.
Compared to Intel's dual-core based i3 lineup, AMD's Ryzen 3 offerings bring four real cores to the table while Intel relies on Hyper-Threading to achieve four threads on their i3 parts. The Ryzen 3 processors we are looking at today offer mid 3GHz base and boost clocks, a nice serving of cache, two CCX (CPU Core Complex), and a nice boxed cooler.
Let's take a look at how the Ryzen 3 series CPUs stack up.
Specifications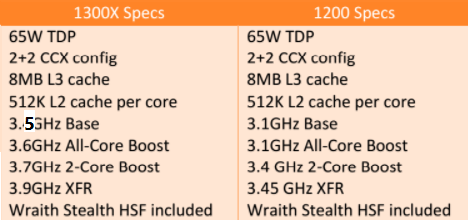 There is a small typo on some of AMD's marketing materials; the Ryzen 1300X has a 3.5GHz base clock, not 3.4GHz. Both the Ryzen 3 1300X and 1200 offer a 2+2 CCX configuration, 65W TDPs (although the 1200 uses less than that), 8MB L3 cache, and 512KB L2 cache per core. The 1300X offers a 3.5GHz base, a 3.6GHz all-core boost, a 3.7GHz 2-core boost, and XFR up to 3.9GHz. The 1200 offers a 3.1GHz base, a 3.4GHz 2-core boost, and a 3.45GHz XFR boost. Both CPUs come with the Wraith Stealth heat sink cooler, which is a bit shorter than the one that comes with the Ryzen 5 processors.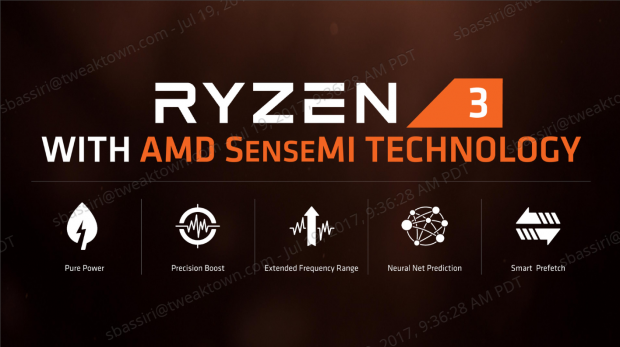 All Ryzen 3 processors carry the same high-end internal features and architecture as their Ryzen 5 and Ryzen 7 counterparts. They all offer Pure Power, Precision Boost, XFR (Extended Frequency Range), Neural Net Prediction, and Smart Prefetch. That means the Ryzen 3 processors all have the same intricate network of sensors and power gates to improve power efficiency, while also increasing clock speeds when the CPU can handle higher XFR frequencies.
Pricing
The Ryzen 3 1300X will cost $129, and the Ryzen 3 1200 will cost $109.
The CPUs and Coolers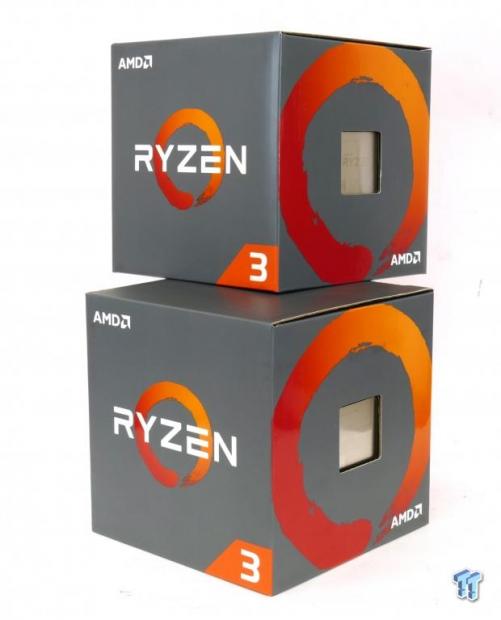 The CPU boxes are very similar to what we saw with the Ryzen 5 processors with included coolers. It's a neat looking box that you can put on display, in case you are like me and do that type of thing.
The CPUs offer identical packaging. The CPUs sit in their own small box, while the coolers sit in another. Inside the CPU box, you get the CPU, a case badge sticker, and a manual.
Both CPUs have identical tops and bottoms, which are identical to that of their Ryzen 5 and Ryzen 7 processors. Check out all that gold on the bottom of each of the CPUs! The CPU cores should also be soldered to the integrated heat spreader like their Ryzen 5 and Ryzen 7 counterparts.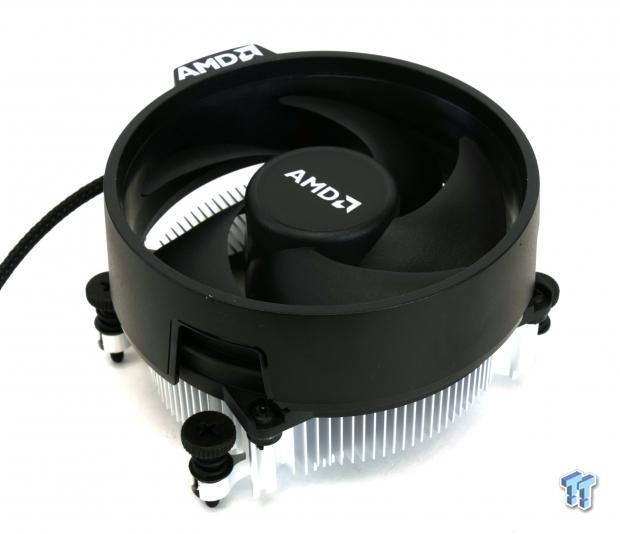 The Ryzen 3 processors both come with AMD's Wraith Stealth cooler, but they are also compatible with AMD's other AM4 coolers such as the Wraith Max with built in RGB LEDs.
The CPU cooler comes with pre=applied thermal past. You might notice that the cooler doesn't use AMD's latch mechanism to attach to the motherboard, but instead requires you to uninstall the motherboard's mounting mechanism and screw the cooler directly into the backplate. I can tell you that the thermal paste application comes out perfect pretty much all the time.
Test Setup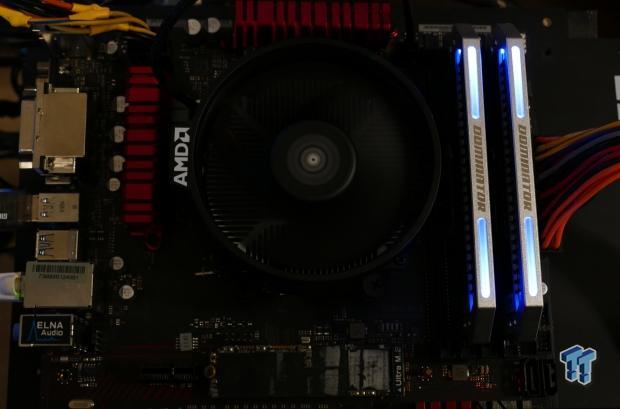 AMD provided us with the B350 motherboard, and it seems like a cost-effective match to the Ryzen 3 processors, so I decided to stick with it.
Out of the Box Performance: CINEBENCH, wPrime, and AIDA64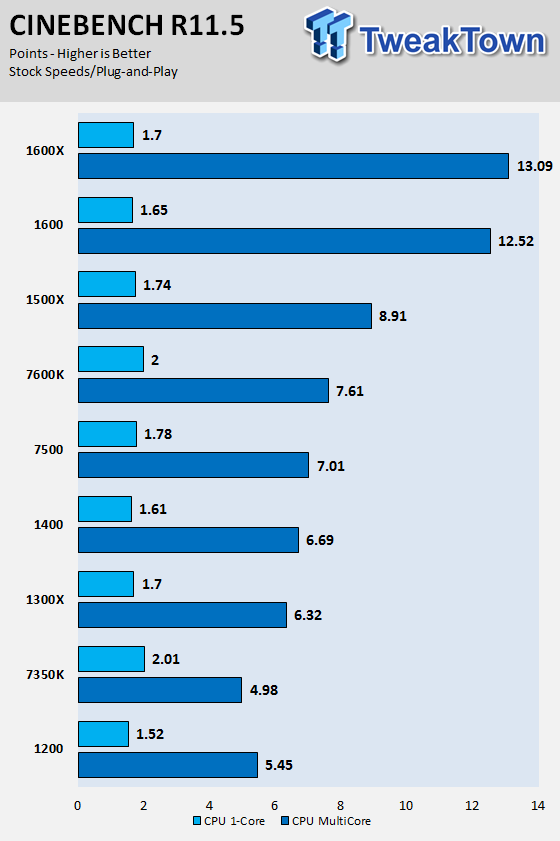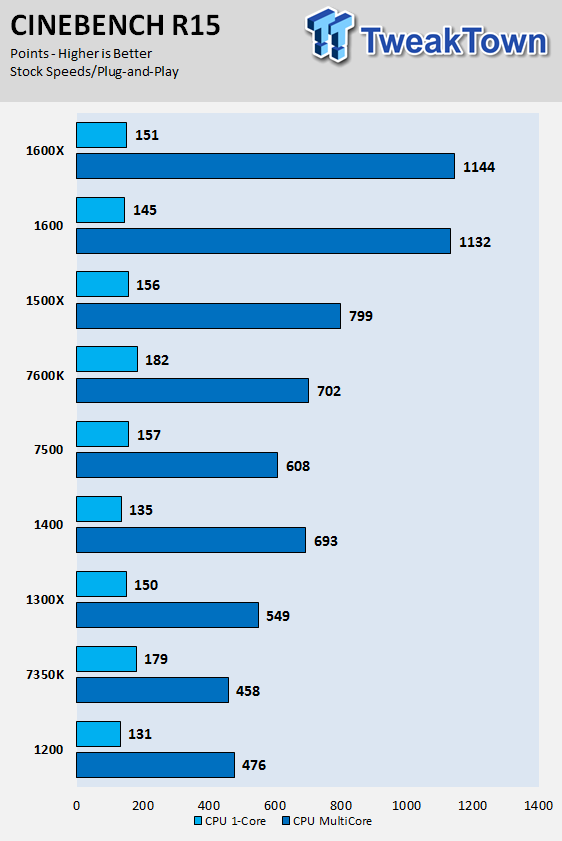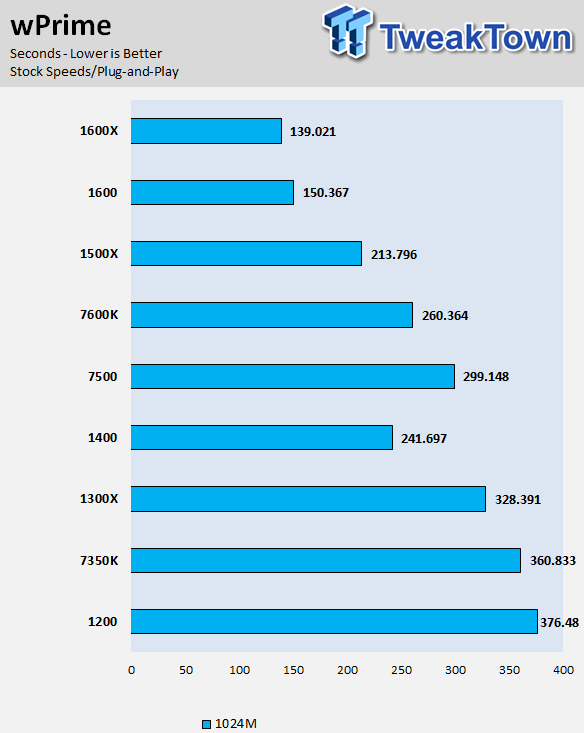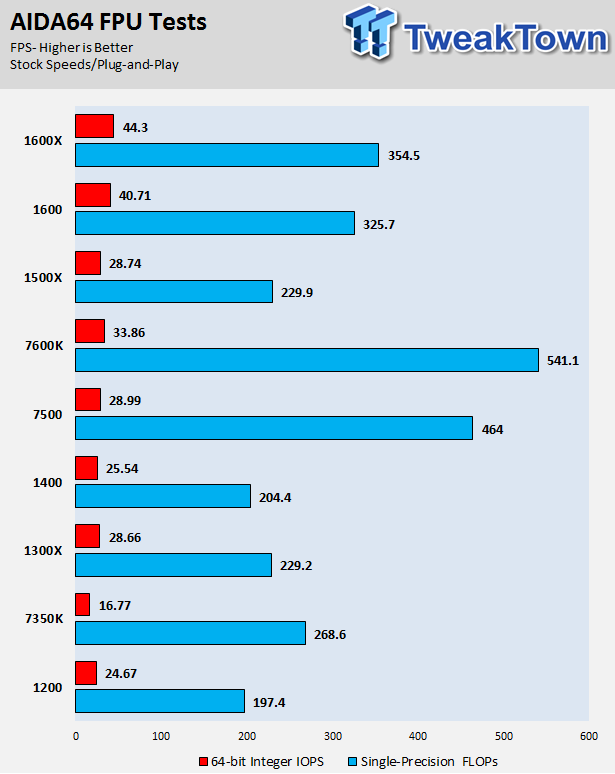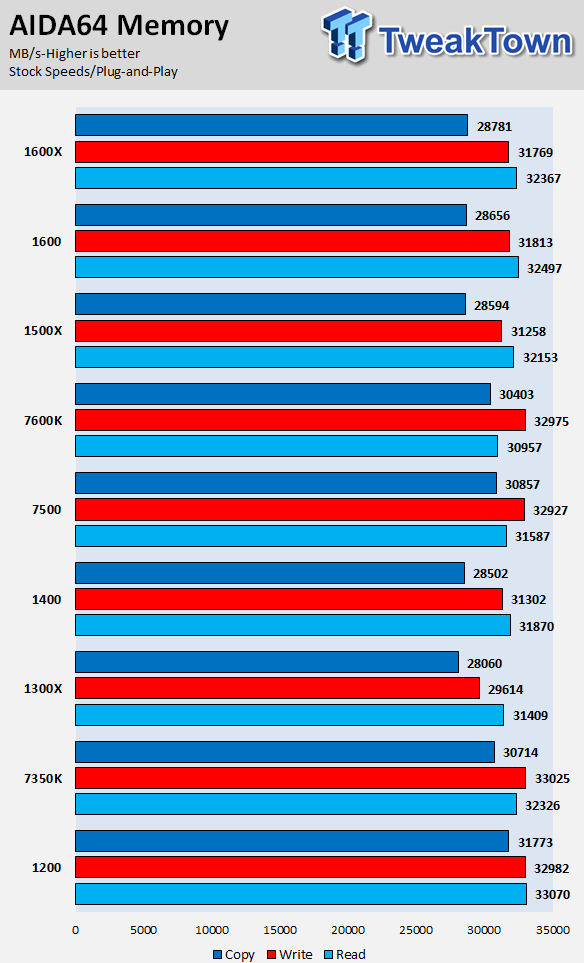 In CINEBENCH R11.5, we see that the 1300X and the 1200 both own the fastest i3-7350K, even though it boasts a 4.2Ghz Turbo speed. In single core performance, the i3 pulls ahead, but not by that much. The 1300X's XFR frequency of 3.9Ghz also puts it ahead of the Ryzen 5 1400, and even puts it close to the i5-7500.
In wPrime, we see that the slower clocks of the 1200 make it lose to our more expensive and higher clocked 7350K, but that couldn't save the 7350K from being beat by the 1300X, which carries four real cores instead of two with hyper-threading. FPU tests are all over the place, Ryzen's superior IOPS performance is solid, while Intel's SP FLOPS is quite strong.
Out of the Box Performance: Handbrake Video Transcoding, ScienceMark, and SuperPI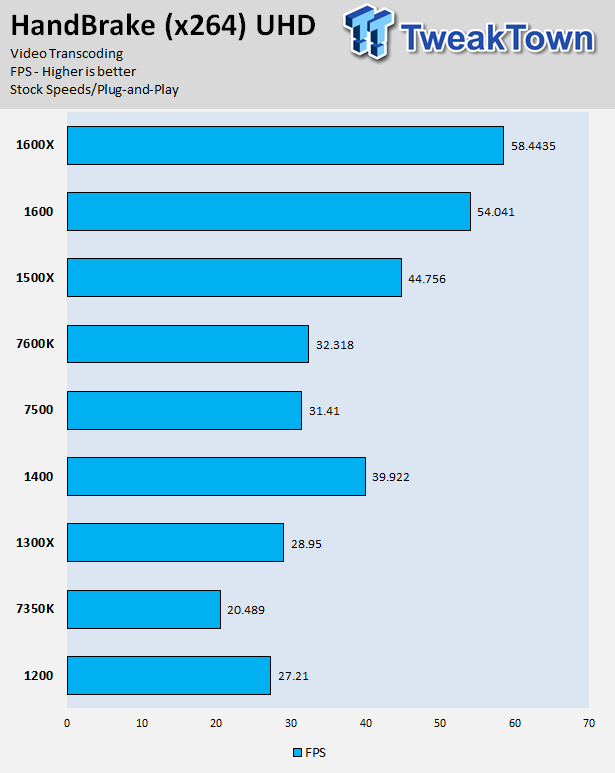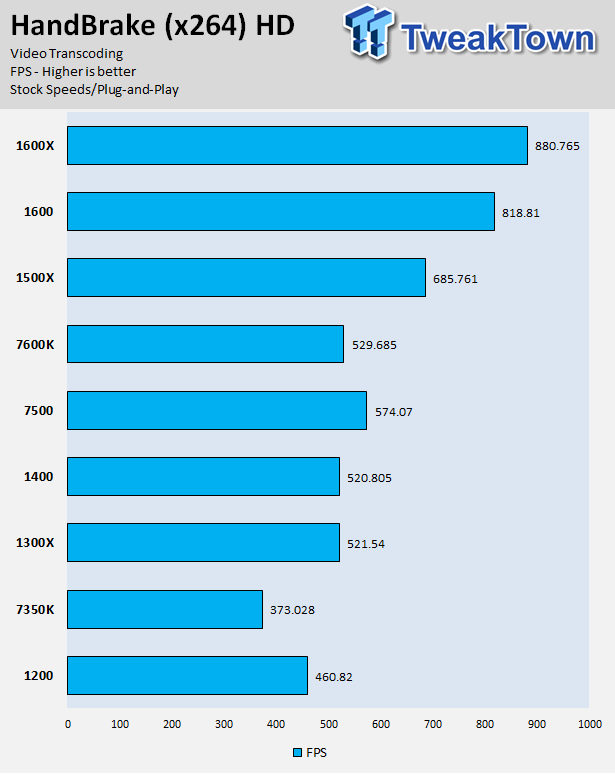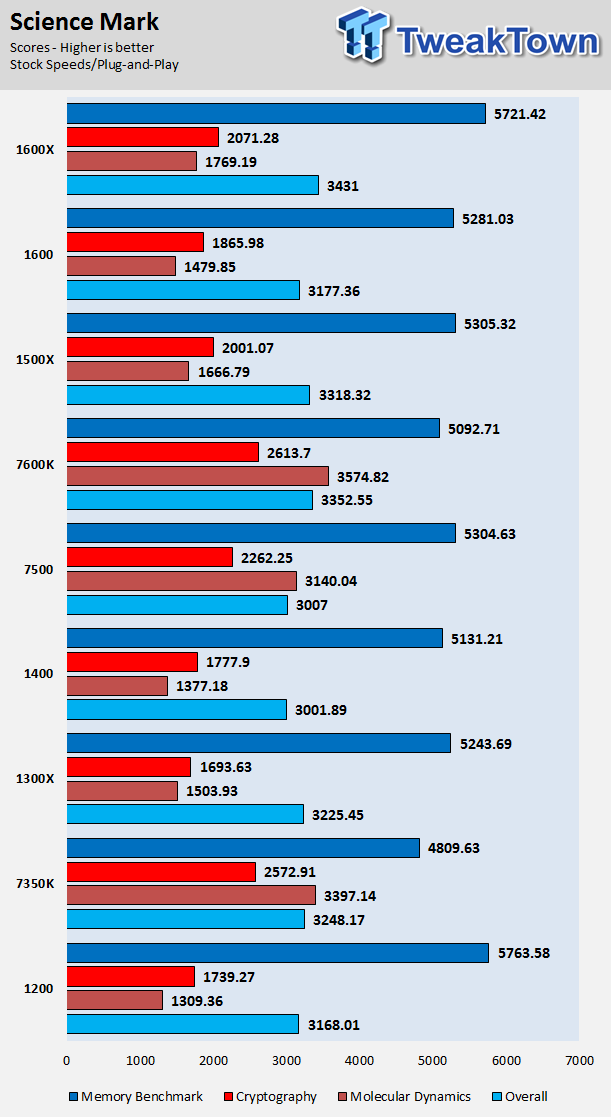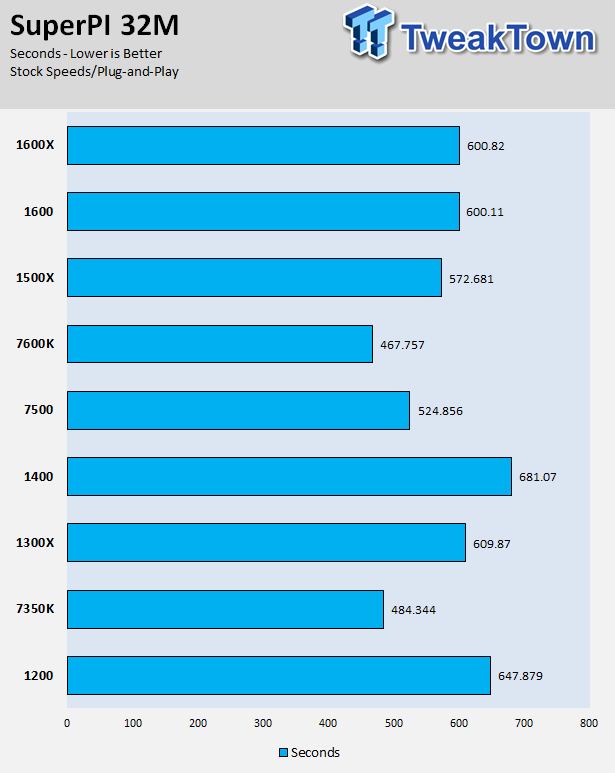 Handbrake shows us that four real cores will win out compared to two cores with hyper threading as we see on the i3's. If you are going to use your Ryzen 3 rig to do some content creation, then those extra two real cores help a lot. ScienceMark produced some really interesting results, and I am not sure if there was a bug in the AEGIS BIOS I used on the motherboard, but for some reason, the 1200's memory performance is superior to that of the 1300X.
I saw the same difference in memory performance in AIDA64, so it's not just a bug in a single software application. Perhaps the BIOS is setting timings tighter as the CPU frequency is a bit lower, and perhaps it provides some sort of performance increase in the IMC. While the memory differences show up in synthetic memory benchmarks, in the real-world where memory does matter, it doesn't seem to help the 1200 outperform the 1300X.
SuperPI is very memory dependent, and the 1300X is doing great compared to the 1200. However, this is also where Intel's per core performance benefits shine.
Out of the Box Synthetic Gaming Performance: UNIGINE and 3DMark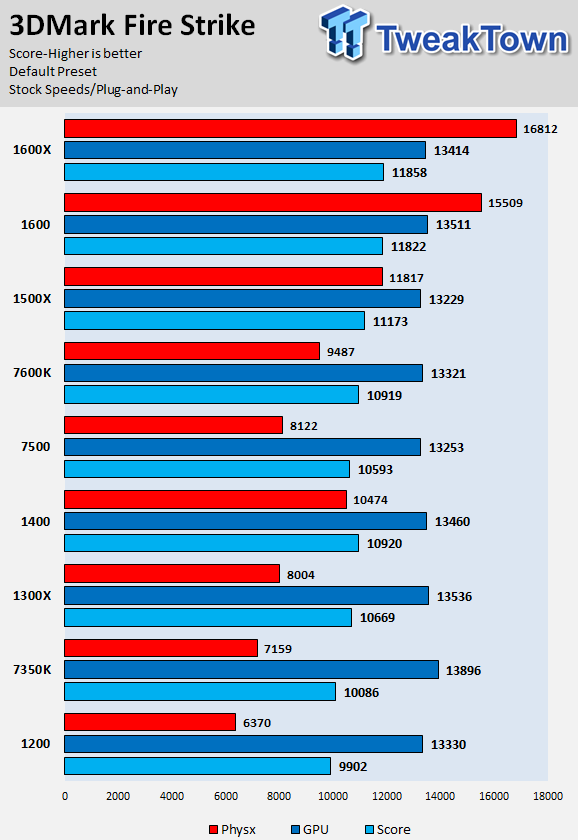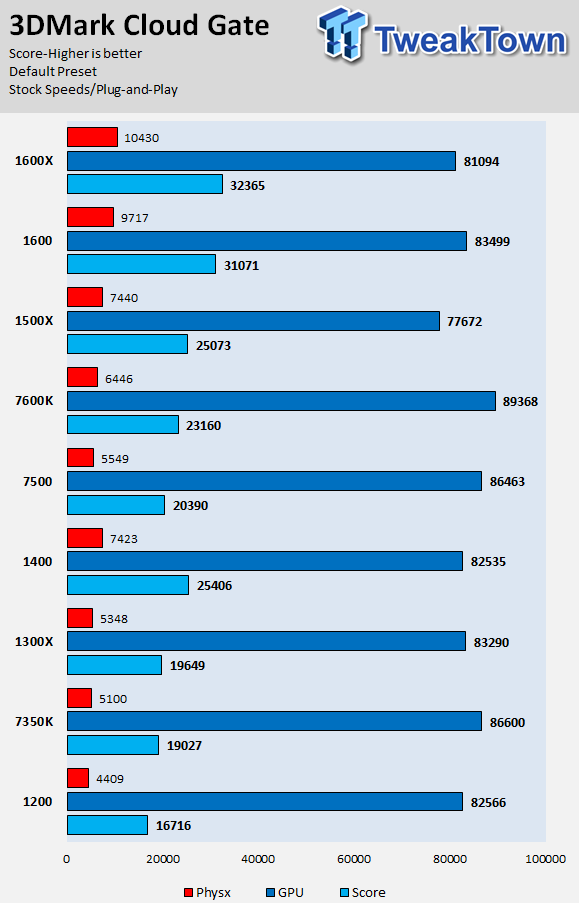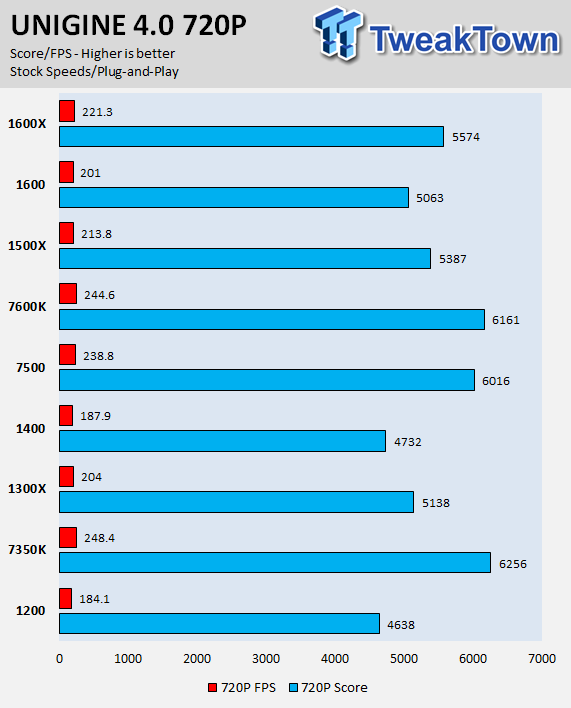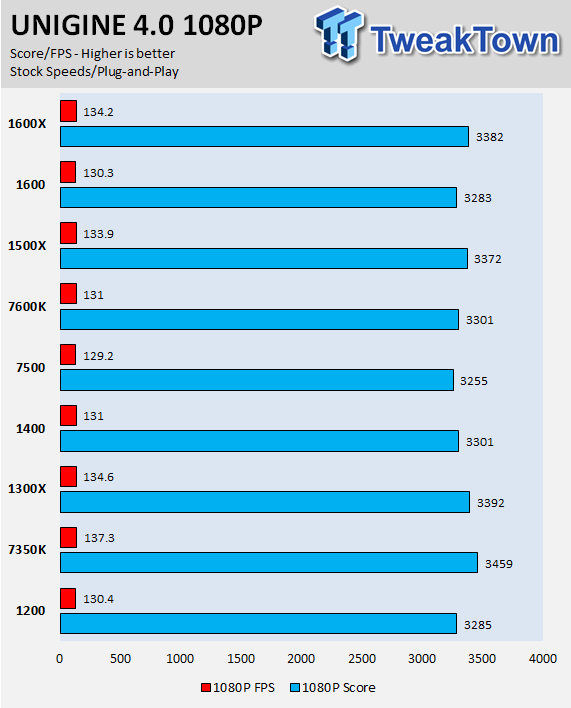 The 1300X beat out one of the best i3 processors, the 7350K, and even the i5-7500 in FireStrike, while the 1200 couldn't best the 7350K. In CloudGate we see the 7500 hold its own, while the 7350K and 1300X were close. The 1200 falls in last place in CloudGate. Intel's offerings do very well in UNIGINE at 720P, while at 1080P we start to see things level off as a natural bottleneck is approached.
In synthetics, AMD's Ryzen 3 offerings are doing better than expected (no SMT), so let's switch over to real games.
Out of the Box Gaming Performance: Resident Evil, Tomb Raider, GTA:V, Ashes of the Singularity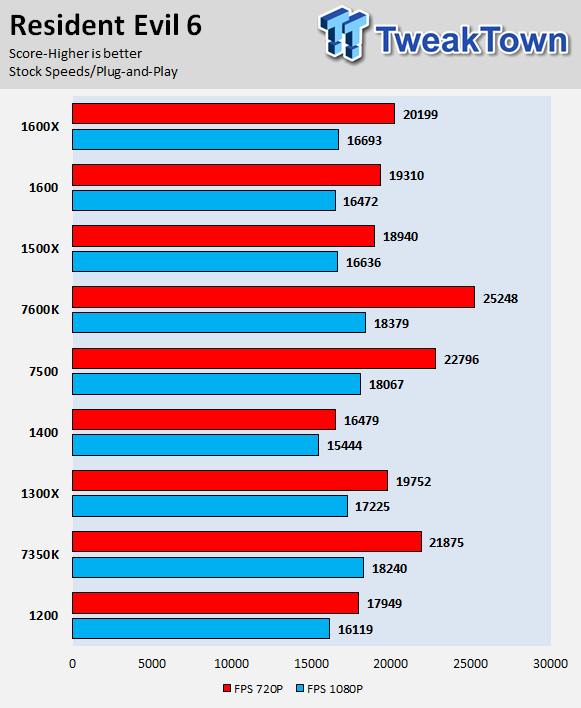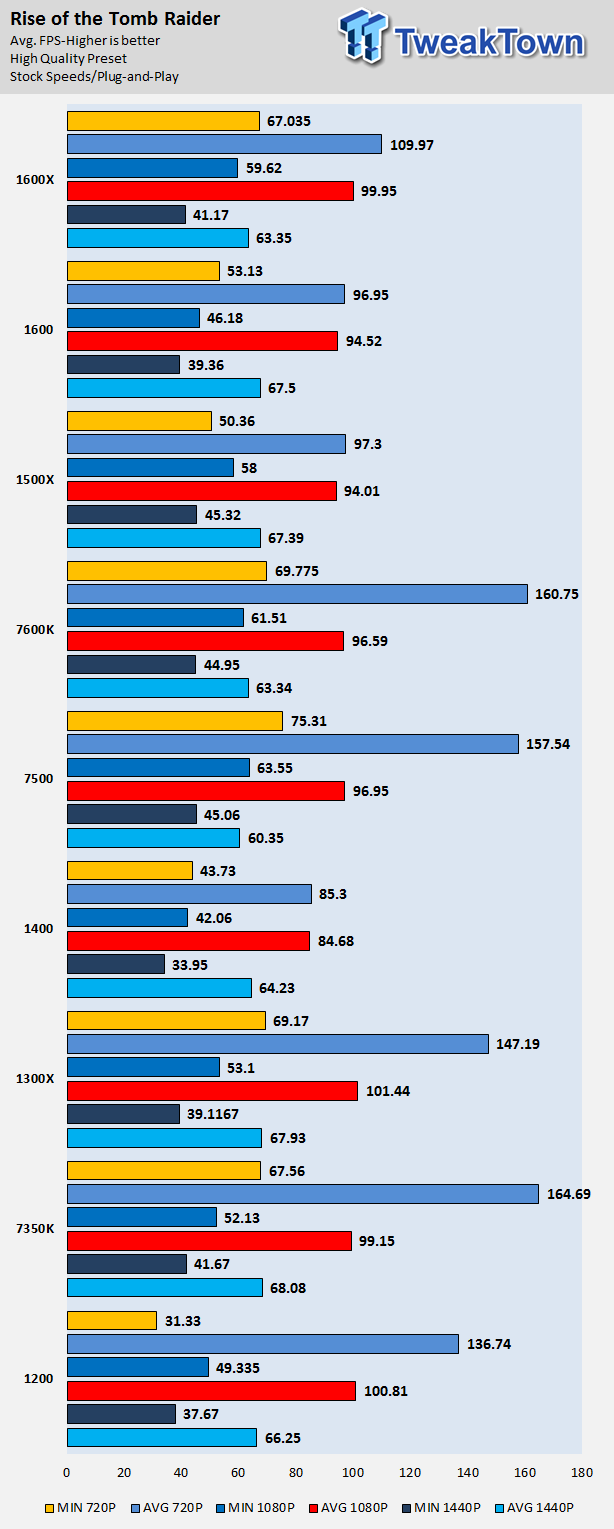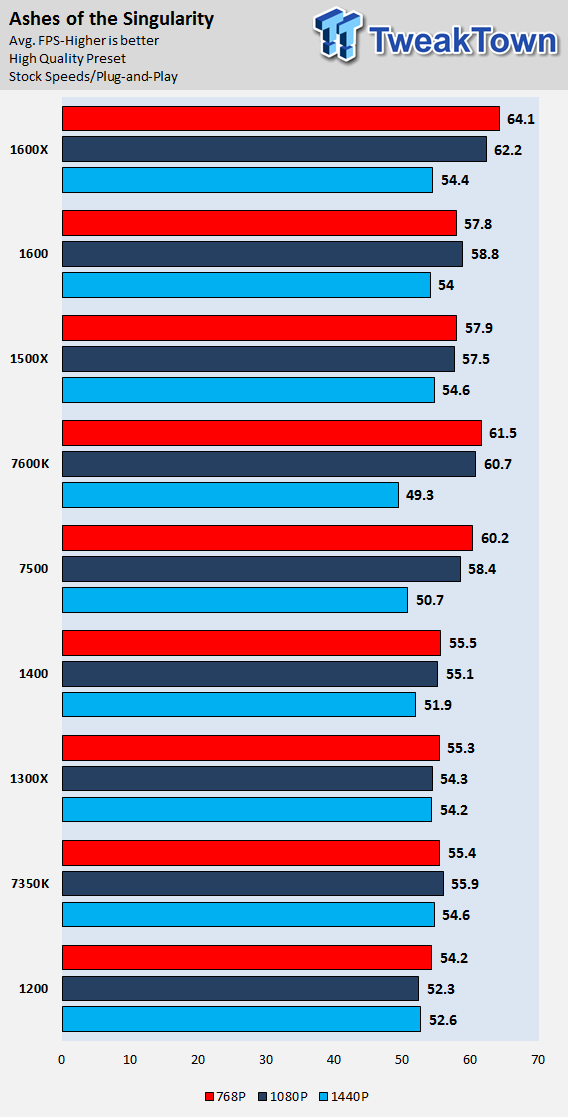 I think this is what everyone actually wants to see, are four real cores better than two with hyper threading, and the answer is; the game matters and the lack of SMT helps the Ryzen 3 compete against Intel's i3s. In Resident Evil we see things are close at 1080P, as the CPU becomes more of a bottleneck, but at 720P we see that Intel's offerings are still quite strong due to per core performance and a higher frequency.
Looking at GTA:V, while it looks like average FPS goes to Intel, the Ryzen 3 1300X maintains better minimum FPS when it matters; at 720P (since we effectively remove the GPU as a bottleneck and it's more of a CPU game test). Minimum FPS is very important for game play, and I doubt you would notice much difference between the 7350K and the 1300X in GTA:V.
Things get exciting with Rise of the Tomb Raider, as the Ryzen 3 does good in minimum FPS at 720P and 1080P and the 7350K does better with average FPS. You aren't going to be able to play Ashes of the Singularity on an i3 or a Ryzen 3 easily, even an i5 or Ryzen 5 won't be able to play it smoothly at 1440P, and we can definitely see a CPU bottleneck with this game, which is overly resource intensive.
In games where frequency and IPC matter (a lot of games), the i3 does very well, and in games where cores are also important (the numbers are growing), you basically can't tell too much difference at higher resolutions.
Overclocking and Power Consumption
CPU Overclocking
The first thing you might want to do is flash your BIOS to the latest one that carries the new AEGIS 1.0.0.6 microcode. This microcode greatly improves memory overclocking, for the first time I was able to hit 3200MHz by only enabling XMP, which is a great improvement.
To overclock the processor, I first focused on the maximum CPU clock and then I enabled XMP. I use a maximum of 1.35v, as this provides me with temperatures that stay under 80-90C, and in this case, I used the stock cooler. I was able to set 3.9Ghz for the 1300X and 3.7Ghz for the 1200 on all cores.
The Ryzen 3 1300X overclocked to 3.9Ghz with 1.35v; add more voltage, and it gets too hot. The Ryzen 3 1200 was able to do only 3.7GHz, 3.8Ghz wasn't bootable at 1.35v. I also only used the included cooler, and I was impressed at how well the CPU's were able to stay below maximum temperature with a small aluminum CPU cooler.
I was shocked that I could overclock with a stock cooler. The most impressive part is that both CPUs were able to run XMP of 3.2GHz using a GEIL EVO RGB kit, something that wasn't possible in the past, but is now with the new CPU microcode.
Power Consumption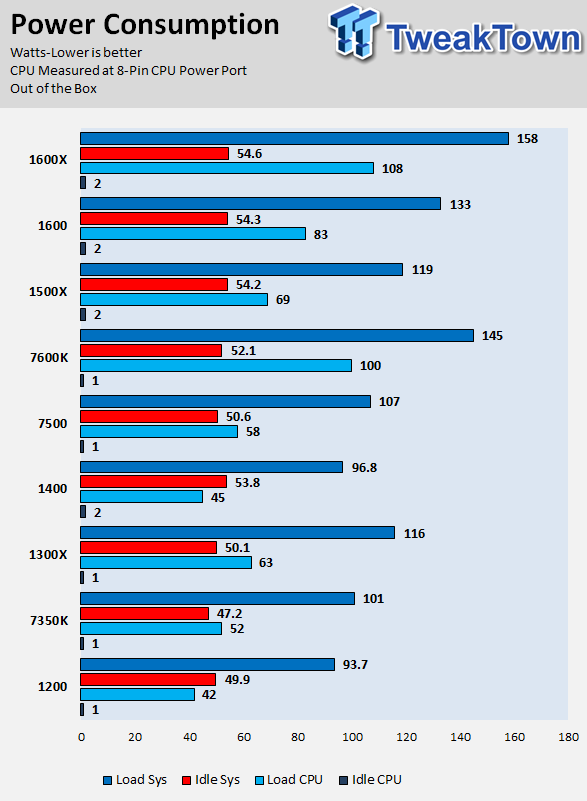 The Ryzen 3 1300X's power draw is 63W under full CPU load, right under its 65W TDP. However, the shocker comes with the 1200, which only pulled 42W for the CPU. These wattage measurements are made at the isolated 8-pin CPU power connector for CPU power, and at the wall for system power.
That 20-watt difference is puzzling, as the 1200 doesn't run 1/3 the speed of the 1300X, but it does run a lot slower, doesn't turbo up to the same frequencies, and seems to use less voltage.
What's Hot, What's Not & Final Thoughts
This is where you can fast forward to the final section of the review, and get a quick recap and points on the Ryzen 3 1300X and 1200.
What's Hot
Four Real Core FTW: The Ryzen 3 processors might be the first not to utilize AMD's SMT design, and it does seem like performance compared to comparable Intel parts is very strong because of it. AMD could have gone with two cores and four threads using SMT to fight Intel's i3 parts, but instead, they went with four real CPU cores, which puts them ahead of the i3's in multi-threaded workloads and proves that four cores are better than two cores and four threads. Although we might have already known that, since i5s exist, it's nice to see it at such a low price point.
Overclock Out of the Box: Not only was I able to overclock the 1300X to 3.9GHz, which is also most as high as the 1800X and 1700X, but I was able to do it on the stock cooler! AMD's AEGIS microcode, 1.0.0.6, has greatly improved overall memory overclocking. I had never been able to get to 3.2Ghz with any of my kits before this microcode. While the Ryzen 5 CPUs didn't show great memory overclocking potential, the new microcode was able to unleash the IMC inside the Ryzen 3 CPUs, and I was very pleased. All you have to do is type in your CPU frequency, CPU voltage, and enable XMP, and you get a free performance upgrade without requiring a cooler upgrade!
Excellent Price to Performance Ratio: Intel doesn't have much in this price range that allows for overclocking, nor do they have anything with four real cores at this price. Compared to comparable i3s in the same price range, the Ryzen 3 processors do well. I am very pleased AMD decided to utilize four cores instead of using SMT, and the benefits are obvious.
SoC and Platform Cost: You still get all the same IO with a Ryzen 3 CPU as you would with a Ryzen 5 or Ryzen 7 CPU that costs more than double. It's an impressive stack, and AMD should be praised for not disabling features to differentiate their product lineup. The upgrade path is also quite impressive, as you can go from four cores and 4 threads to 8 cores and 16 threads on the same platform.
What's Not
I'm not sure: I have been sitting here trying to think up negative points about the Ryzen 3 processors before me, and I can't really think of much. Sure, it could have done better in some games, but I tested the 1300X against an Intel CPU that costs $20 (about 15%) more, but doesn't typically produce 15% better gaming performance.
Final Thoughts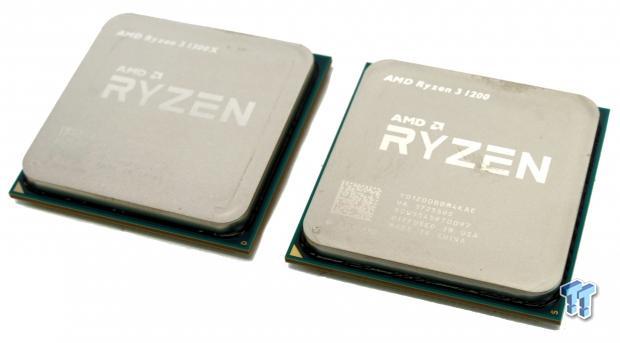 The Ryzen 3 CPUs are perhaps the best value buys AMD currently has to offer. These days, with AMD's new Ryzen 3 offering, there is almost no point in buying a 2-core 4-thread CPU, unless you play specific games (or use applications) that are single threaded and take advantage of Intel's frequency, and while many do, that trend is shifting. The gaming talk aside, since most enthusiast gamers will go with an i5 or Ryzen 5 to match their faster GPUs, Ryzen 3's power consumption is quite impressive. I was super impressed with the Ryzen 3 1200's power consumption numbers and AMD for their TDP calculations.
I was impressed with the value not only in the CPU, but also on the platform, and finally, overclocking is easy, and increasing the Infinity Fabric speed with improved memory overclocking makes the platform feel mature and well worth it.
AMD has always been extremely strong in the more affordable market, and the new Zen core, higher core counts, and new platform are sure to seal the deal for many at this price point.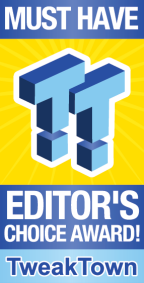 | | |
| --- | --- |
| Performance | 90% |
| Quality | 93% |
| Features | 95% |
| Value | 96% |
The Bottom Line: AMD's Ryzen 3 1200 and Ryzen 3 1300X processors offer significant value, performance, and overclocking without breaking the bank, making them some of the best value buy CPUs on the market.
PRICING: You can find products similar to this one for sale below.

United States: Find other tech and computer products like this over at Amazon.com

United Kingdom: Find other tech and computer products like this over at Amazon.co.uk

Australia: Find other tech and computer products like this over at Amazon.com.au

Canada: Find other tech and computer products like this over at Amazon.ca

Deutschland: Finde andere Technik- und Computerprodukte wie dieses auf Amazon.de