Corsair Vengeance RGB DDR4-3000 32GB Memory Kit Review
Corsair's new Vengeance RGB DDR4-3000 32GB dual-channel memory kit goes under the spotlight.

Published Jun 20, 2017 7:52 PM CDT
|
Updated Tue, Nov 3 2020 6:58 PM CST
7 minute read time
TweakTown's Rating: 79%
The Bottom Line
Corsair's Vengeance RGB memory is spectacular looking and RGB LEDs are all the rage right now. However, beyond that, we feel the performance is not there when compared to other kits. The premium pricing doesn't help it's case either.

Right now, if you ponder buying memory from Corsair, you have two main options to choose from. Many tend to gravitate towards the Dominator Platinum kits, whether it is their vanilla kits, the ROG version, the black and chrome limited edition sets, and as of late, you also have the Torque kits to ponder. All of these are intended to be overclocked and typically come with highly prized Samsung ICs. On the other hand, there is the way of the Vengeance series of DDR4. Here again, there are a few options as well. You can opt for the Vengeance LPX if clearance for CPU coolers will be an issue, or you can also move to slightly taller sets with either red, white, or blue LEDs. Just recently though, Corsair has developed another option when it comes to this series, with the release of the Vengeance RGB.
Much of the design has changed, along with adding software controllable RGB LEDs into it. The Vengeance RGB is driven via the Link software where options are offered to change the lighting modes and colors, or it can also be controlled with some motherboard LED software as well. With what we see currently on the Corsair page, these kits can be had at speeds of 2666MHz, 3000MHz, and 3466MHz, with densities in the kits ranging from 16GB to 64GB. Voltages per set vary, and surprisingly enough, the best timings of the three options are found on their 3000MHz options.
For this review, we will be looking at the CMR32GX4M4C3000C15 kit that Corsair sent for testing. The Vengeance RGB kits all ship with an XMP 2.0 profile designed to work on all Intel motherboards without issue. Sporting a speed of 3000MHz with 32GB of density, we are also offered the lowest timing set of 15-17-17-35 2T to help drive down latency, and it requires 1.35V to run properly. With that all out of the way, and you now have a good handle on what is going on, we shall dive right in and see if the Vengeance RGB DDR4 is the RAM you want glowing from inside your chassis.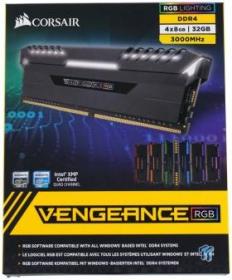 The background behind the larger image of the RAM stick is fancy, but Corsair also keeps to the black and yellow packaging we are all used to. At the top, we see that RGB lighting gets top billing for this DDR4 32GB 3000MHz kit. Near the bottom are mentions of its Intel support and XMP certification, just above the Vengeance RGB name. The last thing to note is the line where it says RGB software is available for all Windows-based Intel DDR4 systems.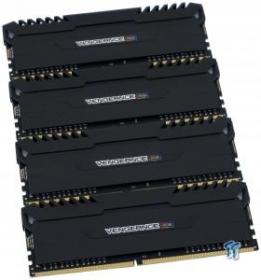 Inside of the box, we located our four 8GB sticks and find that they have heat spreaders which are done in a matte black finish on top of black PCBs. Vengeance RGB is located on only this side of the main section of heat spreaders, and the top is louvered to allow light to pass through the metal top component, which is where most of the styling is offered.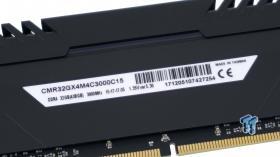 On the back of each stick, where the Vengeance RGB label was applied on the reverse, there is a product sticker applied here instead. The label covers the model number, the density of the kit, its speed, the timings, the voltage, and even tells us that this set is made from revision 5.30.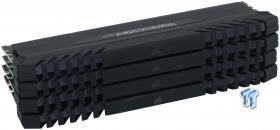 Along the top edge of the Vengeance RGB sticks, we see that two halves come together at the ends, but the center sections are solid, almost. In the center, tiny holes are drilled to deliver the Corsair sails logo, and also allows light to shine through it. On either side, there are six slots for the RGB LED light bar under the spreaders to shine through there as well.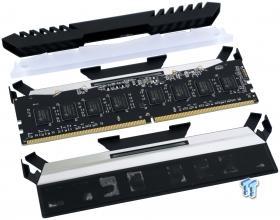 The Vengeance RGB have three-piece heat spreaders, where the top of them is an easily removable bit of bent metal, which covers the opaque light bar which uses four LEDs per stick to make it glow. Both sides of the larger pieces of heat spreader are taped to the PCB on the back, and to the ICs on the front, but it is a thicker heat transfer tape than we see on many other kits in the wild.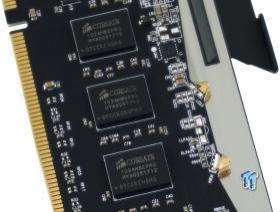 Typically, this is where we would go into great detail about the ICs used in this set of memory. However, Corsair has opted to have their name on the ICs, with other fine print below it. As to the maker of the chips, the fine print wants us to believe this is Hynix based memory, and in testing, it reacted like we would expect Hynix ICs to clock.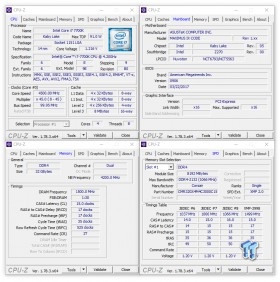 Simply by entering the BIOS and enabling the XMP profile, the Vengeance RGB boots into Windows with all of the specifications that we saw on the packaging. Using 1.35V for the VDIMM, 1.152V to the VCCIO, and 1.136 for the VCCIO, the CMR32GX4M4C3000C15 kit posts with 3000MHz and 15-17-17-35 2T timings. No fuss, it just springs to life, as we expected it would.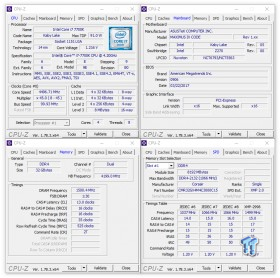 We did have to raise the VDIMM to 1.45V to accomplish this, and while the VCCIO stayed the same, we did have to increase the VCCSA to 1.25V to get these timings stable. With slight modifications to the voltages or Vengeance RGB kit was able to be lowered down to 13-16-16-35 2T timings. This is not a drastic drop in timings, but we do like that there is some room to play around a bit to try to increase performance.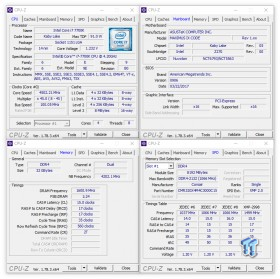 Reapplying the XMP profile, and again, needing the VDIMM at 1.45V and the VCCSA set to 1.250, we were able to get a little bit more speed for this kit. 3200MHz is all she wrote for the Vengeance RGB, which again, is not stellar compared to kits that deliver 400MHz plus increases, but we are still getting a bit more bang for the buck when it comes to overall speed.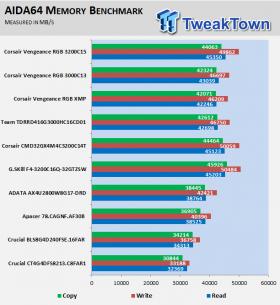 Using AIDA64 to shed light on the performance, we see that the Vengeance RGB is slightly slower than the Team memory we just tested before it. Not by much overall, and we do see a slight win for Corsair in read speeds. Lowering the timings does have a benefit here, bumping up all three test categories, but hands down, the extra 200MHz boost performance the most.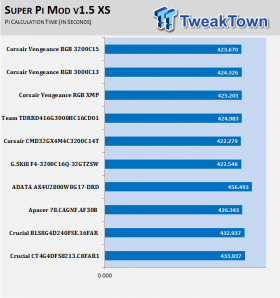 When it came to the Super Pi run, the Vengeance RGB and the Team memory are neck and neck, with just 0.218 seconds difference. With XMP performance where it should be, we also tried it with lowered timings, gaining nearly a second, and with more speed, the gap is only slightly wider with 1.531 seconds from the XMP profile. Not huge margins of performance over XMP, and likely not worth the added voltage.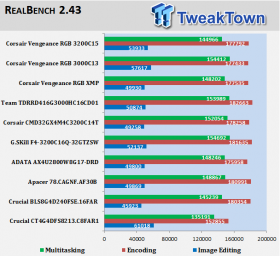 Hands down, when using RealBench to test this kit, the Team T-Force Dark ROG puts a hurting on the Vengeance RGB comparing XMP profile usage. In fact, we see many slower kits handling their business better and even lowering the timings or adding speed to the kit does not seem to compare with the TridentZ either.
We have been sent some stunning looking memory. The RGB LEDs seem to take top priority in this set, however. Styling cues are nice with the matte black heat spreaders and the way the lighting is shown through the logo and the slots to either end of the sticks, but once you are past all things fancy, what are you left with? In our opinion, we are left with an average kit of DDR4, using medium-grade ICs, and even with lower timings than other kits on our chart near or at this speed, and allowing slower binned kits to compete and surpass the Vengeance RGB does not show well for Corsair.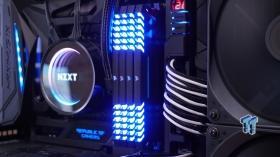 When it comes to trying to give Corsair a leg up by lowering timings or raising the speed, we found that to be overly complicated as well. Things that other kits do with relative ease, we found ourselves having to push the voltages to levels, where manufacturers say, is the top end of the range, and was not justified by the results we got. We totally realize that overclocking is not guaranteed with any set of DDR4 that comes across our desk, but in this instance, had we been given more headroom for the dollar, there may have been something to promote the Vengeance RGB kits with. Yes, the Link software works well for changing LED modes and color options, but after about five minutes of toying around, even the RGB LEDs lose a bit of their flair outside of what you see inside of the case day to day.
What we have found when it comes to retail pricing is also not great for Corsair and this set of Vengeance RGB memory. Compared to other makers, at 3000MHz, with CAS15 timings, many kits are considerably more affordable. Even compared to the Vengeance LED kits, there is nearly a $50 premium just for the option to toy around with the lights. Current pricing on the Corsair Vengeance RGB memory is set to $312.99 for this specific set of DDR4, and we are having a hard time justifying what it is we have here.
We could get better performance for less money, and even if we opted for the Vengeance LED kit from our past, at least that had top-tier ICs with loads of headroom to get the performance we did not expect. As for the Vengeance RGB, we have just looked at; aesthetics are where it is at. This is an instance where we feel a company might be trying too hard to please the market with fancy add-ons and possibly lost sight of what memory is used for in the first place.
Chad's DDR4 Dual-Channel Test System Specifications
| | |
| --- | --- |
| Performance | 80% |
| Quality | 90% |
| Features | 75% |
| Value | 70% |
The Bottom Line: Corsair's Vengeance RGB memory is spectacular looking and RGB LEDs are all the rage right now. However, beyond that, we feel the performance is not there when compared to other kits. The premium pricing doesn't help it's case either.
PRICING: You can find products similar to this one for sale below.

United States: Find other tech and computer products like this over at Amazon.com

United Kingdom: Find other tech and computer products like this over at Amazon.co.uk

Australia: Find other tech and computer products like this over at Amazon.com.au

Canada: Find other tech and computer products like this over at Amazon.ca

Deutschland: Finde andere Technik- und Computerprodukte wie dieses auf Amazon.de
We openly invite the companies who provide us with review samples / who are mentioned or discussed to express their opinion. If any company representative wishes to respond, we will publish the response here. Please contact us if you wish to respond.