Corsair Dominator Platinum Torque DDR4-3200 RAM Review
Corsair's Dominator Platinum Special Edition-Torque DDR4-3200 32GB Dual-Channel memory kit launches right now and here's our review.

Published Thu, May 11 2017 8:00 AM CDT
|
Updated Tue, Nov 3 2020 6:58 PM CST

Corsair delivered a new kit of DDR4 for its World debut, which is a slight spin on the Dominator Platinum Special Edition, but this time with a hotrod twist. Along with things like a ten-layer PCB, the highest grade sorted ICs, and full compatibility with X99, 100, and 200 series Intel motherboards. The Dominator Platinum Special Edition-Torque kits come with a heat-treated effect on the top bar, orange fins in the DHX cooling setup, and white LED lighting compatible with Corsair Link. If ever there was a time to buy into some of the fanciest memory currently offered, this is that time.
As of this moment in time, it appears that there are two versions of the SE-Torque offered. One kit is made of a pair of sticks which are single sided, and arrive as a set of two 16GB sticks. The CMD32GX4M4C3200C14T kit we were sent is made of four 8GB sticks, but both sets are based on Samsung B-Die ICs and have XMP 2.0 profiles for 3200MHz speeds. The RAM is intended for an enthusiast who not only appreciates the styling but also opts for top-tier components for overclocking headroom. If you do like what you are about to see, keep in mind, they are being sold as a Limited Edition, and currently, only available for purchase through Corsair.
Get your bank accounts ready for the Corsair Dominator Platinum Special Edition-Torque you are about to see. 32GB kits are already associated with premium pricing for the density increase, and with looks as stunning as this, you can assume the cost goes up even more. This is also the first kit reviewed under our new test system, an ASUS Maximus IX Code, paired with an Intel i7 7700K processor. We have added a few older DDR4 kits into the mix as a point of reference, but as you will soon see, Corsair not only delivers impeccable aesthetics, they also bring forth the performance one expects from a set of this nature.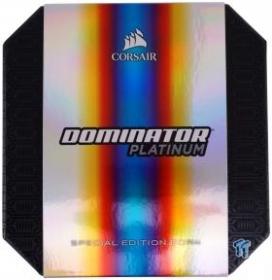 The premium packaging delivers excitement as soon as the delivery box is opened, and your eyes catch the metallic rainbow on the stylized black octagonal shaped box. All of the basic information can be found on the top, but to see the model and serial numbers, you will have to flip this packaging over, where there is also a description of what you are about to find inside.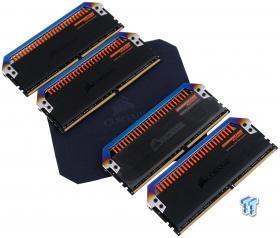 Inside of the box, contained in both high-density foam and clear plastic clamshell packaging, all of the sticks are shipped. We left the plastic protection on the aluminum of one of the four sticks to this kit, and we also see that there is a cleaning cloth to remove fingerprints from all of the high-end finishes.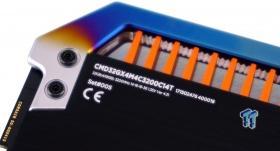 Just under the heat-treated top bar and the orange fins, we find that rather than a sticker, the model number and XMP 2.0 profile have been painted onto the brushed aluminum. It can be seen that this is the CMD32GX4M4C3200C14T variant, and out four stick kit is designed to run at 14-16-16-36 2T timings, with 1.35V. Also worth noting, this is kit number five of the Limited Edition run.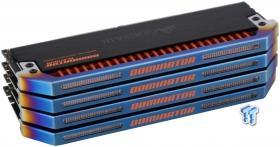 From the top of the Dominator Platinum SE-Torque sticks, we see all of the beauty in one shot. Thick, black, brushed aluminum sides, orange paint on the fins as well as the naming on the top edge and the heat spreaders, LEDs without the need for external power, and the burnt look to the top bar all come together to make one eye-catching set of memory.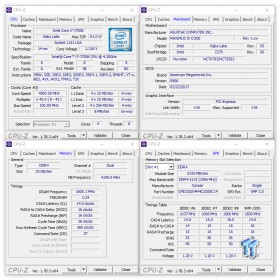 Booting the SE-Torque memory is as easy as setting the XMP 2.0 profile active and allow it to do its thing. The Torque is currently running at 3200MHz, and the timings are as described in the literature and on the packaging. Obviously, the VDIMM is set to 1.35V, but we also peeked and saw the VCCIO set to 1.216V and the SA to 1.20V.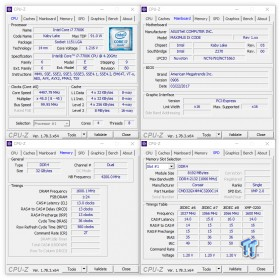 We them moved to attempting to lower the timings to see what the Corsair memory has to offer in that department. We were able to lower the timings to 13-13-13-36 2T. Still at 3200MHz, but we were using a VDIMM of 1.45V. The VCCIO and SA voltages did not change, and adjusting them did not result in a lower stable set of timings.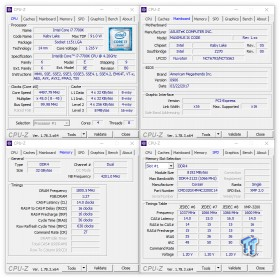 The other way to venture into overclocking is to find how fast the kit can go and to do this, we do increase the VDIMM to 1.45V, but we use the XMP 2.0 profile for timings. The SE-Torque is impressive, offering us a 400MHz increase in speed, but we did need to use 1.272V to the IO and 1.264V SA to stabilize the RAM at this speed. Still, though, it is hard to complain when a set runs at 3600MHz at CAS 14.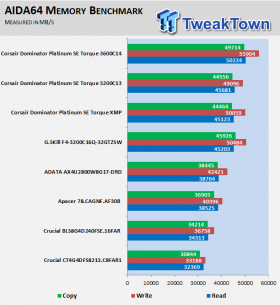 We are still using AIDA64 as a bench in which to test the transfer rates of DDR4. In this chart, we do see that our older G.Skill kit is slightly better when both are run with the XMP 2.0 profile. However, they are on par, for the speed and timings used, and when we reduced the timings or increased the speed, improvements were found in all but the write results in the low latency run.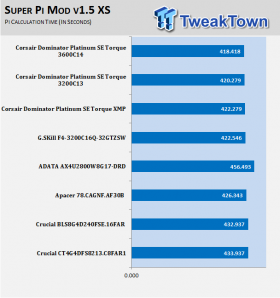 We have removed Mem TweakIt for Super Pi. All scores are in seconds, and the lower the time, the better the kit performs. In this chart, we see that the SE-Torque memory was able to deliver the lowest time of any of the kits in the chart, all using their XMP profiles. These are not record setting times, but as you can gather, it is pretty easy to drop a few seconds with slight tinkering applied to this DDR4.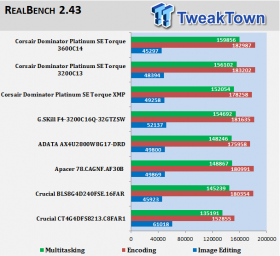 We decided to keep RealBench, but upgraded to version 2.43. In this test, the G.Skill kit has a slight edge over Corsair in all three aspects. It was not until we either lowered the timings or increased the speed, where we could surpass the metrics of the Trident Z 3200MHz set.
So let us recap on what we know. The build quality is superb, the appearance is like no other kit on the market, and Corsair made certain to offer these set of RAM with Samsung K4A8G085-BCPB B-Die ICs. Taking the original Chrome and Black Special Edition kits to the next level with the Torque edition, being a Limited Edition run of kits available, and delivering expected performance with plenty of built in headroom, makes the Dominator Platinum Special Edition-Torque DDR4 3200MHz sets a clear choice. All of that, combined with the appearance of this RAM, as we can see below, leaves us with very little to complain about.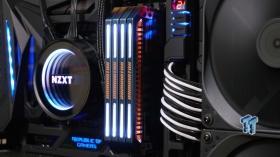 We do have to address the XMP 2.0 profile and the performance we saw using it. DDR4 at 3200MHz is much more likely to be delivered with CAS 16 or worse timings, so our hopes were high when seeing the CAS 14 speed of this kit. However, we cannot deny, that pound for pound, the Trident Z, at the same speed, but using looser timings, can eek past what Corsair offered us today. If you plan on overclocking the SE Torque memory, this complaint is diminished some, and this kit is not intended for those who just plug and play DDR4 memory. It is intended for the enthusiasts, who like to tinker and get the most they can out of their memory. In this respect, Corsair delivers in spades, and we had a lot of fun overclocking some of the best-looking RAM we have ever seen. Keep in mind too, we set limits to the voltage we use, for this review, but we do know with a bit more power delivered to the Dominator Platinum Special Edition-Torque DDR4, we were able to go higher in speed, as well as lower in timings at 3200MHz.
One thing that will keep these sticks out of the average Joe's hands, beyond the fact they are limited in production and only available through Corsair right now, it would have to be the cost. We are of the mindset that we can appreciate a price premium for products that go above and beyond, and that come in limited numbers, and we can appreciate the fact that this RAM does not come cheap. If you want to opt for a pair of 16GB sticks, be prepared to spend $399.99 before any shipping or taxes are applied. As for the CMD32GX4M4C3200C14T set that we were sent, the cost rises slightly to $449.99. At this time, we do not know how limited the run is going to be, but if you desire a low numbered set like ours is, you need to act fast. The enthusiast in us has us loving the Corsair Dominator Platinum Special Edition-Torque, yet at the same time, the pragmatic side of us can see this kit is not for everyone. Corsair has represented themselves well with the release of this stellar DDR4 kit, and for those who can appreciate and use the Samsung B-Die to extreme ends will be rewarded with a purchase such as this.
Chad's DDR4 Dual-Channel Test System Specifications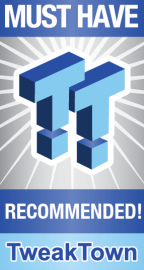 | | |
| --- | --- |
| Performance | 97% |
| Quality | 100% |
| Features | 100% |
| Value | 90% |
The Bottom Line: We feel that the XMP 2.0 performance could have been better, but this memory is not intended to be ran stock. The cost is subjective, but the Torque from Corsair is very attractive, and delivers plenty of headroom, using top-notch B-Die chips for the tinkerer in all of us.
PRICING: You can find products similar to this one for sale below.

United States: Find other tech and computer products like this over at Amazon.com

United Kingdom: Find other tech and computer products like this over at Amazon.co.uk

Australia: Find other tech and computer products like this over at Amazon.com.au

Canada: Find other tech and computer products like this over at Amazon.ca

Deutschland: Finde andere Technik- und Computerprodukte wie dieses auf Amazon.de
We openly invite the companies who provide us with review samples / who are mentioned or discussed to express their opinion. If any company representative wishes to respond, we will publish the response here. Please contact us if you wish to respond.