Dell Latitude 12 Rugged Tablet (Broadwell) Laptop Review
Dell's Latitude 12 Rugged tablet / laptop is not only rugged but also stylish and capable. But is it for you? Let's see.
Published May 12, 2017 8:20 AM CDT
|
Updated Tue, Nov 3 2020 6:58 PM CST
8 minute read time
TweakTown's Rating: 92%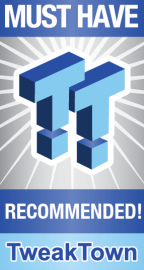 The Bottom Line
Rugged, stylish, capable, and enduring. The Dell Latitude 12 Rugged Tablet is prepared to take on the world.
Introduction, Specifications, and Pricing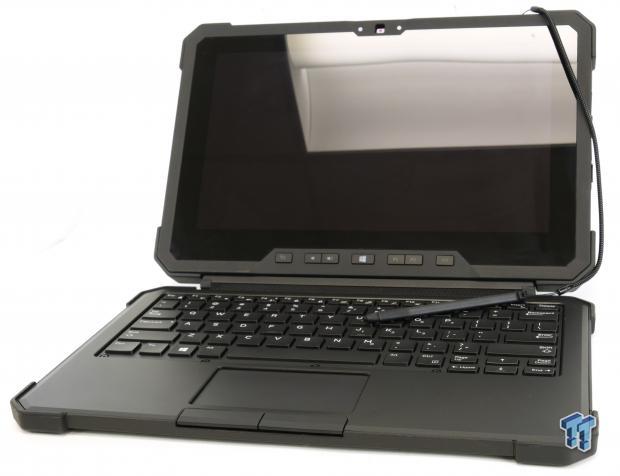 I have looked at Dell's Latitude 14 Rugged Extreme notebook with extreme water and ingress protection, and today I am taking a look at one of Dell's slightly less rugged tablets meant for heavy duty use. While the tablet is technically a tablet since it doesn't have a keyboard, it has more powerful hardware than some notebooks and uses a Windows 10 OS.
The Latitude 12 Rugged Tablet is certified MIL-STD-810G for everything from drop height to tactical standby and solar radiation. It can operate in extremes from -29C to 63C. It also carries IP-65 ingress protection, MIL-STD-461F electromagnetic interference, and ANSI/ISA.12.12.01 hazardous location certifications. It's very rugged, and while the certifications are on paper, I did have a chance to use one as a real-time GPS enabled map strapped to a jet ski. It survived hours and hours of intense water, sun, and vibration. Today I am not evaluating its ruggedness, but instead its performance.
Specifications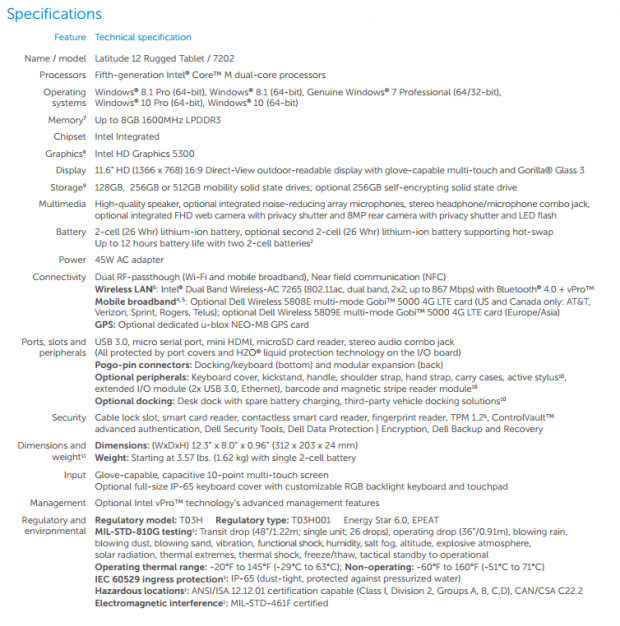 Our configuration is the Latitude 12 Rugged Tablet used a 2C/4T Intel Core M-5Y71 Broadwell-Y based processor, 8GB (dual channel) 1600MHz DDR3 memory, 256GB SanDisk X400 M.2 drive, Intel HD5300 Graphics, Intel 7265 Wireless-AC, Realtek based audio, TPM 2.0 module, and NFC sensor. Our unit also came with a magnetically detachable keyboard and kickstand, which are optional accessories. It's equipped with notebook level hardware and uses some of the most reliable controllers. The reason this tablet uses Broadwell instead of Skylake is because Broadwell has been tested thoroughly to ensure there are no issues that might pop up down the line with the microarchitecture.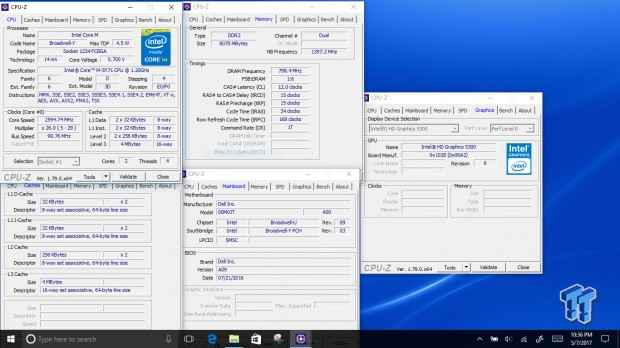 Our unit uses Windows 10. The unit has two 26Wh batteries, a fingerprint reader, a 11.6" daylight visible 1366x768 resolution touch display, front and rear webcams, a NFC proximity sensor, TPM 2.0, a BayHubTech/O2 MMC/SD card reader, a Smart Card Reader, a USB 3.0 port, mini-HDMI, a headphone jack, and Serial Port #1/COM1 port.
Pricing
The Dell Latitude 12 Rugged Tablet starts at $1849.
Physical Overview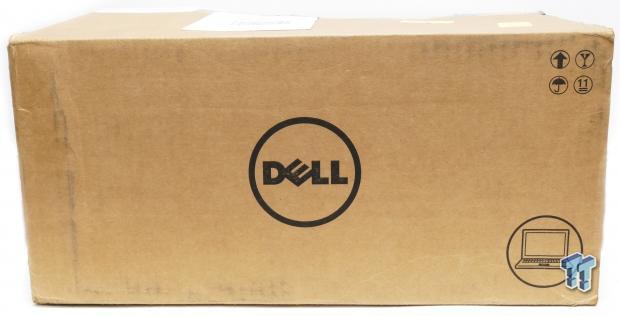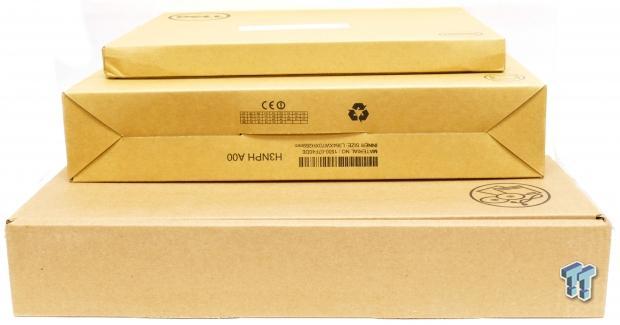 The Dell components come in separate boxes, all of which reside in one larger box. Our unit came with a keyboard and kickstand combo to make the tablet more like a notebook PC.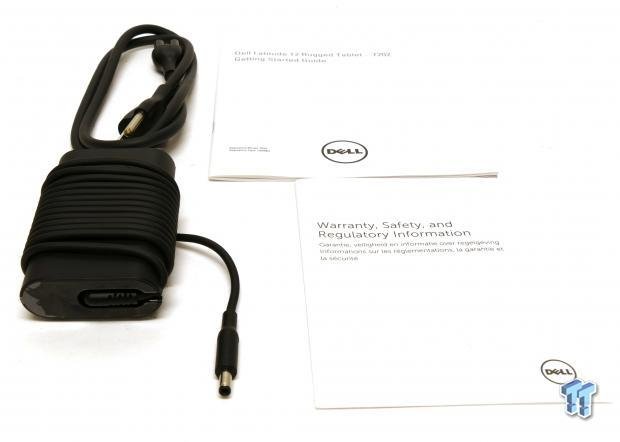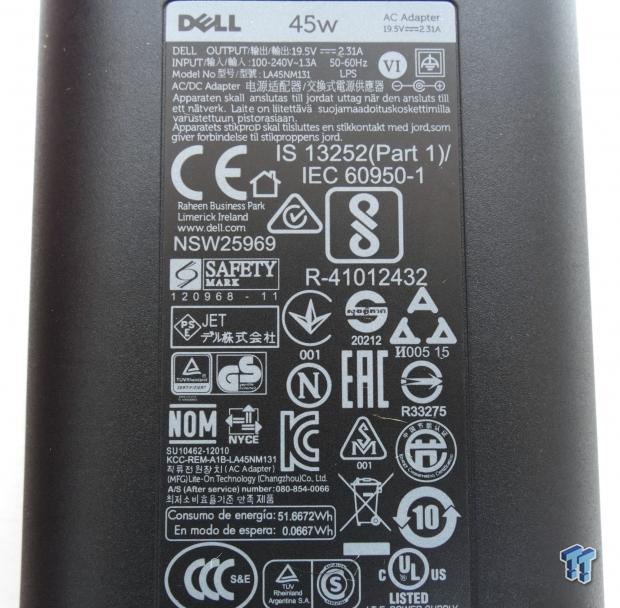 Accessories include an AC/DC power brick, AC power cord, and manuals. The power brick itself is rated 45W (19.5v/2.31A).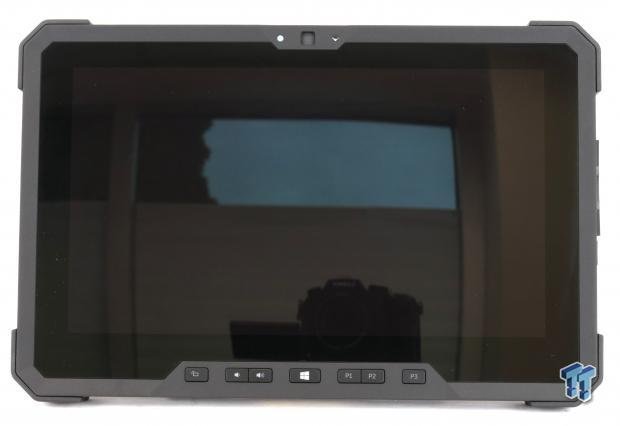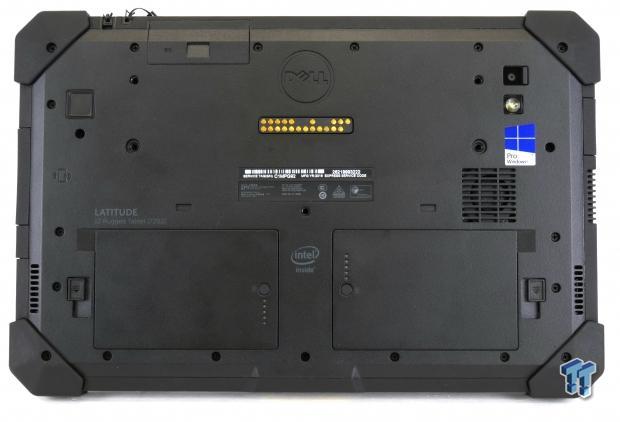 The rugged tablet has a few tablet-like buttons on it, and other than the fact it has no attached keyboard, it is much more of a notebook than a tablet. The display is a fully daylight visible (I tested it in many conditions, and it is), and has excellent touch capabilities and will even work with gloves. There is a camera not only at the front of the tablet but also on the back. The rear of the tablet has connection pads (Dell's Pogo) that allow the pads to dock. You can access both batteries from the back of the tablet, and yes, you can hot swap them. There is a fingerprint reader, camera, NFC sensor, and smart card slot on the rear of the tablet.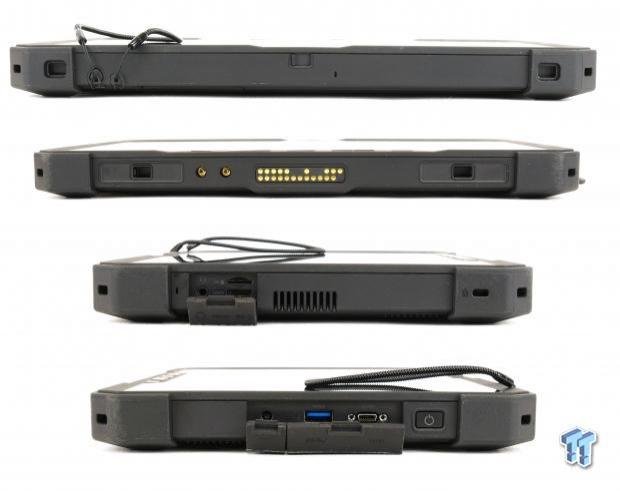 The top of the unit is where the stylus resides, where the microphone is located, and where you can open and close the front-facing camera guard. The bottom of the unit offers a second set of docking connectors (Dell Pogo) as well as an RF pass-through to allow the dock to act as a bigger WIFI antenna. On the left side of the unit are a microSD card reader, HDMI output, and headphone jack. It's also where the exhaust vent and Kensington lock slot are located. On the right side of the unit are the power button, USB 3.0 port, serial/COM port, and DC input jack. All the ports and jacks are protected from dust and water by rubber covers. While they don't make the tablet waterproof, they do make it quite splash resistant. All four corners of the tablet are protected by tough rubber, allowing the tablet to survive many drops from over 3 feet.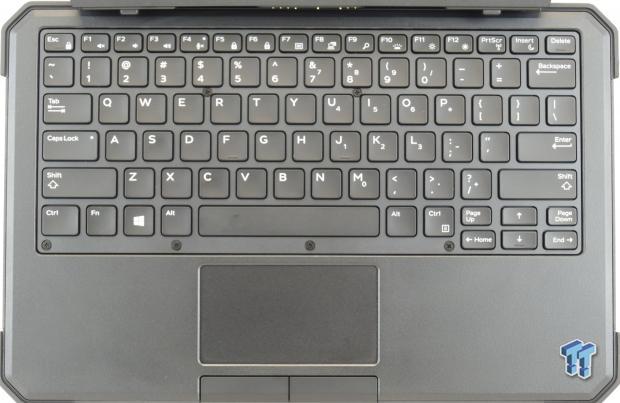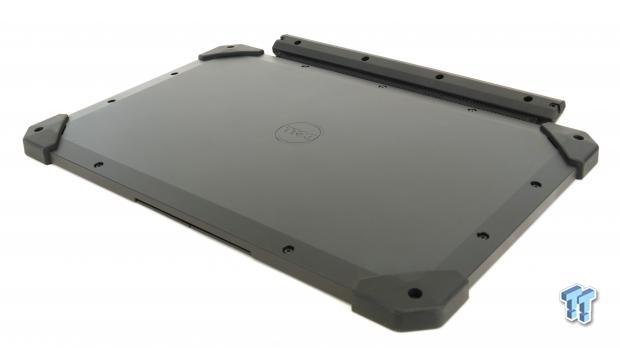 The keyboard/kickstand combo makes the tablet significantly more like a notebook. The keyboard is full QWERTY, has integrated RGB LEDs, and offers a touchpad. I missed having my mouse buttons removed from the touchpad; it makes things much easier for those of us who are more tactile. The keyboard is also rugged, just like the tablet.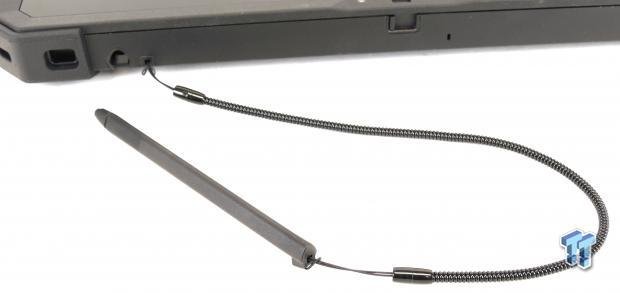 With the keyboard, touchpad, touchscreen, and stylus you have multiple ways of entering data and interacting with the Windows 10 OS. I like having all the options, the stylus is like a much more precise finger, and sometimes you just have to type with a real keyboard. The stylus is tethered to the tablet, and it seems quite strong.
Physical Overview Continued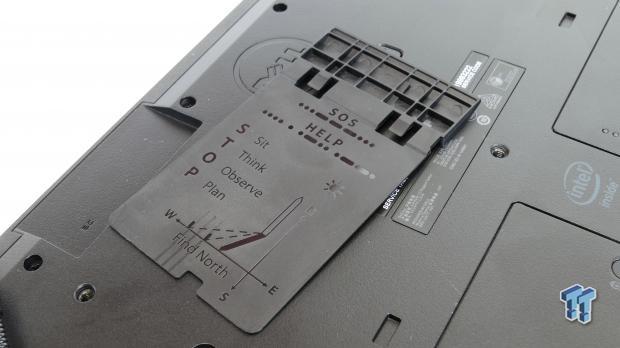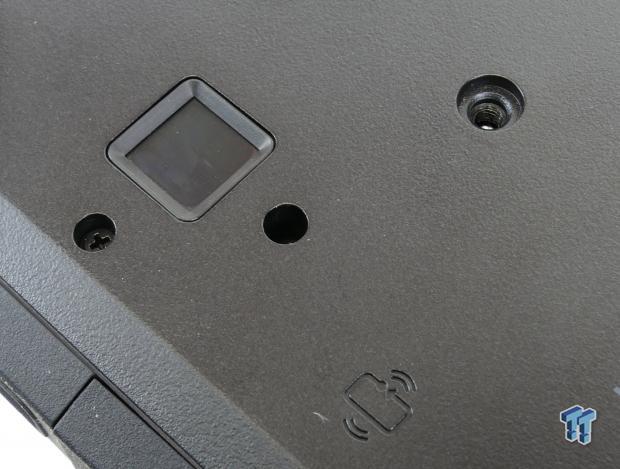 The smart card slot has a plastic card already inside of it to protect it from dust and splashes. On one side of the card is Morse code for SOS and HELP, STOP, and directions on how to find north. On the other side of the card, you get a ruler in both inches and centimeters. The fingerprint reader is on the rear as is the NFC sensor.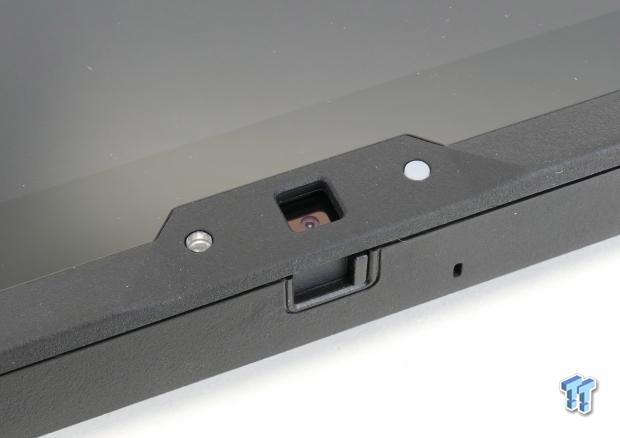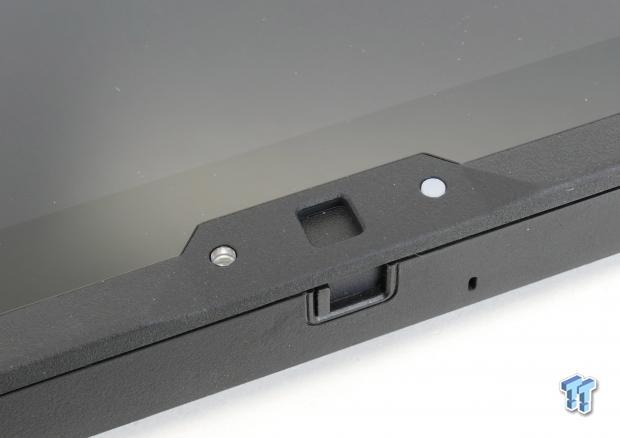 Both the front and rear camera get physical covers to protect you from being spied on, and lights will come on when the camera is in use.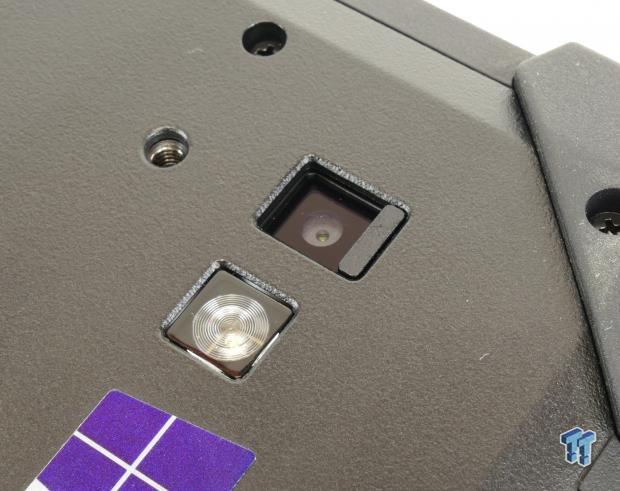 The rear camera has a large flash, and the quality is decent.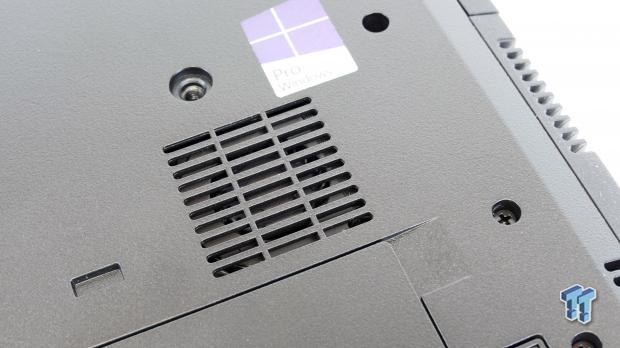 The tablet does have a heavy duty fan designed for rugged environments, you might hear it if you are doing very intensive tasks, but otherwise, it's silent.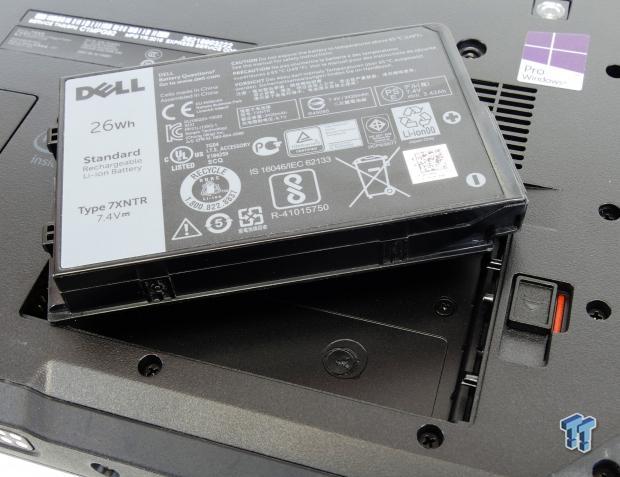 The unit comes with two 26Wh batteries, which you can hot swap when the unit is turned on. They last quite a long time, mainly because the hardware sips power.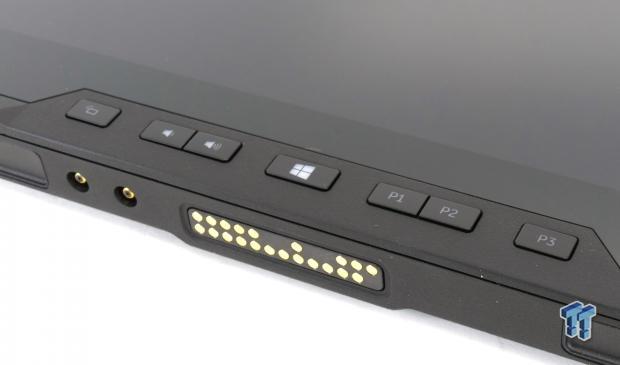 There are many buttons on the front of the tablet including rotation lock, volume down, volume up, Windows, P1, P2, and P3. You can program the keys through Rugged Control Center to do different things such as launch a program, enter night vision mode or turn on the flashlight.
Software and BIOS
Software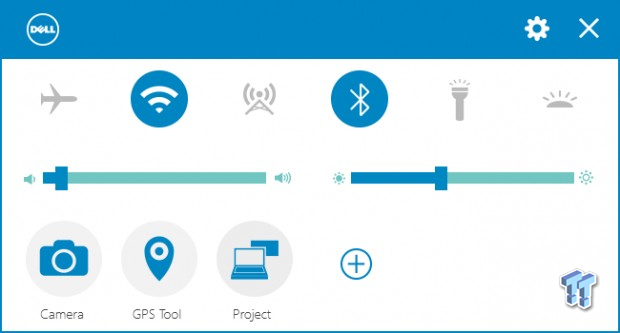 Dell's Rugged Command Center has to be installed after first boot up to take advantage of things such as the programmable buttons. It offers easy access to special functions.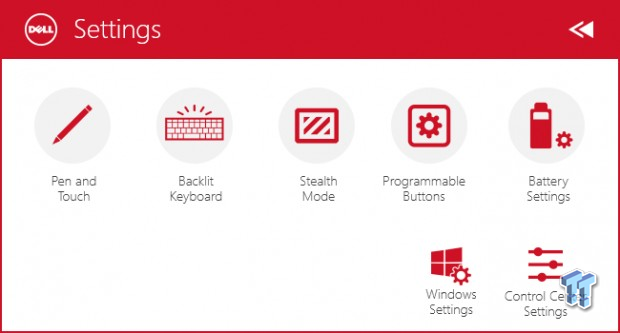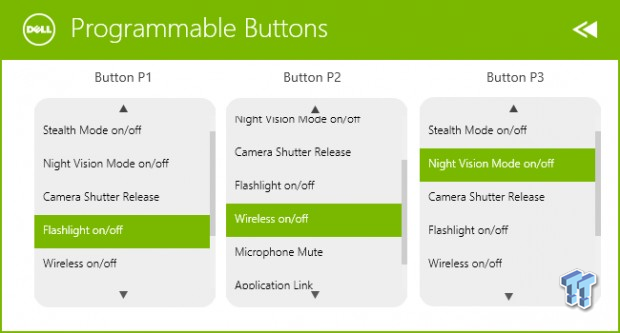 The program lets you set the keyboard's RGB LED colors or setup different battery schemes. There are multiple things you can set the programmable keys to do related to the hardware of the system, but you can also have them launch an application.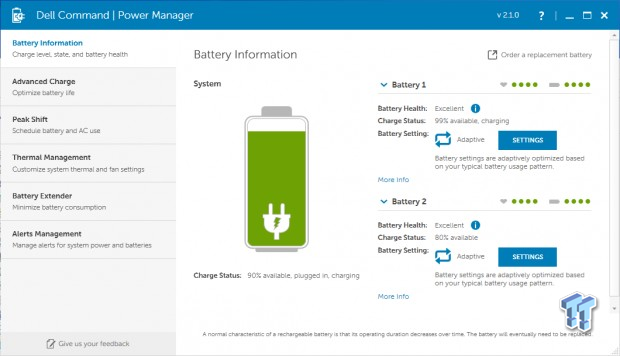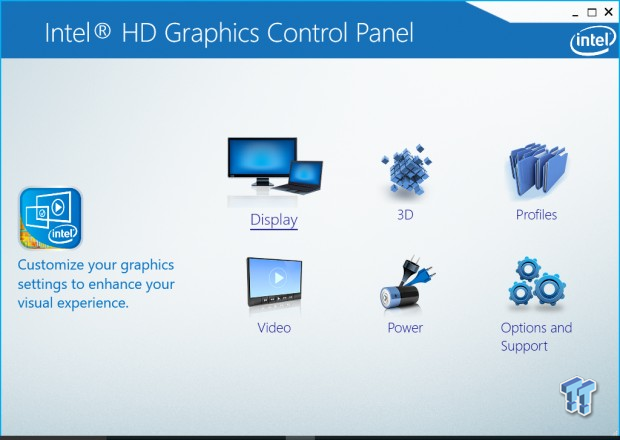 Dell's Command Center allows you to see general system parameters, and here we see that the batteries charge independently (ones charges a little then the other charges a little). Intel HD Graphics Control Panel allows you to work the integrated graphics.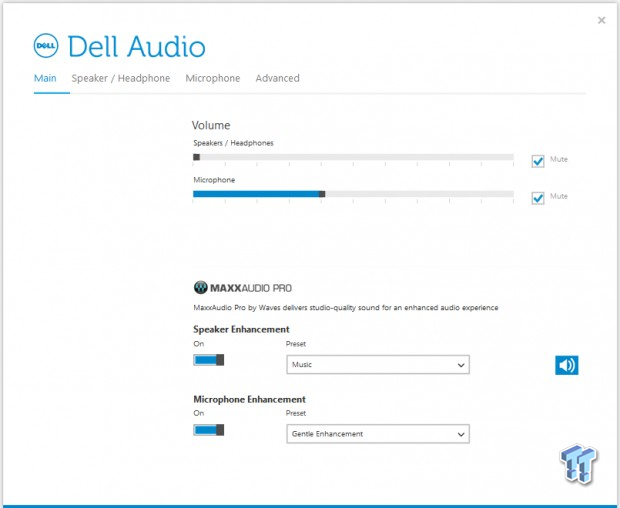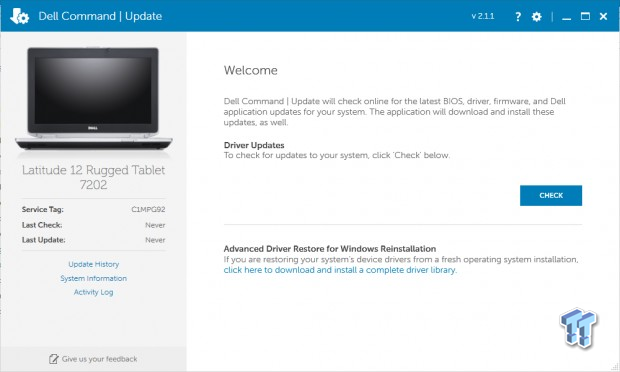 Dell Audio is where you can tune the audio output. It includes MAXXAUDIO PRO. Dell Command Update lets you update Dell software securely.
BIOS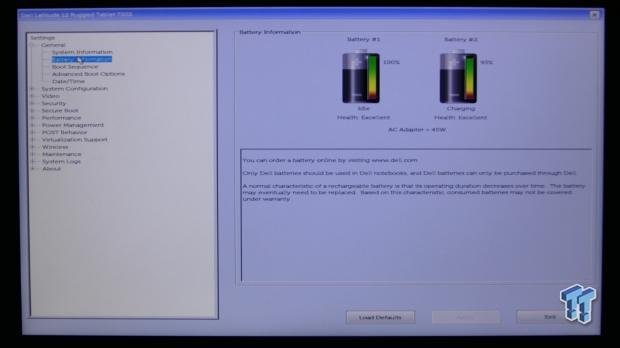 Dell's UEFI is almost like an application inside a UEFI, mouse control feels natural, and the menu is setup in a tree-like fashion. You can change everything from the RGB LED colors to peak use hours. You can monitor the batteries and setup virtualization. The UEFI shows that secure boot and TPM are enabled by default. The UEFI even keeps logs of events.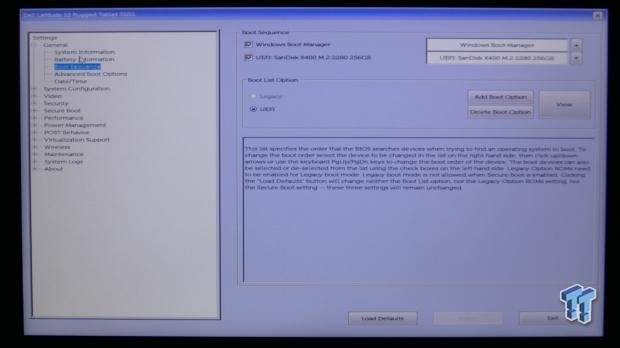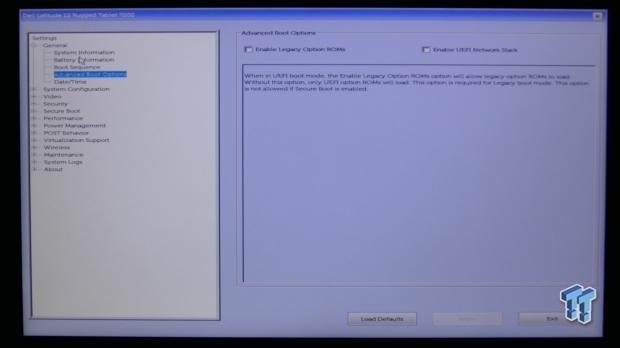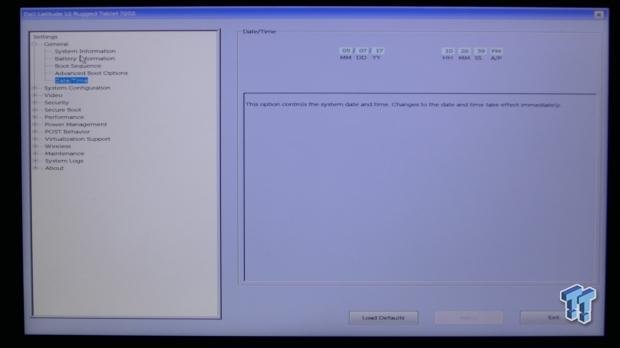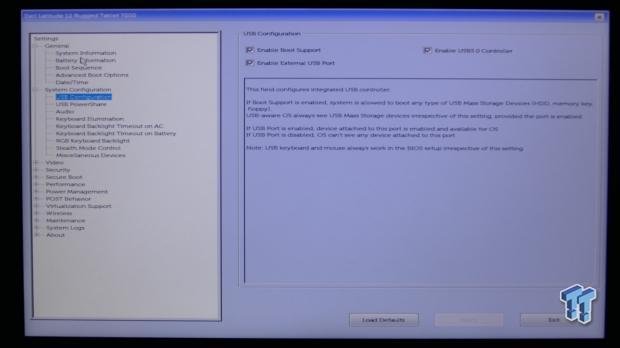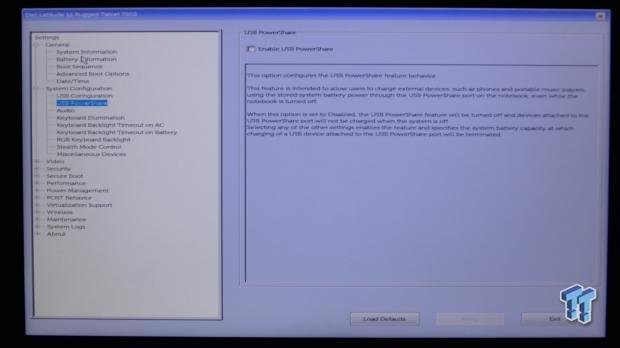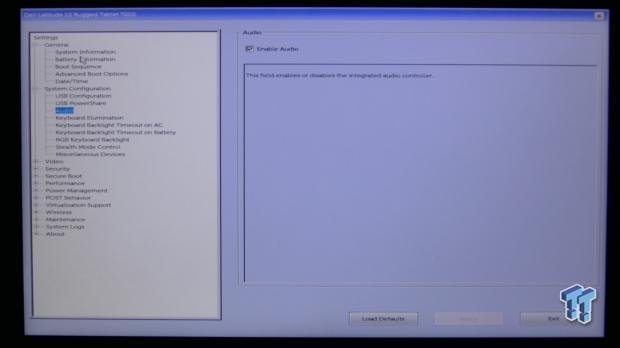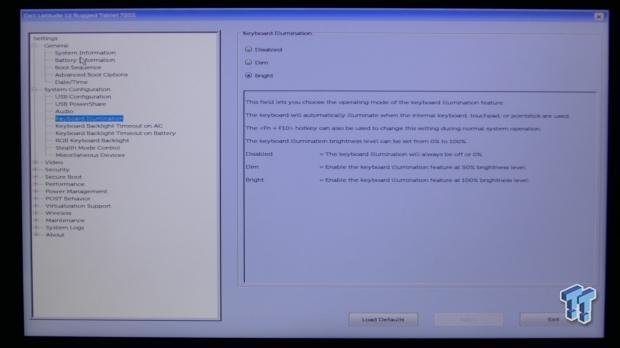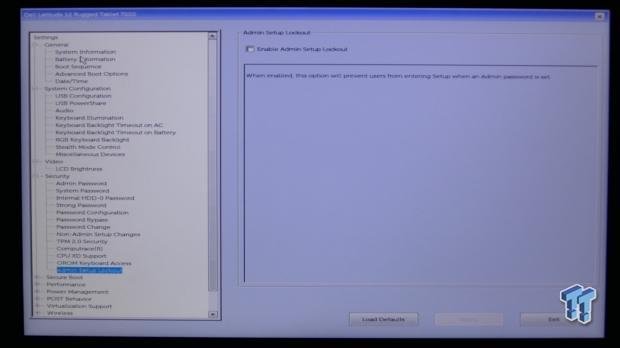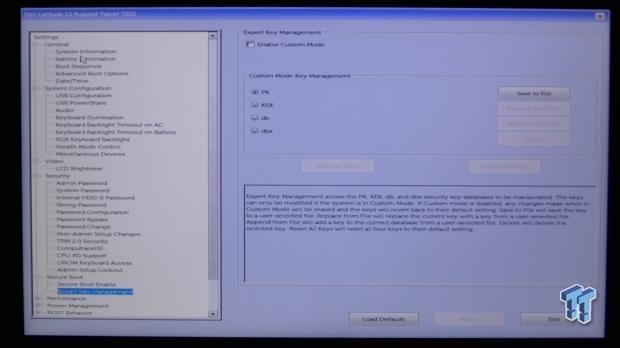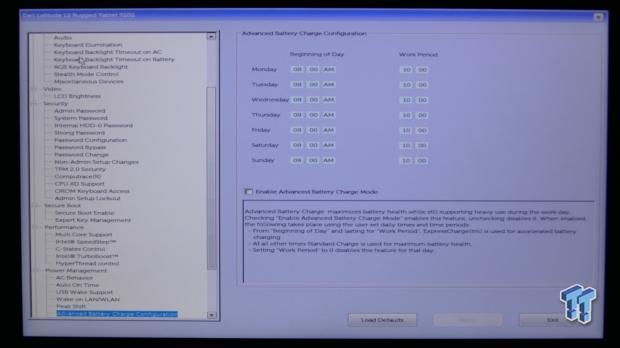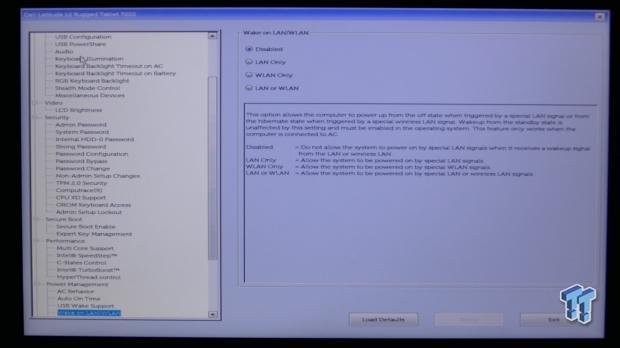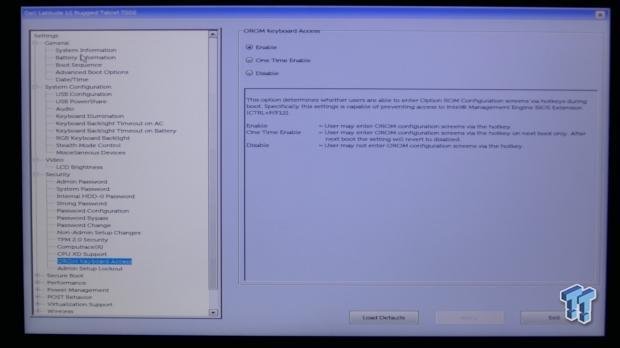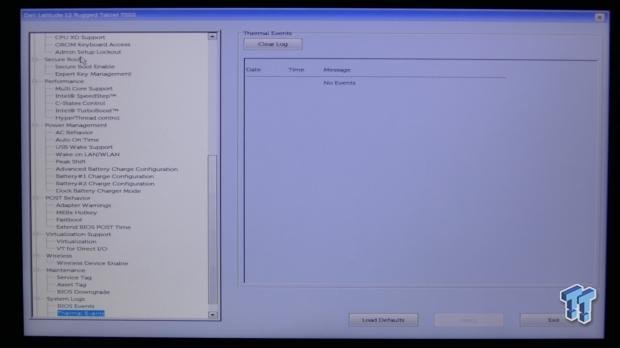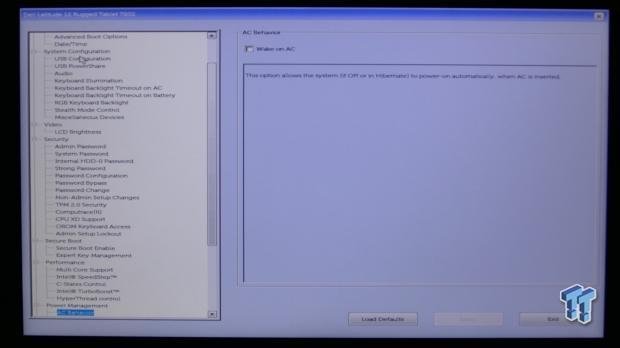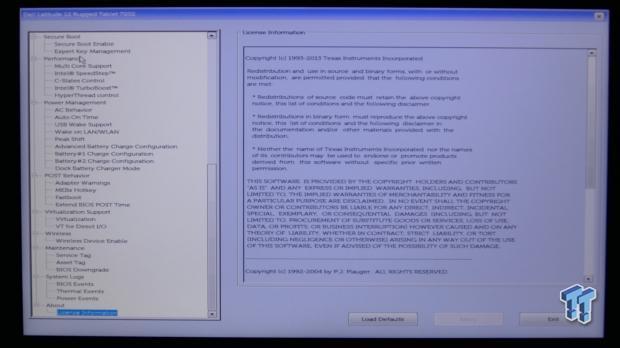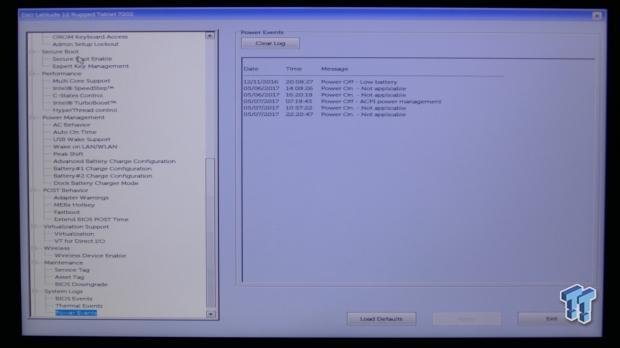 System Performance Benchmarks
CPU, Memory, and System Benchmarks
These benchmarks are run using default settings and configuration.
CINEBENCH 11.5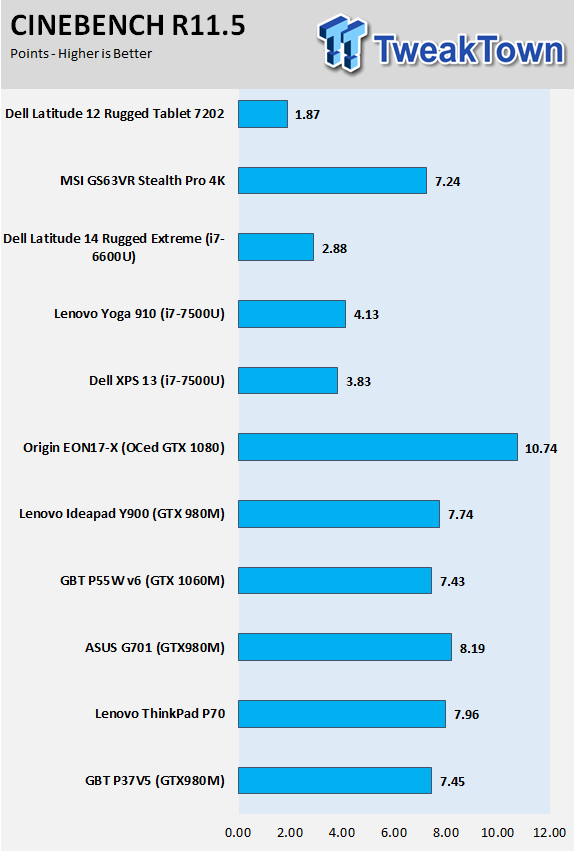 wPrime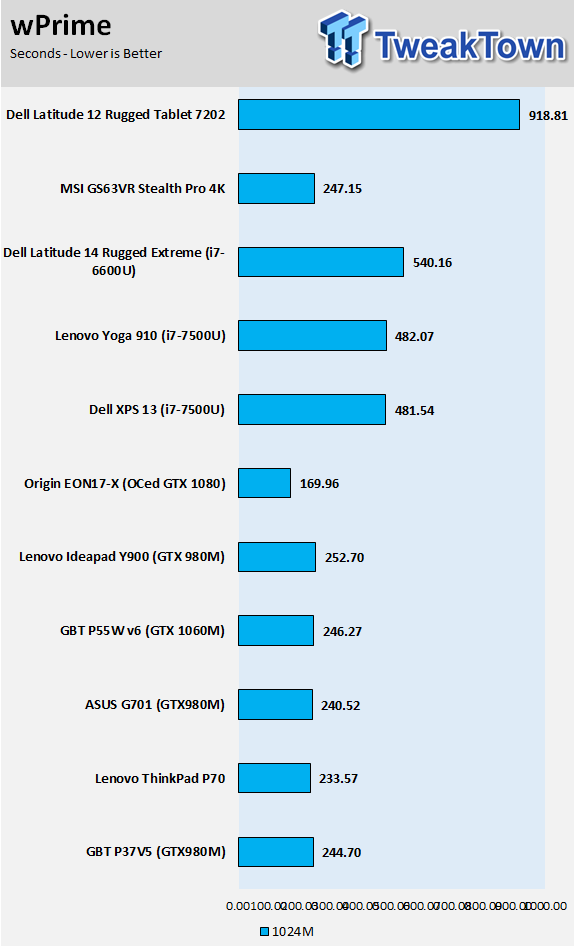 AIDA64 AES and HASH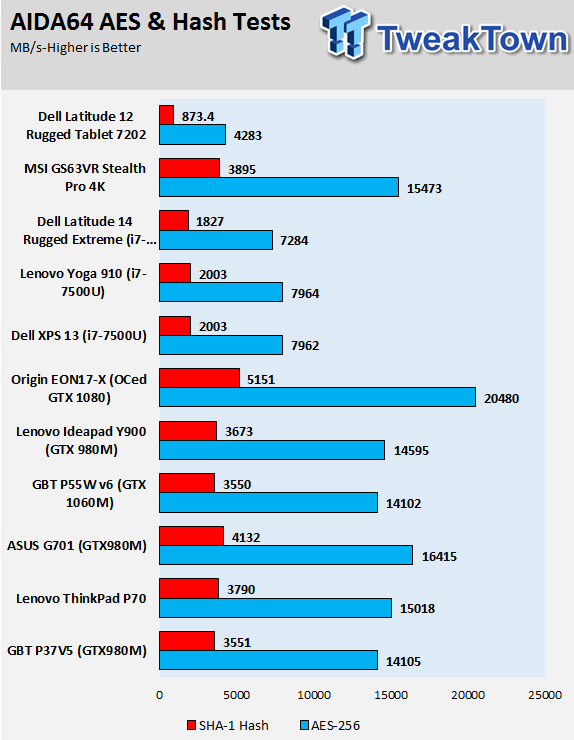 AIDA64 Memory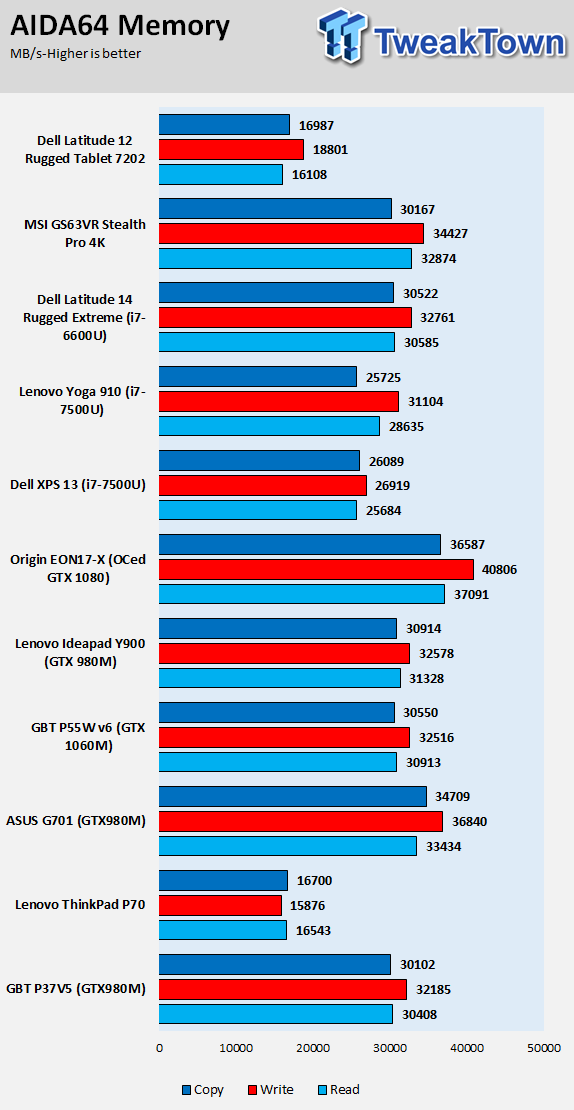 PCMark8 Home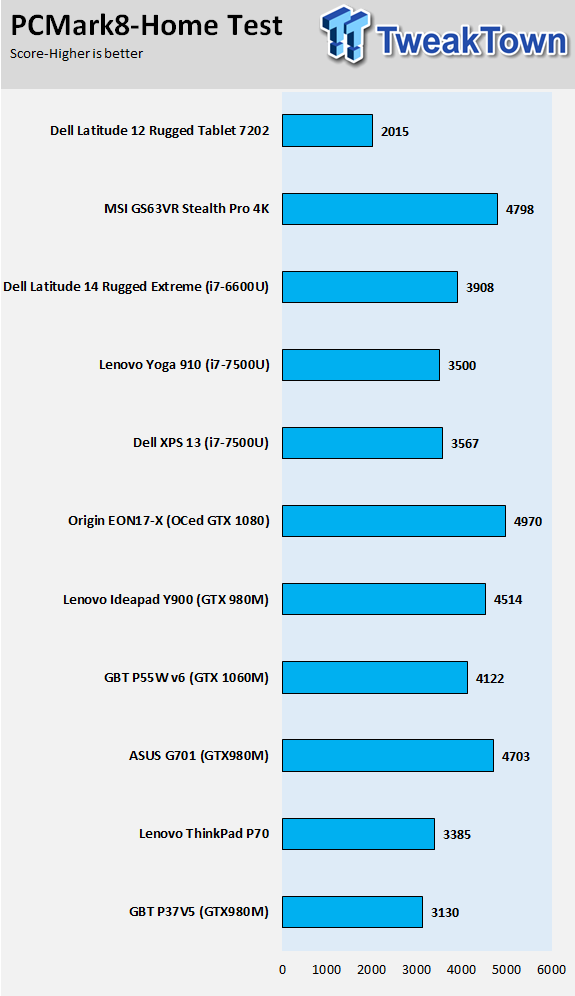 Handbrake 4K and 720P Transcoding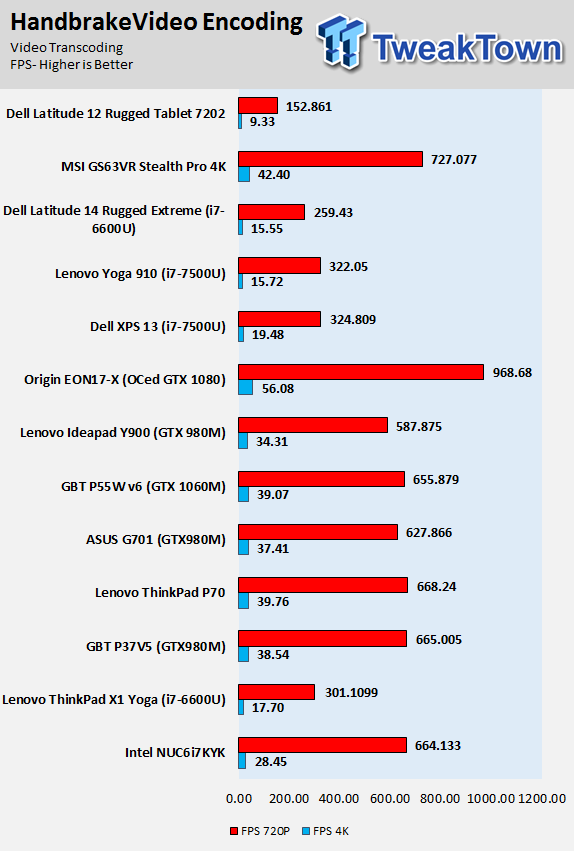 WebXPRT 2015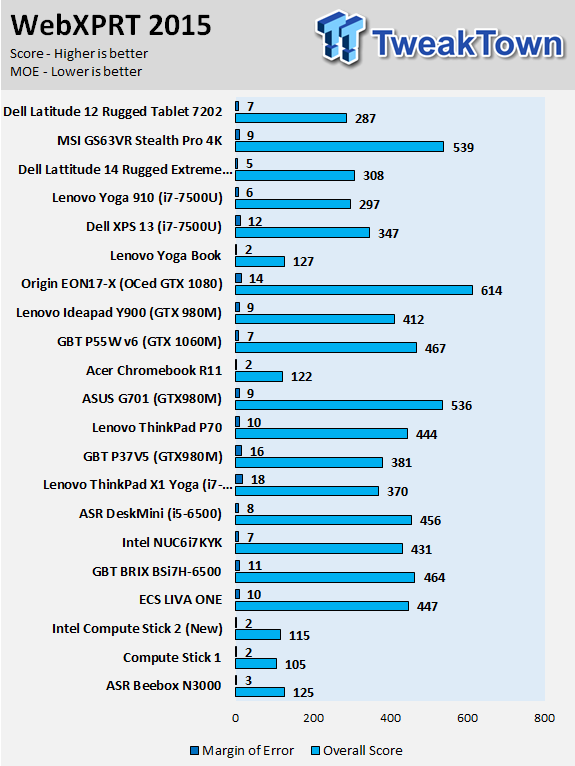 3DMark11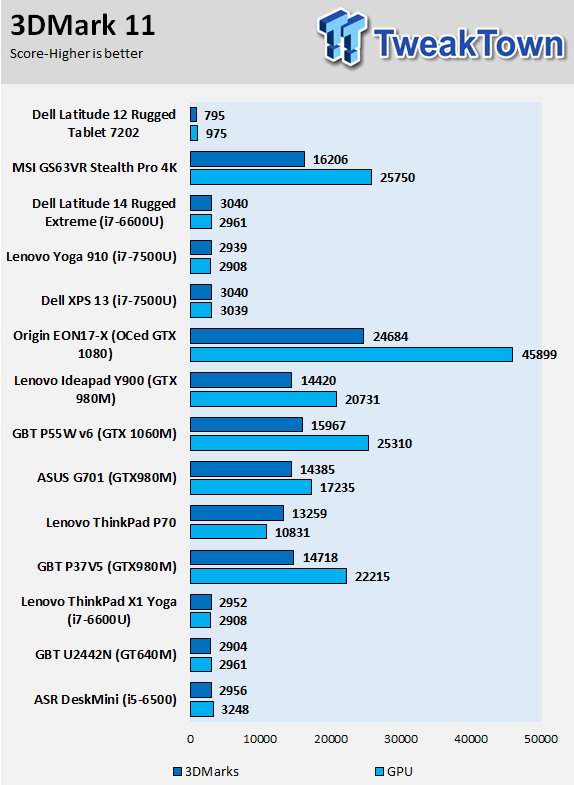 UNIGINE Heaven 4.0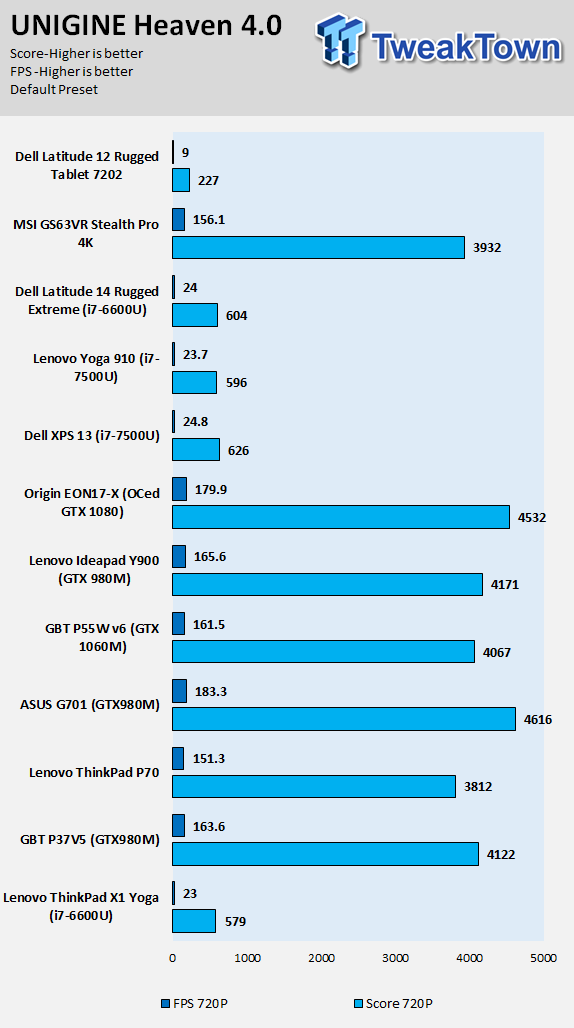 The little Core M-5Y71 might have a decent boost clock and two cores and four threads, but it's no match for mobile Core series CPUs. However, the Core series CPUs do not have 4.5W TDPs. You give up performance in heavy tasks such as games or HandBrake encoding, for longer battery life and portability.
However, the tablet is just as snappy as the Core series notebooks I review; it's much quicker than devices such as the Compute Stick or Celeron processors. If you are surfing the web, you won't notice too much difference between this product and a full-sized notebook, but as soon as you kick up a program that is CPU or iGPU intensive, you will notice the difference.
System IO and Battery Performance
System IO Benchmarks
Internal Storage Read Test: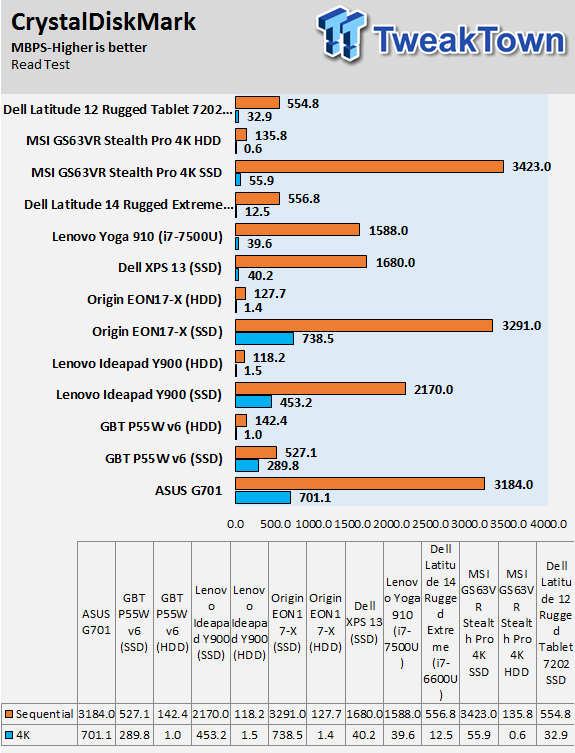 Internal Storage Write Test: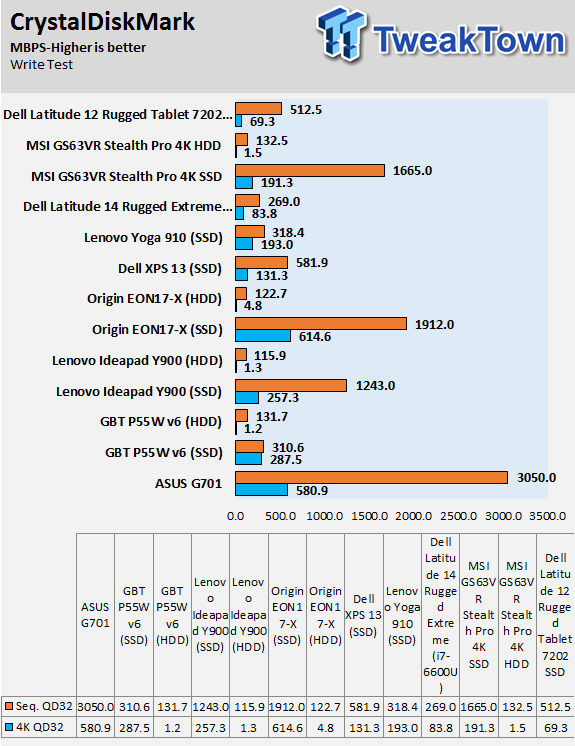 ixChariot Network Throughput: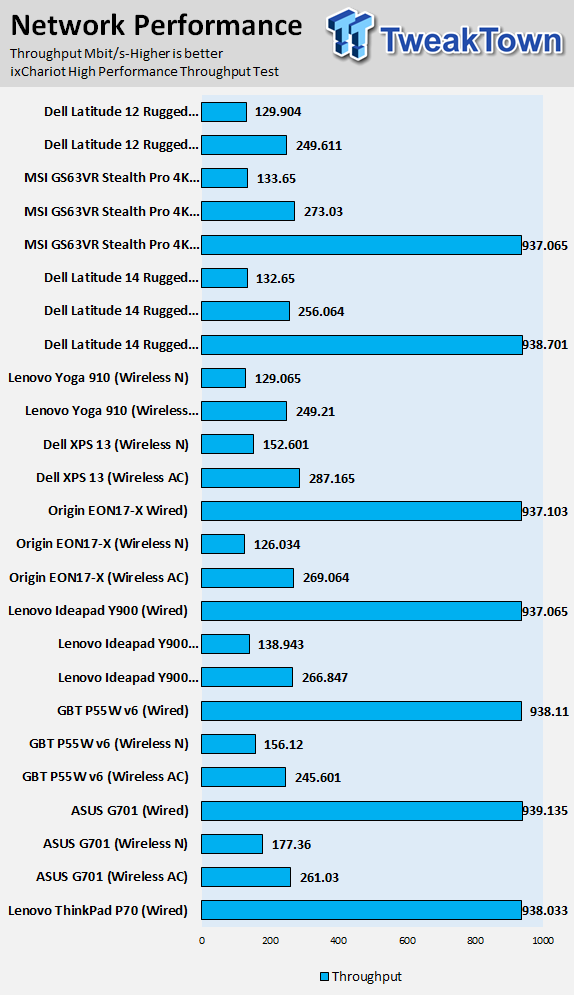 I was surprised by the speed of the integrated SSD in the Rugged Tablet; it's faster than the SSD in the Rugged Extreme notebook I reviewed a few months ago. The SSD is just as quick as a consumer 2.5" SSD. Networking is excellent, but I expect that from an enterprise class device.
Battery Tests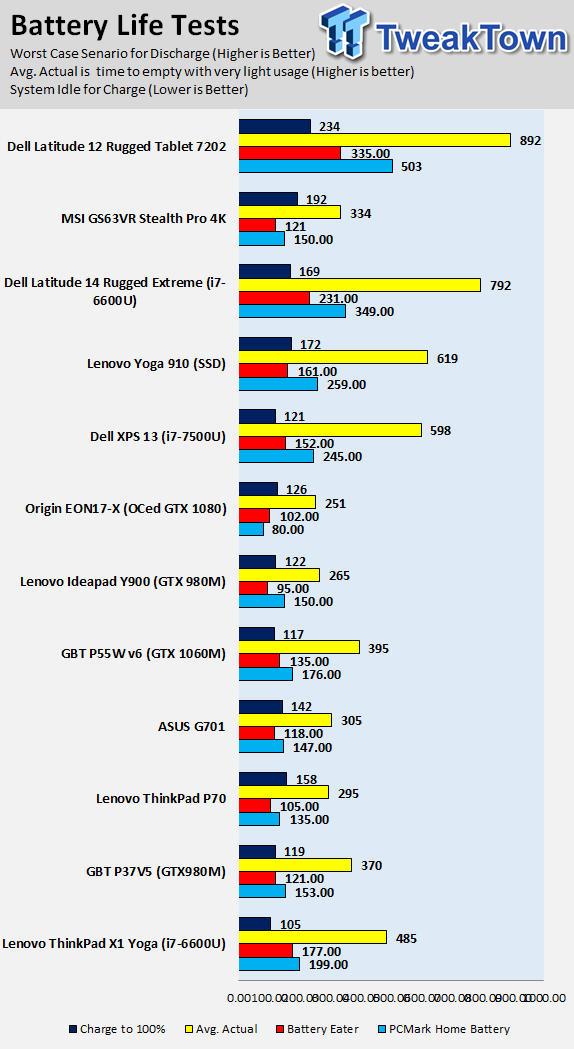 That is some intense battery life! I wasn't too shocked because the tablet has two hot-swap batteries and they are quite big. The device also doesn't use too much power, its Core M processor has a TDP of only 4.5W, and everything else is low power as well.
Thermal Performance
Thermal Imaging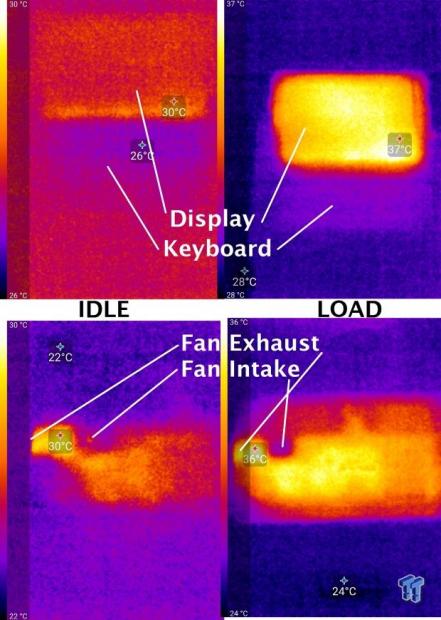 The "tablet" has a fan, it's a heavy-duty blower, but it's very tiny. It spins up when there is a heavy load on the PC, and keeps the unit from overheating.
The unit is sealed to some extent, so Dell has done their own thermal testing to ensure the device will work under the most dangerous conditions.
What's Hot, What's Not & Final Thoughts
Here are key points about the Dell Latitude 12 Rugged Tablet.
What's Hot
Battery Life: The Dell Latitude 12 Rugged Tablet tops our charts in regards to battery life. It's dual 26Wh hot-swappable batteries will let you continuously use the tablet for 10 hours without having to plug into recharge the juice. If you are on the go and will not be near a power source, this rugged tablet might be perfect for you. You can carry a few extra of those batteries and use the tablet nonstop; the batteries aren't oddly shaped or too big.
Extremely Durable: While it's not as rugged as the Rugged Extreme models, the Latitude 12 Rugged Tablet offers a high level of protection from the elements. You won't have issues using it in the rain or on the water, and it's strong enough to survive drops onto rocky surfaces, multiple times in fact. It has all the proper certifications for durability, and the list is very long.
Good Connectivity: Their wireless AC solution is top notch, and you can have it shipped with a WWAN modem to connect anywhere. It also has a single USB 3.0 port, microSD card slot, serial port, headphone jack, HDMI output, smart card reader, and NFC sensor.
Solid Security: Every camera has a cover, and the tablet has a built-in fingerprint reader. When the camera or microphone is on, easily visible lights are turned on, so you know it's active. That is not the extent of the security measures; you also get a built-in TPM 2.0 with a high level of UEFI based security. Dell also offers extra software security if you need it.
Some Fun: I like the insert that resides in the Smart Card slot which tells you how to find north, Morse code for SOS and help, and acts as a physical ruler. The RGB keyboard is also cool; you could even make this enterprise-class rugged tablet's keyboard light up pink if you wanted.
What's Not
Heavy: It's as heavy as your average laptop from 2010. You will notice its weight in your backpack if it's lightly packed.
You're Going to Want the Kick Stand and Keyboard: I don't find Windows 10's tablet mode that useful, I prefer only using the rugged tablet with the magnetic keyboard and kickstand. That being said, if you are using a program designed to work on a tablet, you will have a different experience.
Final Thoughts
Having used the Dell Latitude 12 Rugged Tablet in real life on the water and under the sun, I can attest to the usability and durability of the product. I want to take a second and say I really admire Dell's daylight viewable display although it is a bit small. I enjoyed using the tablet for normal tasks, and I almost never had to turn it off, and its battery life had something to do with it. It has best in class battery life, and while you do give up some faster processing power and add some weight, I think it's a good trade-off.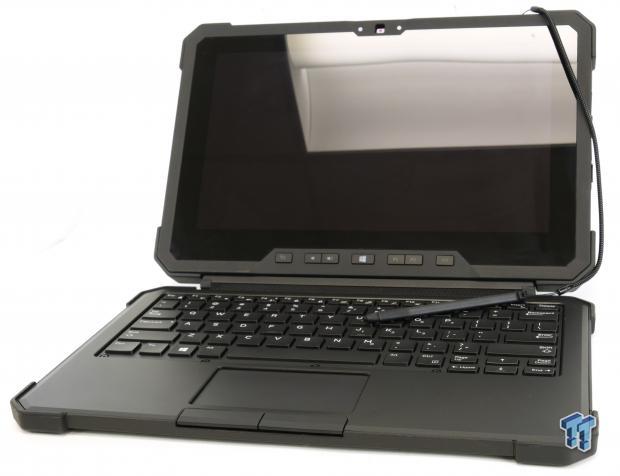 Whether it is in the wild, in the car, or on the river, the Dell Latitude 12 Rugged Tablet is designed for almost every environment and has enough horsepower to get the job done. While it will not replace your gaming notebook, it's definitely faster than most tablets on the market and runs a full Windows 10 OS. If you want a very capable and rugged tablet PC capable of taking on the world, give the Dell Latitude 12 Rugged Tablet a look.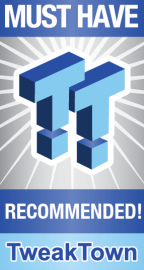 | | |
| --- | --- |
| Performance | 87% |
| Quality | 96% |
| Features | 94% |
| Value | 90% |
The Bottom Line: Rugged, stylish, capable, and enduring. The Dell Latitude 12 Rugged Tablet is prepared to take on the world.
PRICING: You can find products similar to this one for sale below.

United States: Find other tech and computer products like this over at Amazon.com

United Kingdom: Find other tech and computer products like this over at Amazon.co.uk

Australia: Find other tech and computer products like this over at Amazon.com.au

Canada: Find other tech and computer products like this over at Amazon.ca

Deutschland: Finde andere Technik- und Computerprodukte wie dieses auf Amazon.de
We openly invite the companies who provide us with review samples / who are mentioned or discussed to express their opinion. If any company representative wishes to respond, we will publish the response here. Please contact us if you wish to respond.