TweakTown's Rating: 96%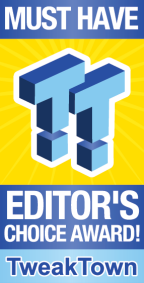 The Bottom Line
It's hard to believe that up to this point, in one short year, Synology has gone from entering a market full of big named vendors to producing the best AC2600 wireless router we've tested.
Introduction & Pricing, Availability, and Specifications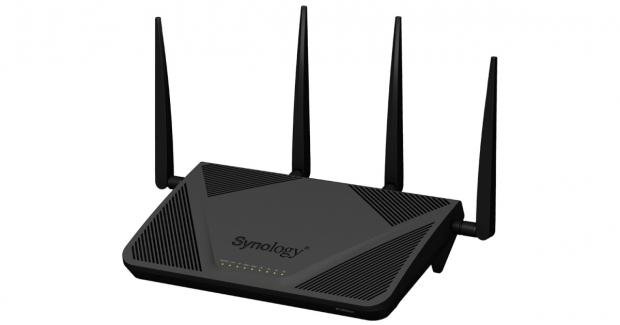 A touch over a year ago, we reviewed Synology's entry into the router market with their AC1900 class solution. That solution has now matured enough to where Synology is ready to launch their second, the RT2600ac.
This second solution, the RT2600ac, is a much more powerful routing solution. Going by the name, we have an AC2600 class solution with features including what Synology calls VPN Plus, a clientless VPN solution built into the router. Also, it supports WAN failover, a feature I have not seen up to this point - it allows the RT2600ac to support dual Internet connections, one via the WAN port and one via the first LAN port in either fail-over or load balancing mode. Smart Connect is a feature that has become increasingly popular where devices are connected to the most appropriate wireless band automatically.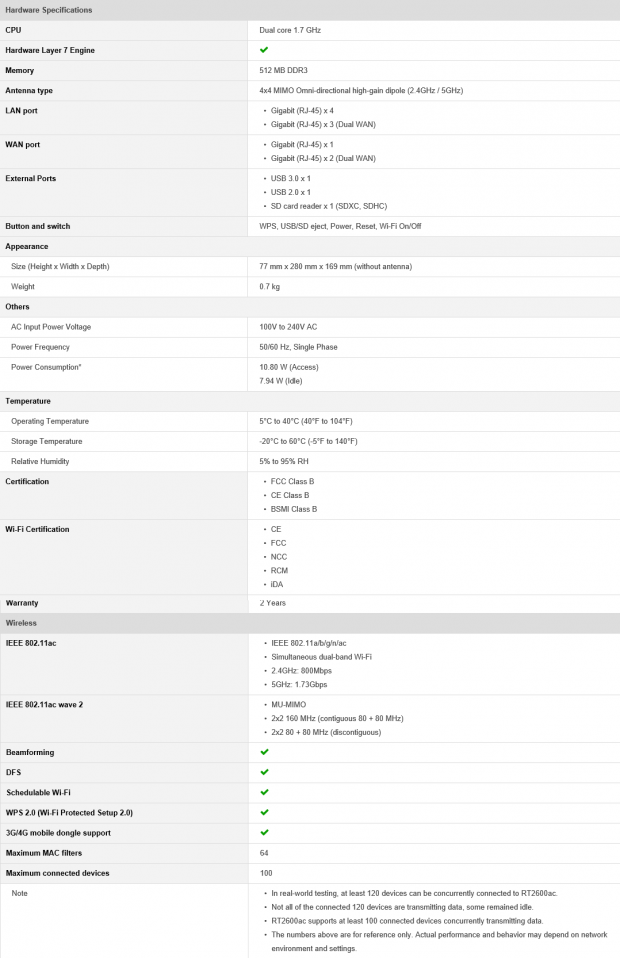 Diving into the hardware of the RT2600ac, it is slightly more powerful than the first, with a dual-core CPU operating at 1.7GHz. 512MB of DDR3 is paired with the CPU, but there is no mention of the NAND size for firmware. This is a 4x4 MIMO design with the 2.4GHz band operating at 800 Mbps and the 5GHz band at 1.73 Gbps. Also, this is a wave2 solution allowing for either 160MHz operation in contiguous mode or 80+80MHz mode in discontiguous mode.
There are two modes for the LAN WAN configuration with the standard giving you a single WAN and four LAN ports and the other two WAN ports and three LAN ports. This solution does house both USB 3.0 and SD card connectivity
The MSRP of the Synology RT2600ac comes in at $239.99 with a two-year warranty.
Router Details
The Hardware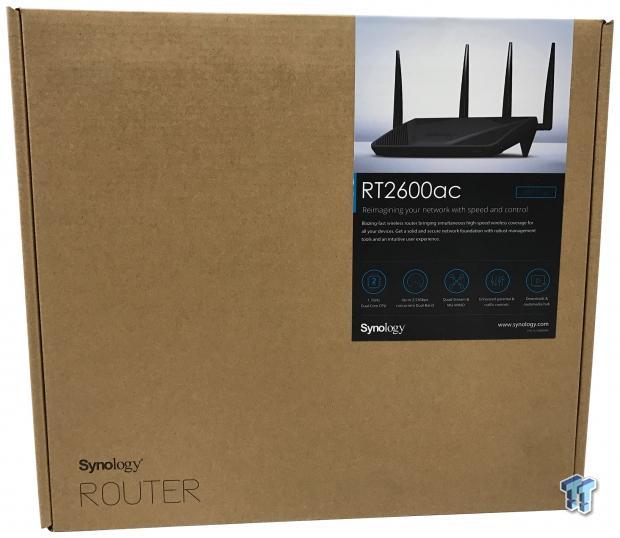 Packaging follows suit to the last solution and most Synology products. Here we have a brown box with a sticker containing the model number, features, and image of the router.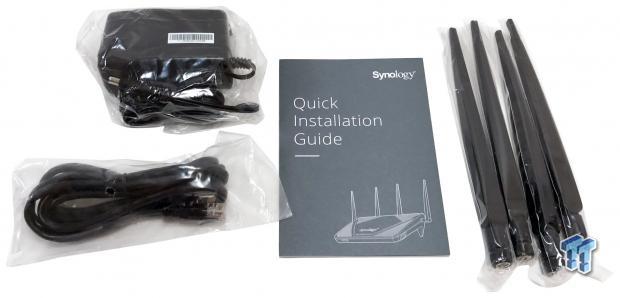 The scope of delivery includes four antennas, the power adapter, and Ethernet cable.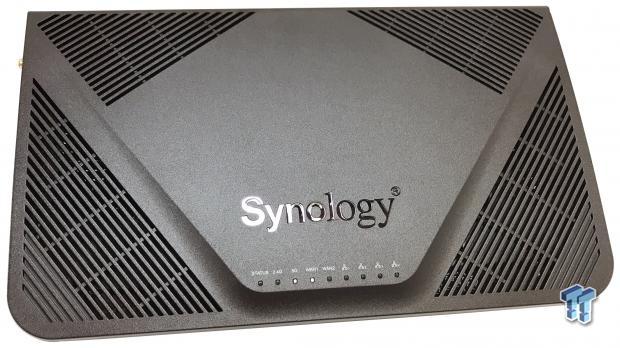 A quick look at this solution and it does carry over many of the design cues of the RT1900ac. On the front, we have a row of LEDs for status, the wireless bands, and wired ports. Most of the top is vented to allow any heat to escape.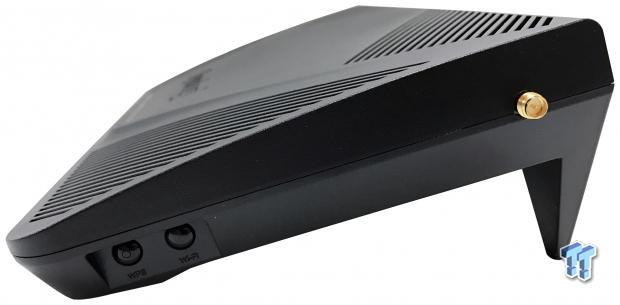 Over on the right side, you will find the WPS and Wi-Fi buttons along with one SMA connection.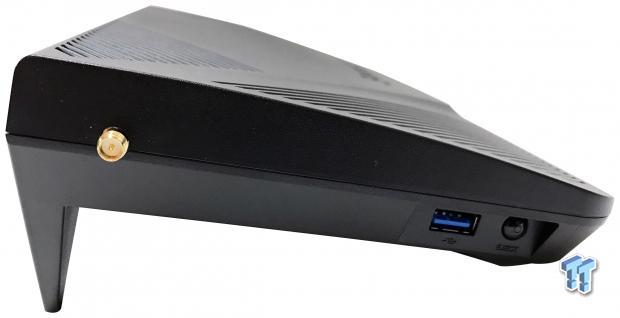 On the opposite side, you will find the USB 3.0 port and eject button. Up top another SMA connection.

The front edge houses the full-size SD card port.

On the backside, we have the power button to the far left followed by the reset and power input. Moving on, we have the USB 2.0 port and WAN port in blue. The four yellow ports are LAN exclusively apart from the first which is the secondary WAN port.
Management GUI Details
Management GUI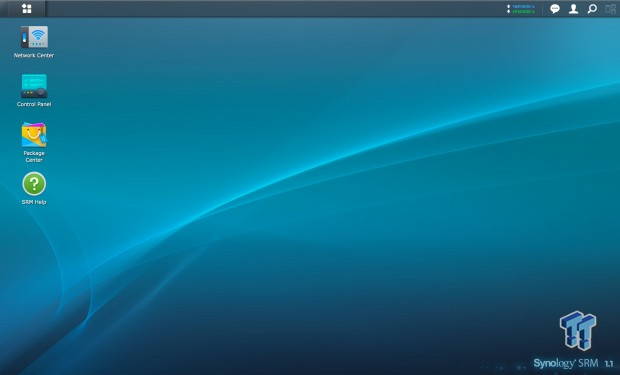 If you have used a Synology router or storage appliance in the past, this interface is very familiar. On the left side, we have a few desktop icons or shortcuts, while the very top corner houses the menu button for a closer look.

In that closer look, you will find all available shortcuts including file station, package center, and the control panel along with tools and network center.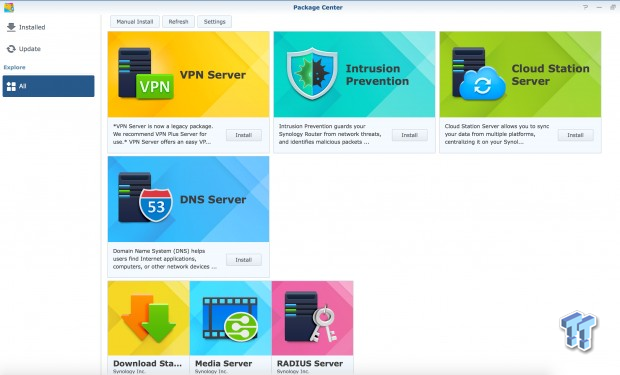 The package center has a few options going for it at this point including VPN Server, DNS Server, and Intrusion Prevention. Those are in addition to the standard download station and media server found on most Synology products.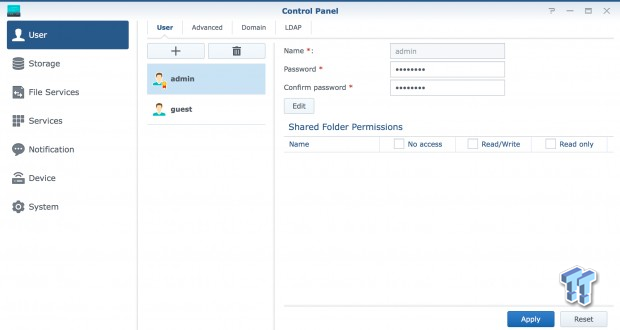 Diving into the control panel, you can setup users and more advanced LDAP and Domain access via this menu.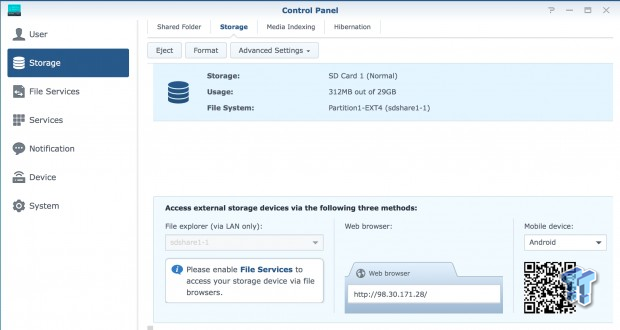 The storage menu will give an overview of any device connected. Above, I have an SD card setup.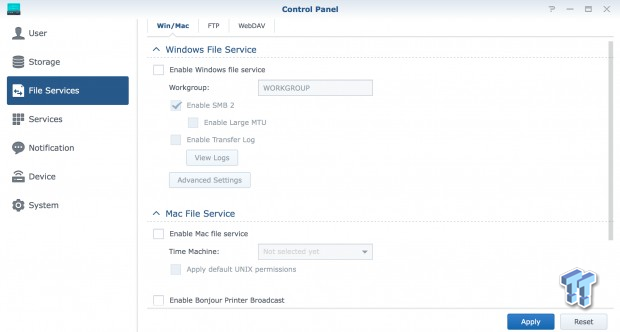 With their heavy storage background, Synology treats their USB and SD card connectivity like it was a NAS giving you options for SMB and AFP along with FTP and even Bonjour functionality.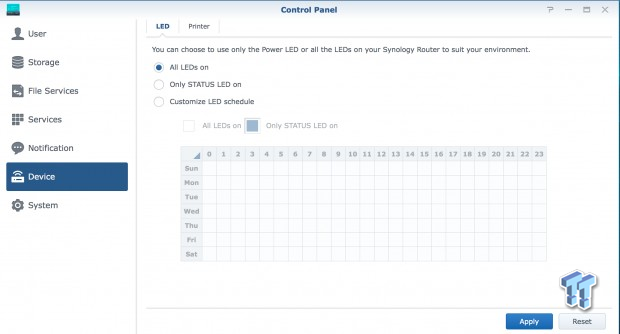 Sliding down to devices, you can customize the front mounted LEDs to suit your needs.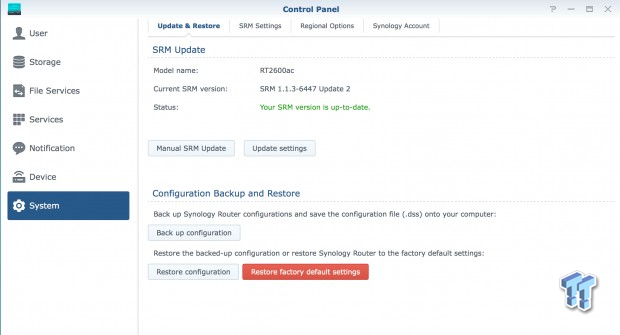 In the System menu, you can update the firmware, backup config settings, and restore.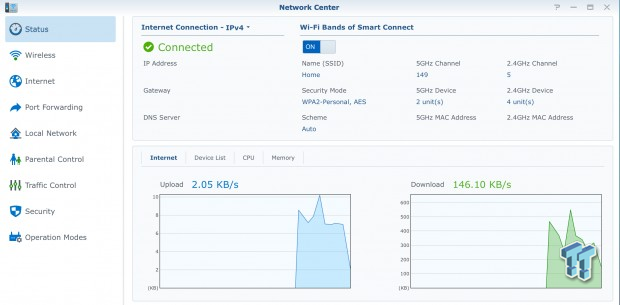 Moving on to the Network Center, we have a quick status screen.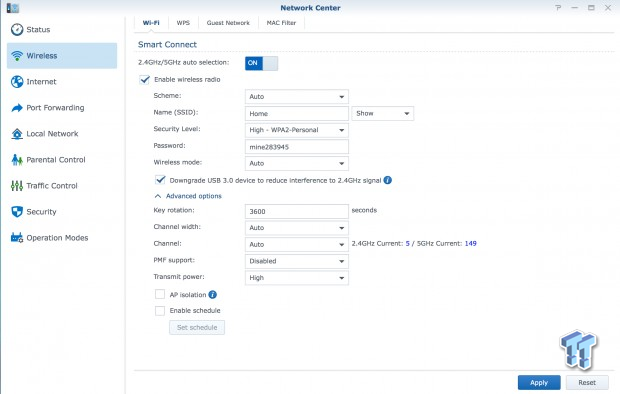 The wireless menu, give you access to the SSID and password settings along with the Smart Connect feature at the top.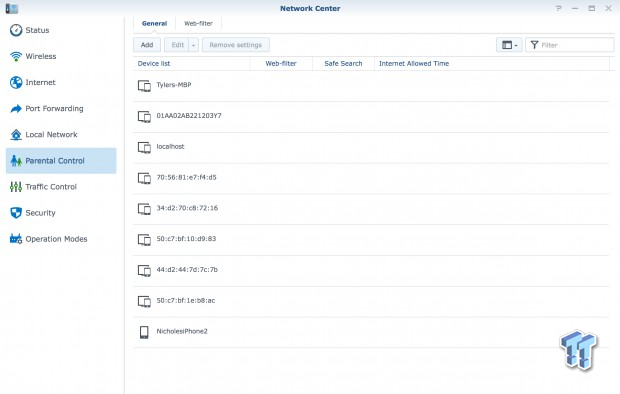 Parental controls allow you to target any specific device and control the amount of time it's on the web along with creating filters for that device.
Test System Setup & Benchmark Throughput Tests
Tyler's Router Test System Specifications
Wired Throughput
The Tenda AC9 was the last router I tested with the old Z170 platform. With our new test system, we re-ran it through testing to have it on our new charts.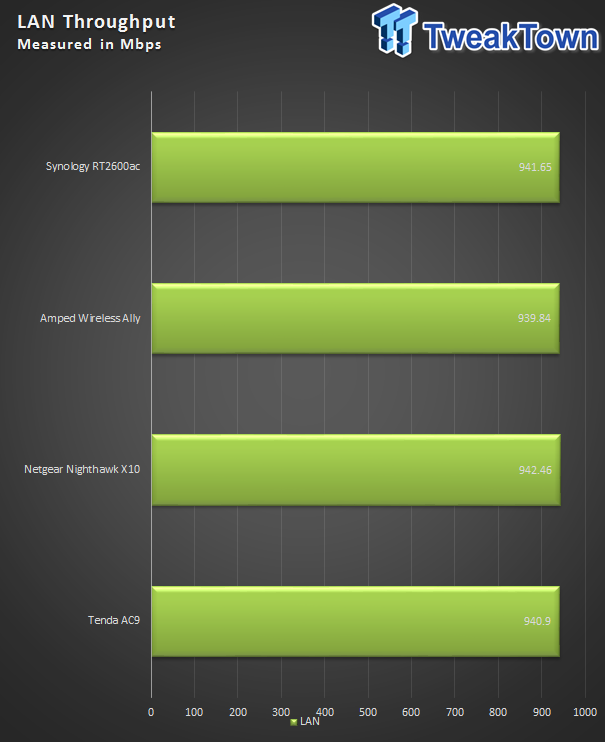 Running the RT2600ac through testing, I reached a peak of 941.6 Mbps on LAN throughput.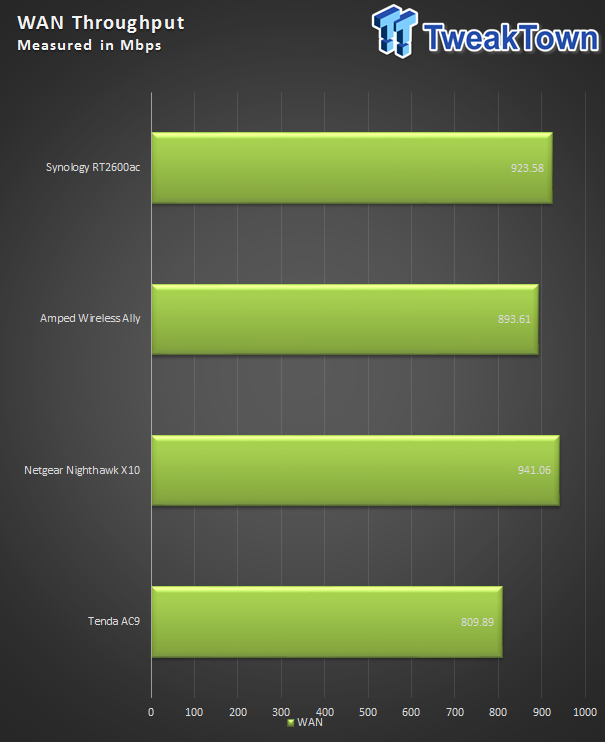 WAN was very close at 923.58 Mbps.
Mobile and Desktop Wireless Throughput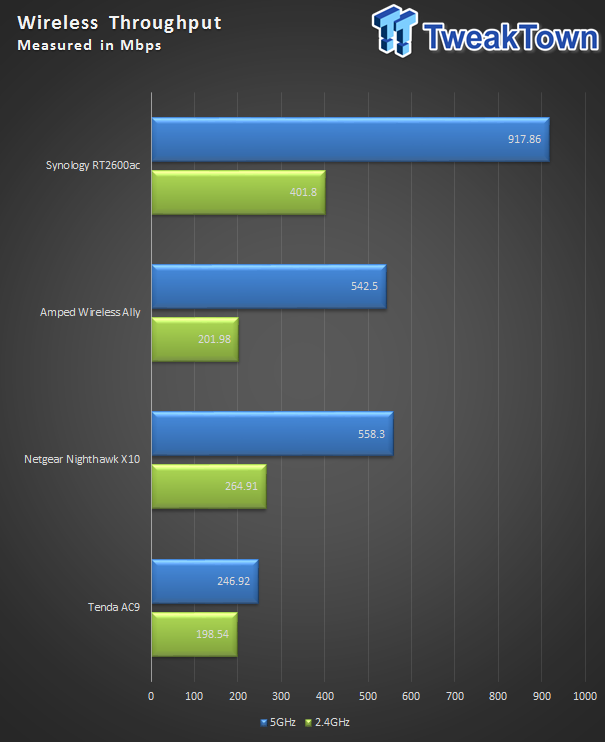 2.4GHz performance was some of the highest I have ever seen reaching 401 Mbps on the 2.4GHz band and 917 Mbps on the 5GHz band.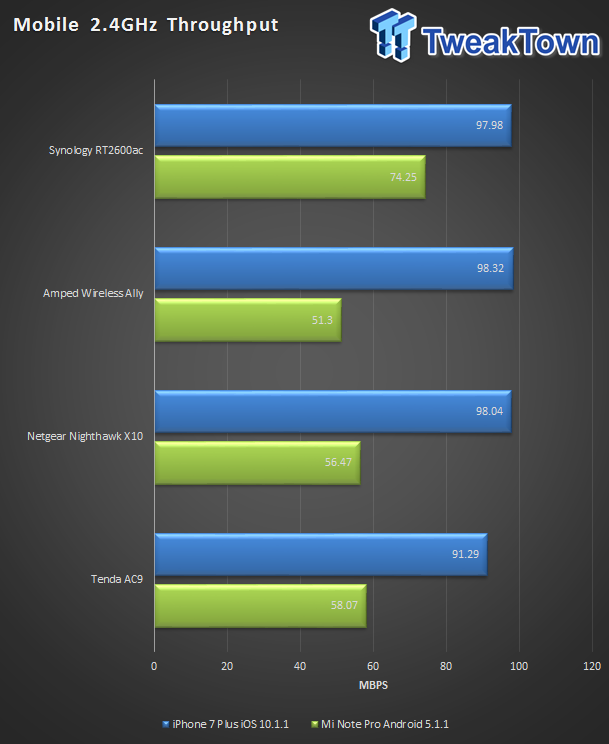 Mobile throughput was on par with previously tested solutions - our iPhone 7 Plus reached 97 Mbps and the Android 74 Mbps.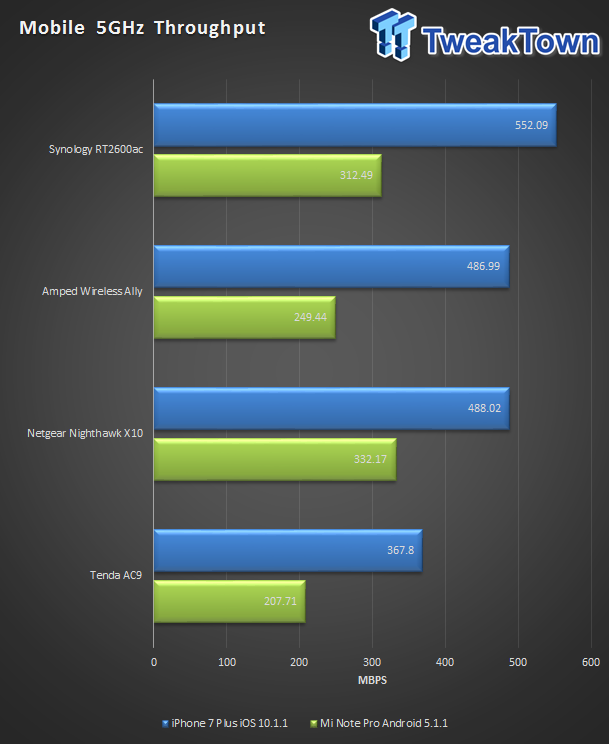 5GHz mobile throughput was much better, proving 312 Mbps for the Android and 552 Mbps for the iPhone.
Benchmarks - Wireless Range and File Performance
Wireless Range
Our next test for this new setup sees how range affects performance. For this we start at 10ft, within line of sight from the router, we move out to a max distance of 40ft with each 10Ft adding in a wall. The Client device is an iPhone 7 Plus.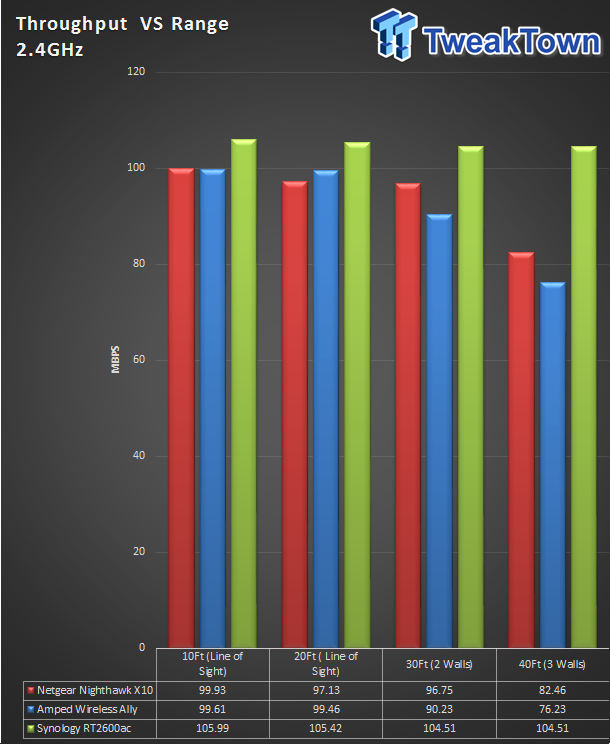 The Synology ran strong through our testing, starting at 105 Mbps at 10ft and holding that pretty steady through 40ft.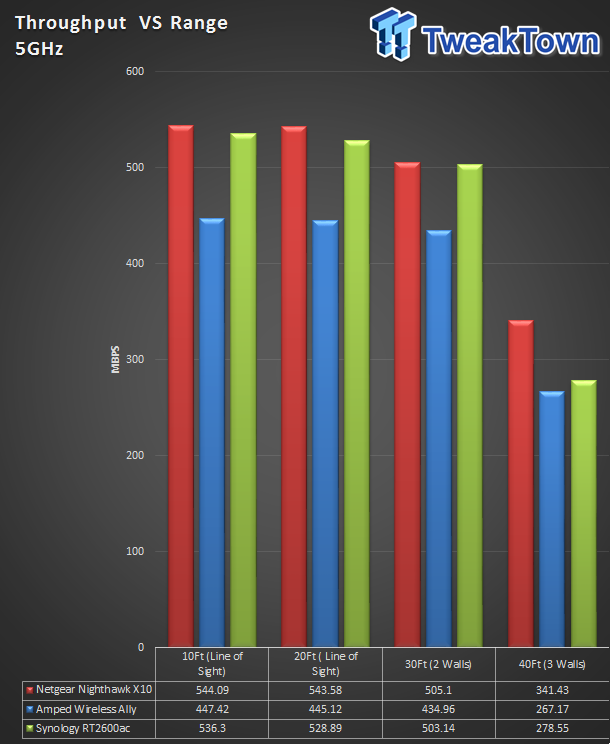 5GHz testing is a bit harder to do with range because of the nature of the 5GHz band. With that said, the RT2600ac started out at 536.3 Mbps at 10Ft moving down to 503 MBps at 30Ft. At 40Ft, we see a bigger decline down to 278 Mbps.
File Performance
Storage testing for the router was done with the USB 3.0 port and a 128GB SanDisk Extreme Pro flash drive.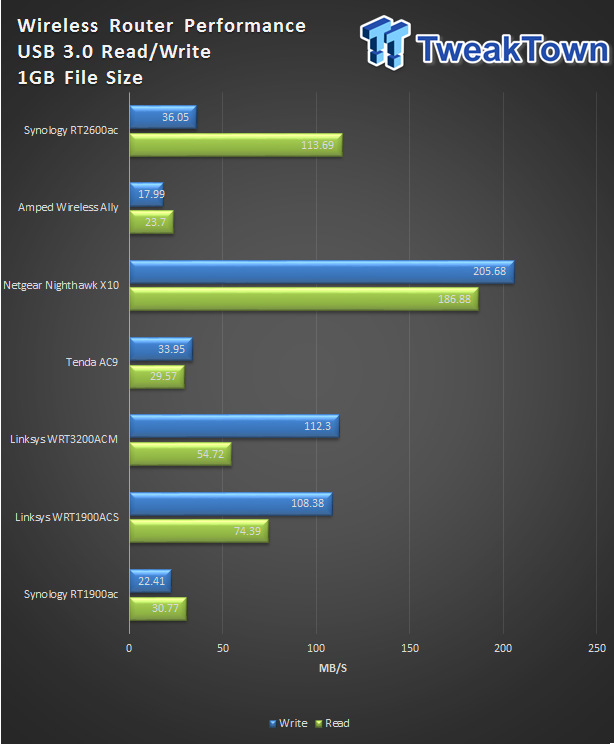 Synology has made great improvements in the storage area of their router platform. As you can see, I still have the RT1900ac in the charts for comparison. With that, I reached 113 MB/s read and 36 MB/s write with the RT2600ac.
Benchmarks – Sessions & Final Thoughts
Sessions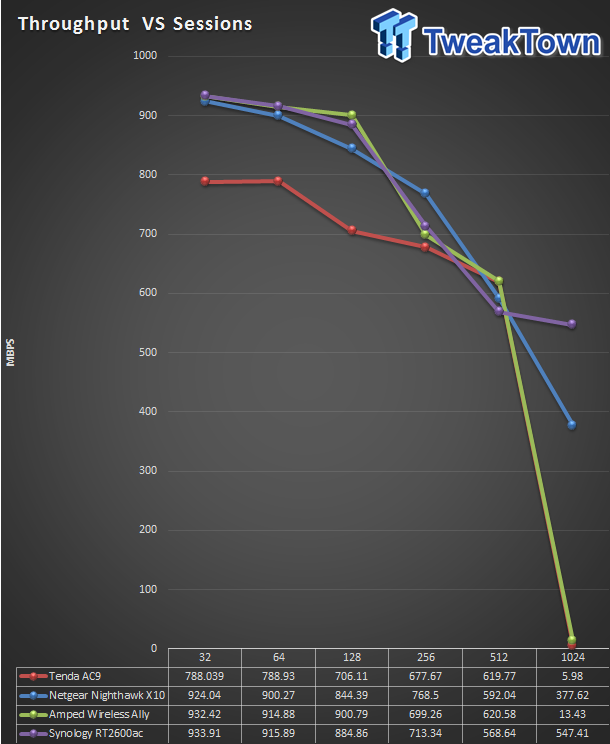 Basically, with this test, I'm looking to see if the router will lock up if enough sessions are pushed through the hardware.
At 32 sessions, the RT2600ac is perfectly fine at 933 Mbps. Moving out to 128 sessions, it finally gets below 900 Mbps, and at 256 sessions, we reached 713 Mbps. 512 sessions had this router at 568 Mbps and at 1024 sessions the RT2600ac held strong at 547 Mbps.
Final Thoughts
With Synology's second entry into the router market, they cleaned things up quite a bit by adding in new features and much more powerful hardware. This has led to a more refined product with performance that tops my charts. In fact, the only occasion where Synology isn't on top is in the storage department and they have made strides there as well. In wired throughput testing, this solution reached full gigabit potential at 941 Mbps over LAN and 923 Mbps over WAN. Wireless throughput had this unit chucking 401 Mbps over 2.4GHz and 917 Mbps over the 5GHz band.
Even on mobile through the RT2600ac did well, reaching 552 Mbps on our iPhone and 312 Mbps on our Android device. The range test on 2.4GHz was a no contest situation, from 10 Ft to 40 Ft the Synology lost no performance starting at 105 Mbps and ending at 104.52 Mbps. 5GHz this solution held strong above 500 Mbps through 30ft and ended at 278 Mbps at 40Ft.
Build quality of this solution is quite good. The only knock I have for it is the feet are not removable which makes mounting on a wall or similar not possible. The LEDs are customizable to a schedule or you can shut them off completely. SRM is one of the better platforms as far as ease of use and features go which makes this entire package very attractive.
In closing, I think the RT2600ac is a warning shot to the market. Synology is very serious about everything they do and they showcased that with their second router taking top honors and easily my top choice for an AC2600 platform.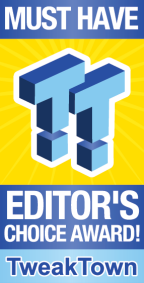 | | |
| --- | --- |
| Performance | 98% |
| Quality | 94% |
| Features | 95% |
| Value | 95% |
The Bottom Line: It's hard to believe that up to this point, in one short year, Synology has gone from entering a market full of big named vendors to producing the best AC2600 wireless router we've tested.
PRICING: You can find products similar to this one for sale below.

United States: Find other tech and computer products like this over at Amazon.com

United Kingdom: Find other tech and computer products like this over at Amazon.co.uk

Australia: Find other tech and computer products like this over at Amazon.com.au

Canada: Find other tech and computer products like this over at Amazon.ca

Deutschland: Finde andere Technik- und Computerprodukte wie dieses auf Amazon.de
We openly invite the companies who provide us with review samples / who are mentioned or discussed to express their opinion. If any company representative wishes to respond, we will publish the response here. Please contact us if you wish to respond.