GeIL EVO X HILM DDR4-3200 16GB Dual-Channel Kit Review
GeIL's EVO X HILM DDR4-3200 16GB dual-channel memory is the latest DDR4 kit to go under the chopping block. Worth buying? Let's find out.

Published Fri, Dec 16 2016 4:35 PM CST
|
Updated Tue, Nov 3 2020 6:58 PM CST
Rating:

97%
Manufacturer: GeIL

When it comes to those who know anything about GeIL and what they offer when it comes to RAM, most will tell you that GeIL tends to think outside of the box when it comes to design and aesthetic appeal. At this time, GeIL is offering the Super Luce which we tested in the past, along with the Dragon Ram we also tested. GeIL is also offering the EVO Potenza sticks, the EVO Forza, but their latest kit has taken DDR4 to a whole new level.
Along with offering kits starting at 2133MHz with 15-15-15 timings, on up to 4133MHz at 19-25-25 timings for specific motherboards, GeIL delivers their latest sets with something called HILM lighting. HILM stands for Hybrid-Independent-Lighting-Module, and takes LED lighting in DDR4 and raises the bar to all other memory makers out there. In the HILM system, you have the option to use solid red LEDs, green LEDs, blue LEDs, or cycle through a multitude of colors; there is one more thing that HILM brings to the table. Along with this memory are sets of cables, which allow the LEDs in each stick to be used in coordination with particular MSI, ASUS, and GIGABYTE motherboards. So for those with Aura, Ambient LED, or Mystic Light controls, you can now have the RAM match whatever the motherboard LEDs are doing too.
The GeIL EVO X HILM memory we have been sent comes with black heat spreaders, but we also see that you can obtain this RAM with white heat spreaders as well, making sure to offer a solution that fits any theme you may be striving to achieve. The GEX416GB3200C16DC kit we are testing today comes with an XMP profile boasting 3200MHz of speed and GeIL kept timings tight at 16-16-16-36 2T requiring 1.35V of power to do so. Along with these kits, of course, you need a way to connect the various compatible motherboards to the memory to drive the LED colors, but GeIL also chose to use a fan connection from the motherboard to power the LEDs. This cabling may seem a bit strange, but the wiring is long enough to reach and be hidden from view, and what you are left with are impressive displays of lighting as well as a kit with a bit of flexibility, and kits which perform where one would expect them to as well.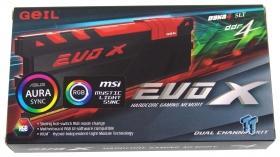 With gray and black used to highlighting everything on top of it, the EVO X sticks stand out on the left, and various colors follow the stick on the right, alluding to the multiple colors this kit can produce. Stickers show that these work with ASUS and MSI, but no mention of GIGABYTE on the box. We also see mentions of the sliding switch for the LEDs, that these sticks will work with motherboard RGB software, as well as explain what HILM is.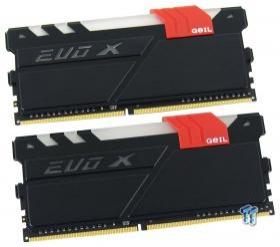 With our sample set of memory, we got the tall black heat spreaders on them. From the bottom edge of the RAM to the top of the red plastic switch, it is 59.8mm tall and is something you may need to consider in your build. The spreaders have a brushed metal appearance to them, the EVO X name is cut out of it and will illuminate, and so does the thick white top section.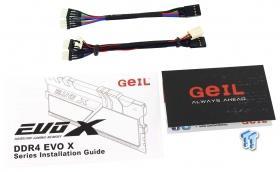 Along with this 16GB kit of memory, we found two leads which run from the motherboard LED control headers and plug into one end of the sticks, and we are also sent a 3-pin fan connection which goes down into a pair of 2-pin connection to deliver power for the RGB LEDs contained in each stick. GeIL also includes a guide to make sure you connect this kit properly, and they also send along an insert about GeIL products, and where to find them online.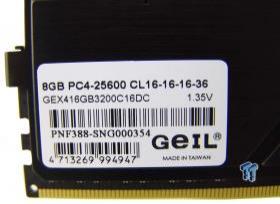 On the back side of each stick, you will find the product sticker in the lower left corner of the heat spreader. The sticker shows that this is an 8GB stick of PC-25600 running at 16-16-16-35 timings. We are shown the part number of the entire kit and also that they need 1.35V.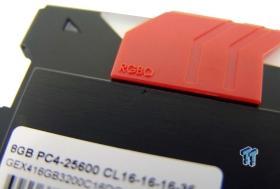 Just above the sticker, we find a small arrow cut into the top edge of the heat spreader. The red plastic switch which has GeIL painted on the other side has an R for red, a G for green, and B for blue, and an O for oscillating maybe. This switch will allow users to select a solid color of the three or put it into a mode where it cycles through all of the RGB color options.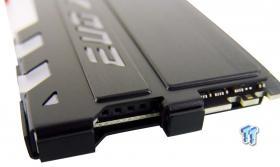 On the edge of the memory closest to the EVO X name, we find the 4-pin connection for Aura Lighting, Ambient LED, or Mystic Light control to address the LED colors, matching them to whatever you have that motherboard software set to produce. On the other end, in the same location, that is where the tiny 2-pin connections are to power the LEDs via the fan header connection supplied with the RAM.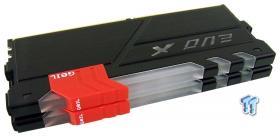 From the top of the EVO-X, there is a lot of opaque plastic to allow bright LED lighting to shine through. The large red switch does block a lot of the top, but it makes it much easier to change the LED colors once they are installed. We also like that the top sections overlap for a solid appearance and that they chose to use black PCBs to blend in with the spreaders.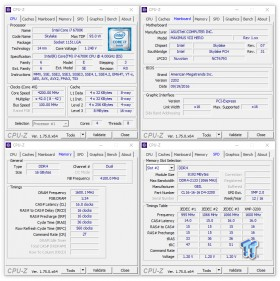 After addressing the XMP 2.0 profile in the BIOS, our first boot was successful with the EVO X HILM memory running at 3200MHz and the timings set as they should be. No irregularities or anything to complain about with the setup in any way.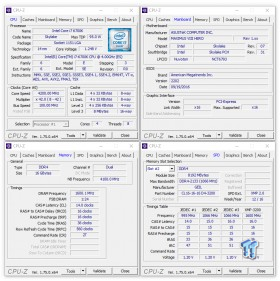 The next thing we do is mess around with the timings, and at 3200MHz we honestly did not expect much to be had here. However, even though the tRCD and tRP were unable to be changed, with 1.45V we were able to drop the CAS level to 14 and have the kit remain stable.
When it came to attempting to add speed to the kit, everything we tried failed, and left us with 3333MHz and 3400MHz able to get into Windows, but testing failed. While we would love to address what ICs are in play, and even knowing everything GeIL has been Samsung based so far. The SPD being blanked out so that Typhoon Burner cannot tell us, and the fact that we felt we would break things trying to remove the spreaders, we are left not being able to say for sure what ICs are used here.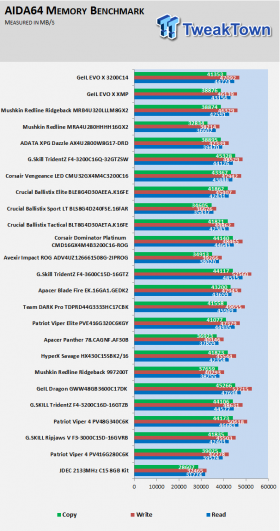 AIDA64 is the standard when it comes down to a quick and dirty way to compare RAM, and here we see the EVO X kit doing what it can. The XMP profile run came up a bit short in copy, but the Reads and Writes are what we would expect to see at this speed. We also saw a nice increase in performance once we ran CAS14, but there are a few kits with better performance in this test as well.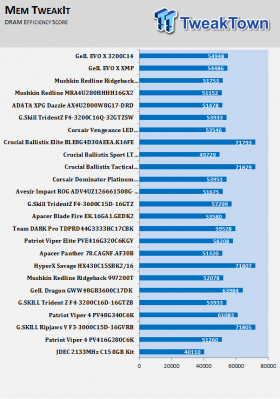 Mem TweakIt seems to appreciate what GeIL did with the timings at 3200MHz. Both runs show that the EVO X is more efficient than much of its direct competition, and aside from the four kits throwing up 70,000 results, it takes kits with more speed to overrun the results GeIL is offering here.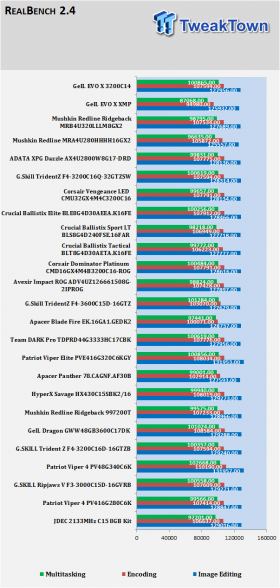 We ran the XMP test three times to rule out if that multitasking result was showing in error, but the performance there is lacking, Encoding results were not that bad, and its image editing performance is somewhat decent. When we dropped the CAS latency, things did improve, but we felt those results should have been found in the XMP results.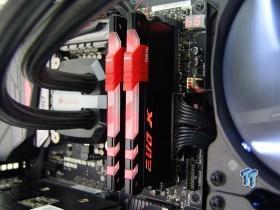 Many will sit and think, right out of the gate, that the extra wiring is going to play up with the cleanliness of the build, but we did not find that to be true. We do find it a bit odd that we need supplemental power just to run the LED lighting, but with the intensity in which this lighting is delivered, maybe they used enough LEDs in these sticks to surpass what they could draw from the slot. Using our ASUS Hero, not the Alpha version, it does not support Aura Lighting, it left us unable to test the HILM to its fullest extent. However, with the way the LEDs light the EVO X on the sides of each stick and the way in which the tops glow, even with the basic options, we were able to see the full gamut of choices. Just not in sync with our chipset LED, and we are impressed with what GeIL brought forward here.
Performance is not the best we have seen, but in all but one of the tests, the EVO X handled its business and kept up with kits sporting similar speeds. With so much going on with this design, the use of black PCBs under the large black heat spreaders makes for a clean installed aesthetic with nothing to detract you from the real reason you bought this kit. The LED power wire is sufficient in length that it can reach to the left of the socket to find a free fan header to draw power. The LED control wires are thin and shorter, and at any distance blended right into the motherboard, where you had to give effort to finding them when looking around inside of the case.
We wish the red slider switch were smaller to allow more lighting through the top of the sticks, but with it as long as it is, it slides easily and does not bind when manually switching through the modes. We did find a small issue when manually switching colors, though. There were times where we changed colors on the go, and the LED would turn off. However, on the following boot, the lights always came on and were displayed in the color we chose.
Currently, it does not appear that Amazon has taken stock of any of the EVO X kits, but Newegg has quite the coverage of speed, as well as offering them in both black and white. Pricing varies with the choice of speed you wish to have, but comparing the GEX416GB3200C16D at $109.99 to the GEXW416GB3200C16DC or the white variant, pricing increases slightly to $114.99. Most of the testing has this kit ahead of the Mushkin Ridgelines we just saw when it comes to performance, and while the Ridgelines are appealing to look at, they cannot hold a candle to what GeIL has delivered today.
The fact that you get so much LED lighting, and complete control of it via motherboard software, not only kills it for RAM without LEDs, but also cramps the style of many kits with LEDs. Yes, there are some wires to connect, and it does take a bit more than usual to install, but don't let that stop you. GeIL and their EVO X HILM memory have taken the next logical step in the "RGB Everything" movement afoot right now, and have set the bar as to what we should expect in our near future.
Chad's DDR4 Dual-Channel Test System Specifications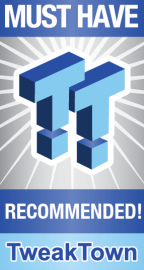 | | |
| --- | --- |
| Performance (including Overclocking) | 90% |
| Quality including Design and Build | 98% |
| General Features | 100% |
| Bundle and Packaging | 99% |
| Value for Money | 98% |
The Bottom Line: While performance can be lacking in a select few areas, with high speed and tight timings, GeIL's EVO X HILM memory is something to strive for in your next build. If you own a compatible MSI, GIGABYTE, or ASUS motherboard, this DDR4 kit will take the entire build to the next level.
PRICING: You can find products similar to this one for sale below.

United States: Find other tech and computer products like this over at Amazon.com

United Kingdom: Find other tech and computer products like this over at Amazon.co.uk

Australia: Find other tech and computer products like this over at Amazon.com.au

Canada: Find other tech and computer products like this over at Amazon.ca

Deutschland: Finde andere Technik- und Computerprodukte wie dieses auf Amazon.de
We openly invite the companies who provide us with review samples / who are mentioned or discussed to express their opinion. If any company representative wishes to respond, we will publish the response here. Please contact us if you wish to respond.